Already set up your remote help desk software? Good on you! You surely already know the advantages of a cloud-based help desk, and the fact that it's a great aid to your company and clientele alike. But, setting things up is only the first step in a long race. What you need are actionable steps as a help desk manager to put you on the right track, and then stay there.
As a help desk manager, it's pretty much a given that you'll have certain responsibilities:
"In an organization, it's the help desk manager's responsibility to ensure that the employees' and customers' queries are resolved on time and to high user satisfaction. The help desk manager plays a vital role in maintaining customers' and employees' relations and perceptions of the organization.
A major part of a help desk manager's duties is managing the help desk employees and relaying the communications from the company's executives to the service desk agents. They have to understand the company's goals and vision, its future plans, and the role of the service desk in the company."
Moreover, it's up to anyone in charge of remote support to actually set up reliable ITSM metrics and KPIs for the service desk. While any help desk software or support app will make ostentatious promises, it's up to you to unlock its potential. And, as said above, that will include having a keen understanding of what your company can get out of it, and how.
When it comes to remote support — any SaaS support software — it's all about making the right choices to keep moving forward. Here's a short list to start you off right.
5 points to consider for your help desk
1. Is it usable?
Who's most likely to use your remote support software? That's right -- the end users.
Your IT staff are probably hardened pros. But things are not quite the same for those who just want a question or two answered, or are having issues with basic functionality. They need solutions, not badly designed software that piles on extra headaches.
Usability, then, means providing software solutions that are easy to access, understand, and use. If possible, this involves having robust self-service capabilities and a knowledge base so that they can find the answers themselves. You shouldn't need a help desk for your help desk, is all we're saying.
And hey, this includes ease of use for technicians as well. A support software with features like an intuitive dashboard and an easy to follow list of pending items can help your IT team keep up with the pace of ever-increasing demands. This is why companies use InvGate Service Desk, which provides agents with ticket management capabilities and an easy to follow, centralized look at their work.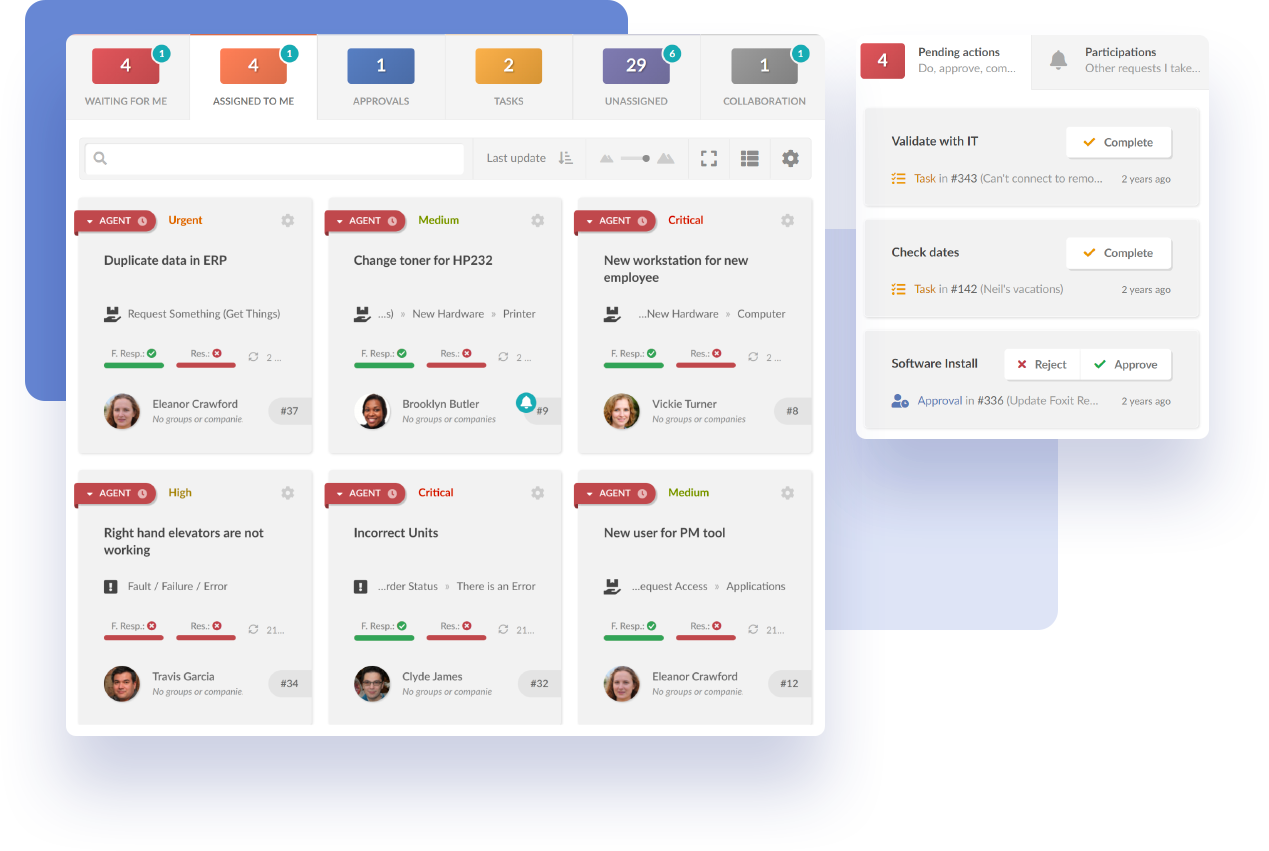 2. It should have excellent security features
It should go without saying, but we're saying it anyway. Cybercrimes are a real thing, and you should be taking every step to build a culture of cybersecurity to make sure that you're well-protected in every area. Your support software should absolutely be no exception. Like anything that requires logging in to a system to use, it's going to be vulnerable to malware, exploits, bad actors, mistakes, and other nasty events that can cause major upheavals, downtimes, or stoppages.
The holy trinity of security factors should be part of your everyday routine. It's the "brushing your teeth" of the IT world:
Multi-factor, or 2-factor authentication (2FA).
Data Privacy.
Solid encryption practices.
3. Compatibility & customization
Your help desk software is not an island. It works in tandem with a myriad of databases, apps, and other programs in order to live up to its potential-- the whole digital workplace environment. Or, that's a way of saying that it's a multifaceted beast.
Thus, if your software doesn't offer many compatibility options, it's pretty much DOA. You're going to need to combine it with anything and everything, making it draw information from as many digital wells as possible. If your support software doesn't have many compatibility features, then we're sad to say you're going to have to go back to the drawing board.
And not just that, your chosen software should offer ongoing compatibility features. It shouldn't just leave you hanging with its out-of-the-box features. Rather, it'll give you the opportunity to keep enhancing it continuously.
Moreover, not all customers across all industries have the same needs. Meaning, that you'll need your support software to offer a wealth of options to adapt it to the changing needs of your client base. Flexibility is a key component of good service desk software.
4. Collaboration
Collaboration is key in a digital workplace. And in this case, it means that you may need multiple technicians working on a single problem. Rather than the "too many cooks in the kitchen" syndrome, this actually enhances the chances for success.
And, as we said in our previous article about digital workplace collaboration:
"We share information across a vast network of apps, domains, servers, and networks. Naturally, this means that even in the most well-meaning of cases, knowledge tends to be scattered. In fact, a significant part of every employee's workweek—20% or more!— is spent traipsing around Google Drive, or finding a missing USB stick with that one PowerPoint file.
Thus, solid digital workplace collaboration is about ensuring that this important information can be accessed and shared quickly and efficiently. The way to go here is to use a solid digital workplace solution that every employee can log into."
Your support software, then, should be one of these collaborative spaces. The more brains you can leverage to solve a problem, the more likely it is that you'll get to your destination quicker. Additionally, this also means that you'll improve the rate and speed of ticket resolution, and that will never be a bad thing.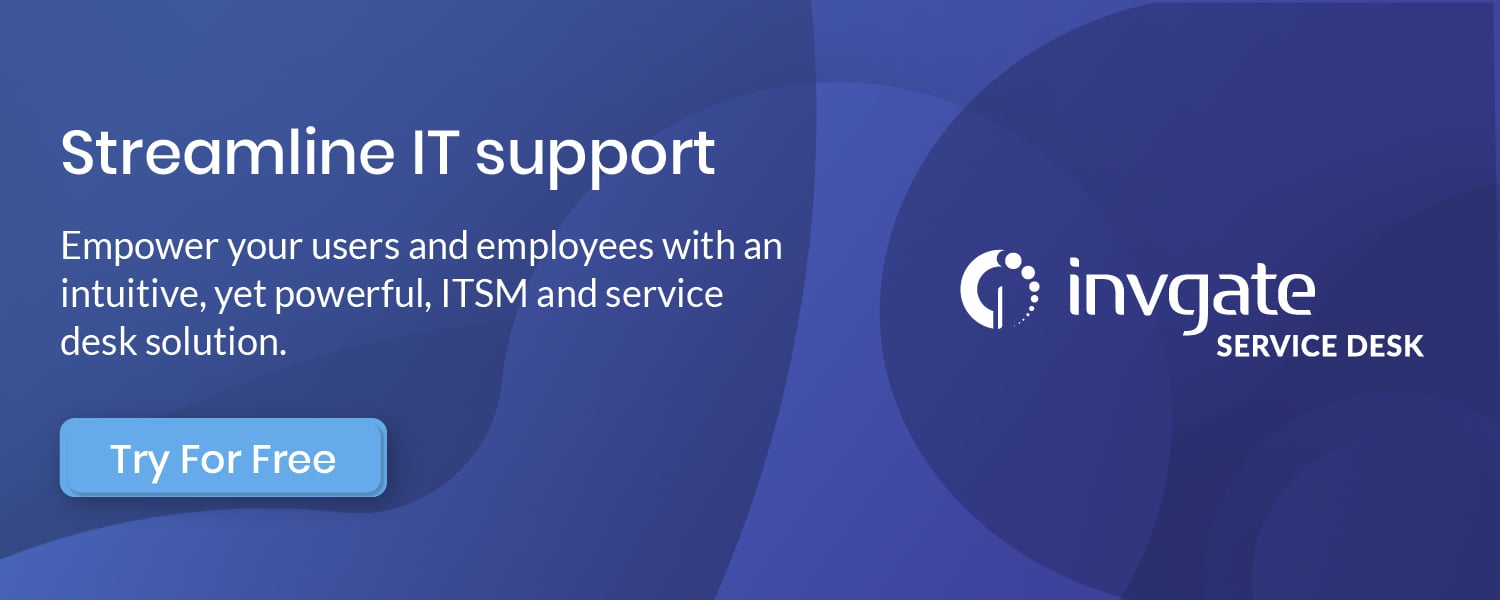 5. Scalability
You grow, your organization grows, and the amount of tickets and customer queries grows by the minute. This means that your support software needs to be able to keep up with your needs. Many just download a free software and call it a day. Then, they find that they quickly have to upgrade their whole support software infrastructure to rectify this tremendously bad decision.
Let's say it straight: your chosen remote support software should be there for you regardless of you how much your company grows and scales. If it's not able to provide that, then it's a potential problem waiting to be solved, not a solution.
Common problems after implementing remote support software
Now, even if you implement the best software in the business, you could — and will — run into issues. Here are some of the most frequent ones:

Downtime: No matter how good the software you're running, if your internet goes kaput, you're dead in the water. The solution to this is to have the most stable internet you can afford and to maintain redundant systems if necessary. Otherwise, your whole support operation could come to a standstill.


Bottlenecks: This may happen due to an overabundance of users trying to access your system at the same time. The more your company scales, the more likely you're going to run into this problem. This is another reason why your chosen remote support software should scale with your company — things may look dandy when you're just starting out, but they may suddenly get hellish when you start getting a bigger and bigger influx of tickets.


Hardware: remote support stops being remote when there are real-life issues to fix. And that's where remote turns into "house calls" really quickly. Depending on your industry, this may be anything from "not a problem" to "I'm having a really bad day." The more things stay remote, the better.
Implementing a remote help desk that works
InvGate Service Desk is the perfect scalable help desk solution with continuous support. It can help your team with the A-to-Z's of service delivery, streamlining your workflow, as well as providing more intuitive ticketing solutions.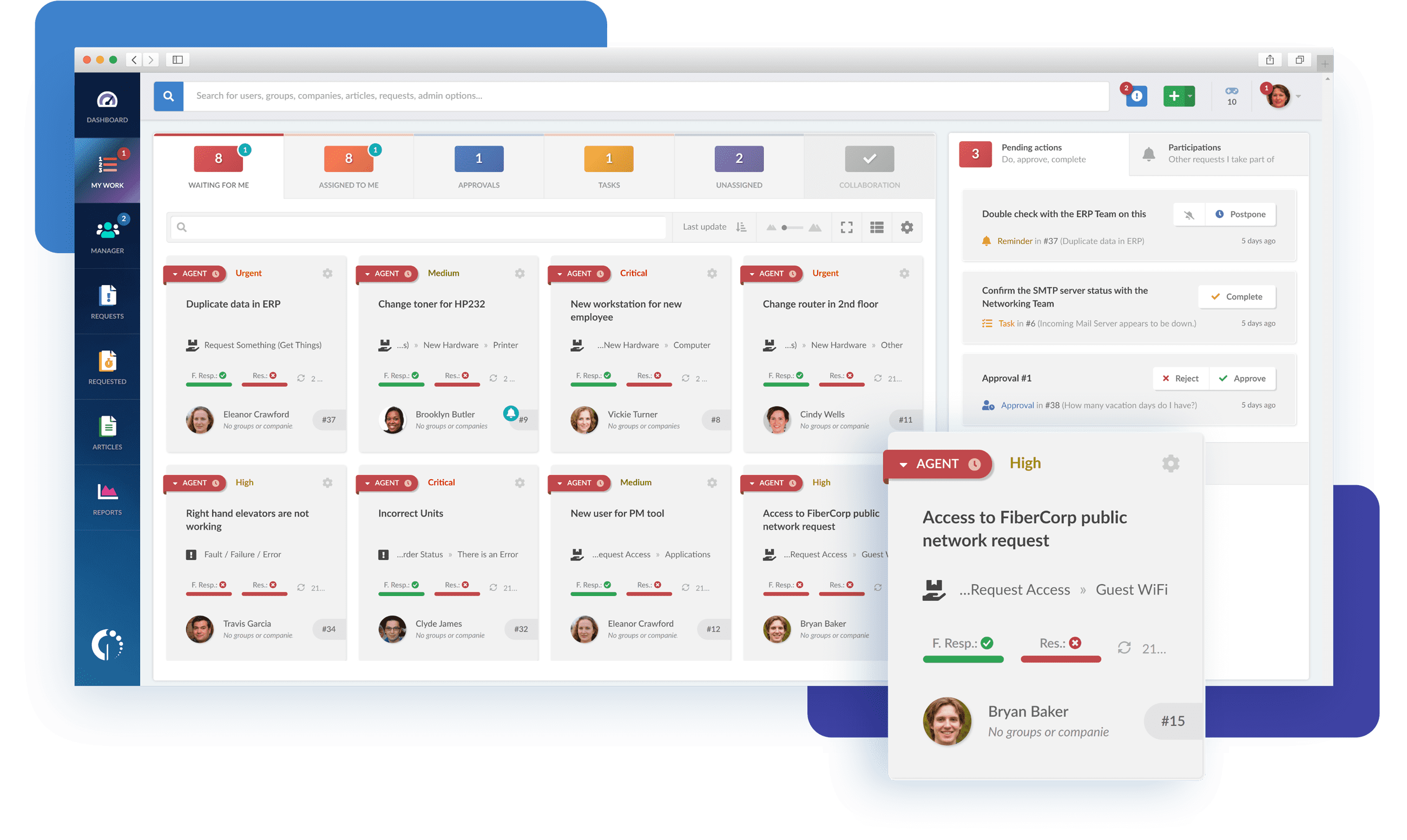 It will allow your agents to prioritize their work according to urgency whilst allowing you to have a clear view of all service requests so you can take action as needed. Plus, why do more work when you don't have to (it's 2022, after all)? Automated solutions can help you leverage the latest and greatest in machine learning to create automated workflows that will help you manage requests across your organization.
To top it all off, InvGate Service Desk can easily be integrated with InvGate Insight, the IT Asset Management solution, providing an even more wide-ranging solution.
Still on the fence? Don't take our word for it: give it a shot for thirty days and become a believer!
Bottom line
Having remote help desk software is a necessity in current times, and it looks like that's going to be the case for the long haul. But, it's not just about implementing any software willy-nilly and calling it a day; it's actually about leveraging the tools at your disposal in a smart way. It's about making intelligent, sustainable choices that grow and scale with your needs instead of leaving you high and dry when you need them the most.
And not only that: it shows your customers you care, and that can't be replicated. As Jerry Fritz said:
"You'll never have a product or price advantage again. They can be easily duplicated, but a strong customer service culture can't be copied."