In the dynamic world of IT Service Management (ITSM), the choices available to you can feel overwhelming. Today, you may find yourself at a critical crossroads, faced with a pivotal decision: TeamDynamix vs. ServiceNow.
In this blog post, we'll embark on a comprehensive ITSM tools comparison, meticulously dissecting the offerings of these two formidable contenders in ITSM.
But what if, as we explore these well-known options, you discover that neither of these options perfectly aligns with your organization's unique ITSM requirements? That's where we introduce a compelling alternative: InvGate Service Desk. This service desk software has the potential to be the solution you've been diligently searching for, offering a distinct set of features and capabilities.
Let the journey begin! Continue reading to gain invaluable insights that will help you navigate the landscape of IT Service Management solutions.
Most looked-at features by buyers
As users evaluate their IT Service Management solutions, they focus on specific features that meet their organization's needs. It's critical to understand these desired capabilities to make informed decisions.
Let's look at some of the key considerations potential buyers often make when comparing ITSM tools.
Cost and support - Buyers assess the solution's overall cost-effectiveness, considering licensing models, subscription plans, and any additional expenses related to features or users. The availability of reliable customer support, comprehensive documentation, and accessible training resources significantly influences their decision-making.


Ticket Management System - Prospective buyers attach significant importance to a comprehensive Ticket Management system seamlessly integrated into the

help desk software

. This functionality facilitates efficient tracking, assignment, and resolution of customer inquiries and support requests.



Self-service portal

and

knowledge base

- Including a self-service portal is highly appreciated, as it empowers end-users to independently resolve common issues and access relevant information without needing direct assistance.


Informative reporting - Buyers actively seek help desk software equipped with robust reporting tools, including

dashboards and reports

. These features provide valuable IT operations and performance insights, supporting informed decision-making and continuous service improvement.


Simplified

IT service catalog

- Organizations often require a streamlined IT service catalog with a centralized platform for users to request specific IT services or resources. This simplifies service requests, improves visibility, and supports effective service delivery management.



Support automation

and Workflow Management - Buyers seek software solutions with automation capabilities to streamline routine tasks such as

ticket routing

, approvals, and

escalations

. These automation features contribute to increased efficiency and productivity.


Efficient

IT Asset Management

- Users prioritize software that offers robust IT Asset Management capabilities, assisting in maintaining accurate inventories and optimizing resource utilization within their organizations.



User-friendly experience and interface

- Ease of use and the design of the user interface are critical factors for buyers. They highly value a user-friendly platform equipped with an intuitive interface, as it enhances user adoption and overall productivity. Mobile accessibility is also crucial, particularly for organizations with remote or mobile workforces.


Customization and adaptability - Buyers favor software solutions that can be customized to align with their unique business needs. This ensures the software accommodates their specific workflows and processes, ultimately enhancing user satisfaction and operational efficiency.


Scalability and customization - Organizations with evolving requirements prioritize solutions that can scale and allow for customization. Buyers specifically look for the ability to create custom fields, workflows, and extensions/plugins to meet their unique business needs.


Seamless integration capabilities -

The ability to integrate with other systems and applications

is a vital requirement for buyers. They seek a seamless flow of data and automated processes, valuing the capability to integrate with existing tools and platforms to enhance efficiency and provide a unified user experience.



ITIL

compliance - Many organizations prioritize adherence to ITIL best practices. Therefore, buyers may favor solutions that support ITIL processes, including

Incident Management

,

Problem Management

,

Change Management

, and Asset Management.
What is TeamDynamix?
TeamDynamix is a cloud-based solution accessible through a Software-as-a-Service (SaaS) framework that operates within the spheres of IT Service Management, Project Portfolio Management (PPM), and Integration Platform as a Service (iPaaS). It grants educational institutions like colleges, universities, and other entities the capability to synchronize, cooperate, and refine their operational processes.
What users like from TeamDynamix
TeamDynamix has received favorable reviews from respected industry sources like Gartner. These evaluations highlight several notable strengths and benefits of the platform. Let's take a closer look at these highlighted advantages.
Reliable ticketing module - The ticketing module consistently earns praise for its robustness and reliability. It equips users with the tools to efficiently organize and track project tickets, streamlining project management efforts.
Robust dashboards - TeamDynamix includes rich dashboards that offer powerful management tools to teams. These dashboards facilitate seamless monitoring and collaboration among team members, ultimately boosting productivity.
Effortless implementation - The platform is known for its ease of implementation and doesn't require prior programming expertise. This accessibility lowers entry barriers for organizations, ensuring a straightforward onboarding process.
Customization options - Users appreciate the extensive customization options available in TeamDynamix. These options empower them to configure the platform precisely to their specific needs, enabling the creation of tailored workflows and processes.
Responsive customer support - Users consistently commend TeamDynamix's support team for their responsiveness and helpfulness. They receive timely assistance when facing challenges or seeking guidance, contributing to a smoother user experience.
User-friendly interface - TeamDynamix has an intuitive user interface that simplifies the assignment and management of tasks and the submission of requests. Users find navigating exceptionally easy, enhancing their daily tasks' efficiency.
What users don't like from TeamDynamix
While TeamDynamix has several strengths and positive attributes, it has not been immune to criticism from its users. These criticisms come from reviews by reputable sources such as Gartner, and they bring to light several notable issues that warrant attention.
Ticket Management challenges - Users have reported various challenges in Ticket Management. These include the inability to sort tickets by their due dates, difficulties with the workflow designer, and the absence of essential functions like batch deletion in Asset Management.
Integration challenges - Users have voiced frustration over the platform's inability to integrate with a complete IT Service Management suite seamlessly. Additionally, they have noted a deficiency in robust Change and Configuration Management software.
Complex user interface - Complaints have arisen regarding TeamDynamix's user interface complexity. Users have cited challenges stemming from an outdated layout, limited customization options, and awkward ticket and comment layouts. Many advocate for a more modern, user-friendly graphical user interface (GUI).
Limited reporting - Some users have found the reporting capabilities within the system to be lacking. They have expressed a desire for more extensive integration between project and ticketing applications to enhance their ability to generate and analyze reports effectively.
Limited desktop sharing and updates - Concerns have been raised about the platform's inability to facilitate desktop sharing and its infrequent updates once they are pushed out. This limitation has constrained flexibility and usability for certain organizations.
Complex workflow structures - TeamDynamix has faced criticism for its intricate workflow structures, which have posed navigation and implementation challenges for some users.
Permissions management challenges - Reports have emerged of issues with how the vendor handles write/view/access permissions. These difficulties have led to user access and security concerns.
Delayed enhancement addressing - Users have expressed frustration over lengthy wait times for enhancements to be addressed, impacting their ability to utilize the platform effectively.
Outage page accessibility - Requiring a login to access the outage page has been considered an impediment, preventing users from obtaining critical information during system downtime.
Limited support - A significant drawback that has garnered attention is the platform's inadequate support during critical outages. Users have reported feeling left without assistance during crucial downtime situations. Furthermore, some have expressed dissatisfaction with the level of assistance provided by direct support channels.
User experience enhancement needed - While generally considered user-friendly, some users have encountered challenges in their overall experience. Specifically, they have found sorting and searching for tickets to be less intuitive. The abundance of customization options has also been overwhelming for some users.
What's TeamDynamix's argument over ServiceNow?
Here is a comprehensive analysis of TeamDynamix's key competitive advantages over ServiceNow:
Unwavering ticketing module - Users find it instrumental in efficiently organizing and tracking project tickets.


Agile dashboards - TeamDynamix provides agile dashboards with powerful management tools, facilitating seamless team monitoring and collaboration.


Hassle-free implementation - TeamDynamix distinguishes itself with its hassle-free implementation process, requiring no prior programming expertise.


Extensive customization options - TeamDynamix empowers users with a wealth of customization options, allowing organizations to configure the platform to their needs.


Responsive support - Users consistently commend TeamDynamix's responsive and helpful customer support team.


User-centric interface - TeamDynamix has a user-centric interface that simplifies task assignment, request management, and overall navigation, which significantly enhances daily operational efficiency.
What is ServiceNow?
ServiceNow is a company specializing in cloud-based solutions to enhance the efficiency of IT Service Management and digital workflows for businesses. Their primary objective is to simplify and automate IT-related tasks, improve customer experiences, and support organizations in their journey toward digital transformation.
Founded in 2004 and headquartered in Santa Clara, California, ServiceNow offers diverse cloud-based solutions catering to various aspects of enterprise functions. These encompass IT Service Management, IT Operations Management, IT Business Management, Customer Service Management, Human Resources Service Delivery, Security Operations, and more. Additionally, they have forged strategic partnerships with industry leaders such as NVIDIA and Juniper Networks, further solidifying their prominent position in the market.
What users like from ServiceNow
ServiceNow has received positive customer feedback, a testament to its positive reputation in the industry, with endorsements from reputable sources such as Gartner and G2. Here are some of the benefits that have been highlighted.
Expanded utility - ServiceNow extends beyond IT Service Management. Customers have harnessed its capabilities across diverse domains, including Human Resources (HR), Customer Engagement Center (CEC), Governance, Risk Management, and Compliance (GRC), as well as IT Operations Management (ITOM).
Continuous product enhancement - ServiceNow is committed to ongoing improvement by constantly enhancing its offerings through acquisitions and in-house development. Their transparent product roadmap keeps customers informed about upcoming features and enhancements.
Seamless integration - ServiceNow's feature set facilitates effortless integration with other systems and applications, streamlining processes and data flow.
Cloud-centric approach - ServiceNow's cloud-based strategy offers organizations scalability, adaptability, and the convenience of access from virtually any location.
Thriving user community - ServiceNow maintains significant relevance within the industry and boasts a rapidly expanding user community. Many customers discover and gain expertise in the product through recommendations and shared insights from their peers.
Embedded

Artificial Intelligence (AI)

- ServiceNow harnesses the power of AI and machine learning to deliver integrated AI capabilities, including virtual Agent chatbots and predictive intelligence, enriching the user experience and functionality.
What users don't like from ServiceNow
While ServiceNow has many strengths and positive attributes, it hasn't escaped customer criticism, who have voiced reservations, as evidenced by reviews from reputable sources such as Gartner and G2. Here are some of the issues that have been raised.
Customization and workflow constraints - ServiceNow exhibits limitations in flexibility and customization options, making it challenging for organizations to tailor the system to their precise needs and unique business processes.
A steep learning curve and complexity - ServiceNow's platform poses a notable learning curve for certain users, particularly when engaging with its advanced features. The platform's inherent complexity may demand additional training and resources to ensure users can effectively leverage its capabilities.
Implementation challenges and delays - During the implementation phase, organizations may encounter configuration issues, data migration complications, or integration challenges with existing systems, potentially leading to extended project timelines.
Renewal negotiation hurdles - Due to ServiceNow's dominant position in the market, customers may face limitations when attempting to renegotiate contracts without affecting existing discounts or terms.
Varied customer support feedback - Some users have expressed concerns regarding the response times and accessibility of ServiceNow's customer support, highlighting the need for improvements in this area.
Cost-related concerns - While ServiceNow offers comprehensive functionality and advanced features, its licensing fees can be substantial. This cost consideration becomes even more pronounced for organizations seeking expanded platform capabilities beyond IT Service Management. Additional expenses for customizations or specialized modules can further impact the total cost of ownership.
Limited presence in emerging markets - ServiceNow's footprint remains limited in certain emerging markets, with fewer local offices and a lack of hosting options in regions such as the Middle East.
What's ServiceNow's argument over TeamDynamix?
In ITSM, ServiceNow and TeamDynamix offer robust solutions, but it's vital to discern their distinctive strengths. Let's delve into the merits of ServiceNow, setting the stage for a comparison with TeamDynamix.
Versatile utility - ServiceNow goes beyond ITSM, serving domains like HR and Customer Engagement. This broader scope can be compelling.


Continuous improvement - ServiceNow constantly enhances offerings transparently, a feature ensuring customer confidence.


Seamless integration - ServiceNow excels in integrating with various systems, which is critical in today's interconnected landscape.


Cloud agility - ServiceNow's cloud-based approach offers unmatched scalability and flexibility, enabling swift adaptation.


Community strength - Its thriving user community fosters expertise sharing.


AI integration - ServiceNow leverages AI for virtual chatbots and predictive intelligence, enhancing user experience and problem-solving.
Considering InvGate Service Desk as an ITSM solution alternative
While TeamDynamix and ServiceNow are established names in the field of IT Service Management, it's crucial to consider alternative solutions that can address your organization's unique requirements. In this context, InvGate Service Desk is a compelling option deserving thorough evaluation.
Let's delve into the comprehensive features of InvGate Service Desk that establish it as a valuable choice for fulfilling your organization's ITSM needs:
Exceptional user experience
InvGate Service Desk places a strong emphasis on providing an outstanding user experience. It achieves this through meticulous design and adherence to UI/UX best practices. The result is an intuitive interface that encourages rapid adoption, reducing the need for extensive training and maximizing productivity.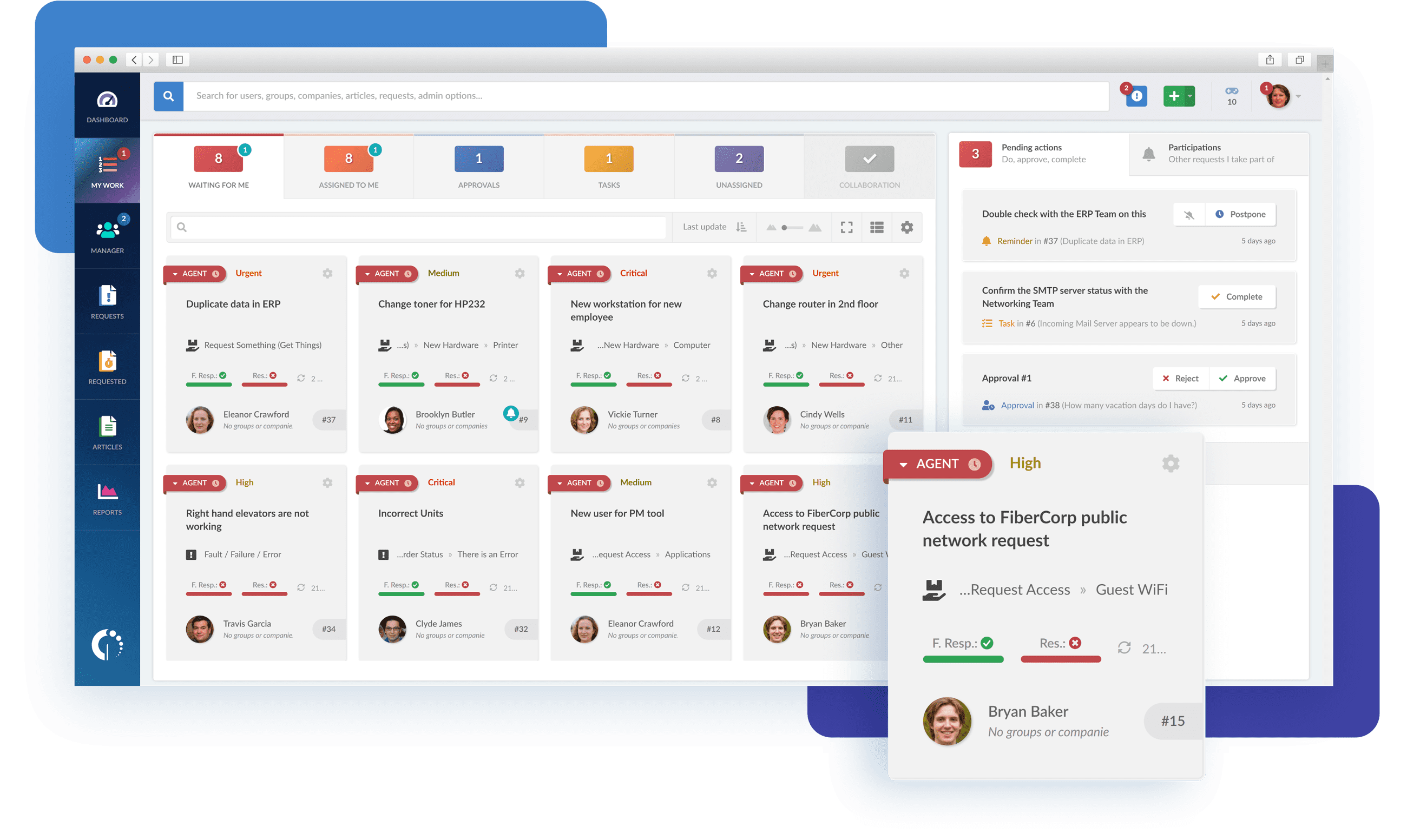 Simplified configuration and setup
InvGate Service Desk simplifies configuration and setup with a user-friendly, no-code/low-code approach. This approach enables both novice and experienced users to implement the system without requiring extensive technical expertise. The platform offers straightforward configuration options, allowing organizations to harness its robust ITSM capabilities quickly.
Robust Ticketing and Incident Management
InvGate Service Desk provides powerful capabilities for efficient ticket tracking, collaboration, and resolution. Features like automated ticket routing, customizable workflows, and SLA Management empower IT teams to manage and prioritize incidents effectively.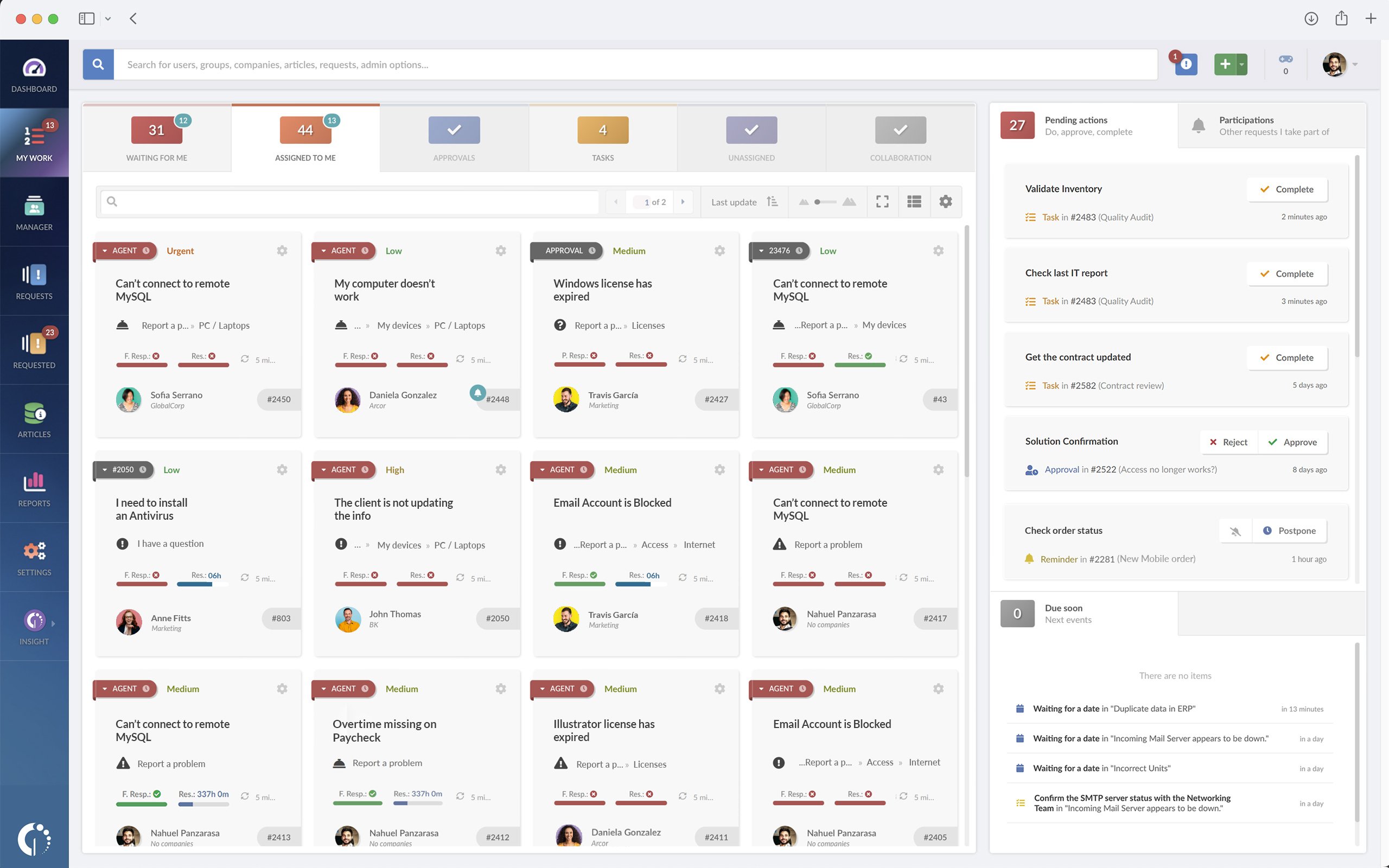 Comprehensive reporting and analytics
InvGate Service Desk offers extensive reporting and analytics functionalities, enabling organizations to gain valuable insights into their IT operations and performance. The platform provides ready-to-use reports and customizable dashboards, allowing IT teams to analyze data, identify patterns, and make informed decisions to enhance their services.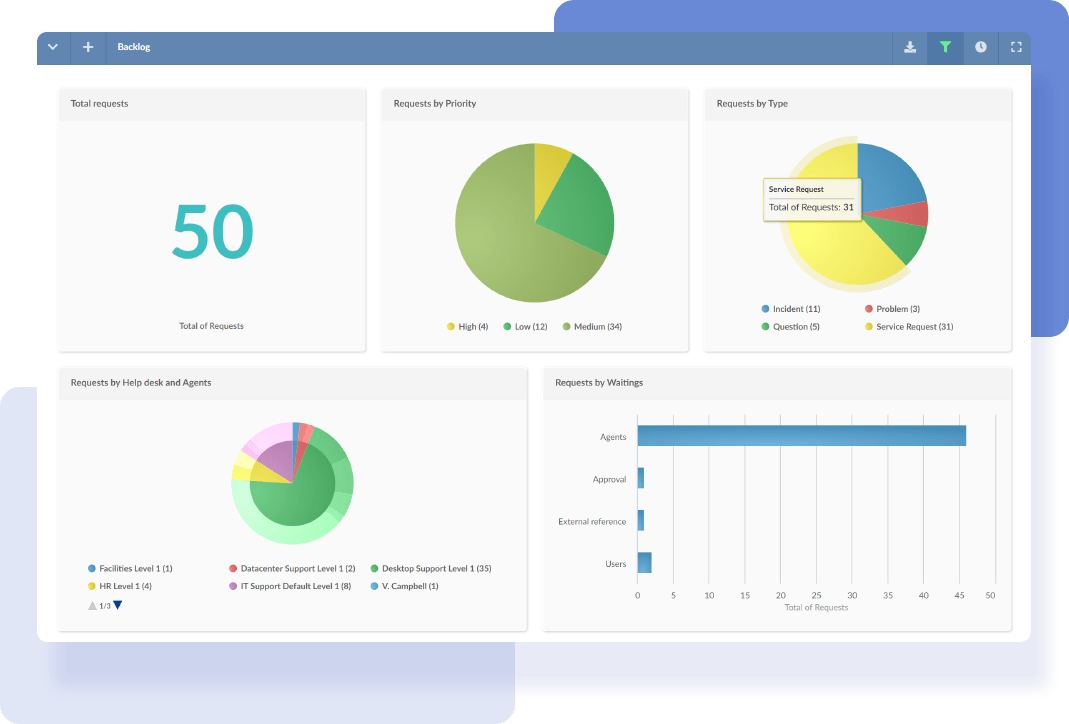 Strong self-service capabilities
InvGate Service Desk offers robust self-service functionalities, including a user-friendly portal, an extensive IT service catalog, and a knowledge base. These features empower end-users to independently address common issues, access various IT services, and utilize self-help resources, thereby reducing the workload on IT staff.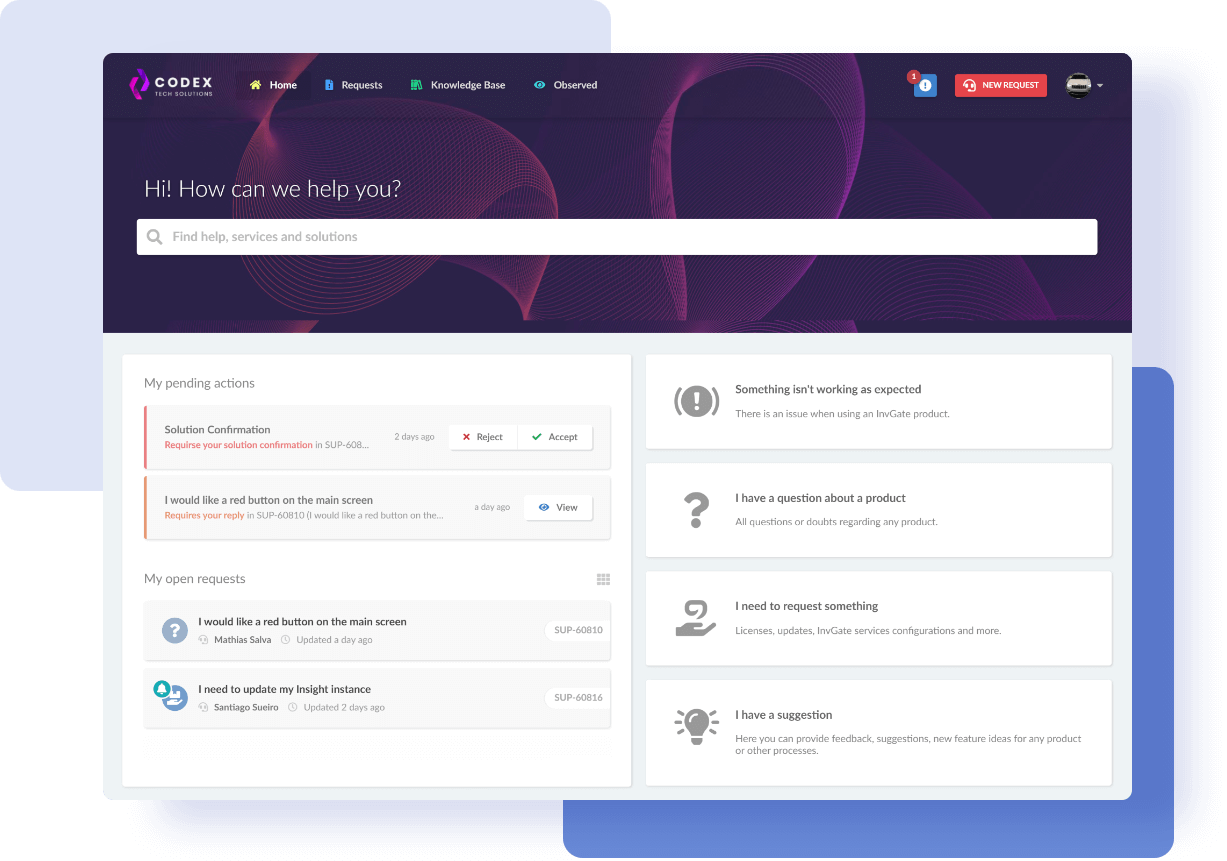 Cost-effective solution
InvGate Service Desk offers a cost-effective solution without compromising on functionality. It provides a comprehensive suite of ITSM features at a competitive price point, making it an appealing choice for organizations seeking affordability without sacrificing capabilities. In comparison to alternatives like TeamDynamix and ServiceNow, InvGate Service Desk strikes a balance between cost and functionality.
Customization and flexibility
InvGate Service Desk offers flexible deployment options, giving organizations a choice between on-premise or cloud-based solutions. This flexibility ensures that the platform can meet the specific demands of various sectors and industries.
Comprehensive Asset Management
By integrating InvGate Service Desk with InvGate Insight, organizations gain a comprehensive view of their IT ecosystem, resulting in improved service delivery and reduced downtime. InvGate Insight offers features such as IT Asset Discovery, Inventory Management, Software License Management, and maintenance schedules.
ITIL-certified readiness
InvGate Service Desk holds the prestigious ITIL4 certification from PINK Elephant, highlighting its commitment to upholding ITSM excellence. Whether organizations are embarking on their ITIL journey or managing complex operations, InvGate Service Desk offers a user-friendly and feature-rich experience aligned with industry best practices.
Focused on ITSM with ESM extension
InvGate Service Desk is purpose-built for ITSM and seamlessly extends its capabilities to Enterprise Service Management (ESM). This empowers operational departments to enhance their processes and fully embrace the benefits of digital transformation. With its primary focus on ITSM and strong performance in ESM, InvGate Service Desk facilitates streamlined workflows and comprehensive digital transformation initiatives across all departments.
Fast ROI and ongoing innovation
InvGate Service Desk ensures a swift return on investment through efficient implementation processes. Within weeks, organizations can start experiencing the benefits of this robust ITSM solution. Additionally, regular feature updates keep users at the forefront of technology without incurring additional costs.
Next steps
Regarding IT Service Management, the choice between TeamDynamix vs. ServiceNow is undeniably significant. Both platforms come with unique strengths and benefits tailored to meet the diverse needs of organizations.
But as you weigh your options, you must broaden your horizons beyond these two contenders. The IT Service Management landscape is teeming with many solutions, each with its own set of benefits and capabilities.
In this context, consider InvGate Service Desk as an outstanding choice. This solution brings several distinctive strengths that set it apart from the rest. Its intuitive interface simplifies user navigation, while its robust feature set enables organizations to streamline their operations efficiently.
Delve into our live demo and unlock the true value of InvGate Service Desk. Transform your IT Service Management now!