Workflow automation is an absolute boon for increasing ROI, maximizing your investment, and making efficiency go through the roof. Moreover, it's a great way to improve the employee experience. Every employee out there has struggled with a repetitive task (or ten). Most data entry, for instance, can be cumbersome and tedious; given a choice to opt out, most employees would.
And that's where business workflow automation can give them — and your business — a major leg up. In essence, you can optimize workflow in every area, from finance to human resources, and keep your employees using their valuable skill set where it's needed the most.
Let's take a look below to see how automation affects the overall business process.
Ten processes that can be automated with workflows
Creating invoices is one of those time-consuming, but always necessary tasks. Though you can always use an invoice template PDF to make attractive invoices with simplicity, rather than wasting time and money writing them manually, it's not just about making invoices, is it? Creating a schedule for sending them out on time is as important. Workflow automation can help with precisely that, automating the schedule and making sure that the invoices always get to their destination when it counts.
Creating an efficient task management system is almost as important as completing the tasks themselves. Why? Because with any manual task, there's the risk of must-do things that can get lost in the pipeline, especially with a busy workplace.
But, with automation things become much simpler. You can create a system that assigns each task and asks the user for confirmation of receipts and for updates to let you know how far along the process they are.
No, we don't mean greeting and tutoring employees — that still requires people. But, workflow automation can help with the data entry process, speeding things along. The way it works is that employees input their information, and the automation tool sends it right over to HR. Presto!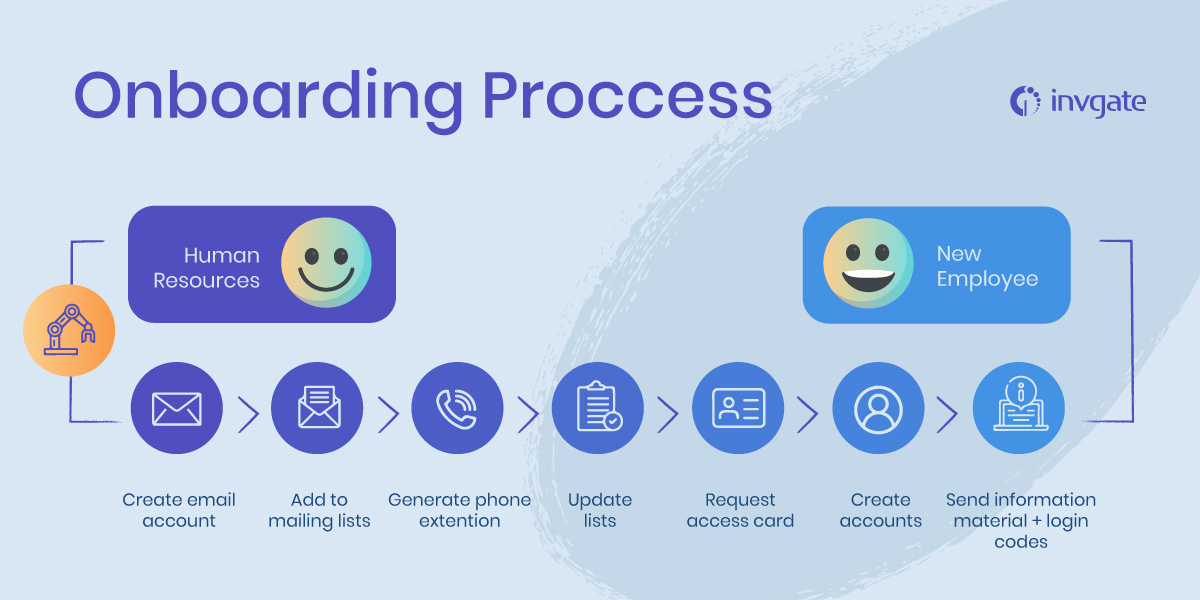 Who hasn't lost a few leads due to mismanagement, being short-staffed, or things simply slipping through the cracks? An automated workflow can definitely help here.
The gist of it is that the "lower-end" tasks can be automated, freeing your employees to follow up on the later stages of the sales funnel. For instance, a good workflow automation tool can help you fill out your CRM with customer queries and automate the follow-up process so nothing gets lost in the shuffle.
Come holidays or the summer season, it's very common to be swamped by vacation requests. Normally, the process is done manually, with employees emailing managers, and they in turn having to approve each request. Then managers have to forward the approved request to HR — you see how this can go on and on forever.
Workflow automation helps by creating easy-to-fill-out forms that are then reviewed by the manager. Once they check it out, the system is already populated, so there's no more data entry, and no more time wasted. Vacation requests are also one of the most easily automated parts of the entire business process.
Workflow automation is not going to put your legal department out of a job. But it can definitely make the whole business process more agile by auto-generating routine documents. And trust us, your legal department employees can write these in their sleep — but it doesn't mean that they want to!
Things like NDAs (non-disclosure agreements), and general contracts are no problem for a good workflow software. Basically, they create a handy template that your legal team can fill out and then review before sending.
Support ticket management
This is also one of those situations where things can easily get lost. Very frequently, support tickets can swamp your IT department (something we often discuss on this blog). Not only are they not happy campers when this happens, but there's also the fact that doing it manually is plainly inefficient.
Now, instead of employees manually contacting your IT staff every time something breaks, they can fill out a form, submit it, and wait. Having everything centralized in one workflow automation system makes tickets easier to follow and resolve.
Another trouble spot is frequently with employee reimbursement. This is often a multi-step process where a manager needs to sign off on the reimbursement, then manually forward it to finance (who have to fill out a form by hand as well), and then, finally, the employee receives their check.
Workflow automation makes this process simpler and faster. The employee fills out a form, which is then subsequently reviewed by the manager, who then routes it to the finance department. In turn, they review the information, and cut the check. Furthermore, if some expenses are recurring, you can create a rule to automatically approve the reimbursement.
Making hidden IT issues visible
Sometimes, hidden IT issues and programs can really hurt the overall business process. Why? Because employees are using programs that your IT team may have no knowledge of. Now, we've talked at length about IT Asset Management in the past. Keeping abreast of every program your team is using is not just good IT hygiene — it's a must for the security of your network.
Thus, a good automation tool will provide the help you need by either outright banning shadow software, or letting you know when something off-color pops up.
This is definitely one you'll want to keep your eye on. Good workflow automation doesn't just help with lead management, but also with keeping customer satisfaction high, as it should be. No matter how much customers want and need you to hurry it up, there's only so much manpower at your disposal.
An automated workflow can significantly improve the experience, including customer support turnaround times.
The main way this is done is through submitting forms. Say a support ticket is created on your website. This can lead to an automated ticket creation, and in turn, to a task that your team can easily follow up on.
Workflow automation solutions
As we've pointed out in this article, it's clear that if you're not thinking about workflow automation, you should. And, while workflow software is not exactly in short supply, there's still the matter of telling whether that tool is worth the price, or a costly setback. Worse yet, you may be tempted to go with bargain-bin workflow software, and that could lead to other problems down the line .
InvGate Service Desk is the perfect way to streamline IT support in general, and workflow automation in particular. It gives you tremendous customizability by providing you a workflow visualizer so you can map out your processes more easily.
It can improve business workflow automation by:
Reducing bottlenecks
Allowing agents to focus on what's important while leaving repetitive tasks to the Service Desk. This lets them work smarter, not harder.
Having full compatibility with

InvGate Insight

.
Tens of other features, such as problem management, ticket management, a deep knowledge base, thorough analytics, and gamification systems.
With a focus on efficiency and reliability, it handily covers every feature listed on this article, and it does so in spades.
Final thoughts
Workflow automation is all about maximizing efficiency, keeping costs low and productivity high. When you run a company, operating with bare-bones efficiency levels may cut the mustard at first, but it doesn't when the need to optimize arises — and that's always sooner rather than later.