A good ticketing system is one of the most essential tools an effective service desk can have. Properly implemented, ticketing software can help service desks log, update, manage, and resolve incidents and service requests effectively and efficiently.
In this article, we'll look at everything you need to know about them, their must-have features, and some of the top ITSM vendors in the market to choose from in 2024.
Let's begin!
Table of contents
TL;DR
A ticketing system streamlines the delivery of IT services by centralizing incoming request, creating a new incident or request every time a ticket is submitted, and managing them throughout their lifecycle.

With this system, IT support becomes more efficient, as it helps guarantee nothing is lost, ignored, or forgotten about.

Main ticketing system features to look out for are ticket logging and management, a self-service portal, omnichannel support, automation, and integrations.

Every business is different. Take the time to research the market and find a tool vendor that will work with you to deliver a ticketing service that will best meet your organization's and its users' needs.
Want the short version? Pick InvGate Service Desk and start handling tickets in a day
We tried to be as thorough as possible, but if you don't have enough time to read it through and through, here's (another) TL;DR: InvGate Service Desk can do everything we say here, and you can test it right away for free for 30 days.
What is a ticketing system?
A ticketing system is a piece of software that automates the manual tasks IT professionals carry out when dealing with incidents and service requests.
Put simply, in front-line IT support, you deal with two types of tickets:
Incidents, which are break-fix.

Service requests, which are there to handle requests for new hardware, software, or permissions.
A ticketing system manages these requests, so instead of the tech support person relying on post-it notes, emails, or spreadsheets, the system creates a new incident or service request every time a ticket is submitted.
In doing so, the software platform captures all the relevant customer contact details and requirements as part of the ticket management process, and it generates a unique reference number so the ticket can be tracked throughout its lifecycle. Some ticketing systems also have additional tools and functionality to support Problem, Change, and Asset Management.
10 best ticketing systems to try in 2024
Ready to start looking at ticketing systems? Here are some of the best.
1. InvGate Service Desk
InvGate Service Desk is the all-in-one solution to streamline your IT operations. It's suitable for companies of all sizes and offers on-premise and cloud implementations. Its user-friendly interface not only improves the adoption rates by end-users but also helps the implementation time by allowing your agents to start working with it in no time and with very little training time required.
"We are definitely pushing all employees (4,500) to move from email to tickets. There is better control over them, determining times, necessary training and employee performance."

Martin Nuñez
Service Desk Manager at Harmony Public Schools
It comes packed with the following:
An intuitive ticketing system.

Self-service capabilities (knowledge base, self-service portal, and service catalog).

Automation features (workflows, alerts, and notifications).

Customizable reporting and dashboards.

ITIL-certified practices.

Add-on modules to include Asset Management and

gamification

.

SLA management.

AI capabilities.
And you can explore all of these for free for 30 days or navigate through the live demo.
2. ManageEngine
ManageEngine overview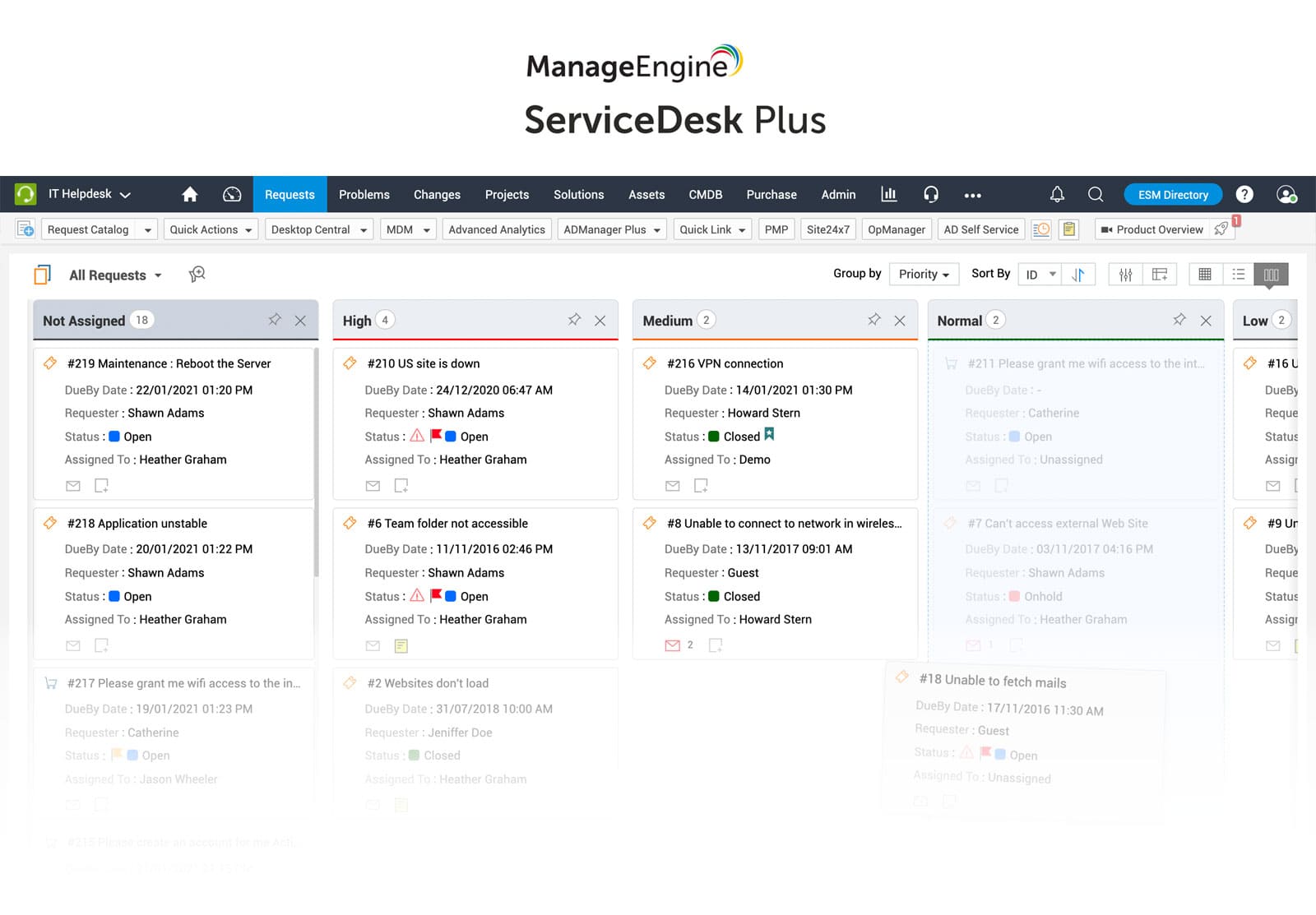 ManageEngine provides a consistent solution for IT Service Management with key features such as Incident, Problem, Change, Asset, and SLA management, self-service features, a CMDB to manage configuration items, IT project management, and reporting.
ManageEngine alternatives
3. Hornbill
Hornbill overview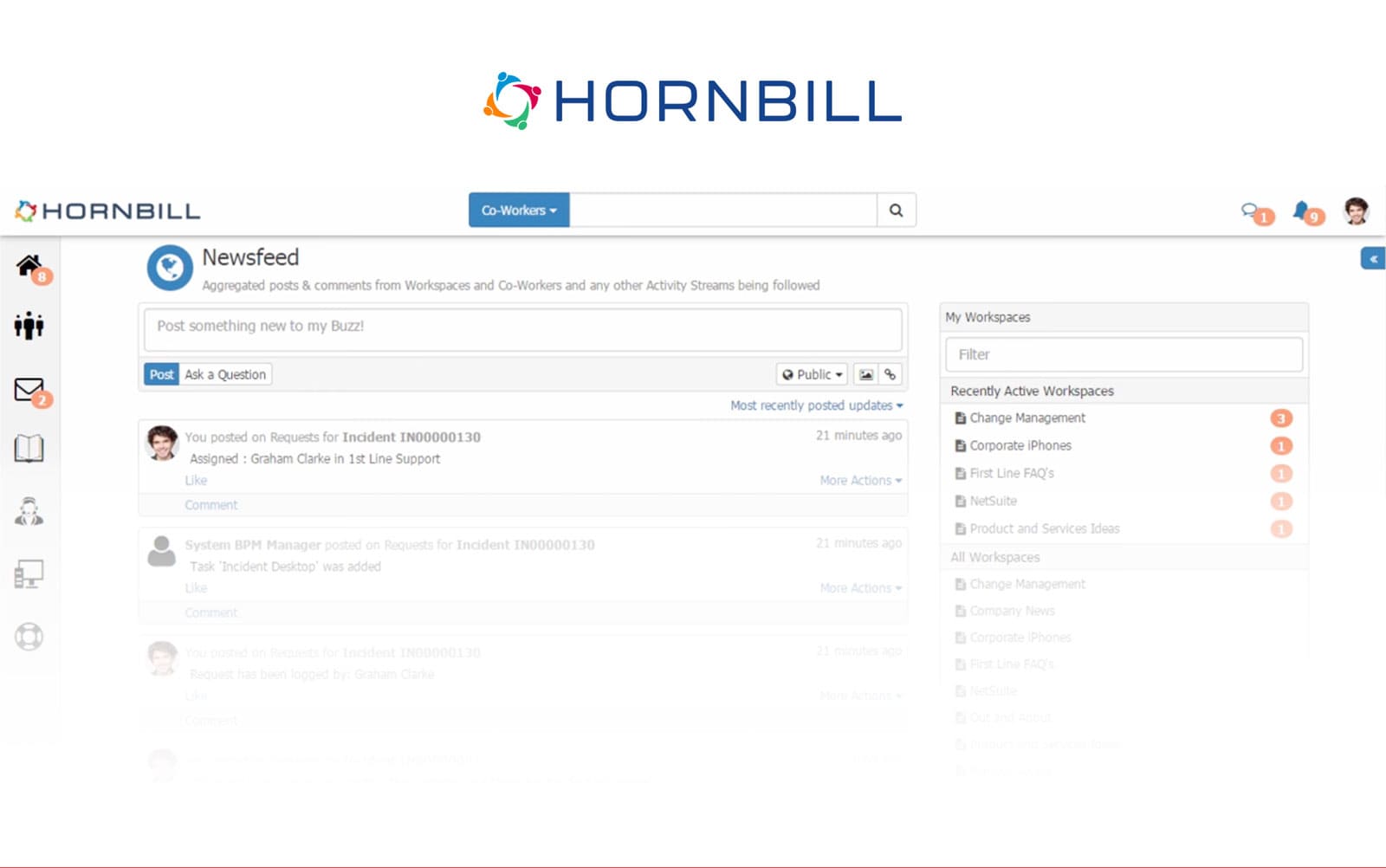 Hornbill is a comprehensive Service Management solution that streamlines IT and business processes. Some of its main features include:
Customizable workflows

Self-Service portal

Collaboration tools

Analytics and reporting

Integrations with third-party tools and systems
4. TOPdesk
TOPdesk overview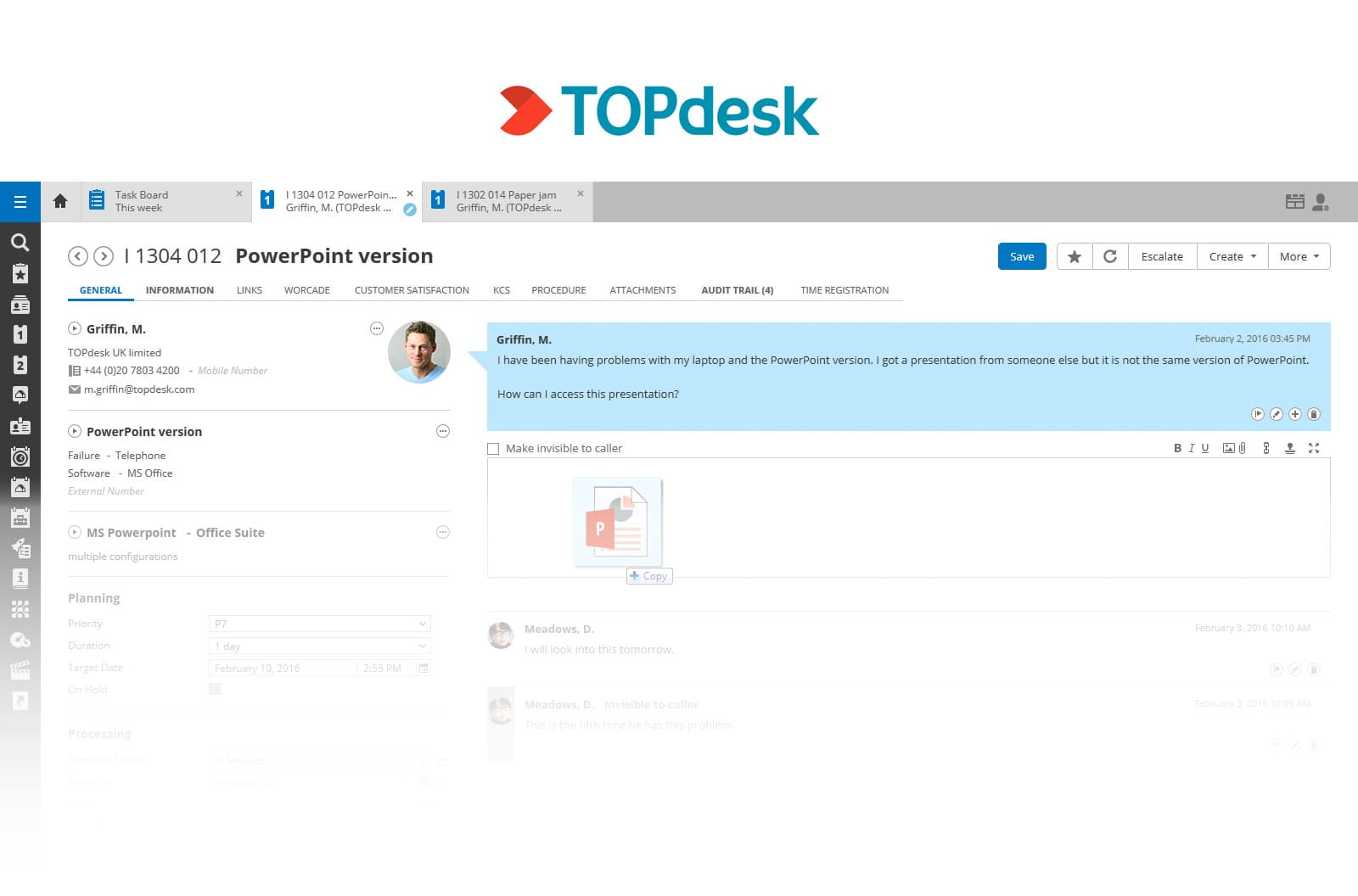 TOPdesk provides organizations with tools to manage their IT services effectively and ensure business continuity.
Some of its main features include:
Incident and Problem Management

Change Management

Self-Service portal

Reporting and analytics

Integrations
TOPdesk alternatives
5. Ivanti neurons
Ivanti overview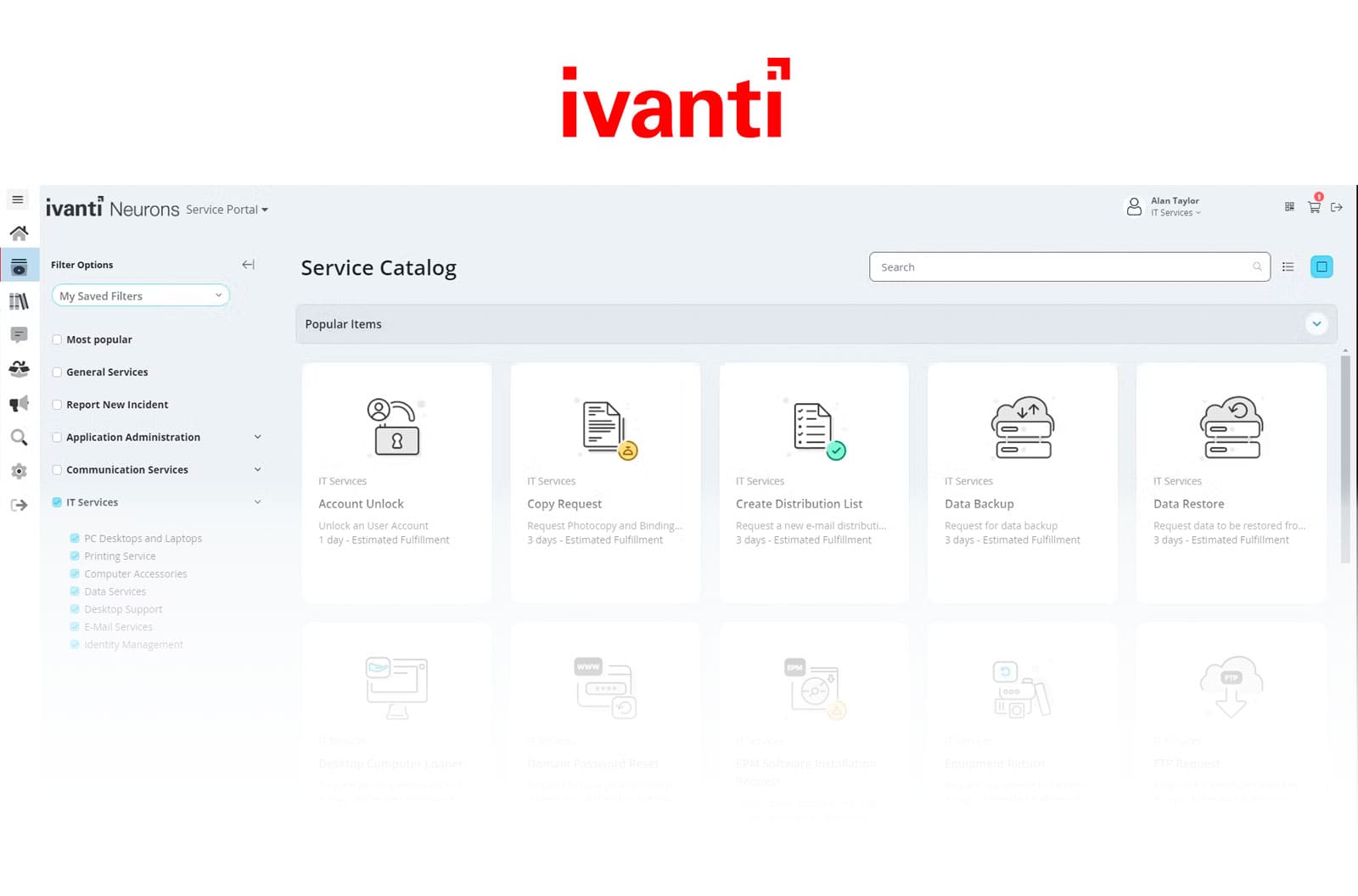 Ivanti Neurons helps organizations meet company demands and streamline IT processes.
Its main features include:
ITIL-aligned processes

Integration with IT Asset Management

Omnichannel support

CMDB
Ivanti alternatives
6. SysAid
SysAid overview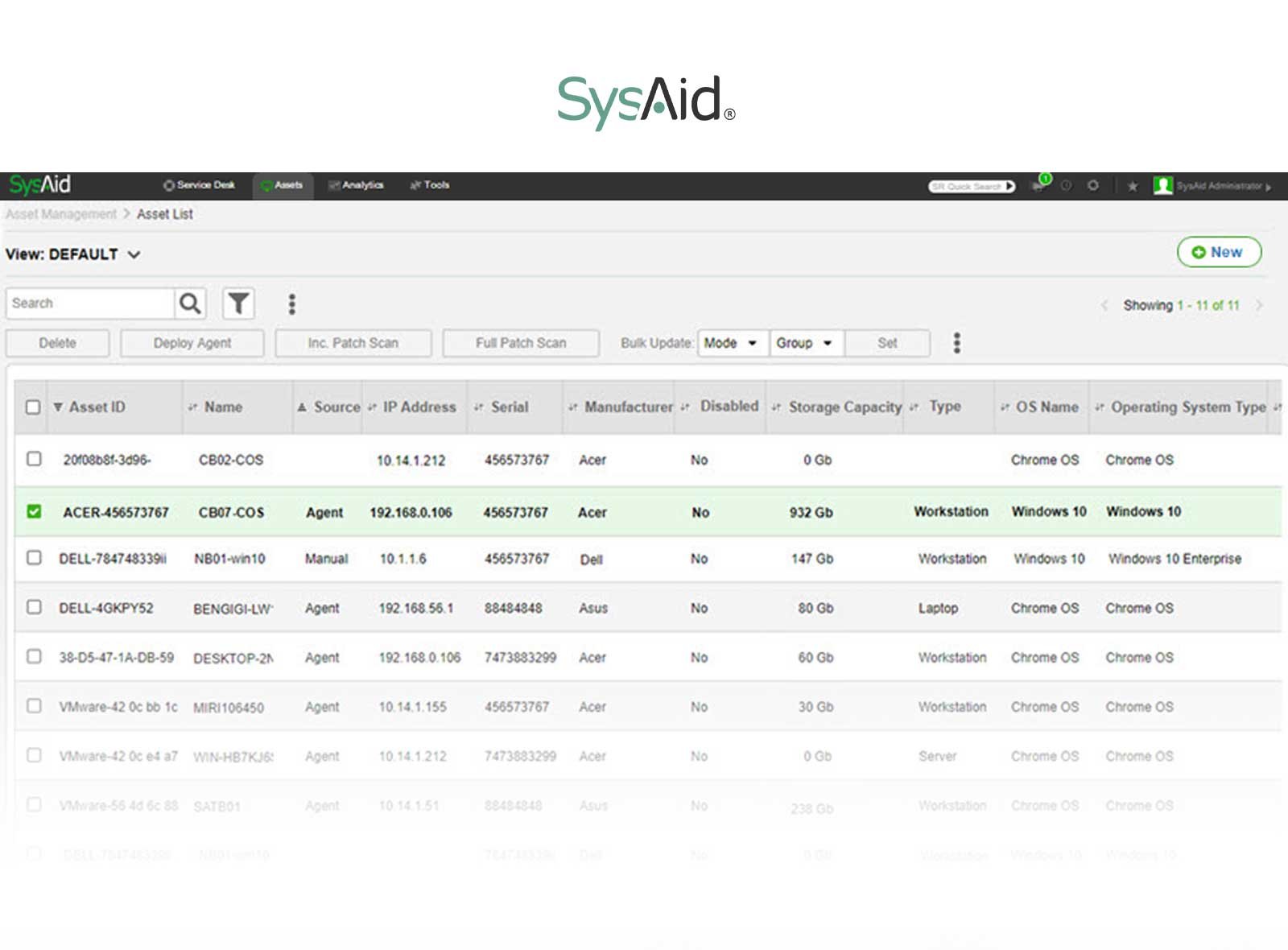 SysAid provides its users with an ITSM solution to automate service desk tasks. It comes with an ITIL package, workflow automation, third-party integrations, advanced customization, and Service Level Management.
SysAid alternatives
7. Freshservice
Freshservice overview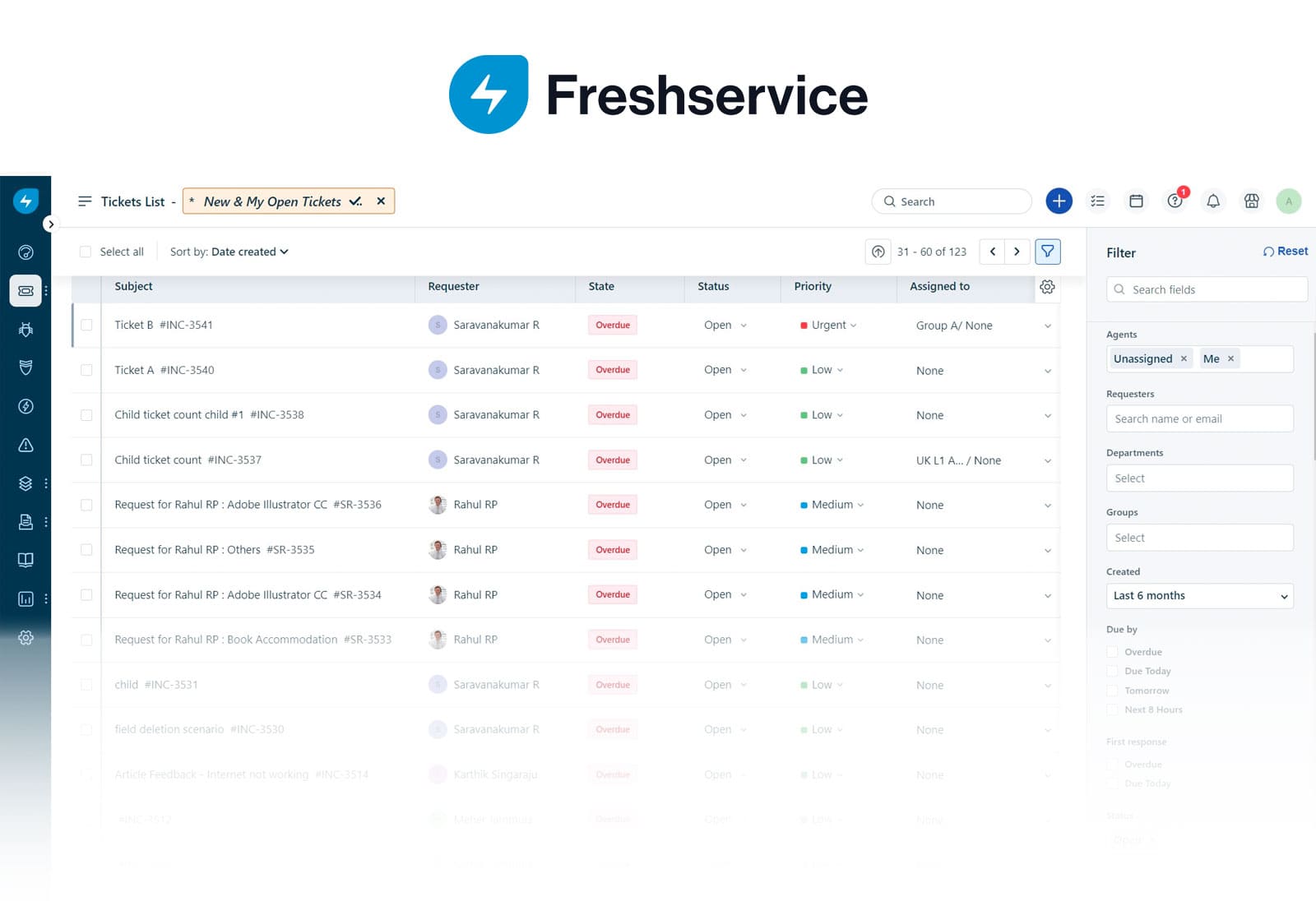 Freshservice is an intuitive solution to automate repetitive tasks, remove data silos, and reduce costs.
Some of its main features are:
Integrations with communication tools to provide omnichannel support

Knowledge base and self-service options

AI capabilities
Freshservice alternatives
8. Zendesk
Zendesk overview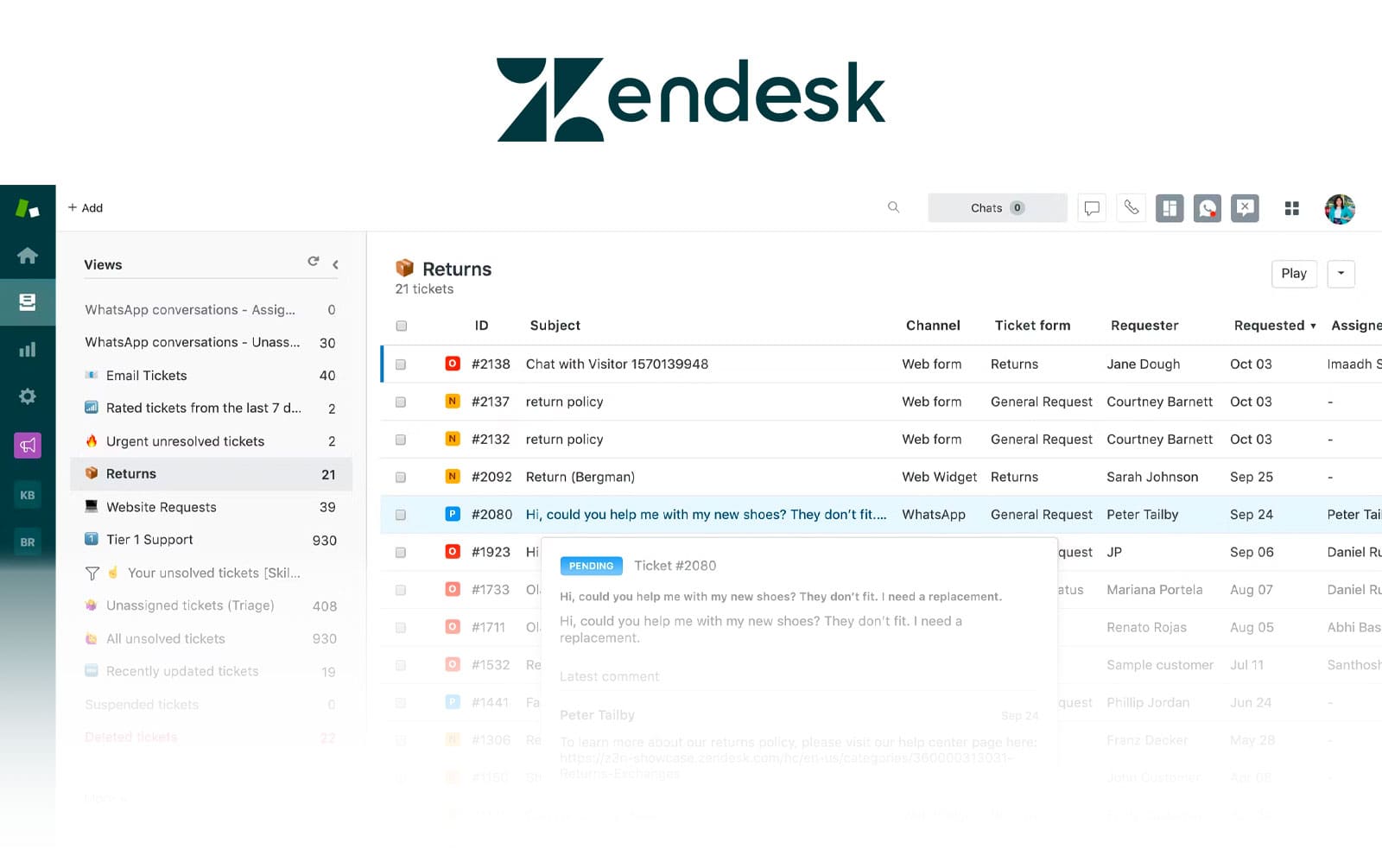 Zendesk is a platform oriented to customer service, with a focus on experience. It offers products for service and sales, and some of its main features are:
Self-service capabilities

Omnichannel support features

AI and bots

Collaboration tools

Integrations
Zendesk alternatives
9. SolarWinds
SolarWinds overview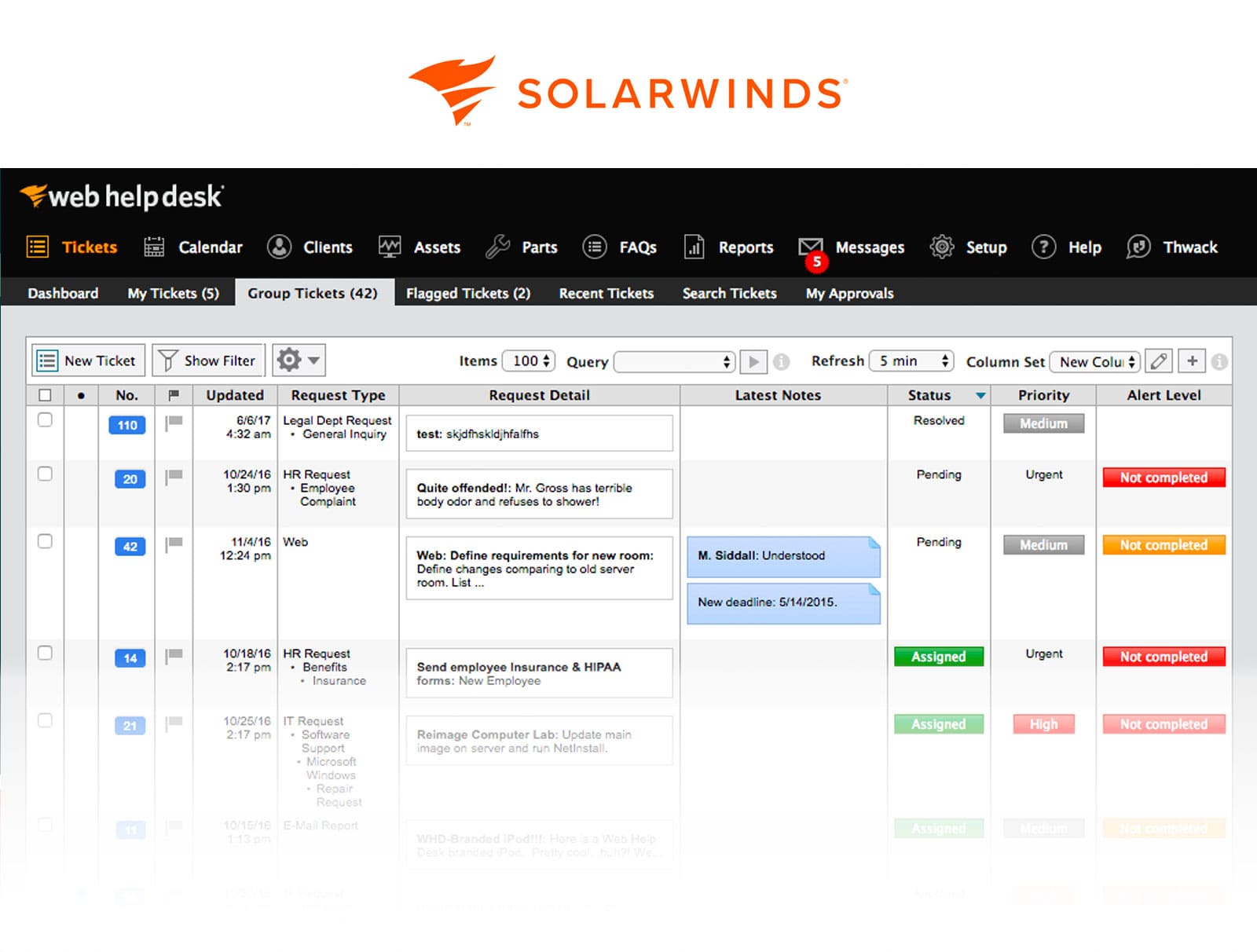 SolarWinds is helpful to better control your IT processes and improve customer service. It specializes in industries with tight controls and audits, and its main features include:
Integrated IT Asset management

Self-service options

Problem, Change, and Incident Management
SolarWinds alternatives
10. Marval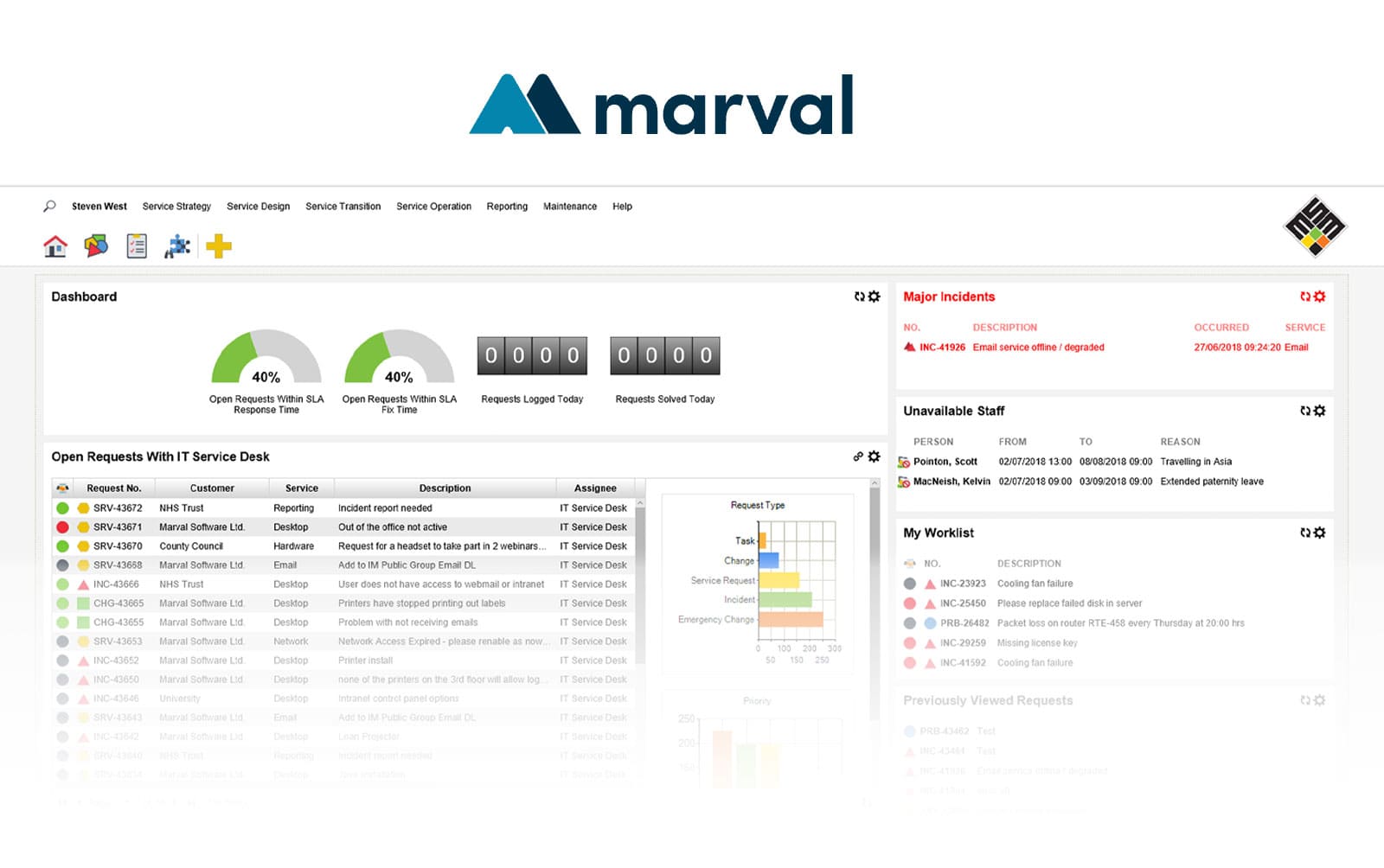 Lastly, Marval offers a powerful Enterprise Service Management solution to enhance productivity and customer service and improve control and accountability. It has a user-friendly interface, cloud and on-premise options, and easy implementation.
Why do you need a help desk ticketing system?
In short, to stop our help desk from getting overwhelmed and keep us honest. Without ticketing systems in place, IT teams need to rely on emails and spreadsheets, and it's very easy for details to be missed or not dealt with correctly.
Help desk ticketing systems help you level up your tech support offering. A dedicated tool makes it easier to manage existing cases, making the support process more cohesive and ensuring nothing is lost, ignored, or forgotten about. With everything in one place, IT support becomes leaner and more efficient, meaning that cases take less time to resolve – something that benefits IT and the rest of the business.
5 benefits of a ticketing system
The benefits of having a ticketing system in place include the following:
A more professional service desk experience. Everything is logged consistently, and nothing can be lost, ignored, or forgotten.

Service automation can support the scaling up of your help desk.

Improved customer experience.

Support for Problem Management through analysis and trending.

Management reporting that can be used to drive service improvement initiatives.
How does a ticketing system work?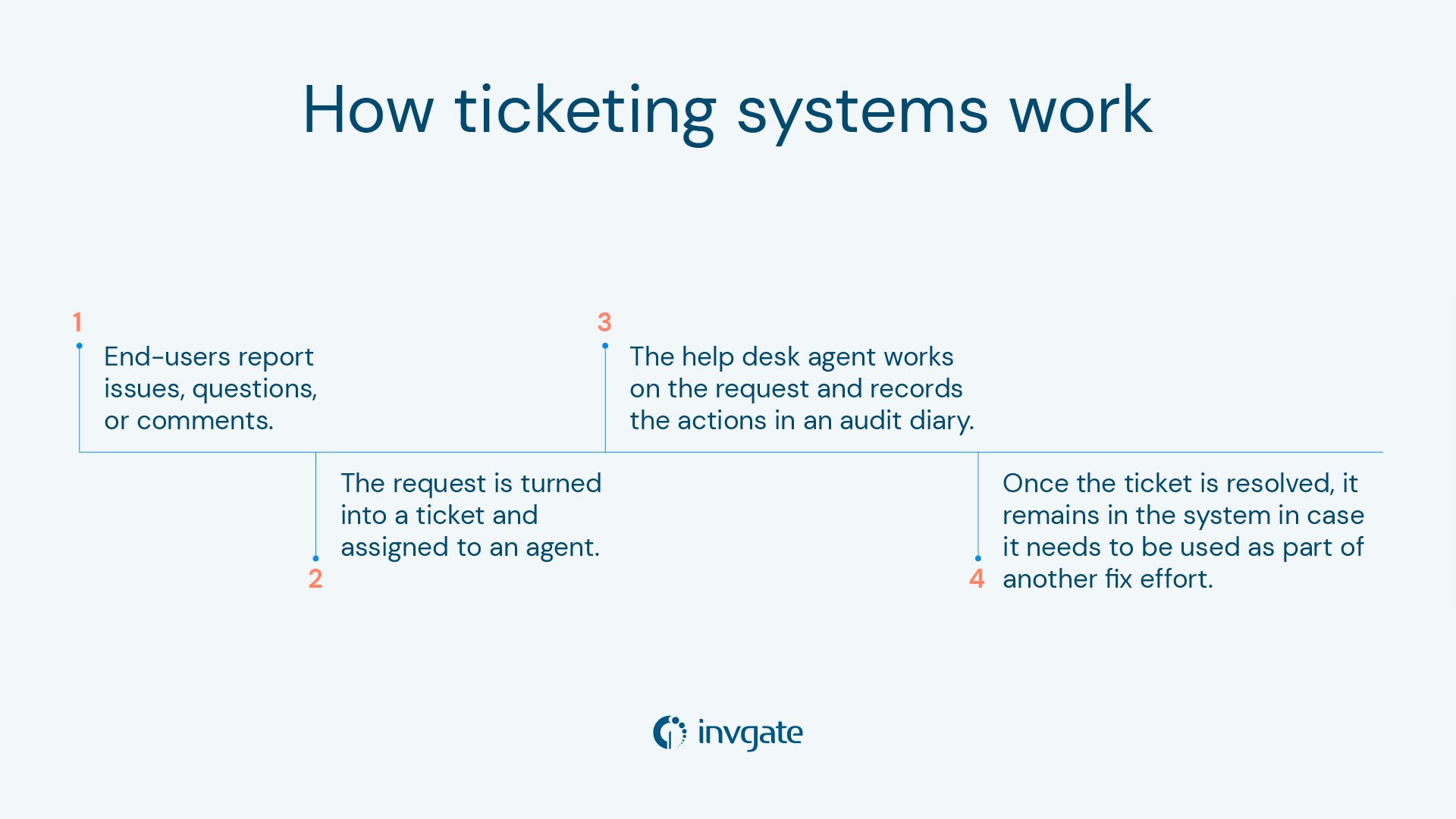 Ticketing systems capture all end-user issues, questions, and comments into tickets, acting as one central point of contact for all IT support. The system will then track the status of each request as it's investigated and worked on, and all actions relating to them are recorded in an audit diary so that they can be referred back to if necessary.
When the ticket has been resolved, it doesn't just disappear; it's updated with what has been done to solve the issue. This way, if it recurs or the same issue is experienced by a different colleague or customer, the service desk can return and use it as part of the fix effort.
8 ticketing system features to look for
The IT ticketing system market is a crowded one, but here are the essential features to look for:
Ticket logging and management

IT security

Integrations
1. Ticket logging and management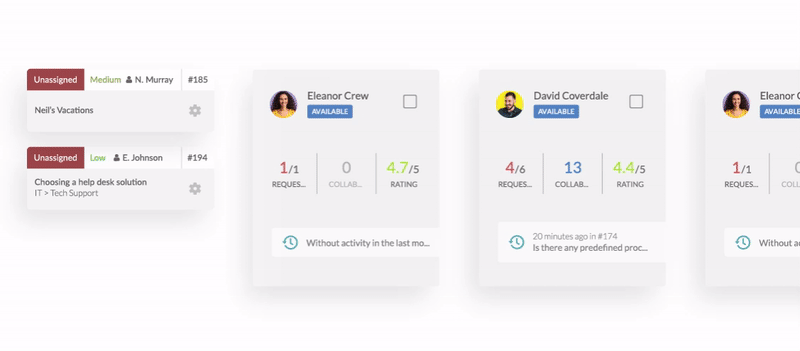 The clue is in the name! The most important thing your ticketing system needs to be able to do is to log and manage tickets quickly and effectively to establish a seamless ticketing process flow. It should be easy to raise, update, and resolve issues, and you should be able to create templates of your most commonly occurring tickets.
2. Self-service portal
A self-service portal allows end-users to become more self-sufficient by empowering them to log and update their own incidents and service requests.
3. Omnichannel support
Colleagues don't all contact IT in the same way. Some call, some email, and some show up in person. So, having a strategy for ensuring that everyone is treated transparently and fairly no matter how the ticket was logged is essential.
Thus, ensure that your go-to ticketing platform can integrate with tools such as Zapier, Microsoft Teams, and email to enable IT to support customers using their preferred channels.
4. Ticket routing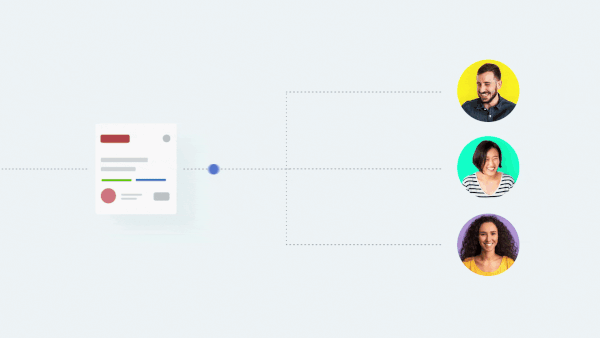 It's not just about logging and resolving incidents and service requests; you must also route them effectively. Sometimes, you have to assign an incident to a different team or the next level of support if more specialized knowledge is required.
To achieve this, help desk tools must provide features like automatic assignment of tickets, workflows, and simple ticket escalation options. Regardless of your ticketing system, ticket reassignments and escalations are vital parts of the ticket management lifecycle. So, ensure your tool can support this and that the functionality is easy to use.
5. Knowledge Base Management
A knowledge base can transform your help desk from a group of individual techies working in silos or bubbles into a team of superheroes. Move away from your knowledge hero and into a culture of knowledge sharing by creating knowledge articles about the most frequent tickets for your end-users and internal use as well!
With a knowledge base, you can share tech support information quickly and easily across your team.
6. Automation
Your ticketing system can use workflow automation to free up your help desk to focus on the most valuable customer interactions. Create workflows to automate routine processes across IT and the rest of the business.
7. Integrations
The help desk is too important to work alone, so look at how it can link to other systems within your organization. One integration in particular to leverage is combining the service desk with an Asset Management platform because it'll provide your agents with all the information they need to solve issues faster and more efficiently.
8. Reporting & analytics
There's nothing like solid metrics to keep us all accountable. Done well, reporting can help identify blockers and pain points and be used as the basis for Problem Management and continuous improvement practices.
9. AI capabilities
Artificial Intelligence is pivotal in enhancing the efficiency, precision, and user satisfaction of service processes within a Ticketing System.
The implementation of AI-driven features introduces intelligent automation and predictive insights, leading to the simplification and streamlining of Ticket Management in the IT Support domain. This doesn't just improve the workflow for support agents but also heightens the overall experience for end-users.
How to implement a ticketing system: 4 tips and best practices
Implementing a ticketing system is one of the most important actions you can take in improving IT service provision to your organization. We have an implementation checklist to help you out, but in short, remember the following:
Know your organization - Every business is different. Take the time to research the market and find a tool vendor that will work with you to deliver a ticketing service that will best meet your organization's and its users' needs.





Know your requirements - We've discussed the main ones in the previous section. Before you start looking at solutions, sit down with your help desk and tech support teams, and watch them work incidents and service requests through the entire lifecycle in case a requirement or way of working needs to be captured.





The tool is not a silver bullet - Don't forget that the tool is there to make life easier for your end-users and IT team. If your processes are broken, having a new ticketing system won't fix that, no matter how sparkly and new it is. Ensure your process works end to end and address any pain points before you go live with the tool to ensure the best possible chance of a successful outcome.





Keep it simple - Just because you can automate something doesn't necessarily mean you should. Start simple while you and your end-users get accustomed to the tool, and add more automation and process improvements over time.
The bottom line
The reality is that a ticketing system will enable your IT support professionals to work more effectively and efficiently, delivering better outcomes to end-users. It will help you manage, control, and protect your environment, keep costs under control, and plan for future challenges.
When selecting a tool, don't forget to keep in mind your company's needs and must-have features such as automation, integrations, and self-service capabilities – they will make the difference in the long run, we can assure you!
Lastly, if you want to know if InvGate Service Desk is the right tool for your organization, our experts are ready to jump in and answer your questions!
Frequently Asked Questions
What is ticketing in tech?
Ticketing keeps track of end-users' issues and requests, ensuring nothing is lost, ignored, or forgotten about.
What is an incident in a ticketing tool?
An incident is a type of ticket that refers to break-fix work. ITIL best practice defines it as an interruption to or degrading normal service levels.
What is an email ticketing system?
An email ticketing system is a system that is used to generate tickets from end-user emails.
Which software is used for ticketing?
ITSM tool software is used for ticketing systems.