Are you faced with choosing between SymphonyAI Summit Service Management vs. BMC Helix for your organization's IT Service Management (ITSM) needs? In a landscape full of ITSM options, finding the perfect platform to meet your organization's unique needs can be daunting.
In this blog post, we'll embark on a thorough ITSM tools comparison between these two platforms. We aim to give you an in-depth analysis of their key features, strengths, weaknesses, and user feedback, empowering you to make an informed decision.
However, the ITSM landscape is diverse, and sometimes, neither of these platforms may entirely align with your distinct needs. That's why we'll introduce an alternative solution that could be the ideal fit for your organization—InvGate Service Desk. This robust service desk software is meticulously crafted to streamline service delivery and empower organizations on their journey toward IT service excellence.
Ready to uncover which ITSM solution will best suit your organization's needs? Continue reading to make an informed decision!
Most looked-at features by buyers
When assessing ITSM solutions, potential purchasers typically emphasize specific functionalities that align with their organization's needs. These desired features are essential for facilitating informed decision-making.
It's worth taking a closer look at the core elements that potential buyers tend to focus on when comparing different ITSM tools.
Ticket Management System - Buyers place significant importance on integrating a comprehensive Ticket Management System into their

help desk software

. This functionality simplifies the tracking, assignment, and resolution of customer inquiries and support requests.



User-friendly experience and interface

- Buyers consider the platform's user interface and experience, focusing on its ease of use and how it contributes to user adoption and productivity. They value an intuitive interface that enables efficient interaction with the software. Moreover, mobile accessibility is a critical factor for organizations with remote or mobile workforces.


Customization and flexibility - Buyers value software solutions that offer customization options, enabling them to personalize the platform to align with their business requirements. This flexibility ensures that the software fits seamlessly into their unique workflows and processes, ultimately enhancing user satisfaction and overall effectiveness.



Support automation

and Workflow Management - Buyers actively search for software solutions that provide automation capabilities to streamline routine tasks like

ticket routing

, approvals, and

escalations

. These automation features result in increased efficiency and productivity.


Efficient Asset Management - Users prioritize software that offers strong

IT Asset Management

capabilities to assist in maintaining accurate inventories and optimizing resource utilization within their organizations.



Self-service portal

and

knowledge base

- Buyers attach great importance to including a self-service portal as it empowers end-users to independently resolve common issues and access pertinent information without requiring direct assistance.


Streamlined

IT service catalog

- Organizations often need a service catalog that allows users to request specific IT services or resources. This feature simplifies service requests, provides visibility into available services, and facilitates effective service delivery management.


Scalability - Organizations undergoing growth and transformation highly value solutions that can easily adapt to their expansion and permit customization. It is crucial for the solution to offer the capability to create custom fields, workflows, and extensions/plugins, allowing organizations to tailor it to match their unique business needs.


Seamless integration capabilities - Integration with other systems and applications is a vital requirement for buyers as it ensures the smooth flow of data and process automation.

The ability to integrate with existing tools and platforms

is highly prized for enhanced efficiency and a cohesive user experience.


Comprehensive reporting - Buyers seek help desk software with robust reporting tools, such as

dashboards and reports

, that provide valuable insights into their IT operations and performance. This data-driven approach supports informed decision-making and

continuous service improvement

.


Pricing and support - Buyers evaluate the solution's cost-effectiveness, considering licensing models, subscription plans, and any additional costs related to features or users. The availability of customer support, documentation, and training resources also significantly impacts their decision-making process.


ITIL compliance - Many organizations adhere to ITIL best practices for IT Service Management. Buyers may prefer solutions that support ITIL processes like

Incident Management

,

Problem Management

,

Change Management

, and Asset Management, as these processes align with their organizational standards.
What is SymphonyAI Summit Service Management?
Founded in 2015 and based in Pune, India, SymphonyAI Summit specializes in providing AI-driven solutions for effectively managing IT operations. Their flagship product, SymphonyAI Summit, is an IT Service Management solution that conforms to ITIL standards and incorporates advanced AI-driven digital agents and automated services.
Moreover, the company expands its repertoire to include an IT Asset Management solution, which supports Lifecycle Management, regulates costs, and prevents unnecessary acquisitions.
What users like from SymphonyAI Summit Service Management
SymphonyAI Summit Service Management has received accolades from reputable authorities such as Gartner based on customer feedback. Let's examine some of the benefits outlined in these reviews.
User satisfaction - SymphonyAI Summit Service Management consistently earns praise from users for its user-friendly interface, easily navigable dashboard design, and steadfast commitment to simplicity.
Cost-efficient solution - SymphonyAI Summit Service Management is acknowledged for its cost-effectiveness compared to its competitors. Given its comprehensive features and capabilities, users perceive the platform's pricing model as offering substantial value.
Adaptability and versatility - The solution empowers users to effortlessly oversee workflows and support, enabling flexible adjustments to meet evolving requirements. Implementing recommendations is a straightforward process, fostering a culture of continuous enhancement. Users also find the platform's ability to configure changes, conditions, and validations highly intuitive.
Functionality and features - Users appreciate the platform's extensive feature set. Its adherence to ITIL standards, built-in reporting capabilities, user-friendly management of ticket relationships, orchestration-powered automation, and integrated AI functions all contribute to its attractiveness.
Omnichannel interaction - The software excels in automating workflows and seamlessly connects Incident Requests (IR), Service Requests (SR), and Change Requests (CR) with assets and configuration items. Its strong resource management capabilities enable it to handle numerous resources efficiently.
Asset Management - The platform's IT Asset Management capabilities deliver a robust and immersive user experience. Features like mail-to-ticket and mail-to-service request (SR) functionality, in combination with comprehensive ITAM tools, enhance the platform's efficiency in asset management procedures.
Training and assistance - The training team receives accolades for their expertise and effectiveness in knowledge transfer. The platform's support services are known for their timeliness and their capacity to swiftly address users' inquiries and issues.
What users don't like from SymphonyAI Summit Service Management
Despite its numerous strengths and positive attributes, SymphonyAI Summit Service Management has encountered user concerns and criticisms in certain areas, as indicated in reviews from sources like Gartner. Let's examine some of the issues that have been brought to the forefront.
Limitations in customization flexibility - While the platform offers customization options, users have encountered specific restrictions that impede them from achieving their desired levels of customization in certain aspects.
Bug reports - Reports of bugs causing conflicts between different teams' sections have surfaced, affecting the overall reliability and stability of the system.
Performance and accessibility issues - Users have reported accessibility problems, including periods of inaccessibility and significant performance slowdowns. Recommendations have also been made to enhance the application's response times.
Configuration challenges - There are concerns regarding the platform's configuration, workflow, and administrative capabilities, which some users believe require improvement and enhancement.
Responsiveness concerns - Another prevalent concern revolves around the web interface's responsiveness. Users have encountered speed and overall responsiveness issues. Additionally, there have been instances where priorities seemed to shift away from essential improvements.
Reliability doubts - The product's reliability has been questioned by some users, suggesting a need for more rigorous testing to enhance overall stability.
Customer support dissatisfaction - Some users have expressed dissatisfaction with the platform's customer support. Their concerns encompass delayed service requests for reports, extended support timelines, and bug fixing and product uupdatechallenges.
Cost and licensing considerations - Some users perceive the licensing costs as relatively high, prompting comparisons with other tools available in the market.
Additional recommendations - Users have highlighted a couple of specific points. Firstly, there is a desire for an alert or reminder feature within the platform. Secondly, comments have arisen regarding the need for improved platform documentation.
What's SymphonyAI Summit Service Management's argument over BMC Helix?
SymphonyAI Summit Service Management presents a compelling argument compared to BMC Helix, offering several key advantages that set it apart. Let's explore its features.
User satisfaction - SymphonyAI Summit Service Management consistently garners positive feedback for its user-friendly interface, easily navigable dashboard, and a strong commitment to simplicity.


Cost-efficiency - SymphonyAI Summit Service Management is recognized for its cost-effectiveness compared to competitors. Users appreciate its pricing structure, which offers excellent value while delivering robust features and capabilities.


Adaptability and flexibility - SymphonyAI Summit Service Management empowers users to easily manage workflows and support, allowing for real-time adjustments to meet evolving requirements. The platform's flexibility and responsiveness to user suggestions foster a culture of continuous improvement.


Functionality and features - SymphonyAI Summit Service Management offers a broad spectrum of capabilities, including adherence to ITIL standards, robust reporting tools, straightforward ticket relationship management, automation through orchestration, and integration of AI capabilities.


Efficient multichannel engagement - SymphonyAI Summit Service Management excels in automating workflows and seamlessly connecting various request types with assets and configuration items. Its robust resource management capabilities enable it to efficiently handle a wide array of resources.


Effective Asset Management - SymphonyAI Summit Service Management provides a comprehensive and engaging experience in IT Asset Management (ITAM). It offers features like mail-to-ticket and mail-to-service request functionality alongside a comprehensive suite of ITAM tools.


Training and support - SymphonyAI Summit Service Management receives accolades for its training team's expertise and effectiveness in knowledge transfer. Its support services are renowned for their promptness and ability to address user queries and challenges promptly.
What is BMC Helix?
BMC Helix ITSM is a Service Management platform offered by BMC Software designed to assist organizations in addressing the challenges they face when dealing with their IT services. This platform provides a range of features and functionalities to streamline IT procedures and improve user experiences.
Established in 1976, BMC Software is a US-based multinational IT company headquartered in Houston, Texas. The company specializes in delivering software solutions and services to manage IT operations effectively. Their product lineup encompasses IT Service Management, IT Asset Management, IT Operations Management (ITOM), and DevOps solutions. Through these offerings, BMC helps organizations automate processes, manage assets, and enhance their overall IT performance.
What users like from BMC Helix
BMC Helix has garnered positive reviews from users, as evidenced by feedback from Gartner. Let's explore these advantages in more detail.
User-centric and easy-to-use interface - The Helix Remedy Platform strongly emphasizes customer satisfaction and delivers a user-friendly interface. With its contemporary and intuitive design, the Digital Workplace portal particularly stands out.
Reliable cloud hosting - BMC Helix offers a dependable and stable cloud hosting environment, guaranteeing consistent performance and uptime for its users.
Improved features and tailored customization - Users appreciate the platform's continuous improvement, introducing new features and enhancing integration with third-party vendors. It also allows for customization to meet specific company requirements, resulting in a clean and personalized user experience.
Responsive support - Users have found the SAAS group to be prompt and helpful, offering timely assistance. The customer success team is proactive in ensuring a successful implementation and the effective use of the tool.
What users don't like from BMC Helix
While BMC Helix has its strengths, it has also faced customer criticism, as noted in sources like Gartner. Now, let's explore some of the issues that have been raised.
Outdated user interface - The user interface is considered outdated and not very user-friendly. Users have expressed dissatisfaction with the overall user experience, especially in the mid-tier, adversely affecting usability and efficiency.
Complexity and training requirements - While customization is appreciated, some users find the tool complex and requires extensive training. This complexity can hinder adoption and efficiency for certain users.
Integration and cross-platform challenges - While not specified in detail, users have mentioned issues with integration and cross-platform functionality, indicating a need for improvements in this area.
Limitations and missing features - Users have pointed out limitations and the absence of certain features, particularly in terms of customization in SmartIT and specific capabilities in newer BMC Helix versions.
Support challenges and lack of

Service Level Agreements (SLAs)

- Addressing issues can sometimes be time-consuming, and collaboration with back-end teams can be frustrating. Users have voiced concerns regarding support policies and the absence of clear SLAs in the SAAS environment.
Complicated report and dashboard creation - Users find the process of creating reports and dashboards to be intricate, which can obstruct effective data analysis and reporting.
Unpredictable licensing costs - Users have noted that licensing costs can be unpredictable and inflexible, making it challenging to budget and allocate resources.
What's BMC Helix's argument over SymphonyAI Summit Service Management?
When comparing BMC Helix to SymphonyAI Summit Service Management, several key advantages set BMC Helix apart.
User-centric approach and intuitive interface - BMC Helix strongly emphasizes prioritizing customer satisfaction. Its user-friendly interface, notably showcased through the modern and intuitive design of the Digital Workplace portal, enhances the overall user experience.


Reliable cloud hosting: BMC Hel - stands out for its reliable and stable cloud hosting environment. This ensures consistent performance and minimal downtime for users.


Continuous improvement and customization - BMC Helix continually evolves by introducing new features and improving integration with third-party vendors. This adaptability allows users to customize the platform to meet their specific company needs, resulting in a tailored and efficient user experience.


Responsive support and proactive customer success - Users of BMC Helix have commended the SAAS group for its prompt and helpful support, ensuring timely assistance. The proactive approach of the customer success team guarantees successful implementation and effective tool utilization.
Considering InvGate Service Desk as an ITSM solution alternative
While SymphonyAI Summit Service Management and BMC Helix are well-known competitors in the ITSM sector, it is crucial to consider alternative solutions that closely match your organization's unique requirements. In this context, InvGate Service Desk is an attractive choice deserving thorough evaluation.
Let's explore the compelling features of InvGate Service Desk that make it a valuable option for fulfilling your organization's ITSM needs.
Simplified configuration and setup
InvGate Service Desk offers a straightforward configuration and setup process, employing a no-code/low-code approach. This approach caters to novice and experienced users, enabling them to implement the system without extensive technical knowledge. The platform expedites setup by providing easy configuration options, allowing organizations to harness its robust ITSM capabilities quickly.
Cost-effective solution
InvGate Service Desk delivers a cost-effective solution without compromising functionality. It offers a comprehensive range of ITSM features at a competitive price, making it an attractive option for organizations seeking affordability without sacrificing capabilities. Compared to alternatives like SymphonyAI Summit Service Management and BMC Helix, InvGate Service Desk balances cost and functionality.
Exceptional user experience
InvGate Service Desk strongly emphasizes delivering an exceptional user experience through meticulous design and adherence to UI/UX best practices. Its intuitive interface promotes rapid adoption, reducing the need for extensive training and enabling users to be productive.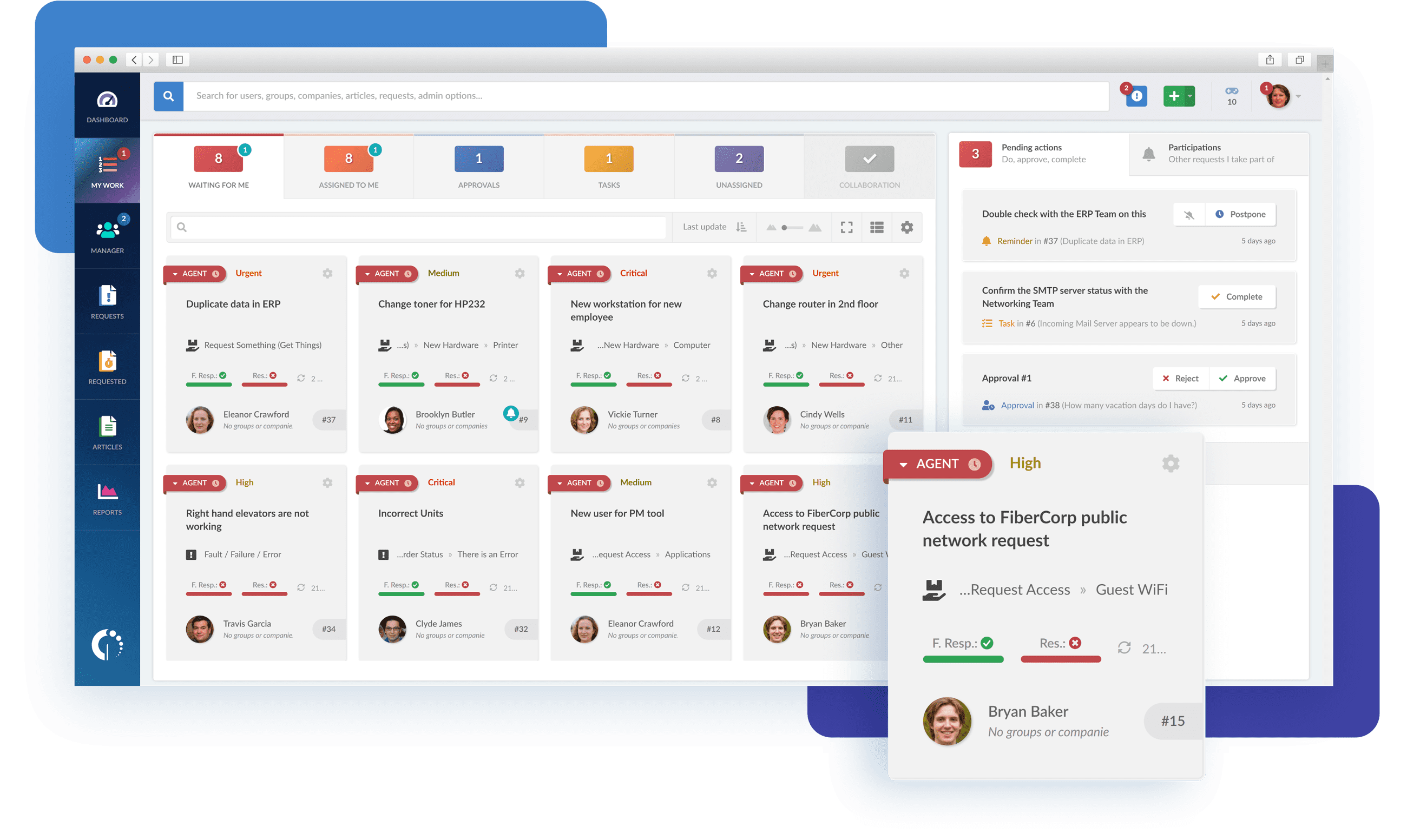 Robust Ticketing and Incident Management
InvGate Service Desk excels in offering robust Ticketing and Incident Management capabilities. It simplifies ticket tracking, collaboration, and resolution, enabling IT teams to handle and prioritize incidents efficiently. Features such as automated ticket routing, customizable workflows, and SLA Management significantly enhance incident resolution efficiency.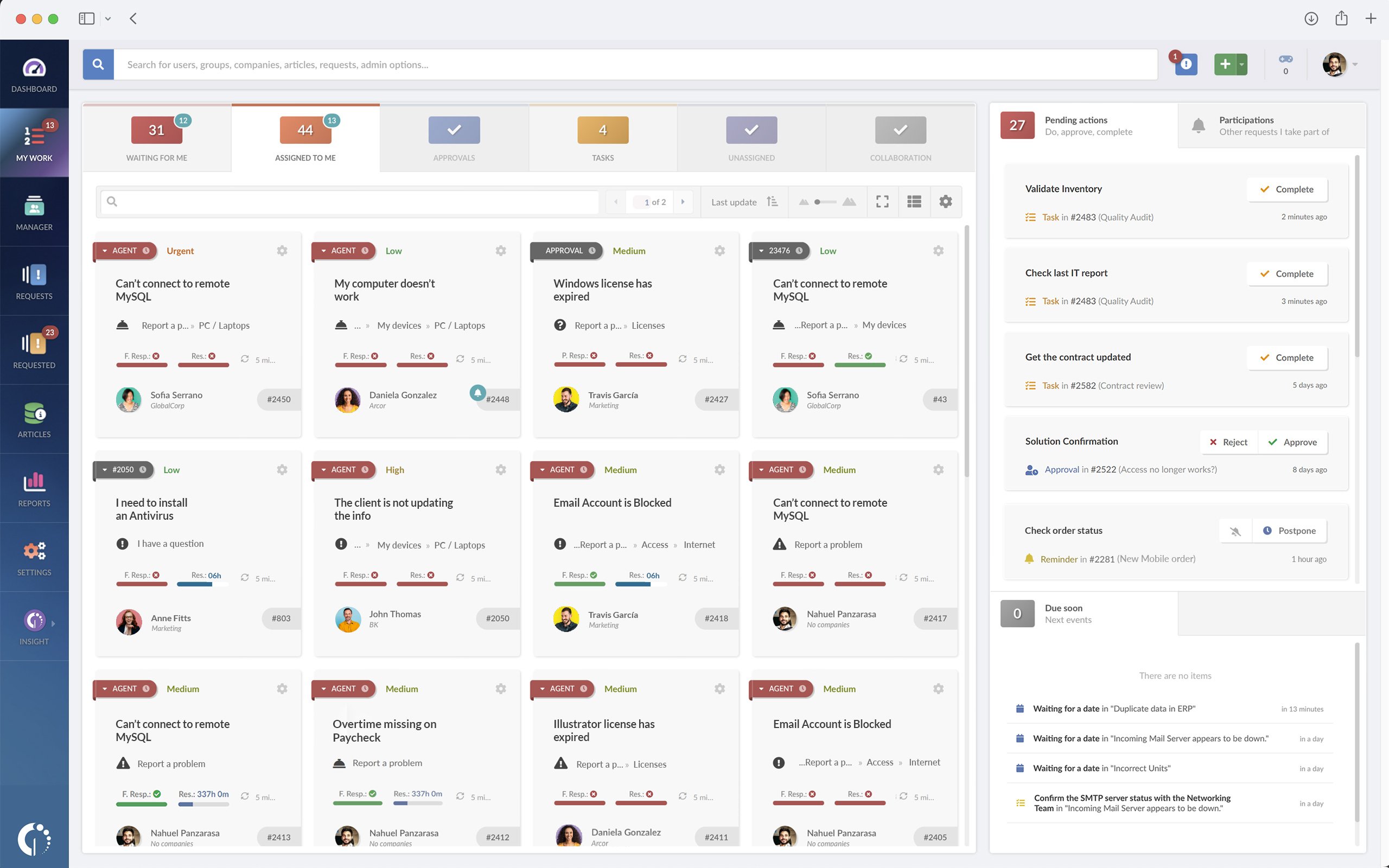 Comprehensive reporting and analytics
InvGate Service Desk provides extensive reporting and analytics capabilities, empowering organizations to gain valuable insights into their IT operations and performance. The platform offers pre-made reports and customizable dashboards, enabling IT teams to analyze data, identify trends, and make informed decisions to enhance their services.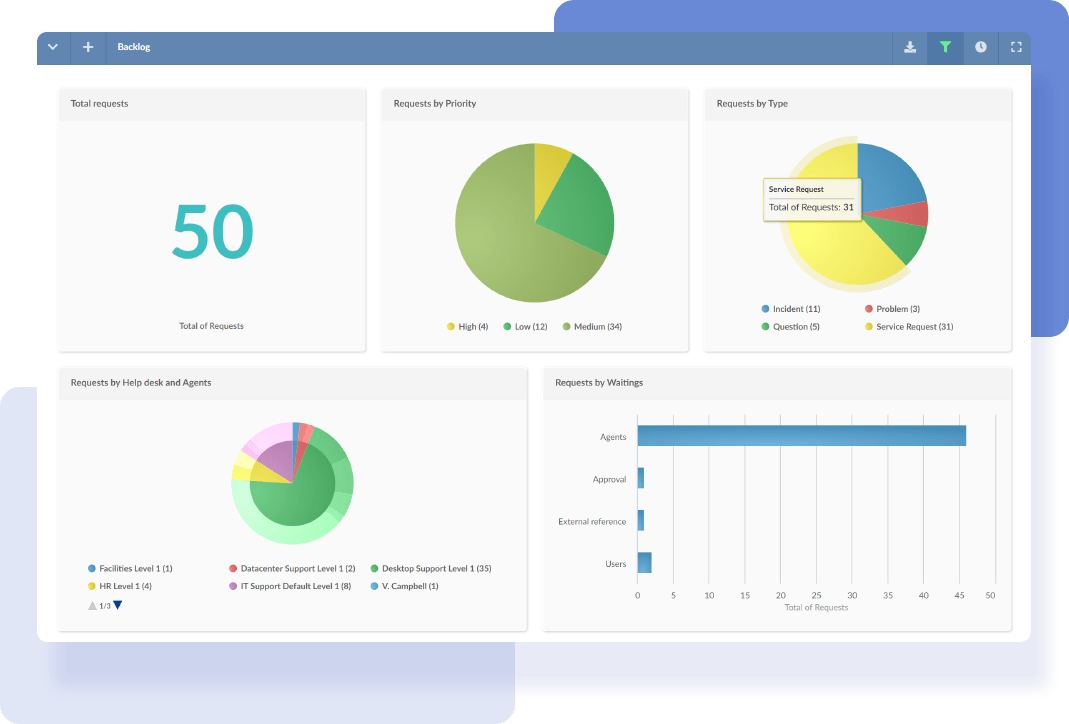 Powerful self-service capabilities
InvGate Service Desk incorporates robust self-service functionalities, including an intuitive portal, an extensive IT service catalog, and a knowledge base. These features empower end-users to independently resolve common issues, access various IT services, and utilize self-help resources, thus reducing the workload on IT staff.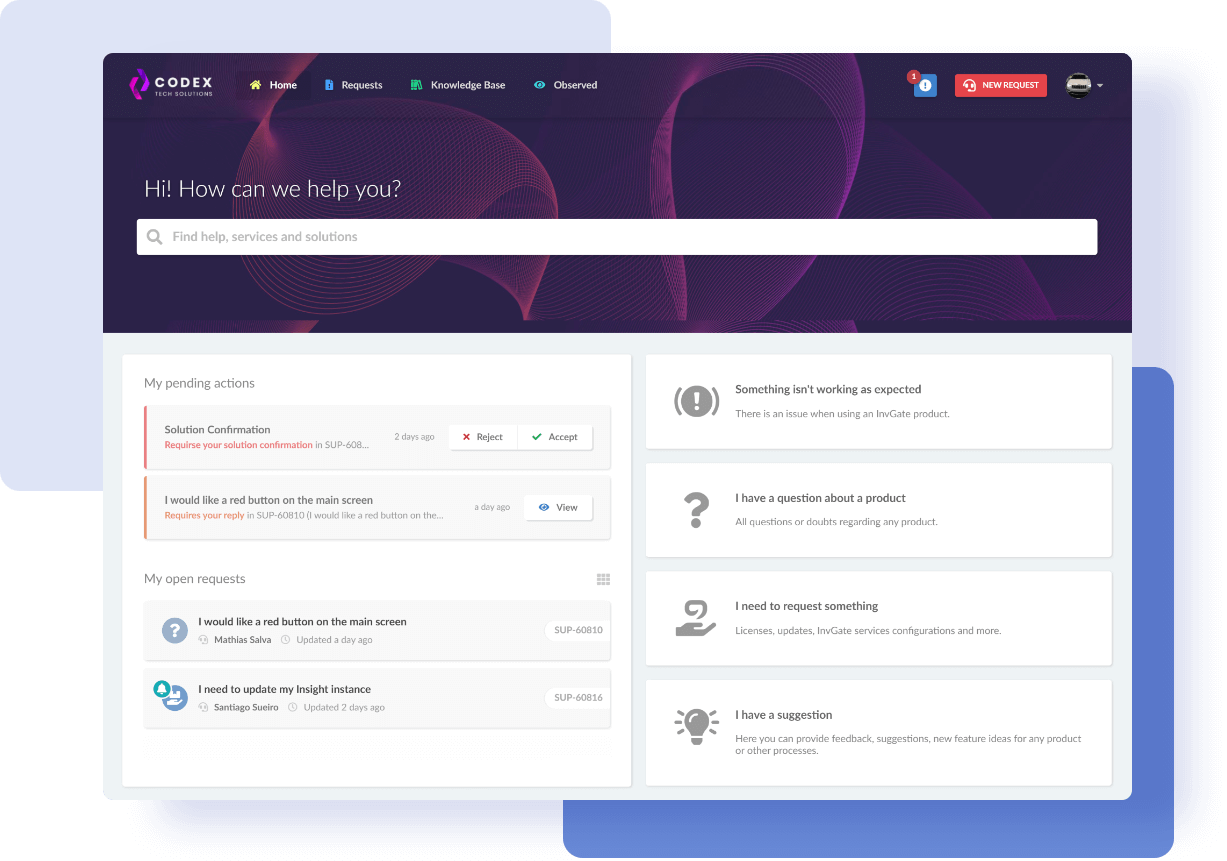 Comprehensive Asset Management
Through integration with InvGate Insight, organizations gain a comprehensive view of their IT ecosystem, leading to improved service delivery and reduced downtime. InvGate Insight offers various features, including IT Asset Discovery, Inventory Management, Software License Management, and maintenance schedules.
Customization and flexibility
InvGate Service Desk provides flexible deployment options, giving organizations a choice between on-premise or cloud-based solutions. This flexibility ensures that the platform can adapt to the specific requirements of various sectors and industries.
Purpose-built for ITSM, perfect for ESM
InvGate Service Desk is purpose-designed for ITSM while seamlessly extending its capabilities to Enterprise Service Management (ESM). It empowers operational departments to enhance their processes and fully embrace the benefits of digital transformation. With a primary focus on ITSM and strong performance in ESM, InvGate Service Desk facilitates streamlined workflows and comprehensive digital transformation initiatives across all departments.
Fast ROI and ongoing innovation
InvGate Service Desk ensures a swift return on investment through efficient implementation processes. Within weeks, organizations can start reaping the benefits of this robust ITSM solution. Additionally, regular feature updates keep users at the forefront of technology without incurring additional costs.
ITIL-certified readiness
InvGate Service Desk has obtained ITIL4 certification from PINK Elephant, underscoring its commitment to upholding ITSM excellence. Whether organizations begin their ITIL journey or manage complex operations, InvGate Service Desk provides a user-friendly and feature-rich experience aligned with industry best practices.
Next steps
In IT Service Management, choosing the right solution can make all the difference in your organization's efficiency and digital transformation journey. In exploring SymphonyAI Summit Service Management vs. BMC Helix, each platform has its strengths and considerations to weigh.
However, another option stands out as a compelling choice for organizations aiming to optimize their IT services and embrace digital transformation: InvGate Service Desk. With its streamlined functionalities, robust features, and user-friendly approach, this platform will enhance your IT operations, improve user experience, and drive efficiency.
Explore our live demo and unleash the full potential of your IT Service Management.