Any agent with some expertise knows that when things start to get busy, IT support automation can be a lifesaver. The beauty of it is that it allows your team to manage much more requests simultaneously, freeing up valuable time and resources to assign to more relevant tasks.
Most IT Service Management tools provide different types of automation processes, and InvGate Service Desk is no exception. With its workflows, ticket assignment rules, automated reports, and with the help of AI-powered replies and our Support Assist, you'll find it much simpler to manage tickets.
Now, let's see how you can put everything in motion.
What is support automation?
We refer to IT support automation as the process of using software and technology to automate customer service and IT operations. This approach makes it easier for organizations to respond quickly to customer inquiries, diagnose issues, and provide solutions.
5 benefits of IT support automation
We can keep saying how great it is to implement IT support automation, and we have some facts to back it up. The benefits of support automation come in many forms, such as:
Reduction of human error

- Automated processes decrease

human errors

considerably. As the service desk takes over manual tasks, the chances of mistakes or misinterpreting instructions are reduced.



Rise in productivity

- Instead of spending time on mundane or repetitive tasks, your team can focus on more complex and vital issues. Automation will help them be more efficient and productive, increasing customer satisfaction.



Optimization of resources

- Automation can help to optimize your resources, such as time, money, and energy. By automating tasks, you can reduce manual labor and free up more resources for other activities.



Improved customer experience

- Automation also makes customer service processes easier and faster. This improves customer satisfaction since they can immediately respond to their queries.



Cost savings

- Automation can help save on costs associated with manual labor, as well as improve efficiency by reducing the amount of time spent on tasks. This results in more money saved for your organization.
How to automate customer support? 6 steps to succeed
It all seems so attractive and easy, and you might be wondering where to start now. These are six key steps to succeed in the process.
1. Choose a robust help desk
The first step is to choose help desk software to be the backbone of your IT support automation process. Make sure it can handle different types of requests, from simple to complex, as well as provide features such as custom forms and automated responses. There are some key features and processes that you will want to automate right away (like X and Y), so it must allow you to do so effortlessly.
In this sense, InvGate Service Desk comes with a wide range of triggers, actions, and conditionals to automate simple processes, plus workflow capabilities and third-party integrations to optimize your operations.
2. Build your help desk
Structure your help desk into five levels of IT support to make processes easy and straightforward – our ITSM implementation checklist might be of help to start.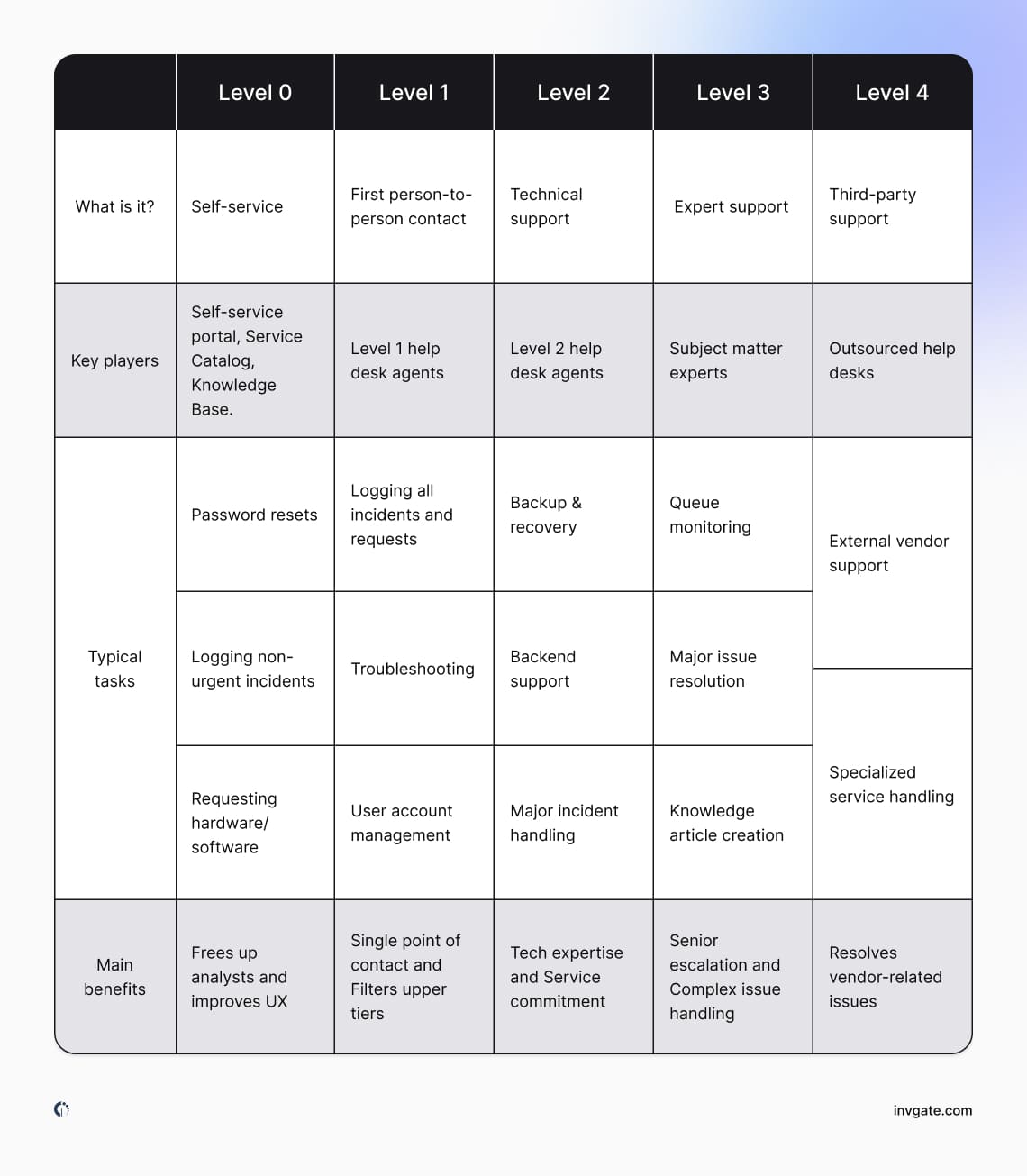 Use InvGate Service Desk's features to build different help desks with their own SLAs, time zones, working hours, and agents and automate ticket routing and escalation.
3. Set up level 0
When we talk about level 0 of IT support, we're talking about self-service. This will save tons of time for both users and agents while reducing your ticket volume.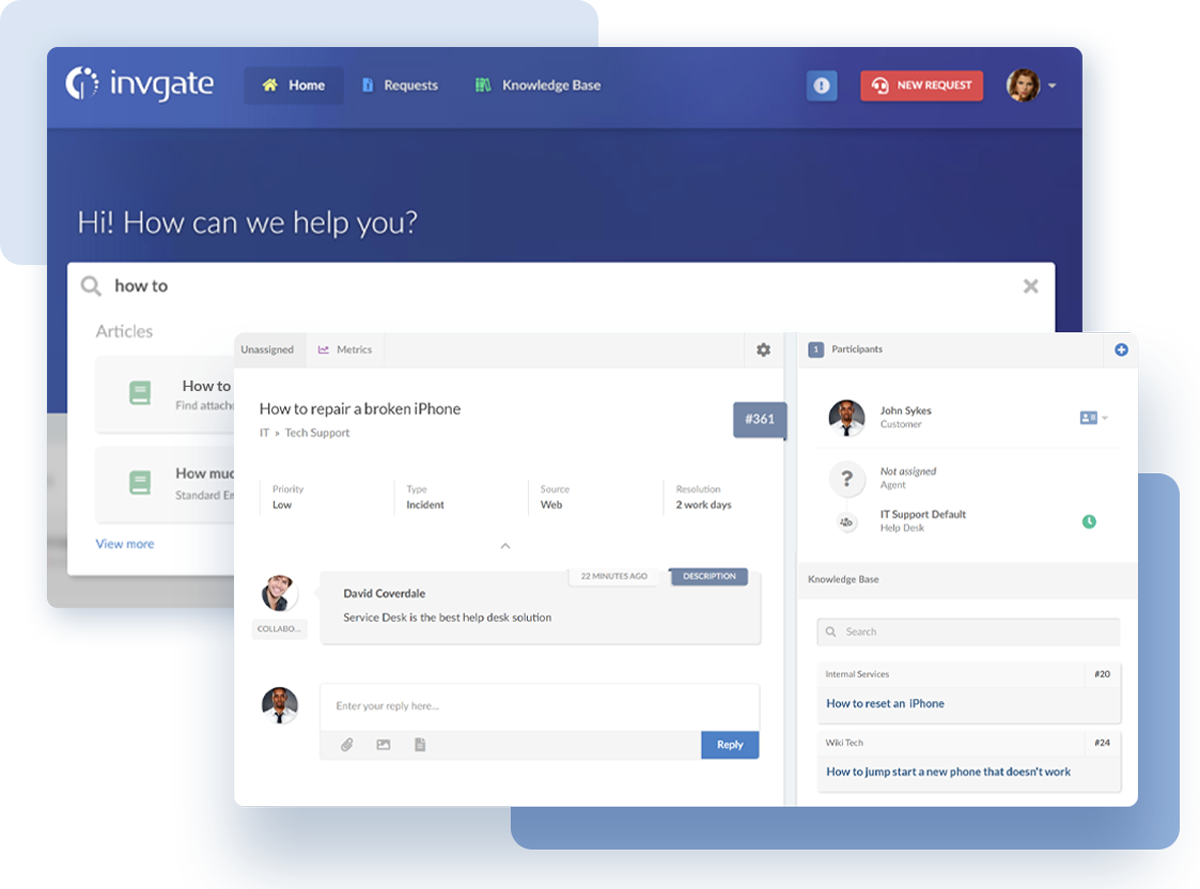 For it to be efficient, you need to build three things:
Once you have all these in place, you can tweak the settings to automate small tasks to do things like allowing articles to display when users create a request on InvGate Service Desk.
4. Map level 1 tasks susceptible to being automated
From all the tasks assigned to the first tier of IT support, you need to select the ones susceptible to automation. These are often repetitive things that take too much time but don't require human input. Once you have the list, start the automation process to release your agents and let them focus on duties that require human input.
5. Create workflows
Workflows are the way to elevate your automation. They're ideal for complex processes involving several steps, such as approvals, escalations, or processes like onboarding and offboarding.
You can use InvGate Service Desk's drag-and-drop features to build and customize them as you wish. Plus, you can even include steps to be executed by external tools thanks to its integrations with tools like Microsoft Teams, Zapier, or InvGate Insight or other areas of your organization to encourage ESM adoption.
6. Monitor performance
Once you automate your processes, monitoring their performance is essential. This will help you identify any potential issues and keep your operations running smoothly.
IT support automation technology
As technology advances, more organizations are adapting IT support automation tools to make processes more efficient. Today, a wide range of tools and technologies are available to help automate customer service processes. These are the ones that we recommend:
Help desk software - The help desk is the base of your support automation. It should support all your efforts and initiatives by including the critical capabilities we mention next.


Workflows - They are most helpful in automating complex processes that require several steps. On InvGate Service Desk, you can create them by dragging and dropping elements, trigger actions in external tools, and add users from other business areas if necessary.


Email notifications - By automating specific requests with email notifications, you make sure that agents receive an alert when there's an urgent ticket to attend to. Plus, with InvGate Service Desk's Zapier integration, you can also page agents using PagerDuty.


Canned responses - They are the primary type of customer service automation since they help agents respond more quickly to recurrent queries while ensuring Standard Operating Procedures.



AI capabilities

- The potential power of mixing AI and ITSM is yet to be discovered, but there's no doubt that

artificial intelligence

is an asset to leverage. InvGate Service Desk's Support Assist can be trained to assist agents in classifying and escalating tickets. Moreover, its AI-powered response suggestions help agents improve or rewrite ticket replies.



Integrations

- Integrations are essential for automating customer service processes. For instance, you can offer

omnichannel support

and automate workflows by integrating third-party platforms like Microsoft Teams into InvGate Service Desk.
IT support automation best practices
Automation is all about improving processes and making them more efficient. And the best way to achieve that is to follow best practices. For starters, keep it simple. Don't try to automate everything, as this can make the process more complicated and overwhelming. Start small and grow with time. Build the automation that suits your team better.
Nevertheless, don't underestimate the importance of empowering your agents. Automation may seem like it can solve a big part of the job, but its purpose is to help them do their job easier, not replace them. So, be flexible and listen to their feedback.
After creating any automation, test it regularly to ensure it works correctly. See if it suits your needs or needs to be improved. Also, use service desk metrics to keep an eye on how automation is performing and adjust it accordingly.
Finally, don't forget about the end-user. Automation should be used to improve customer experience, so focus on that when designing any process.
Final thoughts
Automation is the go-to option for efficiently managing customer service operations. It can help you save time and costs while improving productivity and customer satisfaction. With the right tools and processes in place, you can ensure that your customers are well taken care of with minimal effort.
And the best part is that with InvGate Service Desk can set all this up in no time. With its wide range of features, you'll be able to save time, optimize operations, and use your resources wisely and cost-effectively.
Want to give it a go? Ask for a 30-day free trial or explore the live demo to see how easy it is to create workflows, customize your self-service offering, and integrate it with external apps!