IT Asset Management (ITAM) software is one of the most significant investments you'll make to manage, control, and protect your IT infrastructure. But to do it effectively, you need a tool instead of relying on spreadsheets.
A good ITAM solution can help you reconcile licenses against services, secure your end-user environment, and reduce costs. In this guide, you'll find:
Information on the ITAM marketplace.

Key toolset functionality.

Types of ITAM software delivery mechanisms.
So make sure to read it through before you start seeking your ideal platform!
Table of contents
TL;DR
Organizations use ITAM tools to manage, control, and protect their IT infrastructure.

They help businesses stay safe, compliant, and save some money in the process thanks to a constant observation of irregularities and improvement opportunities.

What makes Asset Management software a key player in the IT department is the ability to unify information, automate monitoring, report on trustworthy data, and perform internal audits.



Want the short version? Choose InvGate Insight and create your IT asset inventory in 24 hours
This guide has everything you need to now, but if you don't have enough time to go over every single detail, here's (another) TL;DR: InvGate Insight can do everything we listed here, and you can test it right away for free for 30 days.
IT Asset Management software comparison
| | | | | | | |
| --- | --- | --- | --- | --- | --- | --- |
| | Hosting | Free Trial | Pricing | Licensing Model | Integration Costs | Support Costs |
| InvGate Insight | Cloud and on-premise | Yes (30 days) | Request a quote | Number of Assets | Free API and native integrations | Included |
| Asset Panda | Cloud | Yes (14 days) | 500 assets for $1,500 per year | Number of assets | Request a quote | Request a quote |
| ManageEngine | Cloud and on-premise | Yes (30 days) | Annual maintenance and support fees start at $955 for up to 250 assets and go up to $11,995 for up to 10,000 assets | Number of assets | Request a quote | Included |
| SysAid | Cloud and on-premise | Yes | £65/agent/month | Number of assets | Yes | Included |
| Flexera | Cloud and on-premise | No | Request a quote | Number of assets | Request a quote | Request a quote |
| Snow Software | Cloud and on-premise | No | Request a quote | Number of assets | Request a quote | Request a quote |
| ServiceNow | Cloud | No | Request a quote | Number of assets | Request a quote | Request a quote |
| BMC Helix | Cloud | Yes (30 days) | Request a quote | Number of assets | Request a quote | Request a quote |
| Ivanti Neurons | On premise | Yes (45 days) | Request a quote | Number of assets | Request a quote | Request a quote |
| SolarWinds | Cloud | Yes (30 days) | Priced per technician, example for 1-5 users costs start at £312. | Perpetual or annual subscription license | Request a quote | Included |
Ten best IT Asset Management software
The ITAM marketplace is a crowded one, but we've rounded up those that we feel are some of the best out there:
1. InvGate Insight
Solution overview
InvGate Insight provides customers the tools to create a unified inventory of all network-connected IT assets (including virtual, physical, and cloud) on the same platform. Targeted at medium-to-large organizations but equally suited to smaller companies, Insight provides a complete view of your IT estate with easy No-Code/Low-Code configuration and without costly integrations – considerably decreasing the Total Cost of Ownership.
Among its advantages, Insight is:
Optimized for License and

Contract Management

.

Designed to work seamlessly with

InvGate Service Desk

.

Optimized to empower organizations to reduce costs, manage

governance

, risk, and compliance more effectively, as well as support better decision-making.
Key features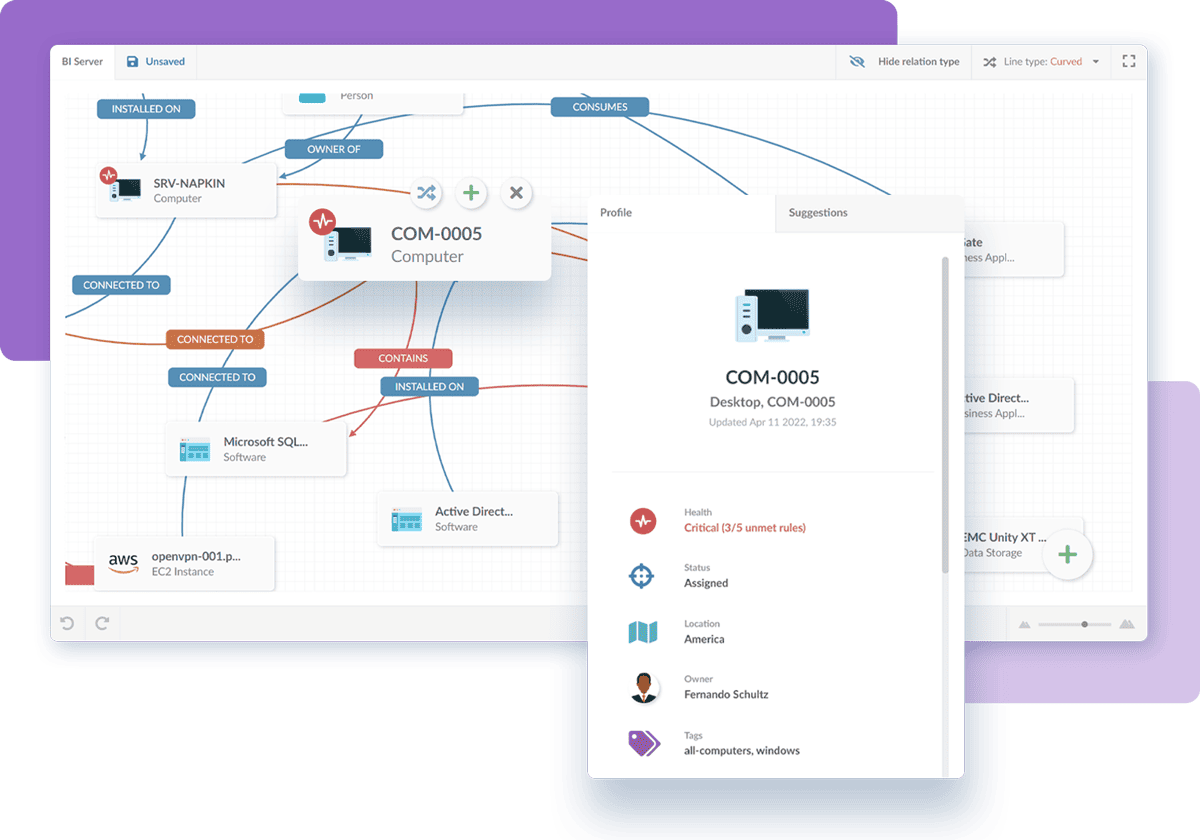 Some of the main features of InvGate Insight include:
If you want to try InvGate Insight as your ITAM software, you can request the 30-day free trial – which can later be turned into your definitive instance!
Choose InvGate Insight and create your IT asset inventory in 24 hours
2. Asset Panda
Asset Panda overview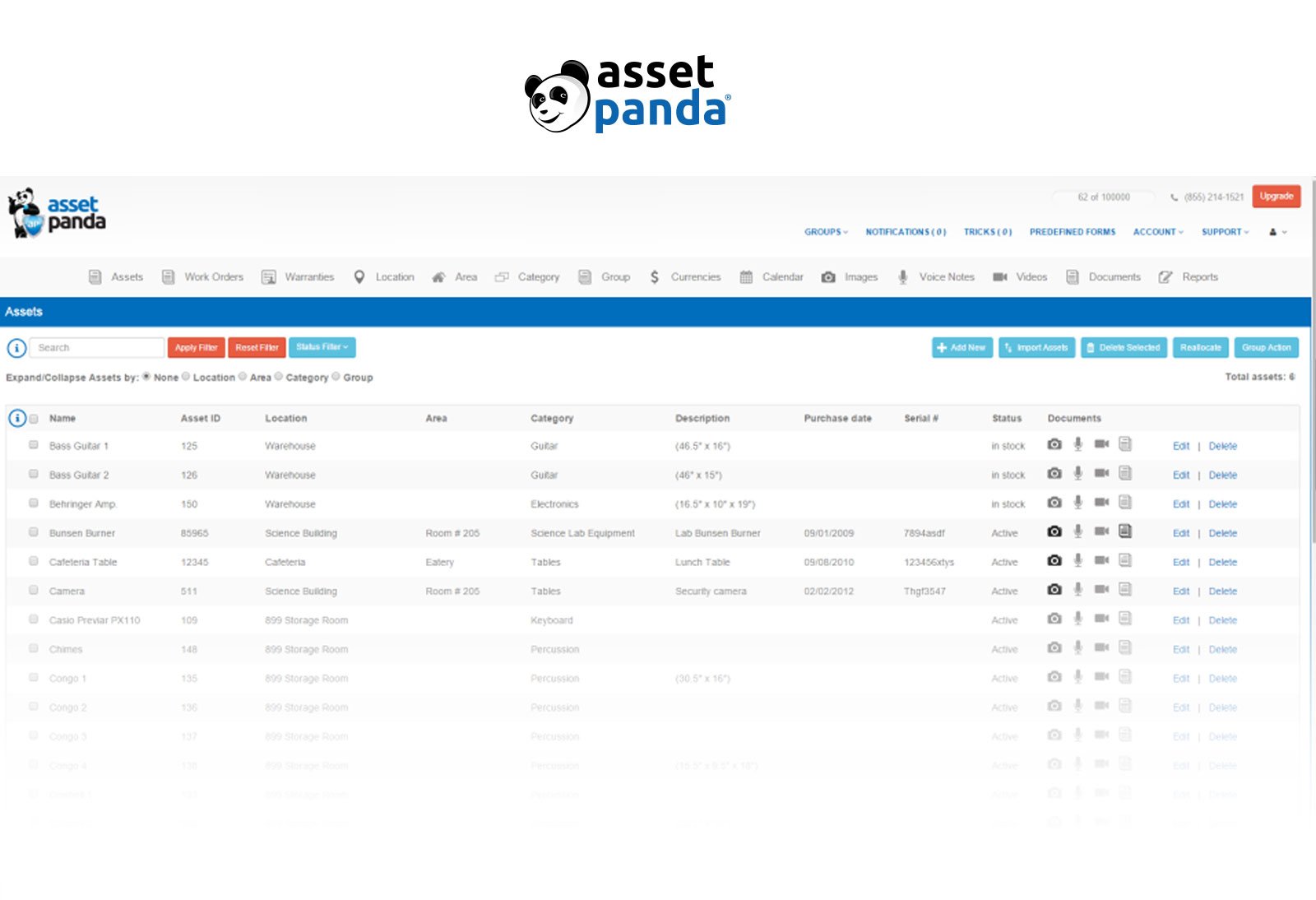 Primarily aimed at small-to-medium-sized businesses, Asset Panda is a cloud-based asset-tracking platform flexible to your specific Asset Management needs.
Among its pros, we can mention:
Simple, easy-to-use interface for centralized IT Asset Management.

Notifications and alerts for major asset events.

14-day trial to try before you buy.
However, it's relevant to mention that there's no current functionality for user self-registration, tracking installed software, remote support, real-time asset discovery, or customized reporting. Plus, according to online customer reviews, customer support can be hit or miss.
Asset Panda key features
Nevertheless, Asset Panda also offers significant features to manage IT assets, such as:
Mobile app for updating and monitoring IT asset data from any mobile device.

Alerts and notifications for required repairs and other events.

Maintenance tracking capabilities through the asset lifecycle.
Asset Panda alternatives
3. ManageEngine Asset Explorer
ManageEngine Asset Explorer overview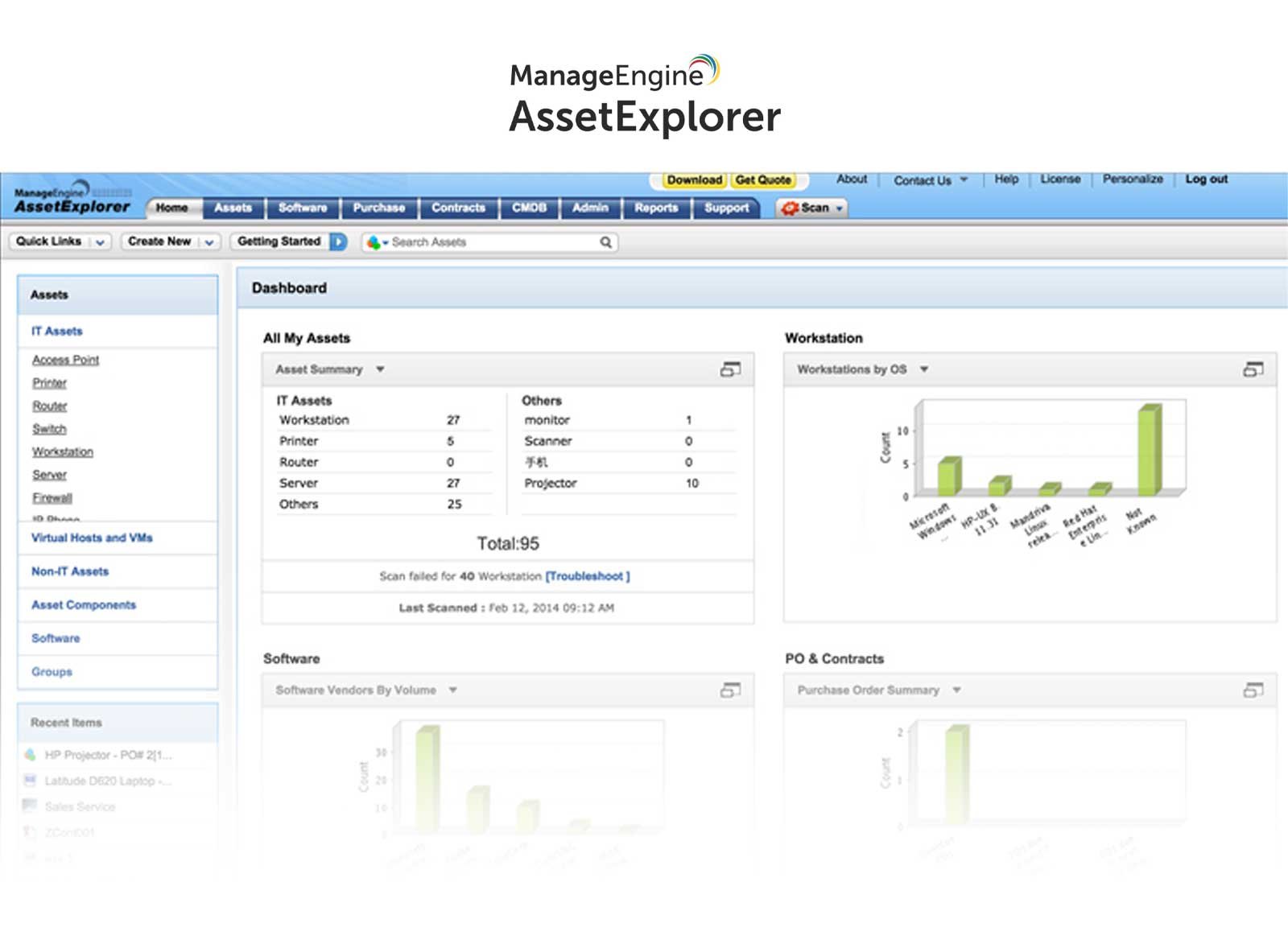 Offering both a free and professional version to customers, ManageEngine Asset Explorer is aimed at the smallest businesses all the way through to the largest enterprises. The tool has the ability to track and manage ownership of all your assets in a single view and offers:
A unified agent for asset discovery to enable asset tracking in multi-sourced environments.

To manage and monitor software and hardware assets.

To address the complete IT asset lifecycle.
This tool doesn't support user self-registration, geolocation, or custom reporting, and its free plan is extremely limited. On the contrary, remote access add-ons are relatively expensive.
ManageEngine Asset Explorer k
ey features
Some of ManageEngine Asset Explorer's main characteristics include:
Tracking and management of all the configuration items within its CMDB.

Inclusive of software discovery, software license compliance, and software forecasting.

End-to-end mobile application.
4. SysAid ITAM
SysAid ITAM overview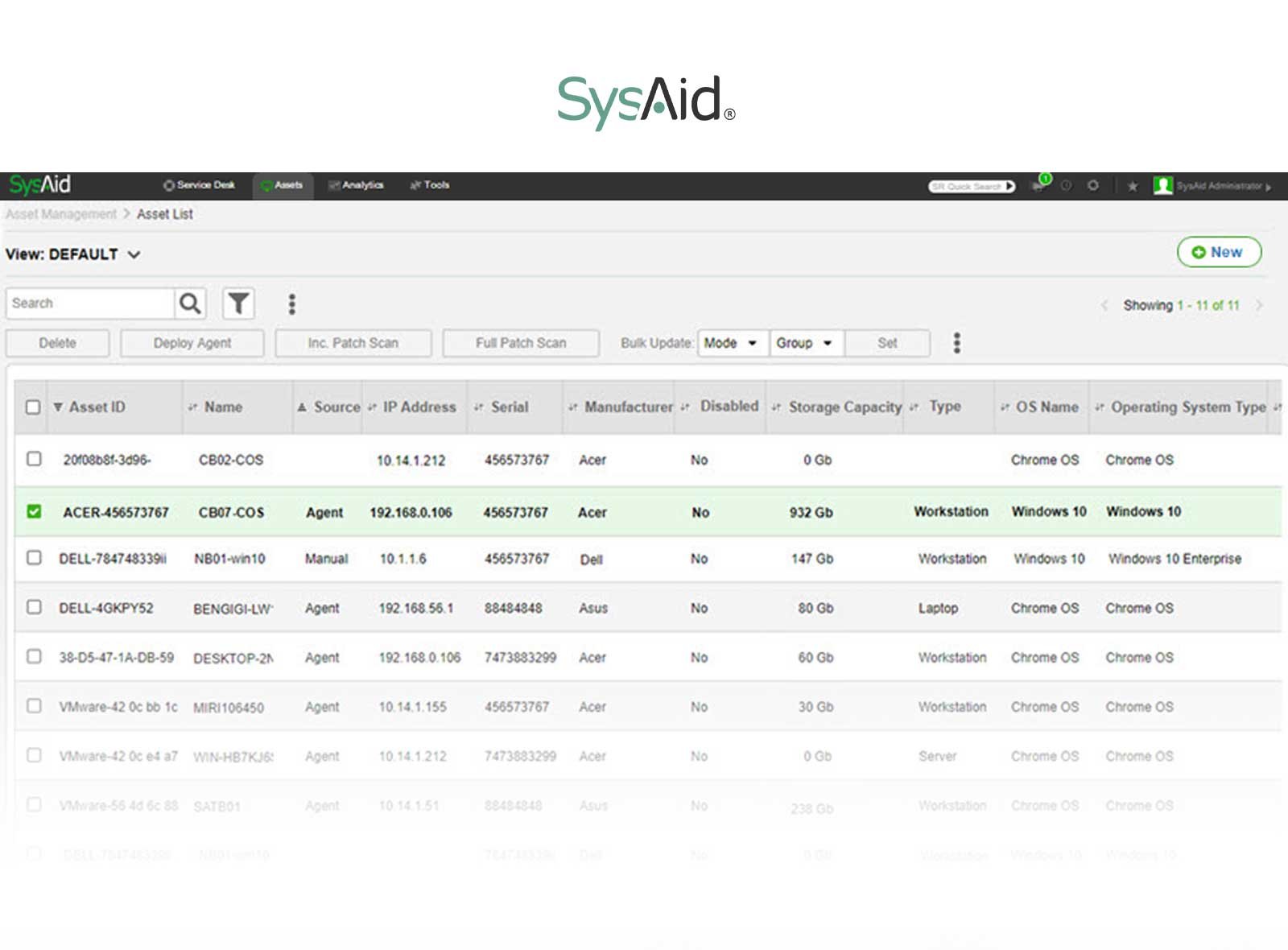 SysAid is primarily aimed at the SMB market. Offered as standard as part of its help desk solution, it enables customers to view, secure, and manage their assets directly from within their service desk.
Among its advantages, we can mention:
A simple solution built into its service desk offering.

Easy to configure.

Automatically scans your network and adds assets to your service desk.
But keep in mind that this platform doesn't have the ability to track installed software.
SysAid ITAM k
ey features
Nevertheless, SysAid is better known for the following features:
Inventory tracking

Monitoring

CMDB
5. Flexera One
Flexera One overview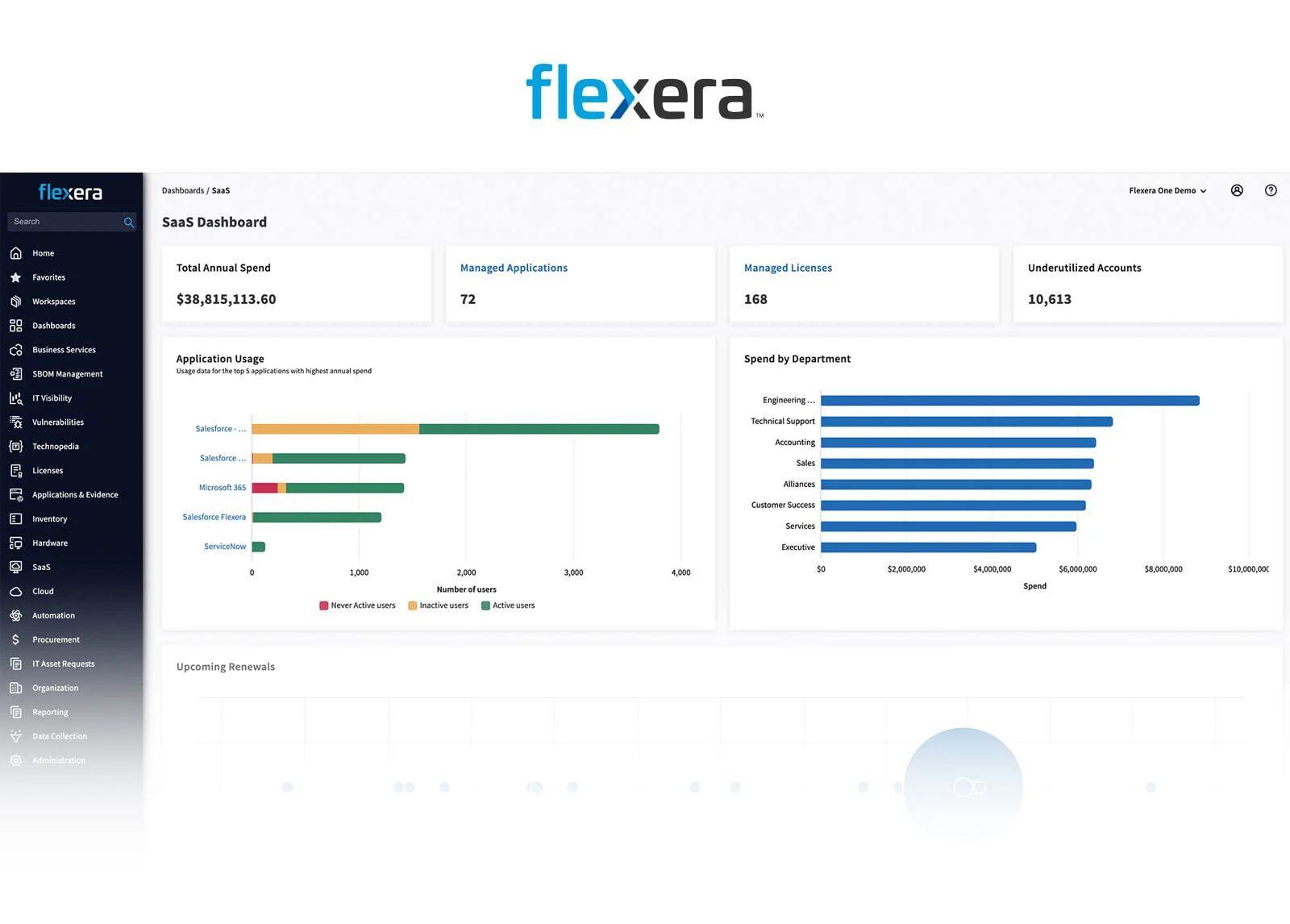 Flexera is a comprehensive, SaaS-based IT Asset Management solution best suited to larger organizations or companies with mature ITAM processes. Its primary focus includes reducing costs, mitigating risks, and maximizing technology investments.
Some of its pros include:
Data-driven Contract Management.

Automated ITAM lifecycle.

Strong Software Asset Management capabilities with the ability to optimize software from on-premises to the cloud.
However, due to its costs, it might not be cost-efficient for SMBs. In addition, the setup has been reported to be complex, and online customer reviews typically mention slow product development.
Flexera One k
ey features
Some of Flexera's main features are:
SaaS management.

Large entitlement library to automate effective licensing positions (ELP).

Software request and reclamation.
Flexera One alternatives
6. Snow Software
Snow Software overview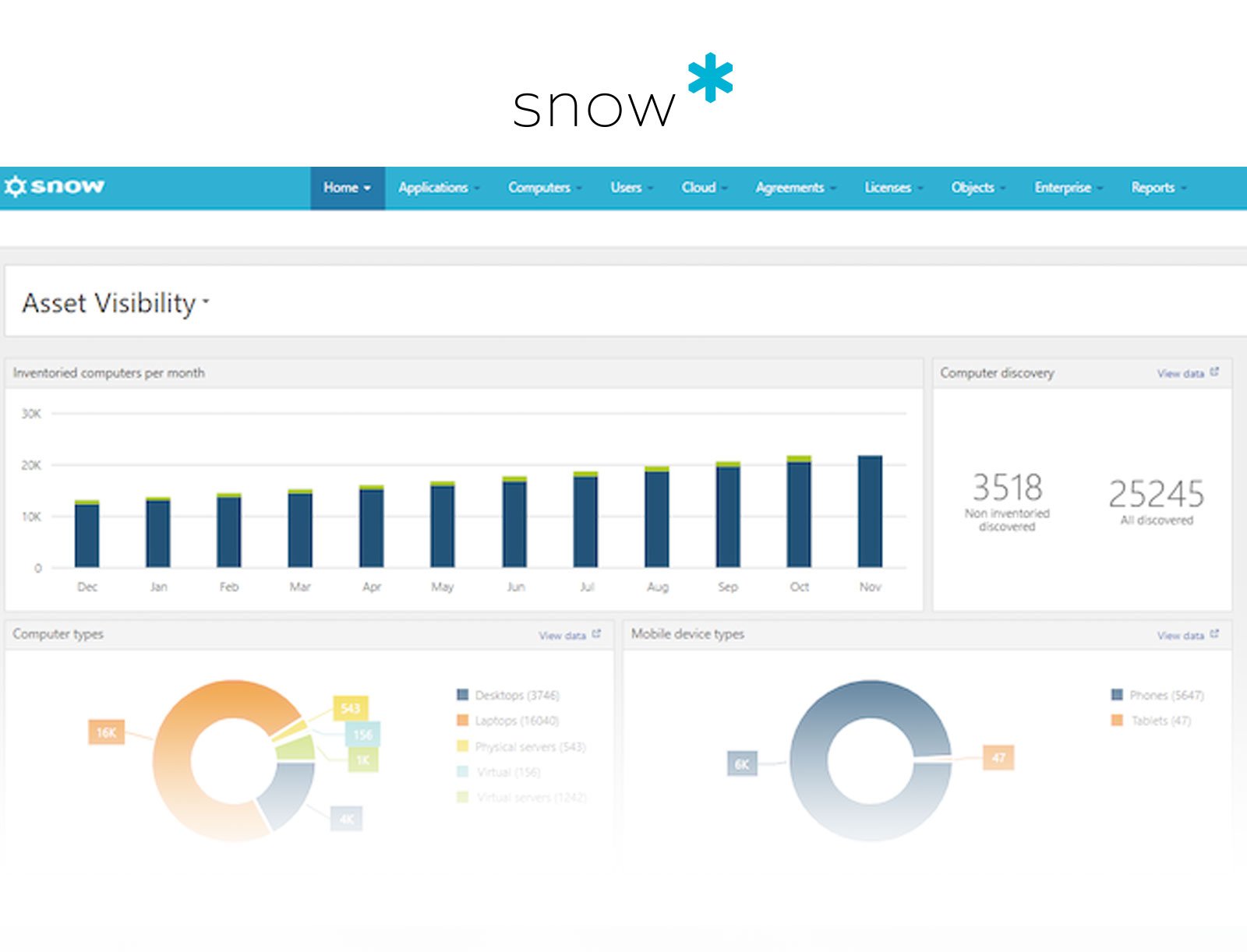 Primarily targeted at large enterprises, the Snow Software platform is available via on-premises or cloud delivery. In their own words, they enable customers to "optimize their software, applications, hardware, and cloud investments."
Its advantages include:
Actionable visibility into your software, SaaS, hardware, and cloud.

Management of complex risks such as vendor audits and security breaches.

Consolidated inventory sources with over 130 pre-built integrations across your hybrid IT environment.
Since it's oriented toward big companies, you'll see ten different products listed on its website, which can overwhelm the research process. Additionally, implementation can be complex, and the initial price and ongoing maintenance costs are high.
Snow Software k
ey features
Snow Software is known for its:
Risk Migration

Cost Management

Hybrid Cloud Management
Snow Software alternatives
7. ServiceNow
ServiceNow overview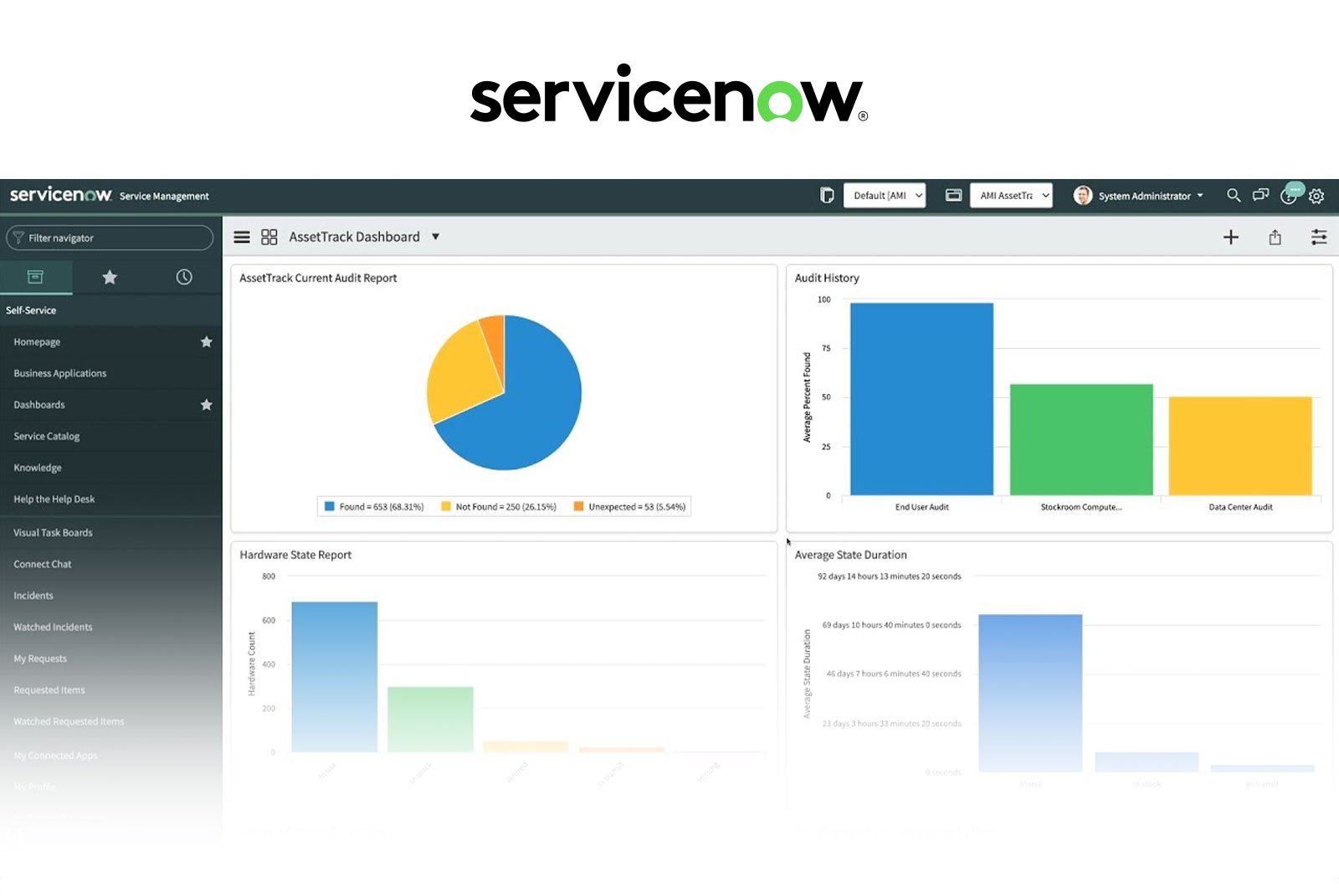 Best suited to larger organizations, ServiceNow's cloud ITAM offering offers customers the ability to automate asset workflows at each stage of the asset lifecycle.
Among its advantages, we can count:
Enterprise-level ITAM to control CAPex and OpEx.

Built on the NOW platform, you can access

workflow automation

and process optimization.

Single architecture SAM solution.
Once again, its orientation makes it a comprehensive tool but expensive, and many customers report hidden costs, high maintenance/service fees, and a steep learning curve in some cases.
S
erviceNow key features
ServiceNow's cloud ITAM offering main features include:
SaaS License Management.

Cloud insights.

Access to multiple partner and third-party applications.
ServiceNow alternatives
8. BMC Helix Discovery
BMC Helix Discovery overview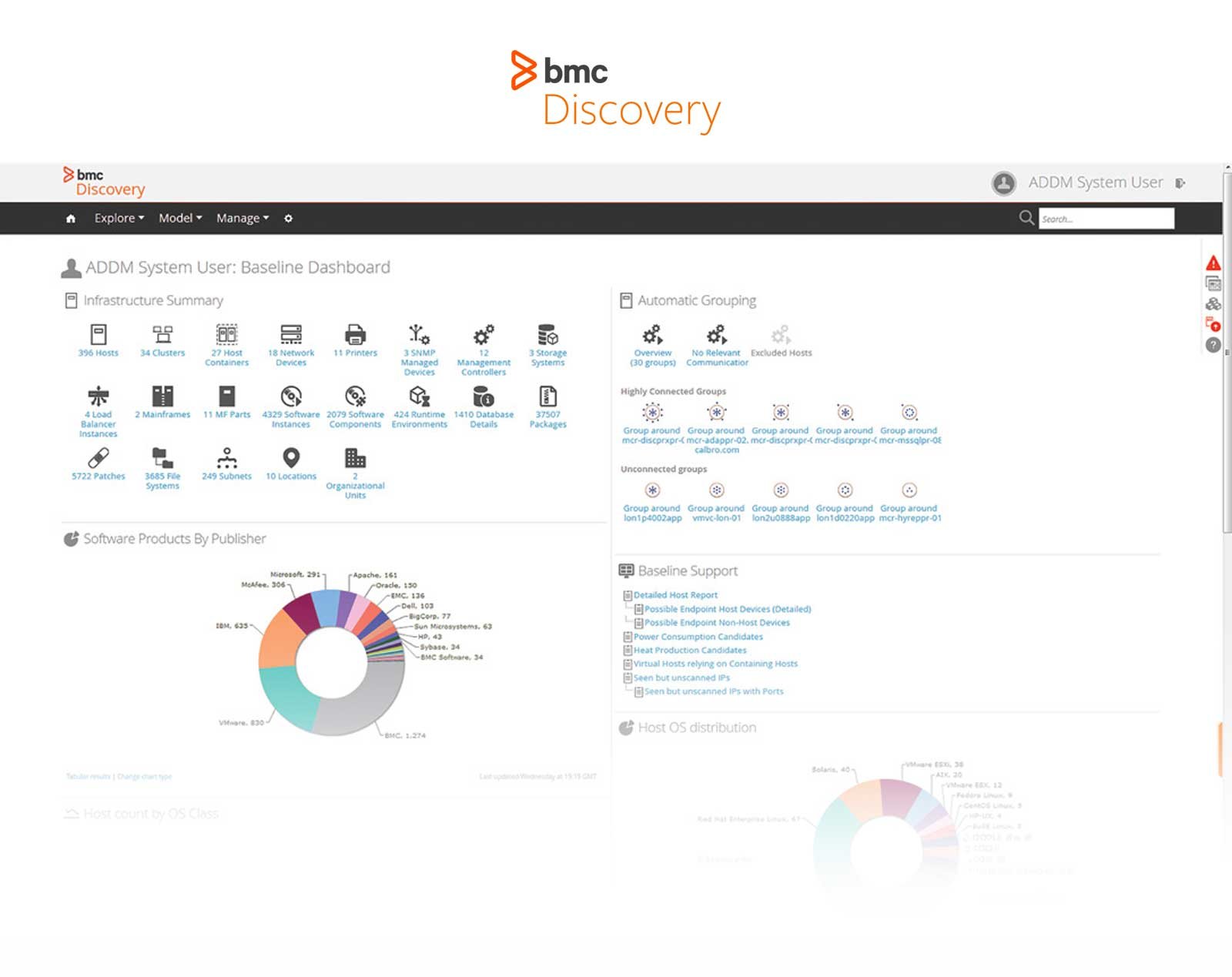 SaaS-based BMC Helix Discovery is a discovery and dependency modeling system providing instant visibility into your IT state. It gives instant visibility into hardware, software, and service dependencies across multi-cloud, hybrid, and on-premises environments. Plus, it offers dynamic service modeling.
However, its licensing is complex and costly; it has data storage of less than 2TB and is not well suited to small-to-medium-sized organizations.
BMC Helix Discovery key
features
Among BMC Helix Discovery's most relevant characteristics, we can list the following:
Agentless discovery.

Strong security and compliance capabilities to detect blind spots, locate back door entry points, and identify vulnerabilities.

Discovery-as-code to provide frameworks and REST APIs to integrate into

CI/CD pipelines

.
BMC Helix Discovery alternatives
9. Ivanti Neurons
Ivanti Neurons overview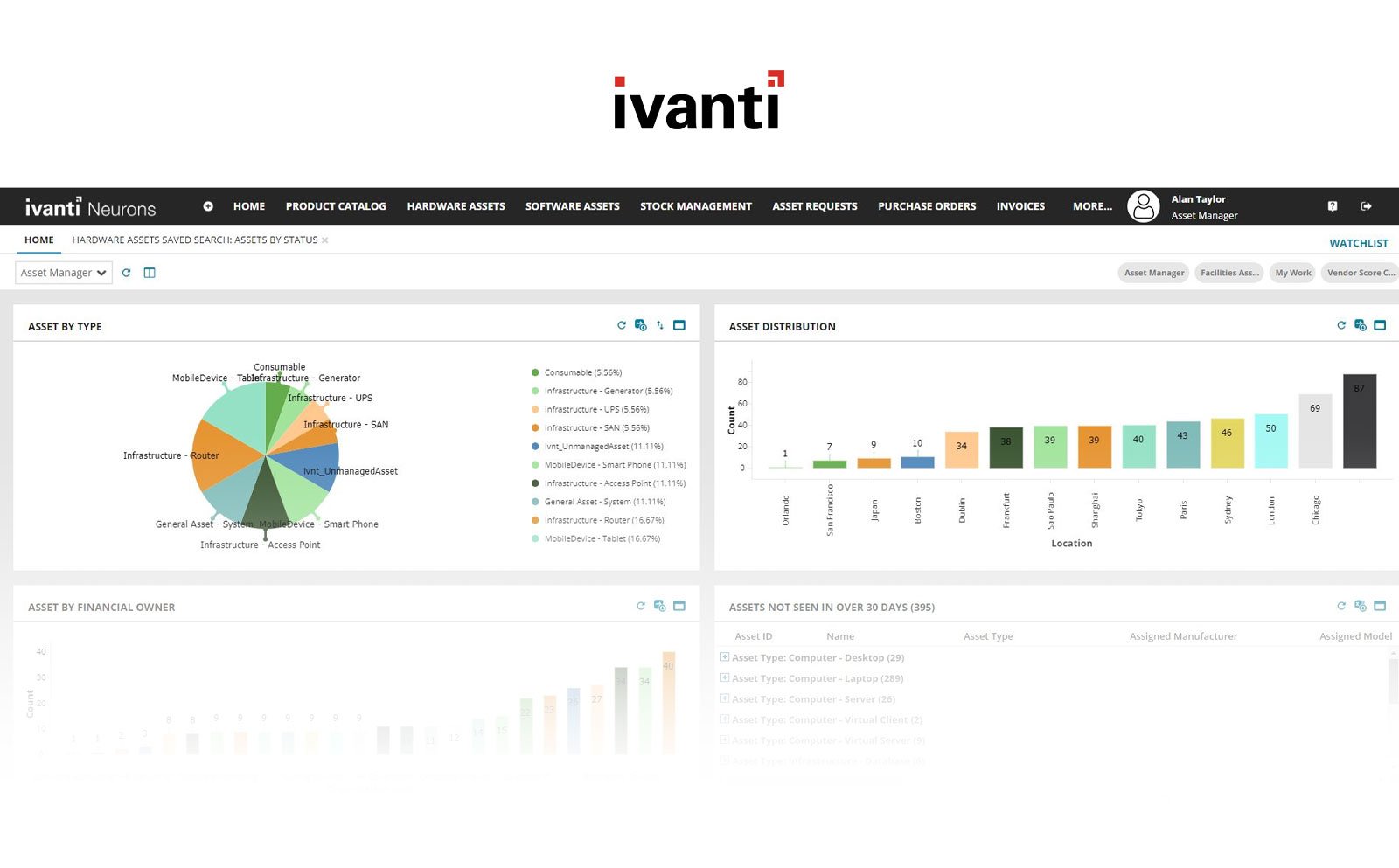 Aimed at medium-to-large organizations, Ivanti Neurons manages software, hardware, client, server, virtual, and cloud assets to provide organizations with a complete view of their IT asset estate. Its advantages include instantly detecting new or unknown devices joining your network, real-time visibility, and easy connection with multiple data sources.
Nonetheless, remember that customers generally report that the solution is complex to use and hard to configure.
Ivanti Neurons k
ey features
Some of Ivanti Neurons' key features are:
Mobile capabilities such as Remote Asset Management and barcode scanning via the mobile app.

Ability to track lifecycles from initial procurement to final retirement.

Contract and vendor management tools.
10. SolarWinds
SolarWinds overview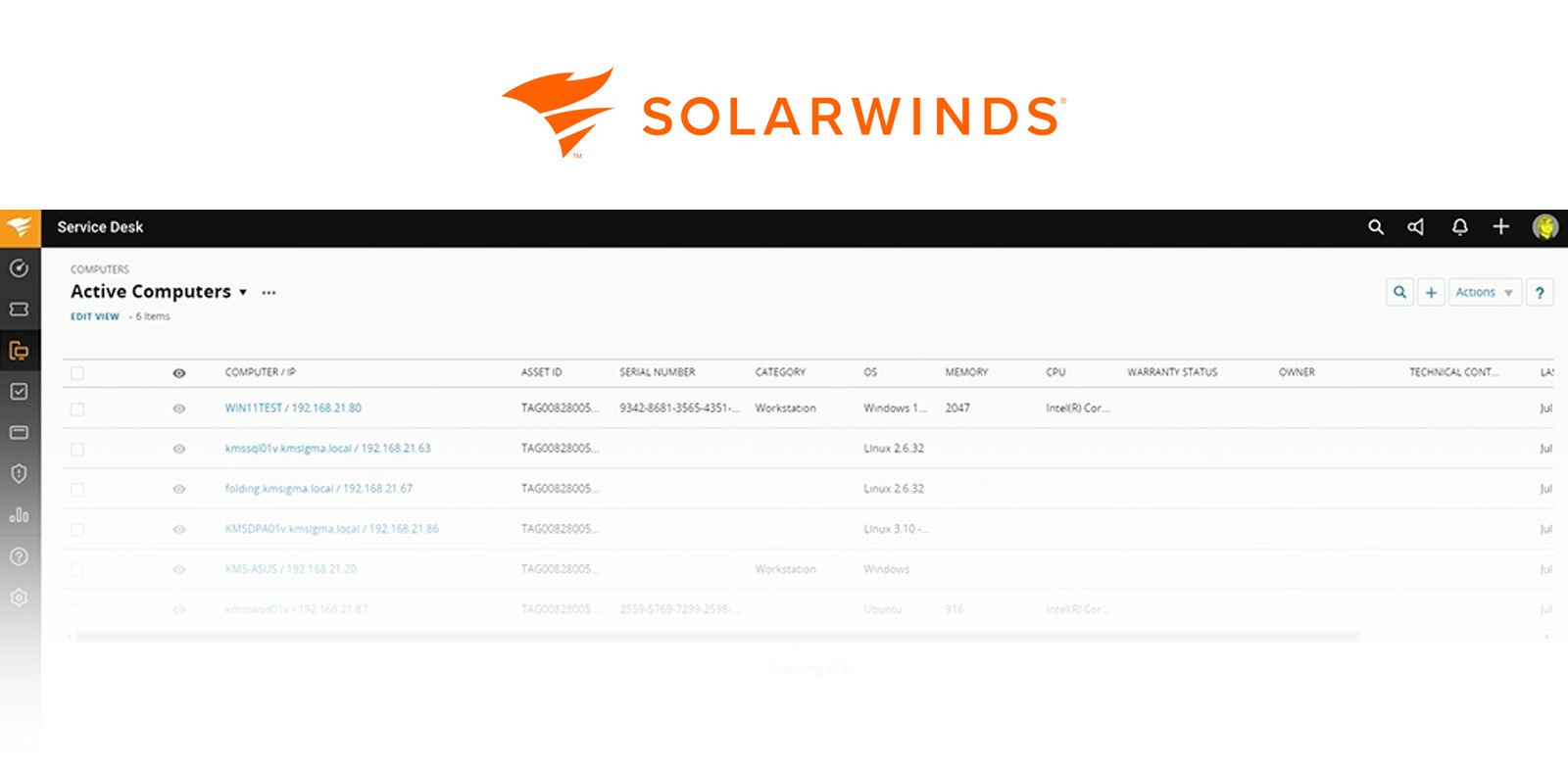 Fully integrated with its service desk offering, SolarWinds cloud-based ITAM tool offers asset tracking, monitoring, and discovery capabilities. In addition, it has strong asset compliance capabilities, is designed to complement the ITIL framework, and provides a free 30-day trial.
When exploring this particular IT Asset Management software, remember that it doesn't offer support for user self-registration, its Asset Management dashboard requires improvement, and it lacks integrations compared with competitors.
SolarWinds key features
SolarWinds most relevant features include:
Unified ITAM software and service desk

.

Agent versus agentless options.

Automatic contract tracking.
How to choose the right ITAM software?
There's so much to consider, and so many offer out there that making a decision is extremely hard! But, when choosing an ITAM solution, knowing your environment is everything. We know it can be tempting to focus on software because of the licensing implications at the research stage, but you also need to consider hardware, cloud services, and network devices.
The types of assets to include in your scope could consist of the following:
Infrastructure hardware.

Virtual servers.

Facility services.

In-house software.

Licensed software.

PCs and laptops.

Mobile devices.

Cloud services.

Network devices such as routers and switches.

Voice and telephony services.
A new ITAM tool is a significant investment, so getting to know potential suppliers and partners is essential. Things to ask them when carrying out your due diligence include the following:
Key functionality and how it could work in your environment.

How, as a client, you would be able to ensure your estate has the appropriate coverage.

How the tool recognizes when new services are added to the production environment.

How the tool deals with duplicate records or identifies offline or inactive assets.

How the tool manages virtual environments and cloud-based services.

If the tool can import data from multiple sources, for example, HR data or system information from

Active Directory

or FreeIPA (other directory databases are available).

What support is in place of enterprise ITAM, for example, being able to handle multiple business units, cost codes, or geographic locations.

Installation approach and how customers are supported during go live.

Customer reference sites/

case studies

.
What is IT Asset Management software?
In case you were wondering, ITAM software is used to help organizations manage, control, and protect their IT estates. In today's world, the ITAM landscape is changing. Organizations have more to handle with the increase in mobile devices and overall complexity.
Licensing has also changed; there is no one size fits all. With complex cloud environments, licensed and usage-based software, as well as updates happening more quickly and via continuous delivery, it's never been more critical to have a reliable ITAM tool in place.
But licensed ITAM platforms are not the only ones in the market. Free and open-source software is also available if you're on a budget.
Read more: The ultimate IT asset management checklist
Free IT Asset Management software
Free ITAM is available, and many solutions offer free versions so organizations can try it out risk-free. However, it's important to note that freeware is often not a long-term solution. There may be limitations on the number of users or assets covered and potential security gaps. Remember that software vendors will always prioritize patching their paid-for solutions first.
IT Asset Management software open source
In addition, open-source Asset Management software exists for some ITAM activities, but like using freeware, there are risks. Firstly, since the code is open to everyone, there will always be people trying to exploit it for their purposes. Secondly, like freeware, open-source software may not always be the most secure in terms of protection from vulnerabilities and exploits.
Types of IT Asset Management software: cloud vs. on-premise
We've explored cloud and SaaS versus on-premise in previous articles, but in short:
Cloud-based IT Asset Management software

- A cloud-based solution means the software vendor completely supports and manages the solution. In this case, support will be less complicated, but you will have no control over the environment, so weigh up what works best for your organization and its ITAM data.



On-premise IT Asset Management software

- If the solution is deployed on-premise, you are responsible for supporting the operating environment. In other words, you will have to buy the underpinning server to ensure it has rack space in your data space, is

patched

, or is attached to the network.
IT Asset Management software features and capabilities
When planning for a new ITAM tool, remember that your IT environment is unique to your company, people, and working methods. Some of the most critical ITAM features include:
Discovery

-

To find new or changed assets.

Asset database

- A detailed record of all IT assets, including hardware, software, network, and voice equipment.

Auditing

- To scan an asset to record its status.

Software recognition

- To identify an instance of the software in your IT ecosystem and its licensing information.

CMDB

- To map your CIs' relationships.

License Management

- To take the feed of inventory of your assets and record your entitlement so that you can reconcile them against your records and those of your suppliers.

Contract Management

- A database to store your supplier and contract information.

System and Deployment Management

- To deliver changes, maintenance, or new deployments.

Automation and workflow

- To template and automate ITAM processes.

Reporting

- To share, collaborate, and act on IT asset data.

Patch and deployment management

-To automatically deploy software patches and updates to company devices.

Monitoring and alerts

- To report on events affecting your

infrastructure

.

Reporting

- To share, collaborate, and act on asset data.

Integration with service desk

- To see your assets' information along with the tickets and optimize your proactive ITSM.
ITAM software capabilities
In addition, make sure to look for the following ITAM software capabilities:
Modern UX, so the tool is easy to use and interact with.

No Code-Low Code capabilities to make configuration and maintenance tasks much easier and less time intensive.

API integrations so your ITAM tool can interact with other tools on your estate, for example, your

ITSM tool

.
Benefits of IT Asset Management Software
IT Asset Management might look like something only big companies need to care for. However, ITAM brings benefits to all enterprises, regardless of their size. The main ones are:
ITAM software is a single source of truth because all Asset Management data and information are held in one central location.

If linked with ITSM software, it can improve the accuracy of which incidents and changes can be impact assessed.

It demonstrates a commitment to being customer-focused. By using an ITAM tool rather than spreadsheets (because ITAM always starts with spreadsheets), you are committing to making things better for your organization. You're saying to your stakeholders, "I care about business services, and I want to make them better, more cost-efficient, and safer," which will go a long way to building and maintaining excellent relationships with the rest of the business.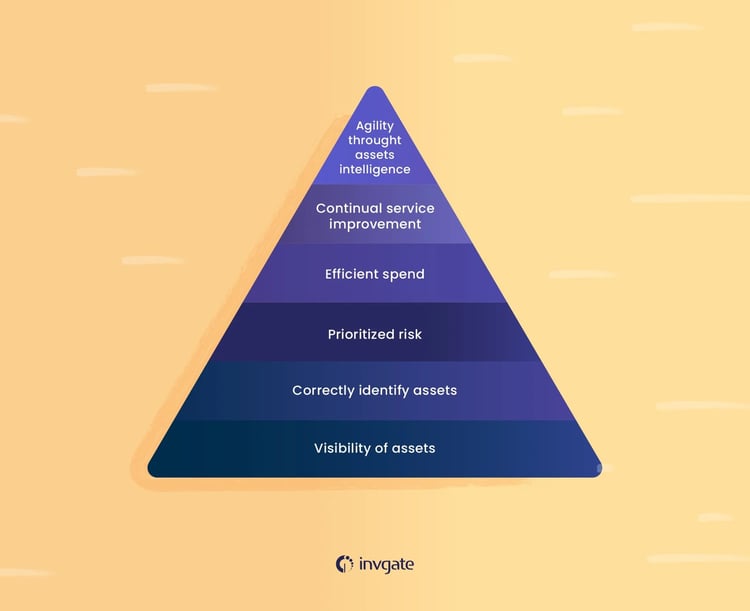 IT help desk and Asset Management software
We mentioned this repeatedly, but it's so important that we decided to create a specific section, just in case. ITAM and ITSM cannot work in isolation. Done well, they can support each other, remove duplication, and ensure business services are effectively managed, controlled, and protected.
If you combine service desk software with an ITAM solution, you'll benefit enormously, especially in the following areas:
Your service desk can support ITAM and ITSM activities because they deal with everyone in the business. They are the first point of contact for everything, from the email service being unresponsive to new software "how do I?" and requests.

Better support for

self-service

as end-users can request their software and, depending on automation and workflows, could have it installed when making the service request.

Your ITAM software can support your CMDB.

More effective

Change Management/Enablement

as ITAM gives a clearer view of the assets installed in your live environment.

Safer Release and Deployment Management as having ITAM in place means that software can only be installed from a central, authorized source.
Read more: 5 benefits of combining help desk software with asset management
Wrapping up
Good ITAM software will help you manage your estate, track assets through their lifecycle, and reduce costs.
But in order to select the right option for your organization, you need to:
Get to know the market and research the solutions.

Consider how you will use the software.

Evaluate your company's needs to select the option with all the necessary features and capabilities.
Once your IT Asset Management solution is in place, you'll be ready to implement an ITAM strategy and manage your IT assets optimally and efficiently.