Same as with an email ticketing system, integrating Microsoft Teams with your help desk is a way to use an established communication channel in your organization to your advantage. If your company has this software as part of its tech stack, your support team must be already receiving requests and issues through there.
The thing is that, if left unattended, it becomes an informal communication channel. People contact only the agent they know via chat instead of the service desk – thus provoking an unequal overload of work across your team, a lack of centralization, and difficulties in tracking and reporting. In other words, it causes chaos and prevents you from getting ahead of problems.
And this is an even bigger pain point if your company already has an ITSM solution because this behavior decreases adoption rates. After all, why bother creating a ticket when you can chat in real time with an agent?
But all hope is not lost. The trick is to use help desk software that integrates with Microsoft Teams. And that's exactly what InvGate Service Desk does.
Here, we'll see how you can do it, and what you'll gain in return. Let's begin!
Why integrate Microsoft Teams with your help desk?
In a few words, because you want people to feel comfortable with the technology they use daily. With 270 million users in 2022, Microsoft Teams is the most popular business communication platform. People are familiar with it, feel comfortable with its UX, and are used to where things are.
In this context, just stating that another platform will be used from now on to communicate with the IT team is not enough for people to adopt it. You need to convince them to use it. And maybe integrating it with InvGate Service Desk is the first step you need.
Simplifying the way people interact with technology will always help accelerate the adoption and proper use of the tools you know work well and will be beneficial.
With a Microsoft Teams help desk integration, you'll be able to:
Centralize your omnichannel support into one single platform.
Take into account requests issued and solved through Teams in your service desk

reports

.
Nurture your

knowledge base

by taking into account MS Teams tickets.
Make it simpler for end-users to interact with the Support Team just by using the chatbot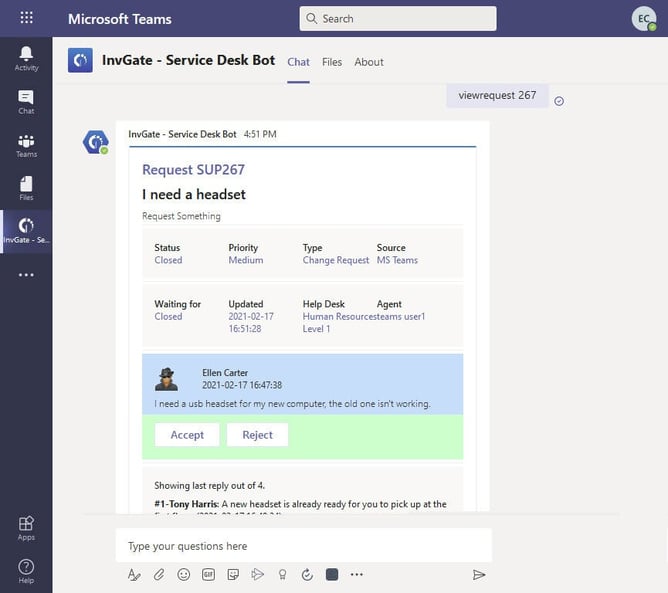 And the best part is that, from an end-user perspective, your service desk will look just like a Microsoft Teams chatbot. That's right. Once you integrate InvGate Service Desk with it, every employee in your company will be able to:
Create a new request - Since the Microsoft Teams chatbot will access your

help desk service catalog

, employees will be able to create requests on the go just by selecting the type of request and its priority, and writing a title and description.


Make replies on open requests - Both users and agents can comment on open requests directly from Microsoft Teams. Moreover, agents can create internal comments only for other agents just by selecting that option from the new reply form.


View a specific request - Agents and employees alike will also be able to see all the information related to a specific request.


View all open requests - By chatting with the Microsoft Teams chatbot, end-users will be able to see all their open requests.


Accept or deny approvals - Lastly, the help desk chatbot also allows employees to approve requests or processes.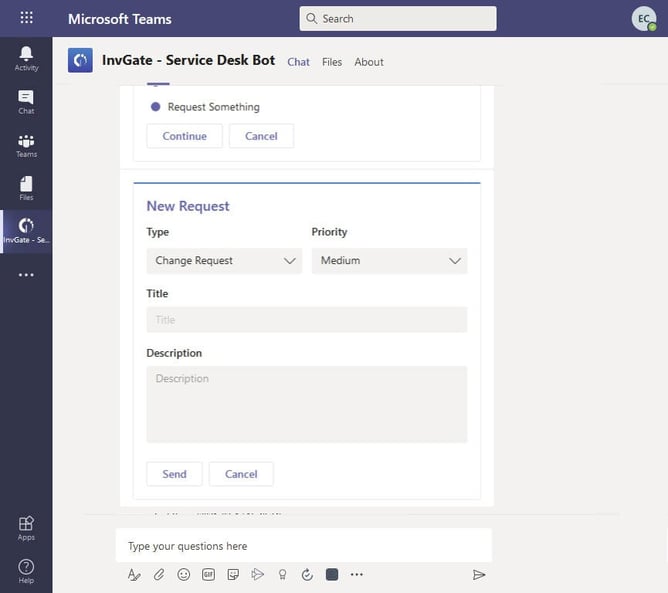 And that's not all because IT agents can also:
View all the requests assigned to them just by typing a simple command in Microsoft Teams. This way, they'll have visibility of their workload without having to log into InvGate Service Desk.


Connect directly with employees from InvGate Service Desk just by clicking on the MS Teams logo within the request (below the user's name) – which is pretty useful to speed up resolution times.


Create new channels to solve complex requests by clicking the MS Teams logo on the request view, allowing them to add all the users that need to be involved in their resolution and simplifying the communication process.
How to create a chatbot in Microsoft Teams with InvGate Service Desk
Integrating Microsoft Teams with InvGate Service Desk is very straightforward. All you need are some credentials and a bit of configuration.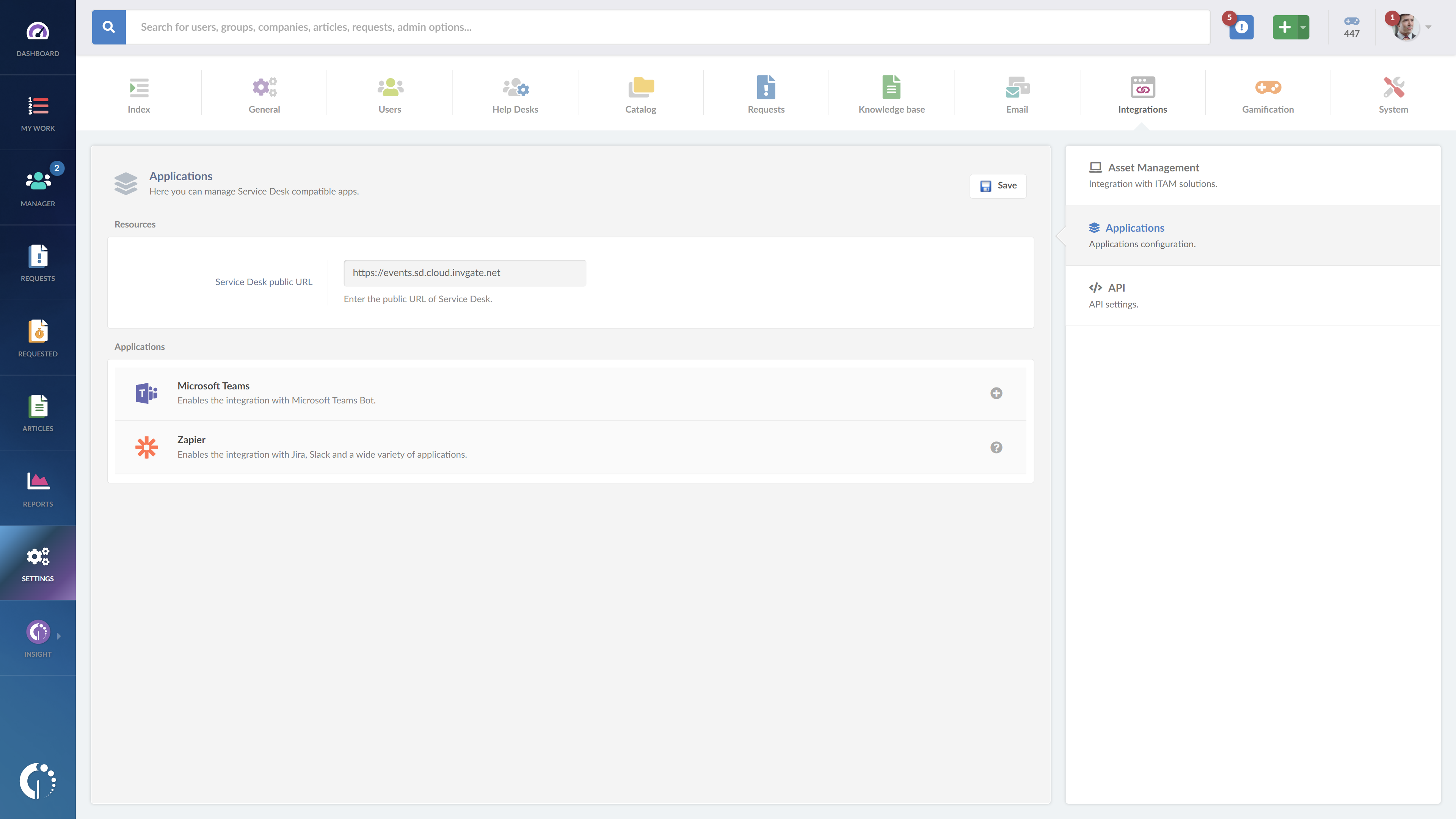 With administrator privileges in Service Desk, Azure AD, and the Microsoft Bot Framework, you'll have it up and running in no time. And if you encounter any difficulties along the way, don't forget you can always contact our Support Team!
Bottom line
Having help desk software that integrates with Microsoft Teams is a clever way to allow end-users to interact with the IT support team in a simple but formal way.
With a Microsoft Teams chatbot, you're improving the digital employee experience by providing a solution that doesn't require them to leave a familiar platform. And at the same time, you're improving your team's work by:
Avoiding work overload.
Improving resolution times.
Providing visibility to statistics and service desk performance.
Omnichannel support doesn't have to be complex or chaotic. All you need is to centralize the different communication channels into InvGate Service Desk (which can be easily done with Zapier) so that what looks like many different ways to communicate with IT support is in reality one single but powerful platform.
Want to try InvGate Service Desk's Microsoft Teams integration? Request the 30-day free trial now, or schedule a call with our team so they can show you how it's done!