A larger part of an agent's job is ensuring things work as they should. Thus, the most common help desk tickets usually relate to employees' daily tasks.
Of course, the definition of "common" varies depending on the organization. However, there are some issues transversal to any IT department. And we're about to see how to solve them efficiently – and how InvGate Service Desk's features can contribute to it!
Keep reading to learn to use automation, self-service portals, canned responses, and more to solve problems like data loss, printer issues, and password resets.
14 most common help desk tickets - and solutions!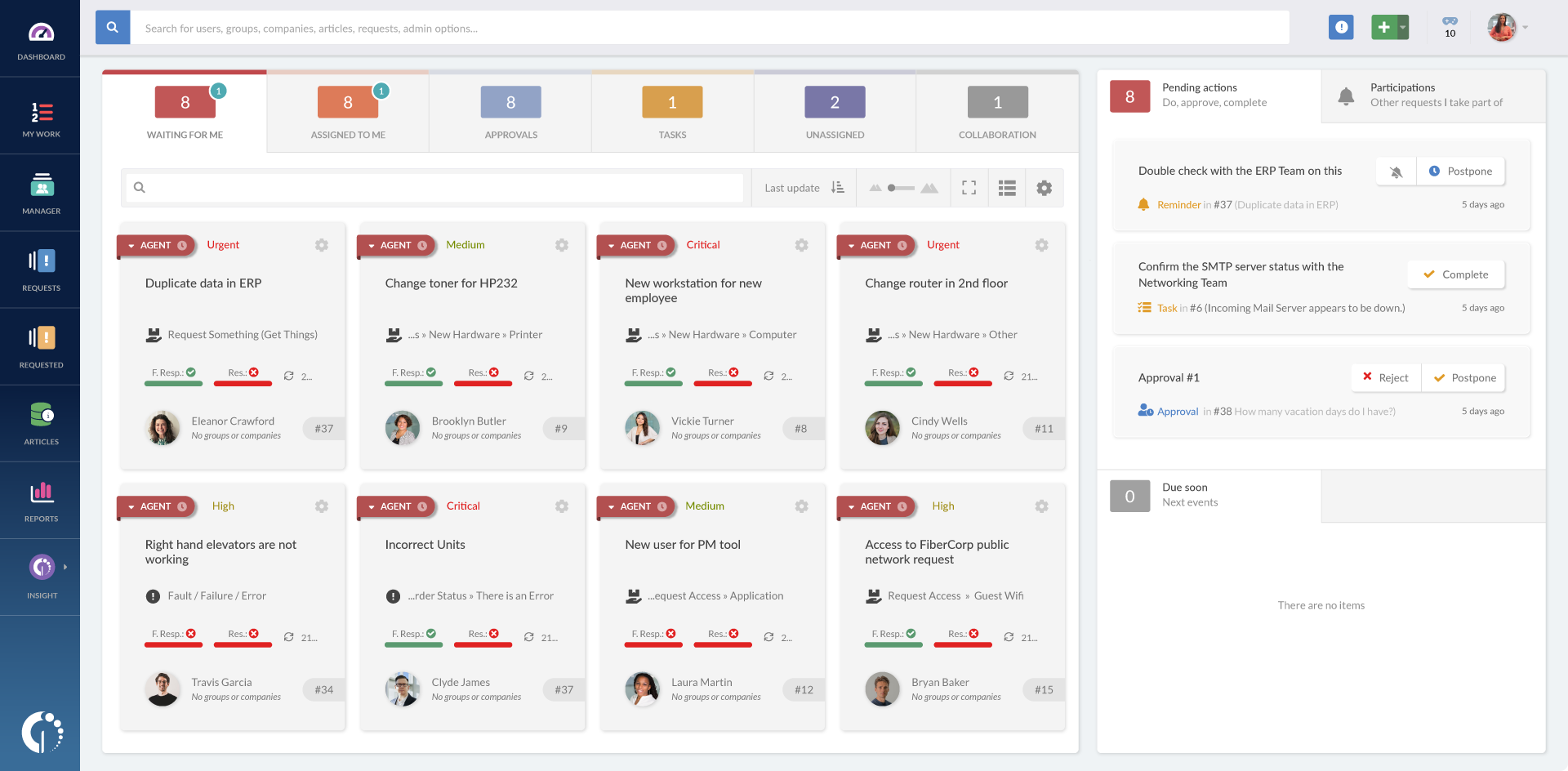 We know that there are no magical solutions and that each case might need a bit of personalization to address singularities. But you can use these ideas to get things going! These are the 15 most common help desk tickets we'll cover:
Password predicaments

Printer problems

Data loss

Third-party software problems

Performance issues (i.e. computer is too slow)

Issues with peripherals (i.e. keyword or mouse aren't working)

Blue screen of death

Connectivity issues

Operating system error or failure

Problems with communication and collaboration tools

User management

Mobile phone issues

Conference room equipment

Cybersecurity
1. Password predicaments
There seems to be a consensus that establishes password issues as the most common help desk ticket. If you have been working in IT long enough, you probably come across several requests regarding password resets, locked accounts, or logging issues in general. In fact, one user commented in this Reddit post that 75% of tickets received only in the first four days of the job were password resets.
And it makes sense; users tend to freeze when they can't get into their accounts. So, to avoid typing the same instructions over and over again, make sure to create a canned response on InvGate Service Desk that asks the user to check the basics: that they are typing the right user and password, that they're using capitals when they should (and that Caps Lock is not enabled when it shouldn't), and that the keyboard is set on the right language.
If that doesn't work, you can move forward with other steps, such as validating if the account is unlocked, resting the multi-factor authentication (MFA), or manually resetting the passwords.
2. Printer problems
Printer issues are closed second in the top help desk tickets. No matter how hard you try to configure them, they are quite mischievous.
The approach to solving this type of issue is similar to password resets: start with the basics. First, check the toner and paper; then, the network connection (is the printer properly connected?). You can also create a knowledge base article covering this. If that's not enough, you can always try restarting the printer.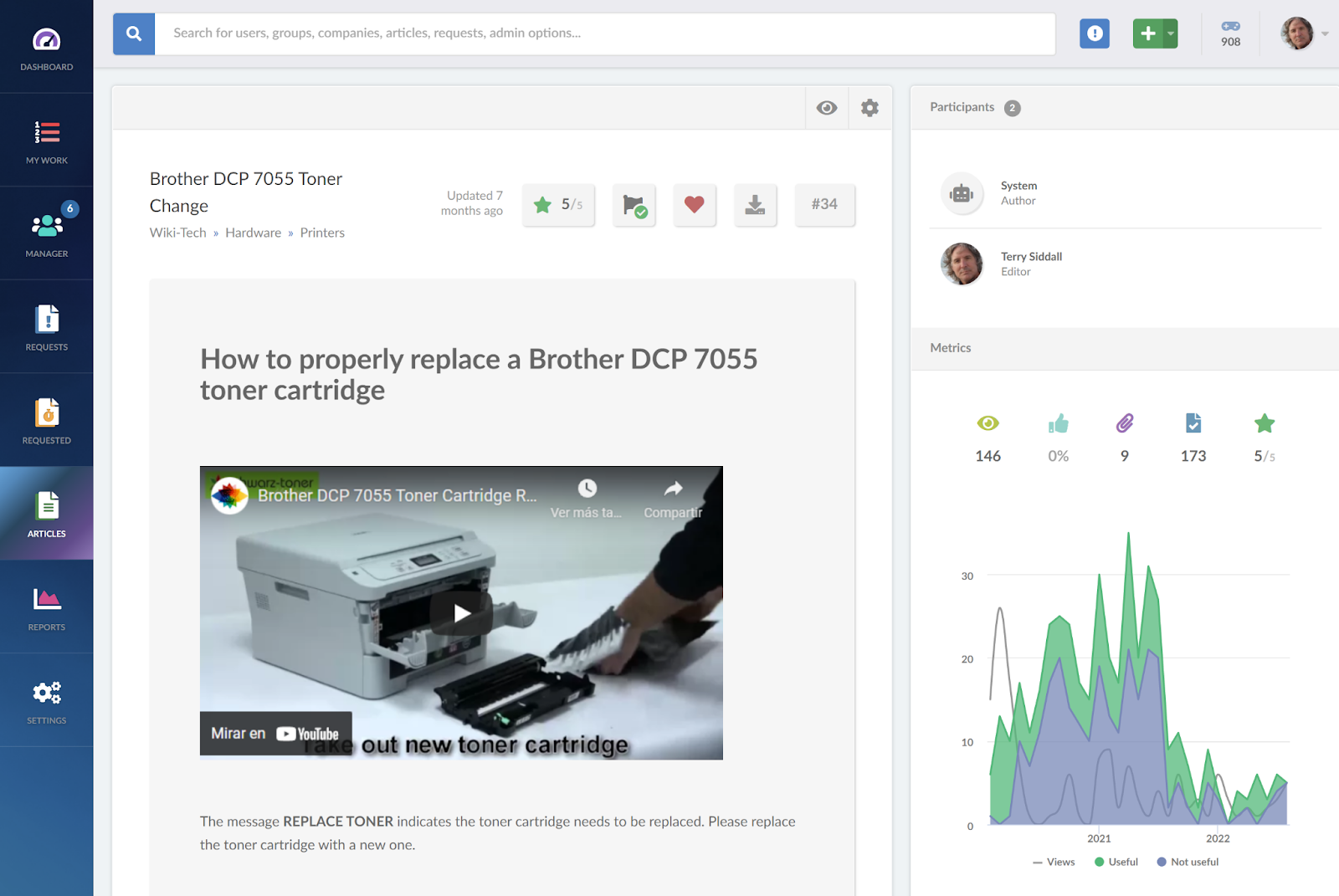 Pro tip: add to your internal knowledge base an article with the printers' details (model, type of tonner, and some basic troubleshooting) to have at hand when you need it. And be sure to include them in your hardware inventory on InvGate Insight. This way, you can easily spot which printer is failing.
3. Data loss or file loss
Another common problem for users is not knowing where files are. Most of the time, they're just not placed where they're supposed to be, so the search begins.
In this case, you'll try several alternatives.
First, suggest the user look for them using keywords or search for file type, last time saved, or owner. If that doesn't do the trick, try to use them through your backup data system. If the data is sourced in an external server, it must have its own backup. So, escalate the ticket to a higher support level so they can request it.
4. Third-party software problems
Your company's technological landscape probably has dozens – if not hundreds – of different software vendors, each with its own particularities. So, to avoid having to look into the specifics of a platform after a ticket is submitted, you can create knowledge-based articles.
Make sure you cover specific error codes, installation issues, and every other common problem they might have – and don't forget to link them to the vendor's knowledge base!
If the issue can't be solved at level 0 or level 1 of IT support, you can also escalate the ticket to contact the vendor's support team and ask for a solution.
5. Performance issues
How many times did you receive a ticket saying, "my computer is too slow"? Performance issues are pretty standard, and they can be caused by multiple factors.
When solving this issue, always start by asking the user to restart the device. It's not uncommon that people leave it on for days or weeks – you can even check this beforehand with InvGate Insight's asset monitoring feature.
Other ideas worth trying are validating that the equipment is operating normally. Turning off automation and background tasks.
6. Issues with peripherals
Requests related to peripheral devices (i.e. keyboard, mouse, monitor, speakers, docking station, webcam, charger, USB device, microphone, or others) often have simple solutions. Most of the time, it's enough with unplugging and replugging, checking the connection is clean, or adding a USB hub. And if none of these work, you can always replace the device.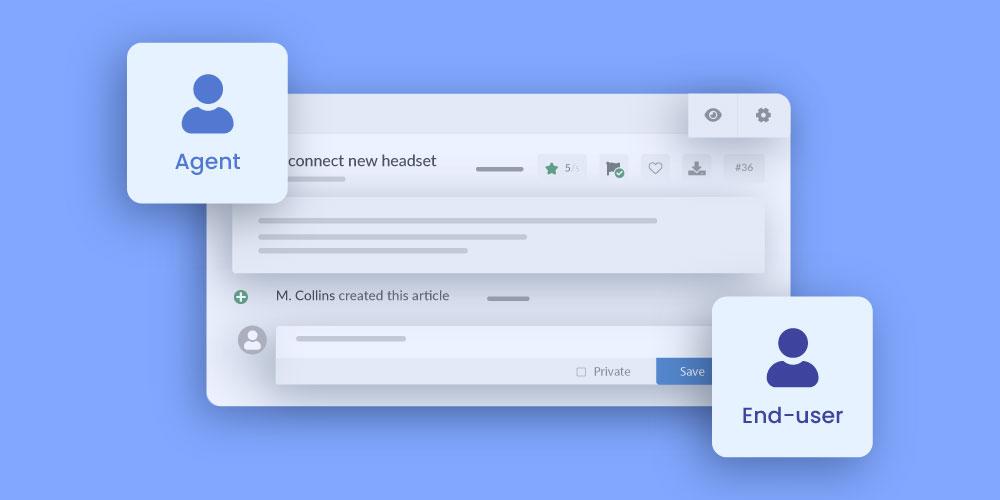 If you have InvGate Service Desk integrated with Insight, the request will automatically show you the devices assigned to the user so that you can easily see their details and health status without having to ask too many questions.
7. Blue screen of death
Whenever the Blue screen of death (BSoD) appears, the user tends to panic. So, the first step is to calm them down and give them a temporary computer to use until you fix it.
The BSoD is usually fixed by repairing Windows using Utility software or re-imaging the machine completely. If this keeps going, the next step is to do a further diagnostic to see if it indicates other software or hardware that needs to be fixed as well.
To prevent this, you can always count on InvGate Insight's monitoring alerts. Set them up to notify agents whenever something isn't working as it should and encourage your team to be proactive.
8. Connectivity issues
Internet connection is another recurring ticket for help desk agents. Oftentimes, users don't know how to solve wireless connections, and they need professional assistance. To start with, look at hardware and software connections to see if everything is plugged, if the wi-fi is on, and if the chosen network is the right one.
If you're providing multi-site support, you should also take a look at local internet problems, and check if users need to be connected to the VPN to be able to see a specific website.
Security changes can also cause connectivity issues. To spot this, go to InvGate Insight's CMDB and review the most recent logs to see if anything stands out.
9. Operating system error or failure
People panic about operation system (OS) errors or failures. It's a fact. So, whatever you do, try to be emphatic and make them feel safe. After all, it's not the end of the world – though it might seem like it.
To ensure a proper first response, use InvGate Service Desk's canned responses or AI Suggested Responses. This will save you time and ensure you are being empathetic enough. After the first contact, start with some basic troubleshooting and OS maintenance. Use InvGate Insight to see if the OS is outdated or if it was recently updated (which might be causing the trouble).
If this doesn't work, replace the machine, and then identify the issue with the base image of the "copy" installed on all machines.
Another alternative that might be causing the problem is malware. If that's the case, configure InvGate Insight's health rules and alerts to prevent it next time.
Last on the list, you can also see if there is a major incident you can relate this request to.
10. Problems with communication and collaboration tools
Issues with collaboration tools can be solved in the same way you deal with software errors:
Create a knowledge base article and attach it to the requested category so that users can fix simple problems on their own.

Create another knowledge article for agents with the vendor information, in case they need to contact them.



11. User management
There's always a request about someone who can't get into their accounts – and it isn't related to the password or the software – it's probably about their user. So, the basic steps for this category are resetting profiles, resetting passwords, and changing security profiles.
Depending on the issue, you can also try fixing permissions that were already approved. If the permissions need to be changed or accepted, you can add an approver to the requests on InvGate Service Desk (without any extra licensing cost) to keep the workflow going.
Finally, check if the user is connected to the VPN or if there are some other requirements needed to get access to what they're reaching for.
12. Mobile phone issues
Mobile phone issues are pretty similar to computers. The fundamental steps to solve them include:
Restarting the device.

Reinstalling or updating apps or OS.

Inspecting software settings and re-configuring them, if necessary.
If you need to work with the official support team, remember you can add them to the ticket as collaborators on InvGate Service Desk. If nothing works, you'll have to replace the equipment.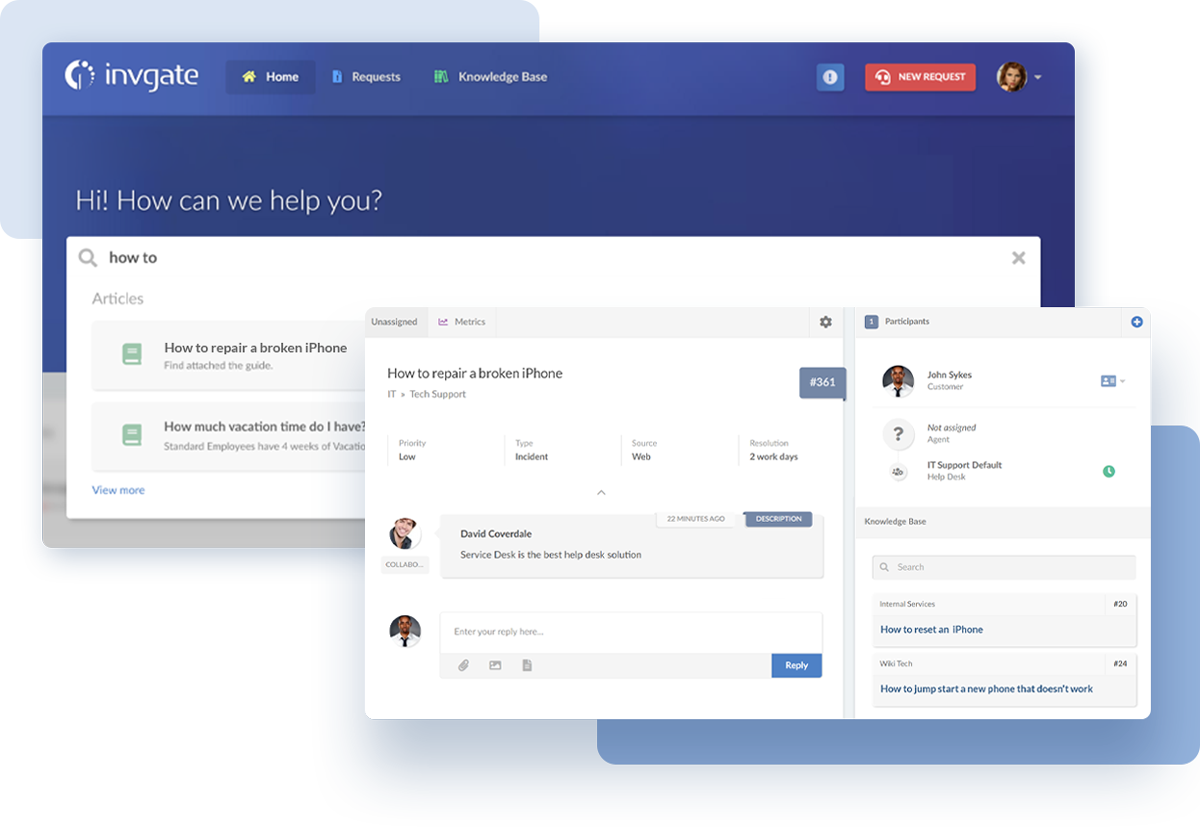 13. Conference room equipment
Conference rooms can be tricky for some users, especially when they have to connect different devices to their computers. Having a simple how-to article in InvGate Service Desk's knowledge base is always useful.
For it to do the trick (and avoid ticket submission), it has to be thorough. Offer a detailed explanation on how to connect things and some basic troubleshooting so the user can self-solve whatever issue they might encounter.
If the problem persists, you can go to the conference room to make sure everything is connected and working properly for the meeting.
14. Cybersecurity
Cybersecurity issues are one of those things where it isn't always easy to get to the source of the problem. Thus, you need a trained agent specialized in this kind of problem.
It'd be ideal if they are the ones writing knowledge base articles with some basic troubleshooting for other agents to solve these tickets and for users, to help them prevent phishing and other vulnerabilities.
In addition, InvGate Insight's monitoring tools and health rules can be your best allies to prevent this kind of stuff.
The bottom line
The most common help desk tickets are all related to employees' daily tasks and are often caused by hardware and software bugs or small failures.
Due to their nature, they are most likely repetitive, and they can trigger some negative feelings in users, such as angst, frustration, anxiety, or despair. So, you'll have to be ready to deal with that as well. To counteract, always try to be polite, diligent, and empathic – you can use the help of AI or ChatGPT for IT support.
One of the things that typically calms people down (and reduces agents' workload) is information. So make sure that your self-service portal has a robust knowledge base with articles on the most common issues to act as the zero line of support.
If a ticket is submitted anyway, let them know that you're aware of the issue and working on its resolution.
Want to see how InvGate Service Desk's features can help you get rid of these tickets for yourself? Ask for a 30-day free trial to explore it!