Are you faced with choosing between Zendesk vs. Cherwell Service Management to revolutionize your IT Service Management (ITSM) operations? The choice you make holds the potential to impact your organization's efficiency and service delivery significantly.
With each platform offering unique features and capabilities, conducting a thorough ITSM tools comparison becomes essential to ensure you select the right solution for your needs.
In this blog post, we'll take an in-depth look at the critical aspects of both platforms. However, our exploration doesn't stop there. We'll introduce you to an alternative solution that shines brightly amid this competition: InvGate Service Desk. This service desk software strongly emphasizes digital transformation, streamlined functionalities, and the opportunity to elevate your IT operations to new heights.
Keep reading to gain valuable insights and make an informed decision that can transform your IT operations.
Most looked-at features by buyers
Buyers evaluating ITSM solutions tend to focus on specific features that meet their organization's needs. These desired features because they play a key role in making an informed decision.
Let's look at the basic features that potential buyers typically focus on when comparing ITSM tools.
User-friendly experience and interface

- Buyers take into consideration the user experience and interface of the platform, focusing on how user-friendly it is and how it enhances user adoption and productivity. They appreciate an intuitive interface that promotes efficient interaction with the software. Additionally, for organizations with remote or mobile workforces, mobile accessibility is an important factor to take into account.


Ticket Management system - Buyers place considerable significance on having a comprehensive Ticket Management System within their

help desk software

. This feature allows for effective tracking, assignment, and resolution of customer inquiries and support requests.



Support automation

and Workflow Management - Buyers actively search for software solutions that offer automation capabilities to streamline everyday tasks such as

ticket routing

, approvals, and

escalations

. These automation features contribute to heightened efficiency and productivity.


Scalability - Organizations that are experiencing growth and evolving needs place a premium on solutions that can easily adapt to their expansion and allow for customization. It is critical for the solution to provide the capability to create custom fields, workflows, and extensions/plugins, enabling them to customize the solution to match their unique business requirements.



Self-service portal

and

knowledge base

- Buyers highly value the inclusion of a self-service portal as it allows end-users to independently resolve common issues and access relevant information without requiring direct assistance.


Streamlined

IT service catalog

- Organizations often require a service catalog that enables users to request specific IT services or resources. This feature simplifies service requests, provides visibility into available services, and facilitates effective service delivery management.


Customization and flexibility - Buyers appreciate software solutions offering customization options, enabling them to tailor the platform to their business needs. This flexibility ensures the software aligns with their unique workflows and processes, enhancing user satisfaction and overall effectiveness.


Seamless integration capabilities - Integration with other systems and applications is a critical requirement for buyers, as it ensures smooth data flow and process automation.

The ability to integrate with existing tools and platforms

is highly valued for improved efficiency and a unified user experience.


Efficient Asset Management - Users prioritize software that offers robust

IT Asset Management

capabilities to help them maintain accurate inventories and optimize resource utilization within their organizations.


Comprehensive reporting - Buyers seek help desk software with robust reporting tools, such as

dashboards and reports

, which provide valuable insights into their IT operations and performance. This data-driven approach facilitates informed decision-making and

continuous service improvement

.


Pricing and support - Buyers evaluate the solution's cost-effectiveness, including licensing models, subscription plans, and any additional costs associated with features or users. The availability of customer support, documentation, and training resources also significantly influences their decision-making process.



ITIL

compliance - Many organizations adhere to ITIL best practices for IT Service Management. Buyers may give preference to solutions that support ITIL processes, such as

Incident Management

,

Problem Management

,

Change Management

, and Asset Management, as these processes align with their organizational standards.
What is Zendesk?
Zendesk for Service is a robust platform created to meet the needs of IT Service Management in businesses.
Zendesk Inc. is a software company that focuses on delivering customer service solutions through a software-as-a-service (SaaS) approach. Their platform equips organizations with tools for individual customer interactions, predictive analysis for common customer questions, data collection, engaging with customers, and gaining valuable insights. This platform is available worldwide in different regions, such as Europe, Asia Pacific, Latin America, and North America.
What users like from Zendesk
Customers have highlighted several benefits of Zendesk, as evidenced by reviews from reputable sources such as Gartner. Here are some of the benefits that have been recognized.
Extensive feature set - Zendesk has introduced a range of valuable features, including capabilities for multichannel messaging, workflow management through the flow builder, and advanced knowledge management tools. The Admin Center simplifies configuration tasks, making the platform's complexity more manageable.
Comprehensive reporting and analytics - Zendesk Explore offers a comprehensive suite of reporting and querying options, facilitating well-informed decision-making and robust performance tracking.
Exceptional customization options - The user interface distinguishes itself with its outstanding customizability, enabling businesses to tailor the platform to their specific needs and preferences precisely.
Efficient multichannel support - The tool excels in managing tickets across multiple channels, seamlessly integrating with social media, chat applications, and traditional communication channels like email. This integration ensures that agents operate within a unified workspace for streamlined and efficient operations.
Abundant app marketplace - The platform offers a marketplace featuring over 1,200 third-party applications and integrations. This marketplace is a valuable resource for organizations seeking to expand their ITSM capabilities.
What users don't like from Zendesk
While Zendesk has many strengths and positive attributes, customers have voiced criticisms and concerns about certain platform elements. These concerns have been identified through assessments conducted by sources such as Gartner. Here are some of the shortcomings that have been highlighted.
Integration and compatibility considerations - The software seamlessly integrates with third-party applications and its proprietary CRM solution, Zendesk Sell. However, users often need to opt for higher-tier plans to harness these capabilities fully.
Reporting limitations - While Zendesk's Explore tool offers a variety of reporting options, users on an Enterprise plan may find notable limitations in dashboard customizations. There is room for Zendesk to enhance this aspect, particularly given its pricing structure.
Pricing challenges across business sizes - Zendesk's pricing structure can pose challenges, particularly for small to mid-sized businesses. The starting cost of $49 per agent per month and the necessity for higher-cost plans to access enterprise-level features can be a significant consideration.
Limited dashboard customization - Full dashboard customization is restricted for users on lower-tier plans, primarily available at the Enterprise levels. This limitation can impede the ability to tailor analytics views to suit specific requirements.
What's Zendesk's argument over ManageEngine?
When making a case for Zendesk over ManageEngine, the former presents a compelling set of arguments highlighting its distinct advantages. These key advantages include.
Extensive feature set - The comprehensive feature set ensures that businesses can effectively address their evolving customer service needs.


Comprehensive reporting and analytics - Zendesk Explore is a powerful tool that provides a comprehensive suite of reporting and querying options. This feature empowers organizations to make well-informed decisions based on real-time data and facilitates robust performance tracking.


Exceptional customization options - Zendesk sets itself apart with its exceptional customizability. The user interface can be tailored to precisely meet the specific needs and preferences of businesses.


Efficient multichannel support - Zendesk excels in managing customer inquiries and tickets across multiple communication channels. The integration with different channels ensures that customer support agents operate within a unified workspace, streamlining operations and enhancing the overall customer experience.


Abundant app marketplace - This extensive ecosystem provides organizations with a wealth of resources to expand their ITSM capabilities. It enables businesses to customize and enhance their support processes, making Zendesk a versatile choice for organizations with diverse IT needs.
What is ManageEngine?
ManageEngine, previously known as AdventNet Inc., underwent a rebranding in 2009 and now goes by the name Zoho Corporation. This company specializes in delivering comprehensive IT Management solutions tailored for businesses of varying sizes, with a particular emphasis on small to midsize enterprises (SMEs). ManageEngine is headquartered in Pleasanton, California, and has a significant global presence, catering to more than 180,000 customers across the world.
One of the key products offered by ManageEngine is ServiceDesk Plus, a versatile platform that provides flexible deployment choices, including cloud-based and on-premise solutions. ServiceDesk Plus encompasses a wide range of capabilities related to IT Service Management (ITSM) and IT Asset Management (ITAM). In the Gartner Magic Quadrant assessment, ManageEngine holds the position of a Challenger, indicating its competitive standing within the market.
What users like from ManageEngine
ManageEngine has received recognition and positive user feedback from sources such as Gartner. Let's look at some of the key benefits highlighted by these satisfied customers.
Diverse product range - ManageEngine has an extensive portfolio of complementary products that span various domains, including endpoint management, network monitoring, application monitoring, and active directory management solutions. Leveraging the support of its parent company, Zoho, ManageEngine harnesses low-code development capabilities and seamless business integrations to offer a wide array of platform features, thereby delivering enhanced value to its customers.
Impressive growth - ManageEngine demonstrates substantial growth potential, as evidenced by its flexible deployment options and strong presence in the midmarket segment. In 2021, the company experienced significant revenue growth and expanded its customer base considerably. Its success is particularly evident in the corporate sector, solidifying its position as a rapidly growing contender in the industry.
Competitive pricing - ManageEngine sets itself apart through its competitive pricing strategy, offering a cost-effective IT Service Management solution. With multiple pricing tiers available, the platform caters to diverse budgets, making it an attractive choice for midmarket customers and larger organizations seeking value-driven solutions.
What users don't like from ManageEngine
Despite its many strengths and positive attributes, ManageEngine has faced criticism and customer concerns about certain platform aspects. These issues have been identified through analysis of credible sources such as Gartner. Let's look at the specific areas that have caused concern for customers.
Limited integrations beyond Zoho ecosystem - The platform's strengths in terms of integrations and extensibility are most pronounced when used in conjunction with other ManageEngine and Zoho ecosystem products. This could present challenges for customers seeking seamless integration with widely-used IT Operations Management (ITOM) tools outside the Zoho ecosystem, possibly necessitating the development of custom API connections.
Limited product innovation - ManageEngine primarily concentrates on enhancing processes, integrations, and customization support rather than pushing the boundaries of product innovation. Although the company has integrated some Artificial Intelligence and Machine Learning (AI/ML) capabilities in areas such as field and template recommendations, it still lags behind more advanced products in this category.

Security vulnerabilities

- In 2023, ManageEngine encountered a significant setback when two critical vulnerabilities were discovered in 24 of its products. These vulnerabilities were rated at a severity level of 9.8 out of 10, as they had the potential to enable remote execution of malicious code. However, the company promptly addressed this situation by releasing patches to mitigate the vulnerabilities and enhance security measures.
Unclear differentiation in ITSM marketing - ManageEngine's marketing efforts often struggle to effectively emphasize its distinctive value proposition in the IT Service Management market. By focusing primarily on common themes such as low-code development, customer privacy, and deployment flexibility, the company faces challenges in standing out among more seasoned buyers.
What's ManageEngine's argument over Zendesk?
When it comes to pitting ManageEngine against Zendesk, ManageEngine presents several compelling arguments that set it apart from the competition. These key differentiators include.
Diverse product range - ManageEngine has an extensive and diverse portfolio of complementary products that cover a wide spectrum of IT management domains. This expansive product range provides customers with a one-stop solution for their IT management requirements, delivering exceptional value.


Impressive growth - ManageEngine's growth trajectory stands as a testament to its potential and capability. With flexible deployment options and a strong presence in the midmarket segment, ManageEngine has been on a remarkable journey of expansion.


Competitive pricing - ManageEngine takes pride in its competitive pricing strategy, offering cost-effective IT Service Management solutions. The platform caters to a diverse range of budgets with multiple pricing tiers.
Considering InvGate Service Desk as an ITSM solution alternative
While Zendesk and ManageEngine are well-known competitors in the ITSM industry, exploring alternative solutions that better meet your organization's specific needs is essential. In this context, InvGate Service Desk emerges as a compelling option that deserves careful consideration.
Let's examine the beneficial features of InvGate Service Desk that make it a valuable choice for fulfilling your organization's ITSM needs.
Robust Ticketing and Incident Management
InvGate Service Desk excels in providing robust capabilities for Ticketing and Incident Management. It facilitates efficient tracking, collaboration, and resolution of tickets, empowering IT teams to handle and prioritize incidents effectively. With features like automated ticket routing, customizable workflows, and SLA Management, InvGate Service Desk significantly enhances the efficiency of incident resolution processes.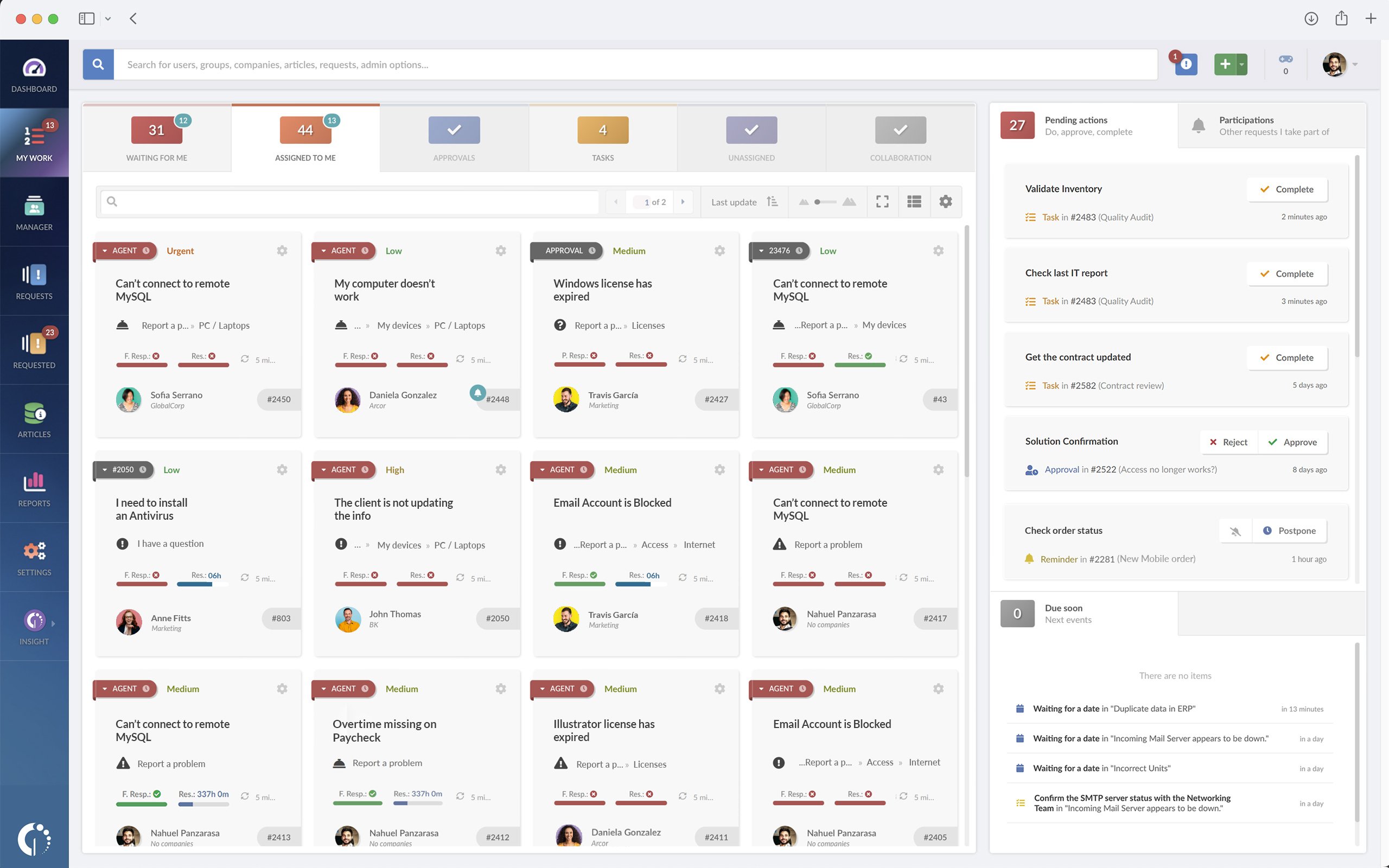 Powerful self-service capabilities
InvGate Service Desk incorporates robust self-service functionalities, including a user-friendly portal, an extensive IT service catalog, and a knowledge base. These capabilities empower end-users to independently resolve common issues, access a wide array of IT services, and utilize self-help resources, thereby alleviating the burden on IT staff.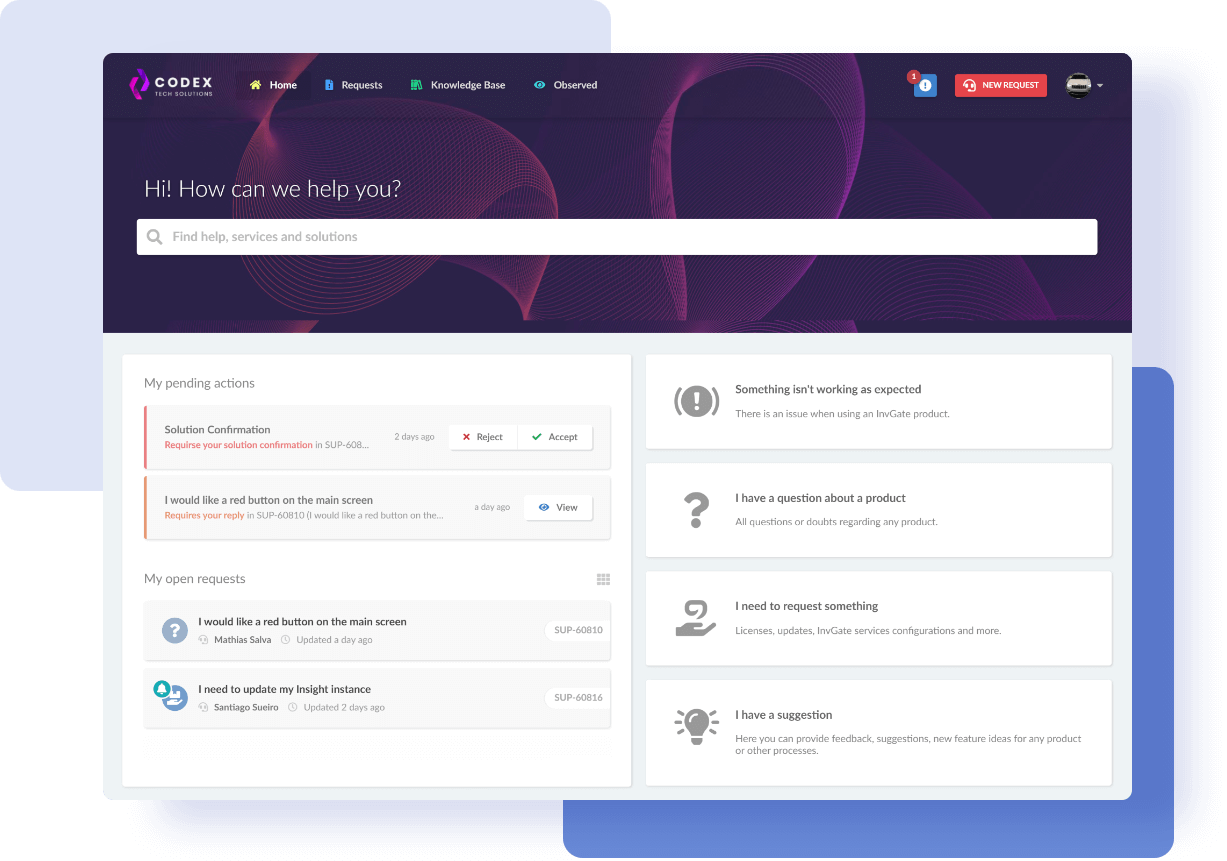 Extensive reporting and analytics
InvGate Service Desk offers comprehensive reporting and analytics functionalities, enabling organizations to gain valuable insights into their IT operations and performance. The platform provides ready-to-use reports and customizable dashboards, empowering IT teams to analyze data, identify patterns, and make informed decisions to enhance their services.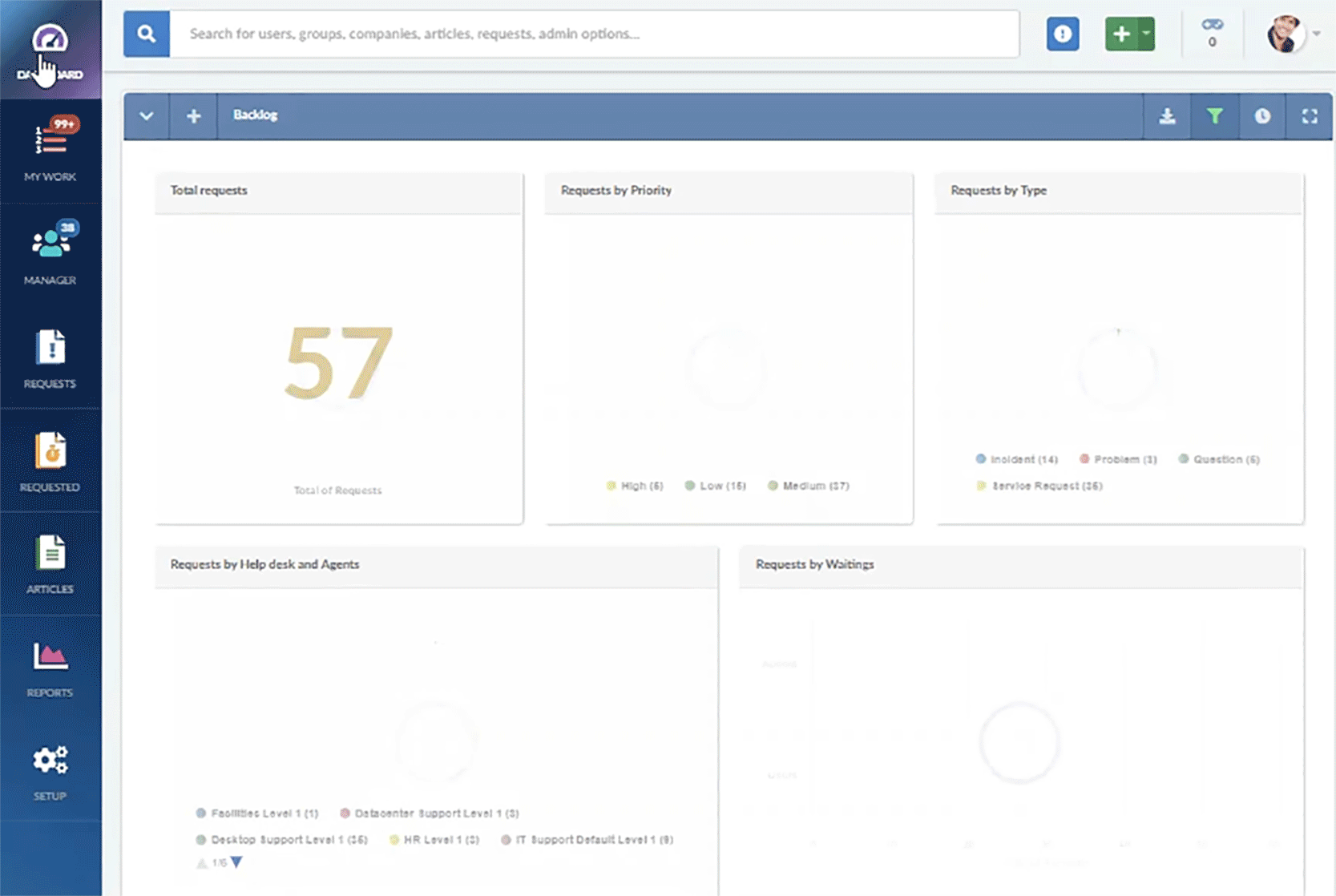 Comprehensive Asset Management
By integrating InvGate Service Desk with InvGate Insight, organizations gain a comprehensive view of their IT ecosystem, leading to improved service delivery and reduced downtime. InvGate Insight offers a range of features, including IT Asset Discovery, Inventory Management, Software License Management, and maintenance schedules.
Streamlined configuration and setup
InvGate Service Desk offers a simplified configuration and setup process, employing a no-code/low-code approach. This approach enables both novices and experienced users to implement the system without requiring extensive technical expertise. The platform expedites setup by providing straightforward configuration options, allowing organizations to harness its powerful ITSM capabilities quickly.
Customization and flexibility
InvGate Service Desk provides flexible deployment options, allowing organizations to choose between on-premise or cloud-based solutions. This flexibility ensures that the platform can adapt to the specific requirements of various sectors and industries.
Outstanding user experience
InvGate Service Desk prioritizes delivering an exceptional user experience through meticulous design and adherence to UI/UX best practices. Its intuitive interface promotes rapid adoption, reducing the need for extensive training and enabling users to be productive.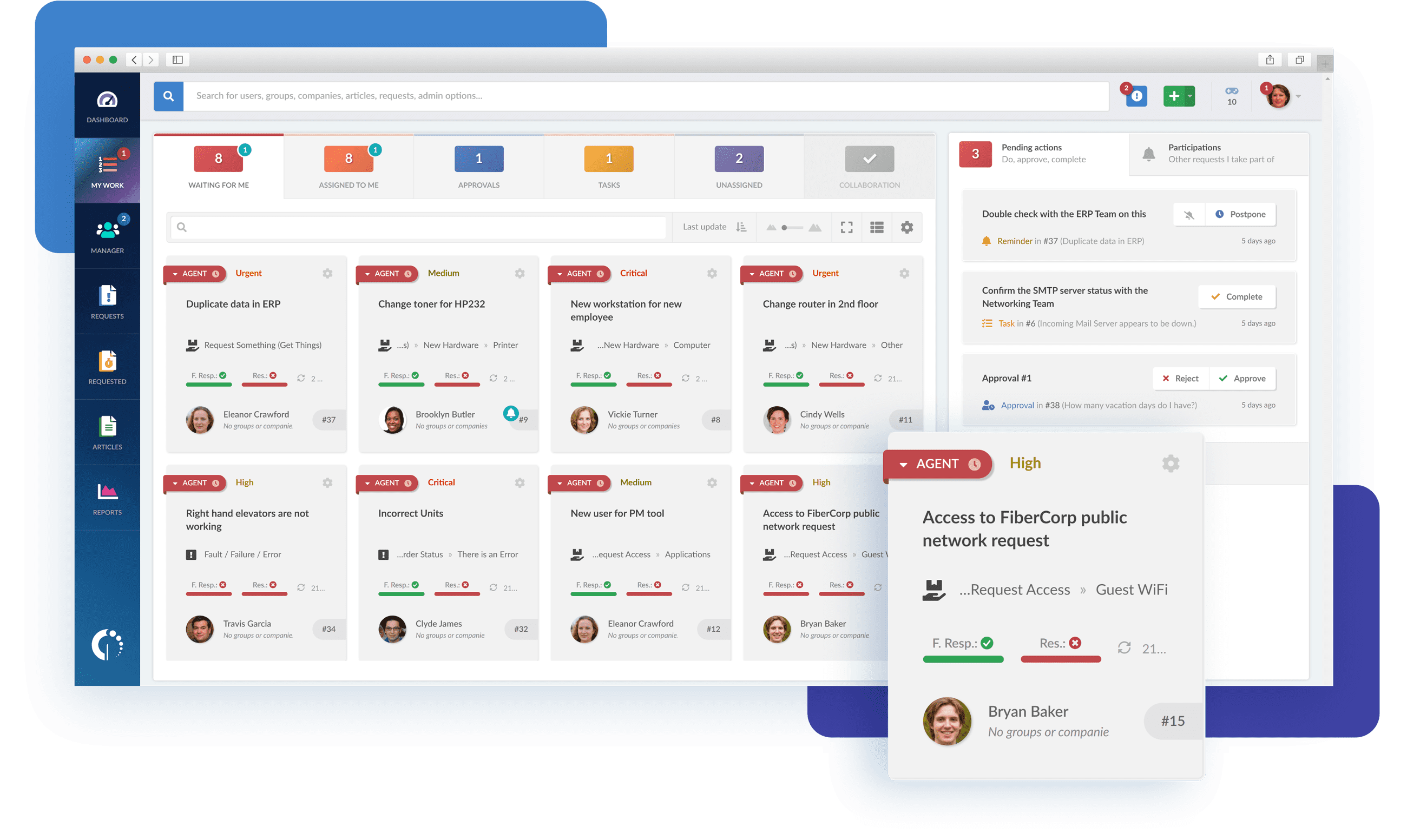 Cost-effective solution
InvGate Service Desk delivers a cost-effective solution without compromising on functionality. It offers a comprehensive range of ITSM features at a competitive price, making it an appealing choice for organizations seeking affordability without sacrificing capabilities. Compared to alternatives like Zendesk and ManageEngine, InvGate Service Desk strikes a balance between cost and functionality.
Purpose-built for ITSM, perfect for ESM
InvGate Service Desk is specifically designed for ITSM while seamlessly extending its capabilities to Enterprise Service Management (ESM). It empowers operational departments to enhance their processes and fully embrace the advantages of digital transformation. With a primary focus on ITSM and strong performance in ESM, InvGate Service Desk enables streamlined workflows and comprehensive digital transformation initiatives across all departments.
ITIL-certified readiness
InvGate Service Desk has achieved the esteemed ITIL4 certification from PINK Elephant, demonstrating its commitment to upholding ITSM excellence. Whether organizations are embarking on their ITIL journey or managing complex operations, InvGate Service Desk provides a user-friendly and feature-rich experience aligned with industry best practices.
Fast ROI and ongoing innovation
InvGate Service Desk ensures a rapid return on investment through efficient implementation processes. Within weeks, organizations can start reaping the benefits of this robust ITSM solution. Additionally, regular feature updates keep users at the forefront of technology without incurring additional costs.
Next steps
In the dynamic world of IT Service Management, deciding between Zendesk vs. Cherwell Service Management is undoubtedly pivotal for organizations seeking to streamline their operations and enhance customer support. Both platforms bring a wealth of strengths and advantages to the table, and the ultimate choice should align closely with your specific needs and goals.
However, as with any significant decision, it's essential to keep an open mind and consider alternatives beyond the two contenders. One such alternative that deserves your attention is InvGate Service Desk. This platform distinguishes itself by prioritizing an exceptional user experience while offering robust functionalities to meet your ITSM requirements.
Ready to take the next step? Download our free ITSM implementation checklist to help map your journey and ensure a seamless transition. Your path to enhanced ITSM starts here!