If having a help desk in your organization is a game-changer in terms of user experience and efficiency, combining IT help desk software with Asset Management is unlocking a whole new proficiency level for IT support.
The reason behind this is that you'll not only be tracking incoming incidents, using workflows to automate repetitive tasks, complying with SLAs, and improving your reporting capabilities – which already makes you a pro. By combining the help desk with an ITAM tool, you are leveraging your assets' data and empowering your agents to manage issues and requests in a centralized platform, without the need to cross-check information or move from one solution to another.
And what better way to try this than to combine InvGate Service Desk with InvGate Insight? Our two tools are designed to work together and integrate perfectly to provide you with the exact amount of data to do Incident Management effectively.
Keep reading to find out the benefits of integrating ITSM and ITAM software, and a quick tutorial on how to do it.
Why is it important to combine IT help desk software with Asset Management?
The short answer is that it makes sense. Business today use 80 IT-sanctioned SaaS apps on average for their daily operations, and the tech stacks only keeps growing.
So, every company is on the lookout for ways to prevent this app mayhem from overwhelming employees. The ultimate goal is to avoid the back and forth between platforms to try to have a complete view of a situation, or the need to input information in several apps and documents to have all records updated.
That's where integrations (such as Zapier) come in. They make things easier by allowing people to perform their tasks from a single platform, increasing efficiency and accuracy.
When translated to the IT support environment, this means having all the ITSM activities, features, and best practices working in tandem with ITAM principles and insights.


"IT Asset Management software is very important to the service desk. Combined, they help in keeping up to date asset inventory to increase operational efficiency, and in establishing a more effective technology lifecycle management.

In particular, Asset Management software helps with IT service desk operations, providing information related to performance and inventory status that gives input and adds value to different stakeholders in the organization so that they can perform better their roles."

Mariana Melbardis
Partner Advisory Digital Consulting from PwC Argentina



5 benefits of using help desk and Asset Management software combined
Let's take a look at the benefits of combining IT help desk software with Asset Management.


1. Centralized information

The first advantage of integrating ITSM and ITAM is to have everything in one place. Whether it's hardware, software, licenses, users, or even locations, most of the work that an agent does is related to, at least, one asset. So, being able to see this from a centralized platform is priceless.
For instance, when you integrate InvGate Service Desk with Insight, you can see all the assets (and their details) assigned to a user in the ticket view. This way, the agents have all the information they need to solve the user's issue right from the start, without having to consult them (or other platforms) for their devices.
Plus, by clicking on them they can see the assets' profiles along with:
The Agent's latest report with their status.
The assets' history.
Their relationship with other assets (users, locations, contracts, business applications, software).
And you can also get into the computer with remote desktop integration. On top of that, if you need more information, you can just click on the shortcut to see the asset in Insight, without the need to look it up again.
On the other hand, end-users will see all the assets under their name related to each ticket they open.
2. Improved visibility
A centralized platform becomes a valuable resource for help desk agents and managers because it provides them with better visibility over the company's operations and assets.
If you don't have an ITAM integration, you probably have to check in other platforms (or ask your IT asset manager) which devices and software licenses an end-user has after a support ticket comes in. Or, in the worst-case scenario, in order to solve a request, you have to ask the end-user for details about the asset before you can provide a solution.
This not only delays your solving process but also can be more prone to human error since you have to manually check other platforms (or rely on the end-user to provide you with the right information).
But by combining the two, you're enhancing your help desk capabilities (and your agents', in consequence) to provide all the information they need right from the start. And besides helping in resolution times, having assets' insights can also help you spot patterns and jump to conclusions based on trustable information.
Say you spot a recurring hardware problem. Without the asset's data, all you know is that suddenly people are reporting a bug, but you can only guess the reason behind it because you have zero information about the asset itself. However, with the device data right on the ticket, you can easily observe that the problem is coming from the same type of laptop and come up with a solution that can be proactively pushed to the rest of the laptops that haven't reported the issue just yet.


3. Automated tasks
Many of the requests that employees make can be anticipated. They are usually related to issues that the Agent installed in the devices already reported to InvGate Insight, so they can be attended to before they become a problem to the user.
That being said, the important part is what you do with that information. By themselves, InvGate Insight's monitoring tools can be the best allies to help agents be proactive instead of reactive. Features such as Monitoring Alerts and Health Rules can help you create automated alerts that can be triggered when something's not working according to the plan.
But when the help desk integration comes into play, you not only can see these indicators from the ticket view but also trigger actions in Insight right from the Service Desk workflows. Mindblowing, right?
4. Enhanced productivity
The help desk by itself already provided you with tools to augment productivity – such as gamification, automatic ticket assignment rules, workflows, escalation, customizable dashboards and reports, and more. But having a one-stop-shop that allows automation does wonders with productivity.
By combining your help desk with ITAM, you:
Avoid changing platforms to gather information.
Optimize your agents' time by providing them with all the data they need to understand the problem and solve a ticket.
Include tasks related to Asset Management in your help desk workflows so that your agents don't have to duplicate information (hence reducing human error).
5. Improved employee and customer experience
The last benefit of combining your help desk tool with ITAM is how all the benefits we listed impact your end-users. It's obvious that, if your agents have all the data they need as soon as a ticket is submitted and a well-configured help desk, they'll be able to solve issues quickly, decrease first-response times, and fulfill their SLAs with no effort.
All these increases employee and customer satisfaction, and help you be one step closer to offering a personalized experience. Your users will be more prone to contact the help desk if they know they'll be heard, won't be asked questions your agents should know beforehand and receive a fast and accurate solution.
How to integrate InvGate Service Desk with Insight
InvGate Service Desk's integration with Insight is what's called a native integration, as they are both InvGate's products. This means that you can do it directly from your instance, without the need for coding or a paid API.
To make this integration go to Settings >> Integrations >> Asset Management. In there, choose InvGate Insight as the Application, name the integration, choose the categories where related configuration items will be displayed, and allow end-users to link configuration items.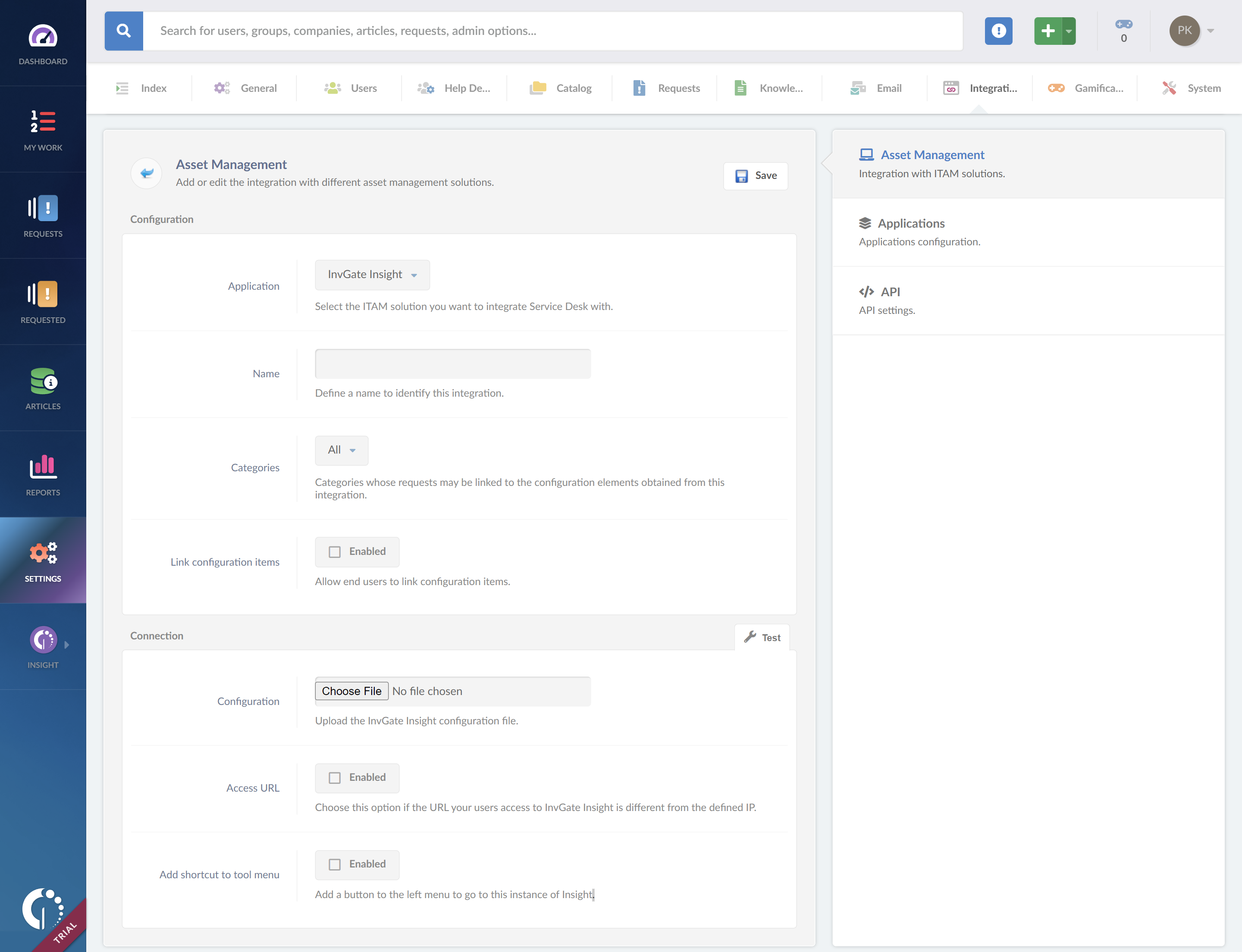 To fill in the field "Configuration," you need to get InvGate Insight's API. You can find it in InvGate Insight. Just follow the path Settings >> Integrations >> API. If there aren't any credentials yet, you can create one by clicking on "Add." Now, type the chosen name, save, and download the configuration by clicking on "Download credentials."
You'll get a .json file as a result. Go back to InvGate Service Desk, and upload it to the field "Configuration."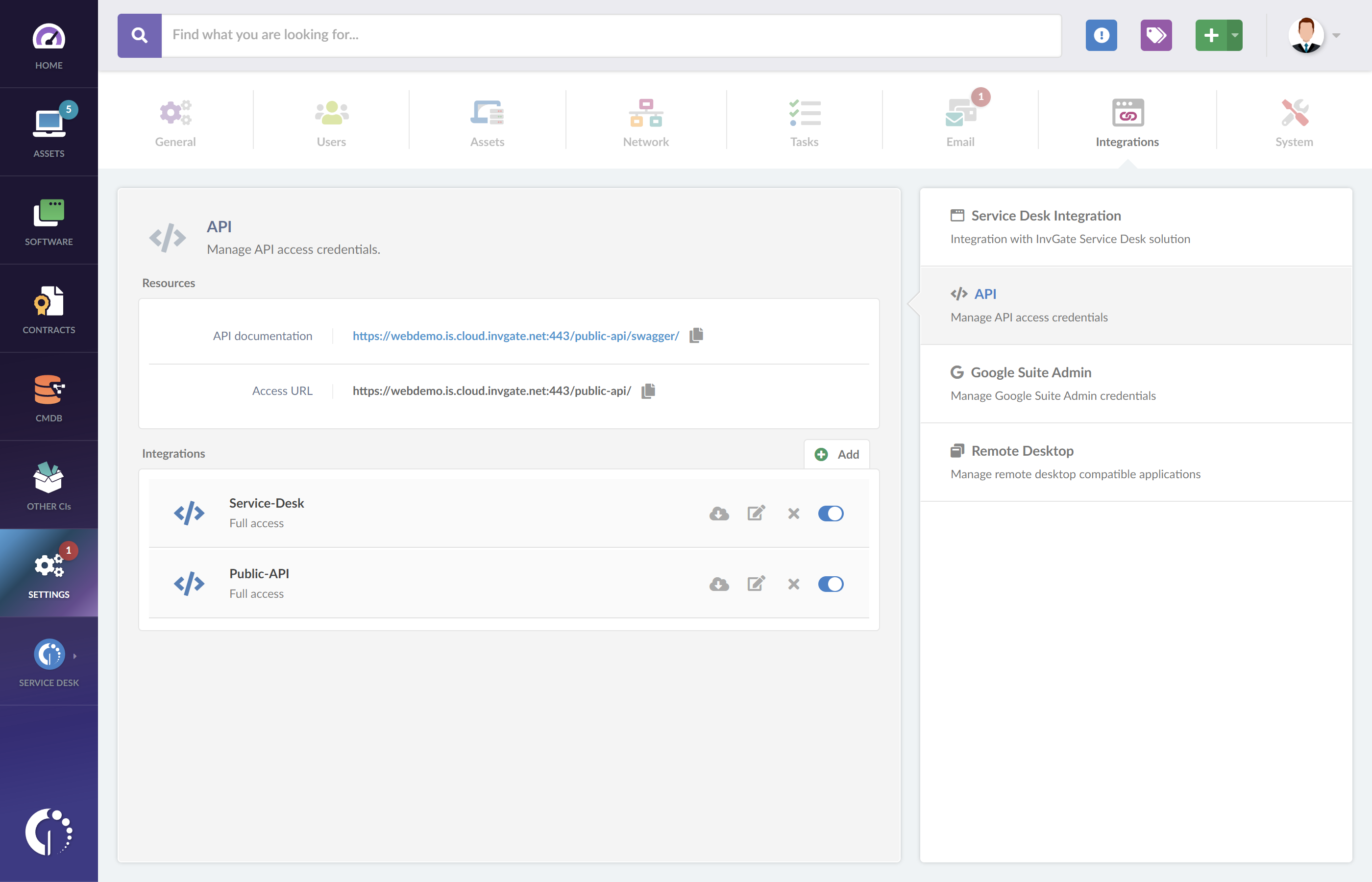 Once the integration is complete, you'll see an InvGate Insight shortcut in the menu on the left in Service Desk, and vice-versa.
Bottom line
Integrating IT help desk software with Asset Management is the logical next step after setting up ITSM software. By doing so, you'll get a robust IT Service Management strategy that not only lets you manage issues and requests but also leverages your company's IT asset information, such as networks, software, hardware, and other values. And this will elevate your IT support, allowing you to offer high-quality customer aid and increase customer satisfaction.
The best way to achieve this (and avoid complex integrations) is to find solutions that are designed to be integrated. By themselves, InvGate Service Desk gets you all the power to streamline your IT support, while InvGate Insight provides you with complete and comprehensive IT – and non-IT – inventory management.
But combined, they go one step further and assist your agents in several ways:
They have all the information they need to solve issues.
They can save plenty of time thanks to the integration and automation of tasks.
They can edit assets' data as they solve the request.
They can get ahead of problems and implement a proactive Incident and Problem Management process.
Check them out by requesting our 30-day free trial. Plus, if you have further questions on how this will work for your business, don't hesitate to schedule a call with our team. They'd be happy to help!