A help desk is a main resource within a company, as it is specially focused on catering for end-user needs. It is responsible for providing quick resolutions to technical problems and other needs of end-users. A help desk should provide solutions as efficiently and quickly as possible, to offer customer satisfaction.
It is important to understand the difference between help desk and service desk. While the former is part of the end process and focuses on providing fast solutions for end-user´s needs, the latter is about the overall process involved in customer service.
An effective help desk should be able to track incoming incidents, have well defined asset management tools and be able to identify problems and procedures to solve those incidents. It is also important to keep a complete database of incidents reports and actions taken.
To be able to carry out all those tasks effectively and swiftly, your help desk software needs IT Asset Management (ITAM) software, which helps you manage all of your company's IT assets, including information, networks, software, hardware and other values. This is the way to have a fully-formed, robust IT service management strategy.
IT help desk software with asset management provides you with the tools to keep customer information organized and therefore provide high-quality support. It will definitely complement your service desk, to offer good quality customer support and provide customer satisfaction.
"IT asset management software is very important to the service desk. Combined, they help in keeping up to date asset inventory to increase operational efficiency, and in establishing a more effective technology lifecycle management.

In particular, asset management software helps with IT service desk operations, providing information related to performance, and inventory status that gives input and adds value to different stakeholders in the organization so that they can perform better their roles."

Mariana Melbardis
Partner Advisory Digital Consulting from PwC Argentina
Types of Help Desk software
Cloud-based help desk
This is a SaaS (software as a service) application that is hosted on the vendor's server. It includes a web help desk and users of this help desk are required to pay a monthly or annual subscription that includes maintenance and technical support.
On-premise help desk
Also known as a self-hosted help desk, is a licensed proprietary software purchased by an organization. Cloud vs on premise will always be a topic of debate in the world of software.
Open-source help desk
It allows developers to access its source code and therefore modify or enhance the software based on the help desk needs of your business.
Benefits of using IT help desk software with asset management
Collect queries from different channels and keep them in one place
A help desk software collects customer doubts and questions from different channels such as forms, mails, live chats (from chat software) or others and gets them in a single interface. This is the first step to then let the system handle distribution of resources and other steps to provide outstanding customer support.
Better assign resources
IT help desk software allows you to keep track of tickets, better assign technicians to each account and get relevant information fast to be able to better respond to demands and make strategic decisions.
Automation of processes
A good IT help desk software should be able to execute most of the process which includes ticket creation, assignment of resources, and escalation.
The system should be able to organize tickets based on their urgency and also be able to distribute them to the corresponding areas based on skill, workload and resources available.
Potential drawbacks
Unnecessary information
You need IT help desk ticketing tools to ensure more efficiency. It should boost productivity and not otherwise. So the help desk solution should not ask for many unnecessary details as that will slow down the customer service delivered.
Difficulty to handle
The IT help desk software should be easy to configure and provide you with an easy interface. Outdated or excessively complex software may turn out to be more of a hassle than a solution.
Repetitive tasks
There are frequently asked queries and problems that the help desk has to solve regularly that might be very time consuming. If the IT help desk software is not effectively configured, a lot of time might be wasted carrying out the same task over and over again. The IT help desk software should have a swift automated feature to solve frequent issues.
Help desk software with asset management
InvGate Service Desk is a top of the line ITSM help desk solution, which integrates seamlessly with InvGate Insight and will provide you with all the necessary tools to fulfill customer service requests efficiently.
Its capabilities include IT service desk with gamification rewards and motivation, problem and change management, hardware and software tracking, knowledge base and self service portals, inventory risk detection, and more.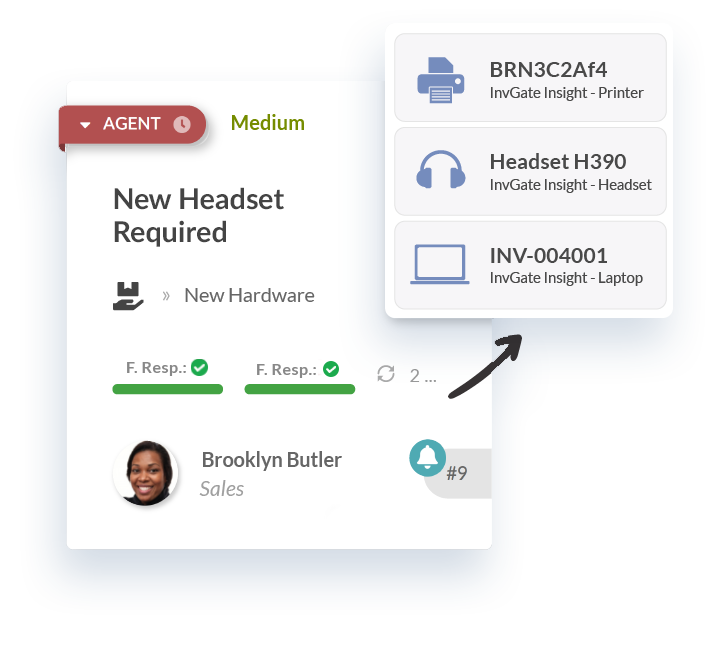 You can see hardware and software related to each incident by integrating Service Desk with InvGate Insight. Its features include:

A clear view of the information: you can customize your dashboards to get as much information as possible. Besides, its advanced data analysis tools provide management reports and insights around the critical key performance indicators desired to improve business processes and increase efficiency.
Good ticket management: having clear information about incidents, requests and resources available helps you better organize work based on priority and urgency.
Automation: InvGate's visual engine allows you to create automated workflows to manage requests across the organization.
Easy to configure: code-free configuration allows for drastically reduced implementation times and little ongoing service costs to generate benefits immediately and maximize your return on investment.
Frequently Asked Questions
What is the difference between a help desk and a service desk?
A help desk revolves around providing a quick solution to a customer request or need, such as guiding him/her on how to use a product. It's more about incident management; whereas service desk focuses on services as a whole and as such has a broader scope. A service desk can be used as a help desk but not the other way round.
What is a web help desk?
A web help desk is an online software as a service customer support system that is generally hosted in the cloud and it is easy to use.
What is IT asset management?
IT asset management (also known as ITAM) is the process of ensuring an organization's assets are accounted for, maintained, upgraded and used correctly when necessary. Asset Management means making sure that valuable items in the organization are tracked and handled correctly.
What does service desk software do?
Service desk software is a tool used to organize, manage, and respond to service-related requests. Service desk software may be used for external requests from customers, whereas others are implemented for internal service requests from team members.