If you're looking for a ServiceNow Software Asset Management alternative that can revolutionize your IT Asset Management (ITAM) practices, increase efficiency, and give you better control over your IT ecosystem, your search ends here!
In this blog post, we'll do an ITAM software comparison between ServiceNow Software Asset Management and InvGate Insight, a prominent competitor.
Are you ready to take your IT Asset Management to new heights? Let's get started!
What is ServiceNow Software Asset Management?
ServiceNow's Software Asset Management (SAM) capabilities offer organizations the tools to control risk, reduce spending, and automate the software lifecycle, all from a unified platform. With simplified Asset Management, scalable capabilities, and a focus on security and compliance, businesses can optimize their software assets, cut spending, and ensure efficient software management.
Established in 2004 and headquartered in Santa Clara, California, ServiceNow offers an extensive range of cloud-based solutions designed to meet various enterprise needs. Their offerings encompass IT Service Management, IT Operations Management, IT Business Management, Customer Service Management, Human Resources Service Delivery, Security Operations, and more.
InvGate Insight as a ServiceNow Software Asset Management alternative
InvGate Insight, an IT Asset Management solution developed by InvGate, empowers organizations with comprehensive control and visibility over their IT assets. This versatile tool offers two deployment options, cloud-based or on-premises, enabling organizations to create a thorough inventory of their IT assets connected to the network, including physical, virtual, and cloud-based.
InvGate Insight comprises a wide array of features to assist in IT Asset Management (ITAM) aspects, such as IT asset discovery, Inventory Management, and Software License Management. Noteworthy functionalities include:
By leveraging InvGate Insight, organizations gain enhanced control and visibility within their IT environment, enabling well-informed decision-making based on accurate asset information. It streamlines IT Asset Management practices, empowering organizations to optimize their IT asset-related processes effectively.
User experience
InvGate Insight ensures a smooth and intuitive user experience, enabling efficient asset organization and seamless navigation with its user-friendly interface. Users find it easy to adapt to and positively rate their overall experience with the platform.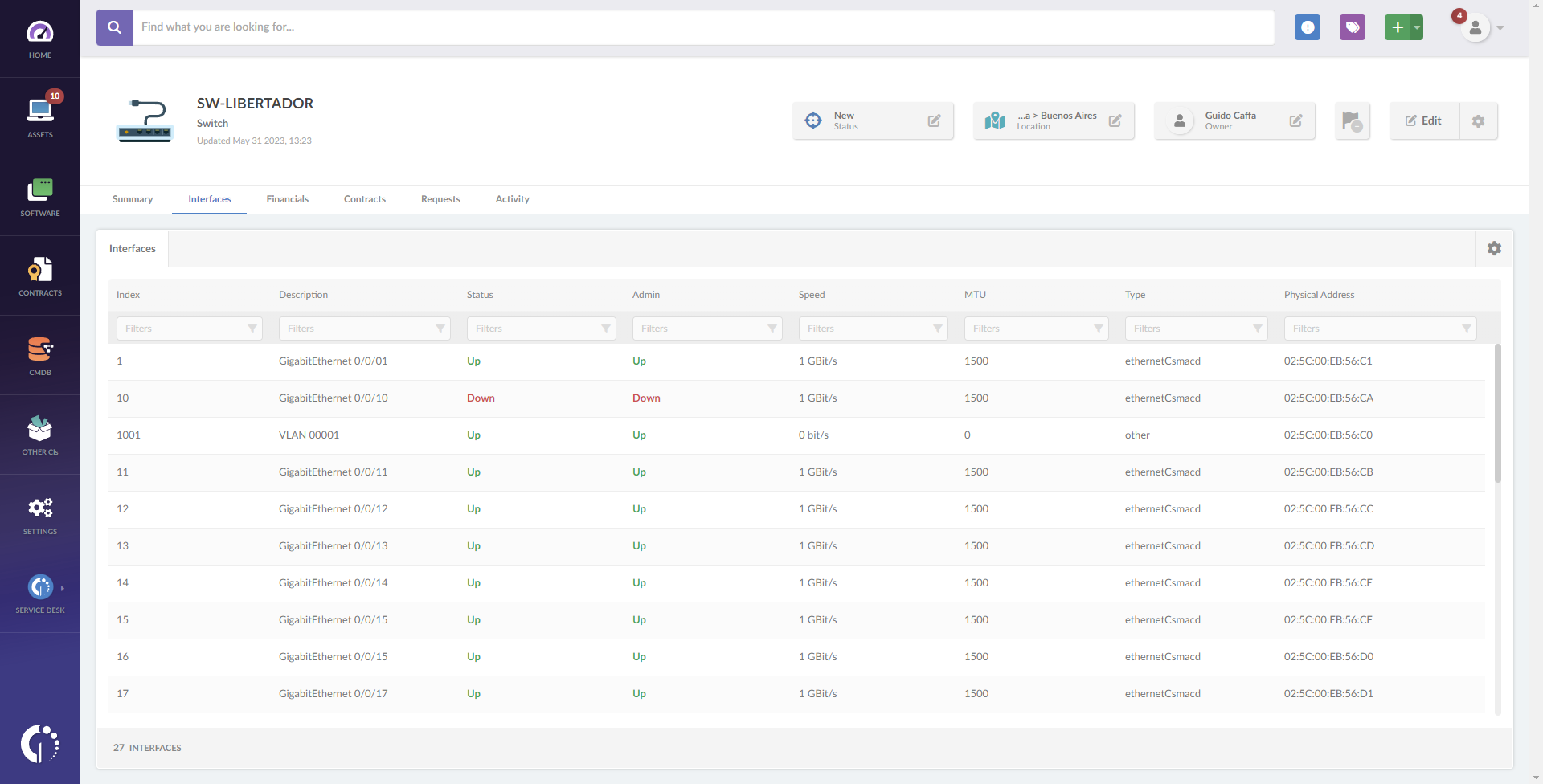 On the other hand, while ServiceNow Software Asset Management offers robust features, some users have encountered complexity, requiring a learning curve to fully understand the platform and operate it effectively.
Functionality
InvGate Insight stands out in terms of customization capabilities, allowing users to group items by location for efficient organization and categorization of assets. The platform also offers view customization, empowering users to personalize their experience and optimize their workflow. Moreover, its flexibility and compatibility across various operating systems accommodate different IT infrastructures and user preferences.
One of InvGate Insight's key advantages is its native integration with InvGate Service Desk, facilitating seamless linking of tickets with devices and individuals. This integration provides a comprehensive 360° view of IT operations, enhancing overall management.
Additionally, InvGate Insight natively integrates with popular remote desktop tools such as Windows Remote Desktop, TeamViewer, AnyDesk, and VNC, providing direct access to devices for troubleshooting and maintenance, thereby enhancing Remote Management capabilities.
On the other hand, certain users have noted that ServiceNow Software Asset Management lacks some functionalities, making it less suitable for managing complex licensing software.
Cost
InvGate Insight offers a cost-effective solution without compromising functionality, providing a comprehensive range of ITAM features at a competitive price, making it an appealing choice for organizations seeking affordability without sacrificing capabilities.
In contrast, ServiceNow Software Asset Management's cost can be a concern, especially for medium and small companies, potentially hindering full implementation and acquisition. Exploring more flexible pricing options could address this issue for smaller organizations.
In conclusion
When searching for a ServiceNow Software Asset Management alternative, InvGate Insight stands out as an impressive and compelling solution. With its comprehensive feature set and user-friendly interface, the platform excels in streamlining IT Asset Management processes and boosting overall efficiency.
But don't just take our word for it—experience the power of InvGate Insight yourself. Explore our live demo and witness firsthand how this remarkable solution can transform your ITAM practices, unleashing new levels of control, efficiency, and cost optimization.