Are you wondering whether to include IT support in your business? Then this is the article you need. Especially for smaller organizations, when costs increase, it can be challenging to justify a dedicated team.
But if you are not entirely convinced about outsourcing your IT department, and want to give in-house another thought, then keep reading. We're about to explore the fundamental concepts of effective IT support, its scope, benefits, and key outcomes.
What is IT support?
In a nutshell, IT support provides technical support and assistance to customers and end-users. It is provided by a dedicated team of IT professionals and is usually accessed via a help desk. Companies can employ their own IT support representatives, or they can choose to outsource this support to another company.
Benefits of IT support
As you can imagine, there are multiple benefits of providing IT support:
A central place for risers to go for IT help.
A dedicated team to ensure faults (including complex issues) can be resolved quickly and effectively.
Disaster Recovery can be supported.
Software can be deployed in a controlled and safe way.
Monitoring and more proactive support.
What does IT support do?
The scope of IT support is any form of technology needed to empower the business and move it forward. This can include (but is not limited to):
Hardware
Software
Network equipment
Telephony
Application support
The main objective of IT support is to maintain IT computer systems and networks across the organization, resolving technical problems while managing end-user requests, such as installing software or configuring hardware. Typical areas covered by IT support include:
User account management
Computer maintenance and repair
Server maintenance
Database and application maintenance
Cybersecurity, including spam protection and anti-virus services
Networks, telephony, cabling, and wiring
Business continuity and backups
Hosting and cloud computing
Common IT support issues
Now that we are aware of the areas covered by IT support, let's outline the common IT support issues it handles:
Password recovery and access issues
Connectivity issues
Printing problems
Installing software
Swapping out hardware
Email issues
How IT support works: IT support levels
To offer the best possible IT support, you must structure your service desk accordingly. Establishing different levels of IT support will allow you to provide end-users with self-service capabilities and fast first-time response times while organizing your IT team according to their expertise and effectively using their skills.
Typically, there are five levels or tiers of IT support, each with its own complexity and skills.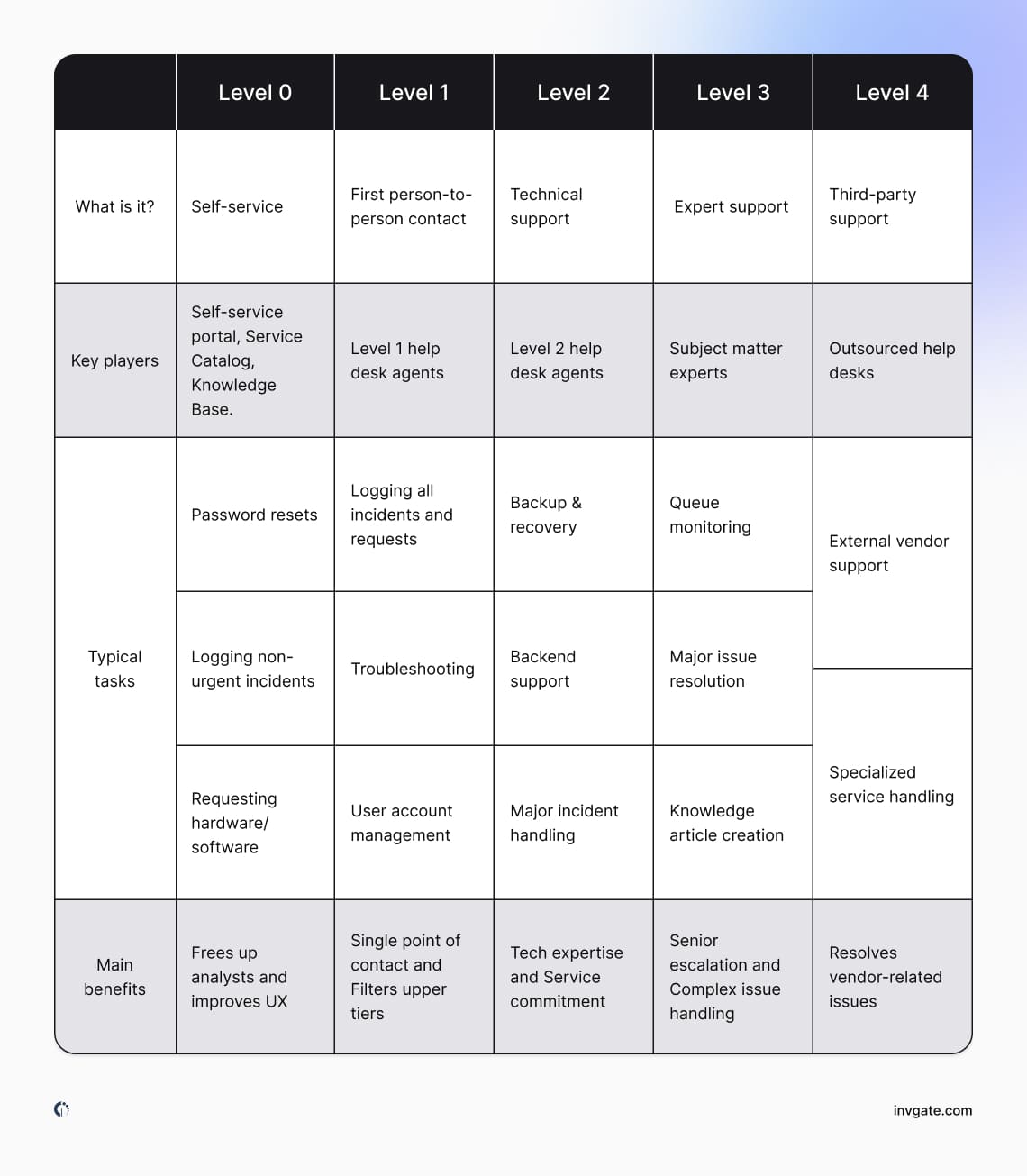 IT support specialist vs. technician
There are two main roles in an IT support function: IT support specialist and IT technician.
An IT support specialist is focused on triaging a wide variety of issues at the first line of support; they resolve straightforward cases and then escalate the more complex issues to the next tier of support.
An IT technician typically makes up second-line support and deals with more complex issues such as backups, database issues, or network services.
Help desk vs. IT support
Other terms that might be used as synonyms are help desk and IT support. However, there's a technical difference to be noticed.
A help desk is set up to offer fast support to basic technical issues and questions. This support model is mainly focused on break/fix. The issues and requests dealt with by most help desks tend to align with tier 1 support – basic hardware and software issues that can be prioritized by severity and business impact. Most requests can be resolved over the phone or by remote connection to the end user's device.
The service desk is the next evolution of the help desk. Help desks tend to be tactical and focused on the high-level technical aspects of user issues; service desks tend to be more experienced-focused. A service desk will take ownership of incidents and service requests, managing them through completion.
Tech support is more technical than the help desk and service desk. A tech support function will take on the issues that can't be resolved by the service desk or help desk, i.e., the complicated tickets which need to be escalated to the highest tiers in the support model.
And lastly, as we saw above, IT support is related to the team of people handling the help desk, service desk, and tech support.
IT support software
IT support has to be underpinned with software to ensure everything gets logged correctly and nothing gets lost, ignored, or forgotten.
Typically, IT support must-have software features include:
Of course, InvGate Service Desk can do all these for you and more. With its easy implementation, you can move towards a service-orientated organization, support trend analysis, Change Management, and knowledge sharing. Plus, its native integration with InvGate Insight gives your agents the exact information they need on the company assets to handle issues effectively.
Managed IT support: should you outsource it?
IT or tech support can be kept in-house or outsourced to a third party. At this point, the most important thing to remember is to consider your customers' needs when deciding on your IT support model.
If you choose to outsource the IT department, you'll see some benefits, such as:
Control of costs
Contractually ensured levels of IT service and support
Access to experienced IT professionals
Reduced risk to the business.
Increased efficiency as your team will already have the appropriate training, experience, and qualifications.
However, it also has several disadvantages that need to be taken into account before making the decision:
Less control: with outsourced support, you don't have autonomy over the support process or systems
Less ownership: depending on the contract and legal arrangements in place, you may not have access to ticket data
Data protection concerns: some organizations will have data protection requirements to satisfy regulatory authorities.
The bottom line
IT support is the provision of tech support for your organization's technology estate. In order to provide successful assistance, you need to either be on top of your managed service provider or establish a well-defined service desk structure – which we highly recommend.
Make sure to weigh the pros and cons consciously before choosing one or the other since this will affect your employees' experience and overall business operations.
If you opt for in-house IT support, your foundation will be the help desk solution you choose. See what InvGate Service Desk can do for you with our 30-day free trial!
Frequently Asked Questions
How much does IT support cost?
The answer is it depends on the size of your organization, the support model, and the complexity of your environment.
How much does it typically cost to outsource your IT support?
Every organization is different, so do a cost-benefit analysis to understand the impact on your organization.
Who should support or maintain the IT infrastructure?
Tier 3 and 4 support should maintain the infrastructure as they will have the necessary skills and experience.
What is remote IT support?
Remote support consists of troubleshooting IT faults remotely with the help of remote support software so that the customer doesn't have to travel to the IT department for assistance.
How does IT support professionals measure success?
IT support professionals typically measure successes by fix rate and customer satisfaction.