In search of a SolarWinds alternative for managing IT services and improving support processes? Look no further!
If you're seeking a robust IT Service Management (ITSM) solution, exploring the available options and conducting a comprehensive ITSM tools comparison is essential. In this article, we'll explore InvGate Service Desk as a robust Solarwinds alternative, providing an in-depth analysis of its user experience, implementation process, integration capabilities, support offerings, and pricing structure. Examining this service desk software option allows you to make an informed decision that aligns with your organization's specific requirements.
Join us as we explore the key advantages of InvGate Service Desk as a top-notch SolarWinds alternative, empowering organizations to streamline their IT operations and deliver exceptional service to their end-users.
What is SolarWinds?
SolarWinds Corporation is a company that designs and develops IT management software. Their flagship product, SolarWinds Service Desk, is a cloud-based ITSM platform. It offers automation, self-service, IT Asset Management (ITAM) functionality, and integrations to streamline IT operations and enhance productivity. The platform includes Incident, Problem, Release, and Change Management modules, along with a Configuration Management Database (CMDB). It also provides customizable reports for operational insights.
InvGate Service Desk as a SolarWinds alternative
InvGate Service Desk is a comprehensive IT Service Management software solution offered by InvGate, a technology company. Its main purpose is to streamline IT support processes and improve service delivery to end-users. The software provides the flexibility of being deployed either in the cloud or on-premises, allowing organizations to choose the hosting environment that suits them best.
With InvGate Service Desk, organizations can establish a modern IT Services department equipped with ITIL-certified Incident Management, Problem Management, Change Management, and Service Management capabilities. This comprehensive ITSM solution goes beyond traditional service desk functionalities by offering advanced features such as IT support automation, streamlining issue resolution, and enhancing overall efficiency. It also includes a self-service platform for users to find solutions independently and personalized reports to gain insights into their IT operations.
InvGate is a technology company specializing in developing both software solutions for IT Service Management and IT Asset Management. They focus on creating tools and platforms that help organizations optimize their IT operations, enhance service delivery, and improve overall efficiency.
So, InvGate Service Desk seamlessly integrates with the ITAM tool InvGate Insight, providing organizations with a centralized repository to track and manage their IT assets effectively. This integration ensures accurate asset inventory, optimized asset usage, and compliance with regulatory requirements.
According to reviewers, InvGate Service Desk has received positive feedback:
"The whole process from demo, to quoting, implementation, and launch has been great. We have a small team and was able to get this project complete ahead of deadline with the help of the great implementation team". IT in a Government organization
"The support team is knowledgeable and responsive. It has all the most common features you could expect from a cloud service ticketing system today, and they work well (knowledgebase, self-service portal, task assignments, approval flows, time management, reporting). The bang for the buck is excellent." IT in Non-Government organization
"Dashboards and reports Easy to use/intuitive, very good user experience for clients and agents Workflows, automation and customization options." General Manager, IT Services
When comparing SolarWinds Service Desk and InvGate Service Desk, several factors come into play that can help organizations make an informed decision.
User experience
InvGate Service Desk excels in providing an intuitive interface that ensures a smooth and user-friendly experience for its users. The platform has received positive feedback from its users, highlighting its ease of use and well-designed interface.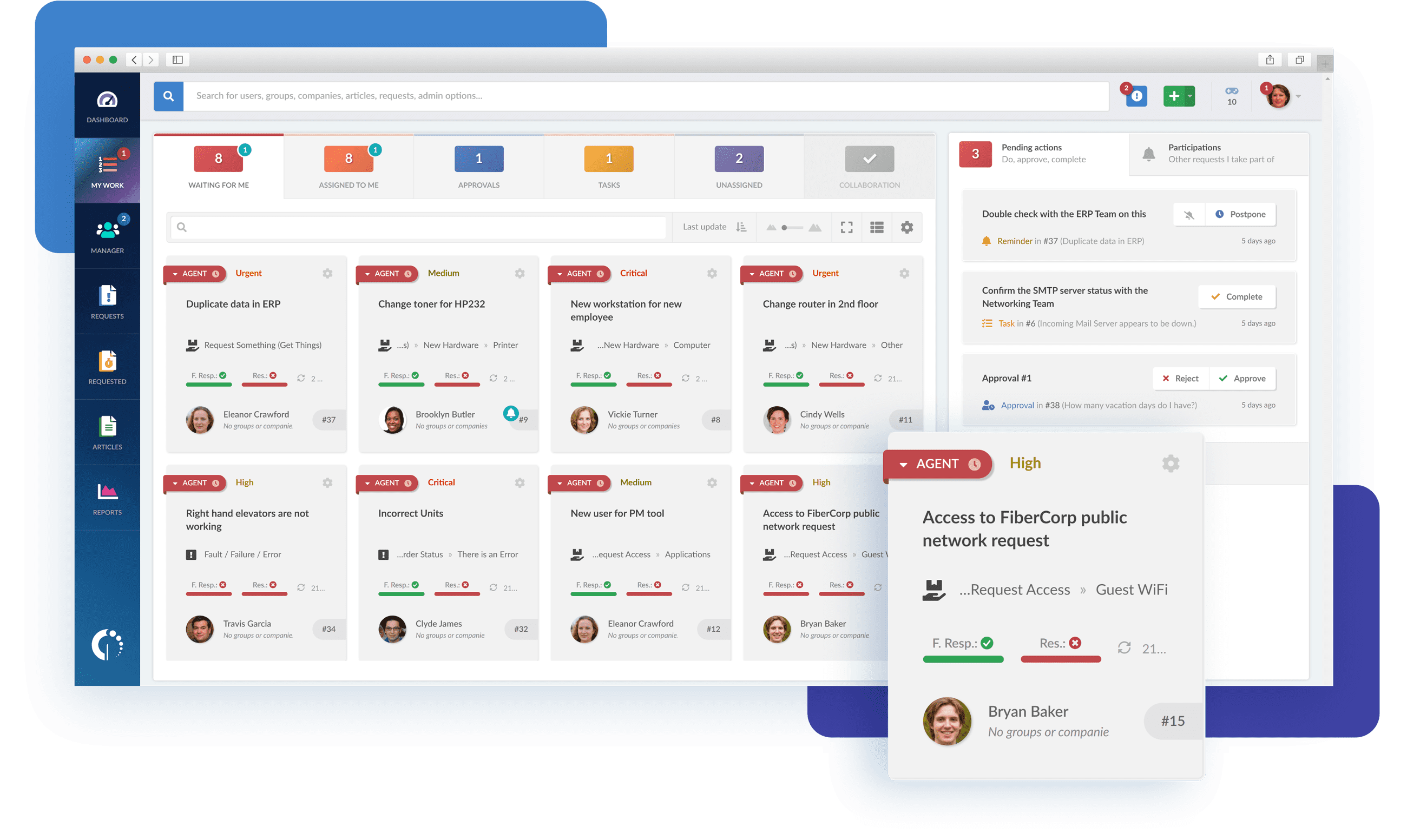 On the other hand, SolarWinds Service Desk has received mixed feedback regarding its user experience, with some users finding it unintuitive.
Implementation and customization
InvGate Service Desk offers easy implementation and flexible customization options, providing organizations with a smoother experience tailoring the solution to their requirements. This ease of implementation and customization contributes to the service desk solution's more efficient and effective utilization.
In contrast, implementing and customizing SolarWinds Service Desk can be challenging, as users have reported difficulties during setup and customization.
Integration and ecosystem
InvGate Service Desk offers easy implementation and flexible customization options, providing organizations with a smoother experience tailoring the solution to their requirements. This ease of implementation and customization contributes to the service desk solution's more efficient and effective utilization. In addition, it provides seamless integration with its native Asset Management platform, InvGate Insight, offering a 360° view of IT operations.
SolarWinds Service Desk, on the other hand, has limited support for third-party integrations, which may hinder seamless connectivity with other tools and systems within an organization's IT environment.
Support and vendor relationship
InvGate Service Desk stands out with its responsive support team that adopts a personalized approach, ensuring a high level of assistance and satisfaction for customers.
However, the feedback for support and vendor relationship with SolarWinds Service Desk is mixed, with some users praising the customer support they received.
Pricing and costs
Switching costs encompass more than the mere price of the tool. You should consider the related expenses and associated costs involved in transitioning between help desk software.
While specific pricing information for SolarWinds Service Desk is not available, InvGate Service Desk offers competitive pricing with flexible licensing options. This allows organizations to select a pricing plan that aligns with their budget and requirements.
In conclusion
When seeking a SolarWinds alternative, InvGate Service Desk emerges as a strong contender that offers a range of advantages. Its user-centric design, easy implementation, robust integration capabilities, responsive support, and cost-effective pricing make it a viable choice for organizations seeking to enhance their IT service delivery and streamline their operations.
As your IT Service Management solution, InvGate Service Desk will help you streamline your IT support processes, improve efficiency, and deliver exceptional service to end-users. Explore our live demo or book a meeting with our experts if you have any questions!