Looking for a ServiceNow alternative that offers compelling features, competitive pricing, and excellent support? While ServiceNow has established itself as a prominent player in the IT Service Management (ITSM) and Enterprise Service Management (ESM) space, you may be making an ITSM tools comparison.
Fortunately, the market offers multiple service desk software as alternatives to ServiceNow, each possessing distinct strengths and capabilities. By carefully evaluating your organization's specific needs and requirements, you can find an ITSM solution that fits your needs and budget.
In this article, we'll explore InvGate Service Desk as a robust ServiceNow alternative, delving into its features, pricing, and support to help you make an informed decision for your organization.
Discover how InvGate Service Desk can enhance your IT Service Management processes and streamline your workflows. Let's dive in!
What is ServiceNow?
ServiceNow is a specialized company that provides a complete platform aimed at making IT Service Management and digital workflows more efficient for organizations. It offers deployment options both in the cloud and on-premises. The company's main goal is to simplify and automate IT operations, enhance customer experiences, and facilitate digital transformation for businesses.
Established in 2004 and headquartered in Santa Clara, California, ServiceNow offers a wide range of cloud-based solutions customized to meet the operational needs of different enterprises. Their solutions cover various areas, including ITSM, IT Operations Management, IT Business Management, Customer Service Management, Human Resources Service Delivery, Security Operations, and more. Additionally, they have established strategic partnerships with well-known companies like NVIDIA and Juniper Networks, which further strengthens their presence in the market.
InvGate Service Desk as a ServiceNow alternative
InvGate Service Desk is a comprehensive ITSM software solution developed by the technology company InvGate. It helps organizations streamline their IT support processes and enhance overall service delivery to end-users. The software offers both cloud-based and on-premises deployment options, providing flexibility in choosing the hosting environment that best suits the organization's needs.
With InvGate Service Desk, organizations can create a state-of-the-art IT Services department with ITIL-certified Incident Management, Problem Management, Change Management, and Service Management capabilities, a self-service platform, and personalized reports.
InvGate is a technology company that specializes in developing and providing software solutions for IT Service Management and IT Asset Management (ITAM). The company primarily focuses on creating tools and platforms that help organizations optimize their IT operations, enhance service delivery, and improve efficiency.
Reviewers on InvGate Service Desk said:
"The whole process from demo, to quoting, implementation, and launch has been great. We have a small team and was able to get this project complete ahead of deadline with the help of the great implementation team". IT in a Government organization
"The support team is knowledgeable and responsive. It has all the most common features you could expect from a cloud service ticketing system today, and they work well (knowledgebase, self-service portal, task assignments, approval flows, time management, reporting). The bang for the buck is excellent." IT in Non-Government organization
"Dashboards and reports Easy to use/intuitive, very good user experience for clients and agents Workflows, automation and customization options." General Manager, IT Services
Overview of each platform
InvGate Service Desk provides a user-friendly interface and robust ticketing capabilities, making it easy for users to navigate and effectively manage their tickets.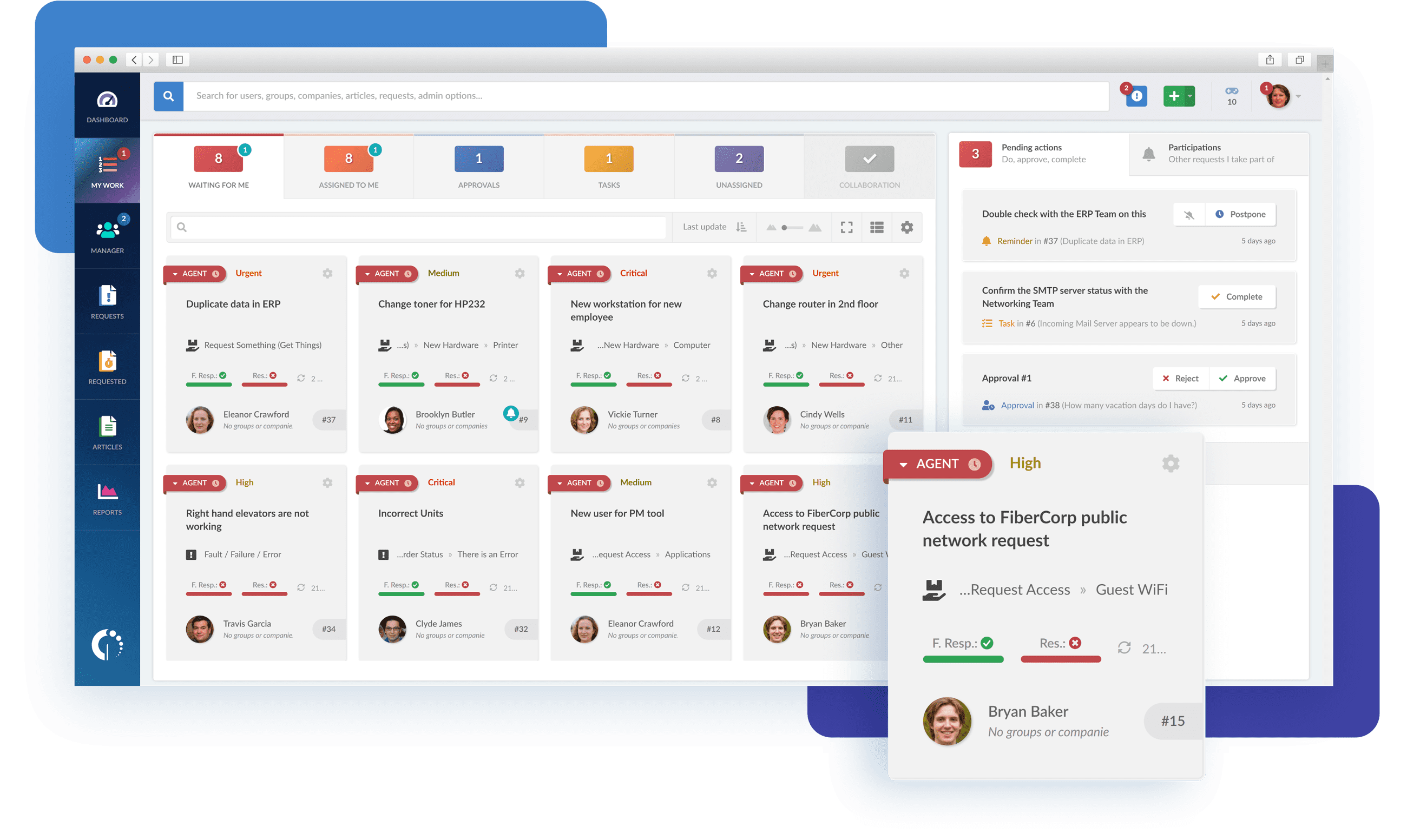 On the other hand, ServiceNow offers a broad range of IT and line-of-business applications, along with extensive features that cater to diverse business needs.
Pricing and costs
Switching costs extend beyond just the price of the tool itself. You should consider the associated costs to fully grasp the implications of transitioning between help desk software.
InvGate Service Desk offers competitive pricing and flexible licensing options, allowing organizations to choose a plan that suits their budget and requirements. In contrast, ServiceNow has a higher price point and may involve additional costs for integrations and certain features, which should be considered when considering the overall cost.
User experience
Users of InvGate Service Desk have provided positive feedback, appreciating its intuitive interface and efficient workflows. However, ServiceNow has received mixed reviews, with some users finding its platform complex and requiring a steep learning curve.
Implementation and customization
InvGate Service Desk is easy to implement and provides customization options, allowing organizations to tailor the software to their needs. ServiceNow, on the other hand, offers robust customization capabilities but may require dedicated resources due to its complexity.
Integration and ecosystem
InvGate Service Desk has pre-built integrations and APIs, facilitating seamless connectivity with other systems and applications. On the other hand, ServiceNow offers a vast ecosystem with extensive integration capabilities, although additional costs may be associated with certain integrations.
Support and vendor relationship
InvGate Service Desk provides responsive customer support and takes a personalized approach, ensuring users receive the assistance they need. ServiceNow offers comprehensive support options; however, some organizations have encountered challenges in their vendor relationships, which should be taken into consideration when evaluating the overall support experience.
In conclusion
When considering a ServiceNow alternative, InvGate Service Desk is a compelling choice offering a user-friendly interface, robust ticketing capabilities, competitive pricing, and excellent support.
Make an informed decision for your organization's IT Service Management needs and explore InvGate Service Desk further. Explore our live demo or book a meeting with our experts. Don't miss the opportunity to elevate your IT operations and enhance service delivery.