Are you looking for a ServiceNow Alternative?
If you are looking for a ServiceNow alternative, chances are that you are looking for an ITSM solution that provides similar or better features, but with a more affordable price point.
While ServiceNow is a widely recognized and popular ITSM platform, it may not be the right fit for every organization due to its cost, complexity, or customization limitations.
Fortunately, there are several alternatives to ServiceNow available in the market, each with their own unique strengths and capabilities. By considering your organization's specific needs and requirements, you can identify an ITSM solution that meets your needs and fits within your budget.
Among the most commonly looked-up features when searching for ServiceNow alternatives are:
Ticketing Management

Workflows and Automations

ITIL-aligned features like Incident Management, Change and Problem Management.

Knowledge Base
What are the limitations of ServiceNow?
As organizations evolve, it is common they had reached the limits of its current help desk software capabilities and its ITSM implementation become stagnated. Here is where ServiceNow, usually comes as one of its alternative for ITSM system, mainly for its market dominance and presence in analyst reports such as Gartner's Magic Quadrant.
But ServiceNow is not for everyone. The most common cons of ServiceNow when considering it for ITSM solution are:
High Total Cost of Ownership
Requires dedicated platform maintenance roles
Did we mention cost?
ServiceNow Pricing and Total Cost of Ownership
The total cost of ownership refers to the complete calculation of all expenses associated with a product or service, covering both direct and indirect costs throughout its lifecycle, from initial acquisition to disposal. In this case of a ServiceNow implementation reported pricing ranges are:
Consultation and setup costs: From $30,000.
Service Cost: From $70-$100 per user, per month.
Training Costs: From $450 to $15,500 per users.
Maintenance Cost: Variable.
As one of the reviewers at Gartner Peer Signal mentioned: "Licensing cost is becoming prohibitive to expansion in our organization"
ServiceNow implementation
Users report that one of its biggest cons is its complexity of implementation and deployment. Due to its highly customizable nature, local implementations of ServiceNow can vary greatly, leading to inconsistent deployment across different organizations. This can result in a castrated version with loads of the useful tools stripped out, and customization for the least common denominator. Although some organizations mitigate this by using IP from a partner, this can result in a system that is super rigid. In order to ensure successful deployment and avoid potential issues, it's recommended to work with an expert in the system and invest in a workshop to determine if rebuilding or swapping is the right choice.
ServiceNow reviews in Gartner mentioned: "Mandatory upgrades consume most of the dev and testing budget which has prevented adoption of new features and hinders process maturity."
4 ServiceNow Alternatives
InvGate Service Desk
The ServiceNow contender for middle-sized organizations
InvGate Service Desk is a modern service desk solution with everything an organization needs to have build a service and support operation.
Reviewers on InvGate Service Desk said:
"The whole process from demo, to quoting, implementation, and launch has been great. We have a small team and was able to get this project complete ahead of deadline with the help of the great implementation team". IT in a Government organization.
"The support team is knowledgeable and responsive. It has all the most common features you could expect from a cloud service ticketing system today, and they work well (knowledgebase, self-service portal, task assignments, approval flows, time management, reporting). The bang for the buck is excellent." IT in Non-Government organization.
"Dashboards and reports Easy to use/intuitive, very good user experience for clients and agents Workflows, automation and customization options". General Manager, IT Services.
My Work
InvGate Service Desk ticketing main page "My Work" includes a modern interface for ticket management, with clear visibility to assigned tickets, SLAs, and pending actions.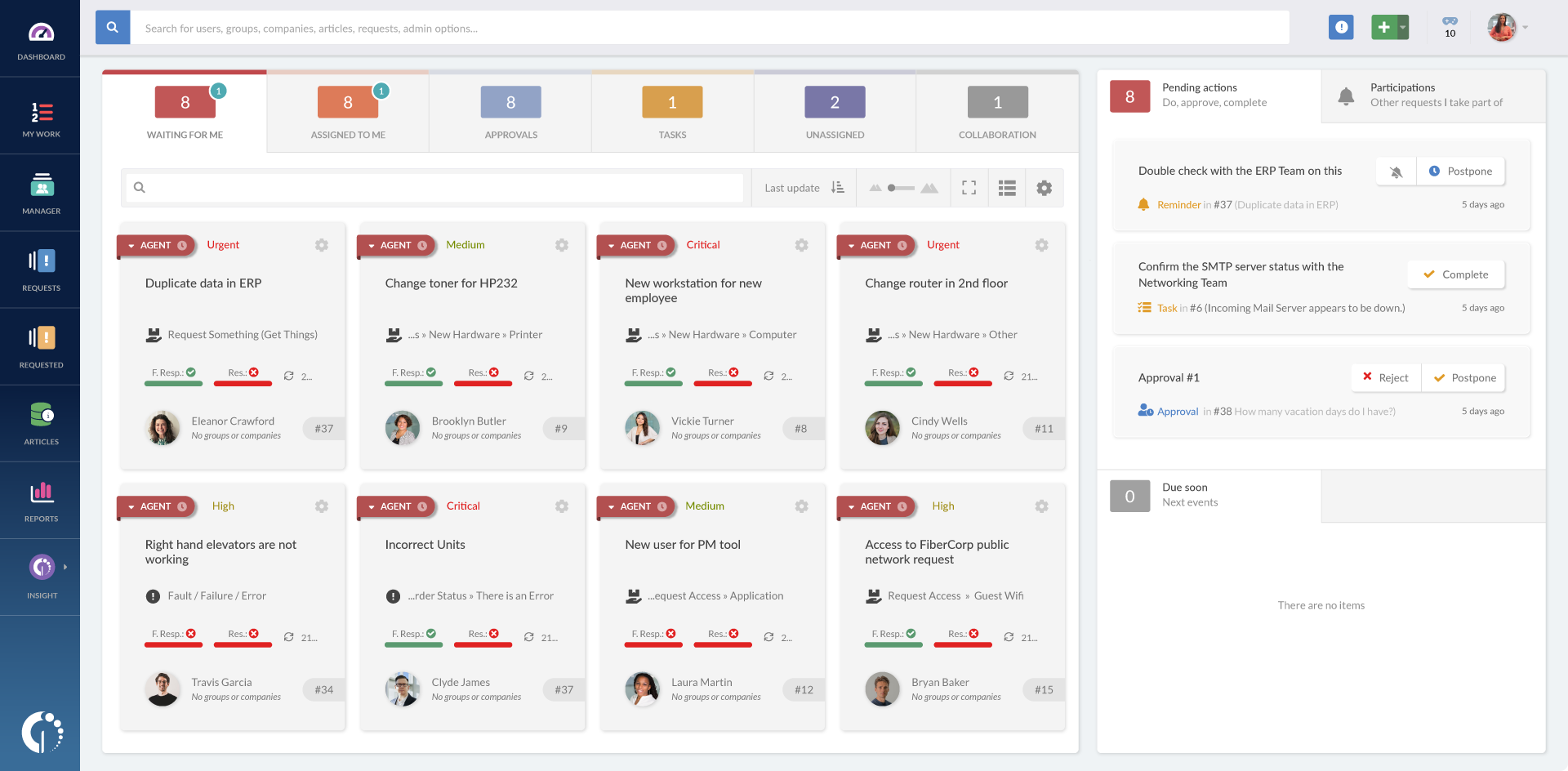 Collaboration
Inside a ticket view, it is possible to see historical interactions, ability to add collaborators or add users as Watchers.
Integrated with InvGate Insight (IT Asset Management solution) is possible to see related CIs to a ticket or user.

Workflows
Low-code and drag-and-drop capabilities make the workflow builder in InvGate Service Desk incredibly useful for organizations. You can streamline support operations and improve performance by allowing for fast and efficient workflow creation. The visual representation promotes better collaboration and communication among team members.

Learn more about InvGate Service Desk
Jira Service Management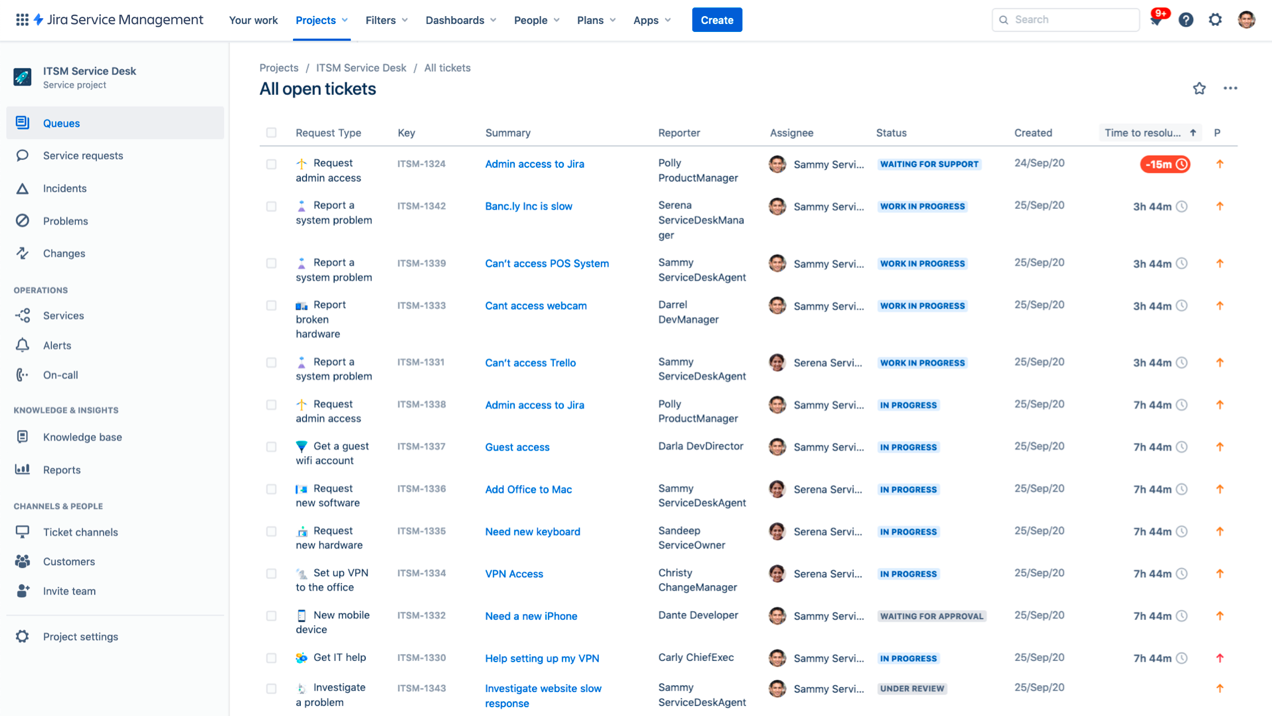 Jira Service Management is an IT service management tool that offers customizable dashboards, end-user self-service experience, and various ITSM components like Insight and Confluence. The product has a steeper learning curve, but the available training helps users learn and adopt it. The cloud-hosted option is reasonably priced compared to other options. However, Atlassian support can be difficult to work with, and Jira Service Management lacks some integrations and native features, which users have to buy third-party add-ons to get.
One of the best features of Jira Service Management is the customizable dashboard, and users can create multiple dashboards according to their needs. Another great feature is the gadget list, which offers numerous options for data analysis. However, there is no sound notification option, and the learning curve for beginners is steep. Additionally, the product can load slowly at times.
The tool's workflow customization is not intuitive and requires training, and the usability is not simple and efficient due to its integration with a bigger platform. Translations and localization management are not mature enough, and some functions are missing to localize every workflow and user screen.
Overall, Jira Service Management is a well-rounded product that offers various ITSM components and customizable dashboards, but it has some drawbacks, including a steep learning curve, lacking native features, and difficult customer support.
SysAid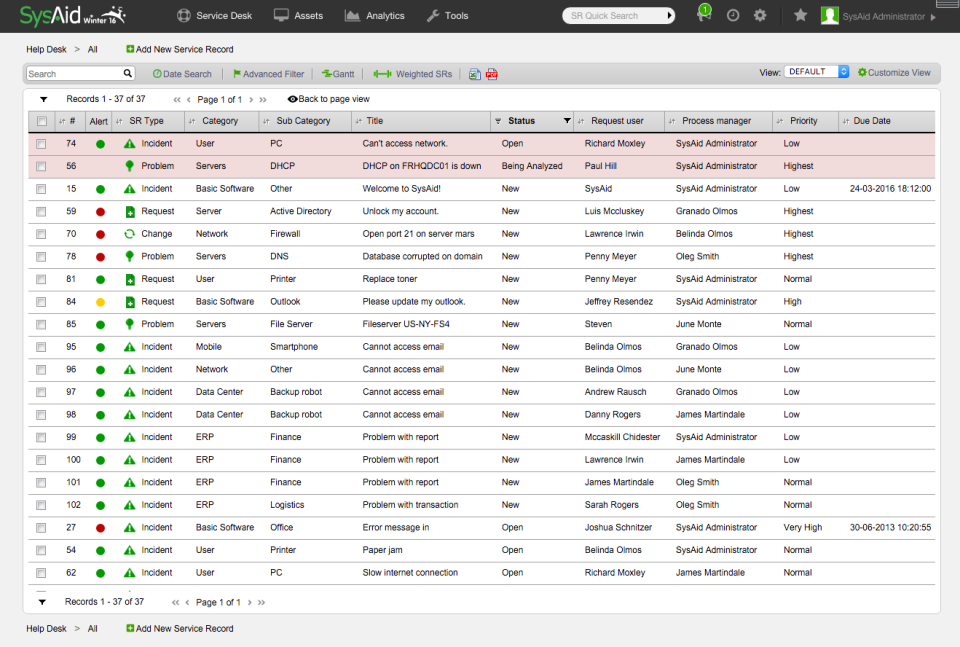 SysAid is an efficient and accessible service desk tool that simplifies ticket management for personnel. It offers effective incident, problem, and change management, providing IT teams with a comprehensive solution for handling customer requests. One of SysAid's greatest strengths is its knowledge database, which educates users and reduces the frequency of recurring issues.
Moreover, SysAid's reporting features are user-friendly and allow for precise data capture and editing. The tool's customizable interface enables organizations to tailor their service desk to their specific needs. The self-service portal is another valuable feature that saves time for both IT personnel and end-users.
Despite these benefits, some users find the administration side of SysAid to be slightly more complex than it should be. However, the tool's overall flexibility and efficiency make it a valuable asset to any IT team.
ServiceDesk Plus by ManageEngine
Service Desk Plus by ManageEngine is an out-of-the-box, cloud-based ITSM solution that offers features such as incident, request, problem, change, and asset management, knowledge base, vendor, contract management, and customer satisfaction surveys. The product is easy to configure and deploy, and the drag-and-drop configuration of workflows enables non-technical users to build scalable workflows. The technical support provided is knowledgeable and supportive, and the post-sales customer service is excellent. However, some reviewers report that the implementation process may take longer than expected, and the level of support provided by technical staff is inconsistent. Additionally, there is a lack of clarity regarding the timeline for new feature releases.
Read more: ManageEngine vs. ServiceNow
Next steps when looking for a ServiceNow alternative
When deciding for a ITSM solution, it's key to evaluate some of the elements that will affect your operations in the long term:
Total Cost of Ownership

Maintenance and Scalability

Support from the vendor

Compatibility with your expected UX and company culture
Evaluate recent reviews by clients, talk with peers and make use of free trials to have a clear understanding of the platform.
Are you ready? Check InvGate Service Desk Live Demo to see it compares with ServiceNow.