Are you seeking a viable Jira alternative with compelling features, competitive pricing, and exceptional support? As Jira Service Management has become a prominent IT Service Management (ITSM) player, it's only natural to consider exploring other options when making an ITSM tools comparison.
Thankfully, the market offers several service desk software alternatives to Jira, each with unique strengths and capabilities. By carefully assessing your organization's specific needs and requirements, you can discover an ITSM solution that perfectly aligns with your objectives and budget.
In this article, we'll take a closer look at InvGate Service Desk as a robust Jira alternative, thoroughly examining its features, pricing, and support.
Table of contents
TL;DR
Jira Service Management is a platform created by Atlassian that offers organizations an effective solution to streamline their service desk operations.


It is praised by its users for its robust Ticketing System and its customization and collaboration features. However, they have also manifested that it can be too complex to use and can present set up difficulties.


InvGate Service Desk arises as a strong alternative, offering service desk solution with an efficient Ticket Management system, user-friendly and intuitive interface, a responsive and knowledgeable support team to assist its customers, and a fast and easy set up process.
What is Jira Service Management?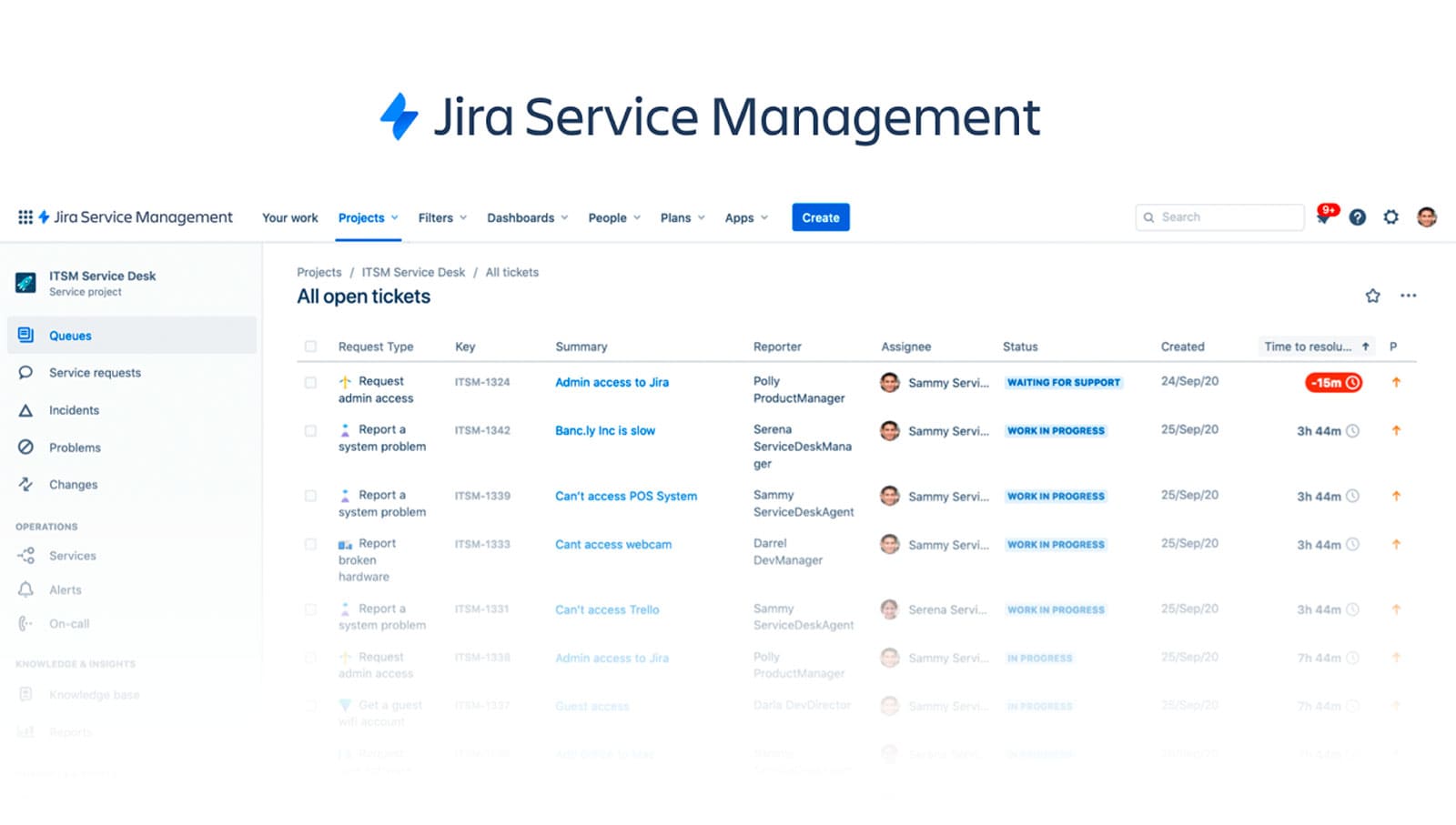 Jira Service Management is a specialized platform created by Atlassian that focuses on IT Service Management. It offers organizations an effective solution to streamline their service desk operations. With its powerful features and user-friendly interface, Jira Service Management helps businesses optimize service delivery and enhance customer satisfaction. Currently, it only provides the option of a cloud-based service, allowing organizations to leverage the benefits of cloud computing for their Service Management needs.
Atlassian, the company behind Jira, was founded in 2002 by Mike Cannon-Brookes and Scott Farquhar in Sydney, Australia. Since then, the company has experienced remarkable growth and expanded its global presence by establishing offices in different countries, including the United States, Netherlands, Japan, and the Philippines.
Atlassian specializes in developing software and tools designed for developers and project managers. Their product lineup includes well-known offerings such as Confluence, Bitbucket, and Trello, which have gained significant recognition in the industry.
Jira Service Management Pros and Cons
Jira Service Management is a well known solution that has been praised by its users for its robust Ticketing system that simplifies task creation, assignment, and tracking, its highly customizable workflows, and its valuable collaboration features that encourage strong teamwork and Task Management.
However, it also comes with a set of limitations that have made users search the market for Jira Service Management alternatives. This could have to do with the general complexities, the set up difficulties, overall non user-friendly interface, and sometimes overwhelming set of features that users have manifested the tool presents.
InvGate Service Desk as a Jira Service Management alternative
InvGate Service Desk is a comprehensive software solution for IT Service Management developed by InvGate. It enables organizations to streamline IT support processes and improve end-user service delivery. The software offers flexibility with cloud-based and on-premises deployment options, allowing organizations to choose the best hosting environment that suits their needs.
With InvGate Service Desk, organizations can establish a modern IT Services department equipped with industry best practices such as Incident Management, Problem Management, Change Management, and Service Management. It also provides a self-service platform and personalized reports to enhance efficiency and empower users.
InvGate is a technology company that develops and provides software solutions for ITSM and IT Asset Management (ITAM). Their primary focus is creating tools and platforms that help organizations optimize their IT operations, improve service delivery, and increase overall efficiency.
Feedback from reviewers regarding InvGate Service Desk is as follows.
"The whole process from demo, to quoting, implementation, and launch has been great. We have a small team and was able to get this project complete ahead of deadline with the help of the great implementation team". IT in a Government organization
"The support team is knowledgeable and responsive. It has all the most common features you could expect from a cloud service ticketing system today, and they work well (knowledgebase, self-service portal, task assignments, approval flows, time management, reporting). The bang for the buck is excellent." IT in Non-Government organization
"Dashboards and reports Easy to use/intuitive, very good user experience for clients and agents Workflows, automation and customization options." General Manager, IT Services
User Interface/User Experience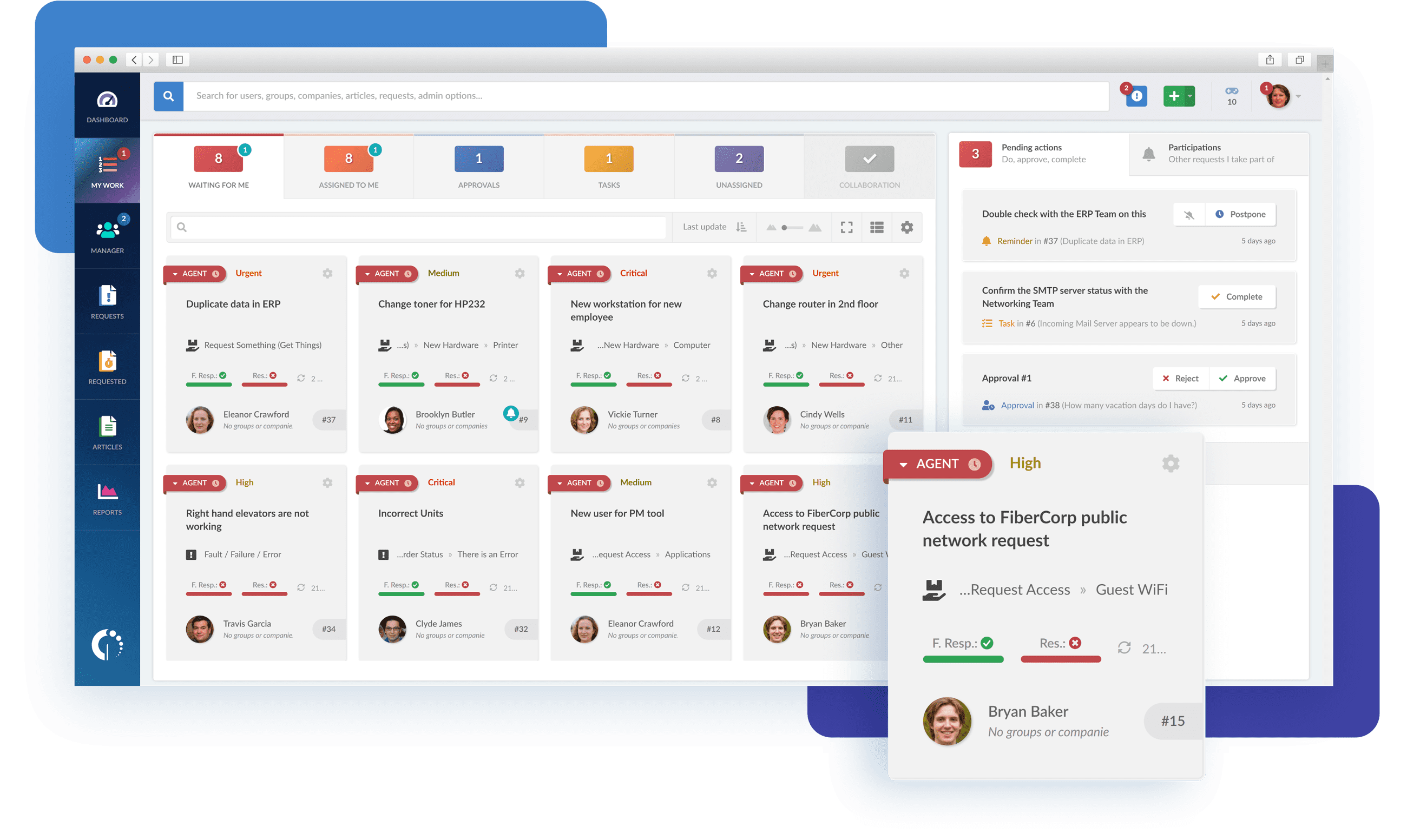 InvGate Service Desk is praised for its simple, intuitive, and easy-to-use interface. In contrast, Jira Service Management receives criticism for having a non-intuitive user interface, confusing navigation, and a steep learning curve.
Reporting and dashboards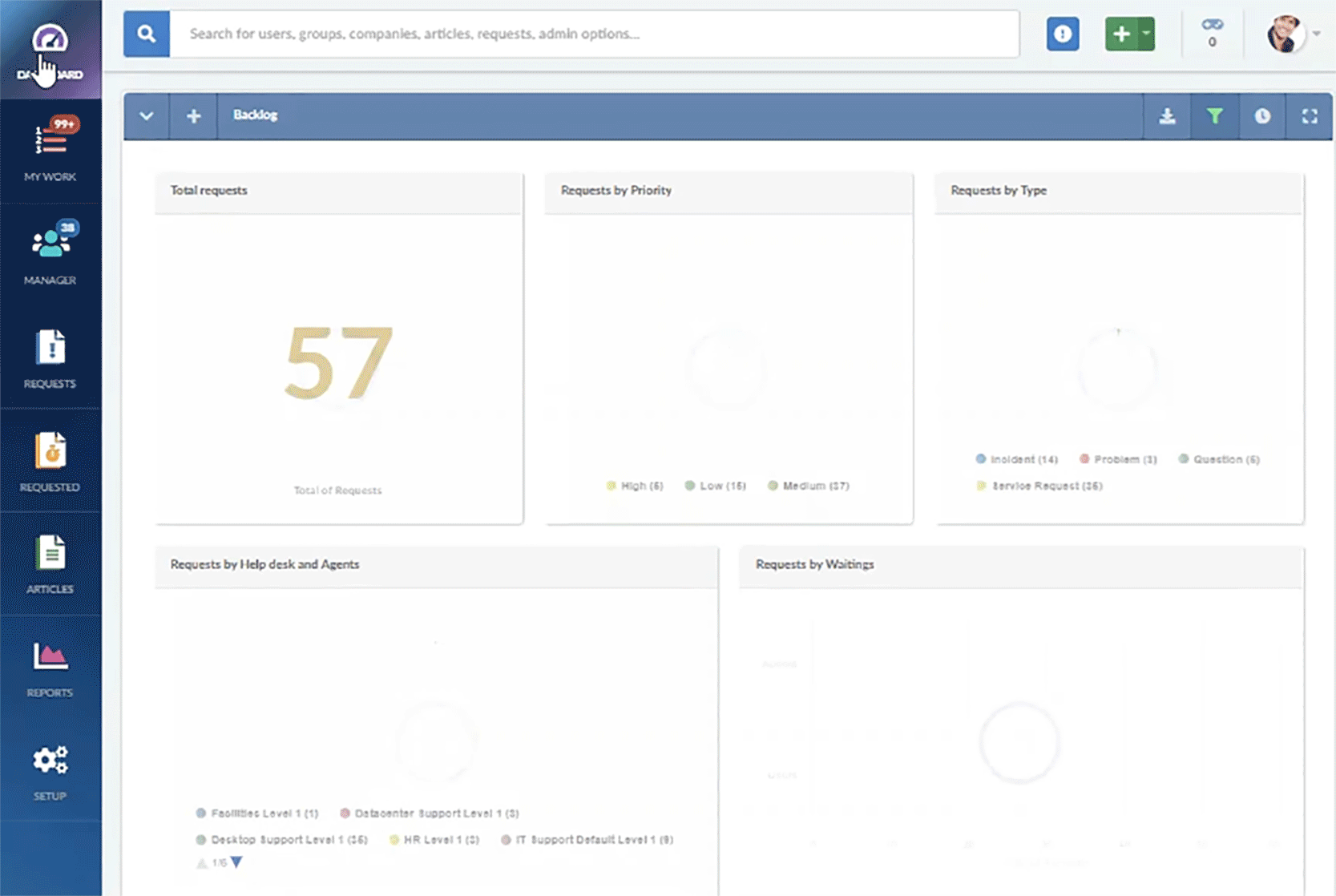 InvGate Service Desk offers various report generation options, valuable dashboards, and personalized views.

On the other hand, Jira Service Management has limited reporting features that lack customization. Users also encounter difficulties in generating reports and creating dashboards.
Integration
InvGate Service Desk excels in integration, offering native integration with the IT Asset Management solution, InvGate Insight.. It allows for a smooth integration of the assets database (CMDB) and enhances overall IT Asset Management capabilities. Additionally, InvGate Service Desk provides mobile integration, enabling users to access and manage their service desk efficiently while on the move.
You can further explore all the possibilities the tool offers in this InvGate Service Desk integrations cheat sheet!
On the other hand, users have reported problems integrating Jira Service Management's CMDB. Furthermore, Jira Service Management lacks comprehensive device integration and faces challenges when integrating with certain tools.
Cost
Switching costs encompass more than just the monetary investment in the tool. It is crucial to consider the related expenses to fully understand the consequences of transitioning between help desk software.
InvGate Service Desk is known for being affordable and providing good value for the money. On the other hand, Jira Service Management can be costly, particularly depending on the number of agents and editions chosen. Additionally, there may be extra costs associated with some features.
Customer support
InvGate Service Desk receives positive feedback for its responsive and knowledgeable support team. In contrast, users report difficulties working with Atlassian support for Jira Service Management.
Task/Incident Management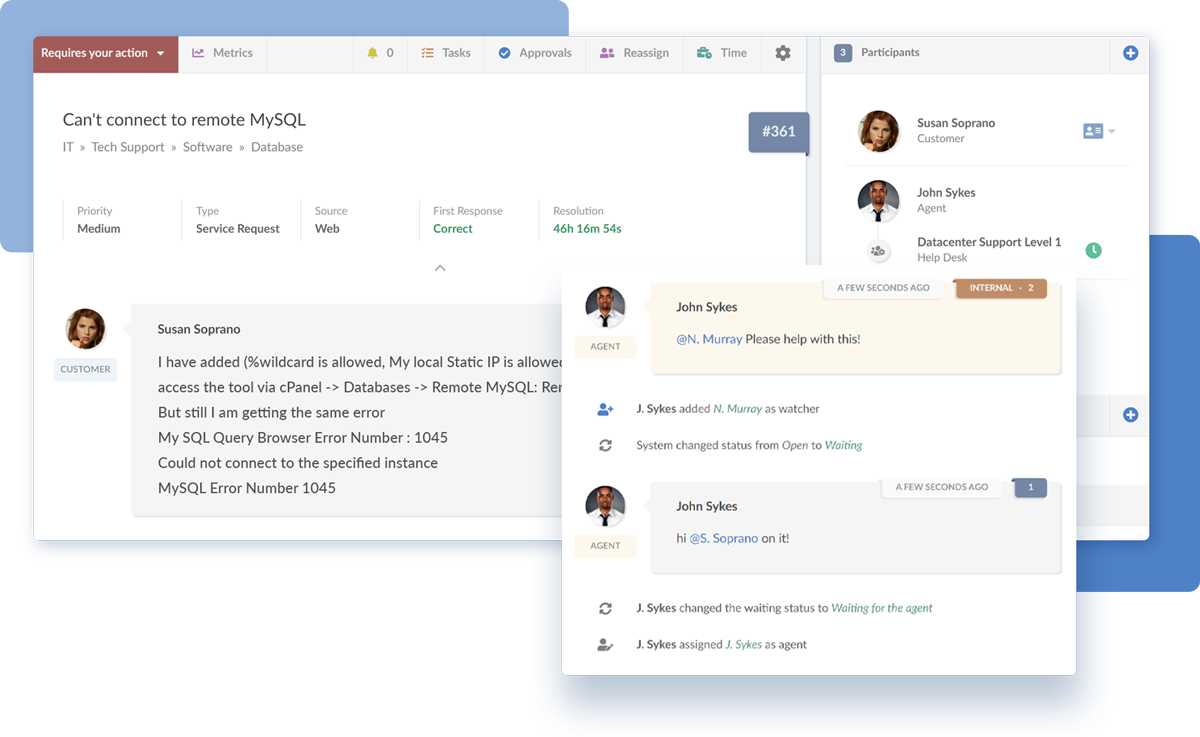 InvGate Service Desk is praised for its efficient Ticket Management and the ability to add people to collaborate or inform on tickets.

Jira Service Management, however, can struggle with tracking multiple tasks and assigning them to various people simultaneously.
Customization
InvGate Service Desk stands out for its versatility in configuration and the ability to fully customize the platform to suit the end user's needs. In contrast, Jira Service Management presents challenges in fully customizing the platform without technical expertise. Users encounter issues with this tool due to a high number of elements to arrange.
Workflow Management
Both InvGate Service Desk and Jira Service Management offer workflows, automation, and customization options.
However, users have reported that transitioning to a Jira Project can be messy, and Jira Service Management has limitations in Incident Management forms.
Features
InvGate Service Desk impresses users with its multiple useful features out of the box. Jira Service Management, however, requires additional plugins to provide basic usability and Service Management features. Users also feel that Jira Service Management lacks enough out of the box features included.
Setup and onboarding
InvGate Service Desk is commended for its fast and easy setup process. The onboarding of agents and users is also considered straightforward. In contrast, Jira Service Management presents a challenging introduction to a department due to the requirement for technical expertise.
Additional concerns associated with Jira Service Management include difficulties in achieving General Data Protection Regulation (GDPR) compliance, which may pose challenges for organizations seeking to adhere to regulations.
Moreover, there is a potential for performance impact if the application is not well managed, particularly due to the high level of customization involved. Users have also expressed dissatisfaction with the lack of logging or documentation for configuration changes, which can hinder effective troubleshooting and configuration management efforts.
Want the short version? Pick InvGate Service Desk and start handling tickets in a day
We tried to be as thorough as possible, but if you don't have enough time to read it through and through, here's (another) TL;DR: InvGate Service Desk can do everything we say here, and you can test it right away for free for 30 days.
Jira Service Management competitors
If you still want to explore further alternatives to Jira, here is a full list of competitors to explore before making the call:
In conclusion
When considering a Jira alternative, it's essential to evaluate various factors such as pricing, features, and support to make an informed decision. InvGate Service Desk emerges as a robust contender in the market, offering a comprehensive IT Service Management (ITSM) solution with a range of advantages.
The ultimate decision will depend on your organization's specific needs and priorities. Check out our live demo or book a meeting with our experts.