If you're looking to integrate your IT Asset Management tool with a remote desktop application to streamline your support capabilities, you've come to the right place. InvGate Insight easily connects with the most popular options out there: TeamViewer, Windows Remote Desktop, AnyDesk, and VNC.
And we're about to show you exactly how in the next lines. So, stay tuned!
What is a remote desktop connection?
A remote desktop connection is a piece of software that enables technicians to gain remote control over the users' computers. In this sense, they are built specifically for viewing and managing devices that would otherwise require agents to physically travel to fix them.
Remote desktop apps are an excellent way to reduce associated costs and time constraints since they allow technicians to address multiple issues without leaving their desk. As a consequence, businesses can ensure rapid response times, and optimize resource allocation.
How does a remote desktop work?
At its core, a remote desktop allows a service desk agent or IT professional to access any end-user device virtually, regardless of the location of said device.
The remote desktop connection process typically begins with an agent initiating the connection by sending an invitation to the end-user. This invitation can be triggered through various remote access tools. In some cases, a one-time code may be generated and shared to initiate the connection securely.
Once the user's acceptance and validation have been confirmed, the control over the remote computer is transferred to the agent, just as if they were sitting in front of it. This means that the agent gains access to the device's display, keyboard inputs, and mouse movements.
In addition to user-initiated connections, remote desktops can also work through unattended access, where the tool is pre-configured and allows authorized personnel to access the system when required. This is how InvGate Insight's integration with remote desktop tools works.
4 remote access tools that can be connected to InvGate Insight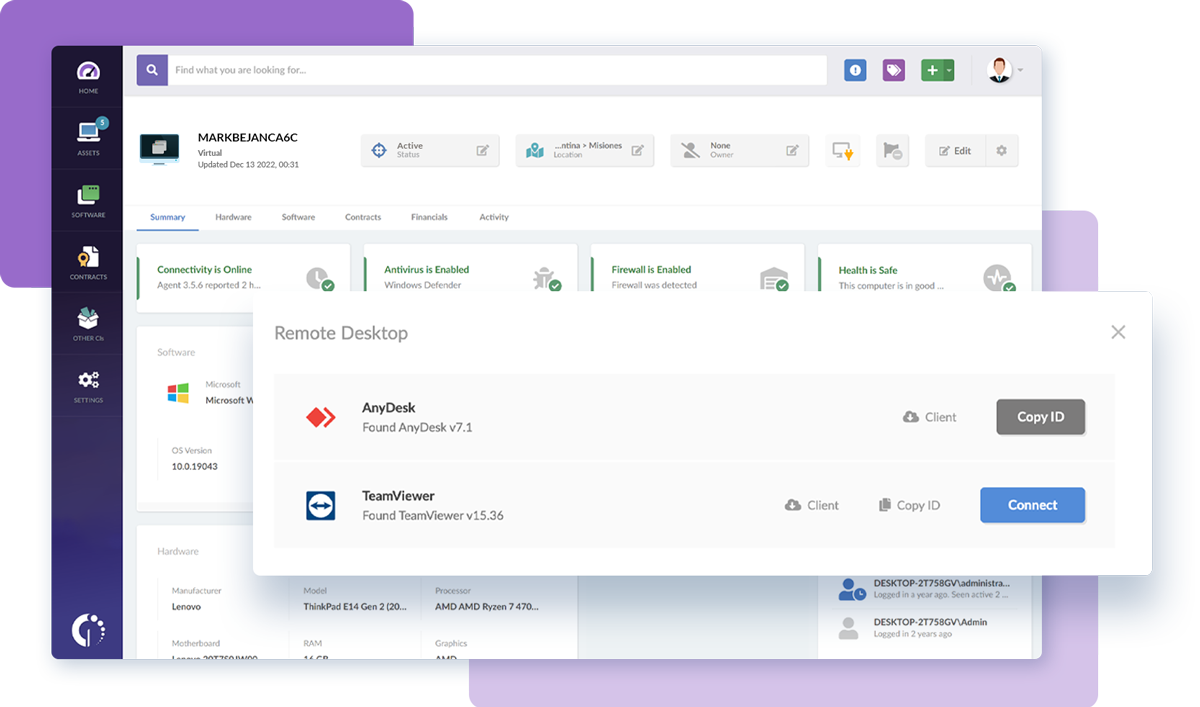 InvGate Insight makes remote access really simple for asset managers, as it natively integrates with the most used remote desktop tools in the market. These are TeamViewer, Windows Remote Desktop, AnyDesk, and VNC.
Ultimately all of them offer remote desktop connection capabilities without the need of user validation. However, let's explore each one in a bit more depth to see how they differ.
TeamViewer Integration
TeamViewer is a remote access and support software that allows users to connect to remote devices securely. It provides features like screen sharing, file transfer, and real-time collaboration. In addition, its cross-platform compatibility and strong security protocols ensure safe remote connections.
This makes it particularly beneficial for organizations requiring quick and easy remote assistance for technical issues, software installations, and collaborative projects.
Windows Remote Desktop Integration
Windows Remote Desktop is a built-in feature of Windows operating systems that enables users to access their Windows computers remotely. It provides a native remote access solution with efficient performance and tight integration with Windows environments.
Thus, this integration is best suited for businesses with Windows-based networks, enabling employees to access their office computers from home or other remote locations securely, or agents to access end-users devices.
AnyDesk Integration
AnyDesk is known for its low latency and high-performance remote connections. It excels in delivering smooth remote interactions, even in low-bandwidth environments. It's easy setup and cross-platform compatibility make it suitable for non-expert technicians.
This is why it's recommended for organizations that perform tasks that demand real-time interactions, such as presentations, demos, and remote control of devices.
VNC Integration
Virtual Network Computing (VNC) allows users to view and control remote computers over a network. It offers flexibility and compatibility across different platforms, making it a versatile solution for both technical support and system administration tasks.
This versatility makes it a great choice for businesses looking for a customizable remote access solution for different devices and use cases.
Remote desktop integrations: How to connect them to InvGate Insight?
Integrating remote desktop solutions with InvGate Insight takes you just a few minutes.
First, log in as an admin in your instance and go to Settings >> Integrations >> Remote Desktop.
Then, select from the drop-down menu the specific remote access software you want to integrate. Then, click on "Apply" and "Save."
Mission accomplished! You have successfully connected InvGate Insight to the remote desktop software integration of your choice!
How to use the InvGate Insight's Remote Desktop integration
Once the remote desktop integration is in place, getting access to the device is a straightforward process – just remember that, in order for it to work, the InvGate Insight's Agent must be installed on it.
Ready? Let's proceed, then. Look up the computer's profile on your instance, select it, and click on the "Remote Desktop" button.
You should see a window with the list of the configured integrations and a "Connect" button to access the computer remotely. From that same window, you also have shortcuts to download or update your remote desktop software version and copy its ID, just in case you need to.
Key takeaways
Remote desktop solutions enable agents and technicians to easily perform actions and troubleshoot issues on remote computers, reducing downtime and improving efficiency. By integrating them with InvGate Insight, you are simply expanding your ITAM capabilities and empowering your IT asset managers further.
And, as you just saw, connecting the tools doesn't take long. Luckily, it can be done in just a few minutes from the asset's profile. So, if you're ready to combine the power of both tools and want to learn more, book a quick call with our experts. And don't forget that you can also start exploring InvGate Insight right now with our 30-day free trial!