Are you searching for a reliable BMC Helix alternative to take your IT Service Management (ITSM) to the next level? Look no further! A compelling solution rises to the challenge of finding the right platform that will revolutionize your ITSM practices.
In this blog post, we'll introduce you to InvGate Service Desk, a powerful and user-friendly option designed to enhance your IT service delivery. As part of our comprehensive ITSM tools comparison, we'll explore the key advantages of this service desk software and how it can transform your IT Service Management experience.
Join us as we explore the key advantages of InvGate Service Desk and discover how it can revolutionize your IT Service Management experience.
What is BMC Helix?
BMC Helix ITSM is a Service Management platform offered by BMC Software, designed to address the challenges organizations face in managing their IT services. It provides a range of features and capabilities to streamline IT processes and enhance user experiences.
Founded in 1976 and headquartered in Houston, Texas, BMC Software is an American multinational IT company that provides software solutions and services for IT operations management. With a product portfolio including IT Service Management, IT Asset Management (ITAM), IT Operations Management (ITOM), and DevOps solutions, BMC helps organizations automate processes, manage assets, and improve IT performance.
InvGate Service Desk as a BMC Helix alternative
InvGate Service Desk, created by InvGate, is a comprehensive ITSM software solution designed to streamline IT support processes and improve service delivery to end-users. It provides the flexibility to deploy the software either in the cloud or on-premises, allowing organizations to choose the hosting environment that suits them best.
With InvGate Service Desk, organizations can establish a modern IT Services department equipped with ITIL-certified Incident Management, Problem Management, Change Management, and Service Management capabilities. This robust service desk software goes beyond the basics of a traditional help desk by offering advanced features like IT support automation, which enhances issue resolution and overall efficiency. It also includes a self-service platform that empowers users to find solutions independently and personalized reporting for valuable insights into IT operations.
InvGate Service Desk seamlessly integrates IT Asset Management (ITAM) alongside its comprehensive ITSM capabilities. t natively integrates with InvGate Insight. This integration gives organizations a centralized repository to track and manage their IT assets effectively. By maintaining accurate asset inventories, optimizing asset usage, and ensuring regulatory compliance, companies can maximize the value of their IT assets.
InvGate is a technology company specializing in developing software solutions for IT Service Management and IT Asset Management. Their focus is on creating tools and platforms that help organizations optimize their IT operations, improve service delivery, and enhance overall efficiency.
According to positive reviewer feedback, InvGate Service Desk has been highly praised for its capabilities and functionality:
"The whole process from demo, to quoting, implementation, and launch has been great. We have a small team and was able to get this project complete ahead of deadline with the help of the great implementation team". IT in a Government organization
"The support team is knowledgeable and responsive. It has all the most common features you could expect from a cloud service ticketing system today, and they work well (knowledgebase, self-service portal, task assignments, approval flows, time management, reporting). The bang for the buck is excellent." IT in Non-Government organization
"Dashboards and reports Easy to use/intuitive, very good user experience for clients and agents Workflows, automation and customization options." General Manager, IT Services
User interface
BMC Helix ITSM is criticized for its inconsistent user experience and poor cross-platform module integration. On the other hand, InvGate Service Desk stands out with its simple, intuitive, and easy-to-use user interface, which ensures a smooth and efficient user experience.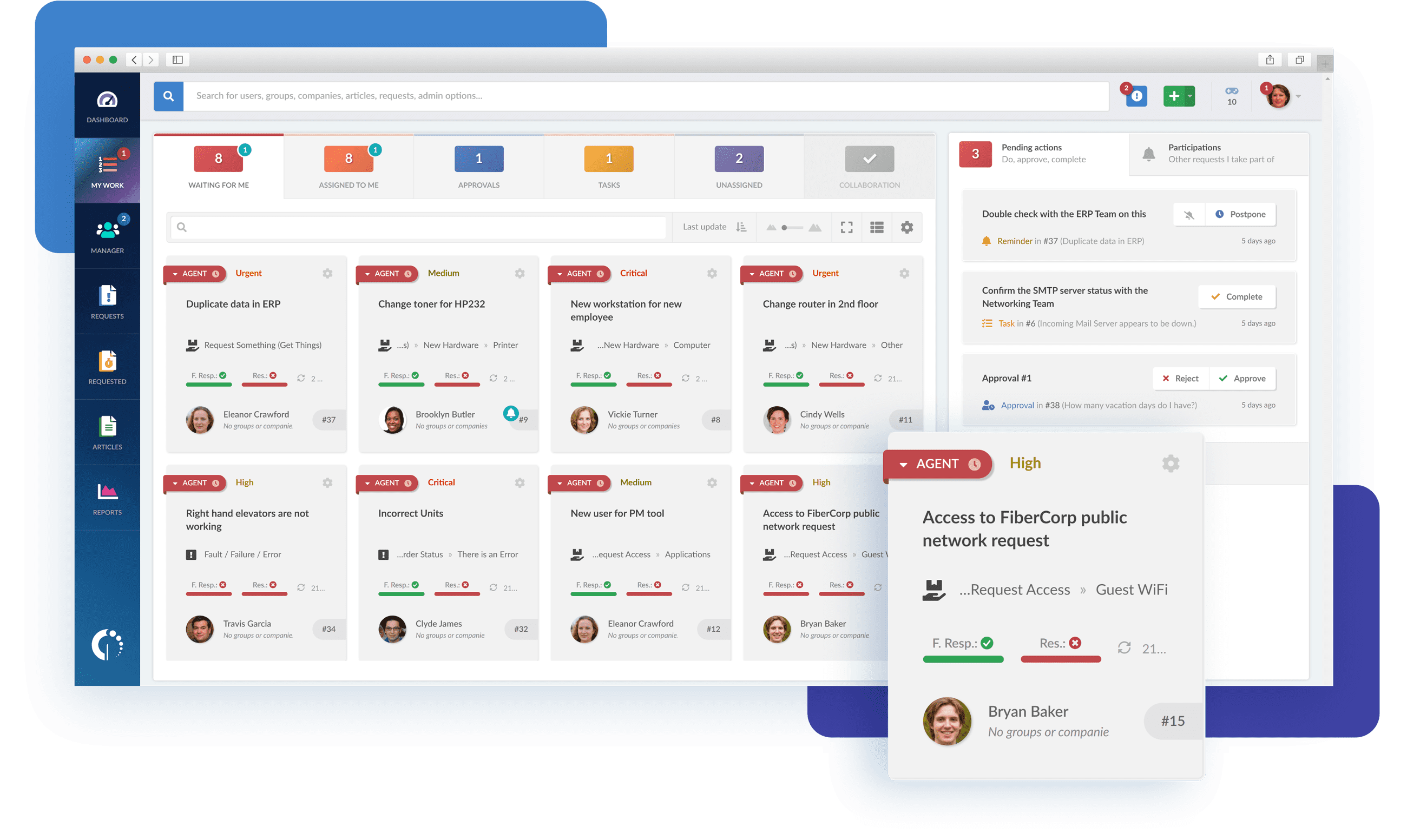 Customer support
BMC Helix ITSM's customer support is criticized for the long resolution times and frustrations when working with back-end teams. In contrast, InvGate Service Desk receives positive feedback for its responsive and knowledgeable support team, which can greatly contribute to smoother operations and issue resolution.
Features
BMC Helix ITSM's SmartIT feature is criticized for being too limited and lacking flexibility for customization. In comparison, InvGate Service Desk is praised for offering multiple useful features out of the box, indicating a comprehensive set of functionalities that can support various ITSM processes.
In conclusion
When considering a BMC Helix alternative, InvGate Service Desk emerges as a highly attractive option that brings a multitude of advantages to the table. With its focus on user experience, robust capabilities, and responsive customer support, the platform offers organizations a compelling solution to enhance IT service delivery and streamline operations.
Schedule a meeting with our experts if you have any questions. Our dedicated team is ready to assist you and provide further information to help you make an informed decision.