Are you seeking the perfect tool to elevate your IT Service Management (ITSM) project? If you find yourself stuck between the ManageEngine vs. ServiceNow dilemma, you've come to the right place.
In this blog post, we'll delve into the capabilities, benefits, and limitations of both ServiceNow and ManageEngine. But that's not all — we will also introduce you to an exceptional alternative: InvGate Service Desk, a service desk software that may be the ideal fit for your organization.
What is ManageEngine?
What is ServiceNow?
Considering InvGate Service Desk as an ITSM solution alternative.
Get ready to dive into this comprehensive analysis and find the ideal ITSM solution that meets your organization's requirements.
Most looked-at features by buyers
When evaluating ITSM solutions, buyers tend to emphasize specific features that align with their organization's needs. Understanding which functionalities are most important to them can aid in making an informed decision.
Now, let's explore the key features that prospective buyers typically focus on during the ITSM tool comparison process.
User experience and interface - The platform's user-friendliness is a buyer's consideration, as an intuitive interface can improve user adoption and productivity.
Mobile accessibility is also vital for organizations with remote or mobile workforces.


Ticketing and

Incident Management

- Buyers look for robust ticketing systems in their

help desk software

that can efficiently handle and track customer issues or incidents. The features include creating, assigning, tracking, and prioritizing tickets,

SLA Management

, and

escalation workflows

.


Pricing and support - Buyers evaluate the solution's cost-effectiveness, including licensing models, subscription plans, and additional costs for features or users. The availability of customer support, documentation, and training resources also influences decision-making.



Automation

and workflow - Efficient automation and

workflow capabilities

save time and effort. Buyers consider features such as automation rules, SLA-driven workflows, approval processes, and integrations with other tools or systems.


Integration and collaboration - Integration with other tools and systems, such as CRM, Project Management, or communication platforms, can streamline workflows and ensure data consistency.



Self-service

and

knowledge base

- Buyers highly value self-service capabilities that empower customers or employees to find answers to common issues independently. A comprehensive knowledge base system with easy search functionality, FAQs, and guides can enhance self-service options.



IT service catalog

- Some organizations may require a service catalog that allows users to request specific IT services or resources. This feature streamlines service requests, provides visibility, and helps effectively manage service delivery.



ITIL

compliance - Many organizations follow the best practices of the Information Technology Infrastructure Library (ITIL) for managing IT services. Buyers may seek solutions that support ITIL processes such as Incident Management,

Problem Management

,

Change Management

, and Asset Management.


Reporting features - Buyers often seek reporting and analytics capabilities to gain insights into service performance, team productivity, customer satisfaction, and SLA compliance.

Customizable dashboards and pre-built reports

are valuable in this regard.


Scalability and customization - Organizations with evolving needs prioritize solutions that can scale with their growth and accommodate customization. The ability to create custom fields, workflows, and extensions/plugins is crucial for adapting the solution to unique business requirements.
What is ManageEngine?
ManageEngine, initially established in 1996 as AdventNet Inc., underwent a rebranding in 2009 and is now known as Zoho Corporation. As a division of Zoho Corporation, ManageEngine specializes in providing comprehensive IT Management solutions for businesses of all sizes, primarily small to midsize enterprises.
Headquartered in Pleasanton, California, ManageEngine has a significant global presence, serving more than 180,000 customers worldwide.
ManageEngine offers ServiceDesk Plus, a platform with both cloud and on-premise deployment options. It provides a wide array of capabilities encompassing IT Service Management (ITSM) and IT Asset Management (ITAM). It holds the position of a Challenger in the Magic Quadrant.
What users like from ManageEngine
ManageEngine has garnered recognition from customers, evidenced by reputable sources such as Gartner. Let's explore some of the notable advantages highlighted by these customers.
Competitive pricing - ManageEngine stands out for its highly affordable ITSM offerings, featuring multiple pricing tiers that cater to different budgets. This cost-effectiveness appeals to midmarket customers and larger organizations seeking value-oriented solutions.


High growth - The platform exhibits strong growth potential, evident in its flexible deployment models and successful positioning in the midmarket segment. The company has achieved remarkable revenue growth and expanded its customer base in 2021, demonstrating particular success in the enterprise sector.


Diverse product portfolio - ManageEngine offers a comprehensive range of complementary products, encompassing endpoint management, network monitoring, application monitoring, and active directory management solutions. Furthermore, leveraging the low-code development capabilities and line-of-business integrations offered by its parent company, Zoho, allows ManageEngine to provide a broad set of platform capabilities and leverage cross-selling opportunities.
What users don't like from ManageEngine
While ManageEngine has various strengths and positive qualities, customers have also voiced their concerns and dislikes regarding specific aspects of the platform. Here are a few areas of customer concern based on examining reputable sources such as Gartner.
Limited product innovation - ManageEngine's focus primarily revolves around process enhancements, integrations, and customization support rather than pushing the boundaries of product innovation. While the company has introduced some AI/ML capabilities in areas like field and template recommendations, it still trails behind more advanced products in this category.


Lack of clear ITSM differentiation in marketing - ManageEngine's marketing efforts often fail to emphasize its unique value proposition in the ITSM market. By predominantly highlighting commonplace themes like low-code development, customer privacy, and deployment flexibility, the vendor struggles to stand out among more experienced buyers in the market.


Limited integrations beyond Zoho Ecosystem - The platform integrations and extensibility are strongest when combined with other ManageEngine and Zoho ecosystem products. This may pose challenges for customers seeking seamless integration with popular ITOM tools outside of the Zoho ecosystem, potentially requiring them to build custom API connections.


Security vulnerabilities - In 2023, ManageEngine faced a notable setback with the discovery of two significant vulnerabilities across 24 of its products. These vulnerabilities were rated 9.8 out of 10 on the severity scale, as they could potentially enable remote execution of malicious code. However, the company promptly addressed the situation by releasing patches to mitigate the vulnerabilities and reinforce its security measures.
What's ManageEngine's argument over ServiceNow?
ManageEngine presents its case against ServiceNow by emphasizing its distinctive strengths and advantages. Here are some of the key points that ManageEngine highlights in its argument.
Avoid unpredictable costs - ManageEngine aims to provide transparency and predictability in pricing, ensuring customers are not caught off guard by unexpected expenses. By offering clear licensing models and pricing structures, ManageEngine enables organizations to budget effectively and avoid cost escalations.


Robust integration capabilities - By choosing ManageEngine, organizations can avoid being locked into a single solution, as the platform provides flexibility and integrations with other systems, allowing for a seamless transition if desired.


Simplified IT landscape - ManageEngine presents itself as a comprehensive platform that eliminates the need to navigate a complex landscape of different tools and solutions. By consolidating various operational domains and functionalities on a single platform, ManageEngine simplifies the IT landscape, making it easier for organizations to manage and maintain their systems.


Avoid complexity - By providing a user-friendly and intuitive platform, ManageEngine aims to minimize complexity and enable organizations to mature their services effectively, ensuring that cumbersome processes do not hinder service delivery.
What is ServiceNow?
ServiceNow is a company that specializes in delivering a comprehensive platform designed to streamline IT Service Management (ITSM) and digital workflows for organizations, with both cloud-based and on-premises deployment options. Their main objective is to simplify and automate IT operations, improve customer experiences, and drive digital transformation for businesses.
Established in 2004 and headquartered in Santa Clara, California, ServiceNow offers a comprehensive suite of cloud-based solutions tailored to meet the diverse operational requirements of enterprises. Their solutions span various domains, including IT Service Management, IT Operations Management, IT Business Management, Customer Service Management, Human Resources Service Delivery, Security Operations, and more. Furthermore, they have formed strategic partnerships with prominent companies such as NVIDIA and Juniper Networks, further solidifying their market presence.
What users like from ServiceNow
ServiceNow has received customer recognition, as evidenced by research from reputable sources such as Gartner and G2. Here are some of the mentioned benefits.
Growing user community - The platform has established significant relevance in the industry, leading to a rapidly expanding user community. Many customers discover the tool through recommendations from their peers. The growing user community fosters collaboration, knowledge sharing, and access to best practices.


Cloud-based infrastructure - ServiceNow operates on a cloud-based platform, enabling organizations to scale their operations easily and access the platform from anywhere with an internet connection.


Expanded usage across multiple domains - ServiceNow extends beyond ITSM, and customers find value in utilizing the platform for various other fields, such as Human Resources (HR), Customer Engagement Center (CEC), Governance, Risk, and Compliance (GRC), and IT Operations Management (ITOM). This versatility allows organizations to consolidate their operations on a single platform.


Continuous product enhancements - Customers appreciate the software's commitment to constant improvement. The company actively acquires new technologies and develops native features to enhance its offerings.


Native AI capabilities - ServiceNow harnesses the power of artificial intelligence (AI) and machine learning (ML) to provide built-in AI capabilities. These include virtual Agent chatbots and predictive intelligence, enhancing the platform's functionality and improving the overall user experience.


Integration capabilities - The platform offers robust integration features that facilitate seamless connectivity with other systems and applications. This capability enables efficient data exchange and workflow automation, leading to enhanced operational efficiency for customers.
What users don't like from ServiceNow
While ServiceNow has many strengths and positive attributes, customers have expressed reservations and criticisms about certain platform aspects. Here are some concerns raised based on analysis from reputable sources such as Gartner and G2.
Difficulties and delays during implementation - Organizations may encounter issues during the platform's configuration, data migration, or integration with existing systems, resulting in longer implementation timelines and potential frustrations.


High licensing costs and potential additional expenses - ServiceNow's extensive functionality and advanced features come with a significant price tag. Licensing fees can be substantial, particularly for organizations that require capabilities beyond ITSM. Additionally, additional costs for customizations or specialized modules can contribute to a high total cost of ownership.


Steep learning curve and complexity for new users - Some users find that the platform has a steep learning curve, especially when utilizing its more advanced features. The system's complexity may require additional training and resources to ensure that users can fully leverage the tool's capabilities.


Challenges in customizing workflows and processes - The platform may have limitations in flexibility and customization options, making it difficult for organizations to tailor the system to their specific needs and unique business processes.


Concerns about renewal leverage - ServiceNow's dominant position in the market can impact customers' negotiation power during contract renewals. Customers may fear that pushing for better terms jeopardizes existing discounts or concessions.


Mixed feedback on customer support - Some users have reported concerns about response times and accessibility when seeking support from ServiceNow, suggesting inconsistencies in the quality of customer support.


Limited presence in emerging markets - The company has a limited presence in certain emerging markets, with fewer local offices and a lack of hosting options in regions such as the Middle East. This can restrict accessibility and support for organizations operating in those areas.
What's ServiceNow's argument over ManageEngine?
ServiceNow positions itself as a leading ITSM market player and presents several differentiators when comparing its platform to ManageEngine. Here are the points that ServiceNow emphasizes.
Continuous innovation and product enhancements - ServiceNow prides itself on its commitment to continuous improvement. The company actively invests in research and development, acquires new technologies, and develops native features to enhance its offerings. By staying at the forefront of innovation, ServiceNow aims to provide customers with the latest advancements in ITSM and digital workflows.


A comprehensive cloud-based platform - ServiceNow highlights its cloud-based infrastructure, offering organizations the flexibility to scale their operations easily and access the platform from anywhere with an internet connection.


Robust integration capabilities - ServiceNow emphasizes its robust integration features, enabling seamless connectivity with other systems and applications. The platform provides extensive integration options with popular tools such as CRM systems, Project Management software, and communication platforms.


Extensive capabilities across multiple domains - ServiceNow differentiates itself by showcasing its broad range of capabilities beyond ITSM. The platform extends to areas such as Human Resources (HR), Customer Engagement Center (CEC), Governance, Risk, and Compliance (GRC), and IT Operations Management (ITOM).


Native artificial intelligence (AI) capabilities - ServiceNow highlights its native AI capabilities, harnessing the power of AI and machine learning (ML) to deliver built-in AI functionalities.
Considering InvGate Service Desk as an ITSM solution alternative
When considering InvGate Service Desk as an alternative to ManageEngine and ServiceNow for Service Management, several key points highlight the unique advantages of InvGate's products. Let's explore the notable aspects of InvGate Service Desk that provide significant benefits.
1. Efficient Ticketing and Incident Management
InvGate Service Desk excels in its capabilities for ticketing and Incident Management. It enables IT teams to effectively track, collaborate on, and resolve tickets with features like automated routing, customizable workflows, and SLA Management, enhancing the efficiency of Incident Management processes.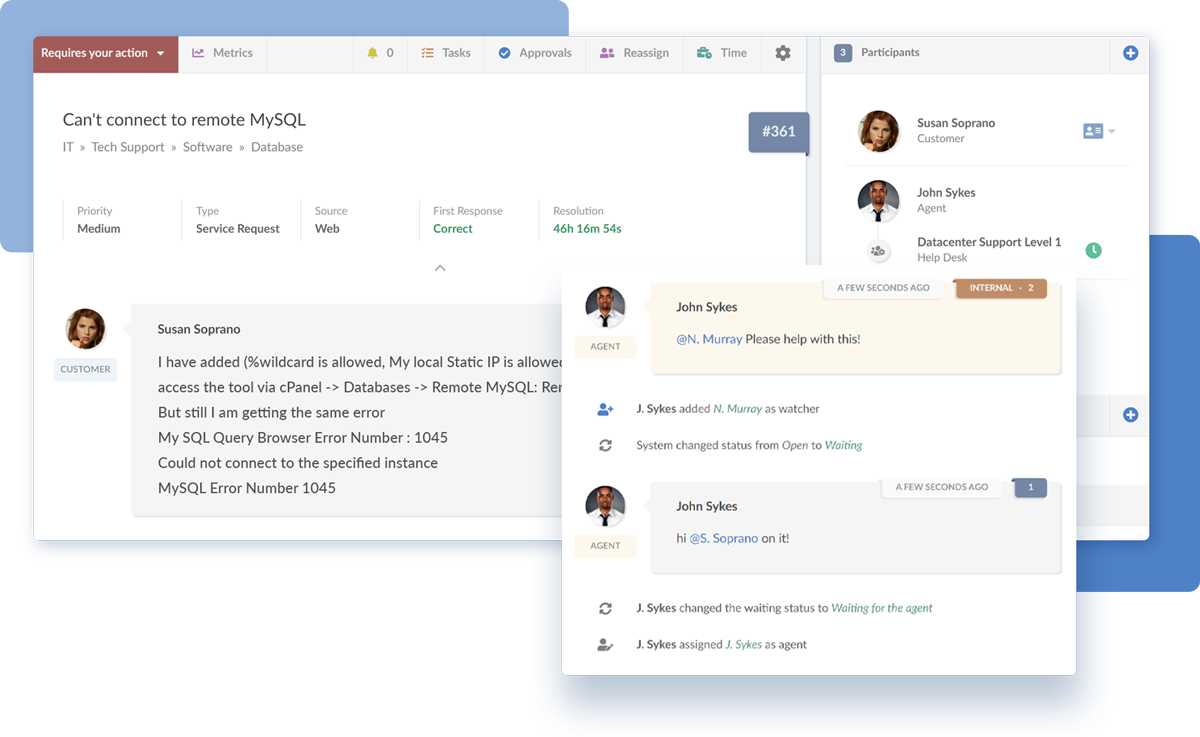 2. User-friendly and intuitive interface
InvGate Service Desk is meticulously designed with a strong focus on UI/UX best practices to provide users with a friendly and intuitive experience, facilitating quick adoption and minimizing the need for extensive training. Its user-friendly interface and intuitive design promote rapid system adoption and efficient utilization, reducing the time and resources required for training. By prioritizing seamless usability, InvGate Service Desk offers a streamlined user experience that minimizes the learning curve and maximizes productivity.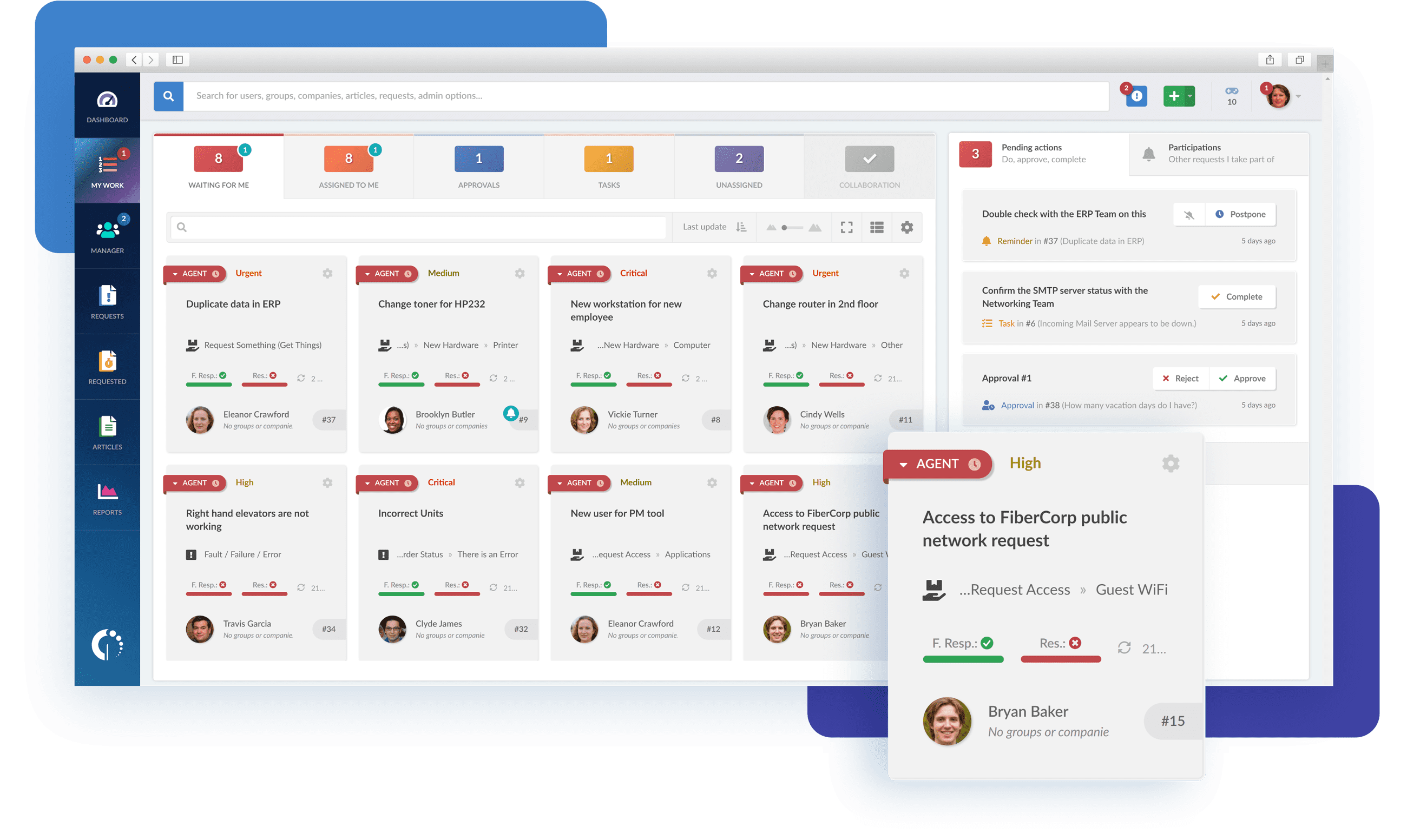 3. Born for ITSM, perfect for ESM
InvGate Service Desk is specifically tailored for ITSM, and its capabilities extend seamlessly to Enterprise Service Management (ESM), empowering operational departments to enhance their processes and embrace the full benefits of digital transformation. With a primary focus on ITSM, while equally excelling in ESM, InvGate Service Desk enables your organization to harmonize operations across all departments, driving efficient workflows and facilitating comprehensive digital transformation initiatives.
4. Ease of configuration and startup
InvGate Service Desk features a no-code/low-code approach that streamlines the configuration and setup process, allowing both new and experienced users to get the system up and running in no time effortlessly. By offering a straightforward configuration and setup process, InvGate Service Desk ensures swift implementation, minimizing the time required to start leveraging the advantages of a powerful ITSM tool.
5. Comprehensive Asset Management
By combining InvGate Service Desk and InvGate Insight, organizations gain a comprehensive understanding of their IT ecosystem, resulting in enhanced service delivery and minimized downtime. InvGate Insight contains features such as IT Asset Discovery, Inventory Management, Software License Management, and maintenance scheduling.
6. Cost-effective solution
Compared to ManageEngine and ServiceNow, InvGate Service Desk offers a cost-effective solution without compromising functionality. It provides a robust set of ITSM features at a competitive price, making it an appealing choice for organizations seeking affordability without sacrificing functionality.
7. Customization and flexibility
InvGate Service Desk offers flexible deployment options, allowing you to choose between on-premise or cloud-based solutions. This versatility ensures that the platform can adapt to your organization's specific requirements, catering to various sectors and industries.
8. Robust self-service capabilities
InvGate Service Desk includes robust self-service capabilities, such as an easy-to-use self-service portal, an extensive IT service catalog, and a knowledge base. These features empower end-users to find answers to common issues, access IT services, and leverage self-help resources, reducing the burden on IT teams and improving efficiency.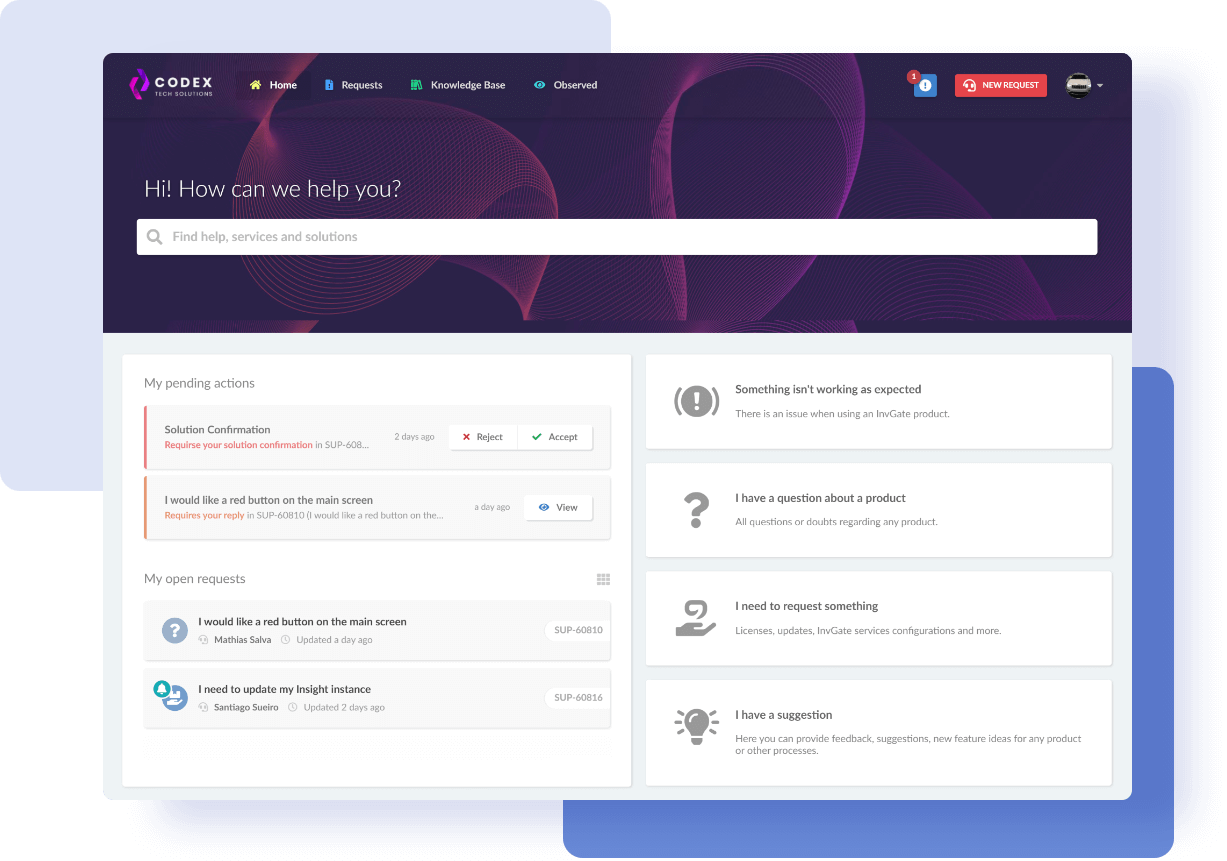 9. Comprehensive reporting and analytics
InvGate Service Desk provides comprehensive reporting and analytics features, enabling organizations to gain valuable insights into their IT operations and performance. It offers a wide range of pre-built reports and dashboards and the flexibility to create custom reports, empowering IT teams to analyze data and make data-driven decisions for service improvement.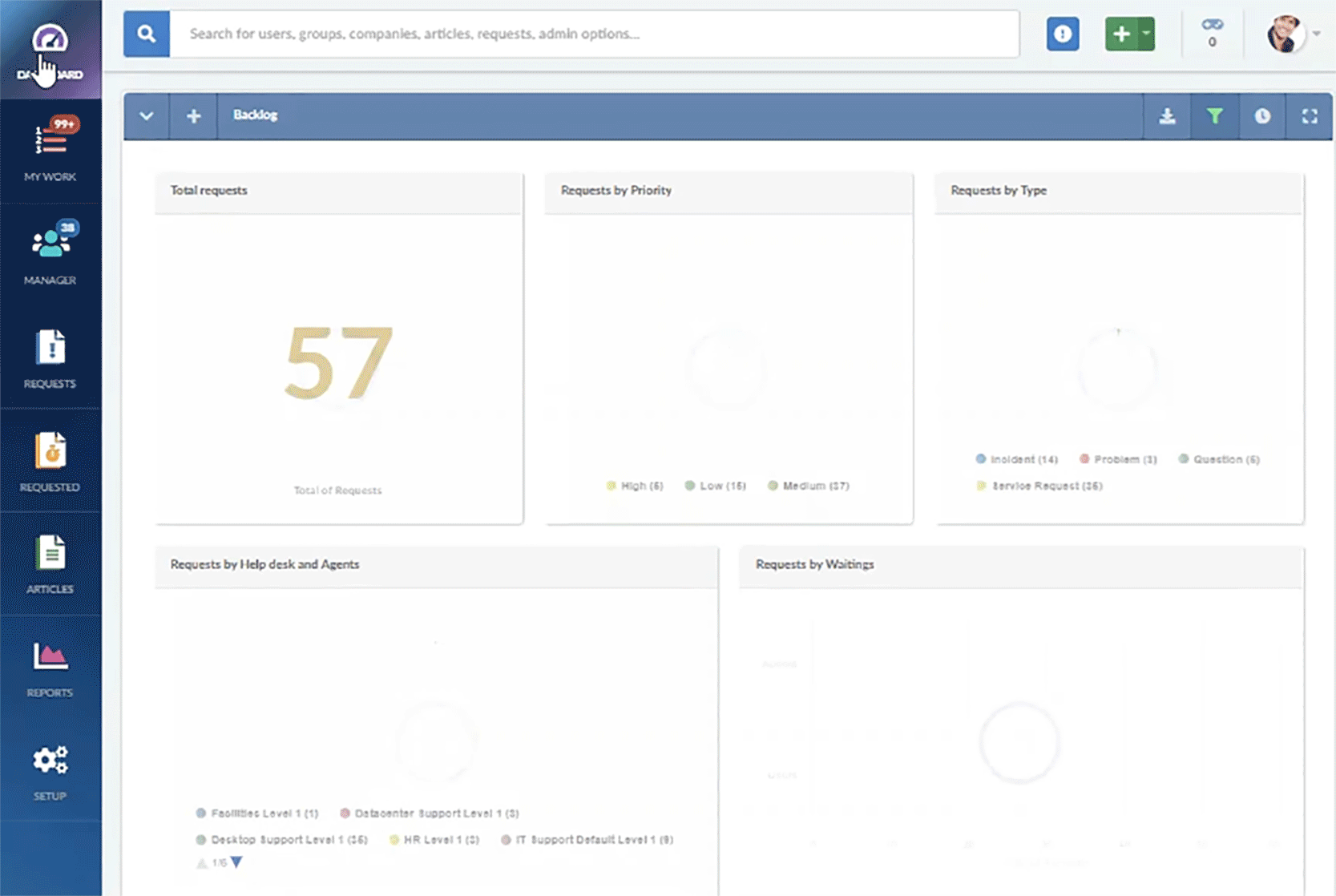 10. Experience rapid ROI
InvGate Service Desk delivers a fast return on investment through its efficient implementation process. Within weeks, not months, you can start reaping the benefits of this powerful ITSM solution. Additionally, the regular feature updates keep you at the forefront of technology, all at no extra cost.
11. ITIL-ready
InvGate Service Desk has earned the esteemed ITIL4 certification from PINK Elephant, showcasing its commitment to excellence in ITSM. Whether you're embarking on the ITIL journey or managing intricate operations, InvGate Service Desk is equipped to meet your needs, providing a user-friendly and feature-rich experience.
Next steps
Selecting the appropriate ITSM solution is a crucial choice that can substantially influence your organization's IT service delivery and overall achievements. By dedicating sufficient time to assess your options thoroughly, you will be on the correct path to implementing a solution that aligns best with your requirements.
To discover how InvGate Service Desk can improve your business operations, schedule a meeting with our experts or explore our live demo.