Comparing service desk software is not simple. However, it's an absolute must before you acquire or switch help desk solutions. But that task is about to become lighter since we have an ITSM tool comparison in the making, and today it's ManageEngine vs. ServiceNow day!
We've been helping businesses of all sizes across the globe to implement
for years now, which has provided us with a pretty good understanding of business needs and pain points.
In this article, you'll find:
An overview of each tool
Their performance, based on a list of service desk must-have features.
Keep reading to see how ManageEngine, ServiceNow, and InvGate Service Desk hold up against each other.
What is ManageEngine?
ManageEngine is the IT management division of Zoho Corporation. It specializes in enterprise IT management software, including networks, servers, applications, service desk, Active Directory, security, desktops, and mobile devices.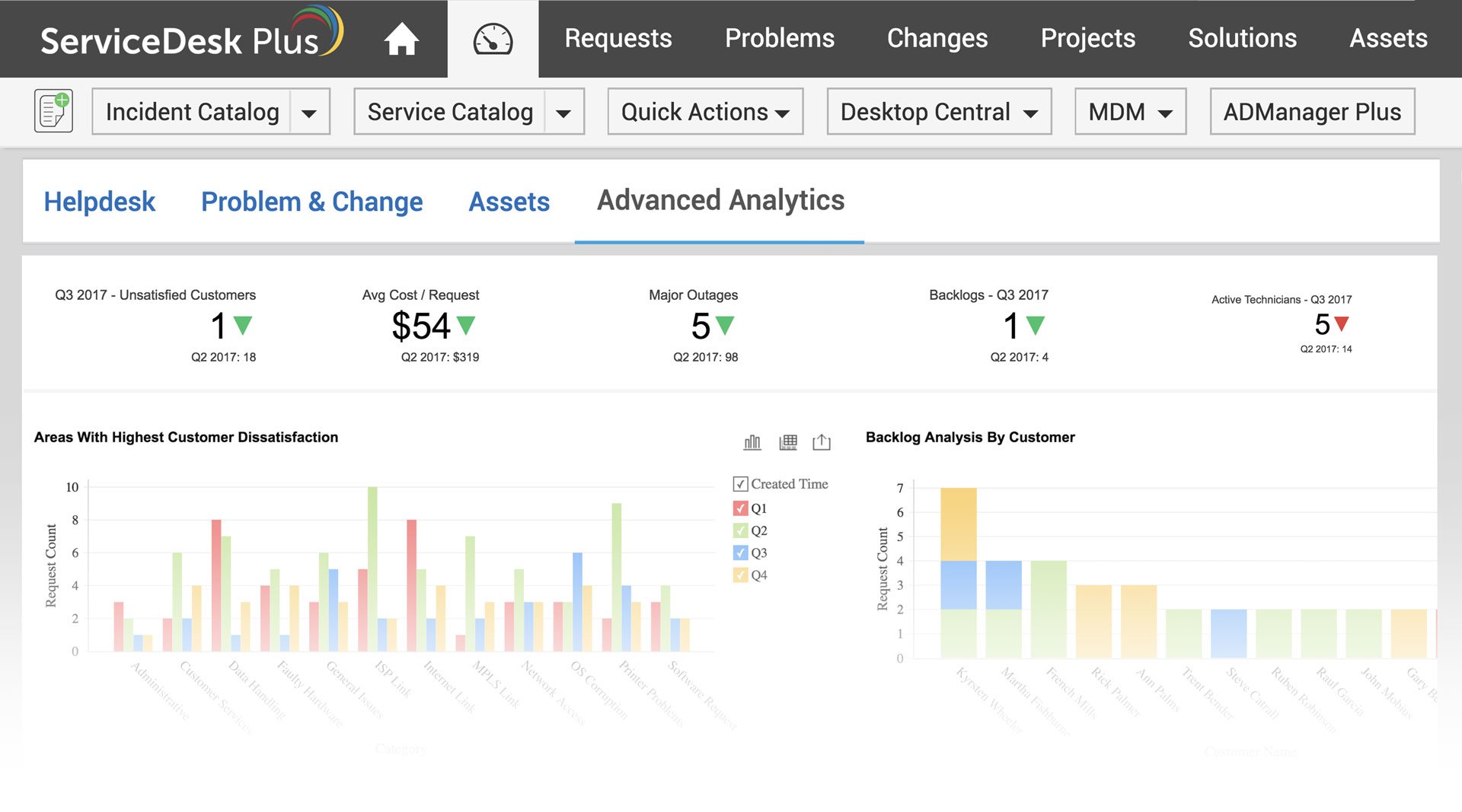 Their help desk solution, ServiceDesk Plus, is a cloud-based and on-premise tool used mainly by small to medium businesses. Among its most relevant features are:
What is ServiceNow?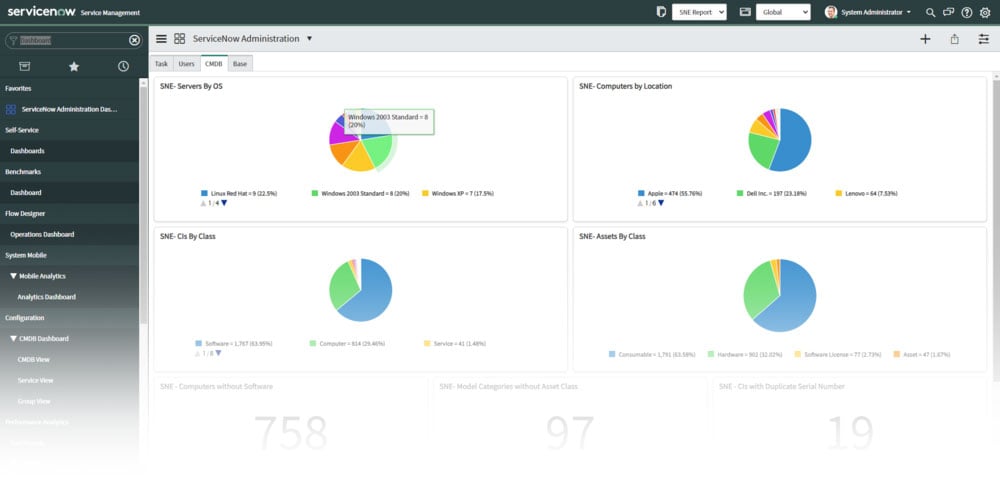 ServiceNow, on the other hand, is a cloud computing platform focusing on digital workflows for enterprise operations. Their help desk solution is called ServiceNow Customer Service Management (CSM) and includes features such as:
Ticket management
Customer service portal
Knowledge base
ITIL processes
Integrations with Salesforce, Zendesk, and more.
And what about InvGate Service Desk?

provides all the features and benefits you would expect from an ITSM tool, combined with a user-friendly interface and both cloud and on-premise implementation.

Its features include:
ManageEngine vs. ServiceNow vs. InvGate Service Desk: differences and similarities
Now that we know a bit more about the platforms, it's time to put them to the test.
1. User experience
All three help desk solutions have a clean and intuitive interface that makes it easy for agents to find their way around the system. However, ManageEngine's ServiceDesk Plus might initially be a bit overwhelming due to the number of features and options available.
According to G2, InvGate Service Desk shines in this department thanks to its simple and straightforward interface that is still packed with features.
ServiceNow's CSM also has a user-friendly interface, but it lacks some important features that are included in both InvGate Service Desk and ManageEngine's solution.
2. Ticket management
Ticket management is one of the most important aspects of any help desk solution, and all three platforms offer a variety of features in this area.
The three solutions offer drag-and-drop ticket assignment features, as well as escalation. However, it's important to notice that ServiceNow lacks some important features offered by ManageEngine and InvGate Service Desk, such as SLA management and Knowledge Base integration.
ManageEngine's ServiceDesk Plus also includes features such as ticket categorization and assignment; while InvGate Service Desk's ticket management system has all the features offered by the other two platforms, as well as some additional ones, such as automatic ticket assignment rules and workflow automation.
3. Knowledge management
ServiceNow's CSM offers a basic knowledge management system that allows agents to search for articles and create new ones. However, the platform lacks some essential features such as article categorization and approval workflow.
ManageEngine's ServiceDesk Plus includes all the features offered by ServiceNow, as well as article categorization, approval workflow, and more.
InvGate Service Desk's knowledge management system includes all the features offered by the other two platforms, plus additional ones such as multilingual support and integration with the ticketing system.
4. Statistics and metrics
As it should be with any help desk solution, ManageEngine, ServiceNow, and InvGate Service Desk provide you with a variety of reports and statistics that help you keep track of the performance of your team. Plus, they let you customize your reports to some extent.
5. ITIL alignment
Regarding ITIL alignment, all three platforms have certified practices - according to PinkVerify.
ServiceNow is the one with the highest amount of ITIL-aligned practices (19), then InvGate Service Desk with seven, and lastly, ManageEngine has four.
They all share Change Enablement, and Incident, Problem, and Service Request Management. InvGate Service Desk also has Knowledge and Infrastructure and Platform Management, and Service Desk. And ServiceNow adds to these: Availability, Capacity and Performance, Deployment, Monitoring and Event, Portfolio, Project, Release, Service Catalog, Service Configuration, Service Continuity, Service Level, and IT Asset Management.
6. Pricing
ManageEngine's ServiceDesk Plus offers three different plans: Standard, Professional, and Enterprise. Prices for the Standard option start at $10/technician/month for the cloud service and $120/year/technician for the on-premise service. It offers a free trial — though its duration is not clear.
ServiceNow offers the same plans as ManageEngine and a free trial, but doesn't disclose its pricing policy.
And lastly, InvGate Service Desk offers on-premise and cloud solutions, has a
and an
for you to explore at your own pace, and can request a quote anytime!
7. Implementation and support
As for implementation and support, according to Capterra, InvGate Service Desk takes the lead. We have an easy-to-use and easy-to-implement interface and 24/7 customer support in English and Spanish.
Meanwhile, ServiceNow's CSM also has a user-friendly interface and offers 24/365 customer support, with a help desk number and email address readily available on its website.
Lastly, ManageEngine's ServiceDesk Plus is also quite intuitive, and its customer support is available Monday through Friday, from 09:00 AM to 05:00 PM EST.
8. Cost of Ownership
The Cost of Ownership is essential when choosing service desk software, and in this department, you need to consider not only the pricing but also the extra charges. Both InvGate Service Desk and ManageEngine offer on-premise and cloud help desks.
However, InvGate includes all its features in its pricing, as opposed to ServiceNow and ManageEngine, where you might have to pay for some features.
9. Integration with asset management
ServiceNow, ManageEngine, and InvGate Service Desk offer integration with asset management tools. ManageEngine offers AssetExplorer to manage all your company's assets and has three different plans to acquire it: Free, Trial (30 days), and Professional.
On the other hand, InvGate Service Desk integrates seamlessly with
, our IT asset management tool, to create a map of software, hardware, licenses, and contracts. And as for ServiceNow, they also offer an asset management solution to track devices and software.
10. Other integrations
The last item on the list is integrations. ServiceNow integrates with a variety of tools, including remote desktop support products, authentication software, and productivity tools. ManageEngine offers native integrations with other ManageEngine apps to manage networks, applications, desktops, and advanced service desk analytics. And InvGate Service Desk will also give you native integrations with tools such as Microsoft Teams and Zapier, plus a free API with which you can connect all the software already part of your business.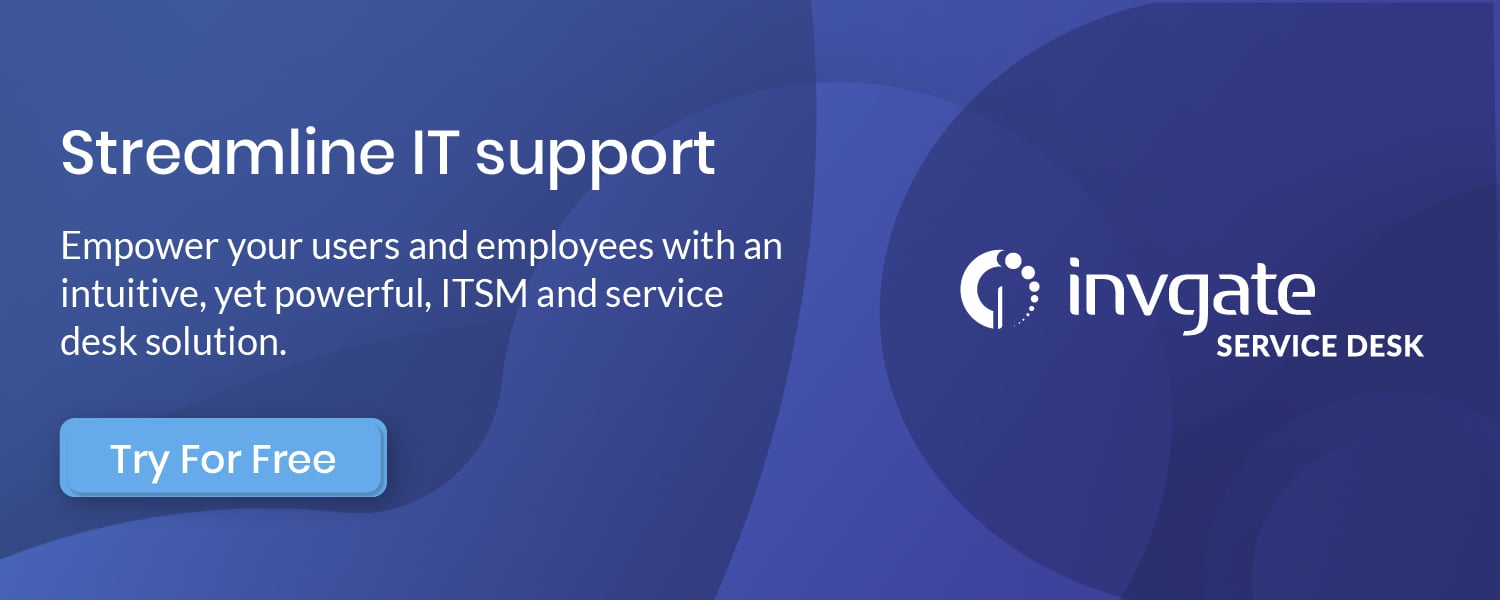 The verdict: Which one is best?
This is as far as we go with our comparison among ManageEngine vs. ServiceNow vs. InvGate Service Desk. Now that you have a summary of the main features of each help desk solution, it's time to decide for yourself which one adapts best to your needs.
ServiceNow offers a cloud-based ITSM tool focused on automating operations. It follows ITIL guidelines and focuses on helping businesses improve their organization of tasks, activities, and processes.
ManageEngine's flexible plans are one of its highlights, since it can better adapt to small-size companies. Plus, it's also ITIL-aligned.
And lastly,
's versatility and ease of use and implementation are perfect to streamline all your IT processes, and expand the platform to other areas of your company. We have seven ITIL practices verified and superb customer support in two languages.
Now, it's your turn to create your pros and cons list and choose the right help desk software for your company!