According to a recent study by BetterCloud, businesses today use an average of 80 IT-sanctioned SaaS apps for their daily operations. As the technology landscape keeps growing, integration between them is paramount.

With this in mind, automating the interconnection between apps with programmable tasks triggered by events becomes an excellent way to exponentially increase its value. Even though native integrations are great, software developers can only do so many. APIs, on the other hand, are amazing, but you need someone on your team that knows how to handle the code of those applications. That's where Zapier integrations come in.
We know that integrations can be a deal breaker, and that's why InvGate Service Desk offers the three options: pre-built integrations like Microsoft Teams, a free API to connect the apps of your choice, and Zapier integrations.
Having Zapier and a free API on your side has an extra benefit because you can take InvGate Service Desk free API, integrate it into Zapier, and use it with thousands of other software!
But since we don't want you to get dizzy with all the options out there, we listed five absolute must-have zaps to boost your service desk experience. If you want to find out which are our favorite automations and why you should integrate InvGate Service Desk with Zappier, just keep reading!
Why should you use Zapier?
First things first. Zapier works as a bridge between two or more apps. It helps you to make integrations and automate an action between those apps – also known as zaps.
In case you were wondering how it works, it's actually really simple:
Choose a trigger from the first app (it's usually an action or an event).
And then, configure the action that's triggered in the second app.
You can add conditionals and rules to them so they can be as specific as you want. And the best part of it is that you don't need any coding knowledge to make a zap!
5 Zapier integrations to boost the value of your Service Desk
1. Notify on Slack when a new request is generated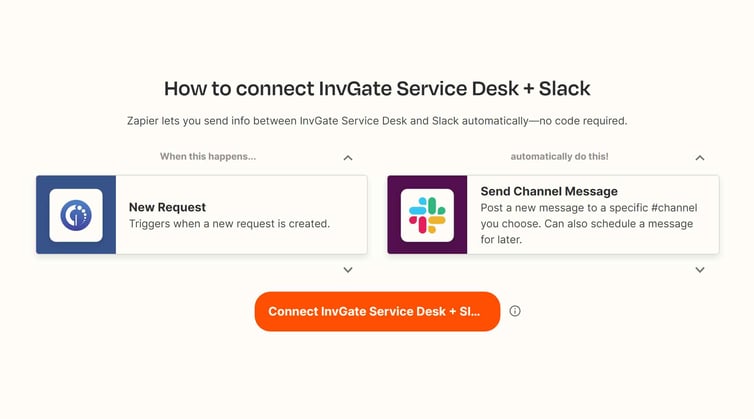 If you want to have an outside register of requests, or you're used to chatting on a collaboration platform like Slack, this will be great for your team.
To integrate this, all you need to do is choose your preferred channel, so that your team can see all the new requests in there
2. Page agents for urgent requests with PagerDuty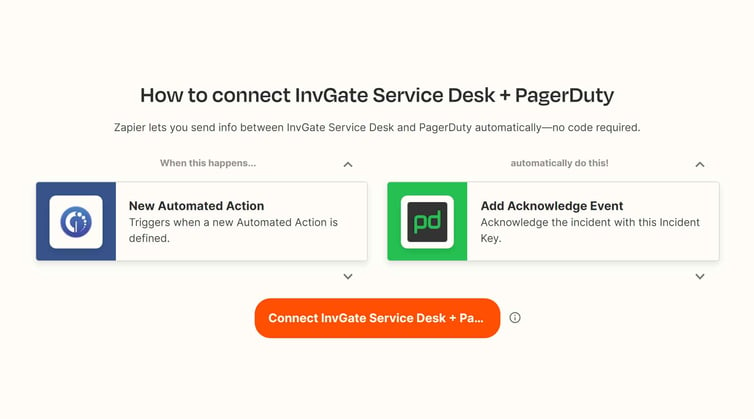 Urgent requests are one of the support team's nightmares since they require someone to be alert every moment of every day just in case they occur. However, if you integrate InvGate Service Desk with PagerDuty, that need gets easily solved by automation. You just have to indicate that, when a new request is created, the agent gets a page on their phone.
3. Create a new Service Desk user when someone's added to a Microsoft Team's team

This automation allows you to create a new service desk user as soon as someone is added to a Microsoft Teams channel. With this, non-agents (like HR personnel) impact the service desk without accessing the system, saving time during the onboarding process.
4. Document your change records in Google Calendar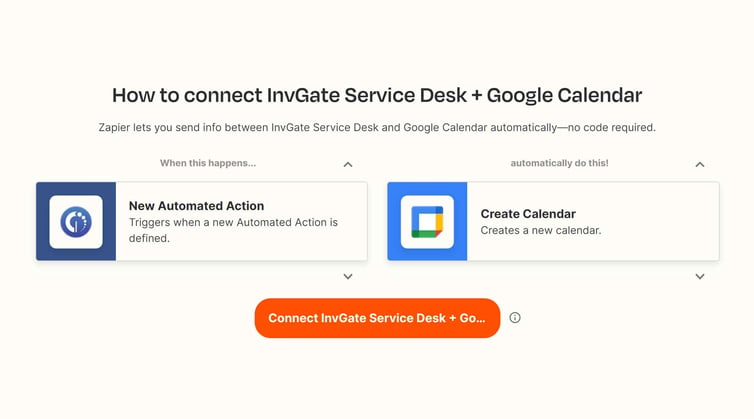 If you want to have a historical view of what's changed and on which date – or if you want to schedule future changes – this is the zap for you. By integrating InvGate Service Desk with your Google Calendar, you can automatically create events on a defined calendar where a certain action is automated – like a change in an app.
5. Create a new request via Facebook Messenger inbox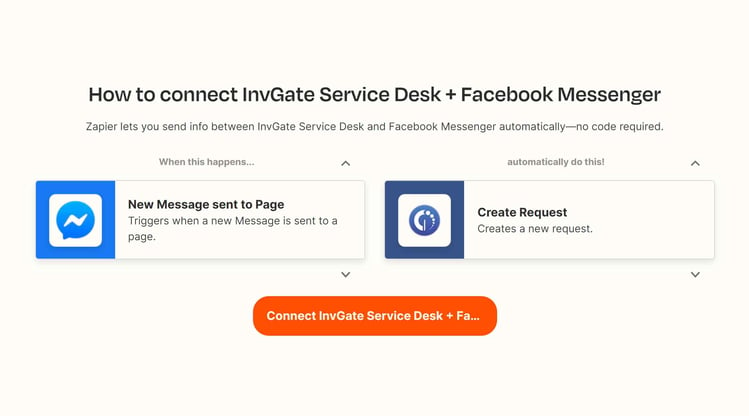 There are some situations where clients can't use the self-service portal, or they find it more practical to reach your team by other means like Facebook Messenger. In this case, you can automate new messages sent to your Facebook Page to become new requests in InvGate Service Desk.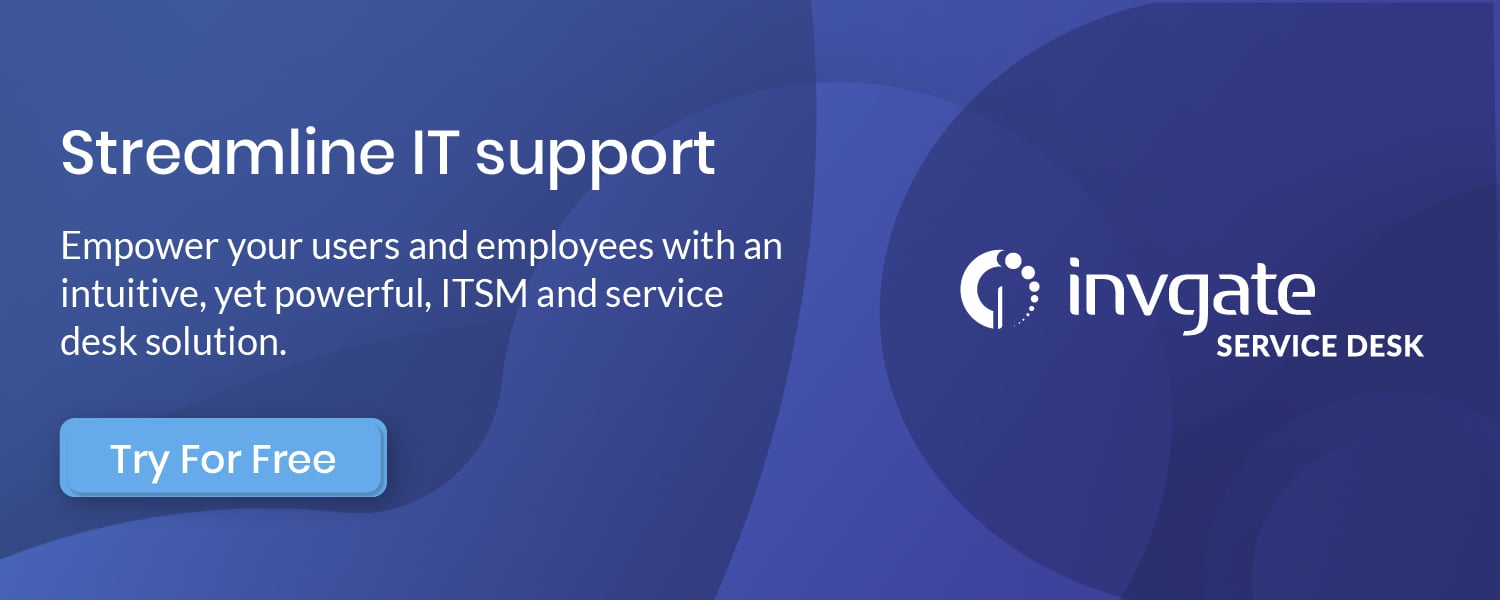 Bottom line
Zapier integrations can save you and your team a lot of time while decreasing your margin of error. By integrating your company's apps into InvGate Service Desk, you'll be:
Making processes more efficient by connecting different platforms.
Decreasing the risk of missing tickets, failing your

SLAs

, and more.
Increasing tool adoption by allowing people to keep working with the apps they are already familiarized with.
Plus, if you keep in mind that these are just five examples of possible automations for your service desk, you'll see that the potential is infinite. And don't forget that the triggers and actions we discussed can also be done with similar apps besides the ones we mentioned.
There are thousands of combinations you can benefit from, just by having our free API and a Zapier account.
For that reason, integrating InvGate Service Desk with Zapier is a no-brainer for us. It's ultimately about making your team's life easier, and their work almost flawless.
Can you imagine the impact all these automations can have on your organization? Why don't you try it for yourself? Just ask for a 30-day free trial, and get ready to improve your service desk productivity.