It's common for IT support teams to have one subject matter expert, that one agent that can solve any problem without help or setback. But no matter how tempting it might be to solely trust in their expertise, the "knowledge hero" is not the smartest strategy for your team, and you can offset it quite easily by having an internal knowledge base.
The tricky part of relying on subject matter experts is that you don't have a plan B for when they're unavailable. Once that valuable agent is gone, things get slower – if not paralyzed. Other agents try to fill up the blanks to solve requests, but they lack the expertise and knowledge to do so (at least within your SLAs).
But with a proper Knowledge Management strategy in place, your team doesn't have to suffer if a member is on leave (or quits). We already said enough about external knowledge bases and their perks to decrease the number of tickets. But how about implementing an internal knowledge for help desk agents? As the name implies, it's nothing more than a database of articles only visible to the IT team, to help them solve request or situation.
Want to know more? Keep reading to discover how your IT department can benefit from it, and how to build it with InvGate Service Desk.
What is an internal knowledge base?
As we just said, a knowledge base is basically a database packed with information – usually in the form of knowledge base articles – oriented to answer questions, provide instructions, or offer tips and tricks. It can include images, videos, or any kind of file that will help the reader solve an issue on their own – and thus are an essential part of self-service portals.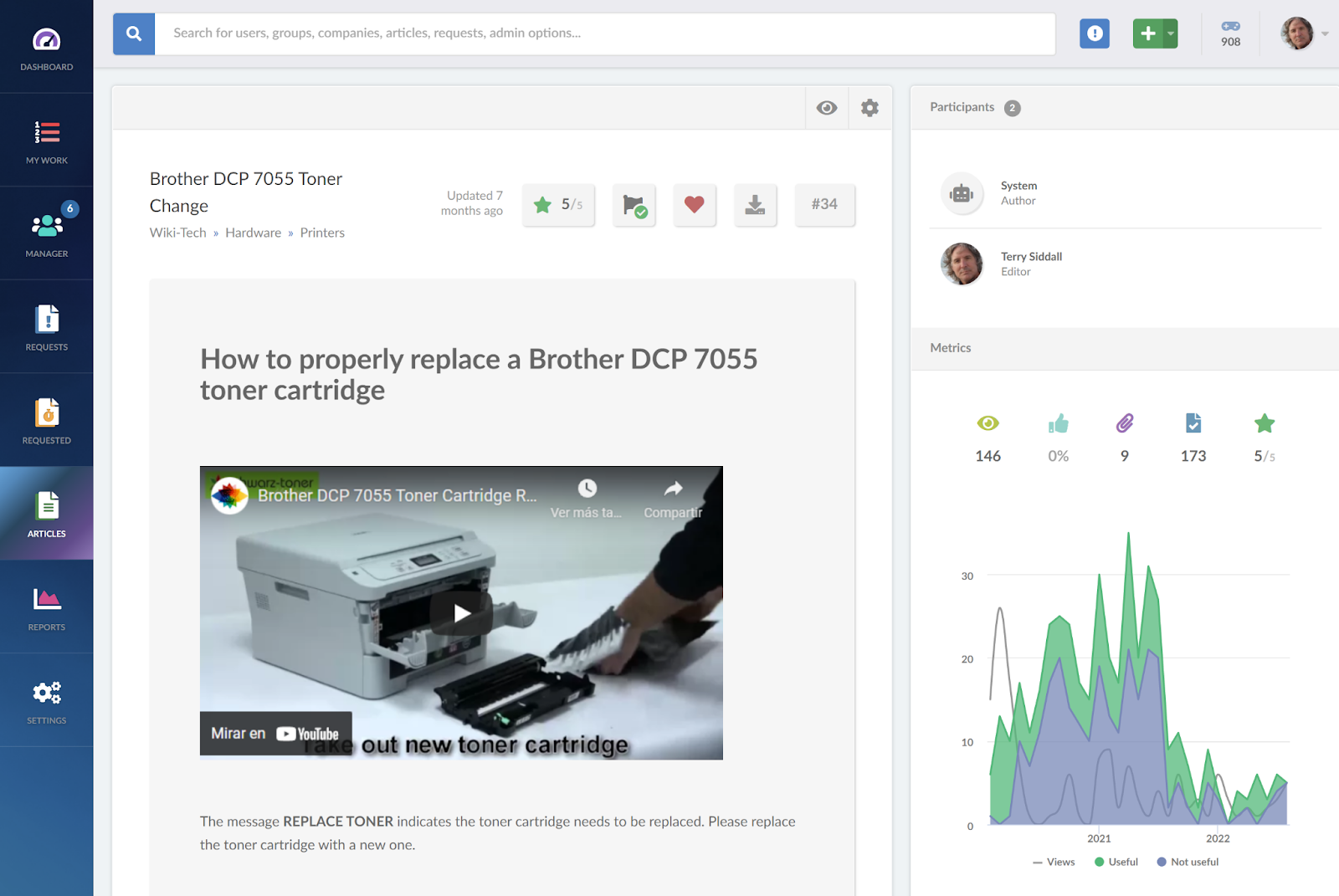 Until now, this is mostly oriented to the end-users (or employees outside the IT department). However, an internal help desk knowledge base is only available to the IT support team to help them solve requests.
Though you might be wondering if it's worth the effort, let us tell you that there are several advantages of using an internal knowledge base:
Consistency - It assures that tasks are resolved in the same way and according to the company's best practices, regardless of the assigned agent.


Time-saving - By centralizing the information, support agents don't need to waste time figuring out how to solve requests; they know where to look for the help they need, and they don't hesitate because the solution is already validated by the service desk manager, which l helps them accomplish their SLAs.


Availability - There's no hindrance to getting the information; it's available to every agent, anywhere, at any time, and it doesn't depend on the memory or goodwill of another team member.


Training - An internal knowledge base can be handy while training juniors or new agents, as well as training all agents on new processes or best practices.
How to create an internal knowledge base with InvGate Service Desk
Building an internal knowledge base on InvGate Service Desk is a piece of cake. All you really have to do is set the visibility configuration to "Private" when creating articles. And that's it! By doing so, only your agents, managers, and administrators will be able to see them.
And the rest of the process is just as you can see in this video.
Thanks to our intuitive UX, you can have your knowledge articles published in just a few clicks. But before you start with your internal database, we recommend you build the internal knowledge base structure, creating the categories that best fit your purposes. This way, you're making things easier for your agents and you as a manager: they'll quickly find what they're looking for, and you can spot at a glance what contents are missing.
Lastly, keep in mind that you can go to Settings >> Catalog to link the internal knowledge base article to a specific request. From there, you'll be able to edit the chosen request or create a new one. And if you go to the Knowledge Base tab, you can set the categories and featured articles, and whether you prefer to show an article by default.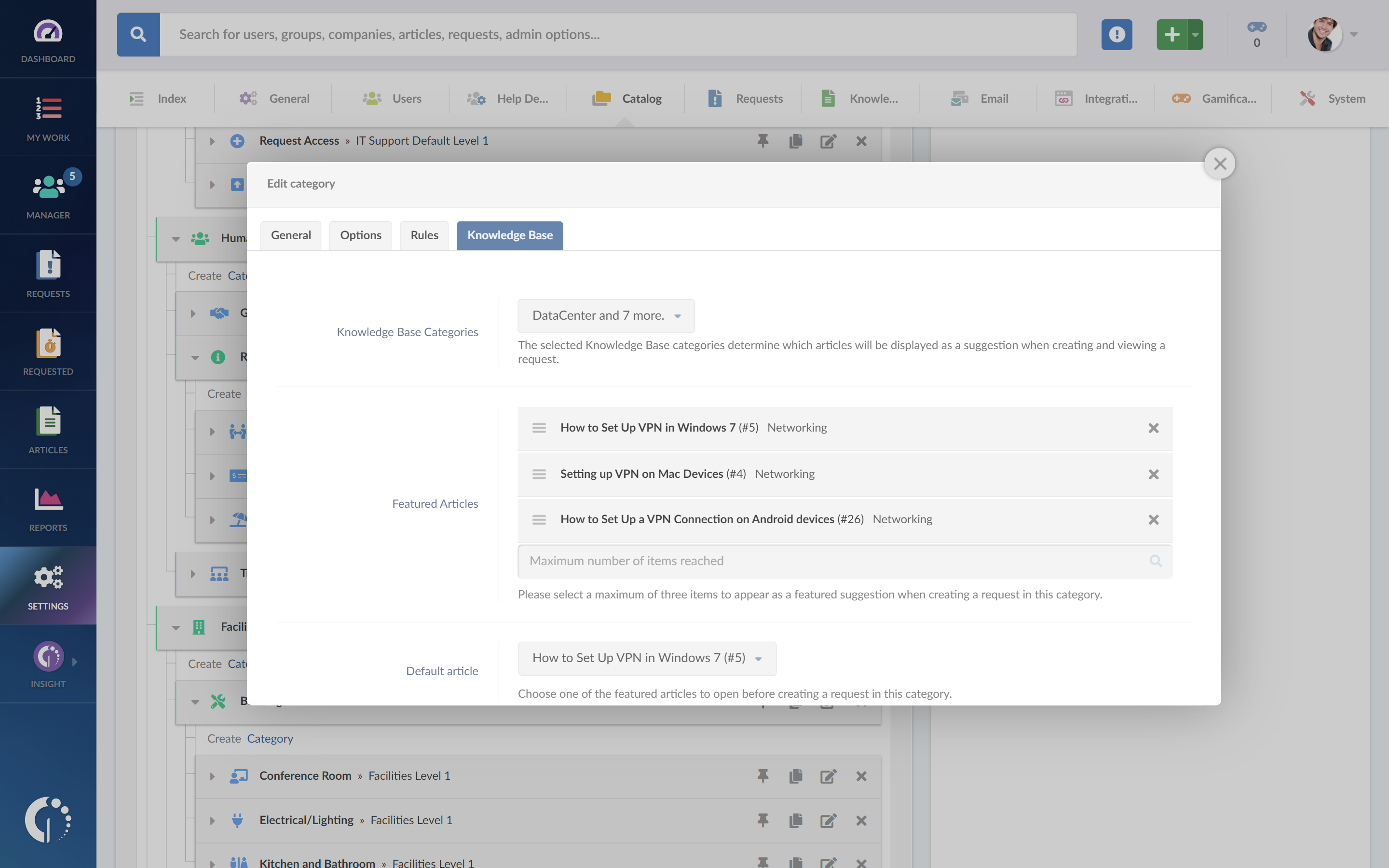 Don't forget that, if you need some advice with the writing, you can check out these tips from marketers to write compelling articles (they write for a living, after all!).
Key takeaways
An internal help desk knowledge base is a smart way to improve your IT agents' efficiency and equally distribute knowledge in your team. With it, you'll get rid of the potential bottlenecks of having one subject matter expert, and instead provide:
A trustworthy source of information to help your agents solve requests in time and according to best practices.
A decentralized resource that people can access equally, from anywhere and at any time.
We know that creating the articles might seem like a drag, but it's definitely worth your time. And with InvGate Service Desk, all you need to focus on is the content. Once that's settled, you can have it published in a matter of seconds!
Request a 30-day free trial today, try our knowledge base software for yourself now, and get ready to make the difference on your (and your team's) day-to-day job.