Even though recent events pushed things forward, schools were already well on their path to digitalization before 2020. While many schools had an IT infrastructure for occasional presentations and basic school management, the pandemic demanded a rapid scale-up of the school infrastructure — enters help desk software for schools.
But before we jump right into it, it's relevant to notice that, even before Covid-19, global investments into edtech were seeing rapid increases. In fact, the combined investments in the EdTech sector from 2018 and 2019 outstripped the total investments between 1998 and 2017.
And the entry of tech into education is only expected to grow.
However, sudden shifts, while presenting many benefits, also pose many challenges for educational institutions. For that reason, a help desk solution can help educational institutions keep up with these challenges and ensure smooth delivery of IT services.
But how can that be achieved? And what should educational institutions look for when searching for a help desk for schools?
Let's have a look!
4 key elements of a help desk for your school
The help desk software market can be a bit overwhelming. There are many options out there, and a lot of information to digest. So, let's start with the basics: what features schools should search for when picking a help desk?
Overall, you might want your tool to fulfill the following items:
The help desk should support the school's digital transformation.
It should be designed with them in mind.
It should fit their resources and budget.
It should fit a diverse user base with varying degrees of IT expertise.
Let's take a deeper look at each item.
1. It should support the school's digital transformation, including aging infrastructure
Unlike financial institutions or IT companies, IT departments in schools often have to work with aging hardware. And generally, this hardware tends to have legacy operating systems and firmware. Often, the software doesn't have the latest updates or software patches, leaving them vulnerable to security breaches.
Worse yet, some schools may be stuck in old, ineffective methods of managing IT requests.
For example, up until the introduction of InvGate Service Desk, Universidad Austral (a privately managed University in Argentina) was using phone calls and emails to manage their tickets. With the smart implementation of a service desk tool, they were able to foster a cultural transformation towards a digital, agile, and ITIL-aligned work model, leading to savings and increased productivity.
At the time of writing Universidad Austral help desk, included 49 agents, and managed more that 1500 assets.
Read more: How Universidad Austral completed its digital transformation with InvGate Service Desk
But it goes beyond the hardware and software. Networking may also be an issue. Consider the fact that many schools have thick concrete walls and often span multiple city blocks, creating issues with internet access. Some schools may opt to not install cell repeaters to keep control of student access, but this harms teachers who may need fast, easy internet access for educational content.
These infrastructure problems trickle down to the support and service teams to try to find workarounds and scrambling to manage restricted content and sites.
2. It should be designed with educational institutions in mind
Be it a service desk solution, a knowledge base, or an asset management solution, most of the systems available in the market were simply not designed for schools. Even though some vendors provide IT solutions for schools, they are often reconfigured versions initially developed for IT companies or large corporations.
Most of these tools are not flexible enough to handle the unique needs of schools. For instance, consider the case of Harmony Public School in Texas. Their schools are spread out all over Texas. This meant that their help desk solution has to be able to route service requests based on location to deliver services efficiently. They managed to do that with InvGate Service Desk.
Read more: How Harmony Public Schools Leveraged InvGate's Customizability to Improve Customer Experience
The situation is true for many school systems all over the world, creating asset management challenges for the IT department. This can especially be seen when their campus is large and their hardware is spread in different areas of the campus buildings.
Because of this, school IT departments often end up using a solution that doesn't solve all of their problems.
3. It fits your school resources and budget
IT departments of most schools operate on a shoestring budget. They have just enough to repair devices, do some software asset management, and do other maintenance activities. Cutting-edge tech is hardly a priority for educational institutions — meaning that IT departments can rarely perform major updates or a complete overhaul of the systems.
This further complicates the lack of IT solutions made for schools. When a corporation or a tech company can't find an IT solution perfect for them, they build it on their own. But IT departments in schools simply can't do that.
Often, this results in the problem of overworked teachers. Many of the these tasks unfortunately fall on teachers' shoulders, but of course their day is filled with other pressing matters.
Read more: 8 Must-have Features of Asset Management Systems Used in Education
4. It considers a diverse use base with varying degrees of IT expertise
IT users in a school come from diverse demographics and include children, teachers, and parents. While some of them may have advanced computing knowledge, it's safe to assume that most of the users will have little to no IT training. So, unless highly intuitive and easy to use, any new changes to the systems may die out fairly quickly, be it a new service desk solution or a student database.
If the IT department cannot showcase reasonable adoption rates or efficient resource utilization, the school management may not be interested in investing more in good tech, which creates a cycle of tech inefficiency. So, it's crucial for educational institutions to pick a user-friendly help desk that generates an easy adoption.
Building a help desk for your school: 4 key goals
Here are four key goals to consider when planning to acquire ahelp desk software for your school schools.
1. Improve and streamline the services of the IT department
With a service desk, teachers, students, and the school administration can easily request IT services. The service desk can assign requests efficiently to available agents, track them, and ensure that the queries are solved as soon as possible.
Without an organized service desk, users may even remain unaware of the services offered by the IT department and struggle to avail themselves. And once requested, they'll have to keep calling or emailing the service desk to keep track of their request.
This was the case for Chesapeake Bay Academy, a non-profit school for kids with learning differences. They didn't have a proper ticket management system, and users were reliant on phone calls and emails to contact the IT department. However, once they set up a help desk designed for schools, they saw significant improvement in the performance of their IT department.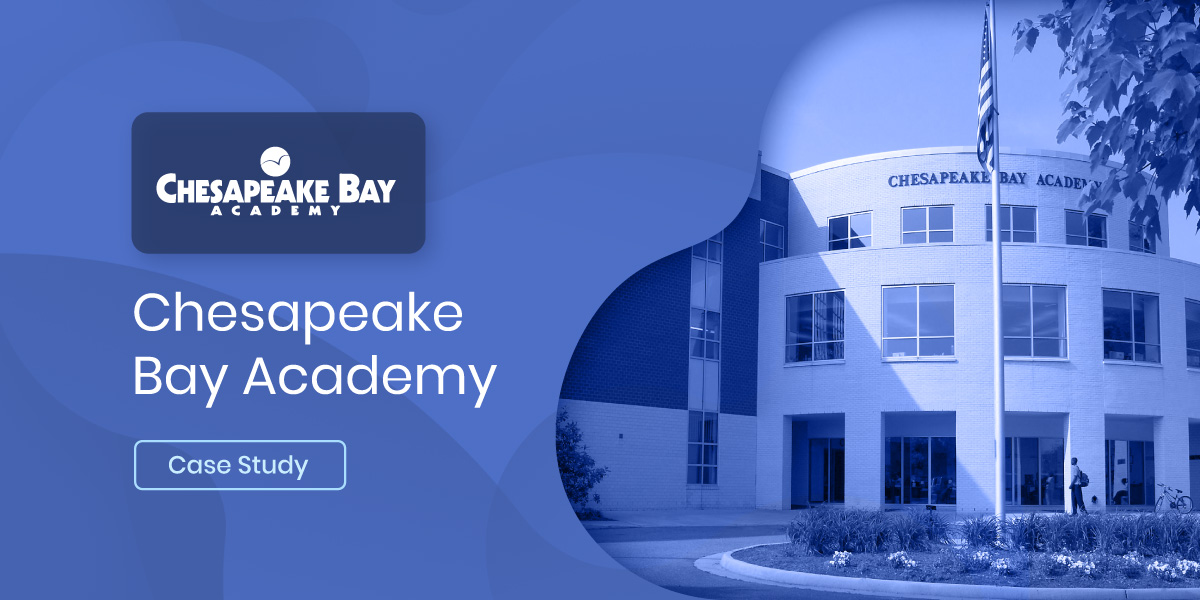 2. Improve adoption rates
As we discussed earlier, this is a common problem faced by IT in schools. Lack of proper training and support creates a poor experience for the end-user, and they revert back to their old systems. A well-organized service desk can change this and offer a better user experience. When users get their queries answered and their issues resolved quickly, they are more likely to adopt new solutions and systems.
A service desk can also monitor the usage patterns of the new system through an asset management system like InvGate Insight. IT managers can leverage this data to incentivize and motivate users. They can also track the major issues users are facing and make sure it gets resolved quickly.
3. Gain better insights
By analyzing the performance of the service desk, an IT manager can gain actionable insights regarding the IT needs of a school. For example, if the help desk is getting repeated requests about Wi-Fi connectivity, they may need better routers. Or if the attendance management is going down repeatedly, they may need to look into a better solution.
A service desk software for the school can make this easier for the IT manager. Most modern service desk solutions have analytics that can provide accurate metrics about the performance of service agents, the nature of queries, the adoption rates of different software, and more.
The data can also help better plan the IT budget based on the actual requirements of the school, saving the institution a lot of money on unnecessary resources.
4. Better asset management
Schools usually have a diverse range of assets. Besides the usual monitors, keyboards, etc., they also have optical mark reader machines, printers, projectors, and a lot more. And the IT department may find it difficult to keep track of these devices. Teachers may also use a range of software applications for grading, teaching, keeping track of attendance, and more.
An effective service desk can ensure that these assets are tracked and maintained properly. It will ensure that these devices and software will be available as needed with the least downtime.
6 must-have features for a service desk solution in a school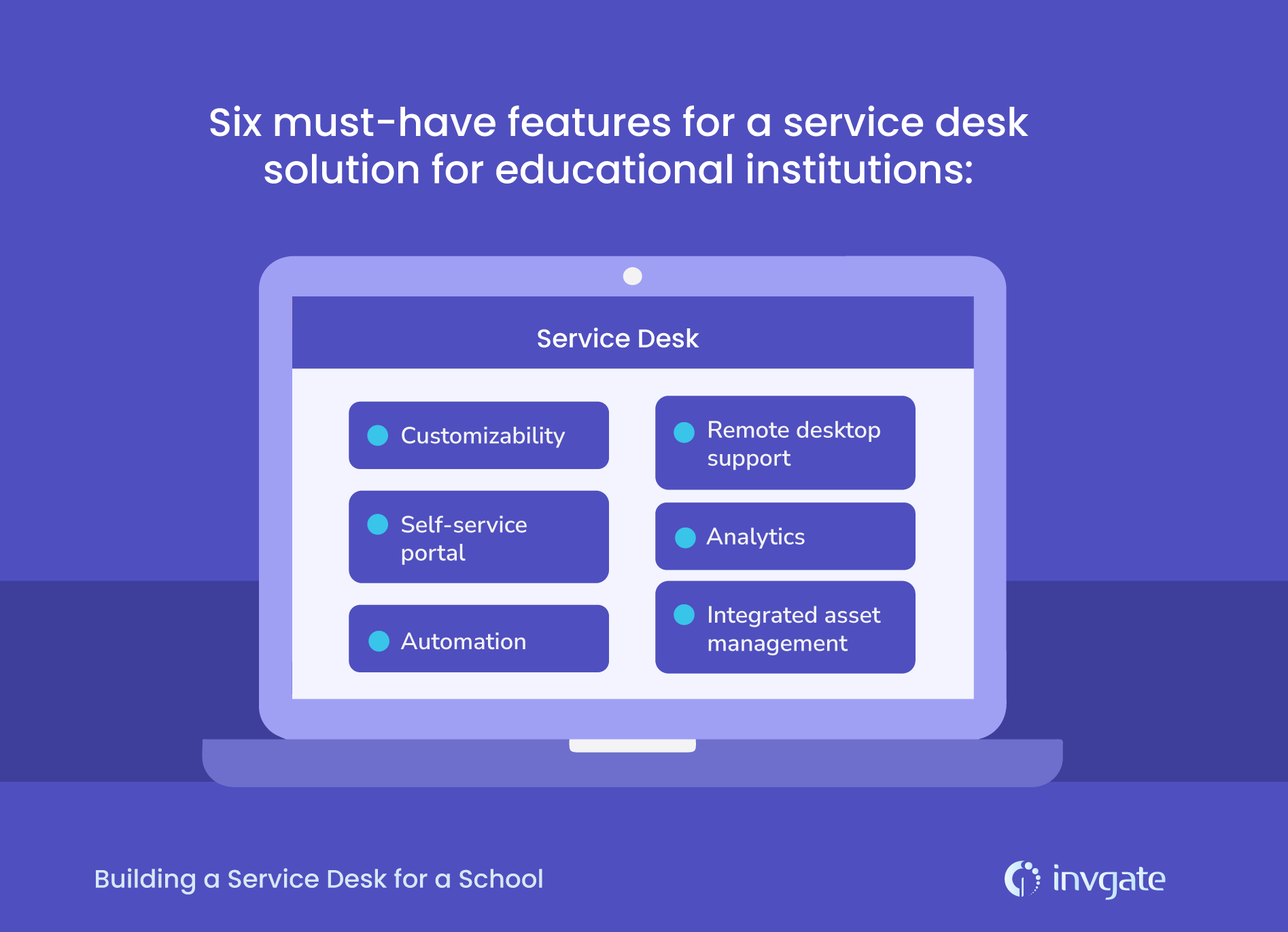 Here are some of the top features that you should look for in a service desk solution for a school.
1. Modular and customizable
We already mentioned that is essential to find help desk software made with the educational institutions' needs in mind. The reason behind this is that the tool has to be flexible enough to fit the needs of different institutions. Otherwise, if school IT admins don't find good enough software, they'll end up compromising on some features, affecting the implementation, acceptance, and usage of the tool.
With a modular solution, the IT department can create a help desk best suited for them without spending a lot of resources building their own service desk software. They can pick just the features they want, and if needed they can add more at a later stage. And this has another advantage: the school doesn't have to spend its budget on features they don't need.
2. Self-service portal
Due to the untrained nature and simply the size of the user group, odds are that the service desk will be fielding a large number of requests at least in the beginning. While the numbers will stabilize eventually, there may still be occasional increases in user requests.
A self-service portal will help users find the answers they need without directly contacting a service agent. Furthermore, it can help service desk agents prioritize issues that may need their direct immediate assistance. A self-service portal will improve resource utilization in a service desk.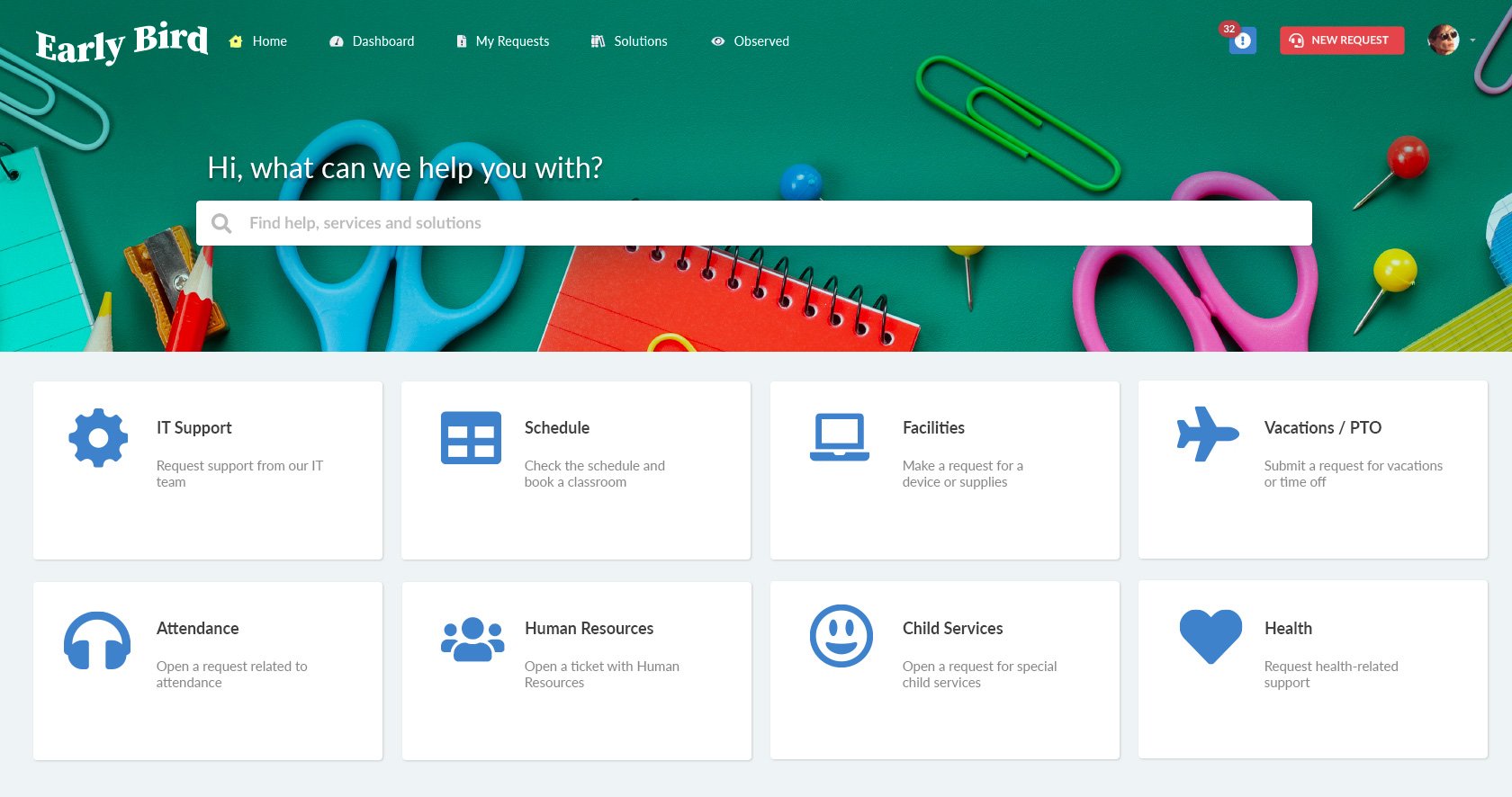 3. Remote desktop support
This is a must-have feature if your school system is spread across a large area. In such conditions, the service desk may get stretched thin if agents have to physically go to the user systems to resolve issues.
With remote desktop support, service agents can control users' systems remotely and resolve their issues. This will also help them remotely roll out software updates and security patches.
4. Automation
As with the self-service portal, automation can reduce the workload of the IT service desk. Modern service desk solutions can automate workflows, making things like routing tickets, escalating them, and sending updates a piece of cake.
Schools can even set up a chatbot connected to the service desk to help users find answers to common questions and queries. And even in the case of complex questions, it can collect all the information before passing it on to an available agent.
Besides reducing the workload of the service desk agents, automation can also maintain the standards for the service desk. It will ensure that every step is clearly followed, that users get regular status updates without extra workload to the service agents.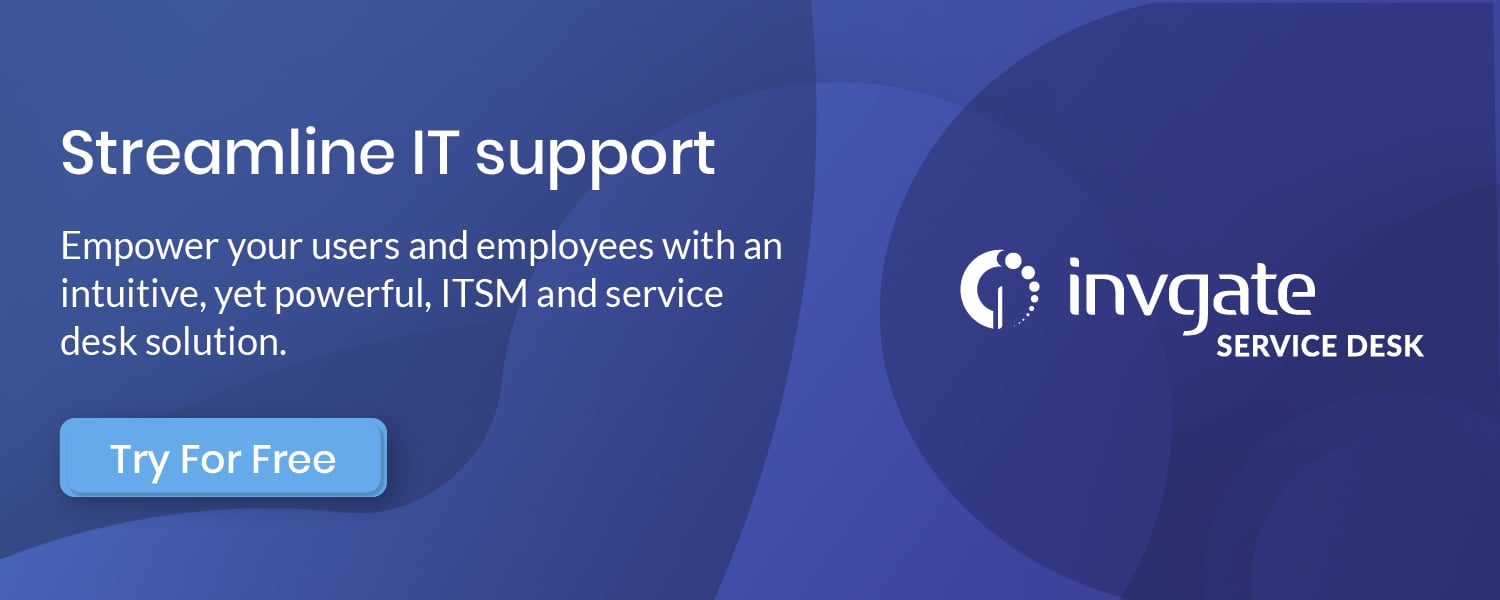 5. Analytics
Analytics is a must-have feature to manage a service desk efficiently. Even the first call resolution (FCR) rates can give insights into how the help desk can improve its services. For example, if the overall FCR rates are high, it could mean that the service agents need to deliver more clear answers to the users.
Similarly, if a large number of users have doubts about a particular process (say resetting their password), it could mean that the process has to be improved or that the users have to be trained better.
Analytics can also reveal software usage patterns which can help IT managers make better budget decisions or drive adoption rates of new systems.
6. Integrated asset management
An asset management system is a must-have, particularly when you're dealing with a large and diverse set of devices as in the case of a school IT system. Besides automated tests and software updates, asset management can help service desk agents better serve the users. When a user is facing an issue with a device or software, the agents can look up the asset's history and find a better and quicker solution.
Frequently Asked Questions
Does a school need a service desk?
Yes. Since the relationship between schools, teachers, students, and parents is rarely treated like a client-customer relationship, it may be a bit confusing to hear that a school needs a customer support desk.
But the fact is school systems are becoming more digitized than ever, and the users of these systems will face some difficulty at one point or the other. It could be as simple as being locked out of their accounts or something complex that needs the replacement of hardware.
Service desk software can provide effective solutions within the shortest time and make sure the users have a good IT experience.
What is meant by a self-service help desk?
A self-service help desk empowers users to access the services they want by themselves. For example, if a teacher wants to know how to add a new student to their software, they can just look up the procedures through the knowledge base and simply follow the steps without contacting a service desk agent. And if a user needs to request a service, they can look up the service catalog, provide the necessary information, and track its progress through the self-service portal.
The idea is for the service desk to be available 24/7 but at the same time reduce the workload for the service desk agents.
Why does a school's service desk software need an integrated asset management system?
An IT asset management system can help track the wide range of software and hardware assets used in a school. These systems can help service desk agents remotely roll out software and firmware updates to different systems, and monitor their status continuously. It can also help an educational institution reduce its spending on assets.
Is there any free help desk software for educational institutions?
While there certainly are free help desk solutions, it will be difficult to find one designed with educational institutions in mind. And free solutions designed for large corporations rarely fit the unique needs of a school.
However, if we take into account the small IT budgets that school IT managers usually have to work with, it's understandable that they may be tempted to go for a free solution. But this will certainly cause problems in the long run. Free solutions may not provide proper security updates, they may not have a robust privacy policy, and can leave you with many security issues.
So, the short answer would be: yes, there is free help desk software for educational institutions. But they're probably not worth it and will cause a lot more issues for the school in the long run.