Our integration with Microsoft Teams has reached a whole new level of proficiency. We're pleased to introduce you to the InvGate Service Desk Virtual Agent for Microsoft Teams!
It's no news that you could already expand your support communication channels by integrating your service desk instance with Teams. Now, we're adding new capabilities that leverage the possibilities Artificial Intelligence unlocks for IT Service Management to further improve the overall user experience.
Ready to take a look at our Virtual Agent? Let's do it!
What is the InvGate Service Desk Virtual Agent?
Let's start with the basics. The Virtual Agent is a feature of InvGate Service Desk capable of assisting users with their requests.
In particular, it helps customers when they want to create a ticket – either by recommending articles from the knowledge base, suggesting request categories, or creating those requests. By interacting with it, users can:
Submit issues.
See the ticket's details.
Accept or request approvals.
Receive notifications.
View comments.
Additionally, the Virtual Agent has two smart functionalities related to knowledge articles:
At InvGate, we have been investing in AI-powered features – such as Support Assist or Response Suggestions – to improve both the work of help desk agents and enhance user experience. As shown, these new capabilities come to join them. That being said, keep in mind that in order for any of them to work properly you need to have a configured OpenAI integration.
5 benefits of integrating the Virtual Agent to Microsoft Teams
If you're reading this, you probably already are enjoying the advantages of connecting Microsoft Teams with InvGate Service Desk. To summarize, it turns the messaging platform into a formal communication channel while centralizing interactions in the backend, providing you with a double benefit: improving the agents' and end-users' experience and simplifying tracking and measuring all service desk interactions in one place.
But what about now? How does the new Virtual Agent top that? These are the main benefits it brings:
Customization - You can personalize the Virtual Agent's appearance (image, logo, greeting message, and name) to match it to your organization's. Plus, you can internationalize the welcome message if you offer support in different languages!


Shortcuts - Another improvement is that your welcome message can display not only commands but also pinned categories.


Smart responses - Now, the end-user can ask questions freely, and the Virtual Agent can interpret natural language to provide an answer based on your knowledge base content.


Conversational Bot - By leveraging natural language, it provides a more human-like interaction, avoiding friction and making the communication with users smoother.


AI-powered summary generation - The Virtual Agent also has the ability to summarize the content of a knowledge base article.
How to integrate InvGate Service Desk and Microsoft Teams?
Let's get down to business! The first step is to configure the Microsoft Teams integration. Go to Settings >> Integrations >> Virtual Agent, and click on the "+" button. This will open the MS Teams configuration screen. Proceed to complete the requested information and hit "Save."
Once that's done, you need to enable the smart functionalities. If you have InvGate Service Desk version 7.57 onwards, in the same area you were before (Settings >> Integrations >> Virtual Agent), tick the "Smart responses" and "AI-powered summary generation" checkboxes to enable them.
And that's it! Now, it's time to take a look at some before and after examples to truly understand the power of this update.
What does the Microsoft Teams Virtual Agent look like?
The first and most obvious thing you'll notice is customization. Below, you can see what the Microsoft Teams integration looks like now.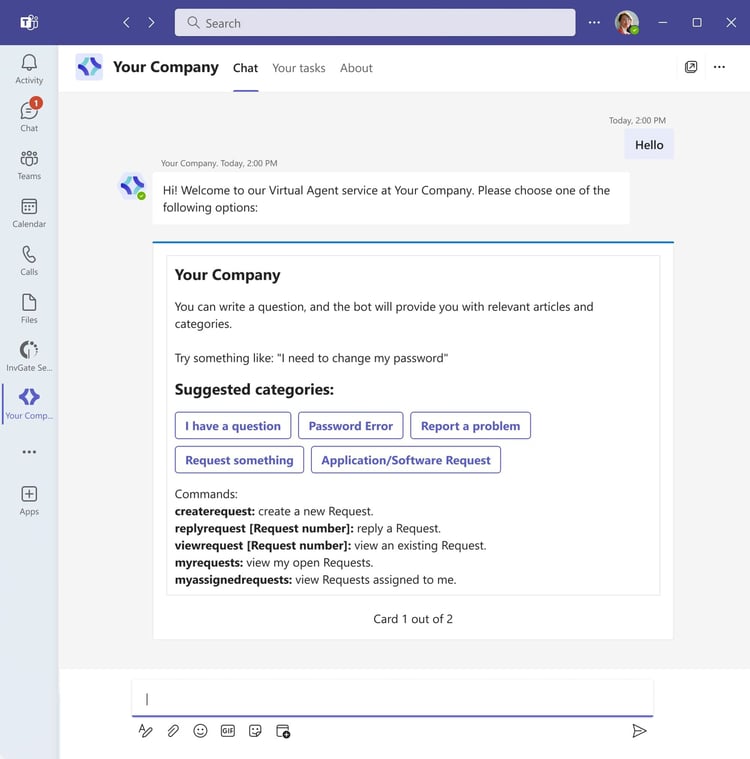 The first thing that catches our attention is that now the Microsoft Teams bot can be branded for your company. You can even give the Virtual Agent its own name – so don't miss the chance to be a little creative! In addition, you can replace the InvGate Service Desk logo for your organization's or a personalized avatar.
Next, you can see that the welcome message changed and that now you can also provide users with fixed categories when you greet them. This way, they might not need to continue their conversation because they found what they were looking for.
Pro tip: Research your most common submitted requests and visited categories and pin those to the welcome message to reduce ticket volume!
And finally, the texts featured when the Microsoft Teams bot recommends a knowledge base article are also improved, thanks to AI. Here, you can see some sliders with a before and after of what it used to look like and what it looks like now:
Key takeaways
The new InvGate Service Desk Virtual Agent for Microsoft Teams builds on AI to provide your end-users and agents alike with a better experience.
On the one hand, customers will have an improved interaction with the MS Teams bot, and with pinned categories, they might not even need to submit a ticket in the first place. On the other hand, technicians already saw the benefits of the integration since they could manage all interactions from one place. However, now they can also see a decrease in the number of submitted tickets and an increase in customer satisfaction.
And with the possibility of customizing it to match your organization's brand, it's a win-win situation. So, go ahead and make the most of it!
If you have any additional questions, feel free to contact our IT support team or your dedicated partner. And if you don't have InvGate Service Desk yet and want to see what all this looks like in practice, go grab your 30-day free trial!