Software Asset Management, or SAM, is one of the most important IT Asset Management (ITAM) practices you can introduce to your organization to control costs and reduce risks. SAM is the set of processes that enables IT departments to manage their software assets at an enterprise level.
An effective SAM practice can help you manage, protect, and control your IT ecosystem while supporting effective IT service delivery. At the same time, it helps you save money, reduce waste, and support GRC (Governance, Risk, and Compliance) activities.
In the following article, we will look at the whole SAM lifecycle, its benefit for your business, and how InvGate Insight's full set of capabilities can help you tick all the boxes when looking to optimize your operations.
Ready to learn more about SAM? Let's get started.
Index
What is Software Asset Management?
SAM is the practice that looks after your Software and License Management. In ITIL 4, it's a subset of the Asset Management practice. ITIL defines SAM as "an aspect of IT Asset Management specifically aimed at the acquisition, management, release, deployment, maintenance and eventual retirement of software assets. SAM procedures provide effective management, control, and protection of software assets."
SAM vs. HAM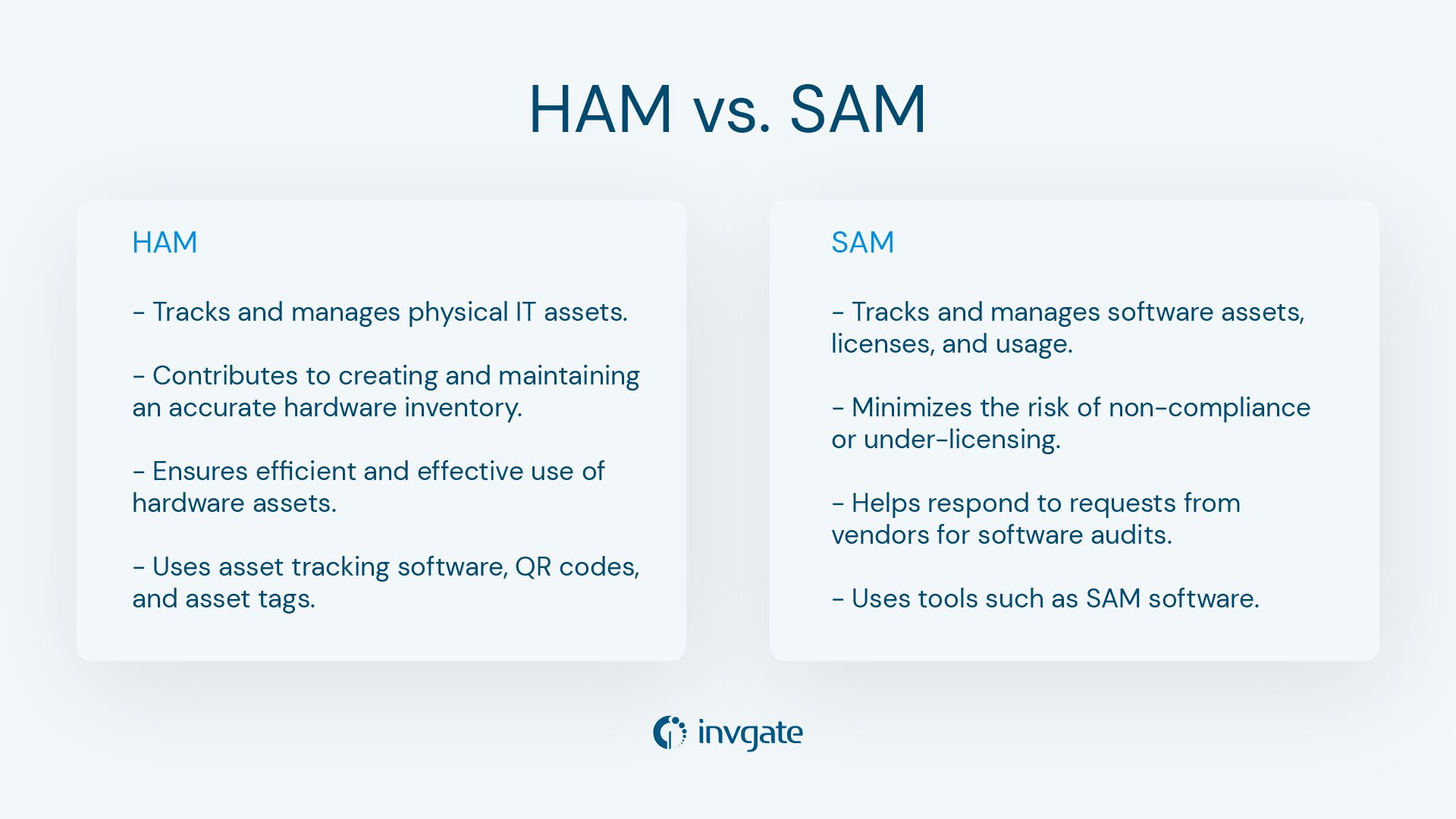 Both SAM and Hardware Asset Management (HAM) are two central pillars of your overall ITAM strategy. Think of them as the two sides of the same coin, although they have different scopes, they must work together to keep your whole technology fleet.
Let's take a look:
SAM is the process that manages software, applications, and licenses, whereas HAM refers to the process of tracking and managing physical IT assets, such as computers, servers, and networking devices.
SAM uses

metering

,

deployment

, and installation tools to track software usage and manage licenses. On the contrary, HAM uses

QR codes

and

asset tags

to keep track of hardware assets physically.
Why is Software Asset Management important?
SAM is important in reducing both costs and risks to your organization. In the previous section, we discussed how it forms part of your overall Asset Management strategy, but it's relevant to mention that it can also support other ITSM practices, such as the service desk and Change Enablement.
7 benefits of Software Asset Management
Better understanding of software usage - It helps organizations track licenses, monitor uptake and usage, and remove or relocate software.


Cost savings - By controlling software licenses, organizations can spot areas to save costs. Tracking usage helps prevent assets from being over or under-licensed and reduce the risk of fines and additional payments due to audit failures.


Support for GRC activities - It helps organizations fulfill their GRC activities by maintaining compliance with vendor terms of conditions and reducing the risk of legal, reputational, and financial penalties resulting from noncompliance.


More secure IT ecosystem - SAM ensures only authorized, licensed, safe software versions are installed in your production environment. It allows your business to track software versions and apply security updates and

patches

quickly and easily, reducing the risk of

vulnerabilities

. It also helps you identify unauthorized or unsupported software that may cause security risks.


Comprehensive

Lifecycle Management

- By tracking software from the procurement stage to retirement, IT departments can ensure they buy the most appropriate products and upgrade/retire them at the proper time, reducing the risk of technical debt and supporting a

more proactive practice

.


Better relationships with suppliers and partners - SAM facilitates more accurate licensing tracking and record management, helping organizations to have a more positive relationship with suppliers rather than a defensive or reactive one.


Overall improved ways of working - It enables IT to make the software deployment process more efficient by automating software installation and subsequent patches or updates. SAM gives the organization a comprehensive view of

software inventory

so it's easier to standardize and automate working practices, reducing time, effort, and the potential for human error.
Software Asset Management lifecycle
The SAM lifecycle refers to the stages involved in effectively and efficiently managing software within your organization. It doesn't stop once the software asset has been purchased, but rather continues to monitor that asset through deployment, support, maintenance, and retirement.
The SAM lifecycle also forms an important part of the first stage of the ITIL service lifecycle, service design. When planning the types of assets used to build services, negotiate contracts with suppliers to consider maintenance activities and what happens with the asset or its license when it is no longer needed.
Implementing SAM: the Software Asset Management process
Implementing SAM isn't a small undertaking. Depending on the size of your organization, it will probably need to be managed as a project.
As part of your overall IT operations, investing in an ITAM tool will give you comprehensive visibility of your technology environment and streamline the main SAM practices.
Here are the key steps required to implement SAM and the key features to look out for to thoroughly support the process.
1. Build your team
An effective SAM practice needs a team behind it. You can have the best tools and brilliant processes, but nothing will work if you don't have the right people involved. Your team should comprise colleagues who implement, manage and improve SAM across the business. It will need expertise from IT, procurement, risk, legal, and compliance departments.
2. Define your practice goals and objectives
Clearly set out what you want to accomplish from your SAM process and document it so it can be reviewed and looked back on. The ITIL guidance provides a list of Practice Success Factors (PSFs), but we would advise keeping it simple, particularly if SAM is a new concept to your organization. Key goals to set out for would be cost savings, meeting compliance requirements, and increased software management efficiency.
3. Create a SAM policy
Set out expectations clearly in a SAM policy. Key things to include are:
Introduction and purpose - why is SAM important, and how does it support the organization?
Scope - what services are covered?
Regulatory or legal requirements that the process needs to support.
How to request software via the service desk.
Installation guidelines for technicians so that IT colleagues know the correct working methods.
Software maintenance - how software is updated and patched.
Guidance for software that is no longer in use and guidance for unused or reallocated licenses.
Where to go for help and further information.
4. Set the scope
So many SAM implementations fail because the scope is too big or unclear. Focus on risk and start with software organization-wide in use and provided by large vendors such as Microsoft, Adobe, and Oracle.
5. Look at what you have in place already
Chances are there will be some sort of SAM going on in your organization, even if it is informal. Procurement is probably involved in the buying process and your support teams in the installation process. Look at what you have in place already and build on it.
6. Create a baseline
Get a handle on your software state by conducting a SAM inventory. In general terms, it should include your business's software assets, licenses, subscriptions, and installations across your environment.
To avoid the time, effort, and possible mistakes of building your inventory manually, you can use InvGate Insight's combination of agent and agentless methods to scan your whole environment and automatically incorporate the found assets and their relevant information. The Network Discovery is brilliant for hardware assets, while in this particular scenario, the Agent will be your best friend to map, monitor, and detect software licenses.
But it doesn't end there, once you have your inventory up and running, incorporate your contracts and software into the CMDB (Configuration Management Database) to lay out the relationships between them. This is particularly important for software linked to many assets.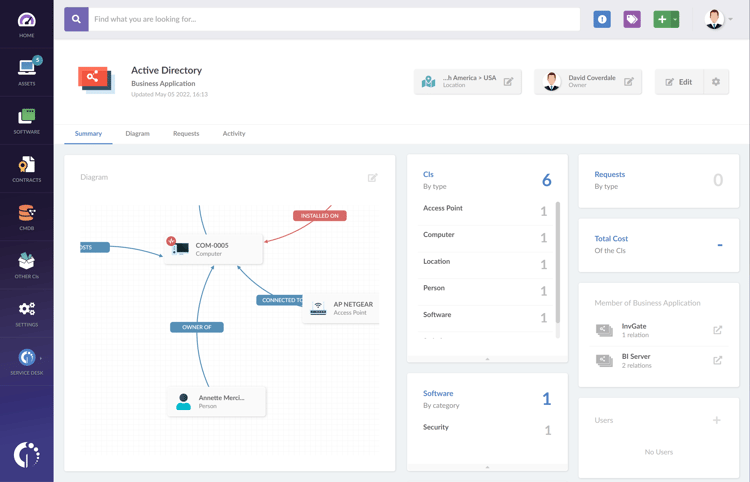 7. Start tracking your software aspects
Use your SAM processes to track software usage and ensure unused software can be removed or deployed elsewhere. This is key to make sure you are allocating resources efficiently. Along with this, it's vital to ensure you are aligned with what you have agreed with suppliers at a contractual level to mitigate compliance risks.
If you have a SAM tool in place, then you let that do the heavy lifting. Automation features are the best way to reduce both errors and time, while ensuring efficiency and compliance.
InvGate Insight's agent collects data of all the assets it's been installed on, including updated software metering and information on software usage. This way you can monitor license utilization and detect any deviation.
You can also set notifications on the tool through Health Rules to alert your team when licenses approach their limits and enable them to take action to prevent violations or license shortages.
8. Set out training and education
SAM is only as effective as the people engaging, so ensure your colleagues have the appropriate training. This will include:
Training for end-users on how to request software.
Training for technicians on how to install software appropriately.
Training for IT colleagues on responding to software vendor audit requests.
9. Build in continual improvement
Look at how to improve your practice over time. This could include reviewing lessons learned, feedback from auditors, or looking at best practice frameworks like ITIL, which now has a maturity assessment offering or COBIT.
Software Asset Management best practices
Implementing Software Asset Management needs a well-thought-out approach to look after the software assets within an organization effectively. When implementing it, here are some things to consider.
Start with your biggest area of exposure
Don't try and do everything all at once. Take a breath, identify and focus on your biggest risk, and build from there.
Manage software installations
Software deployment is a major point of control, and it's important to ensure that only authorized, licensed, and safe software is installed on your devices. Lockdown corporate devices so that all installations go via the service desk and use a definitive media library or DML to check, vet, and install all software from a central, safe source.
Don't work in isolation
Align your SAM practice with other IT processes. As we mentioned, not only must it be integrated to your ITAM, but it also works alongside your full scope of IT activities, particularly IT service delivery across your organization.
Some ideas for your SAM to start collaborating include:
The service desk, where all software requests are processed centrally via a defined request management process.
Incident Management so that all software faults can be tracked and managed centrally.
Problem Management to ensure that any issues pertaining to software defects or bugs can be captured and either worked around or permanently resolved.
Procurement, which guarantees an audit trail exists for all software from the request stage to retirement and disposal.
Configuration Management so that the SAM database and CMDM are in alignment.
Service Catalog Management to ensure that only approved software can be requested by the end user community.
Information security to ensure the software is managed per the IT acceptable usage policy.
Change Enablement to ensure any licensing requirements are understood and reviewed appropriately.
Release Management as they can help you ensure that software is installed via a central, authorized, safe source such as a DML.
Software Asset Management tools must-have features
Used effectively, the right tool will help you make your SAM practice leaner and more effective. Some of the most important features to look out for and that will help support your process include:
A centralized asset database to capture a detailed inventory of all software assets, with an API or link to your CMDB to lay out the whole map of relationships.


Automated discovery and inventory capabilities to identify and track software installations across your environment to be added to your database. This is particularly important to reduce manual operations and make sure nothing is missed or looked over.


License Management capabilities that take the feed of inventory of your assets to track license status, usage, and compliance. Again, automation is your best ally. Centralizing relevant information on your assets and setting notification to alert you will help you streamline:

Release and Deployment Management - Stay on top of delivering changes, maintenance, or new releases to your software assets. This is key to support a proactive approach to ITAM.


Software usage - Usage and monitoring to keep an eye on software usage and optimize license administration by reallocating unused software licenses to where they are needed.


Compliance and audit support - Features for reconciling license entitlements with actual usage and generating compliance reports. This will make sure your organization is properly protected and prepared for potential audits.



Integration with your service desk

, so you can link incident and request data to software assets for a quicker and more efficient resolution.



Reporting and analytic capabilities

to track key

ITAM metrics

related to SAM. By sharing them across key team members, you can make data-driven decisions to improve your practices.
When looking for an ITAM tool that includes all these essential features, don't worry, InvGate Insight has you covered. Through its Agent and Network Discovery feature you can build a unified IT asset inventory in just 24 hours, including all your software assets.
The tool's automation features and notifications also allow you to stay on top of your software assets and their usage and compliance requirements. And on top of that, to analyze your work scenario, you can customize reports to fit your needs, automate them to run periodically, and export and share them with whomever you consider.
Last, but definitely not least, InvGate Insight natively integrates with InvGate Service Desk to help you combine the power of your ITAM and ITSM practices, making sure your IT overall operations are coordinated and efficient.
Conclusion
Software Asset Management is the process that helps you manage, control, and protect your IT environment. It works along with HAM to make up a comprehensive IT Asset Management strategy that keeps organizations secure and efficiently organized.
Benefits of SAM include cost optimization, more effective software support and maintenance, and risk mitigation. But it's practically impossible to make it work at its full potential without the right ITAM tool. Some key features to look out for are automated discovery and inventory capabilities and automation usage and license allocation, and compliance.
If you're ready to start streamlining your ITAM operations with InvGate Insight, have a look at what it can do with our 30 day free trial, with no strings attached!
Frequently Asked Questions
How does Software Asset Management work?
It works by managing your software and applications so the organization is appropriately licensed and only authorized, safe software is deployed.
How to draft an effective Software Asset Management policy?
Don't work in isolation. Engage other teams, for example, information security and the service desk, so that it supports other IT policies that may already exist in your organization.
What does Software Asset Management do?
It manages, controls, and protects your IT software state.
What is a Software Asset Management Specialist?
The person who is responsible for the day-to-day running of your SAM practice.
What skills are required for Software Asset Management?
Important skills include being detail-oriented, understanding licensing complexities, and being able to collaborate effectively with other teams.
Is Software Asset Management part of ITIL?
Yes, it is. SAM is part of the Asset Management practice.