Asset Management systems used in education often demand more detail than what's expected in other environments. However, educational institutions rarely consider IT Asset Management (ITAM) as a priority.
There are several reasons of this. For once, they commonly have a small IT team and hardly ever have dedicated resources for Asset Management. In addition, their budget is always limited, so they must spend it wisely to accommodate their most urgent needs.
But, as we're about to see, ITAM software should not be something to dismiss so quickly. Educational institutions tend to have distinctive IT Asset Management requirements compared to other industries or businesses, given that schools and colleges have unique software and hardware, and the people who use them may not have specialized IT training. Plus, with the current rise in ransomware attacks on schools and educational districts, it's imperative to start managing the IT estate efficiently and securely.
The singular IT situation of educational institutions demands a robust ITAM system like InvGate Insight, and that's exactly what we are exploring in this article. We'll discuss:
IT Asset Management and its importance in schools and universities.
What to look out for when getting an ITAM solution for educational institutions.
Read on to learn more about ITAM in education!
IT Asset Management, in a nutshell
IT Asset Management or ITAM consists of the processes aimed at ensuring that the organization's software and hardware deliver the required performance and carry out the functions effectively and efficiently. ITAM includes all the aspects of an asset's lifecycle from acquisition to disposal.
Besides, ITAM is responsible for evaluating the organization's IT asset requirements and acquiring them at a low cost of ownership. It also mitigates the risks the organization faces from these assets, such as cyber threats, non-compliance, unexpected maintenance, and downtime. Furthermore, it takes care of maintaining and updating these from their purchase through the organization's operations and at the end of their lifecycle.
3 benefits of Asset Management for education
Using ITAM software isn't always the first option in an educational system. They might do their inventory in a spreadsheet or in another format since they have it at hand. However, that's less than advisable.
Also, it doesn't help that ITAM is usually seen as something for large organizations, but any educational institution can benefit from using it in the following ways.
1. Minimizes asset expenditure
Without ITAM, schools, colleges, and universities will spend a lot more resources than is required to maintain their assets. Proactive Asset Management can help educational institutions stay on top of their asset requirements without overshooting their budgets. It can guide institutions to make asset acquisition decisions that reduce costs in the long run.
Using InvGate Insight also reduces maintenance and repair costs for an organization's assets. For an educational institution, every piece of hardware and software has to be monitored and tested regularly for performance or security issues. Otherwise, assets may stop delivering the expected performance, create bottlenecks in the institution's processes, and even need costly repairs at a later time.
Other perks of proactive ITAM include minimizing the licensing cost associated with software for education and administration and keeping the organization compliant with contracts and licensing requirements, avoiding penalties or fines.
2. Keeps students and faculty safe
Educational institutions regularly store information about their students' personal and academic lives. Without effective IT Asset Management, educational institutions' assets pose huge threats to the safety and privacy of students and faculty.
The past few years have also seen an increased threat of ransomware affecting educational institutions. As of 2021, 56% of lower education institutions and 64% of higher education institutions were hit with ransomware.
InvGate Insight can minimize the risk of malware and other cyber threats by keeping track of an institution's assets, creating alerts and automation, and ensuring they don't have any known vulnerabilities.
3. Keeps assets available
ITAM can significantly improve asset availability and maximize its usage. With proactive demand projection and planning, it can ensure that the faculty and students have enough assets for their needs.
Robust ITAM processes can also ensure minimal asset downtime and faster troubleshooting. With streamlined asset tracking, institutions can reduce asset loss and the time spent tracking them down.
9 must-have features of Asset Management systems used in education
Any ITAM system will provide you with IT and non-IT Asset Management, including hardware and software. But there are some specific features that can become your best ally to manage assets in any educational institution.
Let's take a look at the nine must-have features of Asset Management systems used in education.
1. Asset monitoring
First of all, you need to have access to and monitor the students' and faculty's equipment to know their location, health status, software usage and updates, and more. InvGate Insight's Agent can monitor your school assets automatically and report back to you on all those items and more.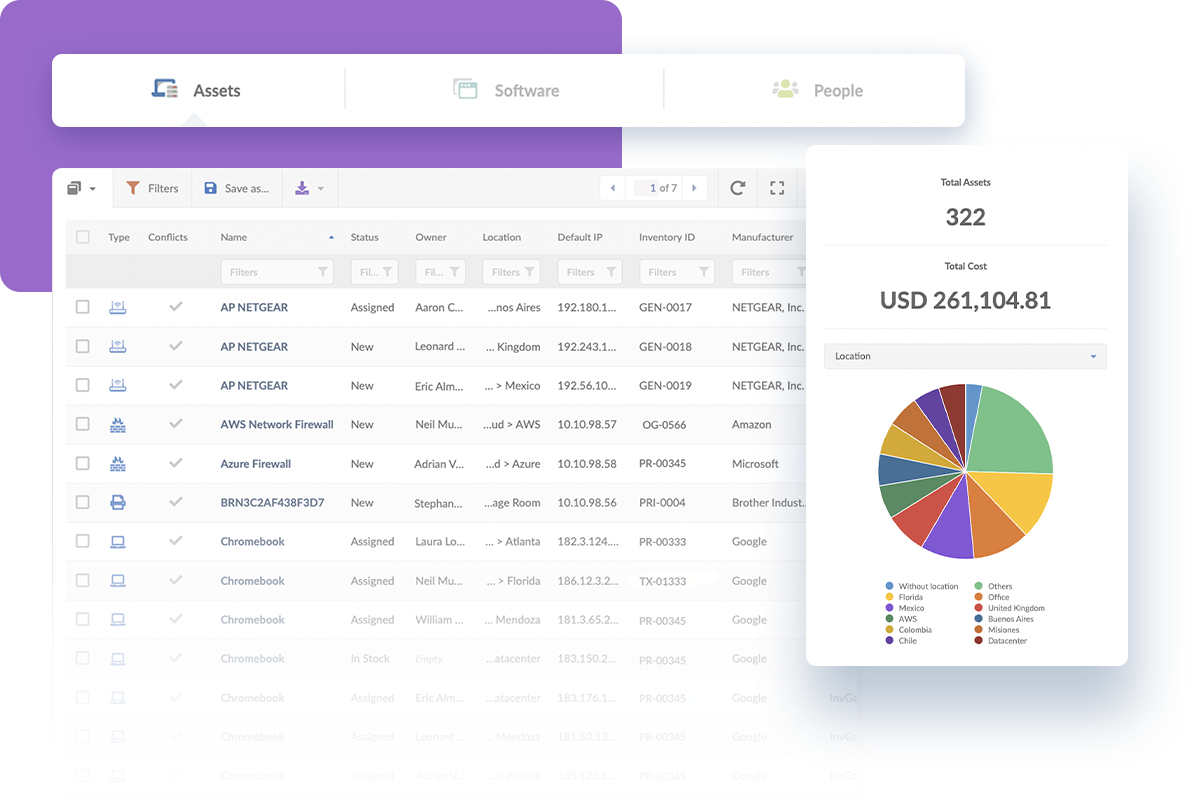 2. Mobile Device Management and remote controlling
Mobile devices, such as tablets and smartphones, have different operating systems thus, they need a specific monitoring tool. InvGate Insight's Agent also works on mobile devices but if you prefer, you can choose some of its native integrations like Jamf.
3. API
Any ITAM system will have a limited number of native integrations that you can work with. Having a free API will allow you to integrate it into any piece of software that your institution uses, like Student Information Systems (SIS) or Google Admin console.
4. Asset tracking through QR codes
QR codes are great for tracking assets. InvGate Insight allows you to create and print QR codes related to each asset on your inventory. This way, agents are able to scan them from their mobile devices and get to the asset's profile to see their status, edit them, or send a request (with an InvGate Service Desk integration). This feature is particularly handy for temporarily assigning an asset to a student or faculty member.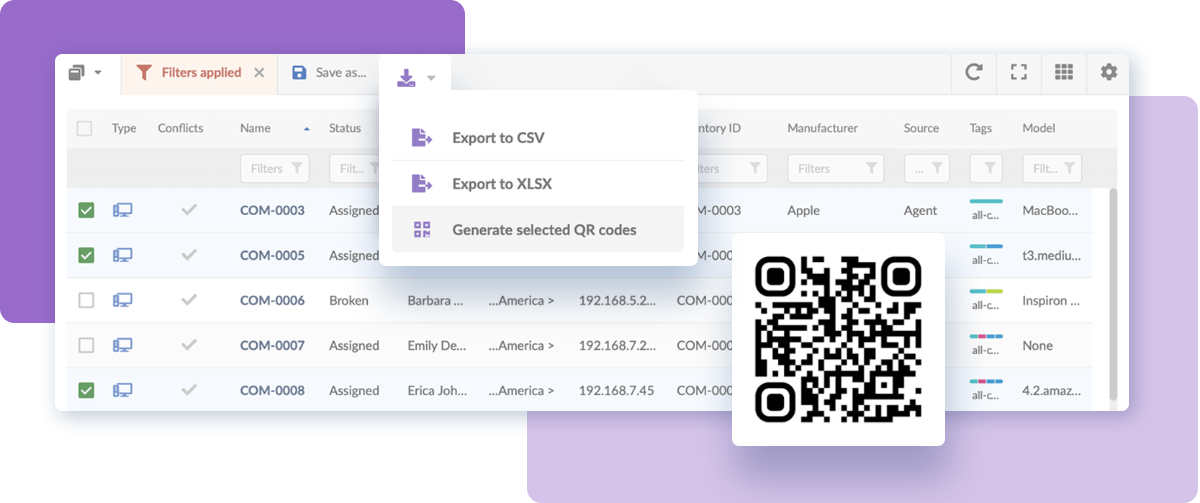 5. Contract lifecycle management
The IT department of an educational institution has to be on top of all contracts and agreements to procure and maintain its assets. These contracts will dictate how much the institution has paid or owes the vendors, who will conduct maintenance and repairs, how long the assets will be available for the institution, and other details.
With InvGate Insight's contract lifecycle management feature, you can use your school assets and contracts effectively and reduce the associated cost. In addition, with our ITAM software you'll be able to do software lifecycle management, as it covers any kind of contract including software.
6. Alerts
Schools have vulnerable information in their IT system – sometimes, much more vulnerable than other organizations – so it's essential to keep assets safe. Having automated alerts and health rules is key to cybersecurity. It helps you maintain the assets and its information safe, preventing any security gap that might happen.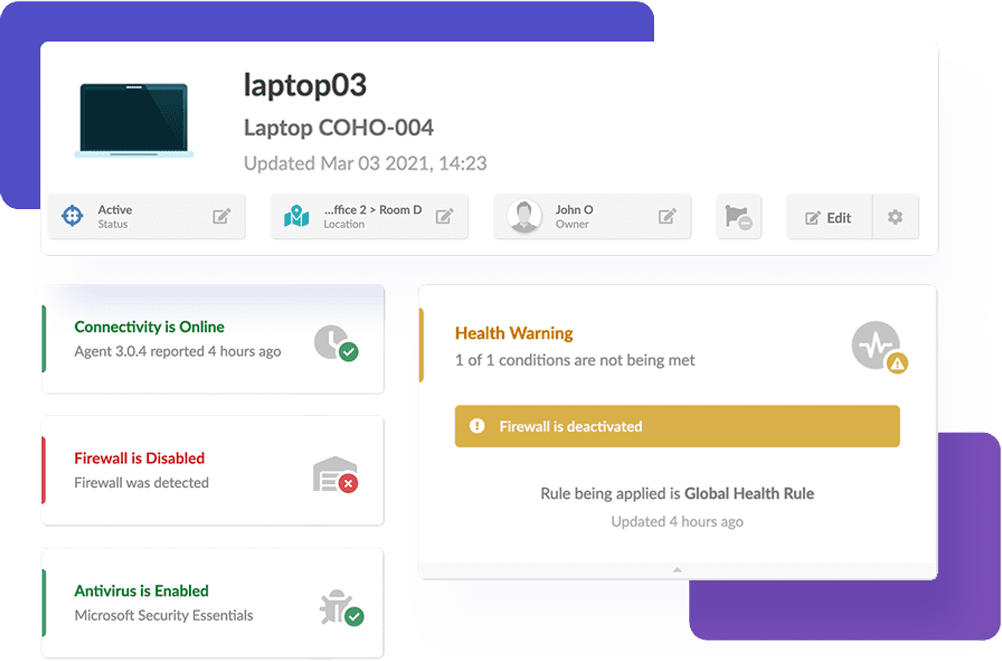 7. Software metering
Another must-have feature for ITAM software is software metering. Educational institutions often have multiple software vendors in their ecosystems to fulfill all their activities. And these solutions come with different licensing options – outright purchases, subscriptions, license per user, floating licenses, etc.
Hence, the IT department needs to keep track not only of the contracts to ensure compliance but also of their usage so they know if the institution is overspending. InvGate Insight's Software Metering feature empowers schools and universities to utilize their software licenses effectively, and monitor their usage and availability. It is also an essential tool to use in a software audit process.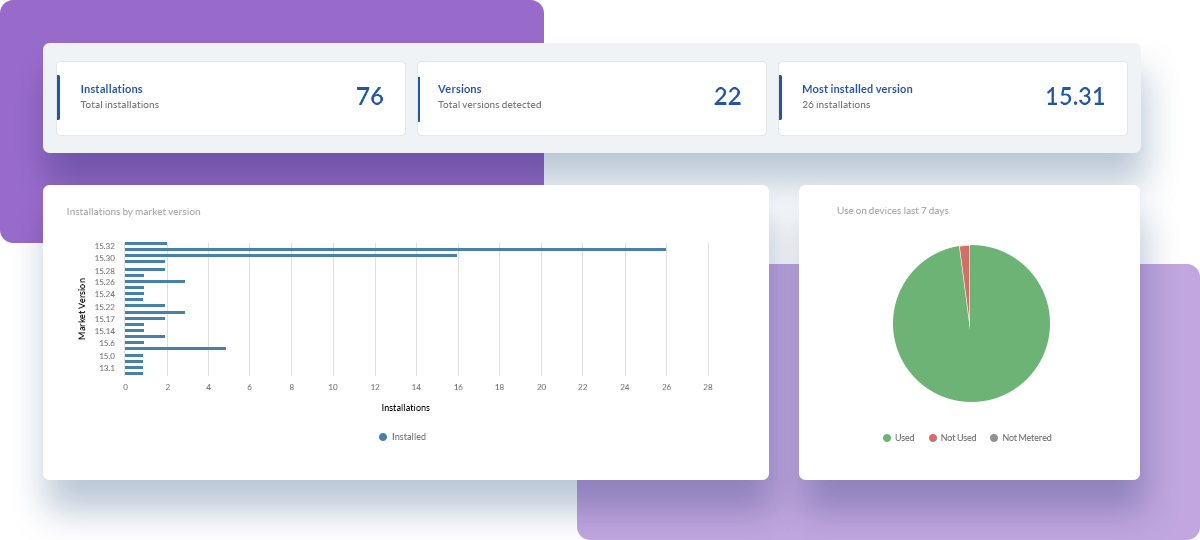 8. Financial management tools
Educational institutions can better manage the costs associated with their assets with the help of Financial Management tools integrated into their ITAM platform. Having everything integrated allows colleges and campuses to get a comprehensive picture of their asset-related expenses and leverage them to make better budgets and financial plans.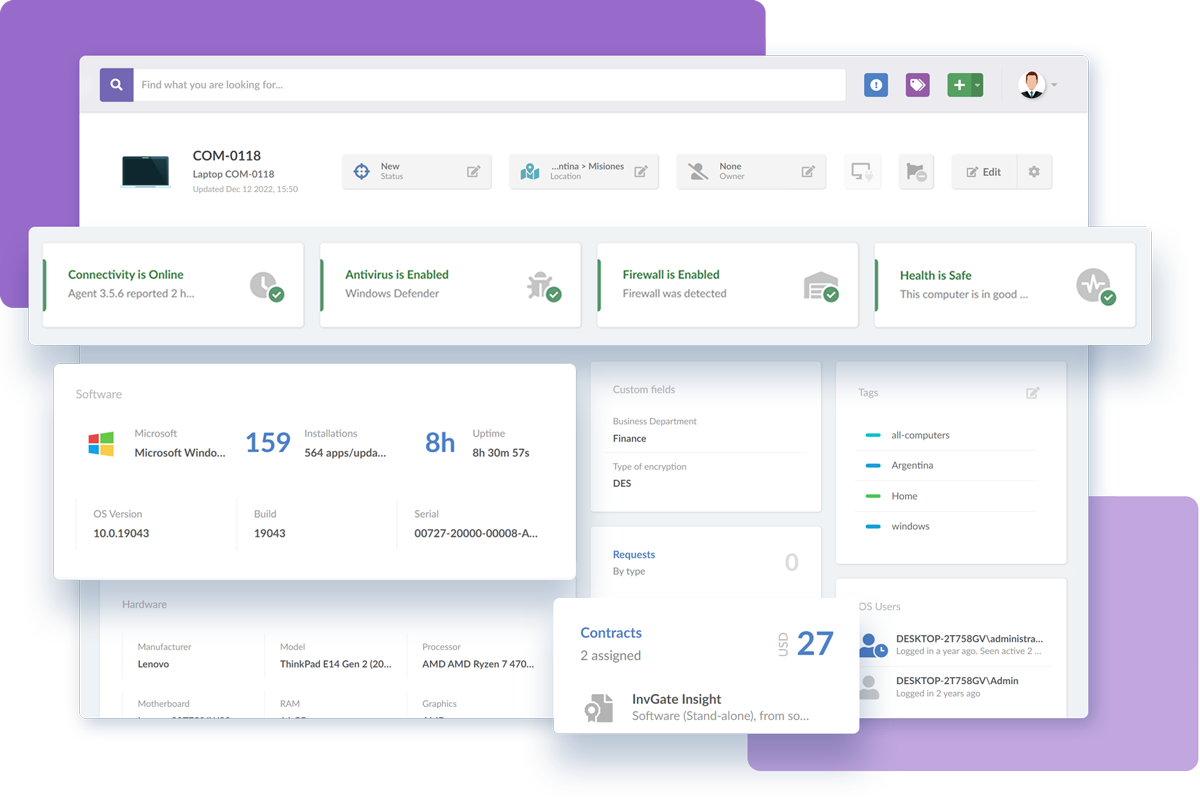 9. CMDB
A school or college infrastructure can be complex. This means that almost everything can be related, and the minimum charge or maintenance can affect a bunch of things. InvGate Insight's CMDB is the best way to build a map of this ecosystem, understand the impact of any change, detect existing issues, track vulnerabilities, and improve the infrastructure.
4 things to consider before purchasing IT Asset Management software for education
Now that you know which functionalities can help you on your daily work, there are some other things to consider when you are about to buy a new ITAM software.
1. Ease of implementation
Once acquired, IT Asset Management software must be easy to implement across the organization. The solution should be able to automatically generate and populate its asset inventory with little effort from the IT team.
If it takes too many resources to implement or if it cannot track certain assets, the solution may hinder the ITAM strategy of the organization.
2. Intuitive and seamless UX
In educational institutions, a majority of users may not be tech-savvy, unlike in an IT firm. Another aspect is that schools or universities may not have a large IT department and, most likely, not a dedicated ITAM team.
If the ITAM software requires significant expertise, is not fast enough, or not easy to navigate, the solution may create a bottleneck in the institution's Asset Management efforts.
3. Customer support
Customer support is essential for an Asset Management solution, especially in the educational industry, for the same reason as above. Schools or colleges rarely have asset managers, and they may not have the resources to troubleshoot if the platform glitches.
So, make sure that the ITAM solution you choose has a customer support team behind you to guide you through the implementation and help you if something goes amiss.
4. Updates and security patches
IT Asset Management tools are commonly used to keep an organization's assets safe from digital threats. But the platform itself shouldn't serve as a door for bad actors to enter and create havoc within the institution's IT network.
When choosing an ITAM solution for an educational institution, it's best to go with a vendor who has a good track record of updating its solutions and keeping its clients secure.
Key takeaways
Educational institutions need ITAM software to get the most out of their assets. In this sense, an IT Asset Management solution is crucial for a university or a school to keep track of its hardware and software and maintain them efficiently.
By acquiring it, you can:
Reduce your school's IT asset expenditure.
Keep the organization safe from digital threats.
Keep track of assets and make them available.
Manage its software licenses efficiently.
Better plan your IT budget.
In short, when deciding, make sure that the platform allows you to keep an inventory of hardware and software assets and track them, optimize license usage, manage assets and contracts through their lifecycles, and help make data-centered Asset Management decisions.
Of course, InvGate Insight can do all this for you and more! Get a free trial or explore the live demo, and start implementing it in your educational institution today.