Gladly's customer service report from 2020 suggests that 84% of customers will spend way more with a brand that delivers personalized customer care. And companies all over the world have started appreciating the role excellent customer service plays for their brand reputation and growth. By 2023, the help desk software market is projected to reach $11 billion.
In this situation, if you have ever looked up a help desk or service desk solution for your company, odds are that you have come across many free help desk software solutions. While freeware may be tempting and even better for personal use, using a free help desk solution for your organization or company may give you trouble at a later stage. Let's have a look at why.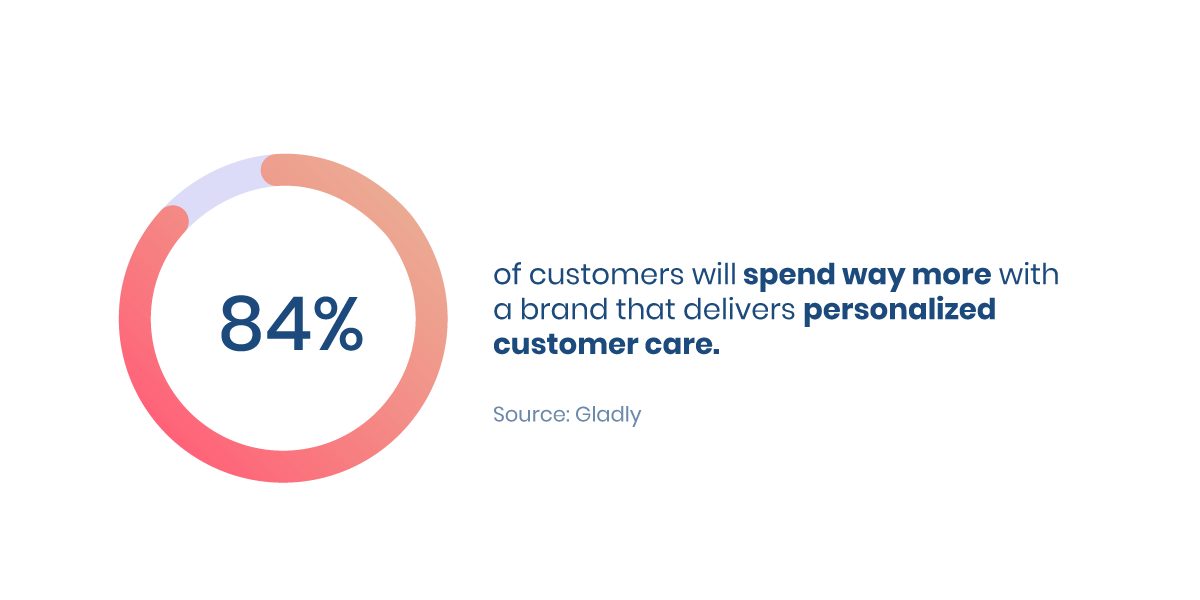 Let's talk about service desk solutions.
A help desk software or a help desk system is a tool used to streamline the customer service activities in an organization. It helps a customer service agent to deliver quick and efficient support to customers and resolve their issues on time. The software helps customers request help, whether it be through emails, calls, or texts.
Once a service agent gets the queries, they may have to view the CRM, get in touch with suppliers, liaise with other departments in your organization to resolve the customer's problem. A service helps your organization take care of every step from the moment a customer contacts your IT organization.
More than just connecting a customer to an available agent, they often integrate with the organization's knowledge base and help a customer find the solutions themselves. A service desk presents everything a customer service agent may need within easy access, from raising a ticket to the answers to questions customers may have.
A good service desk software can act as the customer's voice in your organization. They can help you create better products, improve your employee experience, and build a better reputation for your brand.
A free service desk solution sounds like a good idea, doesn't it?
As you can imagine, the main advantage of a free service desk solution is that it costs your organization absolutely nothing. There's no investment involved and you don't have to wait for approvals or annual budget allocation to start using it.
And since there's no investment, you don't have to worry about making a commitment. If you don't like it, or if free software is not working for you, you can simply walk away with almost no loss (of course you may lose out on the time you invested in installing the system and training your customer service team).
This is one of the reasons why most help desk vendors offer a freemium model or free trials for their software. With a free trial, you can try out all the features of a solution and decide whether it serves the needs of your team before committing to it. And with a freemium model, you can use the software for an unlimited period of time, albeit with limited features. If and once you're satisfied with the features, you can continue using the free version or upgrade to a paid version according to your needs.
For small customer service teams or organizations, free help desk software may be enough. If the sales volume and the customer queries are low, there may not be a need for investing in a paid system. For a small enough team, a shared email account and a Google doc with the possible questions and answers may be enough.
But free service desk software has considerable drawbacks.
While free help desk software does have its benefits, it's important to understand the possible issues with them before deciding on the best solution for your organization.
Lack of support
While open-source systems may have some level of community support, you cannot expect the same for free software or a free version of a software. Vendors rarely prioritize providing the best support for free help desk software. In the case of a freemium model, some companies offer email support, but you can't expect priority support for a free help desk solution. If something goes wrong, you may be on your own.
If the product is free, you're the product
While this is a phrase often associated with search engines and social media, this applies to just about any free software. Free software may collect information about your organization and customers. And very often free software doesn't have robust security measures. While this may not be the case with open source solutions, most free help-desk solutions are closed boxes. In the case of SaaS solutions, a freemium model often doesn't have enterprise-grade security for the free version putting you and your organization at risk.
Free help desk software is often difficult to scale up
When your organization is small, the sales volumes are low, and the customer care operations are running with a small team, a free help desk solution may be enough. But as your company grows and your product offerings become diverse, you'll need a strong customer service team and a robust help-desk solution to support them. If you're on a free plan of a SaaS solution, you could just simply upgrade to a plan better suited to your growing team. But otherwise, you may have to migrate your entire customer service team to a new system. And this could erase any savings you made earlier by using free software.
Besides the risk of malware masquerading as help desk software, free solutions may not get the relevant software updates or security patches. Even with open-source solutions, there's no guarantee that your solution will be secure. Since most organizations connect their help desk solution to their digital workplace, this could put the entire organization at risk.
And if at some point the developers withdraw support for the software, you'll have to migrate your entire help desk to a new system making free solutions more costly in the long run.
It is difficult to customize a free help desk software
An off-the-shelf solution may not fit your needs as you grow. You'll need a more customized approach and this is difficult on a free solution. And even if you're planning to customize an open-source solution, you'll need to invest quite a bit into it. But when you're buying or subscribing to a help-desk solution, customizing your software may be as simple as adding a new module.
Free vs. paid: pros & cons
Pros of free software :
No investment is needed.
No long term commitment
Great for small businesses and teams
Cons of free software:
No support in case of any trouble
Customer data may not be safe
Risk of cyber attacks
Difficult to customize
Difficult to scale up
Limited features
Pros of paid software:
Excellent customer support to help you with any issues
Enterprise-grade security
Clear data protection policies
Easy to scale up as the company grows
Constantly updates with the latest features
Easy to customize
Cons of paid software:
There's a significant investment involved
Risk of vendor lock-in; it may be difficult to switch to a different software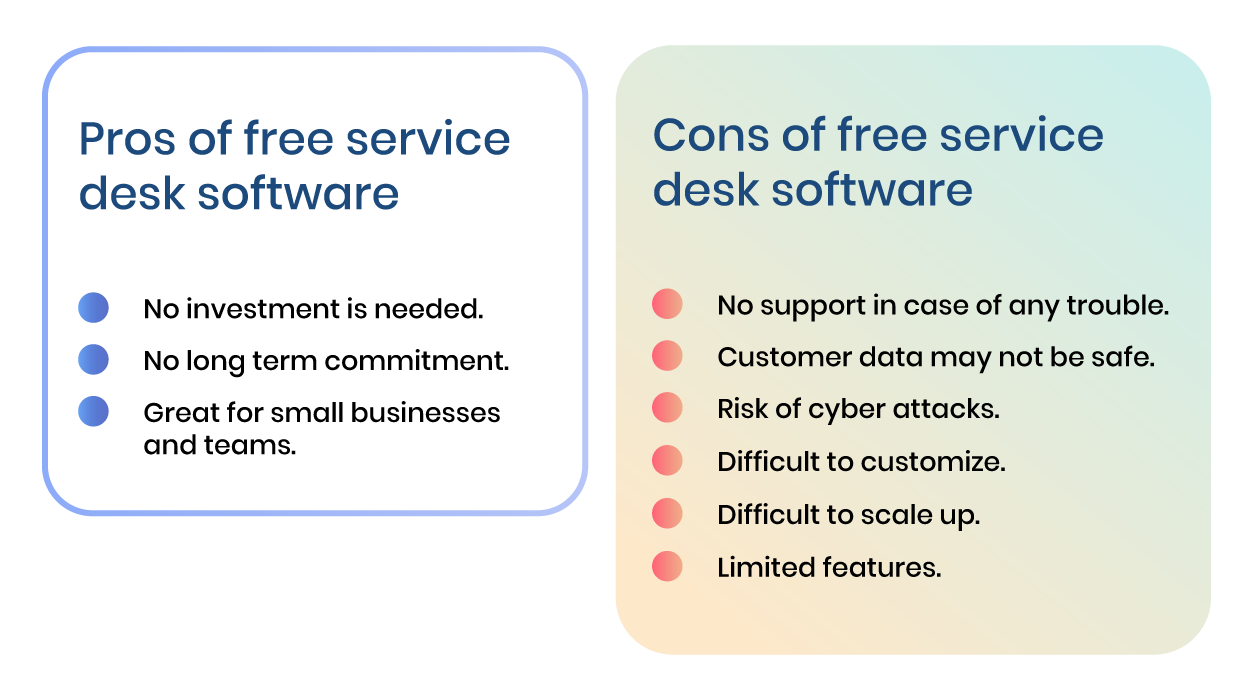 How to choose the right service desk solution for your company
Choosing the right solution may be tricky. Before purchasing, decide if an on-premise system or a SaaS solution works best for your organization. Carefully evaluate the features your organization would need now and in the future. It's best to get a system that you can scale up easily.
A good thing to do is, before you make a decision, get a complete demo of all the features and test out their usability. Many of the best service desk tools in the system offer free trials that allow you to weigh the pros and cons.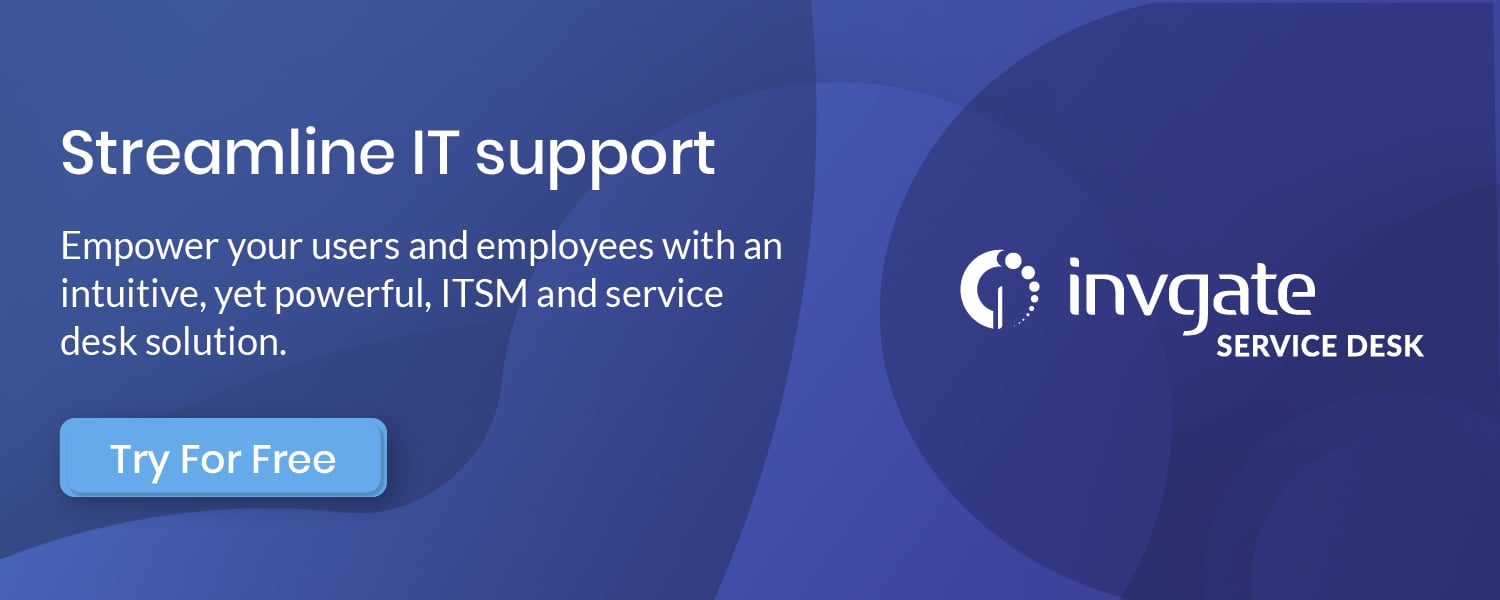 Frequently asked questions
Should I get a free help desk solution?
If you're a small company or have a small team, a free solution may work for you. But this may still cause issues for you when you scale up. It's always best to get a paid solution.
Why should I buy a paid help desk software when free solutions are available?
Paid help desk solutions are more secure, have clear data protection policies, and are easy to scale up.