Any well rounded IT Service Management (ITSM) solution must also be able to integrate different software applications. Incorporating and coordinating different capabilities and features on your platform will both significantly expand your toolbox and level up your support processes.
So, to make sure you are getting the most out of your ITSM tool, we have put together this InvGate Service Desk integration cheat sheet with a list of all the possible integrations to complement the solution. Either if you're looking for a specific integration, or just want to explore the options out there, here's all the information you need.
We divided the guide in the following types of integrations:
Let's dive right in and uncover the power of InvGate Service Desk integrations!
InvGate Service Desk integration types
Before getting into the list, it's important to understand the different types of integrations the tool offers, how they work, and in which ways they can serve your support practices. In general terms, InvGate Service Desk offers the following:
Native integrations - These are InvGate Service Desk's built-in capabilities, which enable connection and interaction with other applications and systems directly within its platform. The implementation process is simple, and agents of any level can do it.



Integrations via Zapier

- Zapier is a popular automation platform that connects different web applications. With it, users can create

automated workflows

(known as "zaps") to connect InvGate Service Desk with hundreds of other supported apps, enabling data synchronization and automated actions between them.


Integrations via API - For more advanced and customized integrations, InvGate Service Desk provides a free API (Application Programming Interface) to allow developers to interact with our tool programmatically. As a result, the exchange of data and functionality between systems or applications is enabled, offering flexibility and control for integrating our software with a wide range of external tools, services, or custom solutions.
Now that this is clear, let's take a look at everything you can connect to InvGate Service Desk!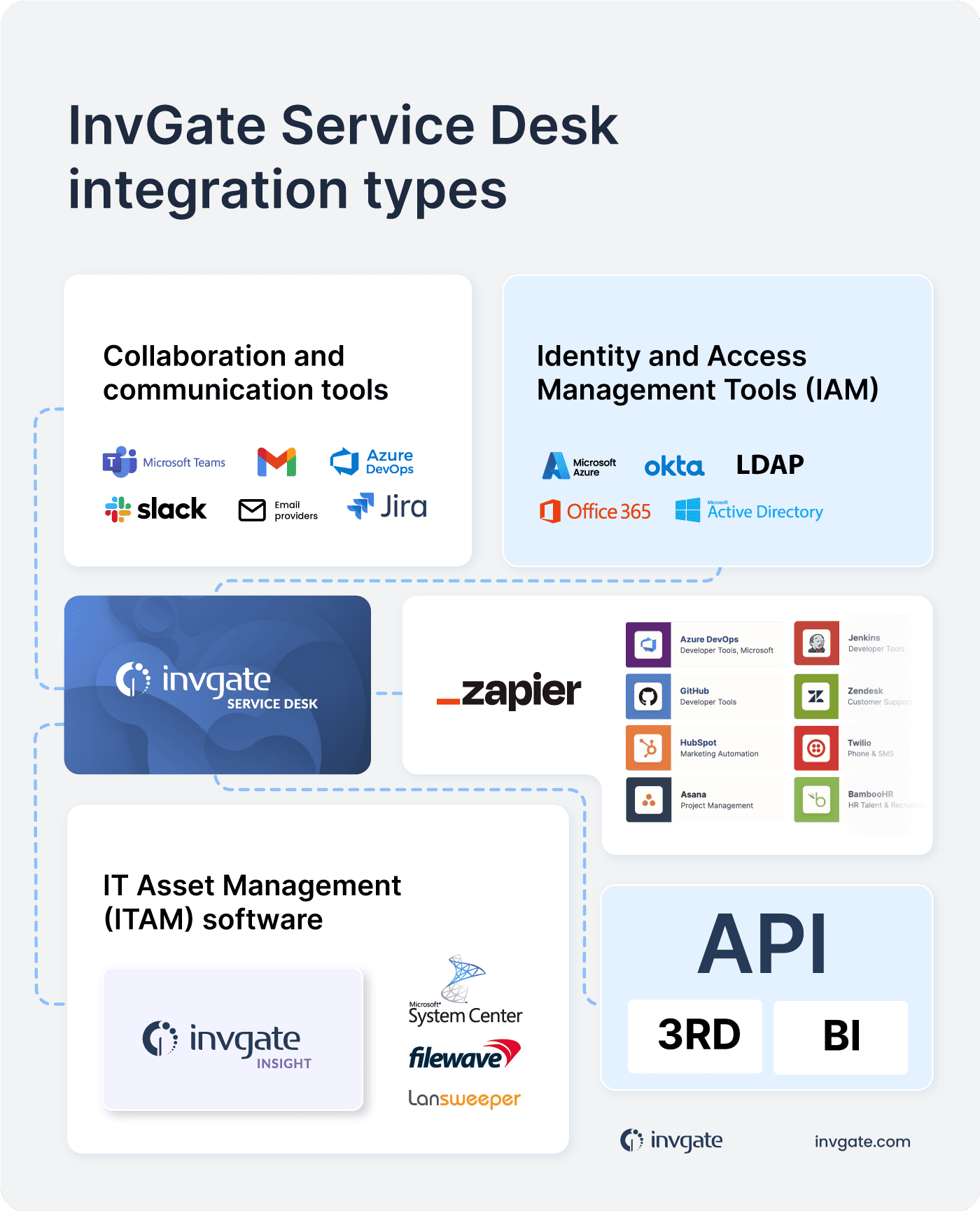 InvGate Service Desk integrations with directory services and Access Management tools
The native integration that InvGate Service Desk has with directory services and User Management tools allows you to keep a unified user directory between your service desk and the rest of your infrastructure. It streamlines User Management processes, such as efficient user onboarding and improved data accuracy.
Active Directory
InvGate Service Desk can be integrated with Microsoft Active Directory, one of the most widely used directory services. By doing so, organizations can synchronize user data between both tools, ensuring that user accounts, permissions, and attributes remain up to date and consistent across both systems.
By leveraging Active Directory integration, IT teams can automate user provisioning, authentication, and authorization processes, enhancing security and reducing administrative overhead.
LDAP
InvGate Service Desk also supports the integration with Lightweight Directory Access Protocol (LDAP), an industry-standard protocol for accessing and managing directory services. It gives organizations the possibility to synchronize user information, including user accounts, contact details, and group memberships.
This integration simplifies User Management by eliminating the need for manual user data entry and ensuring that user information is accurately reflected on InvGate Service Desk.
InvGate Service Desk integrations with Identity and Access Management tools
InvGate Service Desk also offers native integrations with various Identity and Access Management (IAM) tools, allowing organizations to enhance security, streamline user authentication, and enforce access control policies.
Azure
InvGate Service Desk's integration with Microsoft Azure Active Directory (Azure AD) allows organizations to leverage capabilities for user authentication, single sign-on (SSO), and identity governance.
This integration also facilitates user provisioning so that users can log in with their main account to the platform. Finally, businesses can enforce strong authentication methods, implement multi-factor authentication (MFA), and ensure secure access to InvGate Service Desk for their users.
Okta
InvGate Service Desk also offers an integration with Okta, a popular cloud-based Identity Management platform. Its advanced authentication and access control features enable seamless user authentication and SSO on InvGate Service Desk. This simplifies the login experience for users while maintaining robust security measures.
Furthermore, Okta integration streamlines user provisioning and deprovisioning processes, ensuring that user accounts on InvGate Service Desk align with the organization's Identity Management policies.
InvGate Service Desk integrations with IT Asset Management software
Integrating ITSM with an ITAM (IT Asset Management) solution will deeply improve your Service Management. Both practices mutually support and improve each other's potential range of action.
Through a centralized Data Management system, for instance, users can relate the assets involved with a particular ticket. This gives customers and agents a better experience, saving time and improving resolution processes. It also improves visibility and allows to create reports about the assets involved in the requests.
InvGate Insight
InvGate Insight is the best alternative to integrate InvGate Service Desk with an ITAM solution. As they are both developed by InvGate, they work together seamlessly and provide you with the widest scope of capabilities.
When linked, InvGate Service Desk can retrieve accurate and up-to-date information about the assets managed by Insight, including hardware specifications, software installations, and warranty information.
You can also streamline integrated workflows to save time and normalize operations. As your team completes the different stages of the workflow, the changes you make will be automatically reflected in your asset's profile within your InvGate Insight instance.
You can also go back and forth from one tool to another. If you're navigating into an asset profile in your InvGate Insight instance and you find an issue, you can create a new ticket on InvGate Service Desk related to that asset just by clicking on the "New request" shortcut.
With centralized information and coordinated workflows, IT teams can effectively track and manage assets, streamline incident and request resolution, and improve overall Asset Lifecycle Management.
Microsoft SCCM
The integration between InvGate Service Desk and Microsoft System Center Configuration Manager (SCCM) brings together IT Service Management and Endpoint Management capabilities.
With it, service desk teams can view and manage device information, as well as initiate remote actions from within InvGate Service Desk. This enhances incident resolution, Problem Management, and asset tracking processes.
Filewave
Integrating InvGate Service Desk and Filewave lets agents retrieve asset and configuration information (such as device details, installed software, and license information) on the InvGate Service Desk instance. It is a great alternative to those who want to improve their asset tracking and Incident Management processes, providing a comprehensive view of IT assets and improving service delivery.
Lansweeper
The InvGate Service Desk and Lansweeper integration enables centralized visibility and control over IT assets. When integrated, InvGate Service Desk can retrieve hardware specifications from Lansweeper, including software inventory, and network details.
It empowers IT teams to efficiently manage incidents linked to the affected assets, enhancing incident resolution and Problem Management. Overall, this integration ensures accurate asset information for Ticket Management.
InvGate Service Desk integrations with Communication and Collaboration applications
InvGate Service Desk offers integrations with popular communication applications, amplifying the ways in which end-users can submit tickets and contact IT support, thus contributing to the development of an omnichannel strategy.
Microsoft Teams
InvGate Service Desk offers native integration with Microsoft Teams. Users can submit requests through the communication tool and agents receive real-time notifications and alerts directly on their channels. From that moment, they can interact via Microsoft Teams to procure the ticket resolution. This provides end-users with a more familiar interface to interact with agents and enables quick responses to critical incidents or service requests, as all communications are unified into one single platform.
Email
InvGate Service Desk also offers the possibility to set both incoming and outgoing emails with a custom address through your email provider. This way, customers can still contact IT support through email, but on the backend, the email goes into the service desk and is turned into a ticket.
By linking the two, you're still able to provide email support while keeping all requests into the same platform and managed according to your ticket process flow. In addition, you can automate email templates and notifications to end-users and agents whenever the request moves on to the next stage.
To do so, InvGate Service Desk uses OAuth 2.0 for email services since it enables third-party applications or services to read, send, or manage your emails on your behalf while keeping your login credentials safe.
Jira
The InvGate Service Desk and Jira integration enables organizations to incorporate help desk capabilities to their Project Management and software development tools. It includes three tools - Jira Software, Jira Work Management, and Jira Service Management - and, for whichever one they choose to integrate, the process to do so is the same.
Bringing together these tools creates a bridge between the support team and the development or Project Management teams. In a nutshell, this means you'll be able to see on InvGate Service Desk key information about any Jira issue, including ID, title, person assigned to the issue, creation date, and more. Also, you can define which help desk roles (agents, managers, admins) are allowed to see the Jira issue related on InvGate Service Desk.
Other communication tools via Zapier
You can also automate requests and actions between InvGate Service Desk and Slack, Facebook Messenger, Google Chat, and others via Zapier, but we'll get to that later.
InvGate Service Desk integrations with BI tools
InvGate Service Desk has a free API specifically designed for large data extraction. This allows you to esport data with powerful Business Intelligence (BI) tools, allowing your organization to leverage data from Service Desk requests for in-depth analysis and reporting.
By connecting the API with tools such as Power BI or Tableau, you can extract the data stored on InvGate Service Desk, import it on your preferred visualization tool, and manipulate and analyze it according to your specific needs.
InvGate Service Desk and Zapier integration
To further expand the scope of integrations that InvGate Service Desk offers, you can connect it to Zapier. This automation platform lets you link your instance with a vast array of other tools and applications.
In consequence, with just a few zaps, you can automate data transfer, trigger actions, and streamline processes between InvGate Service Desk and the apps of your choice, avoiding custom developments or coding.
These are some of the tools and actions you can integrate to InvGate Service Desk via Zapier:
Slack - Lets users create new tickets, provide updates, or communicate with agents using Slack's messaging features, while allowing agents to receive notifications and updates directly in Slack channels.


PagerDuty - Automatically pages agents when a new urgent request is created. This ensures that the appropriate personnel are alerted promptly for critical issues.


Google Calendar - Automatically documents change records in your calendar, providing a historical view of adjustments made and facilitating the schedule of future changes efficiently.


Facebook Messenger - Automates the creation of new requests on InvGate Service Desk when receiving messages through your Facebook Messenger inbox. This provides an alternative channel for clients to submit requests conveniently.


InvGate Service Desk API
If you thought we had reached the limit of the integrations, hold on. InvGate Service Desk also offers an API for users to interact with the platform programmatically, providing a flexible and customizable integration option.
You know what this means, right? If you cannot find a pre-built integration for your organization's specific needs, the API empowers your team to create their own custom integration and extend the functionality of InvGate Service Desk.
In particular, the API allows developers to access and manipulate data within InvGate Service Desk following RESTful principles, which means that users can perform operations such as retrieving, creating, updating, and deleting data. Plus, it communicates using JSON (JavaScript Object Notation) format, making it easy to work with and integrate into different applications and systems.
To use the InvGate Service Desk API, you need to authenticate its requests by including an API key in the request headers. This key ensures secure and authorized access to the API resources. Once authenticated, you can make API calls to retrieve data, create new records, update existing records, and perform various other operations based on their specific integration requirements. Some of its most common uses are request creation, administration of groups, companies, and time-tracking.
To sum up
The wide range of integration possibilities offered by InvGate Service Desk will level up your Service Management capabilities, and make it easier for you to keep working with your current tech stack. To help you out – especially if you're considering migrating from your current help desk –, this cheat sheet summarizes every tool and application you can connect with InvGate Service Desk for seamless data exchange, expanded automated workflows, and comprehensive insights.
If you are already working with any of these tools, or looking to incorporate them into your workplace, this information will help you achieve greater efficiency, improve service delivery, and enhance customer satisfaction.
To explore all the capabilities InvGate Service Desk has to offer, book a call with our experts and learn everything about them!