The state of work is constantly changing, responding to rapidly evolving circumstances and, in turn, shaping the way we understand the role of technology within our day-to-day lives. As we rush to keep up with the pace of digital transformation, organizations have found themselves relying more and more on IT as an important tool, with end users depending on IT departments for services that are indispensable to their work.
These essential services are paramount, and should be communicated to users in an organized, accessible, easy-to-understand way, providing end users with clarity on what these services are and how they can be obtained. Without this, users would lack a thorough understanding of the services they are entitled to, and would inevitably flood the service desk with requests and demands for information. This ultimately results in a drop in both IT productivity and user satisfaction.
How can organizations avoid falling into this cycle?
A good way to overcome these roadblocks is implementing a process that simplifies service delivery and provides maximum clarity for end users.
The IT service catalog was first introduced as part of ITIL best practices guidelines for IT service management (ITSM). This guide will explain what an ITIL service catalog is, detail its essential components, and provide some best practices for creating and maintaining an ITIL service catalog.
What is an IT / ITIL service catalog?
In simple terms: an IT service catalog is a one-stop resource that provides end users with clear and accurate information on all IT services that an organization's IT department offers. It is a centralized database of active IT services from the IT service portfolio.
Let's talk about that distinction for a moment. It would be easy to confuse the IT service catalog with the service portfolio, but they refer to different things. More accurately, the former is a subset of the latter: the service portfolio includes the complete lifecycle of all IT services and products managed by the organization, including information on retired services and products as well as active ones (and ones currently in the pipeline). Essentially, it is an internal document, not usually accessible by end users, that provides the IT department a full view of what has worked and what has not.
The IT service catalog is a subset of the full service portfolio, and lists active services that are currently being offered, leaving out those that have been retired or are coming up in the pipeline.
The IT service catalog consists of two distinct but linked perspectives.
The business service / customer view refers to what end users see on their side when they access the service catalog to request a service. You can imagine it as a storefront for users to browse services, and from which they can request products and support from the IT service desk.
The technical view is the internal view for IT resources, providing comprehensive technical, security, and workflow information. This includes approval workflows, technical manuals, and processes that are relevant to the service provider.

Components of a service catalog
Since the service catalog is a customer facing service, it should be designed with the end user in mind. It is meant to provide clarity on the IT services offered, and typically includes the following information.
Service name
Service category (hardware, software, email, data management, etc)
Service description
Service owner
Service availability
Service level agreement (an agreement between the service provider and the end customer defining the expected level of service)
Service costs (if applicable)
This isn't a comprehensive list, and organizations may choose to include more or less information based on what's relevant to their stakeholders.
The service catalog is meant to communicate services clearly to end users, so it's important that concise and accurate information is provided. The idea is to let the end user know what they can expect and when they can expect it.
Why you need a service catalog
The key goal is to simplify the process of making an IT service request. Without knowing what's available, information specific to services, or the timeframe for turnaround, end users would find it arduous and complicated to make requests. And being that minimizing these pain points is one of the fundamental roles of IT, service catalogs provide a good solution to a common problem.
In addition to finessing the service request process, ITIL service catalogues have a number of indirect benefits that trickle down to various parts of the organization.
Benefits for the business and consumers:
Facilitates customer interactions with IT service provider.
Improves customer satisfaction.
Simplifies process for requesting IT services.
Consistent service provision standard.
Customers presented a clear and well-defined IT service offering.
Benefits for IT organizations:
Managing services and fulfilling service requests with a standard tool improves service delivery time.
Streamlines communication with the end user.
Clarifies the role of IT within the organization.
Lessens the need for manual coordination, improving efficiency.
Helps balance performance norms with IT resources allocation.
Imagine, for instance, that a member of your organization requires a new work computer. Without a service catalog, this operation would be a back-and-forth flurry of emails, requests for clarification, explanations about availability of assets, and questions about turnaround times. This would also typically rope in other members of the organization, and perhaps even other departments such as HR. The process is cluttered and unclear, creating a bottleneck effect.
Now imagine how it would be for a more complex process, such as a new employee onboarding, which involves the allocation of IT assets, creation of a bank account, administrative paperwork and more. The process becomes even more complex simply for lack of clarity, of a streamlined communication channel, and clearly delineated processes. This is why having a good IT service catalog, built with the right tools, is essential.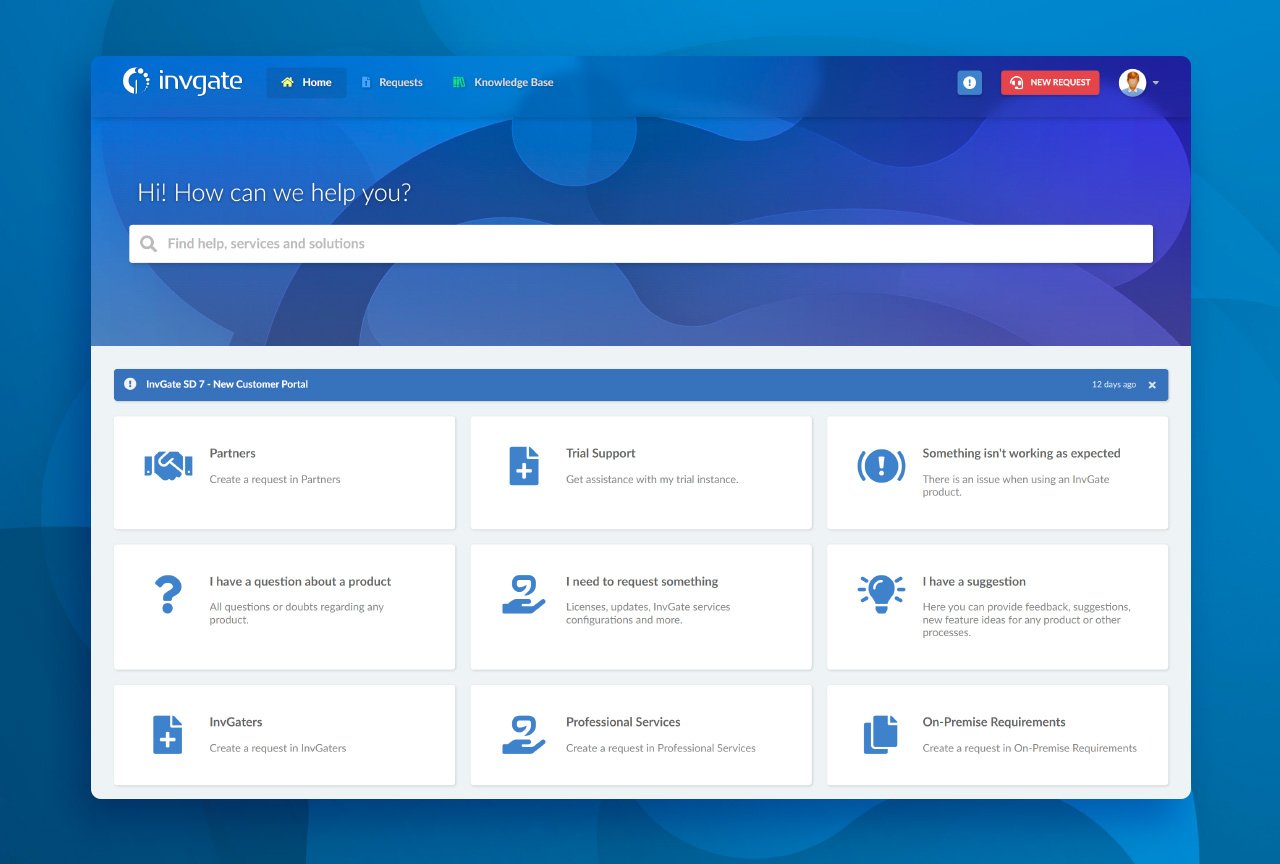 This is an example of a service catalog for user support. InvGates creates service desk and asset management solutions, and considers it a priority to ensure that its own service catalog tool is easy, intuitive, and clear to navigate. The use of large icons and brief descriptions of each request are good ways to achieve this.
Creating an IT service catalog
Once an organization has decided to implement a service catalog, the most important thing (aside from choosing a tool that will help you build it) is to ensure that it accurately reflects the needs of end users. This involves knowing the company inside and out, and often requires communicating with the different departments to learn their wants and needs. Below are some tips to make your service catalog work for you and your organization.
Identify stakeholders and communicate with them
Involve end users and stakeholders by talking to them about what they would need in order to more effectively perform their jobs. The goal is to elevate your service desk's efficiency, so communicate with them and other IT teams to assess the services they currently provide, the processes already in place, and what may be missing.
Define the service offerings and permissions
It's important to define and categorize your services, taking stock of all the services offered by the IT department, the workflows that are already in place to support it, and how long each one takes to complete. Properly categorized services make it much easier for users to find, making the entire process much more efficient.
In many organizations, employees are entitled to different IT services based on their role, department, categorization, and/or location. End users should only be able to see the services that they have access to. For instance, you may want all users to have the ability to request a computer accessory (such as a headset), but want to keep the pricier items only within the reach of management.
Create service-specific SLAs and fulfillment strategies
Once you've defined and categorized the list of service offerings and corresponding permissions, create service-specific SLAs and fulfillment workflows. Designate service owners for each service to act as the point of contact. It's important to set fulfillment mandates that are realistic and sustainable, therefore ensuring smooth delivery and a good customer experience.
Design your service catalog for optimum user experience
You want your IT service catalog to be easy to navigate, helping users quickly find the services they need and therefore reducing any chance of muddying the waters. Make it a friendly user experience, giving visibility to all the key items as well as the attributes of each service offering. When collecting data from the users, avoid long and tedious forms, instead incorporating dynamic forms with conditional fields based on responses. Include a mechanism for users to follow up on the status of their service requests.
Integrate your service catalog with the self-service portal
The self-service portal provides a one-stop shop for end users to find information in your knowledge base, create support tickets, and make requests, as well as follow up on active items. Your service catalog is a crucial component of the self-service portal, so make sure it is prominently displayed, with the most popular services at the top for easy access.
Roll out your service portal in phases
What's the old adage about trying to run before you can walk? Test out your service catalog with a small group of users first (for instance, a single department), providing training sessions if possible. After a period of time, take stock of stakeholder feedback to determine what worked and what didn't; apply the necessary changes before you roll out to the rest of the organization.
Continual service improvement
Once your service catalog is up and running, monitor your KPIs (key performance indicators) to identify possible areas of improvement. There are many factors to consider. Improving efficiency and making processes easier for users is a continuous journey, one you will keep improving on with time and practice.
Common service catalog mistakes
Your IT service catalog is designed to make life easier for both your end users and your IT organization, but sometimes small mistakes can muddy up the process and keep it from being as effective as it can be. There are some common pitfalls that can be easily avoided when creating your own service catalog. We have a whole article dedicated to service catalog mistakes, but here are some of the most common ones.
Using excessively technical language: Remember, your service catalog should be widely accessible to all members of your organization, even those without a technical background. Avoid "IT speak" or technical jargon when it comes to describing services. Instead, use clear and plain language to make it easy for end users to understand.
Being too granular with categorization: When you're mapping out the catalog hierarchies, it's easy to get lost in an endless maze of sub-categories. This makes it difficult for end users to find what they're looking for. Try to be concise and take special care not to be too granular in your categorization.
Assuming your end users' requirements: Don't limit yourself to the services you think your customer needs. Instead, organize your catalog around end-user expectations by understanding your users' needs based on their own feedback. This is why communication is so important. Speaking of communication...
Being unresponsive: The worst thing you can do with a system that is designed to facilitate communication and avoid bottlenecks is creating a bottleneck yourself by being unresponsive. If you're part of the IT organization, be in constant communication with your end users to keep them updated on timelines and new developments.
Frequently asked questions
What is the difference between a service catalog and a self-service portal?
It's very common for people to confuse the IT service catalog and a self-service portal with each other, or using the terms interchangeably. As we now know, the terms refer to different things. An IT service catalog is, essentially, a database of all the IT services offered by the organization, while a self-service portal is an interface that connects the end user and the IT department. It allows the end user to raise various types of tickets and navigate the company's knowledge base.
In simple terms, a service catalog can exist as part of the self-service portal, as a larger ecosystem of tools for end users to connect with IT. From the self-service portal, they can browse the service catalog and open a request, and they can also browse the knowledge base to find workarounds for errors, log an incident (like a technical outage), or read company-wide announcements.
What is the difference between a service catalog and a service portfolio?
As we've discussed, the service catalog is a listing of all active services offered to end users. The key word there is "active," as that's one of the main things that differentiates the IT service catalog from a service portfolio. The service portfolio includes the complete lifecycle of all IT services and products managed by the organization, including information on retired services and products as well as active ones (and ones currently in the pipeline). It is an internal document, not usually accessible by end users, that provides the IT department a full view of what has worked and what has not.
Should I list all services in my service catalog?
A service catalog will not list every single service within your company, because not every service is necessarily a customer-facing service. If the service catalog can be imagined as a restaurant menu, then ask yourself if you would list individual ingredients as part of the menu. There are departments and services that your customer doesn't need visibility into, because they are supporting services. Listing everything that everyone does will not only create redundancy in your catalog, but it will bog your end user down with option fatigue.
Communicate with your internal teams and customers to decide which services you'll be providing on the service catalog. Try to keep the list streamlined and straightforward. This way your service catalogue will continue being a tool for actual support, rather than yet another complicated thing your end user needs to figure out