Are you in search of a reliable Snipe-IT alternative for your IT Asset Management (ITAM) needs? Look no further! If you're considering ITAM software alternatives, InvGate Insight is a top contender that offers a comprehensive set of features and functionalities to streamline your processes.
With InvGate Insight, you can effortlessly create a unified inventory of all network-connected assets. This ITAM software solution provides advanced features such as network scanning capabilities, customizable reports and analytics, and seamless integrations with native service desk and remote desktop tools.
Let's discover the Snipe-IT alternative that empowers you to streamline your processes, enhance efficiency, and gain better control over your IT ecosystem.
What is Snipe-IT?
Snipe-IT, a renowned Asset Management system developed by Grokability, emerged in 2013 as the brainchild of Alison Gianotto, the former CTO of a prominent ad agency in New York City. Frustrated by the limitations of available IT asset tracking solutions, Gianotto took matters into her own hands and designed Snipe-IT to cater to her unique requirements.
Over time, Snipe-IT has evolved into a widely embraced and actively maintained alternative for free Asset Management.
Grokability, the driving force behind Snipe-IT, places great emphasis on creating user-friendly software, fostering a culture of continuous learning, championing transparency and security, and advocating the benefits of open-source software.
InvGate Insight as a Snipe-IT alternative
InvGate Insight, developed by InvGate, is a comprehensive IT Asset Management solution that caters to the needs of organizations. It is available both as a cloud-based service and as an on-premise installation, providing flexibility in deployment options.
With InvGate Insight, organizations can effortlessly create a unified inventory of all their network-connected IT assets on a single platform. This includes tracking physical, virtual, and cloud assets, ensuring a holistic view of the entire IT infrastructure.
The software encompasses a wide array of features and functionalities designed to simplify IT Asset Discovery, streamline Inventory Management, and facilitate Software License Management. Here are some notable features offered by InvGate Insight:
Network scanning capabilities - InvGate Insight empowers users to conduct thorough network scans to identify and catalog IT assets, ensuring comprehensive coverage.
CMDB builder - The solution incorporates a

Configuration Management Database (CMDB)

builder, enabling organizations to create a centralized repository of IT asset information for effective management.

Health monitoring alerts

- Users can leverage smart tags to monitor the health and status of IT assets, allowing proactive maintenance and minimizing downtime.
Automated alerts and processes - InvGate Insight automates the generation of alerts and streamlines IT processes, enabling efficient Incident Management and issue resolution.

Asset Lifecycle Management

- InvGate Insight allows organizations to manage their IT assets throughout their entire lifecycle effectively.
IT security and compliance - The solution helps organizations ensure IT security and compliance by providing tools to track and manage software licenses, monitor vulnerabilities, and enforce regulatory requirements.

Contract Lifecycle Management

- InvGate Insight enables organizations to track and monitor contractual agreements with vendors and service providers.
Native service desk and remote desktop integrations - The software seamlessly integrates with service desk solutions and remote desktop tools, promoting collaboration and enhancing support processes.
Customized reports and analytics - InvGate Insight offers robust reporting and analytics capabilities, allowing organizations to generate customized reports and gain valuable insights into their IT ecosystem.
By leveraging InvGate Insight, organizations can achieve improved control and visibility over their IT infrastructure, streamline processes, and make well-informed decisions based on accurate and up-to-date asset information.
Usability
InvGate Insight brings forth a range of advantages when it comes to usability. The implementation process is straightforward, ensuring a seamless transition for users without encountering unnecessary complexities. Additionally, the software can be effortlessly customized to align with individual users' and organizations' specific needs and preferences.
With its intuitive and user-friendly interface, navigating and interacting with InvGate Insight becomes a breeze, promoting a positive user experience. Furthermore, InvGate Insight incorporates a visually appealing Graphical User Interface (GUI) that not only enhances the overall user experience but also promotes ease of use.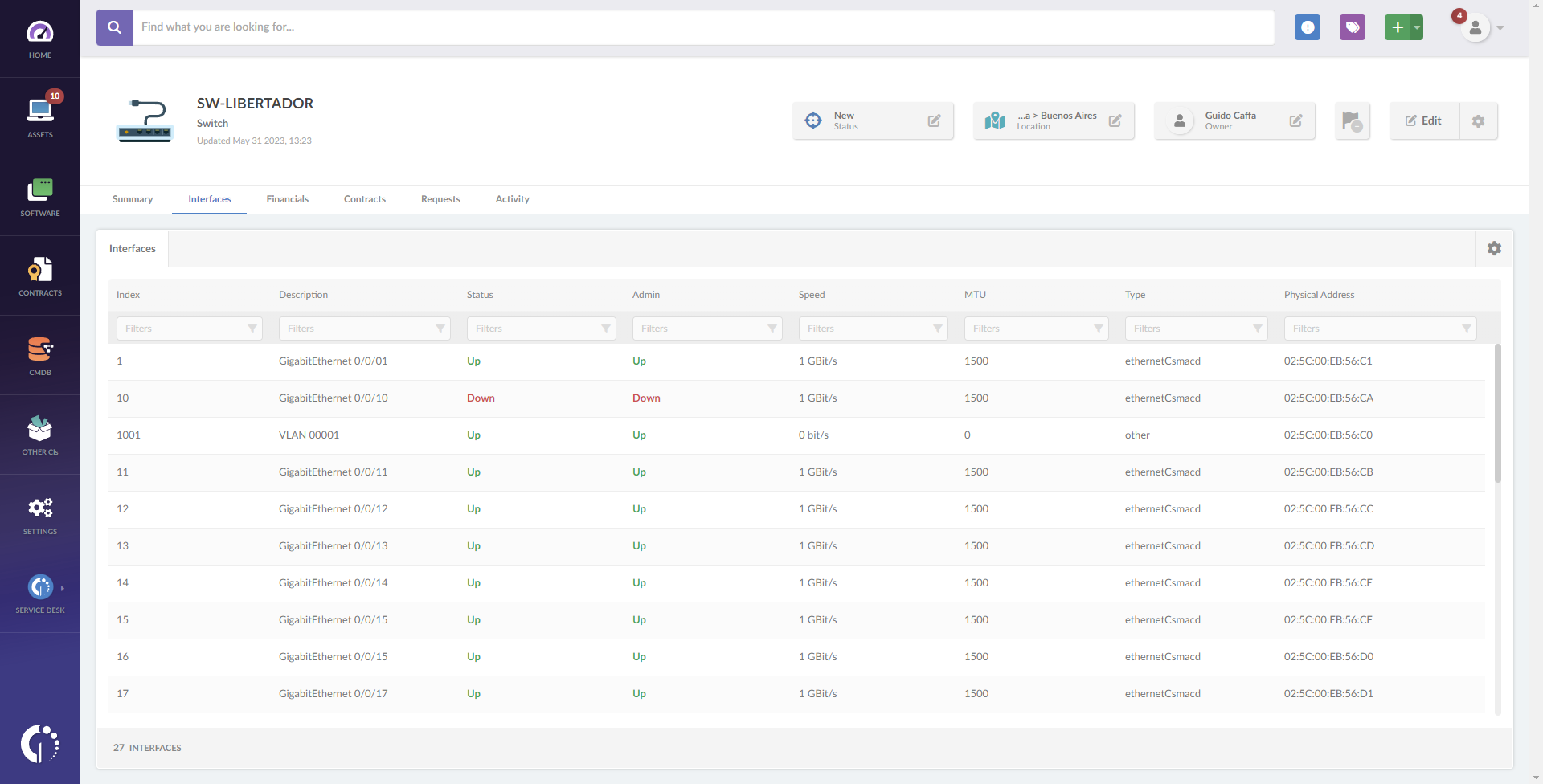 On the other hand, Snipe-IT also offers notable usability features. The software enables users to easily track assets, software, consumables, and peripherals, providing a user-friendly and efficient approach to Asset Management. Moreover, the software is customizable, allowing users to add pictures to items and assign them to specific locations or individuals, promoting personalized organization and ease of use.
However, while Snipe-IT excels in usability, there are a few drawbacks to consider. The initial setup process can be time and resource-intensive, particularly when importing existing inventory. Users may encounter challenges with the importing process, which can be clunky and not as intuitive as desired. Additionally, there may be difficulty in changing default search fields or email configuration, limiting customization options in those areas.
Features
InvGate Insight offers a range of powerful features that enhance ITAM and operational efficiency. It easily integrates and manages comprehensive inventory from various sources, providing a holistic view of assets, locations, and people. With detailed insights into IT infrastructure, users can optimize resources and reduce operational costs.
Moreover, the CMDB map builder tool streamlines service times, while automated processes and alerts ensure proactive management. The platform also enforces cybersecurity policies, maximizes software efficiency, and offers flexible deployment options.
In contrast, although Snipe-IT has several strengths that contribute to its effectiveness as an ITAM solution, it's important to consider its limitations. Some users have identified missing features, such as the absence of a calendar booking system or webhooks, which could limit certain functionalities. Additionally, the platform currently lacks Single Sign-On (SSO) authentication and support for Security Assertion Markup Language (SAML) or Google connection for user import, which may hinder integration possibilities.
Snipe-IT users have also reported occasional limitations in the search functionality, where advanced search capabilities or customization options may be desired. Furthermore, feedback suggests that the mobile dedicated views could be improved to enhance the user experience for mobile users.
Integration
InvGate Insight provides seamless integration with its native service desk, InvGate Service Desk, offering a 360° view of IT operations. This integration allows for easy linking of tickets with devices and people, facilitating efficient management and streamlined workflows.
Moreover, the native integration with popular remote desktop tools like Windows Remote Desktop, TeamViewer, AnyDesk, and VNC further enhances InvGate Insight's capabilities for effortless remote management, providing direct access to devices for troubleshooting and maintenance tasks.
In contrast, even though Snipe-IT offers a comprehensive API that enables users to automate tasks and integrate with other tools, it lacks integration with ticketing tools, which may require additional manual effort for managing IT operations and workflows.
In conclusion
When considering an Snipe-IT alternative, InvGate Insight emerges as a robust and feature-rich IT Asset Management solution. It offers a user-friendly interface, customizable options, and seamless integration with various systems.
Although the choice between the two depends on specific requirements and priorities, InvGate Insight presents a compelling option for organizations seeking a comprehensive ITAM solution. Still in doubt? Try our live demo to see the features for yourself!