Are you grappling with the decision of Cherwell Asset Management vs. Snipe-IT for your IT Asset Management (ITAM) needs? In the dynamic world of ITAM, the choice you make can be a pivotal factor in shaping your organization's efficiency and overall success.
In this blog post, we'll delve deep into the heart of ITAM, meticulously analyzing the features, advantages, and potential drawbacks of both platforms.
However, the horizon of ITAM solutions doesn't stop there. Amid this ITAM software comparison, a third alternative gleams on the horizon – InvGate Insight. This platform brings a fresh perspective, heralding unique functionalities and capabilities that will revolutionize your approach to Asset Management.
So if you're ready to uncover the potential that lies within these solutions, buckle up – your journey to optimized ITAM strategies and enhanced business outcomes begins now!
Most looked-at features by buyers
When evaluating options for managing IT assets, potential buyers consider various important features to choose the most suitable solution that meets their specific needs and business requirements.
Below are key factors that purchasers consider when picking a customized IT Asset Management solution for their company.
Comprehensive insights into infrastructure - The platform should offer complete visibility into the status, performance, and utilization of IT assets, enabling users to make informed decisions and enhance their infrastructure. It should also include robust reporting and analytical capabilities.


Improved compliance with cybersecurity standards - Potential buyers look for a tool that can monitor asset security status to identify and address security vulnerabilities proactively.


Unified control of IT assets and inventory - Users can effectively oversee and manage their

IT asset inventory

through a single interface. The solution needs to automate asset identification and record essential details such as hardware specifications, software versions, and ownership information.


Remote management through integrated tools - Integration with commonly used remote desktop tools empowers IT teams to diagnose problems, apply patches, perform software installations, and carry out system updates remotely, eliminating the need for physical presence.


Software management optimization - This feature enables users to track software installations, ensure proper

Software License Management

, and identify instances of excessive or insufficient usage.


Creating

CMDB

maps - Users have the ability to define and document connections between different components, including hardware devices, software applications, network links, and interdependencies. Visualizing these connections helps organizations understand the impacts of changes, assess potential risks, and plan for effective

Incident

and

Change Management

.


Integration with help desk systems - Integrating with

help desk software

facilitates seamless information exchange between Asset Management and

IT Service Management

workflows. This integration improves communication, streamlines processes, and enhances overall service delivery.


Proactive expense management and financial optimization - The solution should incorporate financial data,

contract lifecycle management

, licenses, and other relevant details to gain a thorough understanding of operational costs.


Automation and early alerts - The solution should enable automated workflows for routine tasks like software updates, patch deployments, and system maintenance. This ensures smooth operations and quick responses to important events through automated procedures and timely proactive alerts.


Flexible deployment options - Users prefer a platform that provides flexibility in choosing deployment methods, including cloud-based, on-premises, or hybrid solutions.
What is Cherwell Asset Management?
Cherwell Asset Management is an IT tool designed to simplify the management of both software and hardware assets. This all-encompassing solution aims to lower expenses associated with software licenses, reduce the workload on IT operations, and mitigate the risks tied to software audits.
The main functionalities of Cherwell Asset Management include keeping track of hardware and software inventory, ensuring compliance with licensing agreements, analyzing software usage, and facilitating ITAM purchases. It smoothly integrates with Cherwell IT Service Management, thereby enhancing the overall IT structure.
The developer of Cherwell Asset Management, Cherwell Software, was acquired by Ivanti, a well-known enterprise Service Management provider. As a result of this merger, Ivanti is directing Cherwell clients to its Ivanti Neurons platform. However, this abrupt shift has led to customer dissatisfaction, opening up an opportunity for other vendors in the ITSM/ITAM field to present alternative solutions.
What users like from Cherwell Asset Management
Cherwell Asset Management has gained considerable acclaim and garnered positive feedback from its users.
Users have highlighted numerous benefits of the platform in reviews from reputable sources like Gartner. These advantages include the following.
Monitoring and Management - Cherwell Asset Management's seamless integration with multiple sourcing services and its competence in effectively overseeing non-IT assets have received praise. Users underline its effectiveness in monitoring and managing assets. The utilization of an agent to gather data contributes to the precision and trustworthiness of asset information.
User interface and customization - Users highly value the platform's exceptional flexibility. Additionally, the ability to permit or restrict software based on individual assets is particularly appreciated.
Efficiency and performance - Users have expressed praise for the reliability and performance of the tool's applications. Its effectiveness in monitoring changes and incidents is also pointed out as a notable advantage.
Cost-effectiveness - Cherwell Asset Management's affordability, coupled with its user-friendly setup right from the beginning, positions it as an attractive option for users in search of efficient Asset Management solutions.
Report generation - Users have positively commented on the tool's capability to generate reports, highlighting that the inclusion of charts enhances visual appeal and aids in understanding.
What users don't like from Cherwell Asset Management
Although Cherwell Asset Management boasts a multitude of strengths and positive qualities, it isn't immune to customer concerns and criticisms. Feedback from respected sources like Gartner has highlighted recurring issues users have raised. These include:
Challenges with advanced customization - Achieving advanced customization requires significant effort and familiarity with the underlying code, presenting difficulties for users seeking tailored configurations.
User interface - Criticisms have arisen regarding the design of the user interface for specific modules and Mapp, citing awkwardness and a lack of user-friendliness, indicating a need for enhancements. Moreover, suggestions have been made to enhance the UX, particularly for smaller organizations, to address their unique needs better.
Limited advanced features and API capabilities - Some users desire more advanced features and API capabilities to better tailor the platform and enhance its functionality to suit specific needs.
Issues with certain tickets and usability - Certain tickets may not function as expected, impacting usability and leading to user frustration.
Implementation process - Dissatisfaction among some users about the implementation process of Cherwell Asset Management underscores the necessity of improving its out-of-the-box readiness.
Limitations of built-in asset scanning - Users have encountered difficulties with asset scanning through the built-in option, prompting a desire for improved scanning alternatives.
A desire for greater involvement in interface design before deployment - Users express a wish for increased involvement in the interface design phase before deployment to better align the platform with their preferences and workflows.
Inconvenience from frequent minor upgrades - Some users find minor upgrades disruptive, potentially causing workflow interruptions and impacting user experience.
Performance concerns with specific web browsers - Reports of performance issues and occasional lag with certain web browsers affect user experience and efficiency.
Lack of integration with App Dynamics system monitoring - Users note the absence of integration with App Dynamics system monitoring, which limits comprehensive monitoring capabilities.
What's Cherwell Asset Management's argument over Snipe-IT?
Let's delve into the specific arguments that underscore Cherwell Asset Management's superiority when compared to Snipe-IT.
Unparalleled user interface and customization - Users consistently commend the platform's adaptability, enabling organizations to tailor the system intricately to their unique operational needs.


Comprehensive monitoring and management - Cherwell Asset Management's argument extends beyond mere asset tracking, establishing itself as a comprehensive monitoring and management solution. The platform seamlessly integrates with diverse sourcing services, ensuring an all-encompassing approach to asset oversight, including non-IT assets.


Empowering report generation - Users consistently applaud the platform's report generation capabilities, with the incorporation of visually appealing charts enhancing the interpretation and communication of complex asset data.


Unwavering reliability, performance, and incident tracking - The platform's adeptness at monitoring changes and incidents underscores its robust design and seamless functionality.


Cost-efficiency and streamlined implementation - The platform positions itself as a cost-effective choice right from the outset, offering a user-friendly setup that ensures a smooth transition.
What is Snipe-IT?
Snipe-IT, a product of Grokability, gained prominence in 2013 thanks to Alison Gianotto, who developed it after being dissatisfied with existing IT asset tracking options during her tenure as a CTO in a New York City advertising agency. This solution has gained traction over the years and serves as a well-maintained free alternative for Asset Management.
Grokability, the entity behind Snipe-IT, specializes in creating intuitive software, fostering an environment of perpetual education, placing transparency and security at the forefront, and championing the benefits of open-source software.
What users like from Snipe-IT
Snipe-IT has garnered recognition and positive evaluations from platforms like Capterra and G2, underscoring its strengths and merits.
Here are some of the notable benefits that have been accentuated.
User-friendly setup and interface - Snipe-IT's setup process is straightforward, and its user-friendly interface caters to individuals with non-technical backgrounds. Even those without technical expertise can easily navigate the platform, effectively tracking software purchases and renewals.
Adaptability and versatility - The software offers customization capabilities, such as the inclusion of images for items and the assignment of items to specific locations or individuals. Its comprehensive API facilitates automation and integration with diverse tools.
Simplified asset monitoring - The platform streamlines asset tracking, encompassing software, consumables, and peripherals with ease. Users can seamlessly incorporate components and accessories for comprehensive tracking.
Community and support - The tool offers strong support through both its paid version and the active forum community associated with the free version. This network allows users to engage, seek assistance, and share knowledge with like-minded individuals.
Cost-effective open-source solution - Snipe-IT stands out as a free and open-source solution, delivering an economical option tailored to small and medium-sized businesses. It boasts an array of features within a stable framework.
What users don't like from Snipe-IT
Despite the numerous strengths and positive attributes that Snipe-IT possesses, it remains susceptible to user concerns and criticisms. Reviews from platforms like G2 and Capterra have brought to light the common issues raised by its users.
Cumbersome data importing process - The process of importing data into Snipe-IT can be unwieldy and less intuitive, possibly leading to user frustration.
Limited ticketing tool integration - The platform lacks seamless compatibility with ticketing tools, potentially causing inconvenience for users reliant on such integrations.
Time-intensive initial configuration - Establishing Snipe-IT, particularly when incorporating existing inventory, can demand a significant investment of time and resources.
Absence of desired features - Users have pointed out the absence of certain desired features, such as a calendar booking system or webhooks. Additionally, making changes to default search fields or email configurations might prove to be challenging.
Mobile views and notifications - The dedicated mobile views within the software could benefit from enhancements to ensure better usability. Additionally, the email notification system might not always send alerts for specific asset types, potentially resulting in overlooked items.
Authentication and search constraints - Snipe-IT lacks support for Single Sign-On (SSO) authentication and SAML or Google connection support for user imports. Moreover, the search functionality within the software might be restricted in its capabilities.
What's Snipe-IT's argument over Cherwell Asset Management?
When compared to Cherwell Asset Management, Snipe-IT presents a compelling argument founded on its unique strengths and capabilities, catering to a diverse range of organizational needs.
User-friendly experience - Snipe-IT takes the lead with its user-friendly setup and interface, making it accessible even to individuals without technical backgrounds.


Customization and versatility - Snipe-IT's adaptability and versatility shine through, offering customization options such as image inclusion and item assignment.


Comprehensive asset monitoring - Snipe-IT's simplified asset tracking encompasses a wide spectrum, including software, consumables, and peripherals. This streamlined approach ensures comprehensive tracking with the ability to incorporate various components and accessories.


Community and support - Snipe-IT's community and support network, present both in its paid version and active forums for the free version, highlights its commitment to user engagement.


Cost-effectiveness - Snipe-IT's standout feature as a cost-effective open-source solution, tailored to small and medium-sized businesses, could sway the decision-making process. This affordability factor combined with its feature-rich offering positions it as a budget-friendly choice.
Considering InvGate Insight as an ITAM solution alternative
For organizations searching for customized alternatives for IT Asset Management that align with their specific needs and prerequisites, considering InvGate Insight comes highly recommended.
As a robust solution for IT Asset Management, InvGate Insight presents an assortment of features and functionalities that establish it as a viable choice for streamlining Asset Management procedures.
Let's now delve into its fundamental characteristics.
Adaptable deployment options for tailored solutions
Recognizing the uniqueness of each organization's requisites and industry regulations, InvGate Insight offers flexible deployment alternatives. This adaptability allows organizations to choose between a cloud-based or on-premise solution, ensuring alignment with specific requirements and adherence to compliance standards.
In-depth insights into IT infrastructure
With its robust array of features, InvGate Insight furnishes comprehensive and actionable insights into IT assets, encompassing their status and usage. This extensive insight enables effective management and optimization of the infrastructure, ultimately enhancing operational efficiency.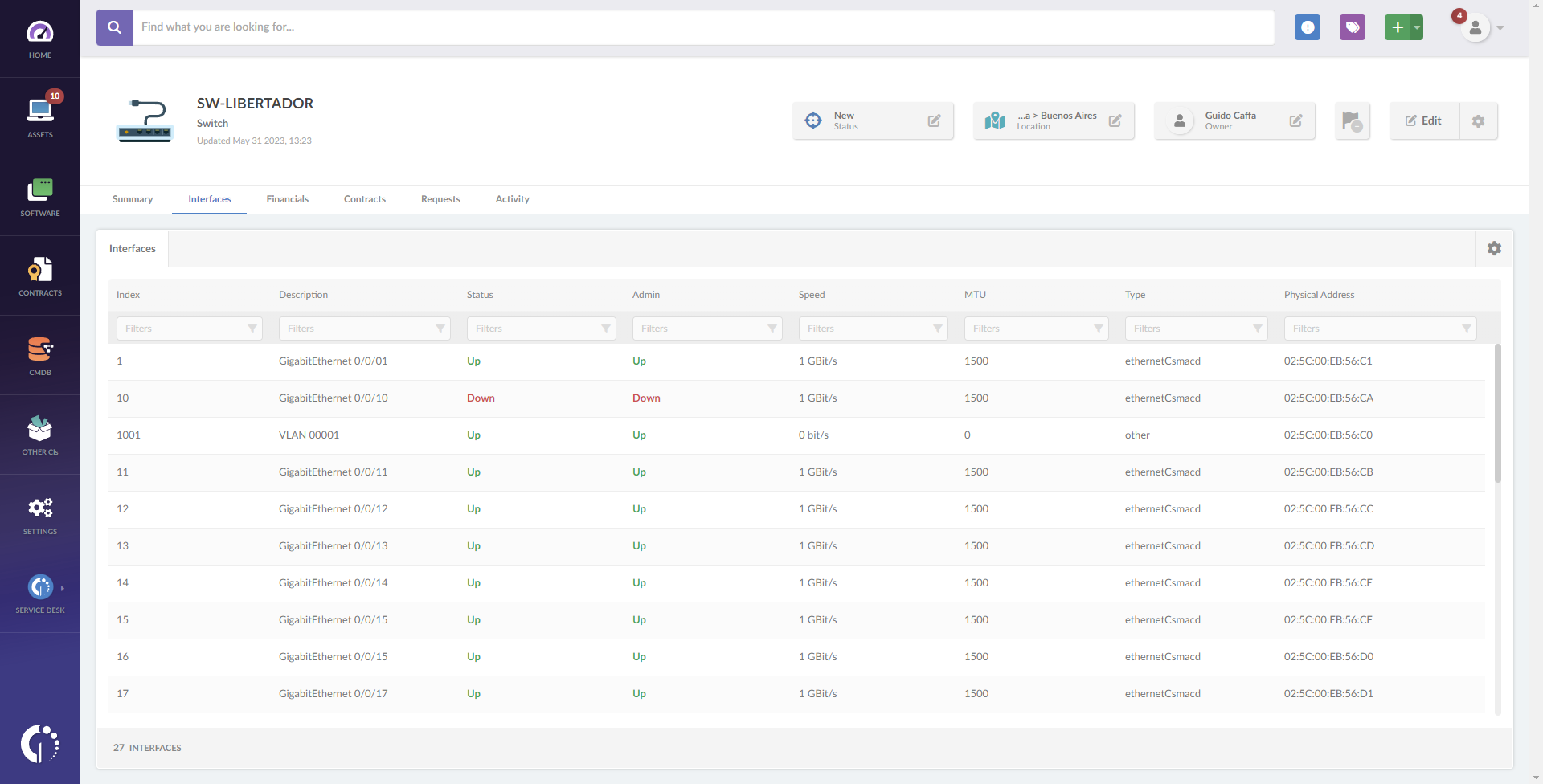 Enhanced management of IT assets and inventories
InvGate Insight facilitates seamless integration by consolidating data from diverse sources, including prominent operating systems, cloud service providers such as AWS, Google, Azure, and Mobile Device Management (MDM) systems like JAMF and Google Endpoint Manager. This all-inclusive integration ensures efficient management of both IT and non-IT assets, locations, and personnel, thereby saving time and presenting a holistic view of the infrastructure.
Optimization of software efficiency and cost reduction
InvGate Insight empowers organizations to identify and evaluate the utilization of paid software, facilitating efficient Software Management. By gaining visibility into software usage, underutilized licenses can be redistributed, redundant costs minimized, and returns on IT investments maximized. This optimization of software efficiency aids organizations in extracting the utmost value from their software resources.
Holistic insight into IT operations via native service desk integration
InvGate Insight seamlessly integrates with InvGate Service Desk, offering a native connection that links tickets to devices and personnel. This integration provides a comprehensive outlook on IT operations, streamlining management. Correlating service tickets with pertinent assets and personnel enhance workflows, communication, and the resolution of issues.
Strengthened cybersecurity compliance through asset monitoring
InvGate Insight's asset monitoring capabilities establish and enforce device health rules, enabling proactive cybersecurity compliance. Swift identification of instances of non-compliance permits immediate action to ensure adherence to cybersecurity policies and safeguard the integrity of the IT infrastructure.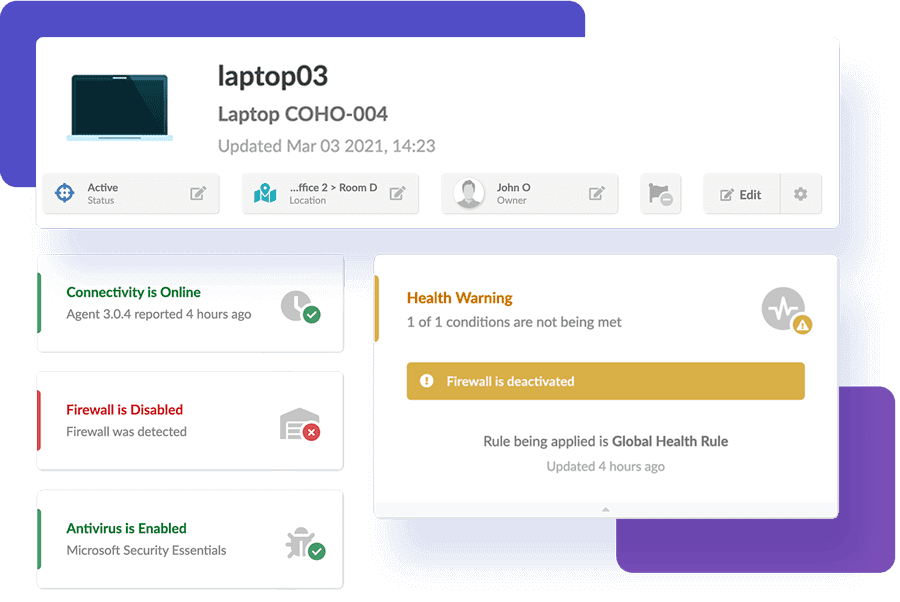 Automation and timely alerts for proactive management
InvGate Insight promotes process automation and the establishment of alerts, fostering proactive IT management. Automated alerts enable organizations to monitor contract expirations and promptly notify relevant stakeholders, minimizing manual efforts and the likelihood of oversights. This automation optimizes operations, allowing a focus on pivotal tasks and enhancing overall efficiency.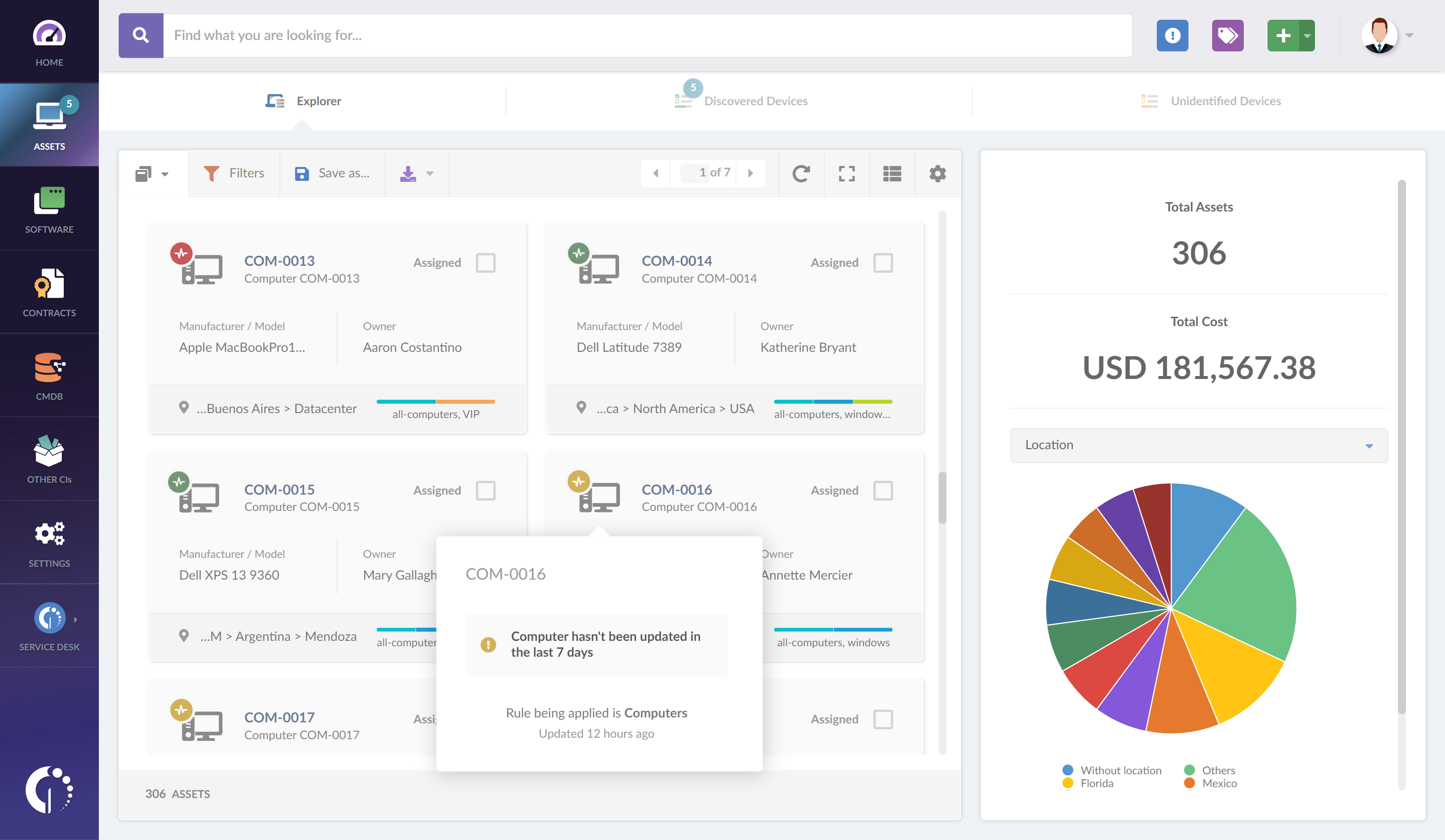 Effortless remote management via native integration
InvGate Insight natively integrates with well-recognized remote desktop tools like Windows Remote Desktop, TeamViewer, AnyDesk, and VNC. This integration bolsters remote management capabilities, providing direct access to devices for troubleshooting and maintenance. This seamless remote access empowers organizations to adeptly address IT issues, execute maintenance tasks, and ensure uninterrupted operations.
Streamlined operations with the CMDB map builder
InvGate Insight's tool for constructing CMDB maps furnishes a lucid and comprehensive overview of the IT ecosystem. Visualizing relationships between components aids in identifying potential impacts on operational continuity, leading to proactive risk mitigation. This heightened visibility reduces service durations, enhances operational efficiency, and ensures smoother IT operations.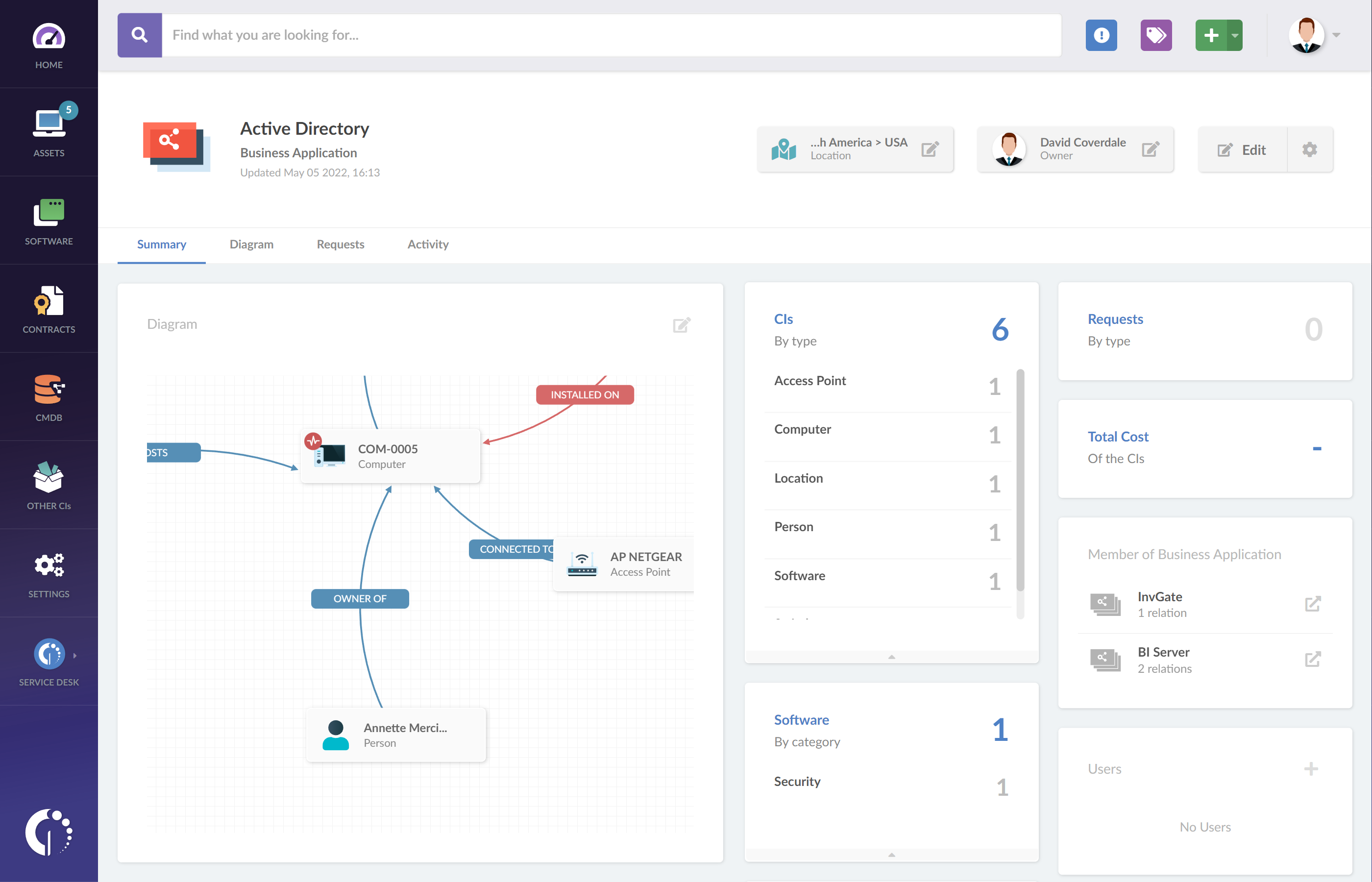 Proactive management of operational costs
InvGate Insight facilitates the direct integration of financial data, contracts, licenses, and other critical information into the system. This approach equips organizations with a comprehensive grasp of operational costs, enabling proactive and well-informed financial decisions. This strategic allocation of budgets maximizes the value extracted from IT investments.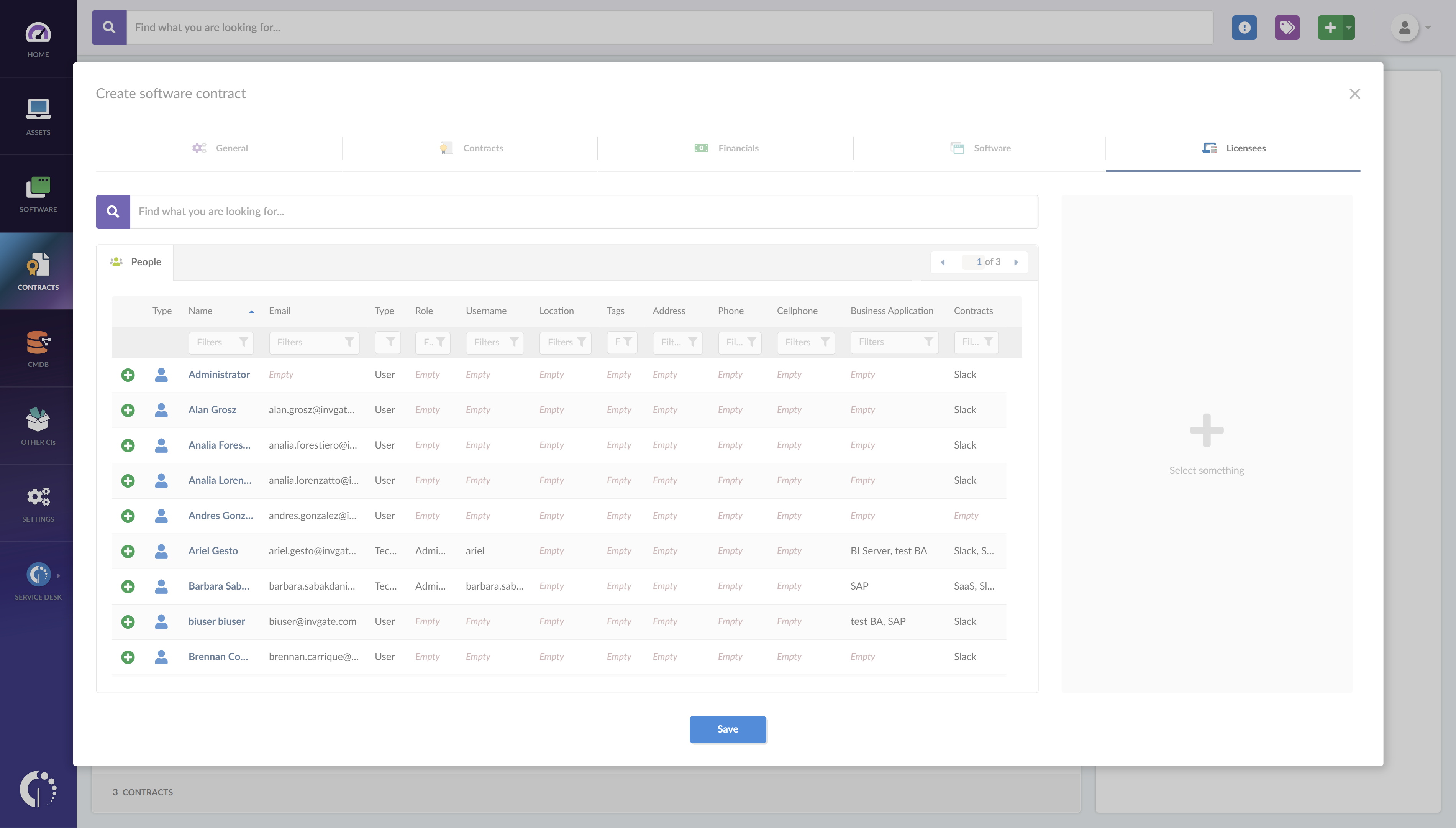 Next steps
In the dynamic landscape of IT Asset Management, the decision between Cherwell Asset Management vs. Snipe-IT carries significant weight, influencing the trajectory of your organization's digital operations. Navigating this choice requires a comprehensive understanding of the strengths and limitations each solution brings to the table.
However, in this landscape of choices, one name shines as a beacon of innovation and efficiency: InvGate Insight. This alternative emerges as a powerful contender that promises to reshape the way you handle IT Asset Management challenges.
Explore our live demo and discover the depth of possibilities that InvGate Insight offers.