Choosing the IT Inventory Management software that suits your organization's needs requires much investigation. And with so many options in the market, it's easy to get overwhelmed.
But things don't have to be that complicated. Since we know a thing or two about the subject, we thought we'd give you our rundown of the best tools so you can make an informed choice.
So, keep reading to find all you need to know to get your ideal IT inventory software!
Top IT Inventory Management Software
Why and how to manage IT inventory?
Regardless of the size or complexity of your IT infrastructure, Inventory Management is critical to any IT team. The first thing it can help you with is controlling spending by feeding you information on all your available assets, their status, value, contracts, and depreciation. With it, you can have a detailed follow-up of your organization's IT financials and maximize the value of your assets. Plus, it helps you to administrate IT resources in general.
On the other hand, it can be your best ally in managing your IT assets' security. IT asset monitoring alerts will help you discover whenever there's a thread or risk and better plan security strategies. And on top of that, it facilitates automation so that your asset managers and IT support agents can work efficiently.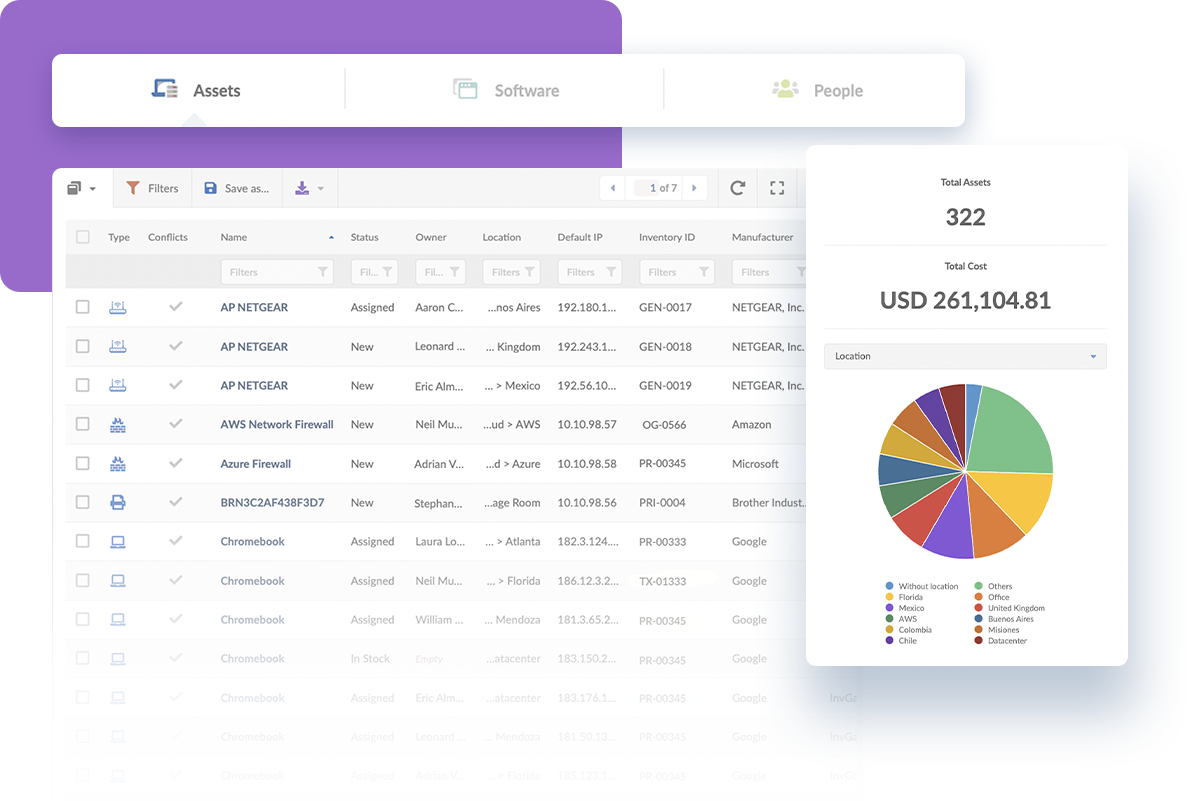 The easiest – but less effective – way to create an IT asset inventory is to use an Excel spreadsheet. Yes, it will provide you with a list of your company assets, but you'll have to do it by hand, and, let's be honest, it will be outdated as soon as you finish populating it.
You need software by your side to have not only visibility on the assets connected to your network but also their status, location, and relationships. Furthermore, you can use automation and even integrate it with your service desk to pull the assets' data into the support tickets.
But in order to have all that at your disposal, you'll need to search for IT Asset Management software with IT inventory capabilities.
What should an IT asset inventory include?
The first step in developing a proper IT asset inventory is to define what "assets" you should include in the list. Generally speaking, most stocks account for:
Hardware assets - such as computers and mobile devices.
Software licenses.
Related services or accessories - such as printers, scanners, cables, monitors, routers, and other peripherals.

Users and locations

- imported through inventories such as

Active Directory

.

Physical assets

- chairs and workstations easily trackable with

QR codes

.
Once you have all these mapped, you can quickly build a CMDB to detail their relations and how they might be affected in case of downtime.
Finally, ensure that the IT inventory solution also allows you to create custom CI categories and custom fields. Each organization will have specific inventory needs; your ITAM software must contemplate that.
8 must-have features of IT Inventory Management Software
Now that you know what it takes to manage inventory properly and how to choose the right ITAM software, here is a list of features your Inventory Management system should have:
Asset tracking

- It allows you to trace all your assets and their location.



IT asset monitoring

- With the asset tracking feature plus an alert system, you can know in real-time what is happening with any of your assets.



Analytics & reports

- You must be able to quickly generate reports and analytics about your IT inventory to optimize usage.



Software Asset Management

- This feature helps you manage all the software licenses and ensure their compliance with the applicable rules.



Monitoring alerts and health rules

- Health rules allow you to define when and how alerts should be triggered for you to be on top of your assets. This includes customizable health tags to match your company's compliance.





Software metering

- It allows you to track the software usage in your organization, helping you optimize costs.



Software normalization

- To standardize software and make creating reports and analyzing your inventory easier.



Integrations

- Many ITAM solutions offer various integrations with popular service desks and other management systems, allowing you to create a single source of truth for all your IT assets. Some of the most used are help desk and remote desktop integrations.
Top 9 IT Inventory Management software options
After considering all you need to start your ITAM strategy, you may want to search for the right IT inventory management tool. Here are some of the best available options in the market:
1. InvGate Insight
InvGate Insight enables you to have a unified asset inventory quickly and easily. You can upload your IT (and non-it) assets in various ways, like a CSV, the Network Discovery functionality, Insight's Agent, or manually.
Some of its benefits include:
Automatic data normalization.

Real-time information.

Automation.

Native integrations (with InvGate Service Desk, remote desktop tools, and more).

Customization.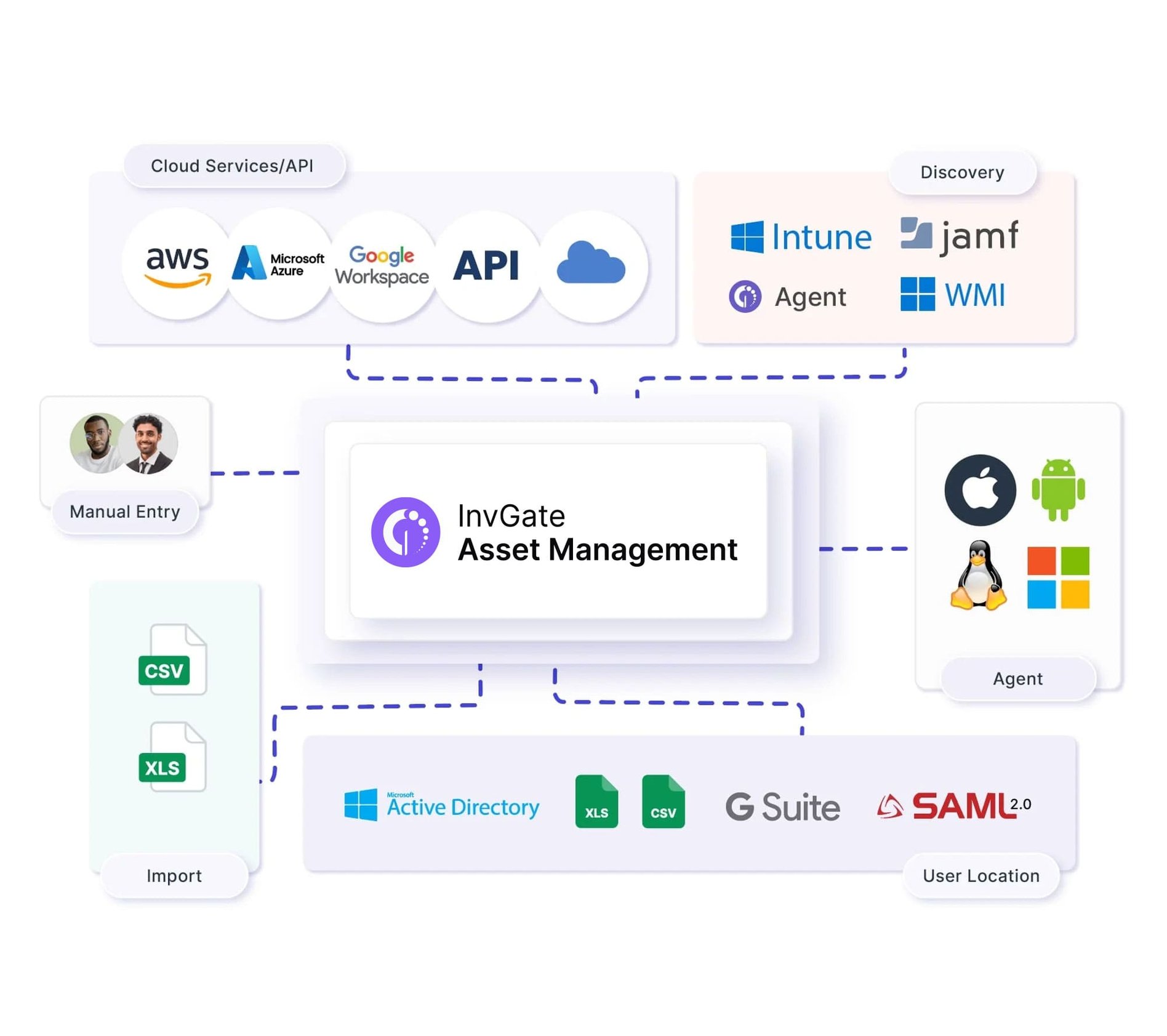 And as for Insight's main features, we can list the following:
Reports and dashboards.

CMDB.

QR codes.

Asset Lifecycle Management.
As you can see, InvGate Insight is not only an Inventory Management tool but a complete ITAM platform with an intuitive UX to increase its adoption. If you want to try it out, you can either explore the live demo or request our 30-day free trial. If you like what you see, you can later turn the trial instance into your definitive workspace!
2. BMC Track-It!
BMC Track-It!, as Larry David would say, is "Pretty, pretty, pretty good." While this software is mostly about simplicity and ease of use, it doesn't mean it's short on features, either. Among its benefits and features, you can find:
Asset Management for software audits.

Budget creation.

License Management.

Making dependable financial decisions.

Software discovery tools.

Monitoring tools.

Asset Lifecycle Management.
This software can also be combined with its own help desk for a more comprehensive ITAM solution. However, it may not be as intuitive or user-friendly as some other ITAM solutions, which can lead to a steeper learning curve for new users.
3. SolarWinds Service Desk
Solar Winds Service Desk was also designed to be a complete management platform that combines ITAM and Service Management. Its benefits related to Inventory Management include:
Ease of use.

Asset Lifecycle Management.

Licenses and Contracts Management.

Automation.

Help desk.
It aims to maximize and streamline the ease of use for support service providers and to have a centralized ticket system and Asset Management platform. But remember that its user interface can be cluttered and overwhelming, making it more challenging to navigate and use effectively.
4. ManageEngine Asset Explorer
ManageEngine Asset Explorer is also worth an honorable mention. It is among the most popular plug-and-play asset explorers out there, and it provides you with:
Data on the asset ownership, current status, and license.

Contract tracking.

Purchasing orders.

License compliance view.
Although the free version only allows up to 25 nodes, it may not be as feature-rich or customizable as other ITAM solutions.
5. Lansweeper
Lansweeper is also a great and popular option, being an Asset Management solution that can provide more than just basic inventory details:
Hardware information tracking.

Help desk integration.

Asset monitoring.

Asset discovery.

Integrations.
Lansweeper is an excellent option for comprehensive IT Asset Management. However, it can be slow or resource-intensive, especially when scanning large networks or systems with much data.
6. Snipe-IT
Snipe-IT is an open-source IT Asset Management system that can help you keep track of licenses, accessories, consumables, and more. Its main features include:
A robust asset database.

Reporting capabilities.

Third-party application integrations.

Easy-to-use interface.

Customization.
Although it is a free tool, they charge for their support services, so that's something to consider as part of your total cost of ownership.
7. Asset Panda
Asset Panda is a cloud-based IT Asset Management system that allows you to keep track of all kinds of assets – from computers and furniture to tools and equipment. It offers you:
Asset check-in/check-out.

Customization

Asset location.

Integrations.
Asset Panda is a good option for small businesses and enterprises alike. Nevertheless, remember that the customization process can be complex and time-consuming, making it less appealing for organizations with limited resources or expertise.
8. ServiceNow Asset Management
ServiceNow Asset Management is a remarkable solution for those seeking an enterprise-level Asset Management system. Among its main features, it offers:
Asset tracking.

Relationships between assets.

Custom fields.

Reporting capabilities.

Licenses, warranties, and PO numbers tracking.
It is one of the most popular solutions in the market, but since it aims at large enterprises, it can be a more expensive option than other ITAM solutions on this list.
9. SysAid Asset Management
SysAid Asset Management is a comprehensive solution that can help you track and manage your organization's IT assets. It comes with:
Asset tracking.

License Management.

Network inventory.

Service requests.

Custom reports.
Even though it offers a lot of functionalities, the user interface can be difficult to navigate.
In conclusion
All the solutions listed above offer a great way to manage and track your IT assets. Ultimately, the choice will depend on your organization's size and specific needs. Whether you go with an open-source or paid solution, these IT Asset Management systems can help you keep better track of the hardware and software in your environment and save time and money in the process.
When searching for new IT Inventory Management software, just keep in mind the must-have features to avoid future headaches:
Asset tracking and monitoring.

Analytics and reports.

Software Asset Management.

Software Metering.

Automation and integrations.
Not sure about what you need? You can always contact our experts and ask for more information!
Frequently Asked Questions
What is an IT Asset Management System?
An IT Asset Management system is a tool that helps organizations manage hardware and software assets in their environment. It lets them easily track assets and store important information, such as serial and model numbers, license keys, installed programs, and more.
How do I choose the right IT Asset Management system for my organization?
Choosing the right IT Asset Management system will depend on your organization's size and specific needs. Consider features such as tracking, reporting, and integrations with other applications, as well as whether it meets industry standards. You should also look into how easy it is to use, the cost, and if it offers a free trial version and a free trial so you can test the system first. Finding the right solution will ultimately determine what works best for your organization.