Managing an IT inventory can be challenging, especially when you have a high number of assets. At some point, you must have found yourself opening a bunch of identical laptops just because you didn't have the serial number from the one you needed at hand. However, this situation can be solved with QR codes for asset management.
If the picture we just painted resonates with you at any level, then QR codes will become your allies. And the best part is that you can create them directly from InvGate Insight! You'll be able to assign a QR code to your devices and scan it to get all the information you need without using any external app.
Sounds promising? Then continue reading to find the step-by-step guide on how to create QR codes with InvGate Insight!
Why you should use QR codes for asset tracking and management
As you know, having your IT inventory in InvGate Insight allows you to see all the information about your physical, virtual, and cloud assets in one place. Using QR codes is taking that extra step to link all that data to the asset itself. This means you won't need to manually look for an asset, serial number, or any other code.
So, let's say you're an InvGate Insight or InvGate Service Desk agent. These are some of the ways you can benefit by using QR codes for asset management:
If you receive a new computer request for a new member through InvGate Service Desk, instead of opening boxes to discover the laptop that will best suit the employee's needs, you'll just scan the QR code and quickly access all the asset information stored in InvGate Insight.


If you're asked to visit another office, or are providing remote support, you'll be able to use your mobile device (smartphone or tablet) to read the QR code of any asset that needs your supervision and obtain the details you require to solve the issue easily and quickly, thus improving your workflow and efficiency.


QR codes are also great for distinguishing all those assets that look alike, such as chargers or headsets. By scanning the QR code, you'll be able to see the data attached to each asset, and take proper action.


Lastly, QR codes are also ideal for physical, non-trackable assets like chairs, keyboards, or even medical equipment. So, they'll become an ally to do the check-in and check-out of this type of assets.
And now, it's time to finally see how you can create and scan QR codes with InvGate Insight!
How to generate and scan QR codes for asset management on InvGate Insight
To generate and assign a QR code to your assets, you just need to do a couple of steps – regardless of the number of items you need to track.
First, go to the "Assets" menu on InvGate Insight and select which devices you want to assign a QR code to. Then, click the "Export" button and select "Generate selected QR codes," as shown in the image above.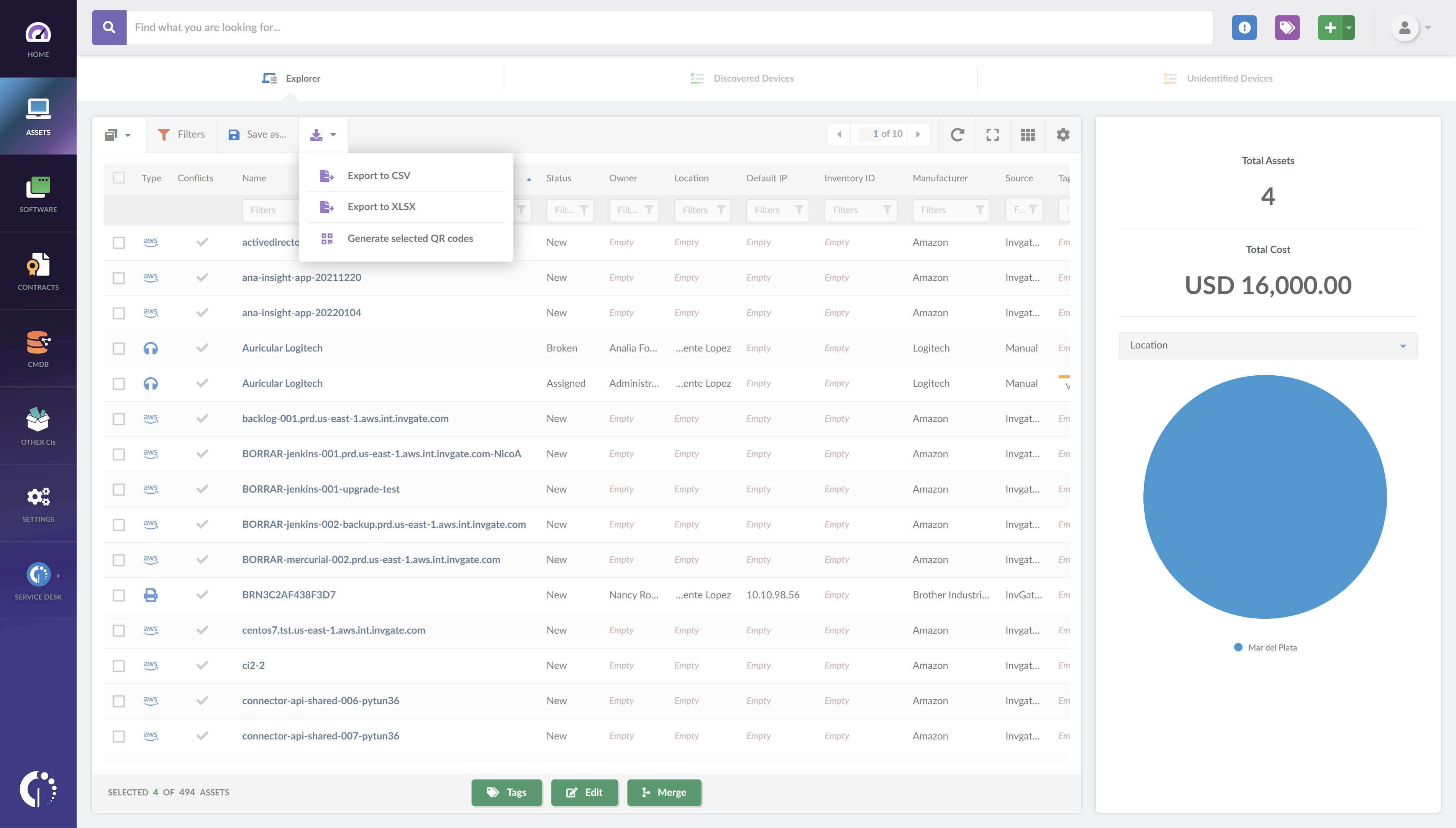 Once you select that option, you'll be able to choose your preferred method and layout. If you have specialized software and thermal printers to generate the labels, you should go with "Export CSV."
On the other hand, if you want to download them and print them using any type of printer, then you should opt for "Generate selected QR codes". Both options will create the QR codes for each of the assets you first selected.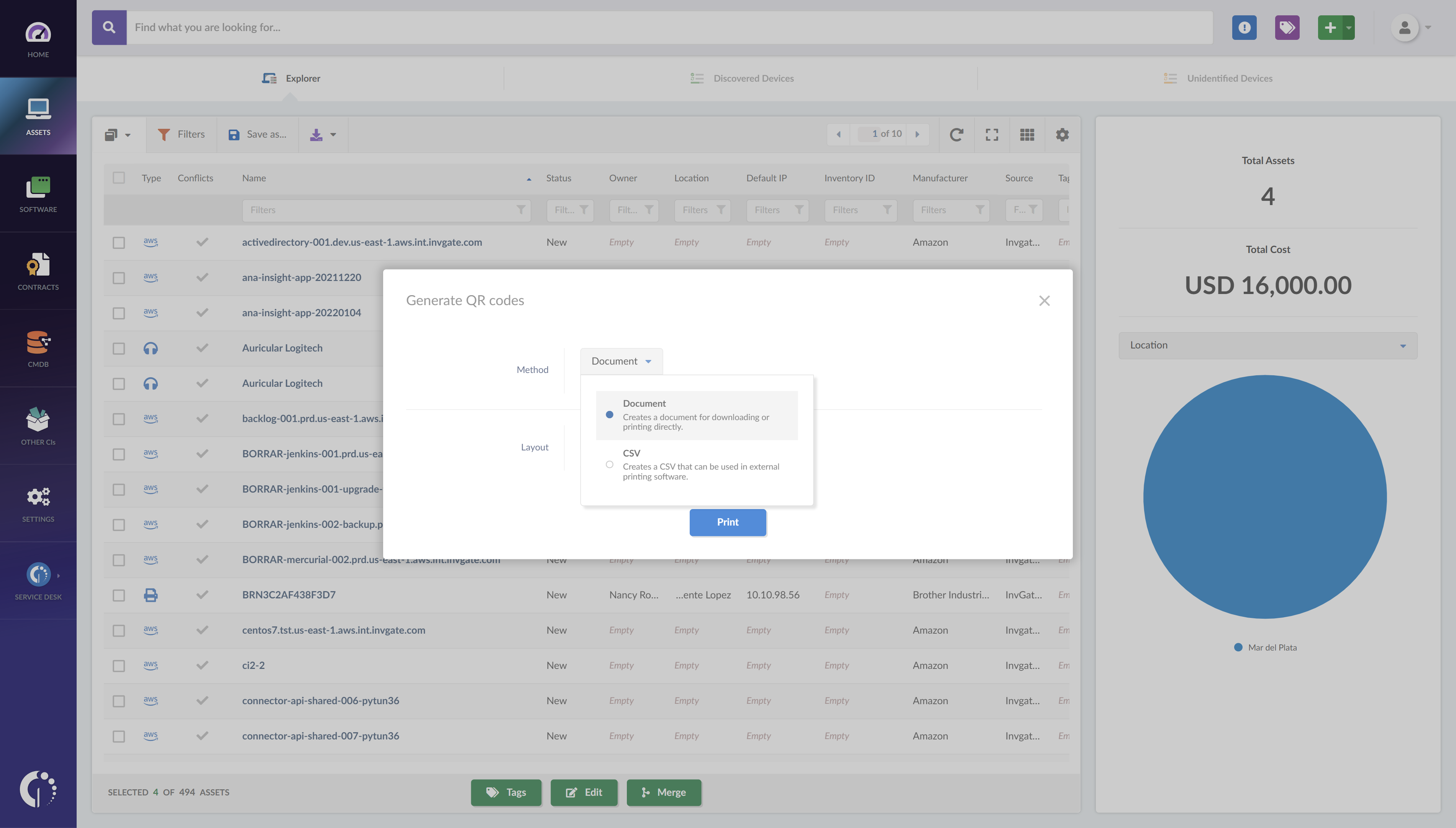 As for the layout settings, they'll let you choose between "Auto adjust" – which will put the elements aligned taking advantage of the available space – or "One per line" – the best option for thermal printers.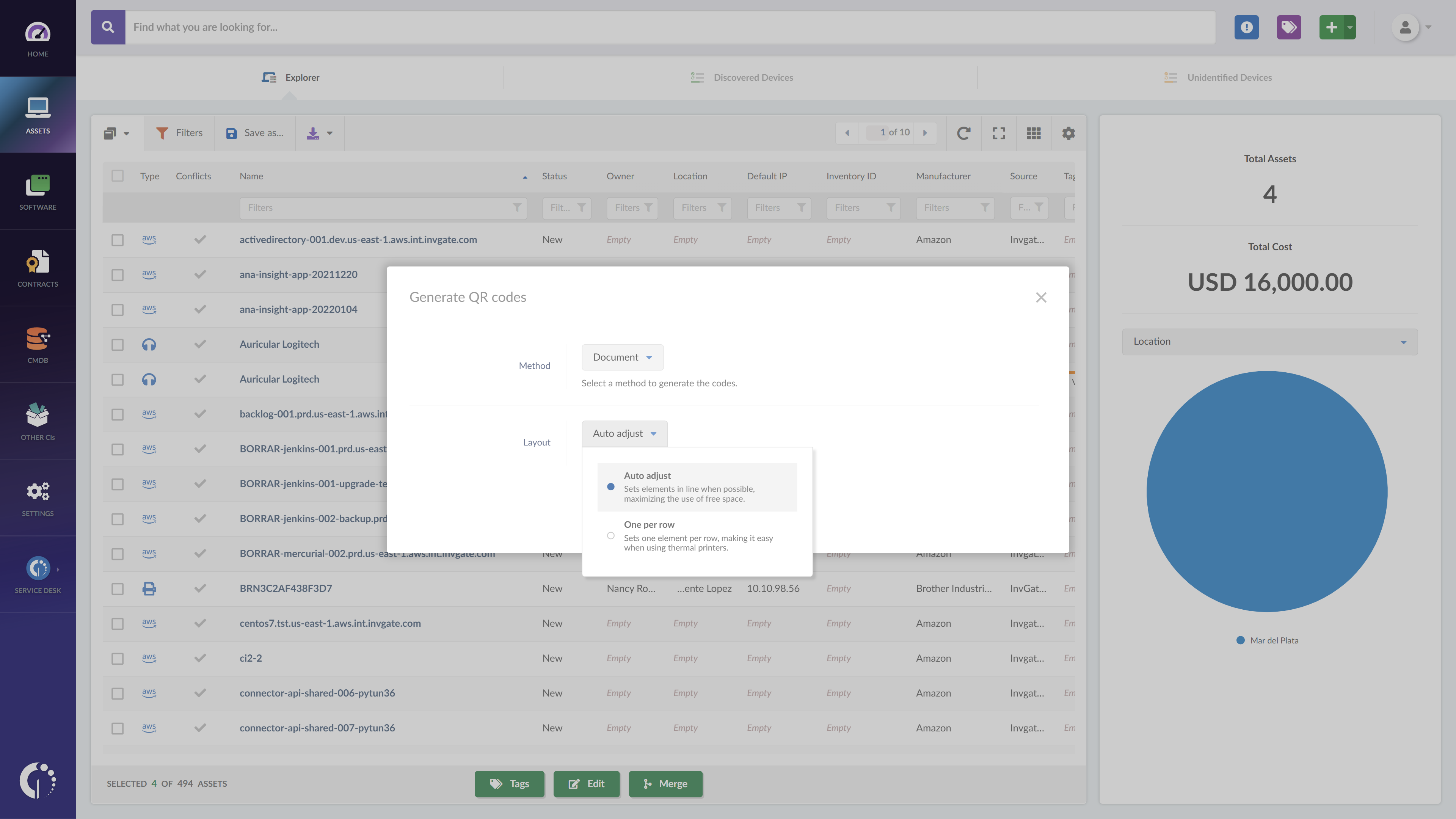 In either case, the code will be unique for each asset and will have the same format that includes the code itself and the ID number of that asset.
How to read QR codes with InvGate Insight?
You created the QR codes, printed them, and sticked them to their assets. Now, it's time to use them. Insight lets you read QR codes in different ways, depending on whether you're using the web site or the mobile site.
Reading QR codes from the web site - You'll need a scanner to do it. Just position yourself on the search bar, and scan the code. The platform will interpret the dynamic URL as the profile of the asset to which it belongs.
Reading QR codes from the mobile site - Here, you can access the asset information in two different ways:

Through InvGate Insight's search bar (once you select it, use the camera to scan the QR so the platform can take you to the profile).


Through your cell phone's camera: as with any other QR, once you scan it, it'll open the browser and take you to the URL of the asset profile (remember that you have to be logged into your InvGate Insight account to be able to see it). Here, you'll be able to see the asset's profile, edit it at will, see if there's any open requests associated to it in InvGate Service Desk, or create a new one.
Key takeaways
QR codes are an excellent way to attach assets' information to assets' themselves, providing you with easy access to the data and facilitating the work of the support team. And given the fact that you can create them directly from InvGate Insight, you won't need to use third-party software or specialized hardware for printing.
You just need a couple of minutes to create the QR codes and assign them to as many assets as you'd like. Once they're in place, you can read them with a scanner (if you're using the browser application) or with your phone (if you're on the move). By scanning them, you'll be able to see the assets' full profiles, facilitating the work of your support teams and optimizing incident resolution times.
Want to see it for yourself? Just get a 30-day free trial to test it! And don't forget that later, you can turn that into your working instance, without losing data!