Effective IT Asset Management (ITAM) is pivotal in optimizing organizational operations and maximizing efficiency. When faced with choosing between two prominent ITAM software alternatives, Snipe-IT vs. Asset Panda, selecting the most suitable solution becomes a critical decision.
In this blog post, we'll comprehensively analyze Snipe-IT and Asset Panda, carefully evaluating their key attributes, strengths, and limitations. And if you want to explore a third alternative, consider InvGate Insight. With its unique features and capabilities, InvGate Insight presents a compelling choice that may align seamlessly with your organization's specific needs.
Join us as we delve deeper into these ITAM solutions, ultimately discovering the ideal option for your organization's long-term success.
Most looked-at features by buyers
When evaluating IT Asset Management solutions, prospective buyers often consider a range of critical features to find the most appropriate option that aligns with their specific requirements and business needs. Here are several key factors buyers consider when selecting a customized ITAM solution for their organization.
Consolidated IT Asset and Inventory Management - Buyers look for a

unified IT asset inventory

feature that allows them to efficiently monitor and manage their entire inventory from a single platform. This feature should include automated

asset discovery

and capture important details like hardware specifications, software versions, and ownership information.


Automated management and proactive notifications - The solution should offer the capability to create automated workflows for routine tasks such as software updates, patch deployments, and system maintenance. This automation allows for efficient operations and timely responses to critical events through proactive notifications.


Service desk integration - Integrating with

help desk software

enables seamless information flow between Asset Management and

IT Service Management

processes. This integration improves communication, streamlines workflows, and enhances overall service delivery.


Enhanced cybersecurity compliance - Buyers seek a solution that provides continuous monitoring of assets and their security posture, enabling proactive detection and mitigation of security risks.


Software management optimization - Users require the ability to track software installations, ensure proper

Software License Management

, and identify instances of over or underutilization for efficient software management.


Proactive cost management and financial optimization - The solution should incorporate financial data,

contract lifecycle management

, licenses, and other relevant information to gain a comprehensive understanding of operational costs and enable proactive financial decision-making.



CMDB

Map Builder - This functionality enables users to define and document relationships between different components, including hardware devices, software applications, network connections, and dependencies. Visualizing these relationships helps organizations understand the impact of changes, assess risks, and plan effective

Incident Management

and

Change Management

.


Comprehensive insights into IT infrastructure - The platform should provide complete visibility into IT asset status, performance, and usage, enabling users to make informed decisions and optimize their infrastructure. Additionally, robust reporting and analytics features should be available.


Remote management with integrated tools - Integration with popular remote desktop tools allows IT teams to diagnose issues, apply patches, install software, and perform system updates remotely, eliminating the need for physical presence.


Flexible deployment options - Users value a platform that offers flexibility in choosing deployment models, including cloud-based, on-premise, or hybrid solutions.
What is Snipe-IT?
Snipe-IT, a well-known Asset Management system created by Grokability, was introduced in 2013 by Alison Gianotto, the former CTO of a prominent advertising agency in New York City. Dissatisfied with the limitations of existing IT asset tracking solutions, Gianotto took matters into her own hands and developed Snipe-IT to meet her specific needs.
Over time, Snipe-IT has transformed into a widely accepted and actively supported option for free Asset Management. Grokability, the driving force behind Snipe-IT, places significant importance on producing software that is easy for users to navigate, promoting a culture of continuous learning, prioritizing transparency and security, and advocating the advantages of open-source software.
What users like from Snipe-IT
Snipe-IT has garnered recognition and favorable customer responses, as evidenced by well-regarded platforms like G2 and Capterra. Below are a few of the notable advantages that have been emphasized.
Simplified asset tracking - The tool simplifies the process of tracking assets, including software, consumables, and peripherals. Users can easily add components and accessories to their inventory.
Customization and flexibility - The platform allows users to customize their experience by adding pictures to items and assigning them to specific locations or individuals. It also offers a comprehensive API for automation and integration with other tools.
Free and open-source solution - Snipe-IT is available as free and open-source software, making it a cost-effective option specifically designed for small to mid-sized businesses. It provides a stable system with a wide range of features.
User-friendly setup and interface - The tool has a straightforward and user-friendly setup process, even for non-technical users. It provides a hassle-free experience for tracking software purchases and managing renewals.
Supportive community - Snipe-IT offers excellent support for its paid version, while the free version benefits from a supportive community through forums. Users can engage with the community to seek assistance and share knowledge.
What users don't like from Snipe-IT
Although Snipe-IT has numerous strengths and positive qualities, it is not impervious to customer concerns and criticisms. Evaluations from reputable platforms like G2 and Capterra have provided insights into the most prevalent issues raised by users.
Limited integration with ticketing tools - Snipe-IT does not seamlessly integrate with ticketing tools, which can inconvenience users relying on such integrations for their workflow.
Time and resource-intensive initial setup - The setup process, particularly when importing existing inventory, can demand significant time and resources.
Authentication and search limitations - The tool lacks support for Single Sign-On (SSO) authentication and the ability to import users through SAML or Google connections. The search functionality within the software may also be limited in its capabilities.
Inefficient importing process - Importing data into Snipe-IT can be cumbersome and not very intuitive, potentially leading to user frustration.
Absence of desired features - Users have expressed that Snipe-IT lacks certain desired features, such as a calendar booking system or webhooks. Modifying default search fields or email configurations can also pose challenges.
Mobile views and notifications - The dedicated mobile views of the software could benefit from an improvement to enhance usability. Additionally, the email system may fail to send notifications for certain asset types, which can result in oversight or missed updates.
What's Snipe-IT's argument over Asset Panda?
While Snipe-IT and Asset Panda have their merits, Snipe-IT offers distinct advantages over Asset Panda that cater to specific user needs.
Cost-effectiveness - Snipe-IT is a free and open-source solution, making it an attractive option for small to mid-sized businesses with limited budgets. In contrast, Asset Panda's pricing structure may present obstacles for smaller companies.


Customization and flexibility - Snipe-IT allows users to customize their experience by adding pictures to items, assigning them to specific locations or individuals, and offers comprehensive API integration for automation. Asset Panda, while providing customization options, may have limitations in this regard, as per user feedback.


Supportive community - Snipe-IT benefits from an active and supportive community through forums, allowing users to seek assistance and share knowledge. Asset Panda's customer support, while commendable, has received some criticism regarding response times and overall support quality.


Simplified asset tracking - Snipe-IT streamlines the process of tracking assets, including software, consumables, and peripherals. Users can easily add components and accessories to their inventory. Asset Panda, while offering a user-friendly interface, may face navigational challenges when locating specific items.
What is Asset Panda?
Asset Panda is a cloud-based platform designed to streamline and simplify Asset Management for organizations of all sizes. Its main objective is to provide a comprehensive solution that optimizes the tracking and control of assets. By consolidating data from various sources, Asset Panda offers a holistic perspective on assets, their locations, and the individuals associated with them.
Equipped with a diverse range of features and tools, Asset Panda empowers organizations to manage and safeguard their assets effortlessly. Key features of Asset Panda include:
Customizable asset tracking.
Real-time data and reporting.
Barcode and QR code scanning.
Mobile accessibility.
Maintenance and work order management.
Integration and data syncing.
What users like from Asset Panda
Asset Panda has garnered positive feedback from customers, supported by reviews from reputable sources such as Gartner. Now, let's delve into some of these advantages in more detail.
User-friendly interface - Users appreciate the tool's intuitive design and easy navigation, making it straightforward to use and operate.
Extensive range of features - The platform offers a diverse set of powerful functionalities, including comprehensive reporting and analytics, customizable options, and seamless integrations with other software solutions.
Value for money - Customers perceive Asset Panda as a worthwhile investment, providing substantial benefits that justify its price.
Outstanding customer service - The tool's knowledgeable and responsive support team has been recognized by users for its commitment to customer satisfaction.
What users don't like from Asset Panda
While Asset Panda has many strengths and commendable qualities, customers have expressed concerns and criticisms regarding certain aspects of the platform. These concerns have been identified through careful evaluation of reliable sources such as Gartner. Let's explore some of the concerns that have been raised.
Limitations in customization and reporting - Some users have recommended the inclusion of more extensive customization options and a reporting system that is more intuitive and user-friendly.
Navigational challenges - Certain users have encountered difficulties while navigating the tool, particularly when trying to locate specific items.
Customer support shortcomings - Users have expressed dissatisfaction with delayed response times and inadequate support from the customer service team.
Pricing obstacles for small businesses - The pricing structure of Asset Panda may present challenges for smaller companies with limited budgets, as it might be relatively high compared to their financial constraints.
What's Asset Panda's argument over Snipe-IT?
Asset Panda offers unique advantages over Snipe-IT, providing users with different features and benefits that may be appealing depending on their specific requirements. Here are some arguments in favor of Asset Panda over Snipe-IT.
Extensive range of features - Asset Panda offers a comprehensive suite of features that cater to the needs of asset tracking and management. These include robust reporting and analytics capabilities, customizable options, and seamless integrations with other software solutions. Users may find Asset Panda's feature set more extensive and comprehensive compared to Snipe-IT.


User-friendly interface - Asset Panda is praised for its intuitive design and easy navigation, making it accessible and straightforward to use for users of all technical backgrounds. This user-friendly interface can contribute to a smoother onboarding process and quicker adoption of the software.


Scalability - Asset Panda is designed to accommodate businesses of all sizes, including large enterprises. Its scalability enables organizations to manage and track assets effectively, regardless of their growth trajectory or the complexity of their asset inventory.
Considering InvGate Insight as an ITAM solution alternative
InvGate Insight is a comprehensive IT Asset Management solution that offers a range of features and functionalities to streamline processes. Here are the key features it provides.
Enhanced IT Asset and Inventory Management
InvGate Insight seamlessly integrates data from various sources, such as operating systems, cloud service providers, and Mobile Device Managers (MDMs). This integration consolidates information, making IT and non-IT Asset Management more efficient. It provides a comprehensive view of your infrastructure, including assets, locations, and personnel, saving time and improving overall management.
A holistic view of IT operations through native service desk integration
InvGate Insight seamlessly integrates with InvGate Service Desk, creating a native integration that connects tickets with devices and people. This integration offers a comprehensive 360° view of your IT operations, making management more efficient. Connecting service tickets to relevant assets and personnel streamlines workflows, improves communication, and enhances issue resolution.
Efficient management through automation and alerts
InvGate Insight enables process automation and the setup of alerts, ensuring proactive IT management. By creating automated alerts, you can monitor contract expirations and promptly notify relevant parties, reducing manual effort and minimizing the risk of oversight. This automation streamlines operations and allows you to focus on critical tasks, enhancing overall efficiency.
Improved cybersecurity compliance with asset monitoring
InvGate Insight's asset monitoring capabilities help establish and enforce device health rules, ensuring proactive cybersecurity compliance. By quickly identifying instances of non-compliance, you can take immediate action to adhere to cybersecurity policies and safeguard your IT infrastructure.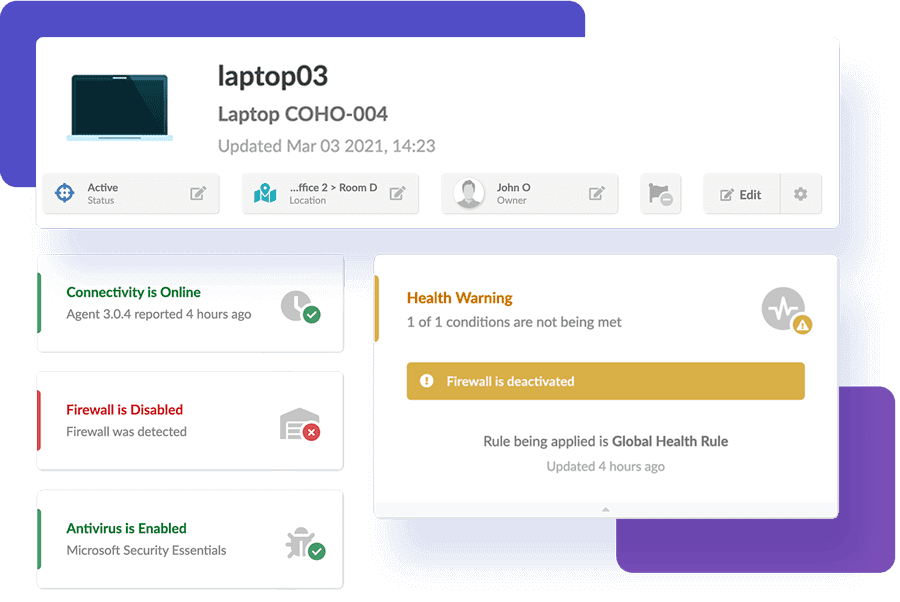 Effortless remote management with native integration
InvGate Insight natively integrates with popular remote desktop tools, enhancing remote management capabilities. This integration provides direct access to devices for troubleshooting and maintenance, enabling efficient resolution of IT issues and uninterrupted operations.
Optimization of software efficiency and cost reduction
InvGate Insight enables you to identify and measure the usage of paid software, facilitating efficient software management. By gaining visibility into software utilization, you can reallocate underutilized licenses, reduce unnecessary costs, and maximize returns on your IT investments. This optimization of software efficiency helps you make the most of your software resources.
Proactive cost management
InvGate Insight allows you to integrate financial data, contracts, licenses, and other crucial information directly into the system. This integration provides a complete understanding of operational costs, empowering proactive and informed financial decision-making.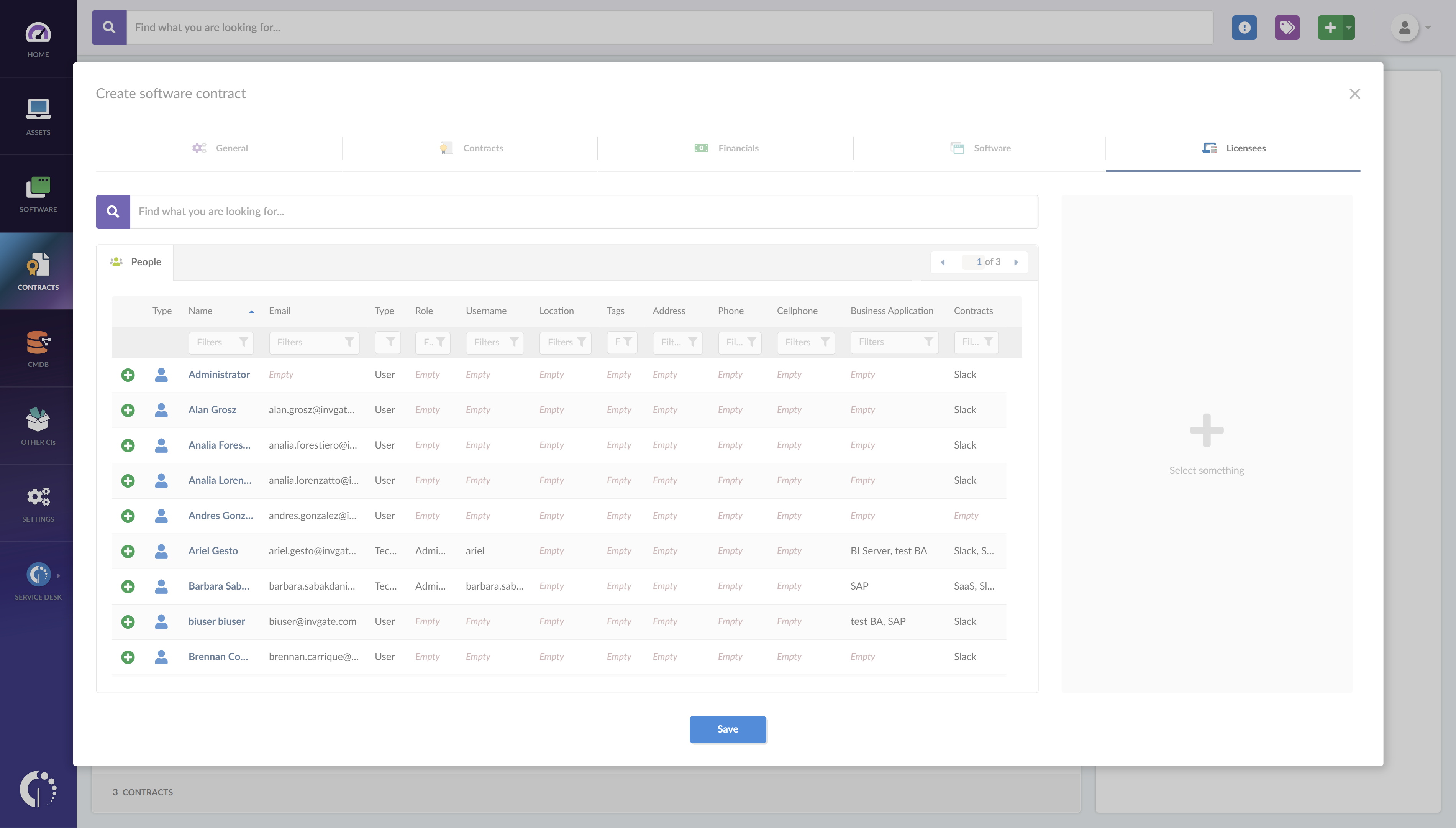 Streamlined operations with CMDB Map Builder
InvGate Insight includes a CMDB map builder tool that provides a clear and comprehensive overview of your IT ecosystem. By visualizing relationships between different components, you can identify potential impacts on operational continuity and proactively mitigate risks. This visibility helps reduce service times, improve operational efficiency, and ensure smoother IT operations.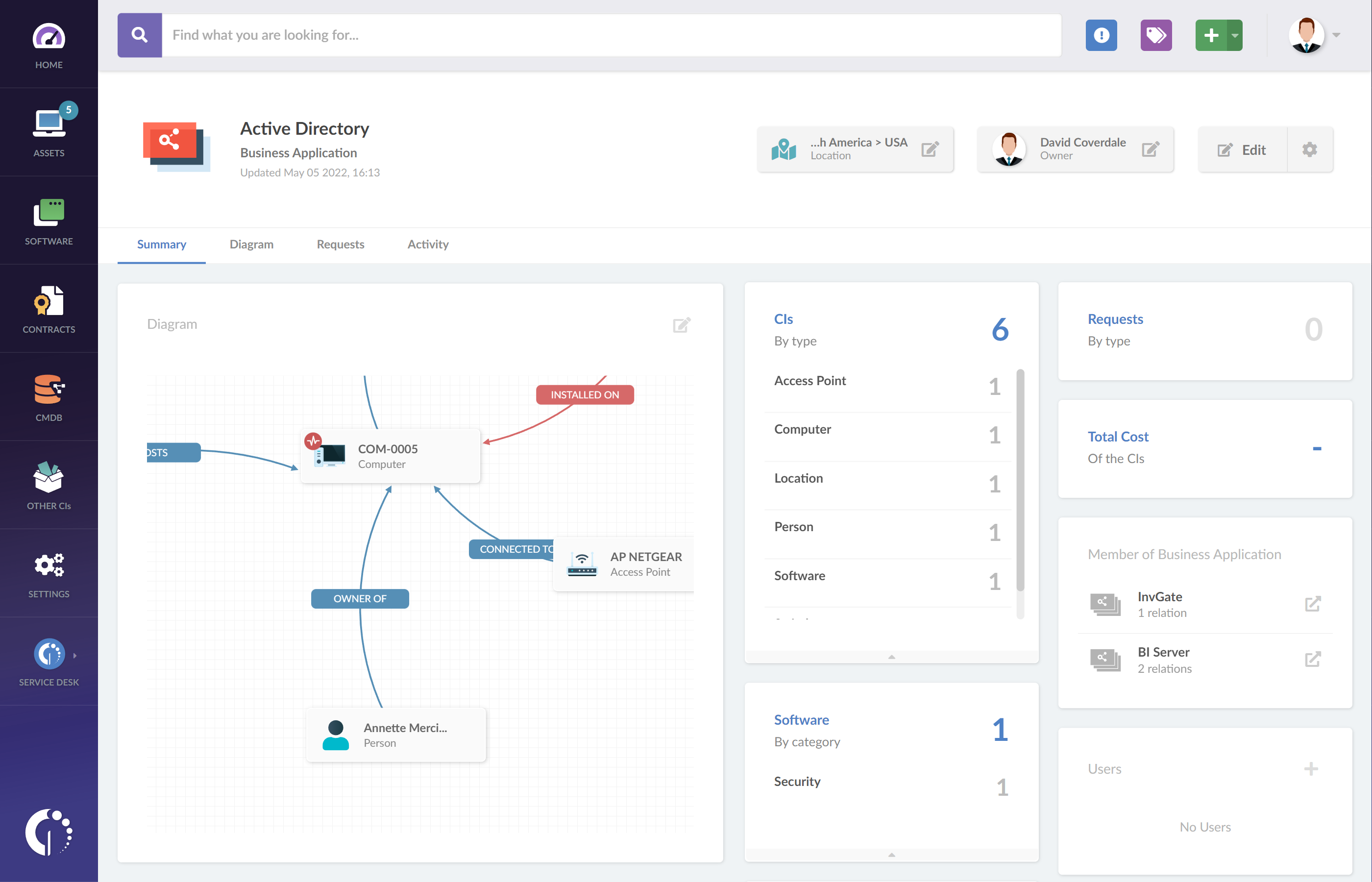 Flexible deployment options
InvGate Insight understands that organizations have unique requirements and industry regulations. Therefore, it offers flexible deployment options, allowing you to choose between a cloud-based or on-premise solution. This flexibility ensures that you can implement InvGate Insight in a manner that aligns with your specific needs and compliance standards.
Detailed insights into IT infrastructure
InvGate Insight provides detailed and actionable information about your IT assets, including their status and usage. These comprehensive insights enable effective management and optimization of your infrastructure, improving operational efficiency.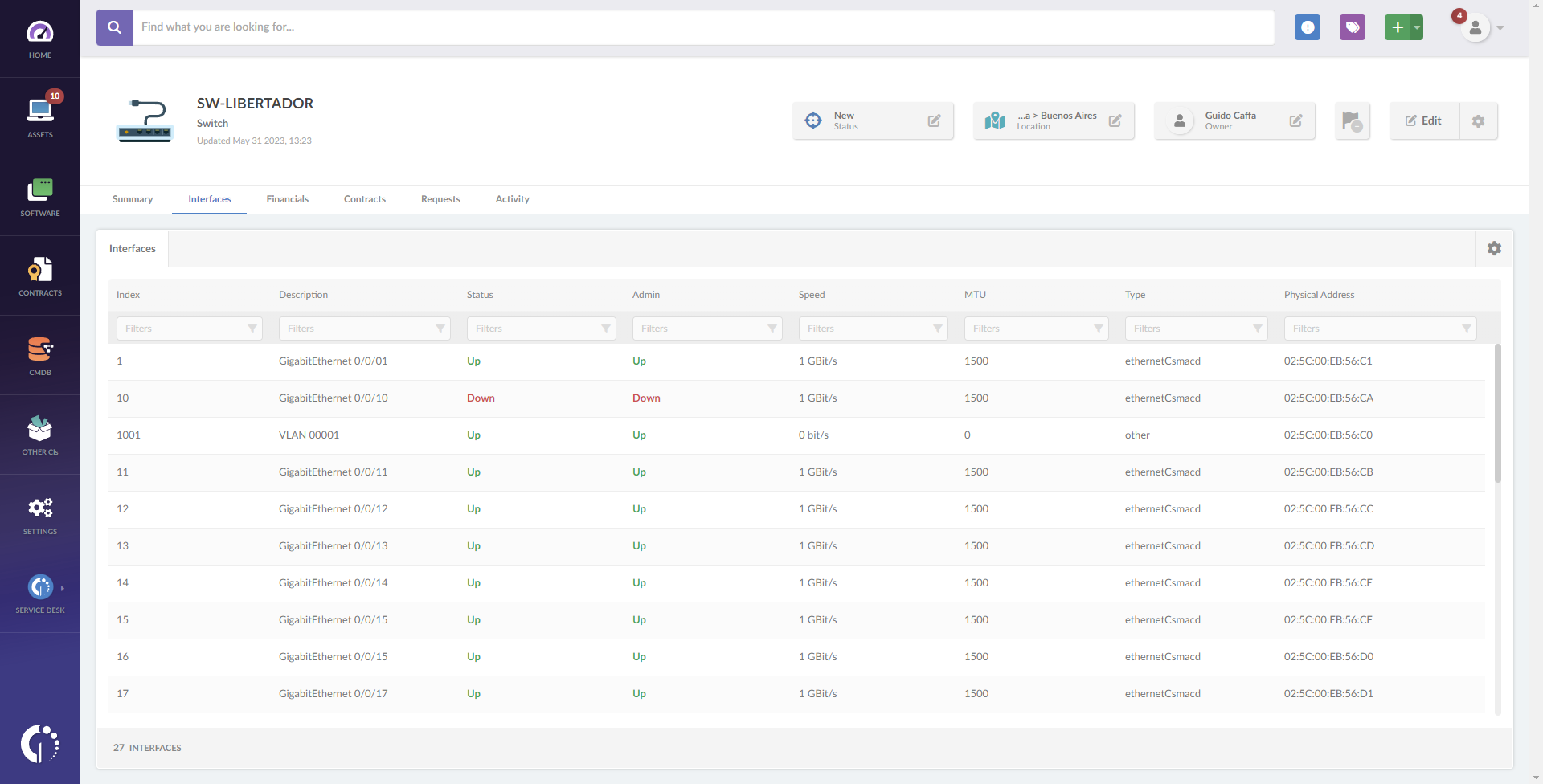 Next steps
Choosing the right IT Asset Management solution is crucial for optimizing your organization's IT service delivery and long-term success. Investing sufficient time and effort into evaluating different options to find a solution that perfectly aligns with your specific requirements is vital.
When exploring ITAM software alternatives, it is valuable to compare different solutions, such as Snipe-IT vs. Asset Panda, in addition to InvGate Insight.
Explore our live demo and witness firsthand the transformative power of InvGate Insight on your business operations. Book a meeting with our experts if you have any questions!