In the dynamic realm of IT Asset Management (ITAM), the decision-making process gains a new dimension with the head-to-head comparison of SummitAI Asset Management vs. Snipe-IT. The implications of your choice extend beyond mere software – they hold the potential to reshape your organization's efficiency and set its trajectory.
In this blog post, we'll guide you through an exploration of these two distinguished platforms. Our mission? To provide you with an in-depth and illuminating ITAM software comparison of their features, advantages, and limitations.
But there's more to this exploration. As the ITAM landscape evolves, we'll unveil a third option: InvGate Insight. With its unique functionalities and capabilities, this emerging alternative brings a fresh perspective to the challenges of IT Asset Management.
Read on to gain the insight you need to make an informed decision that will lead your organization to greater efficiency and success.
Most looked-at features by buyers
When evaluating solutions for managing IT assets, potential buyers take into account a range of important capabilities in order to find the most suitable option that aligns with their specific needs and business requirements.
Here are key factors purchasers consider when choosing a customized ITAM solution for their company.
What is SummitAI Asset Management?
Through the application of artificial intelligence, SummitAI IT Asset Management effectively oversees assets, ensuring their optimal utilization and adherence to regulations. This AI-based solution seamlessly integrates with IT Service Management, aligning harmoniously with established industry standards such as ITIL and IMAC. Its main functionalities include:
The company behind SummitAI IT Asset Management is SymphonyAI Summit, a specialist in AI-driven solutions for IT management. Their product lineup encompasses both platforms for IT Service Management and IT Asset Management. Established in 2015 and headquartered in Pune, India, SymphonyAI Summit serves a diverse global clientele, boasting more than 100 satisfied organizations as its customers.
What users like from SummitAI Asset Management
SummitAI Asset Management has gained widespread recognition and favorable feedback from reputable sources like Gartner. Users have highlighted several advantages, outlined as follows.
Enhanced user experience - SummitAI ensures a positive user experience through its intuitive interface, enabling smooth interactions and swift task execution. The inclusion of the CINDE chatbot enhances user support by promptly addressing common queries.
Operational benefits - Users experience increased productivity and enhanced teamwork. The tool's expedited operational speed leads to time savings. Visual inspection capabilities aid users in comprehending asset status and condition, while remote asset monitoring offers convenience and flexibility.
Software usage tracking and non-compliance awareness - The software metering feature empowers users to monitor software usage, optimizing licenses and reducing costs. The non-compliance awareness function helps organizations adhere to software licensing agreements and mitigate potential legal and financial risks.
Proactive maintenance - This feature facilitates proactive planning and reduces asset downtime.
Software inventory, normalization, and compliance reports - These functionalities are highly praised for their effectiveness and value.
Application control and asset integration - The combination of application control and seamless asset integration significantly streamlines users' workflows.
Additional features - Users appreciate the variety of reporting options that allow customized reports tailored to their needs. The comprehensive platform caters to diverse requirements, covering both Service Management and IT Asset Management, streamlining operations.
User interface - The platform presents a transparent and efficient dashboard, providing easy access to vital information and presenting critical data accurately. The user-friendly design and intuitive interface simplify navigation for both new and experienced users.
Cost efficiency - SummitAI offers a wide range of features at a competitive price, positioning it as a cost-effective alternative compared to other solutions.
Discovery tool - SummitAI's discovery tool captures comprehensive details about hardware and software assets.
What users don't like from SummitAI Asset Management
In spite of the numerous strengths and positive qualities exhibited by SummitAI Asset Management, it is not immune to customer concerns and criticisms.
The subsequent points highlight various issues commonly raised by users in reviews sourced from respected outlets like Gartner.
Customization and compatibility - Users desire increased support for tailoring the tool to match their requirements. The limited compatibility of the discovery tool with Microsoft OS could potentially impede its efficacy in diverse environments. Some customizations necessitate assistance from the support team, potentially leading to delays.
Specific features - Users have faced challenges in displaying the count of resolved tickets per analyst, which has ramifications for reporting and analytics.
Reporting and security - Users seek faster reporting capabilities to expedite decision-making. Certain individuals have voiced concerns about security-related matters concerning existing data.
Usability and accessibility - Some users find certain functions that demand multiple clicks cumbersome. The inability to employ the tool simultaneously across different devices imposes limitations. Navigating and executing maintenance tasks within the platform can pose difficulties. Reports of problems with agent syncing have surfaced, impacting the accuracy and reliability of data. Additionally, reservations exist regarding enhancing the user interface and experience, with specific users expressing dissatisfaction with the login process.
Pricing - Users compare SummitAI's pricing with other tools and have raised questions regarding the overall pricing considerations, even though they acknowledge the favorable features offered in relation to the cost.
What's SummitAI Asset Management's argument over Snipe-IT?
SummitAI Asset Management shines with acclaim from reputable sources, showcasing various benefits appreciated by users. These include.
Enhanced user experience - SummitAI ensures smooth interactions and quick task execution through an intuitive interface. The CINDE chatbot adds value with prompt user support.


Operational benefits - Users enjoy improved productivity and teamwork due to expedited operational speed. Visual inspection and remote asset monitoring enhance understanding and flexibility.


Software usage tracking and compliance - Software metering optimizes licenses and cuts costs. Non-compliance awareness mitigates legal and financial risks.


Proactive maintenance - It facilitates planning and reduces asset downtime.


Effective reporting - Software inventory, normalization, and compliance reports stand out for their value.


Application control and integration - Streamlined workflows from application control and asset integration.


Comprehensive features - Customized reporting, inclusive platform catering to diverse needs, and covering both Service and IT Asset Management.


User-friendly interface - Transparent dashboard, user-friendly design, and intuitive navigation.


Cost efficiency - Competitive pricing with a wide range of features.


Detailed discovery tool - It captures comprehensive hardware and software asset details.
What is Snipe-IT?
Emerging in 2013, Snipe-IT, an Asset Management solution developed by Grokability, gained prominence through Alison Gianotto's initiative. Formerly a CTO at a NYC advertising agency, Gianotto's dissatisfaction with available IT asset tracking solutions drove her to create Snipe-IT tailored to her needs.
Since then, Snipe-IT has garnered popularity and remains actively maintained as a no-cost alternative for Asset Management.
Grokability, the driving force behind Snipe-IT, centers on user-friendly software development, fostering a culture of ongoing learning, championing transparency and security, and advocating for the merits of open-source software.
What users like from Snipe-IT
Snipe-IT has garnered recognition and positive user reviews in platforms like Capterra and G2, underscoring its strengths and advantages. Here are some of the notable benefits that have been highlighted.
User-friendly setup and simplicity - The tool has a user-friendly setup process and intuitive usage, suitable even for non-technical users. It facilitates effortless tracking of software acquisitions and renewals.
Adaptable and customizable - The software provides flexibility through customization features, like attaching images to items and associating items with locations or individuals. Additionally, it offers a comprehensive API for seamless automation and integration with other tools.
Effortless asset monitoring - The platform simplifies the tracking of assets, encompassing software, consumables, and peripherals. It permits the addition of components and accessories.
Cost-effective open-source solution - Snipe-IT is both open-source and cost-free, making it an economical choice for small to medium-sized enterprises. It offers a stable system with an array of features.
Community and support - The paid version of the software offers robust support, while the free version benefits from a helpful community through forums. Users can seek assistance and exchange insights within the community.
What users don't like from Snipe-IT
While Snipe-IT has numerous strengths and positive attributes, it is not without its share of user concerns and criticisms. Reviews from sources such as G2 and Capterra have highlighted the common issues raised by users.
Limited integration with ticketing tools - Snipe-IT lacks seamless integration with ticketing tools, which could inconvenience users who rely on such integrations.
Feature gaps - According to users, certain desired features are absent, including a calendar booking system or webhooks. Moreover, modifying default search fields or email configurations might pose challenges.
Time-consuming initial setup - The initial setup of Snipe-IT, particularly when importing existing inventory, can demand a significant amount of time and resources.
Authentication and search limitations - The software lacks support for Single Sign-On (SSO) authentication and lacks SAML or Google connection support for user import. Additionally, the search functionality within the tool can be constrained.
Cumbersome data importing process - The process of importing data into the platform can be cumbersome and less intuitive, potentially leading to frustration among users.
Mobile views and notifications - The dedicated mobile views in Snipe-IT could benefit from enhancements to improve usability. Additionally, the email system might not always send notifications for specific asset types, potentially resulting in oversight.
What's Snipe-IT's argument over SummitAI Asset Management?
Amid the landscape of IT Asset Management solutions, Snipe-IT stands out with its unique strengths and features that differentiate it from competitors like SummitAI Asset Management. Let's delve into the distinct advantages that Snipe-IT brings to the table.
Simple and user-friendly setup - Snipe-IT has an easily navigable setup process and an intuitive interface, catering to users of various technical backgrounds. This simplicity extends to tracking software acquisitions and renewals seamlessly.


Customization and adaptability - The software's customization options, such as image attachments to items and linkage of items to specific locations or individuals, contribute to its flexibility. Moreover, its comprehensive API facilitates smooth automation and integration with other tools.


Effortless asset tracking - Snipe-IT streamlines asset tracking, covering software, consumables, and peripherals. The platform allows for the inclusion of components and accessories, enhancing overall asset management.


Economical open-source solution - Snipe-IT's open-source nature coupled with its cost-free availability positions it as a budget-friendly choice for small and medium-sized enterprises.


Community and support - The paid version of Snipe-IT offers robust customer support, while the free version benefits from an engaged user community through forums. This sense of community empowers users to seek assistance and share insights.
Considering InvGate Insight as an ITAM solution alternative
For organizations searching for tailor-made alternatives for IT Asset Management that perfectly match their specific needs and requirements, considering InvGate Insight comes highly recommended.
As a robust ITAM solution, InvGate Insight offers a diverse array of features and functionalities that position it as a compelling choice for streamlining Asset Management processes. Let's delve into its core attributes.
Comprehensive insights into IT infrastructure
With its robust suite of features, InvGate Insight provides detailed and actionable insights into IT assets, encompassing their status and usage. This comprehensive insight enables effective management and optimization of the infrastructure, ultimately enhancing operational efficiency.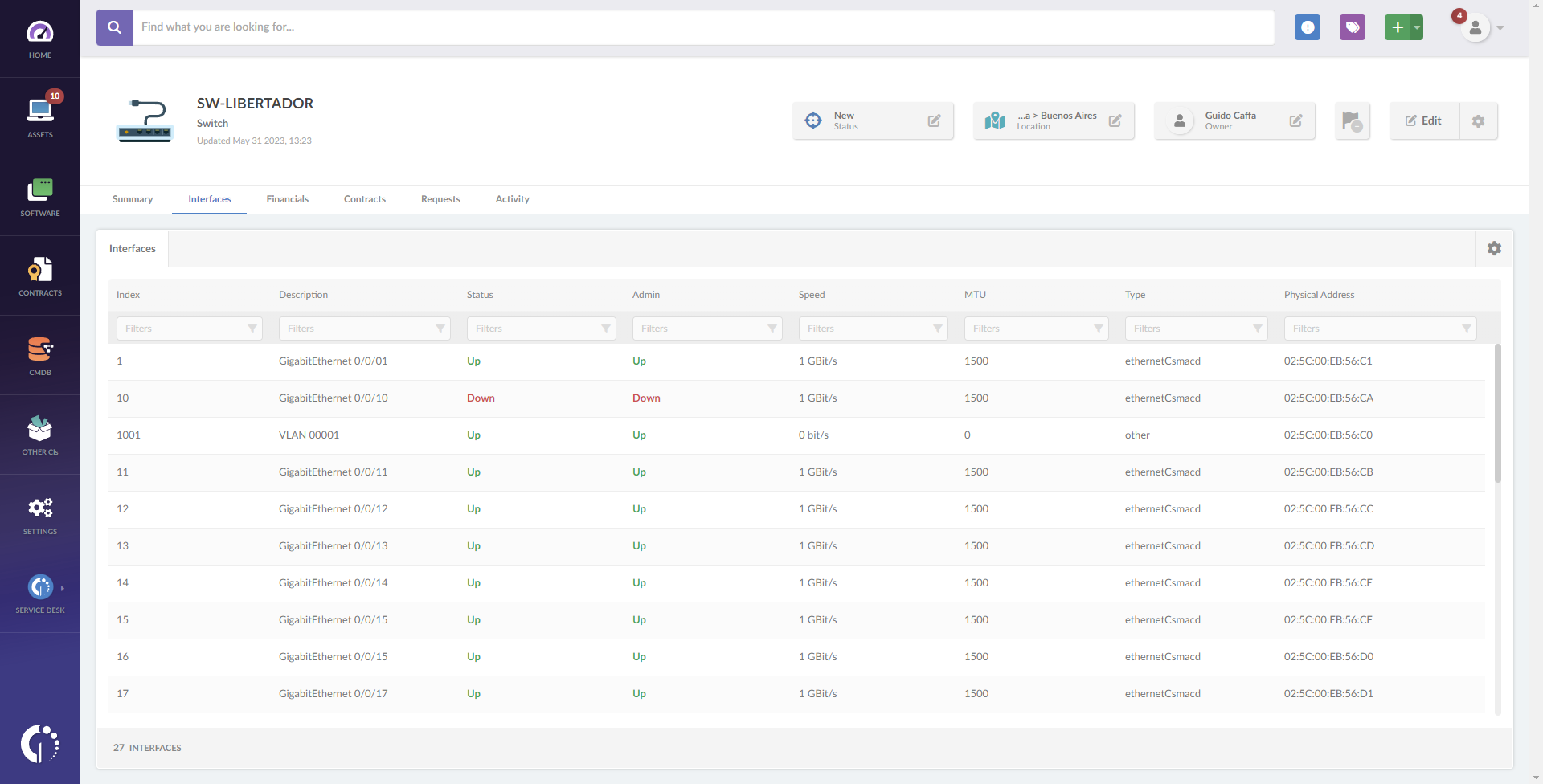 Holistic IT operations view with native service desk integration
InvGate Insight seamlessly integrates with InvGate Service Desk, establishing a native connection that links tickets to devices and personnel. This integration offers a comprehensive view of IT operations, streamlining management. Associating service tickets with relevant assets and personnel enhances workflows, communication, and issue resolution.
Enhanced IT Asset and Inventory Management
InvGate Insight facilitates seamless integration by gathering data from various sources, including popular operating systems, cloud service providers like AWS, Google, Azure, and MDMs such as JAMF and Google Endpoint Manager. This comprehensive integration ensures efficient management of both IT and non-IT assets, locations, and personnel, saving time and providing a holistic overview of the infrastructure.
Software efficiency optimization and cost reduction
InvGate Insight empowers organizations to assess and gauge the usage of paid software, facilitating efficient Software Management. By gaining visibility into software utilization, underutilized licenses can be reallocated, unnecessary costs minimized, and returns on IT investments maximized. This optimization of software efficiency assists organizations in making the most of their software resources.
Heightened cybersecurity compliance through asset monitoring
InvGate Insight's asset monitoring capabilities establish and enforce device health rules, enabling proactive cybersecurity compliance. Swift identification of instances of non-compliance allows immediate action to ensure adherence to cybersecurity policies and safeguard the IT infrastructure.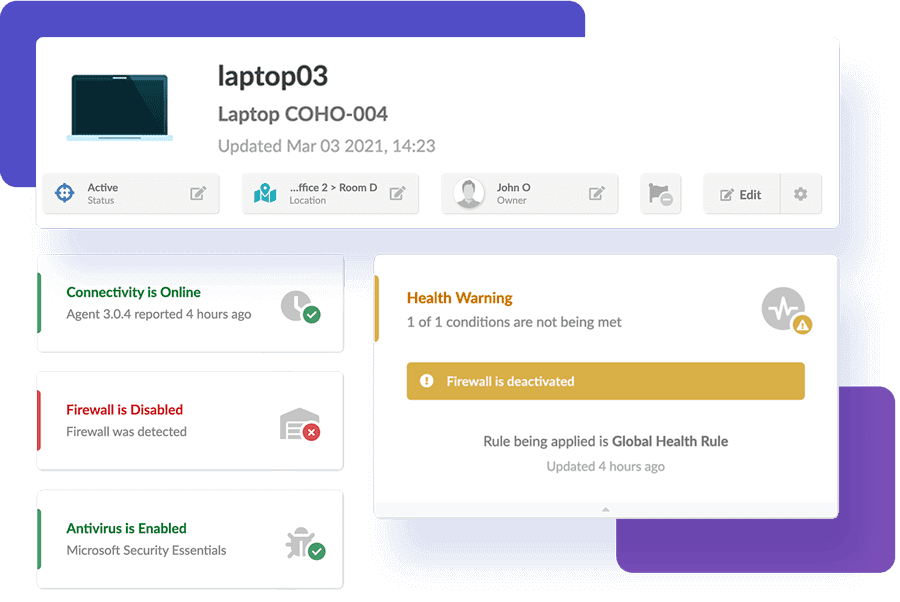 Proactive operational cost management
InvGate Insight facilitates the direct integration of financial data, contracts, licenses, and other critical information into the system. This approach grants organizations a comprehensive grasp of operational costs, enabling proactive and well-informed financial decisions. This optimization of budget allocation maximizes the value derived from IT investments.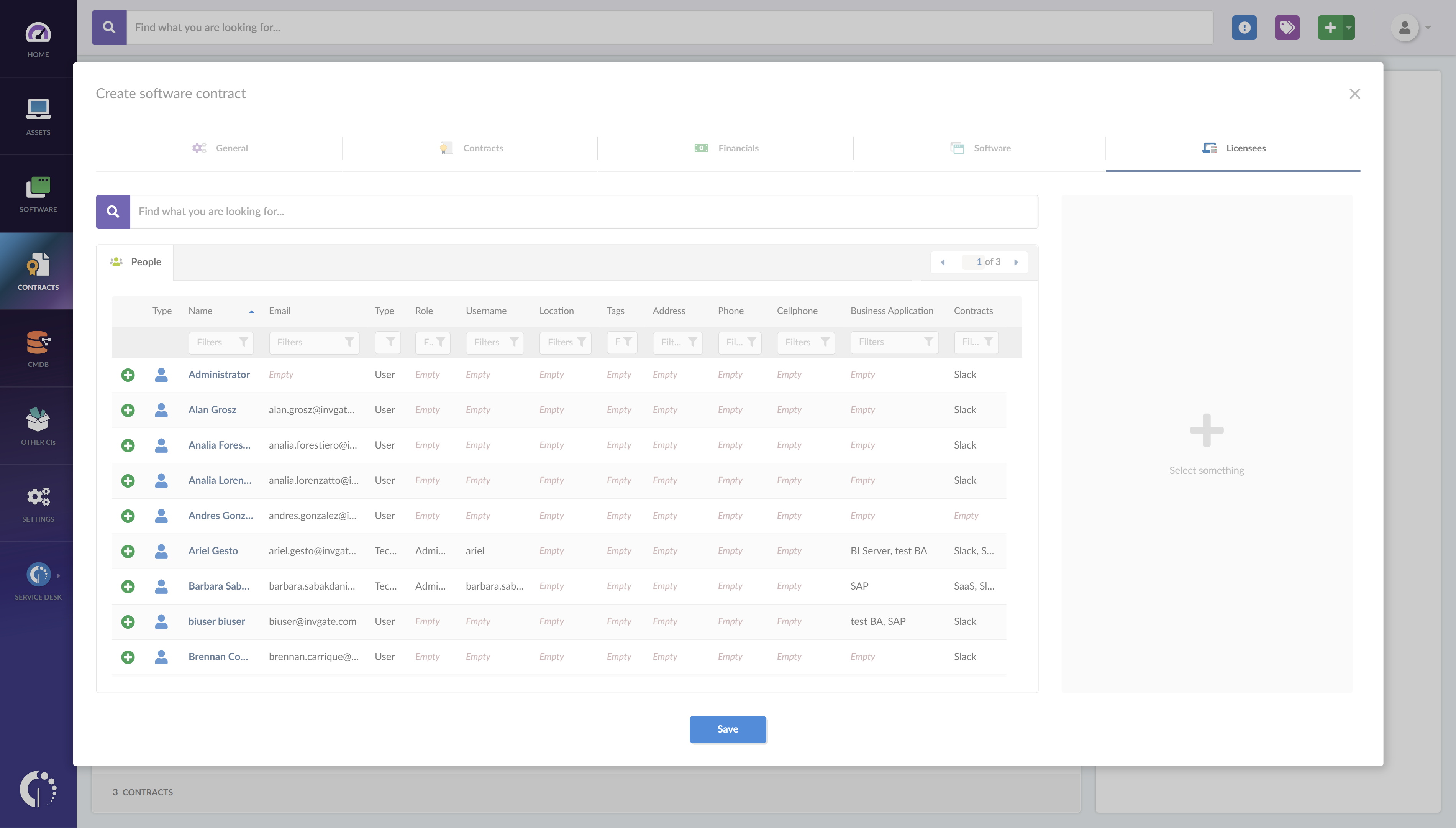 Automation and proactive alerts
InvGate Insight promotes process automation and the setup of alerts, fostering proactive IT management. Automated alerts enable organizations to monitor contract expirations and promptly notify relevant stakeholders, minimizing manual effort and the risk of oversight. This automation streamlines operations, allowing a focus on critical tasks and enhancing overall efficiency.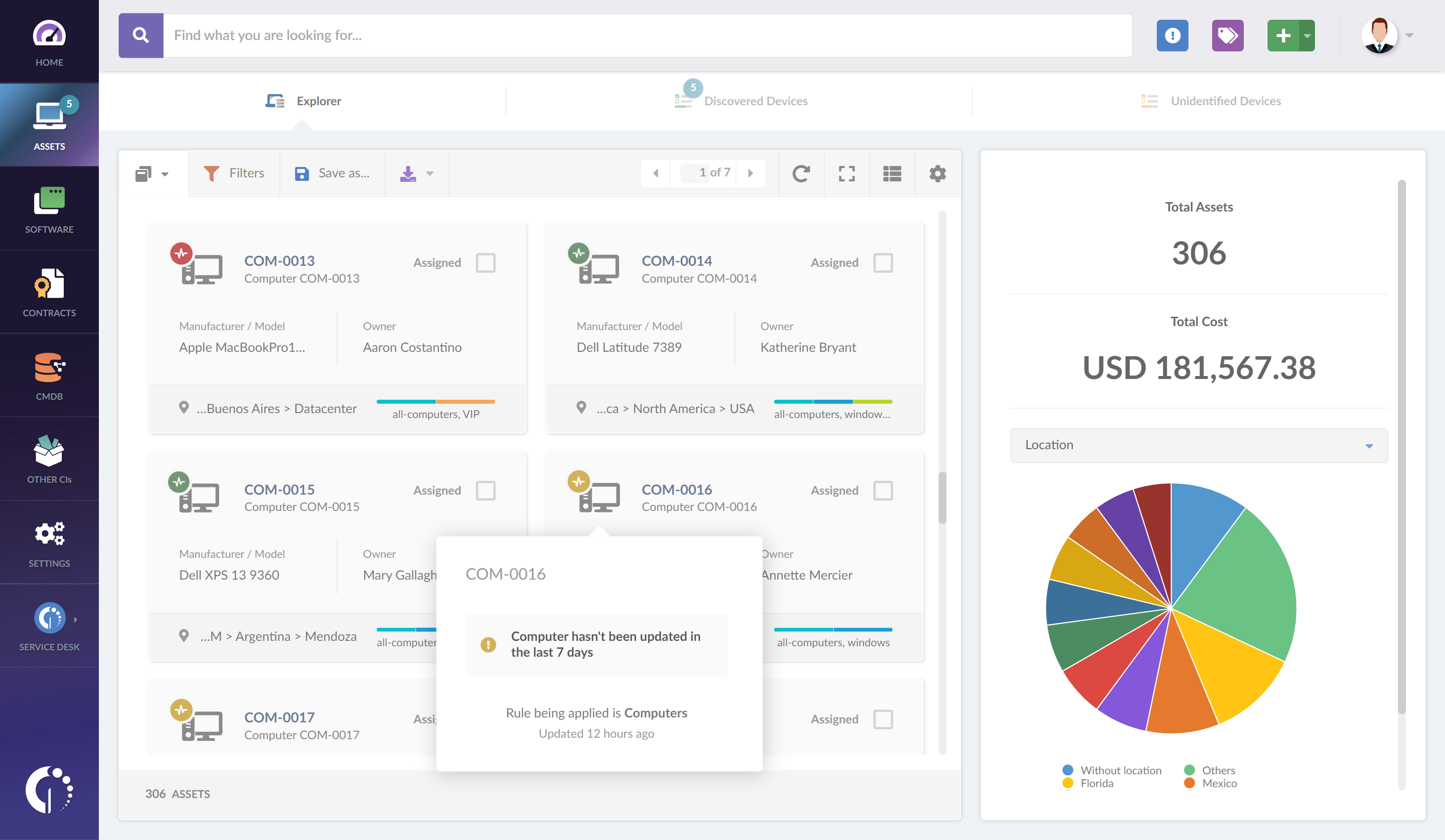 Flexible deployment options to suit your needs
Recognizing the distinctiveness of every organization's needs and the demands of industry regulations, InvGate Insight offers adaptable deployment choices. This flexibility empowers organizations to opt for either a cloud-based or on-premise solution, ensuring alignment with their unique requirements and compliance standards.
Efficient operations via CMDB map builder
InvGate Insight's CMDB map builder provides a clear and comprehensive overview of the IT ecosystem. Visualizing relationships between components helps identify potential impacts on operational continuity, leading to proactive risk mitigation. This enhanced visibility reduces service times, enhances operational efficiency, and ensures smoother IT operations.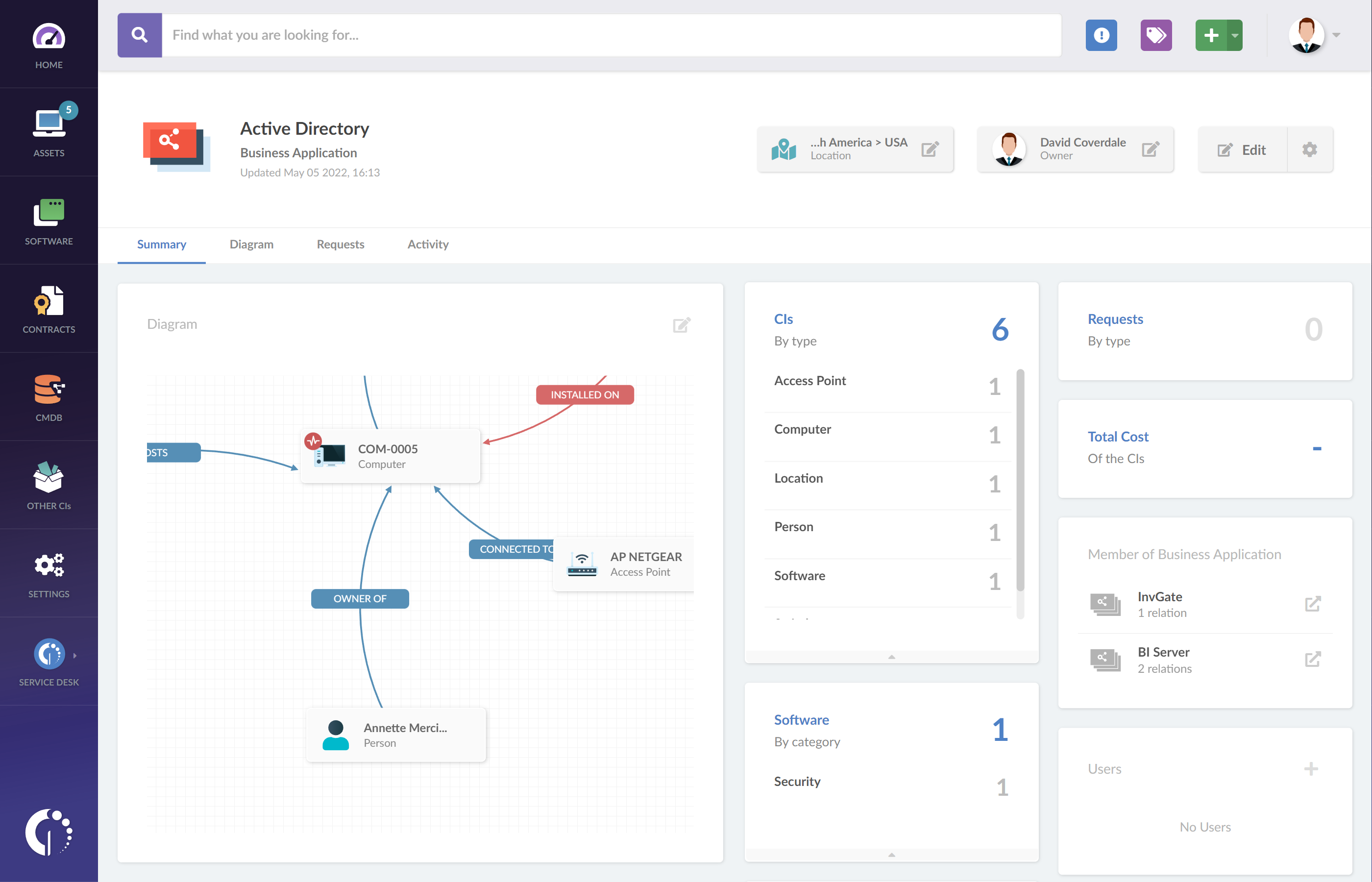 Seamless remote management with native integration
InvGate Insight natively integrates with well-known remote desktop tools like Windows Remote Desktop, TeamViewer, AnyDesk, and VNC. This integration enhances remote management capabilities, granting direct device access for troubleshooting and maintenance. This seamless remote access empowers organizations to effectively address IT issues, execute maintenance tasks, and ensure uninterrupted operations.
Next steps
In the realm of IT Asset Management, the clash between SummitAI Asset Management vs. Snipe-IT has highlighted a number of strengths and considerations for organizations. Both platforms offer unique benefits that address different needs, making the decision between them a significant one.
However, as the landscape of ITAM continues to evolve, it's crucial to explore alternative solutions that could align more closely with your organization's specific requirements.
One such contender is InvGate Insight, a compelling solution in the ITAM arena. With its distinct set of functionalities, from comprehensive Asset Management to enhanced cybersecurity compliance and proactive cost management, this platform offers a holistic approach to asset optimization.
Explore our live demo to truly experience the transformative power of streamlined and optimized IT Asset Management. See firsthand how the right choice can reshape your ITAM strategy, drive greater efficiency, and pave the way for unprecedented success for your organization.