Although the word "contract" immediately takes us to the Legal department, it also has a lot to do with IT. Having a proper contract lifecycle management of IT and software assets not only helps organizations to reduce costs, but if connected to the assets themselves, it becomes an effective way to boost productivity.
The easiest and quickest way to do this is using InvGate Insight as your contract lifecycle management software – on top of being your ITAM tool. How? Keep reading to see how to take advantage of this functionality!
What is Contract Lifecycle Management?
Generally speaking, Contract Lifecycle Management (CLM) is the process of overseeing and managing contracts from their inception to completion. This includes creating, negotiating, executing, and renewing contracts. It can help organizations to save time and money, as well as improve efficiency and compliance.
Since contracts include all the details regarding the agreement, such as deadlines, fulfilling deliverables, and payments, being able to have the specs at hand is pretty useful to adhere to them and avoid penalizations in the case of a violation.
Why should IT care about the lifecycle of asset and software contracts?
As we mentioned above, the Procurement and Legal teams are the ones typically in charge of the administration of contracts since they can understand the full implications of its clauses. However, it is vital for IT teams to have tools to follow up on these because they are the ones that must work according to the frameworks established in them.
But does this mean that the IT department should have access to all the company contracts? Not at all. They'll only be interested in IT contracts, meaning agreements related to IT assets, software, and licensing.
Being in the loop of the details and clauses each contract entails will allow them to be prepared for software audits, as well as develop a realistic business continuity plan in case a piece of equipment or software is down.
Examples of the importance of contract lifecycle management in IT
To see how this would be essential in the real world, here are some examples where IT teams must have visibility of contract information as part of their IT asset management process:
Onboarding process: in order to provide new employees with all the necessary tools to perform their work, the IT team needs to know the number of licenses purchased by the company – as well as their availability – so that the company can plan financially and not overspend on unnecessary licenses.


Broke/Fix process: when repairing a non-functioning asset, it is critical to have the information derived from the purchase or lease of the asset. Is it under warranty? Who is the supplier? Is there a maintenance contract in place? These are all key questions that can expedite the repair process, keeping

downtime

to a minimum.


Negotiations with suppliers: keeping track of contracts with InvGate Insight makes it easy for IT departments to create valuable reports for those in charge of negotiating renewals so that they can purchase or renegotiate contracts based only on what's needed (and perhaps save some money on the process).
Contract lifecycle management process: how to effectively track IT contracts with InvGate Insight
Creating, updating, and tracking asset and software contracts using InvGate Insight is very simple, regardless of the type of contract. Here's a quick step-by-step guide.
1. Create a contract
To create a new contract on InvGate Insight, just go to the "Create CIs" menu and click on the "+" button. Select the option "Contract", and decide whether you need to create a new contract for software or an asset.
In both cases, the system will ask you to complete some basic information – such as the name of the contract, the owner, and the tags associated with that contract. Let's see this in detail.
Upload detailed information according to the type of contract
For software contracts, InvGate Insight already displays different types of common software agreements (such as Stand-alone, Suites, Operative Systems, or SaaS). Once you select the one you need, you'll be able to enter critical information like the number and type of licenses, as well as an explanation of how to assign them. Plus, you'll have the chance to automate how and when to recycle those licenses.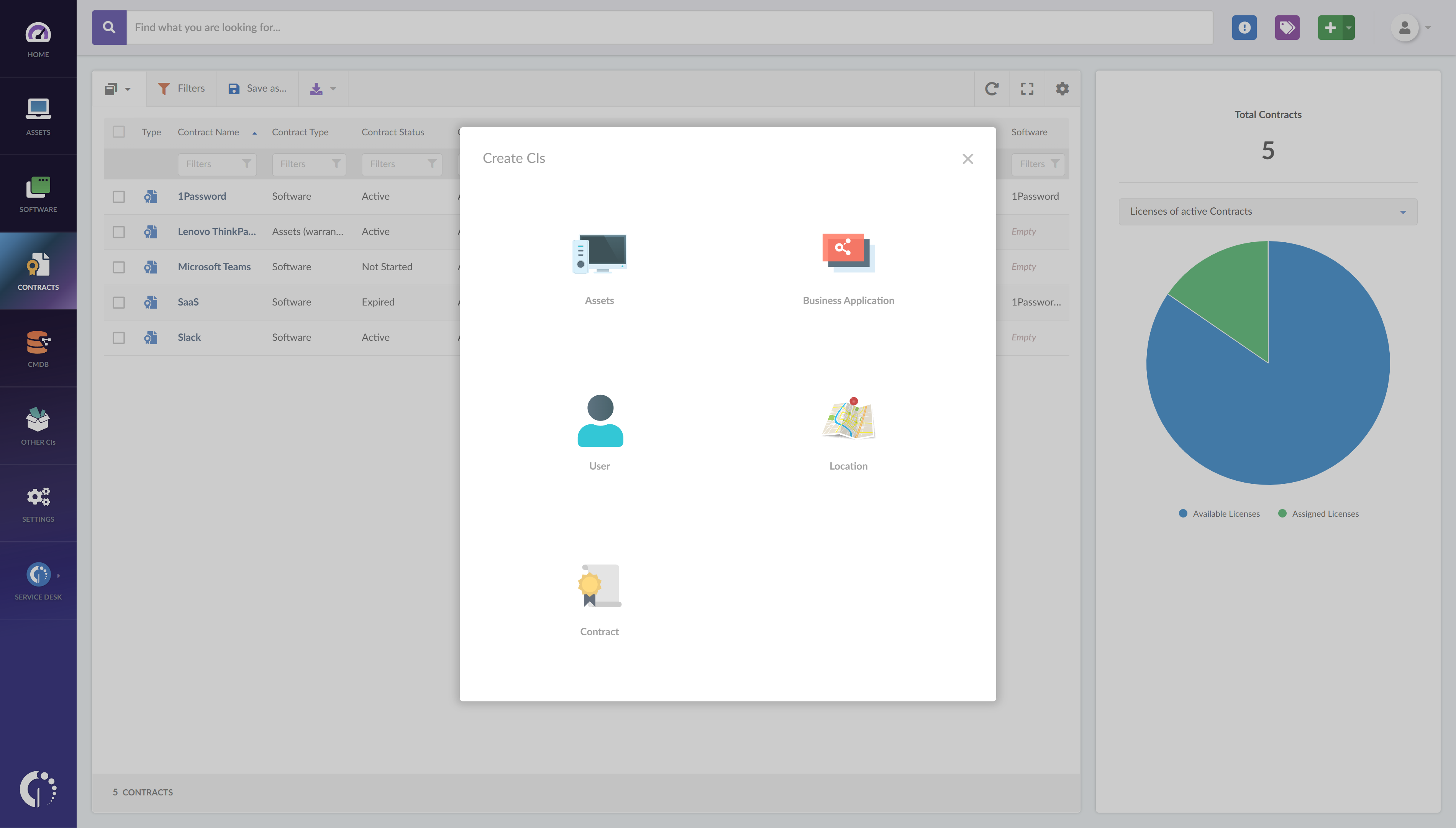 On the other hand, when working with asset contracts, you can choose among the following options: lease, maintenance, rent, support, or warranty. Once that's done, you'll be able to load the number of licenses, and indicate how to allocate them and when to recycle them.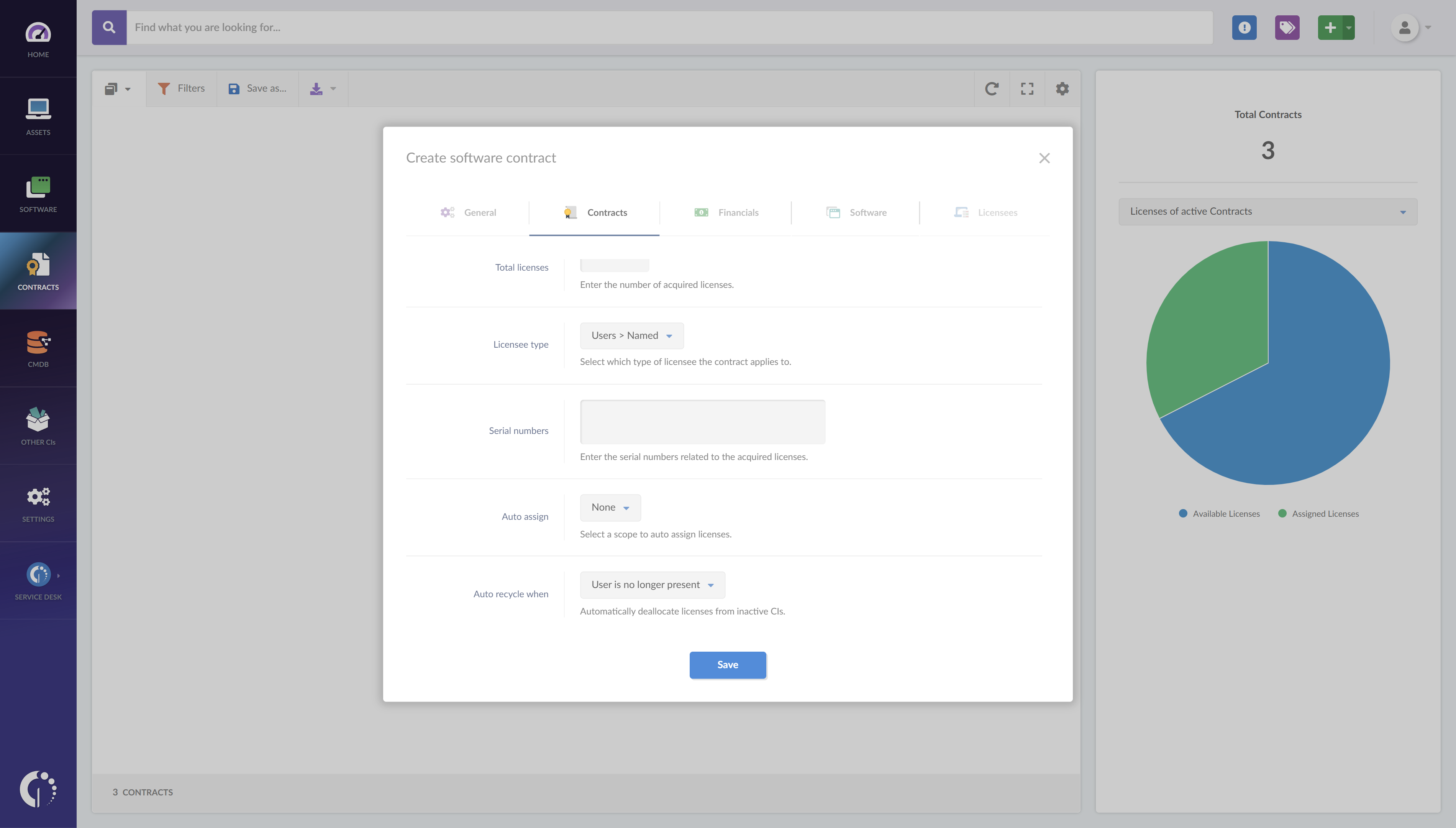 Financial information
Regardless of the type of contract, you'll be able to provide its financial information, which consists of the cost (whether total or per license), payment periodicity, contract duration, supplier, whether or not the contract includes support services, a cost center, and the associated purchase order number.
Software information
When creating software contracts, you'll also have the opportunity to relate the contract data to the information InvGate Insight collected during the discovery process. To do this, the software can be selected by name (linking to the contract all detected versions of software) or by specific versions.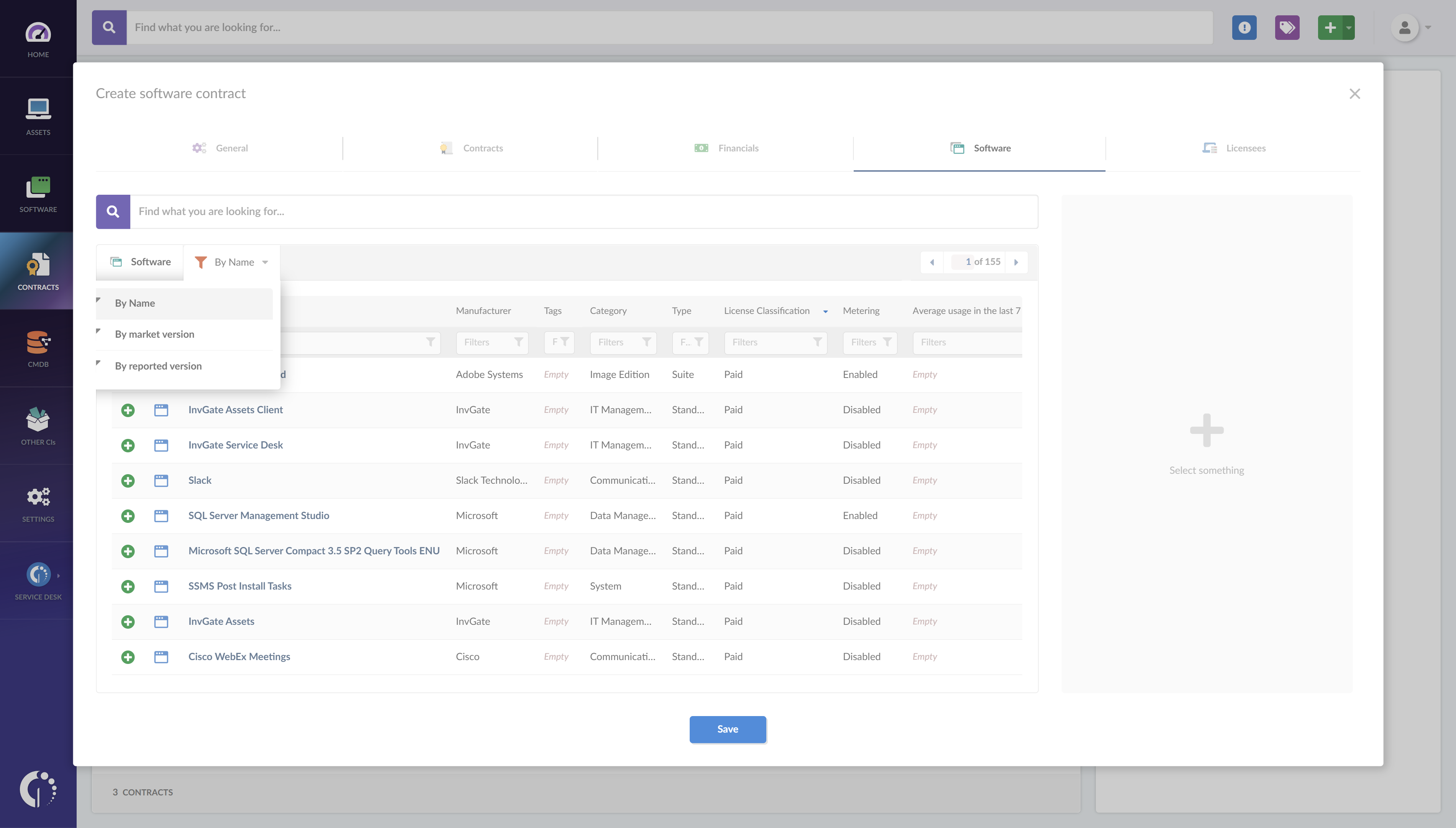 Licensee information
If you specify the number of licenses in the contract, the "Licensee information" tab will be enabled to indicate which assets should be linked to said licenses. For large purchases, you can use the automatic allocation of licenses according to active users, with the option to exclude users according to tags.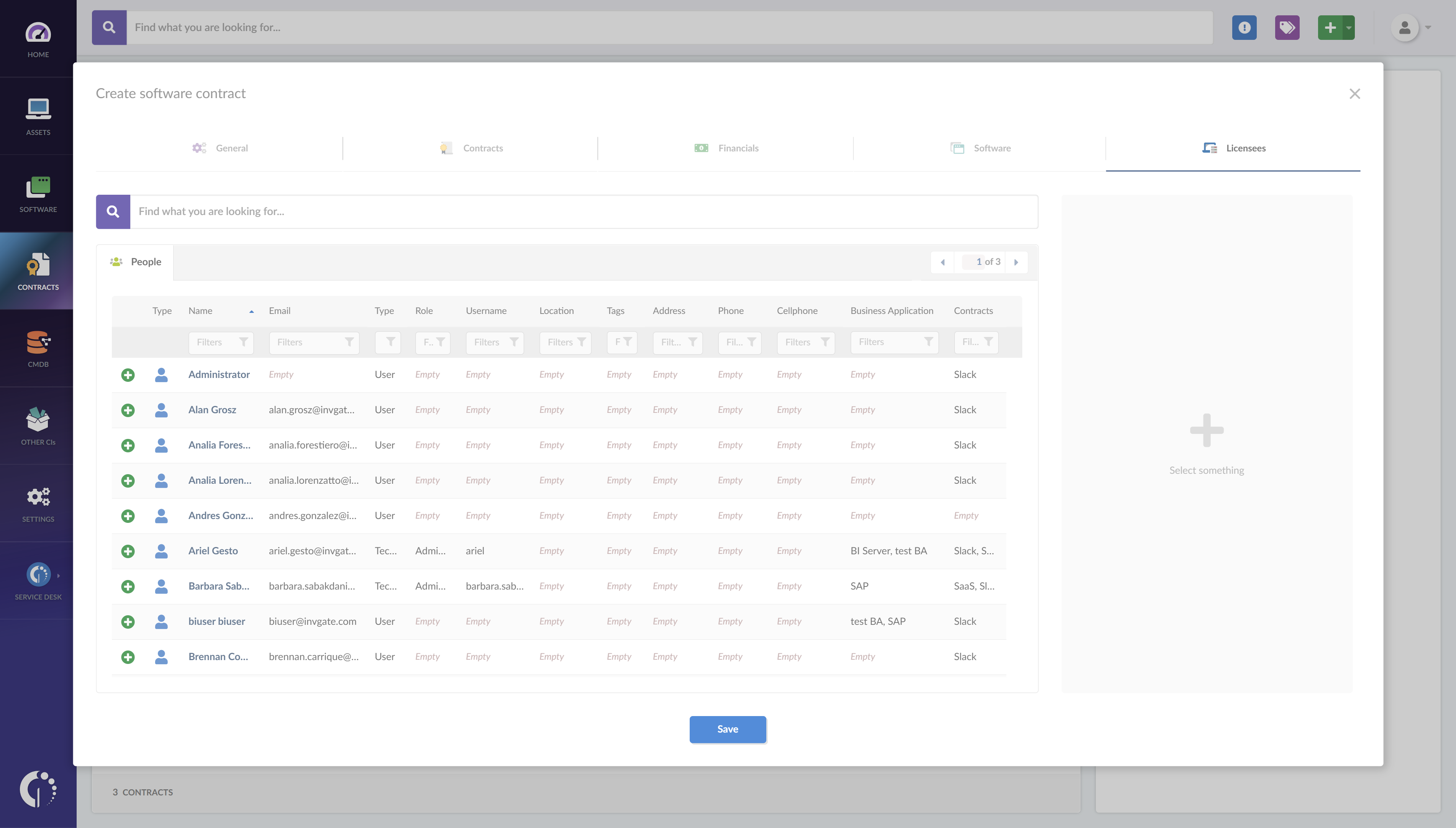 2. Accessing the contract information
As you can see, you can quickly create contracts using InvGate Insight and have the level of detail needed by your operations. But, once contracts are created, how do you take advantage of this information?
Accessing the data associated with the contracts is very simple because once they are created and associated with the assets or software, their content is integrated into all the information that InvGate Insight contains.
You can see the data in several ways:
Through the Assets/Software tabs, allowing you to filter information and create reports on demand.


Through the contract profile - If you go to the "Contracts" tab, you'll be able to access the information of all contracts created in InvGate Insight, and filter as needed (active or not contracts, by status, by type, and by supplier). If you want to see the details of a particular contract, just select it to enter its profile. Once there, you'll have access to its complete information and a graphic with the evolution over time of the allocation of licenses associated with that contract
3. Turning contract-derived information into actions
Populating your InvGate Insight instance is just the first step, but it's not how you get information, it's what you do with it. Let's take a look at some of the actions you can perform now that you have your IT contract information in the platform:
Create detailed financial reports.
Use contract information in requests resolution (for example, demanding the replacement of broken equipment under warranty), thanks to the native integration with InvGate Service Desk.
Create alerts on contract expiration, automating notifications to those responsible for contract renewals or renegotiation.
Long story short
Keeping track of contracts is key for any IT team that wants to maintain all the information on IT assets and software in one place to smoothly run the company's operations.
When doing so with InvGate Insight, you'll have a seamless experience that allows you to have visibility, make great decisions, and be more effective in your own tasks.
If you think your team could benefit from this feature, make sure to check out our 30-day free trial and see it for yourself or schedule a call with our team to explore how InvGate Insight can improve the way you track your assets.