A CMDB is part of any proper IT Asset Management tool. But why is it so important? Simply put, it's because as the size of your network increases, making sure that you keep track of every element every item, and every bit of software becomes increasingly crucial. The alternative is facing unintended consequences that might set you — and your company — back significantly.
Thus, proper configuration management becomes something to work towards as complexity ramps up. Maintaining control over what's in your network also becomes about the integrity of your data. Additionally, it's one of the endgames of an ITSM.
Let's take it from the top.


---

A Simple CMDB Definition
A CMDB—or configuration management database— is simply a file that, in the form of a standardized database, holds all of the relevant information about the totality of the components inside an organization or company's network. As a result, every piece of software and hardware, and every configuration item, are accounted for in the database.
A CMDB is the result of a proper IT asset management strategy that helps map out the different parts of a network and create a complete picture of all items and the diverse relationships between them. The CMDB, then, becomes the ever-changing snapshot of configuration data, and a generalized, objective view allowing the owners of that information examine and use it for any given purpose.
CMDBs are not static, unchanging things. Let's take a look at where CMDBs stand in the broader scope of IT asset management and IT service management.


---

A Short Lesson on CMDB Evolution
Configuration management databases came to be due to precise IT service management and asset management needs. As those needs change and evolve, so do CMDBs and their role in an organization's total IT infrastructure.
For instance, ITIL outlines a collection of processes for service asset and configuration management. The objective is to collate information about configuration items (CIs), the key components that make up a quality IT service. This information supports a CMS, or a configuration management system for assets. As a result, a CMS may span a broad range of CMDBs.
It's also noteworthy that CMDBs do not just include data from physical locations, but systems-wide information. This includes off-site locations and cloud infrastructure. Thus, companies will very likely have to include external data sources into their existing CMDBs to keep their eyes on the grander scheme of things.
Additionally, it seems that many companies are also looking for new ways to use CMDBs and data asset management in the context of digital business service processes and digital initiatives.
As for the future? It's nearly unanimous among IT experts that CMDBs will continue to play a large role in IT operations as companies become an even greater mix of hybrid (digital+physical) systems.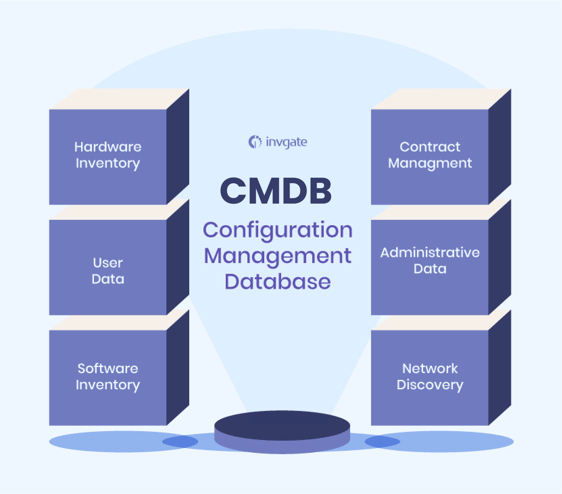 ---

How Does a CMDB Work?
By this stage of the article, you should be able to say "configuration management database" in your sleep. Backwards. But still, we're not any closer to figuring out what a CMDB looks like in practice, so let's take a look at how all the moving parts interact, and how they work.
The operating features of CMDB are:
A seamless, efficient dashboard that helps the user clearly track metrics, analytics, and statistics of every possible CI type. This includes being able to see the total picture of all of the relationships, patterns, and changes that could cause—or have caused—issues. This, in turn, leads to a better understanding of the processes and costs that need to be taken into consideration to maintain and create services. This, of course, includes IT service mapping, a visual representation of relationships and dependencies.


Creating all of the relevant CI types and populating their data. A good CMDB should support three different methods of data population: manual, API-driver integrations, and

asset discovery tools

. The latter tools automatically scan your network (both on-site and off-site locations) and collect information on all existing hardware and software, helping you create a total systems inventory. This inventory should also include controls that give your IT team enough access to trace changes to their origin in case of any unwanted incident.


Detailed compliance features that provide full records of all CIs. These records allow for complete audits of historical changes, incidents, as well as provide a system of checks and balances. They also support federated data sets that allow for a standardization of all CI types.



---

Benefits of a CMDB
By now, the main benefit should be clear: CMDBs provide a centralized, bird's eye view of all of your data. As a result, your IT team will have more control over each individual component as well as the totality of your IT assets.
Though we have an exhaustive post about CMDB benefits, it's essential to mention here that a CMDB will allow your team to visualize each item in detail—say, a minute component like a USB drive—which increases security and compliance. In addition, you can weed out unnecessary or redundant resources easily, which also increases efficiency.
CMDBs also allow for the inclusion of third-party data, or information from other vendors. This is part of the ability to create a standardized, collated database. This ability to synchronize information is one of the main assets of CMDB implementation. Additionally, this includes the integration of change management and incident management, which helps your IT staff keep an eye on things even more.


---

Possible Drawbacks of a CMDB
Now, not everything is rose-colored in the world of the CMDB and asset management. CMDBs themselves have suffered some pushback in recent years, so one of the main challenges to CMDB implementation comes in convincing businesses that they are necessary.
And once that hurdle has been overcome, the real battle begins: importing all of the relevant data into the CMDB. This can be extremely cumbersome when performed manually, because there's a wealth of information for each item. Financial information. Performance profile. Upgrade history. Etc.
Yet, many CMDB tools, like InvGate Insight, have auto-discovery capabilities that can help out tremendously in these scenarios. But, most of the data will not come from the same source, and that's where federation/standardization is supposed to come in. In practice, though, this doesn't always work perfectly, which could cause the CMDB to have issues related to attempting to juggle many different data sets simultaneously.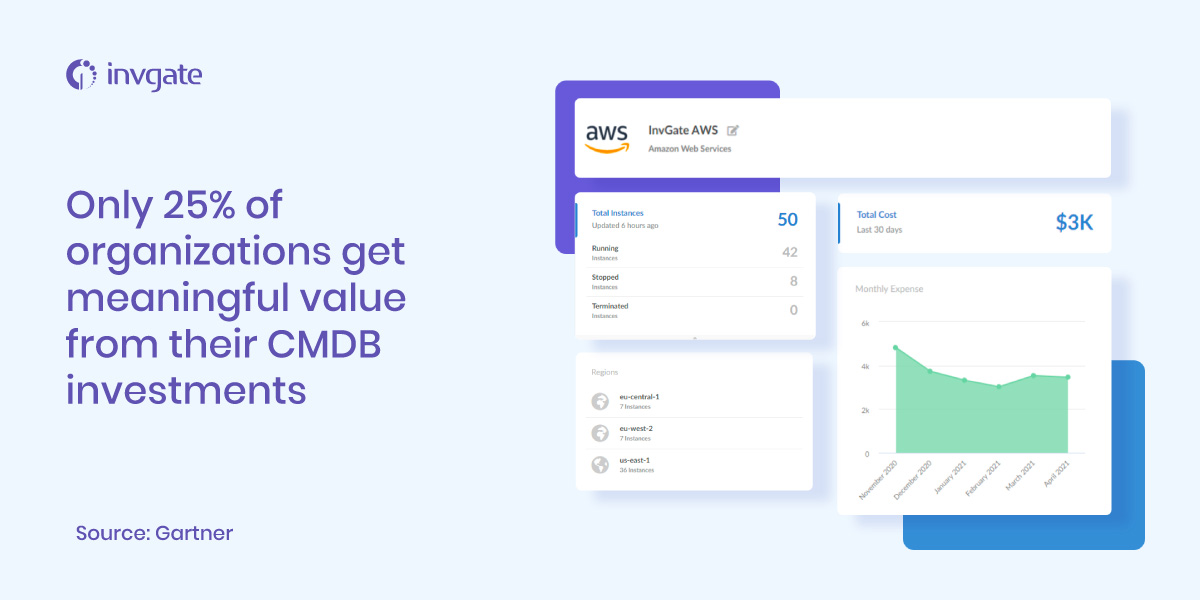 CMDB and Asset Management: Same Difference?
Let's take a look at our previous definition of asset management:
"IT asset management is a strategy to keep an organization's assets accounted for, maintained, upgraded, and secured. The hardware, software, and even the information used by an organization are part of its asset. In the case of hardware, it is important that they're not lost or stolen, working properly, and upgraded periodically. Meanwhile, in the case of software, they have to ensure that it is available as per the organizational needs, by purchasing and licensing them accordingly."
As you can see, there's definitely more than a few points of intersection between the concept of CMDB and IT asset management. And. as ITAM platforms and CMDBs become even more integrated under the same platforms, the confusion is often compounded. But, both terms are not synonymous.
An ITAM tool will track the lifetime cycles of assets, and is typically more oriented towards information like procurement, maintenance, operation, and, finally, disposal. While this includes information about configuration, it also entails having a clear picture of operational costs that include licensing, depreciation, and support. Proactive asset management and auditing, in the end, leads to a more efficient usage of all existing assets, and a decommissioning of the ones that don't.
Thus, the simple definition would be to say that ITAM tools are geared primarily towards business decisions. "What's the cost/benefit ratio of this asset?," "Does it need to be changed, repaired, or put out of action?" Meanwhile, configuration management databases are IT-oriented, and helps the staff map out dependencies, have a clear picture of the relationships between assets, and keep IT services in working order.
Yet, it's handy to keep in mind that these two worlds will collide and overlap often. After all, every IT asset also has a financial value, so this is the epitome of the "It can be two things" truism.


---

Choosing the Right Tool to Build Your CMDB
Searching for a tool to manage your infrastructure can be a daunting task. You want a solution that will enable you to discover your entire IT infrastructure, including physical and logical elements, allowing you to maintain reliable and updated visibility of your asset data. And you want a clear view of your CIs with a visual and intuitive data model.
InvGate Insight allows you to discover all of your network assets (physical and cloud-based) and to keep tabs on them, thus establishing a fully functional CMDB and a federated catalogue. It utilizes automation to the fullest degree to ensure that your IT staff has their hands full with the things that actually matter. Then, when humans have to actually step in, it's not to perform repetitive tasks, but to make an actual difference.
Lastly, remember the "Cons" section of this article? Choosing the right tool makes all the difference between trying to keep disparate moving parts from working together, and having an integrated system that runs like a dream. We're confident that our tools will help you do precisely that.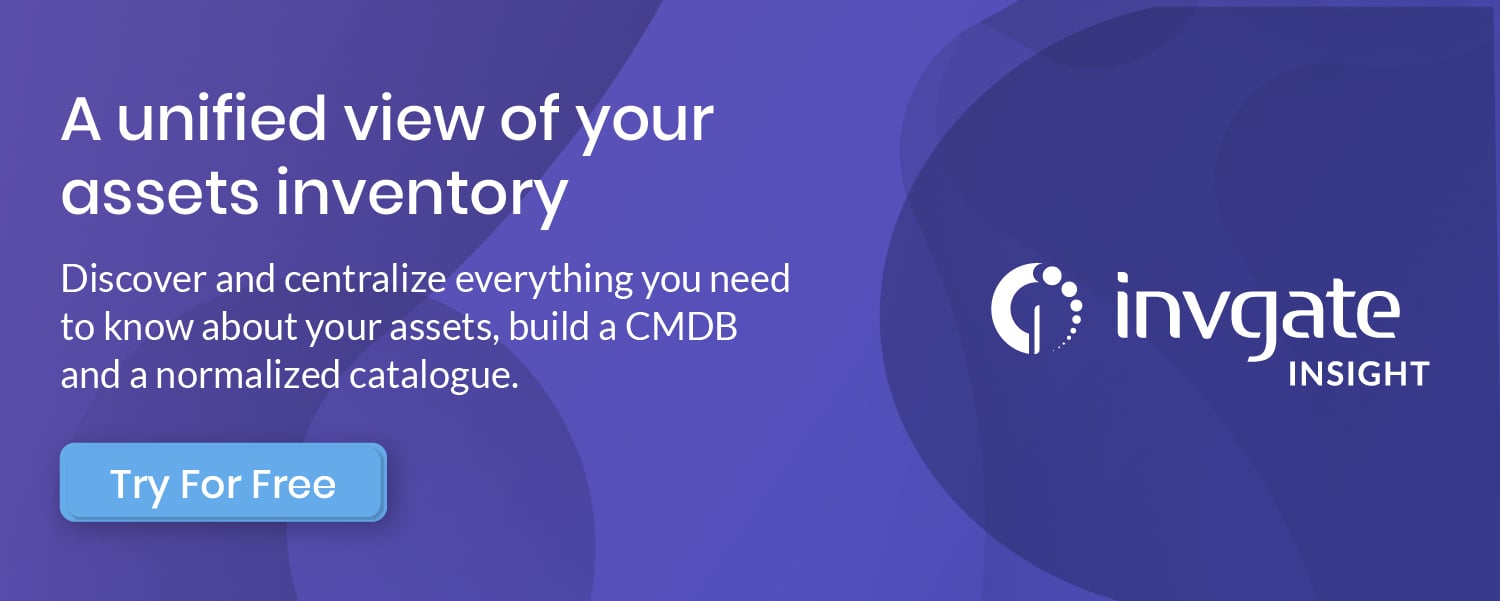 Final Thoughts
CMDBs, despite rumors of their demise, are not going to be out of commission anytime soon. And, even if they may change form, they'll probably be around for the foreseeable future, always evolving, and always showing us new frontiers of what's possible when it comes to clarity, efficiency, and running an ordered network.
Choosing the right tool for the job can make the difference between costly setbacks and—mostly—smooth sailing. Starting off strong can help even more than you think, so choose wisely!