As you navigate the complex landscape of IT Asset Management (ITAM), the decision between BMC Asset Management vs. Snipe-IT takes center stage. The choice you make in this dynamic area can have a significant impact on your organization's operational efficiency and overall success.
In this blog post, we'll embark on a thorough ITAM software comparison of both platforms. However, the solutions extend beyond this binary comparison. That's why we're introducing a third alternative – InvGate Insight. This platform offers a fresh perspective, with unique features and capabilities that will revolutionize your entire approach to Asset Management.
Let's explore the possibilities that will shape the future of your Asset Management endeavors.
Most looked-at features by buyers
During the evaluation of IT Asset Management solutions, prospective buyers consider a range of essential capabilities to pinpoint the most suitable option that aligns with their specific requirements and business needs.
Here are some vital factors that purchasers take into account when selecting a customized ITAM solution for their company.
What is BMC Asset Management?
The main goal of the Asset Management features in BMC Helix ITSM is to effectively lower the total cost of ownership associated with Configuration Items (CIs) and enhance the returns on investment.
BMC Helix ITSM Asset Management smoothly integrates with BMC Helix ITSM Change Management and BMC Service Level Management, creating a cohesive framework for comprehensive Asset Management.
What users like from BMC Asset Management
Reputable sources such as Gartner consistently provide positive user feedback on BMC Asset Management, covering a number of key aspects. Let's take a look at what users specifically like about this solution.
Enhanced visibility - The solution's remarkable capability to offer extensive insights into existing inventory is highly appreciated. Clear impact report analysis and efficient tracking of configuration changes and services further contribute to its significance.
Smooth implementation - Implementing BMC Asset Management is often described as quick and seamless, enabling swift integration into users' workflows.
Enhanced user experience - The software's interface is exceptionally user-friendly in the domains of Incident, Change, and

Problem Management

. This contributes to intuitive and straightforward daily operations.
Efficient automation processes: - Users find the ability to independently submit requests valuable, reducing reliance on IT staff and conserving resources. The software's contribution to well-informed decision-making, optimized resource allocation, and effective contract management is also acknowledged.
Comprehensive Service Management - BMC Asset Management is praised for its role in enhancing service quality as a robust ITSM and HR system. Its comprehensive approach encompasses

ITIL

activities like efficient management of Incidents and Changes. Notably, its exceptional ticketing tool and dedicated Change Management database set it apart.
Value for investment: - Users view BMC Asset Management as delivering substantial value. The well-designed dashboard aids in efficient monitoring, and the software's proficiency in managing support contracts, ensuring timely renewals, and optimizing usage is highly noteworthy.
Streamlined management - Users praise its simplified management capabilities, assisting them in effectively overseeing various aspects of their assets.
Mobile accessibility - The availability of mobile access empowers users to handle tasks while on the move, further enhancing a positive and adaptable user experience.
Training experience - Training is highlighted as crucial, especially during the go-live phase, ensuring that users can fully utilize the system's potential.
What users don't like from BMC Asset Management
While BMC Asset Management offers valuable features, there exist areas where improvements could enhance the overall user experience.
Chatbot and tools - Users propose that reinforcing the chatbot functionality could make it more robust and functional, thereby increasing its overall utility.
User interface - Some users express dissatisfaction with the current user interface. Enhancements in this aspect have the potential to create a more intuitive and user-friendly experience.
Enhanced reporting - Certain users suggest augmenting reporting capabilities to provide more comprehensive insights that enhance decision-making and strengthen overall Asset Management strategies.
Support and communication - It is recommended to engage third-party support to introduce additional avenues for improvement. Users also identify instances of communication breakdowns.
What's BMC Asset Management's argument over Snipe-IT?
When pitted against Snipe-IT, BMC Asset Management presents a compelling case demonstrating its advantages along several pivotal dimensions. Let's delve into the core points that underscore BMC Asset Management's argument over Snipe-IT.
Enhanced visibility - The exceptional ability of BMC Asset Management to provide extensive insights into existing inventory further solidifies its competitive edge.


Effortless implementation - Users consistently report that deploying BMC Asset Management is swift and seamless, resulting in quick integration into their operations.


Enhanced user experience - BMC Asset Management excels in user-friendliness across domains like Incident, Change, and Problem Management.


Efficient automation processes - Users highly value BMC Asset Management's autonomous request handling, resource optimization, and contract management features.


Comprehensive Service Management - BMC Asset Management's robust contribution to elevating service quality through its powerful ITSM and HR system is a standout feature. This comprehensive approach encompasses a wide array of ITIL activities, including efficient handling of Incidents and Changes.


Value for investment - Users perceive BMC Asset Management as delivering substantial value. Its well-designed dashboard aids in efficient monitoring, and its proficiency in handling support contracts, ensuring timely renewals, and optimizing usage might give it an edge in terms of cost-effectiveness and overall return on investment.


Streamlined management - BMC Asset Management's simplified management capabilities are highly regarded by users for their effectiveness in overseeing various aspects of Asset Management.


Mobile accessibility - BMC Asset Management's provision of mobile access empowers users to manage tasks on the go, enhancing their experience.


Training experience - BMC Asset Management's emphasis on training during the initial launch ensures that users can fully harness its potential.
What is Snipe-IT?
Snipe-IT is a comprehensive free Asset Management solution created by Alison Gianotto.
The company behind Snipe-IT, Grokability, creates user-friendly software, cultivating a continuous learning atmosphere, prioritizing transparency and security, and advocating the benefits of open-source software.
What users like from Snipe-IT
Snipe-IT's strengths and impressive features have garnered user recognition and positive feedback on platforms such as Capterra and G2. Here are some of the notable benefits that have been highlighted:
User-friendly setup and interface - Snipe-IT has a straightforward setup process and a user interface designed to cater to individuals without technical expertise. Even those lacking technical knowledge can easily navigate the platform, effectively managing software acquisitions and renewals.
Flexibility and versatility - The software offers customization features, including the ability to add images for items and allocate items to specific locations or individuals. Its robust API supports automation and integration with a diverse array of tools.
Simplified asset monitoring - The platform streamlines asset tracking, seamlessly encompassing software, consumables, and peripherals. Users can effortlessly integrate various components and accessories for comprehensive monitoring.
Supportive community - The tool provides substantial support through its premium version, and there's an active forum community associated with the free version. This network empowers users to engage, seek help, and exchange insights with peers.
Economical open-source solution - Snipe-IT distinguishes itself as a cost-free, open-source solution, presenting an affordable option tailored for small and medium-sized businesses. It encompasses an array of features within a stable framework.
What users don't like from Snipe-IT
Despite its many strengths and positive features, Snipe-IT is not immune to user concerns and criticisms. Insights gleaned from platforms such as G2 and Capterra have revealed recurring issues highlighted by its users.
Complex data importing process - Importing data into Snipe-IT can be cumbersome and less intuitive, potentially leading to user dissatisfaction.
Time-intensive initial setup - The initial setup, particularly when integrating existing inventory, can demand a significant investment of time and resources.
Integration gap with ticketing tools - The platform's flaw lies in its inability to seamlessly integrate with ticketing tools, which can be inconvenient for users who heavily rely on such integrations.
Desired features absent - Users have observed the lack of specific features they desire, such as a calendar booking system or webhooks. Additionally, altering default search fields or email configurations might pose challenges.
Mobile views and notifications - The mobile views within the software could benefit from improvements to enhance usability.
Authentication and search limitations - Snipe-IT lacks support for Single Sign-On (SSO) authentication and SAML or Google connection support for user imports. Furthermore, the search functionality within the software might be constrained in terms of its capabilities.
What's Snipe-IT's argument over BMC Asset Management?
When it comes to choosing an effective asset management solution, Snipe-IT stands out with its compelling features and benefits. Let's examine Snipe-IT's key arguments in favor of its platform over BMC Asset Management:
User-friendly experience - Snipe-IT takes pride in offering a user-friendly setup and interface. This streamlined approach ensures that individuals without a technical background can effortlessly manage software acquisitions and renewals.


Customization and adaptability - Snipe-IT's software provides the ability to add images for items and allocate them to specific locations or individuals, offering a high level of versatility. Moreover, the platform's robust API allows for seamless automation and integration with various tools, enhancing workflow efficiency.


Comprehensive asset monitoring - Snipe-IT shines in terms of asset monitoring. Its platform seamlessly integrates various components, covering software, consumables, and peripherals in a cohesive manner.


Engaging community and support - Snipe-IT goes beyond offering a premium version; it also fosters an active forum community associated with its free version. This enables users to interact, seek assistance, and exchange insights with peers.


Cost-effective solution - One of Snipe-IT's strongest arguments is its status as an economical open-source solution, tailored for small and medium-sized businesses.
Considering InvGate Insight as an ITAM solution alternative
For organizations in search of tailored IT Asset Management solutions that align with their specific needs, InvGate Insight emerges as a strong competitor. As a comprehensive ITAM solution, it offers a variety of features that position it as a compelling choice for streamlining Asset Management processes. Let's explore its key attributes.
Optimization of software efficiency and cost reduction
InvGate Insight empowers organizations to identify and evaluate the utilization of paid software, facilitating effective Software Management. By gaining visibility into software usage, unused licenses can be reallocated, unnecessary costs reduced and returns on IT investments optimized. This software efficiency optimization empowers organizations to extract maximum value from their software resources.
Enhanced IT Asset and Inventory Management
InvGate Insight facilitates seamless integration by consolidating data from various sources, including popular operating systems, cloud service providers (AWS, Google, Azure), and MDMs (JAMF, Google Endpoint Manager). This comprehensive integration enables effective oversight of both IT and non-IT assets, locations, and personnel. This not only saves time but also provides a holistic view of the infrastructure.
Holistic IT operations perspective through native service desk integration
InvGate Insight seamlessly connects with InvGate Service Desk, establishing a natural linkage between tickets, devices, and personnel. This integration offers a panoramic view of IT operations, streamlining management. Associating service tickets with relevant assets and personnel enhances workflows, communication, and issue resolution.
Comprehensive understanding of IT infrastructure
With its robust feature set, InvGate Insight provides detailed and actionable insights into IT assets, covering their status and usage. This comprehensive understanding enables effective management and optimization of the infrastructure, leading to improved operational efficiency.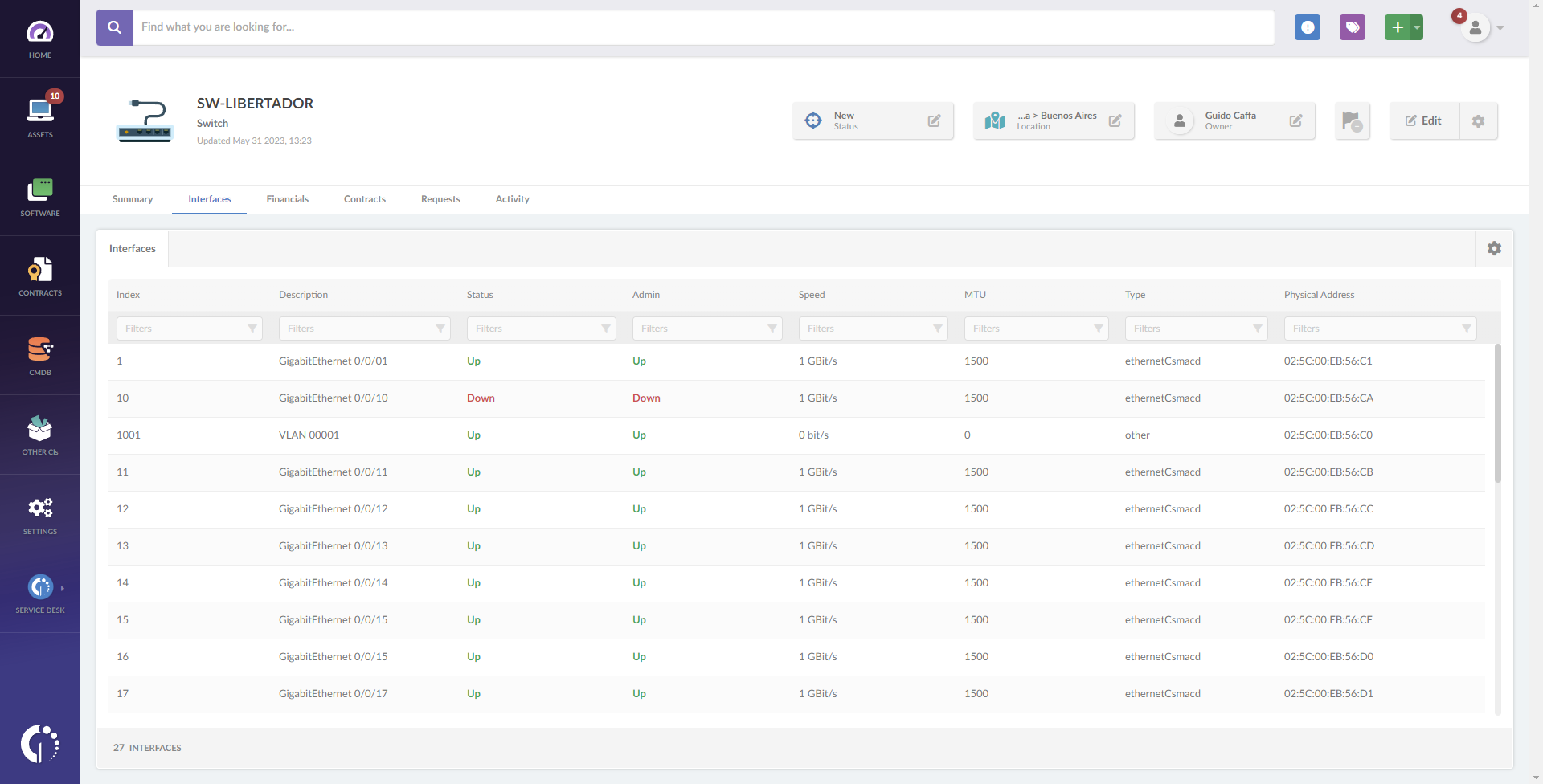 Effortless Remote Management through native integration
InvGate Insight seamlessly integrates with widely used remote desktop tools such as Windows Remote Desktop, TeamViewer, AnyDesk, and VNC. This integration enhances Remote Management capabilities, granting direct access to devices for troubleshooting and maintenance. The seamless remote access empowers organizations to efficiently address IT issues, perform maintenance tasks, and ensure uninterrupted operations.
Simplified operations through CMDB map creation
InvGate Insight's CMDB map builder tool presents a clear and thorough representation of the IT environment. Visualizing connections between components helps identify potential impacts on operational continuity, aiding in proactive risk mitigation. This increased visibility reduces service downtime, enhances operational effectiveness, and ensures smoother IT operations.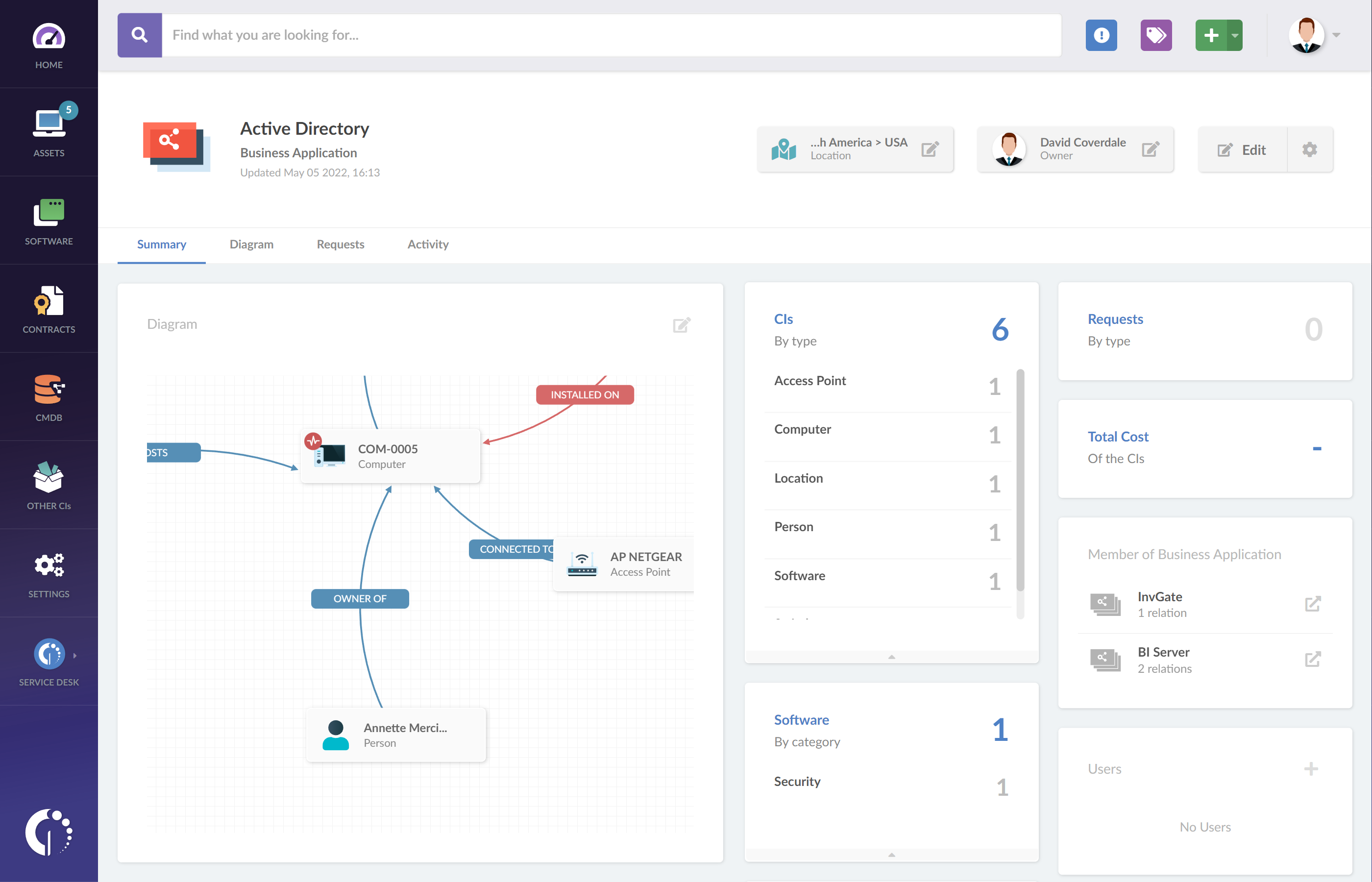 Strengthened cybersecurity compliance through asset monitoring
InvGate Insight's asset monitoring capabilities establish and enforce device health rules, promoting proactive cybersecurity compliance. Swift identification of non-compliance instances allows immediate action to ensure adherence to cybersecurity policies, ultimately fortifying the IT infrastructure.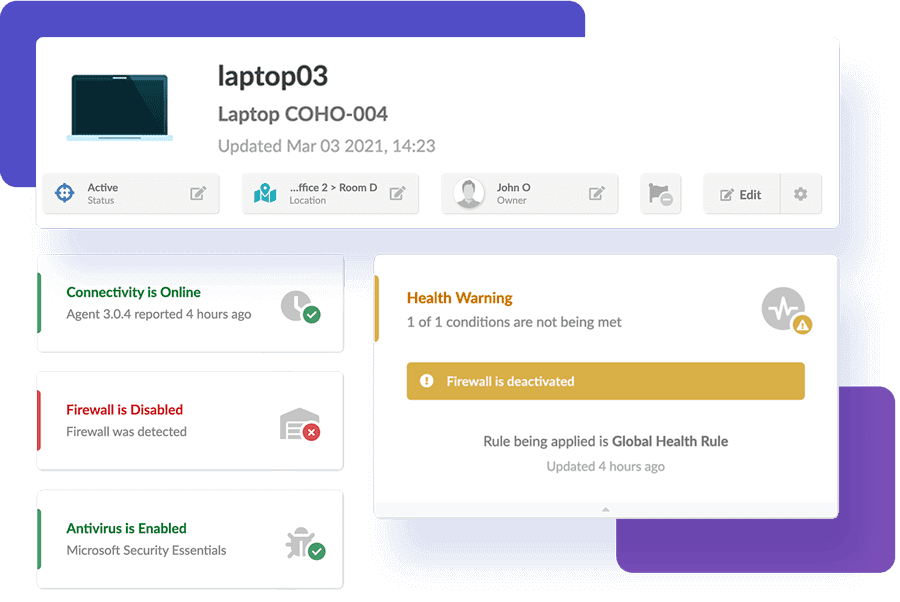 Automated management and proactive notifications
InvGate Insight simplifies process automation and notification setup, fostering proactive IT administration. Automated alerts allow organizations to monitor contract expirations and promptly inform relevant stakeholders, reducing manual efforts and the potential for oversights. Such automation enhances operations, enabling a focused approach to critical tasks and boosting overall efficiency.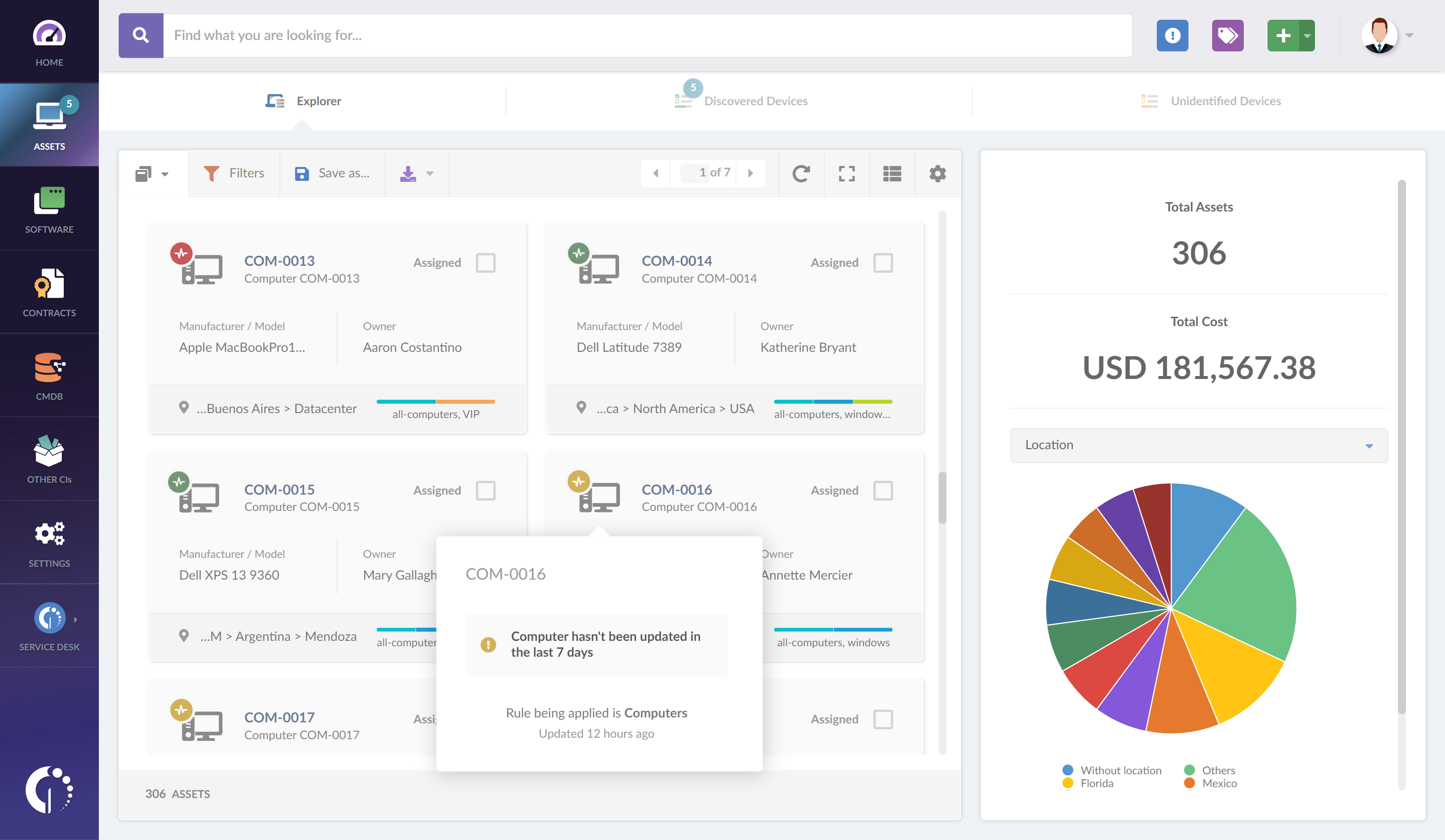 Proactive control of operational costs
InvGate Insight facilitates the direct integration of financial data, contracts, licenses, and other crucial information into its system. This approach provides organizations with a comprehensive grasp of operational costs, enabling proactive and well-informed financial decision-making. This optimization of budget allocation maximizes the value gained from IT investments.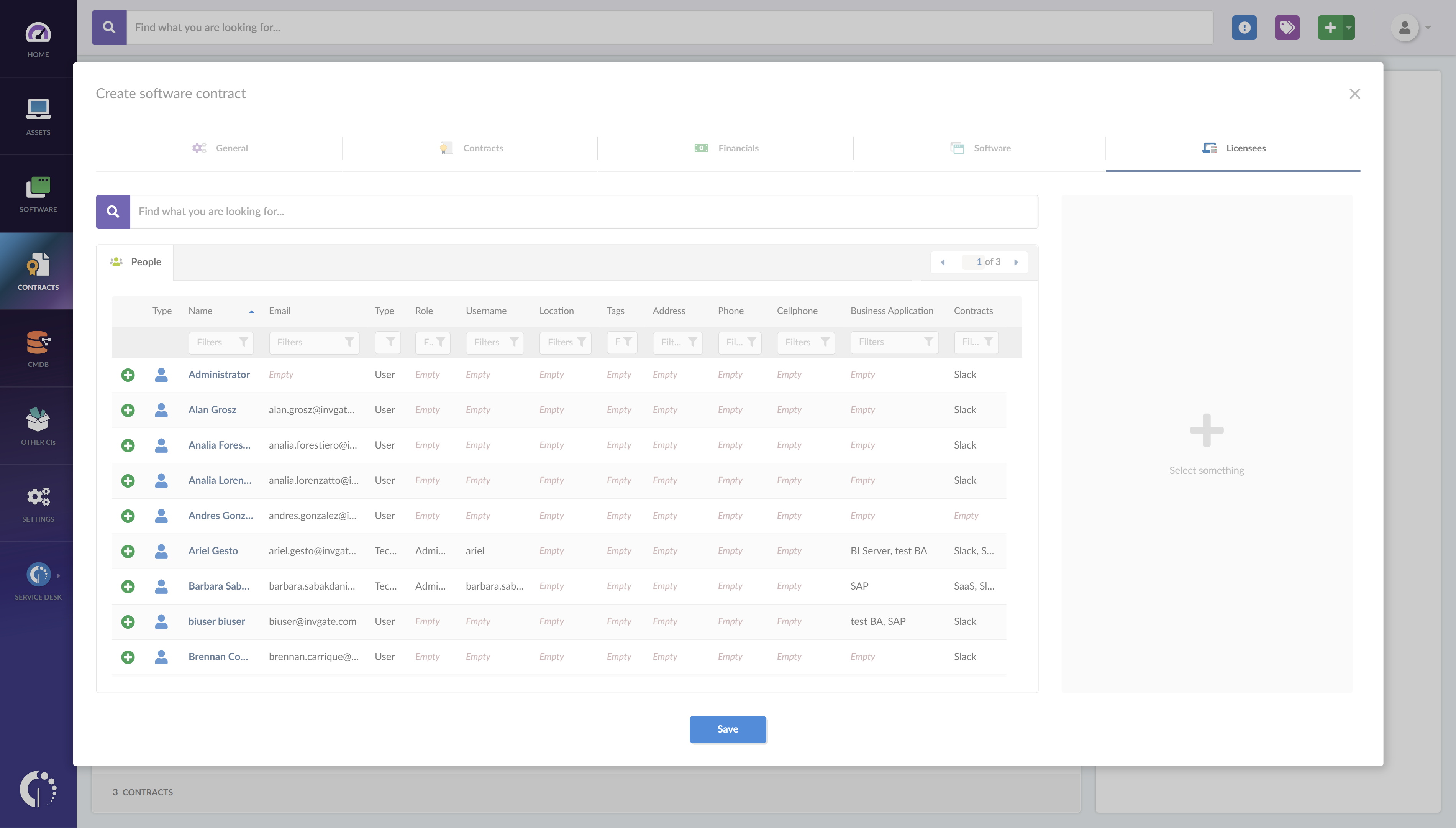 Flexible deployment options to meet requirements
Recognizing the distinct needs and industry regulations of each organization, InvGate Insight offers a range of flexible deployment choices. This provides organizations the flexibility to opt for a cloud-based or on-premises solution, ensuring alignment with specific needs and compliance standards.
Next steps
In the evaluation of BMC Asset Management vs. Snipe-IT, both solutions bring their own strengths to the table, catering to a range of Asset Management needs.
However, the realm of Asset Management is ever-evolving, and organizations must cast a wide net when considering the ideal solution for their requirements.
The exploration of solutions like InvGate Insight emerges as a compelling strategy. Its holistic approach, combining cybersecurity compliance reinforcement and proactive cost optimization, sets it apart as a platform designed to elevate ITAM practices.
Download our free ITAM implementation checklist to help you guide you through your next steps!