Lansweeper vs. Snipe-IT: What IT Asset Management (ITAM) solution best suits your unique needs and objectives? When it comes to effectively managing IT assets, choosing the right tool is crucial for organizations seeking to optimize their operations.
In this blog post, we'll delve into the comparison of two prominent contenders in the ITAM space: Lansweeper and Snipe-IT. We'll take a close look at the key features, pros, and cons of each platform so you can make an informed decision. In addition, if neither meets your requirements, we have an alternative solution to introduce: InvGate Insight.
Join us in exploring these ITAM software alternatives and find the ideal fit for your organization's Asset Management needs.
Most looked-at features by buyers
When evaluating IT Asset Management solutions, buyers often take into account a range of crucial capabilities to find the best fit for their unique requirements and business needs.
Here are some important factors that buyers consider when selecting an ITAM solution tailored to their organization.
Unified IT Asset and Inventory Management - With a

unified IT asset inventory

feature, users can efficiently track and manage their entire inventory of IT assets from a single platform. The solution must enable automated

asset discovery

, capturing essential details such as hardware specifications, software versions, and ownership information.


Automated management and proactive alerts - The solution must allow the creation of automated workflows for routine tasks such as software updates, patch deployments, and system maintenance. Users can ensure efficient operations and respond timely to critical events by automating tasks and receiving proactive alerts.


Comprehensive insights into IT infrastructure - The platform should offer complete visibility into IT asset status, performance, and usage, allowing users to make informed decisions and optimize their infrastructure. It should also provide reporting and analytics features.


Software management optimization - This feature enables users to track software installations, ensure

Software License Management

, and identify instances of over or underutilization.



CMDB

Map Builder - This feature allows users to define and document relationships between various components, such as hardware devices, software applications, network connections, and dependencies. By visualizing these relationships, organizations can better understand the impact of changes, assess risks, and plan for effective

Incident Management

and

Change Management

.


Enhanced cybersecurity compliance - By continuously monitoring assets and their security posture, buyers look for a tool to help them proactively detect and mitigate security risks.


Flexible deployment options - Users want a platform that provides the flexibility to choose between different deployment models, such as cloud-based, on-premise, or hybrid.


Proactive cost management and financial optimization - The solution must incorporate financial data,

contract lifecycle management

, licenses, and other relevant information to understand operational costs comprehensively.


Service desk integration - An integration with

help desk software

enables a seamless flow of information between Asset Management and

IT Service Management

processes. It enhances communication, streamlines workflows, and improves overall service delivery.

Remote management with integrated tools - The integration with popular remote desktop tools allows IT teams to remotely diagnose issues, apply patches, perform software installations, or conduct system updates without needing physical presence.
What is Lansweeper?
Lansweeper is an IT Asset Management and network discovery software available in two deployment options: cloud service or on-premise installation. It gives businesses a detailed understanding of their IT infrastructure by offering various features and functions. These include scanning capabilities to identify devices, collecting inventory information, generating reports and analytics, managing software licenses, handling the lifecycle of assets, and addressing security and vulnerability concerns.
Since its introduction in 2004, Lansweeper has become a trusted solution for organizations looking to gain control over and enhance their IT infrastructure.
What users like from Lansweeper
Lansweeper has garnered recognition and positive customer feedback, as indicated by reputable sources like Gartner. The following are some of the advantages that have been emphasized.
Hassle-free deployment - As a SaaS-based solution, Lansweeper eliminates the need to install software on individual machines, simplifying the implementation process.
Comprehensive asset tracking - The platform keeps detailed records of every device asset that enters the network, providing a complete IT infrastructure overview.
Integrated customizable reporting - The software offers built-in reporting capabilities, enabling organizations to generate comprehensive reports and gain valuable insights into their IT assets.
Enhanced software visibility - Lansweeper provides complete visibility of software deployed within the organization, facilitating effective Software Management and license optimization.
Asset placement mapping - It allows users to create maps for asset placement, which is particularly useful for managing assets within complex buildings or large facilities.
Remote server management - Lansweeper enables remote management of servers, allowing administrators to perform tasks and monitor server status from a central location.
Network-connected inventory detection - The software makes detecting and tracking inventory connected to the network easy, ensuring accurate asset inventory management.
Agentless operation - Lansweeper operates without requiring agents to be installed on devices, simplifying the management process and reducing potential conflicts.
Cost-effective - Lansweeper offers a competitive price point, providing organizations with cost savings while still delivering robust IT Asset Management features.
User-friendly interface - The software is designed to be user-friendly, featuring pre-configured security reports and an intuitive interface that makes it easy to navigate and utilize.
Efficient resource utilization - Lansweeper is quick and lightweight in terms of resource usage, minimizing the impact on system performance and ensuring smooth operation.
What users don't like from Lansweeper
While Lansweeper has numerous strengths and positive attributes, it is not exempt from customer concerns and criticisms. Analyses from trusted sources such as Gartner have highlighted some of the common complaints expressed by users.
Limited scalability - While Lansweeper works well for small-sized organizations, it may not be as suitable or effective for large enterprise companies, potentially lacking the scalability required to manage complex IT infrastructures.
Complex custom querying - Creating custom queries in Lansweeper can be challenging for users, especially when dealing with complex queries. The process may require a steep learning curve and technical expertise.
Lack of historical software views - The platform lacks support for historical views of software in its database. Users can only access a point-in-time view, which means they are unable to retrieve historical software data, limiting their ability to track software changes over time.
Busy Graphical User Interface (GUI) - Some users may find the tool's GUI overwhelming due to the abundance of visible options. Some users think organizing specific options into collapsible menus could result in a cleaner and more streamlined interface.
Potential delay in scanning updates - Despite the frequency of scans, Lansweeper may not always provide real-time information, leading to outdated data. This can require additional manual effort from users to ensure data accuracy.
Limited Internet of Things (IoT) firmware information - Lansweeper does not offer firmware details for IoT devices, making it challenging for users to retrieve and track firmware information through the platform.
Licensing system challenges - The new licensing system implemented by Lansweeper may require organizations to pay for more assets than they actually need, with a minimum starting requirement of 2000 assets. This can be perceived as a drawback and may pose difficulties, especially for smaller-sized organizations.
Complex Patch Management - Lansweeper's Patch Management feature, known as deployment packages, can be difficult for some users to navigate. Some users encounter challenges in effectively deploying patches and managing software updates.
Limited asset change tracking - Users have expressed the need for improved asset change tracking and history. Currently, the platform provides limited tracking of asset-related items, such as monitor connections or IP usage, only displaying the last scanned information.
Automatic asset deletion from the database - When assets are deleted from the system in Lansweeper, they are automatically removed from the database. Some users find this problematic and prefer to retain deleted assets in the database for reference or historical purposes.
Reporting module complexity and inaccuracy - The reporting module in Lansweeper may require users to possess a basic understanding of relational databases to utilize its capabilities effectively. Some users feel that additional training or database knowledge is necessary for the optimal use of the reporting features. Moreover, reports may occasionally contain inaccuracies, necessitating users to verify and cross-check the information provided to ensure its reliability.
Outdated dashboards - Some users perceive the dashboards in Lansweeper as outdated. Although efforts are being made to modernize them into a more cloud-based console, users still desire a more contemporary and visually appealing dashboard experience.
Limited regional support - In certain regions, such as Argentina, the availability of partners for Lansweeper may be limited. This can impact the availability of local support or services, potentially causing inconvenience for users in those regions.
What's Lansweeper's argument over Snipe-IT?
Lansweeper positions itself as a comprehensive IT Asset Management solution with several unique selling points compared to Snipe-IT. Here are the key differentiators.
Advanced features and integration capabilities - Lansweeper emphasizes its robust feature set and integration capabilities. It offers a wide range of advanced features, such as comprehensive asset tracking, integrated customizable reporting, enhanced software visibility, asset placement mapping, and remote server management.


Accurate and real-time data - Lansweeper emphasizes its network-connected inventory detection and agentless operation, ensuring accurate asset inventory management without the need for agents installed on devices.


Enhanced user experience and resource efficiency - Lansweeper highlights its user-friendly interface, pre-configured security reports, and efficient resource utilization. It aims to provide an intuitive and streamlined experience for users, offering quick and lightweight resource usage that minimizes the impact on system performance.
What is Snipe-IT?
Snipe-IT, an Asset Management system by Grokability, became prominent in 2013 when Alison Gianotto, a former CTO of an advertising agency in New York City, created it. Gianotto was dissatisfied with the available IT asset tracking solutions and decided to create Snipe-IT to meet her specific needs.
Over time, Snipe-IT has grown in popularity and is actively maintained as a free alternative for Asset Management.
Grokability, the company behind Snipe-IT, focuses on developing user-friendly software, promoting a culture of continuous learning, prioritizing transparency and security, and advocating for the advantages of open-source software.
What users like from Snipe-IT
Snipe-IT has received acclaim and favorable reviews from sources like Capterra and G2, highlighting its strengths and benefits. Here are some of the notable advantages that have been emphasized.
Free and open-source software - Snipe-IT is free and open-source, providing a cost-effective solution for small to mid-sized businesses. It offers a feature-rich and stable system.
Easy asset tracking - The platform makes tracking assets, including software, consumables, and peripherals, easy. It allows for the addition of components and accessories.
Support and community - The paid version of Snipe-IT provides great support, and the free version has good support through forums. Users can seek assistance and share knowledge with the community.
Customizable and flexible - The software offers customization options, such as adding pictures to items and assigning items to locations or people. It also provides a comprehensive API for automation and integration with other tools.
Straightforward setup and ease of use - The tool has a straightforward setup process and is easy to use, even for non-technical users. It enables easy tracking of software purchases and renewals.
What users don't like from Snipe-IT
Although Snipe-IT has many strengths and positive qualities, it is not immune to customer concerns and criticisms. Reviews from sources like G2 and Capterra have shed light on the common complaints voiced by users.
Time-intensive initial setup - Setting up Snipe-IT, especially when importing existing inventory, can be time and resource-intensive.
Limited integration with ticketing tools - Snipe-IT lacks seamless integration with ticketing tools, which may inconvenience users who rely on such integrations.
Missing features - According to users, some desired features are absent from Snipe-IT, such as a calendar booking system or webhooks. Additionally, changing default search fields or email configurations can be challenging.
Clunky importing process - The process of importing data into Snipe-IT can be clunky and not very intuitive, potentially causing frustration for users.
Authentication and search limitations - Snipe-IT lacks support for Single Sign-On (SSO) authentication and SAML or Google connection support for user import. The search functionality within the software can also be limited.
Mobile views and notifications - The dedicated mobile views of Snipe-IT could be improved for better usability. Additionally, the email system may not send notifications for certain asset types, leading to potential oversight.
What's Snipe-IT's argument over Lansweeper?
Snipe-IT presents itself as a compelling alternative to Lansweeper, highlighting specific strengths and advantages. Here are the key arguments of Snipe-IT in comparison to Lansweeper.
Free and open-source solution - Snipe-IT distinguishes itself by being a free and open-source IT Asset Management software. This makes it an attractive choice for small to mid-sized businesses that are looking for a cost-effective solution without compromising on features or stability. The availability of a feature-rich and stable system at no cost is a significant advantage that Snipe-IT emphasizes.


Ease of use and asset tracking - Snipe-IT places importance on its user-friendly interface and straightforward setup process. It prides itself on being accessible to both technical and non-technical users, making asset tracking and management hassle-free. Snipe-IT allows easy tracking of various asset types, including software, consumables, peripherals, and components.


Support and customization - Snipe-IT emphasizes the support and community available to its users. While the paid version offers great support, even the free version benefits from active forums where users can seek assistance and share knowledge with a community of users. Snipe-IT also provides customization options, including the ability to add pictures to items and a comprehensive API for automation and integration with other tools.
Considering InvGate Insight as an ITAM solution alternative
When it comes to IT Asset Management, organizations often look for alternatives to traditional solutions to meet their specific needs and requirements. One such alternative worth considering is InvGate Insight.
As a robust ITAM solution, InvGate Insight offers a number of features and functionalities that make it a viable option for organizations looking to streamline their ITAM processes. Let's take a look at its key features.
Enhanced IT Asset and Inventory Management
InvGate Insight offers a seamless integration process that consolidates data from various sources, including popular operating systems, cloud service providers like AWS, Google, and Azure, and MDMs like JAMF and Google Endpoint Manager. This comprehensive integration ensures efficient Inventory Management of IT and non-IT assets, locations, and people, saving time and providing a holistic view of your infrastructure.
Comprehensive insights into IT infrastructure
With its robust features and functionalities, InvGate Insight provides detailed and actionable information about your IT assets, including their status and usage. This comprehensive insight allows you to effectively manage and optimize your infrastructure, improving operational efficiency.

Proactive operational cost management
InvGate Insight lets you directly incorporate financial data, contracts, licenses, and other vital information into the system. By doing so, you gain a complete understanding of your operational costs and can make proactive, informed financial decisions. This proactive approach to cost management helps optimize your budget allocation and maximizes the value derived from your IT investments.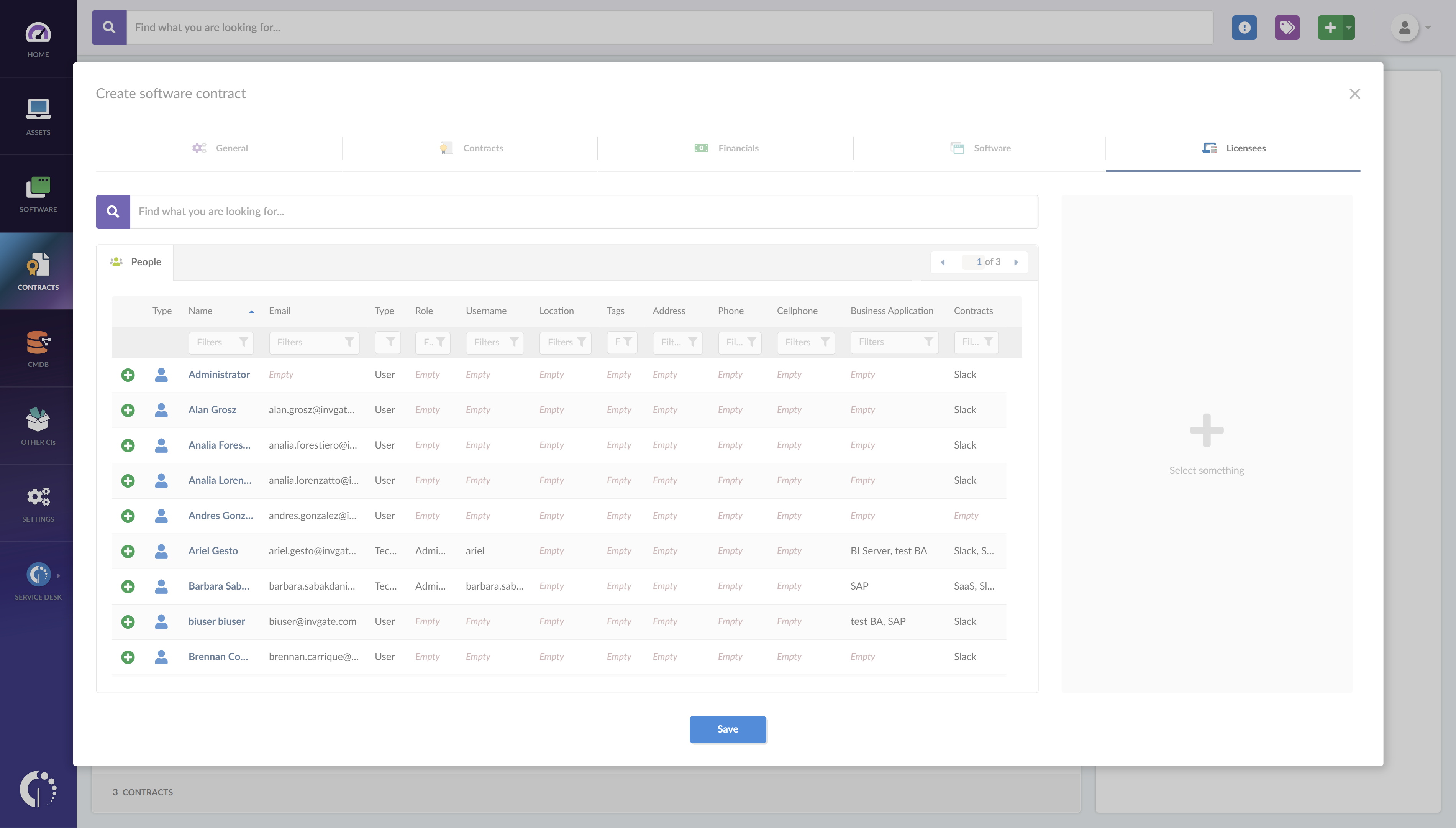 Streamlined operations with CMDB Map Builder
The CMDB map builder tool in InvGate Insight provides a clear and comprehensive overview of your IT ecosystem. By visualizing the relationships between different components, you can identify potential impacts on operational continuity and take proactive measures to mitigate risks. This visibility helps reduce service times, improve operational efficiency, and ensure smoother IT operations.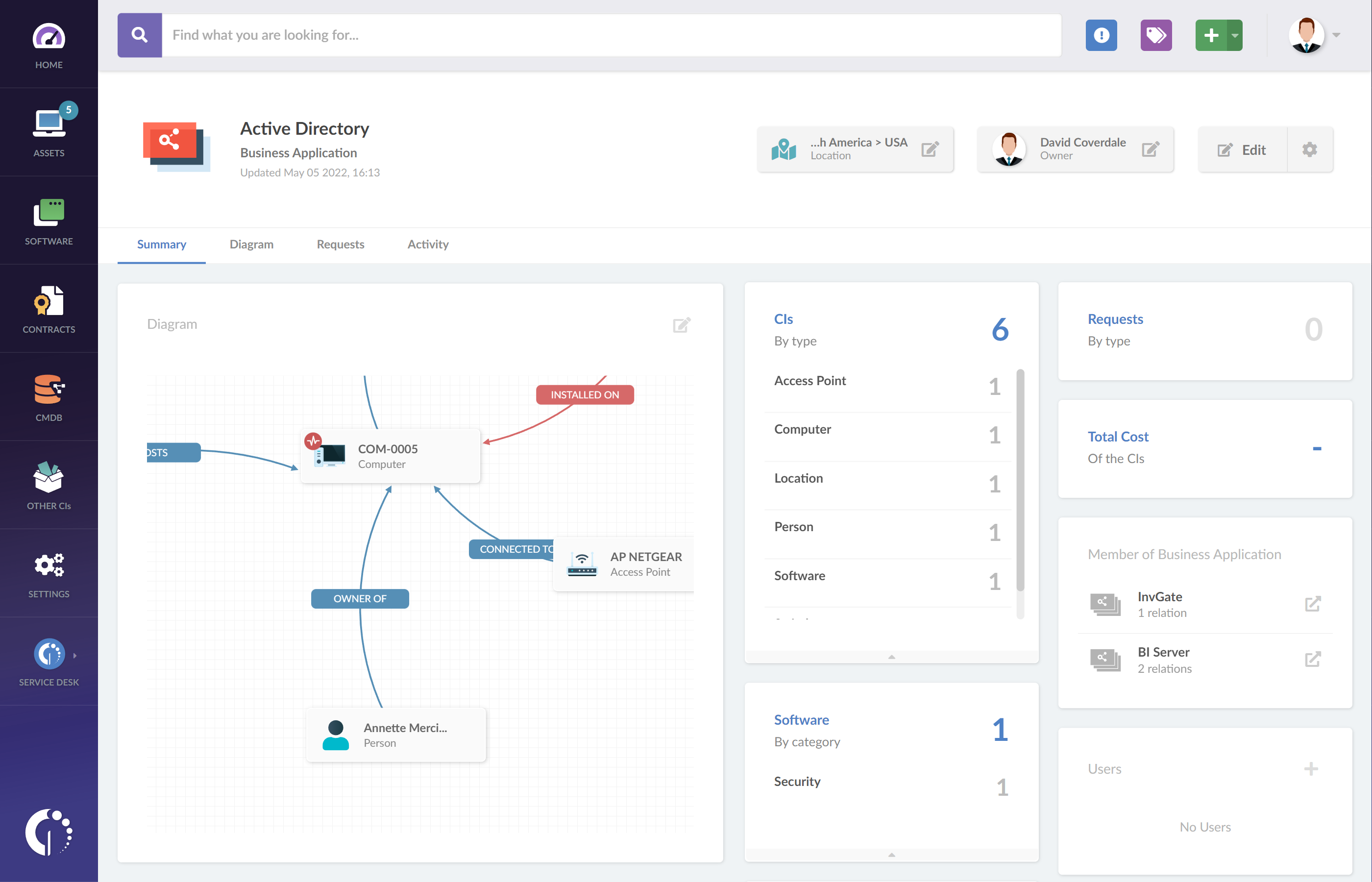 Efficient management through automation and alerts
InvGate Insight allows you to automate processes and set up alerts, ensuring proactive IT management. By creating automated alerts, you can monitor contract expirations and notify relevant parties promptly, reducing manual effort and minimizing the risk of oversight. This automation streamlines operations and enables you to focus on critical tasks, enhancing overall efficiency.
Enhanced cybersecurity compliance with asset monitoring
With InvGate Insight's asset monitoring capabilities, you can establish and enforce device Health Rules, enabling proactive cybersecurity compliance. By quickly identifying instances of non-compliance, you can take immediate action to ensure adherence to cybersecurity policies and safeguard your IT infrastructure.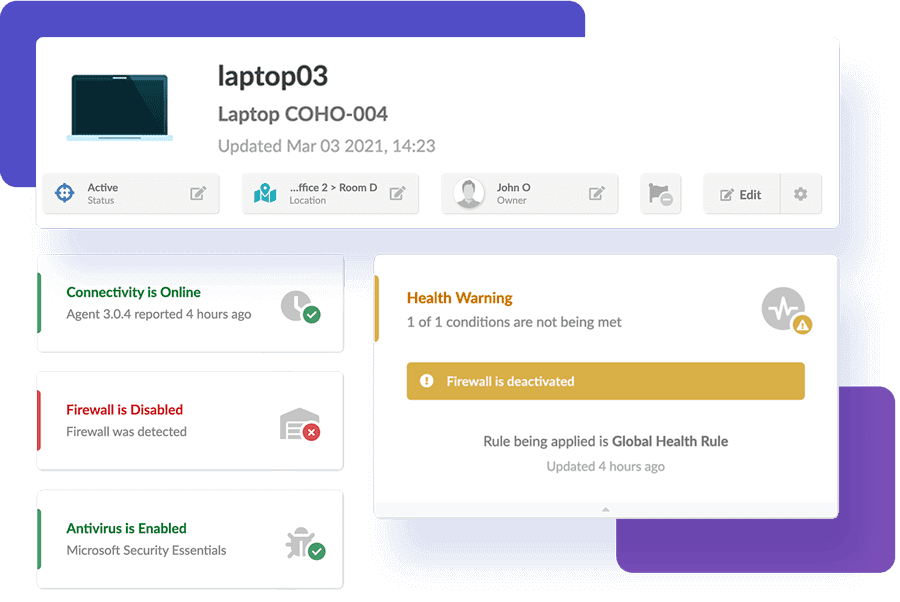 Optimizing software efficiency and reducing costs
InvGate Insight empowers you to identify and measure the usage of paid software, facilitating efficient Software Management. By gaining visibility into software utilization, you can reallocate underutilized licenses, reduce unnecessary costs, and maximize returns on your IT investments. This optimization of software efficiency helps you make the most of your software resources.
Flexible deployment options to suit your needs
InvGate Insight understands that every organization has unique requirements and industry regulations. Therefore, it offers flexible deployment options, allowing you to choose between a cloud or on-premise solution. This flexibility ensures that you can implement InvGate Insight in a manner that aligns with your specific needs and compliance standards.
A holistic view of IT operations through native service desk integration
InvGate Insight seamlessly integrates with InvGate Service Desk, providing a native integration that links tickets with devices and people. This integration offers a 360° view of your IT operations, enabling more efficient management. Connecting service tickets to relevant assets and personnel can streamline workflows, enhance communication, and improve issue resolution.
Effortless remote management with native integration
InvGate Insight natively integrates with popular remote desktop tools such as Windows Remote Desktop, TeamViewer, AnyDesk, and VNC. This integration enhances remote management capabilities, providing direct access to devices for troubleshooting and maintenance. With seamless remote access, you can efficiently address IT issues, perform necessary maintenance tasks, and ensure uninterrupted operations.
Next steps
Selecting the ideal IT Asset Management solution is a pivotal step toward maximizing your organization's IT service delivery and achieving long-term success. You can make sure that the chosen solution aligns perfectly with your unique needs and requirements by dedicating enough time and effort to evaluate your options thoroughly. When comparing alternatives like Lansweeper vs. Snipe-IT alongside InvGate Insight, it's essential to consider each solution's extensive capabilities and benefits.
Explore our live demo to discover how InvGate Insight can revolutionize your business operations. Immerse yourself in the extensive capabilities and benefits of InvGate Insight, and embark on a journey towards streamlined ITAM and enhanced efficiency.