In today's landscape, IT asset managers need tools that can go further than Inventory Management. In order to extend your IT Asset Management (ITAM) processes to address your whole environment, a robust ITAM solution must include a wide library of integrations to complement its functions.
In this article, we will explore exactly that. We have listed InvGate Insight's integrations and their usage to help you make sure you are getting the most out of the solution.
We have organized them under the following categories:
So, keep reading to learn more!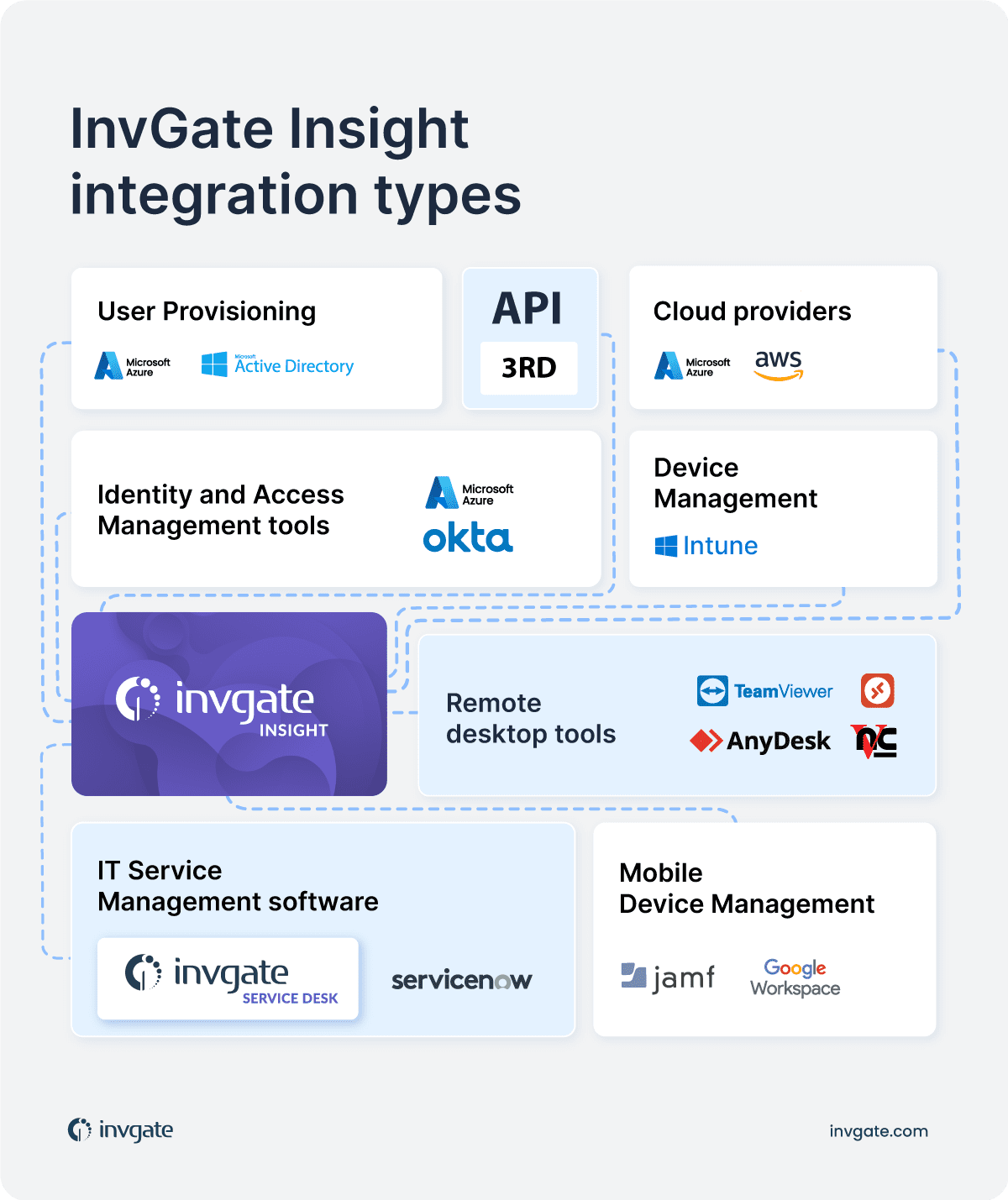 InvGate Insight integrations with directory services
To start off, the integration of InvGate Insight with directory services like Active Directory (AD) and Azure allows seamless cohesion between the organization's existing user ecosystem and their ITAM inventory. This will centralize your Data Management operations, enhance security practices, and provide a consolidated view of your entire IT landscape.
Active Directory
InvGate Insight integrates with Active Directory, a widely adopted directory service created by Microsoft. This synchronization streamlines user provisioning, allowing you to add users and locations into your inventory to be managed within your ITAM tool.
By converting the data located in AD into Configuration Items (CIs), any changes in the directory service are automatically reflected on InvGate Insight, providing unified User Management and improving the administrative process.
Azure Active Directory
Integrating InvGate Insight with Azure Active Directory extends the benefits of User Management to cloud-based resources. Again, it allows you to convert all the user and location data hosted in Azure AD as assets in your InvGate Insight instance.
InvGate Insight integrations with Identity and Access Management tools
Identity and Access Management (IAM) tools provide robust security and, at the same time, improve the user experience. By integrating InvGate Insight with IAM solutions, you can incorporate user provisioning and access control capabilities in your instance, enabling users to employ their single account to sign into your organization's instance.
Azure
Azure offers powerful Identity and Access Management capabilities. Integrating it with InvGate Insight enables organizations to centralize access control, managing user identities and permissions.
This integration offers robust access policies and multi-factor authentication through Azure. Moreover, you can enable SSO on InvGate Insight and provide users with a simpler login experience.
Okta
Integrating InvGate Insight with Okta allows you to manage user identities and access your instance from a single location, simplifying user provisioning and deprovisioning.
You can implement fine-grained access policies and enforce security protocols to ensure that users have the appropriate level of access to software resources. Besides, it allows you to synchronize user data between the two tools, ensuring that user profiles and permissions remain up-to-date.
InvGate Insight integrations with IT Service Management software
To optimize your IT Service Management (ITSM), you need to have full visibility of the IT assets related to their tickets. The best way to achieve this is by integrating ITSM with ITAM.
Let's see the alternatives you have in this area.
InvGate Service Desk
Of course, recommended alternative to include Ticket Management capabilities into Insight is InvGate Service Desk. Our two solutions are designed to work hand in hand to provide a unified view of your organization's IT operations.
By connecting the two, you'll enhance the entire IT support offering in the following ways:
End-users can attach an asset to a ticket, providing

service desk agents

further visibility of the devices that need attention.
Agents can access the profile of the assets attached to a ticket from InvGate Service Desk with a single click, and vice versa: if they notice a CI in need of attention, they can create a ticket related to it through a shortcut.
Help desk managers can build integrated workflows to establish Standard Operating Procedures across the area, and automate actions that can be triggered either on InvGate Service Desk or Insight.
And it doesn't end here. With this integration in place, you are able to cross data from both solutions when creating dashboards and reports. This will give you more detailed insights into your organization's IT operations and areas for improvement. For instance, you can track all the requests linked to a certain asset in InvGate Insight's reports, and analyze possible patterns or common issues.
InvGate Insight integrations with remote desktop tools
A considerable amount of an ITAM technician's tasks involve managing the organization's computers from the inside. Considering remote work and the time that it can take to go through each of those machines in person, they need a way to offer remote IT support.
To solve this, InvGate Insight can be connected to a range of popular remote desktop tools. The workflow is simple: spot the device in need of assistance, go to its profile on InvGate Insight, and click on the remote desktop shortcut to access the machine.
Let's explore the available remote desktop integrations.
TeamViewer
TeamViewer stands as a renowned name in remote desktop solutions, facilitating remote support, access, and collaboration. The InvGate Insight-TeamViewer integration facilitates remote technical support by directly accessing, expediting issue resolution, and minimizing downtime.
AnyDesk
AnyDesk offers a secure and efficient remote desktop experience, enabling users to connect to their devices from anywhere. By connecting InvGate Insight and AnyDesk, organizations are able to extend their IT Asset Management to remote work environments seamlessly, ensuring that remote workers and technicians can perform their tasks and solve any issues from any location.
VNC
VNC (Virtual Network Computing) provides remote access to devices and supports various platforms. Integrating VNC with InvGate Insight allows organizations to centralize remote Device Management. This means technicians can manage software resources on a diverse range of platforms and devices, promoting flexibility in remote Asset Management.
Windows Remote Desktop
Windows Remote Desktop is a native Microsoft feature that enables remote access to Windows devices. The integration between InvGate Insight and Windows Remote Desktop enhances remote Asset Management capabilities.
InvGate Insight integrations with MDM software
As its name implies, Mobile Device Management (MDM) enables efficient management of mobile devices, applications, and data. By integrating InvGate Insight with leading MDM solutions, your mobile devices will start reporting to your instance, extending your organization's ITAM capabilities to mobile devices and endpoints, and enhancing overall control and visibility.
Google Endpoint Management
Google Endpoint Management empowers organizations to manage Android devices from a centralized console. By integrating InvGate Insight with Google Endpoint Management, your organization can maintain a holistic view of its software assets, including those installed on mobile devices.
This integration allows you to extend Software Asset Management to mobile devices, ensuring software security and compliance. This way, you can centrally manage software resources across desktops, laptops, and mobile devices from InvGate Insight.
Jamf Pro and School
Enterprises that use Apple devices (both mobile and desktop) can integrate InvGate Insight with Jamf Pro to have comprehensive visibility into software usage on iOS devices.
With this integration in place, you'll be able to align software resources with user needs by tracking individual software usage across Apple devices. Moreover, you can monitor and manage software installations and updates on iOS devices, ensuring compliance with licensing agreements.
And the same is valid for educational organizations. InvGate Insight can also be connected to Jamf School to extend IT Asset Management capabilities for iOS devices used in education, fostering a conducive learning environment.
Analyzing the obtained data with InvGate Insight reporting capabilities will help you gain insights into software utilization patterns, enabling educational institutions to allocate software resources effectively based on actual needs.
InvGate Insight integrations with cloud providers
If you have assets located in cloud environments, integrating InvGate Insight with your cloud providers will enable you to incorporate them to your inventory, extending your ITAM capabilities, improving your resource allocation, and enhancing security in Cloud Management.
Amazon Web Services (AWS)
The InvGate Insight - AWS integration allows you to track and manage virtual machines (VMs) and software assets deployed within your organization's AWS infrastructure.
This way, you will gain insights into software resources deployed on AWS instances, monitor software usage patterns, and ensure software licensing compliance. To enhance this, you can leverage all monitoring capabilities, reporting, and automation features that InvGate Insight has to offer.
Azure
When linking InvGate Insight to Microsoft Azure, you'll be able to monitor software installations and usage on Azure VMs and resources, enhancing overall Software Management. With this data in your inventory, you can leverage InvGate Insight's reporting capabilities to analyze software usage and cloud security.
InvGate Insight's API
To finish our journey, if you need to integrate InvGate Insight with other tools, you can always leverage our API to allow other applications to access and manipulate data within InvGate Insight.
To use it, you have to create credentials within the external application that will be interacting with InvGate Insight through the API, using the OAuth2.0 protocol. These are typically generated within the settings or developer console of the external application.
The API follows JSON-API standards, which dictate the format of both the requests made to the API and the responses received from it. These standards ensure consistency and predictability in the communication between InvGate Insight and the external application.
Its flexibility allows you to tailor your organization's software ecosystem to your specific needs. This means that you can automate various processes, including tasks like importing or exporting data, updating software records, or generating reports.
In short
InvGate Insight offers a well rounded variety of integrations that incorporate information and functions from other platforms, improving your overall Asset Management practices. By broadening the tool's capabilities, you can enhance your issue resolution and user experience, as well as strengthen security measures.
From Access Management to Remote Desktop, this cheat sheet covers all the integrations offered by InvGate Insight – so make sure you have it at hand! Download it or bookmark this article to come back to it as many times as you need to explore new solutions to include into your ITAM strategy. And, if you need any further assistance, you can always book a quick call with our experts to set everything clear.