In the ever-evolving IT Asset Management (ITAM) landscape, the decision between ServiceNow Software Asset Management vs. Snipe-IT emerges as a pivotal crossroads that can significantly shape an organization's operational efficiency and overall success.
In this blog post, we'll deeply dive into the heart of ITAM. We'll dissect the features, benefits, and potential limitations of both platforms, providing you with a detailed ITAM software comparison that will guide your decision-making process.
Yet, as the ITAM landscape unfolds, a third contender emerges – InvGate Insight. This alternative presents a fresh perspective, introducing distinctive functionalities and capabilities that have the potential to revolutionize your approach to Asset Management.
So, if you're ready to unlock the potential within these ITAM solutions and chart a course toward optimized strategies and enhanced business outcomes, let's dive in!
Most looked-at features by buyers
When appraising choices concerning the control of IT assets, potential purchasers evaluate a range of crucial capabilities to opt for the most fitting solution that matches their specific requisites and business demands.
The subsequent points outline the fundamental aspects that buyers contemplate when selecting a tailored IT Asset Management solution for their corporation.
What is ServiceNow Software Asset Management?
ServiceNow presents organizations with Software Asset Management (SAM) capabilities that furnish the necessary tools to proficiently handle risk, curtail expenses, and automate the software lifecycle, all within an integrated framework. By streamlining Asset Management, delivering adaptable functionalities, and giving paramount importance to security and regulatory adherence, ServiceNow grants enterprises the ability to optimize their software assets, decrease costs, and effectively oversee their software processes.
Established in 2004 and headquartered in Santa Clara, California, ServiceNow offers an extensive array of cloud-centric solutions tailored to cater to diverse corporate needs. Their solutions encompass a wide spectrum of domains, including IT Service Management, IT Operations Management, IT Business Management, Customer Service Management, Human Resources Service Delivery, Security Operations, and more.
What users like from ServiceNow Software Asset Management
ServiceNow's Software Asset Management capabilities have garnered widespread acknowledgment and favorable feedback from reputable sources such as Gartner. Users have highlighted a range of advantages, which include:
Improved asset discovery and Inventory Management - ServiceNow's Software Asset Management simplifies the process of identifying assets and managing inventory, resulting in enhanced asset tracking and compliance. This aspect contributes to better organizational structure and command over assets.


User-friendly interface - The platform has an intuitive and user-centric interface, enabling users to navigate effortlessly and quickly understand its functionalities. This design focused on user requirements fosters smooth interaction and rapid familiarity with the platform.


Effective Risk Management - Users underscore the valuable benefits of ServiceNow's features for risk mitigation. These components provide valuable insights, particularly critical for legal and compliance purposes. This ensures that organizations can adeptly manage risks and make well-judged decisions.


Streamlined workflow - Users express satisfaction with the tool's ability to automate tasks and enhance employee provisioning. This functionality reinforces the effectiveness of IT processes, leading to overall enhancements in operational efficiency.
What users don't like from ServiceNow Software Asset Management
While ServiceNow's SAM has several strengths and positive attributes, it is not immune to customer concerns and criticisms. Here are some common concerns raised by users in reviews from reputable sources such as Gartner:
Functional limitations - Specific users point out that the tool's capabilities are limited in certain areas, potentially rendering it less suitable for managing intricate licensing software scenarios.
Complexity - Some users encounter intricacies when engaging with ServiceNow SAM, necessitating a significant investment of time to comprehend and navigate its intricacies fully.
Documentation inadequacies - Users desire improved documentation, particularly regarding the end-user experience and understanding of software normalization processes. Enhanced documentation would assist users in utilizing the platform's functionalities more efficiently.
Cost considerations - The expenses associated with the platform give rise to concerns, especially among medium and small-sized enterprises. This financial aspect can pose challenges in achieving complete implementation and acquiring the platform, influencing the feasibility of its adoption for these businesses.
What's ServiceNow Software Asset Management's argument over Snipe-IT?
ServiceNow's strengths in SAM are apparent in various aspects, setting it apart from alternatives like Snipe-IT. Let's delve into ServiceNow's distinctive advantages:
Enhanced asset discovery and Inventory Management - ServiceNow's SAM offers a streamlined approach to identifying and managing assets. This critical aspect contributes significantly to organizational structure, asset control, and compliance.


User-friendly interface - The intuitive and user-centric interface design, tailored to user needs, promotes seamless and efficient interaction, enabling users to navigate the platform and quickly understand its functionality effortlessly.


Effective Risk Management - The risk mitigation features offer valuable insights, particularly crucial for legal and compliance purposes. This empowers organizations to manage risks and make well-informed decisions adeptly.


Streamlined workflow - ServiceNow SAM's ability to automate tasks and optimize employee provisioning leads to a more efficient IT process, which enhances overall operational efficiency.

What is Snipe-IT?
Snipe-IT rose to prominence in 2013 under the leadership of Alison Gianotto. Dissatisfied with the prevailing IT asset tracking options in her role as CTO at a New York City advertising agency, Gianotto developed Snipe-IT. Over time, the solution gained traction and evolved into a robust, free Asset Management option.
Grokability, the company behind Snipe-IT, focuses on creating user-friendly software, cultivating a continuous learning atmosphere, prioritizing transparency and security, and advocating the benefits of open-source software.
What users like from Snipe-IT
Snipe-IT has received recognition and positive reviews from platforms like Capterra and G2, underscoring its strengths and commendable features. Here are some of the notable benefits that have been highlighted:
User-friendly setup and interface - Snipe-IT's setup procedure is uncomplicated, and its interface is designed to cater to users without technical backgrounds. Even individuals without technical know-how can easily navigate the platform, efficiently overseeing software acquisitions and renewals.
Streamlined asset monitoring - The platform simplifies asset tracking, seamlessly covering software, consumables, and peripherals. Users can effortlessly integrate components and accessories for comprehensive monitoring.
Adaptability and versatility - The software provides customization options, including incorporating images for items and allocating items to specific locations or individuals. Its extensive API supports automation and integration with a variety of tools.
Community and support - The tool offers robust support through its paid version and an active forum community associated with the free version. This network enables users to interact, seek assistance, and exchange knowledge with peers.
Cost-effective open-source solution - Snipe-IT stands out as a no-cost, open-source solution, providing an economical choice tailored to small and medium-sized enterprises. It offers a range of features within a stable framework.
What users don't like from Snipe-IT
Despite Snipe-IT's numerous strengths and positive attributes, it remains susceptible to user concerns and criticisms. Insights from platforms such as G2 and Capterra have revealed the recurring concerns of its users.
Limited ticketing tool integration - The platform lacks seamless integration with ticketing tools, which could cause inconvenience for users who rely on such integrations.
Missing desired features - Users have noted the absence of specific desired features, such as a calendar booking system or webhooks. Additionally, modifying default search fields or email configurations might present challenges.
Tedious data importing process - Importing data into Snipe-IT can prove cumbersome and less straightforward, potentially leading to user dissatisfaction.
Time-consuming initial configuration - Setting up Snipe-IT, particularly when incorporating existing inventory, can demand a significant allocation of time and resources.
Mobile views and notifications - The dedicated mobile views within the software could benefit from enhancements to ensure improved usability. Additionally, the email notification system might not consistently send alerts for certain asset types, potentially leading to oversight of items.
Authentication and search limitations - Snipe-IT lacks support for Single Sign-On (SSO) authentication and SAML or Google connection support for user imports. Moreover, the search functionality within the software might have limitations in terms of its capabilities.
What's Snipe-IT's argument over ServiceNow Software Asset Management?
In comparing Snipe-IT with ServiceNow Software Asset Management, Snipe-IT presents a compelling case for its distinct advantages and unique offerings. Here's a comprehensive exploration of the benefits that underscore Snipe-IT's edge over ServiceNow SAM.
User-centric approach- Snipe-IT's user-friendly setup and interface have garnered praise. The platform's setup process is straightforward, tailored to cater to users without technical backgrounds.


Effortless asset monitoring - Streamlining asset tracking is one of Snipe-IT's standout features. The platform simplifies asset monitoring, seamlessly encompassing software, consumables, and peripherals.


Flexibility and customization - Snipe-IT's adaptability and versatility provide users with customization options that enhance their Asset Management experience.


Engaged community and support - With robust assistance available through both its paid version and an active forum community associated with the free edition, users can readily engage, seek guidance, and share insights with like-minded peers.


Economical solution for SMEs - Positioned as a no-cost, open-source solution, Snipe-IT provides a budget-friendly choice tailored to the needs of small and medium-sized enterprises. It offers an impressive range of features within a stable framework, allowing organizations to maximize the value of their Asset Management without incurring substantial costs.
Considering InvGate Insight as an ITAM solution alternative
For companies seeking tailored solutions to manage their IT assets under their unique requirements, InvGate Insight presents an appealing option. This robust ITAM solution offers a range of features and functionalities that position it as a viable choice for optimizing Asset Management processes. Let's explore its key attributes.
Improved Management of IT Assets and Inventory
InvGate Insight simplifies both IT and non-IT Asset Management by seamlessly amalgamating data from diverse sources, including major operating systems, cloud service providers (like AWS, Google, and Azure), and Mobile Device Managers (like JAMF and Google Endpoint Manager). This amalgamation streamlines the administration of assets, locations, and personnel, ultimately saving time and offering a comprehensive infrastructure outlook.
Thorough insights into the IT infrastructure
With its robust array of features, InvGate Insight furnishes detailed and actionable insights into IT assets, encompassing their status and usage. This comprehensive understanding empowers effective administration and optimization of the infrastructure, leading to enhanced operational efficiency.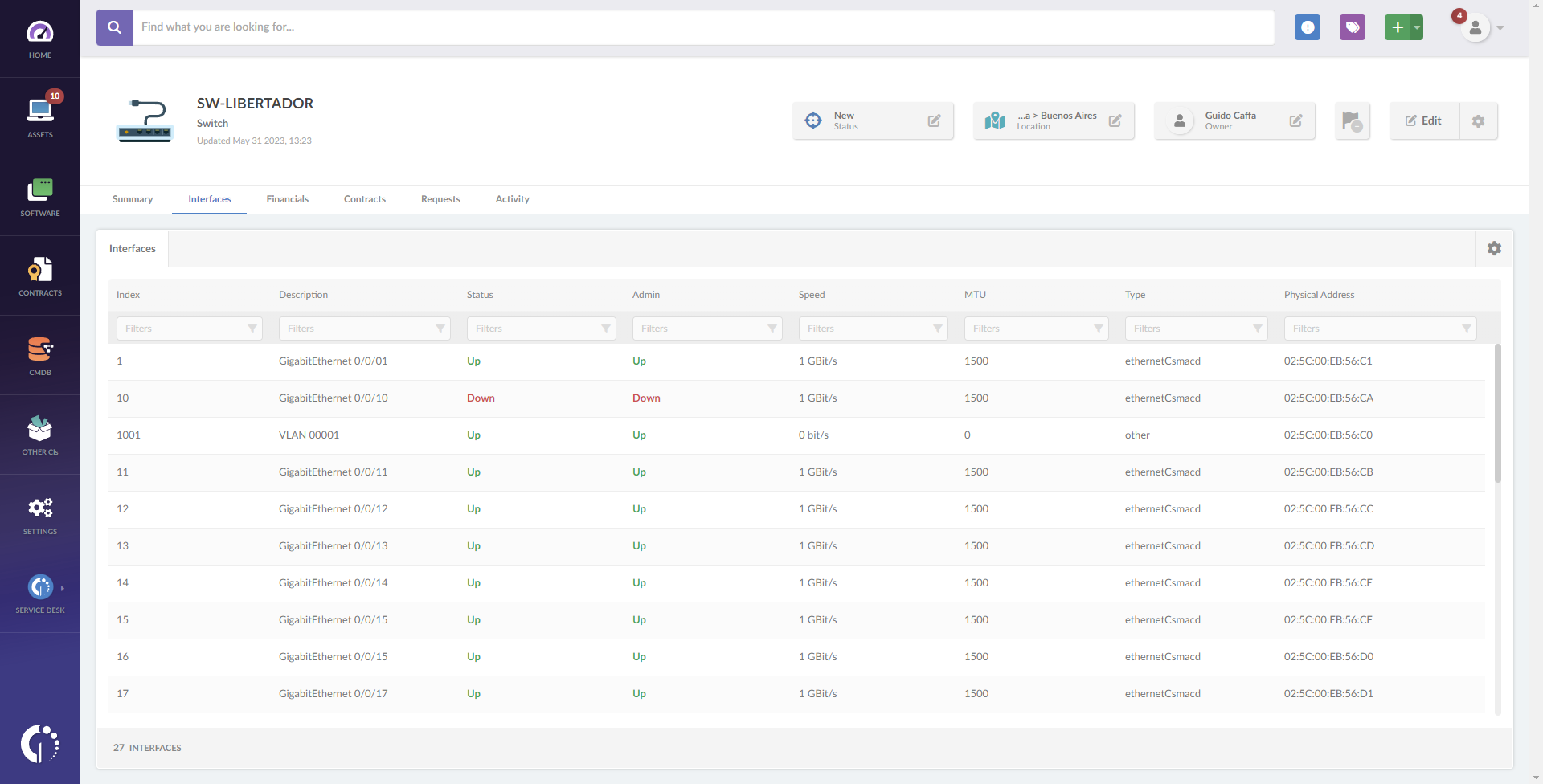 Streamlined operations using the CMDB map builder
Integrated within InvGate Insight, the CMDB map creator tool offers a comprehensive and lucid overview of the IT landscape. By visually illustrating relationships between components, potential impacts on operational continuity can be swiftly identified, leading to proactive risk mitigation. This amplified visibility results in reduced service times, augmented operational efficiency, and smoother IT workflows.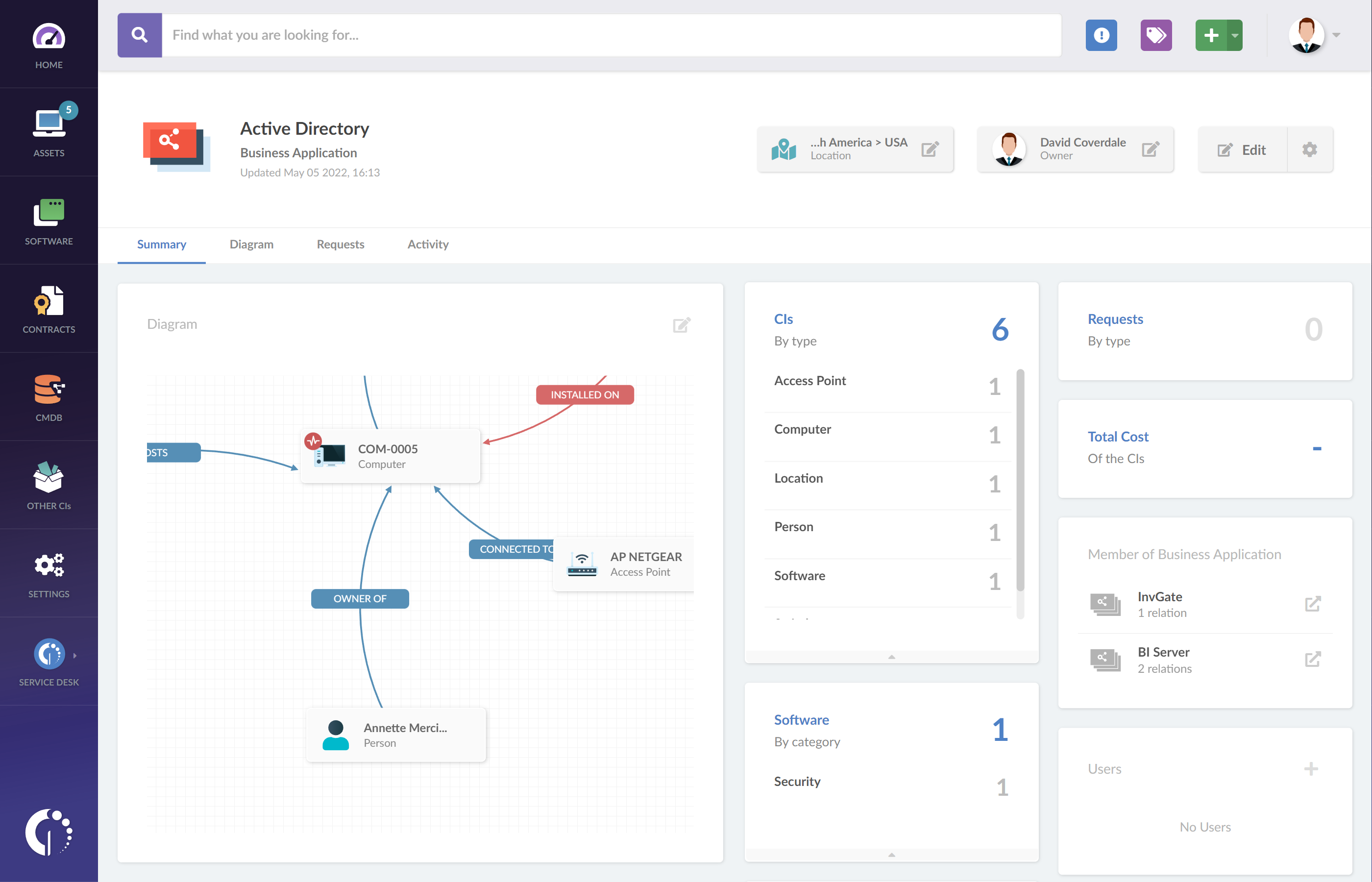 Heightened adherence to cybersecurity regulations via asset monitoring
InvGate Insight bolsters cybersecurity compliance through its asset monitoring capabilities, instituting and enforcing device health rules. Swift identification of instances of non-compliance facilitates rapid corrective measures, guaranteeing adherence to cybersecurity policies and upholding the security of the IT environment.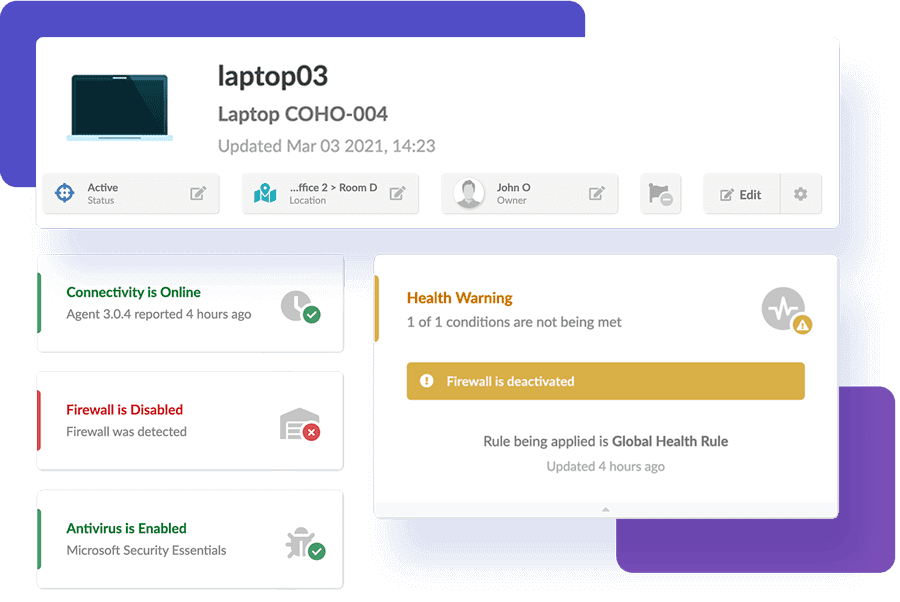 Optimized software effectiveness and reduced expenses
InvGate Insight equips organizations with the ability to discern and quantify the utilization of paid software, facilitating efficient Software Management. By gaining insights into software usage, unused licenses can be redistributed, superfluous costs minimized, and returns on IT investments maximized. This optimization of software efficiency empowers organizations to extract prime value from their software assets.
Versatile deployment choices for customized needs
Acknowledging the diversity of organizational demands and industry regulations, InvGate Insight provides adaptable deployment alternatives. This flexibility empowers organizations to select between cloud-based or on-premise solutions, ensuring alignment with individual requirements and compliance standards.
A holistic view of IT operations through native service desk integration
Through seamless integration with InvGate Service Desk, InvGate Insight establishes a natural linkage between tickets, devices, and personnel. This integration furnishes a comprehensive 360° view of IT operations, streamlining management processes. By associating service tickets with pertinent assets and individuals, workflows are optimized, communication is enriched, and issue resolution is enhanced.
Effortless remote management through integrated tools
InvGate Insight seamlessly integrates with popular remote desktop tools such as Windows Remote Desktop, TeamViewer, AnyDesk, and VNC. This integration enhances remote management capabilities, granting direct device access for troubleshooting and maintenance. With seamless remote access, organizations can effectively tackle IT issues, perform necessary upkeep tasks, and ensure uninterrupted operations.
Enhanced operational efficiency through automation and notifications
InvGate Insight boosts operational efficiency through the implementation of automation and notification mechanisms. This proactive approach to IT management involves setting up automated notifications to oversee contract expirations and promptly inform pertinent stakeholders. This automation curtails manual efforts, mitigates the risk of oversights, and directs focus toward critical tasks, thereby elevating overall efficiency.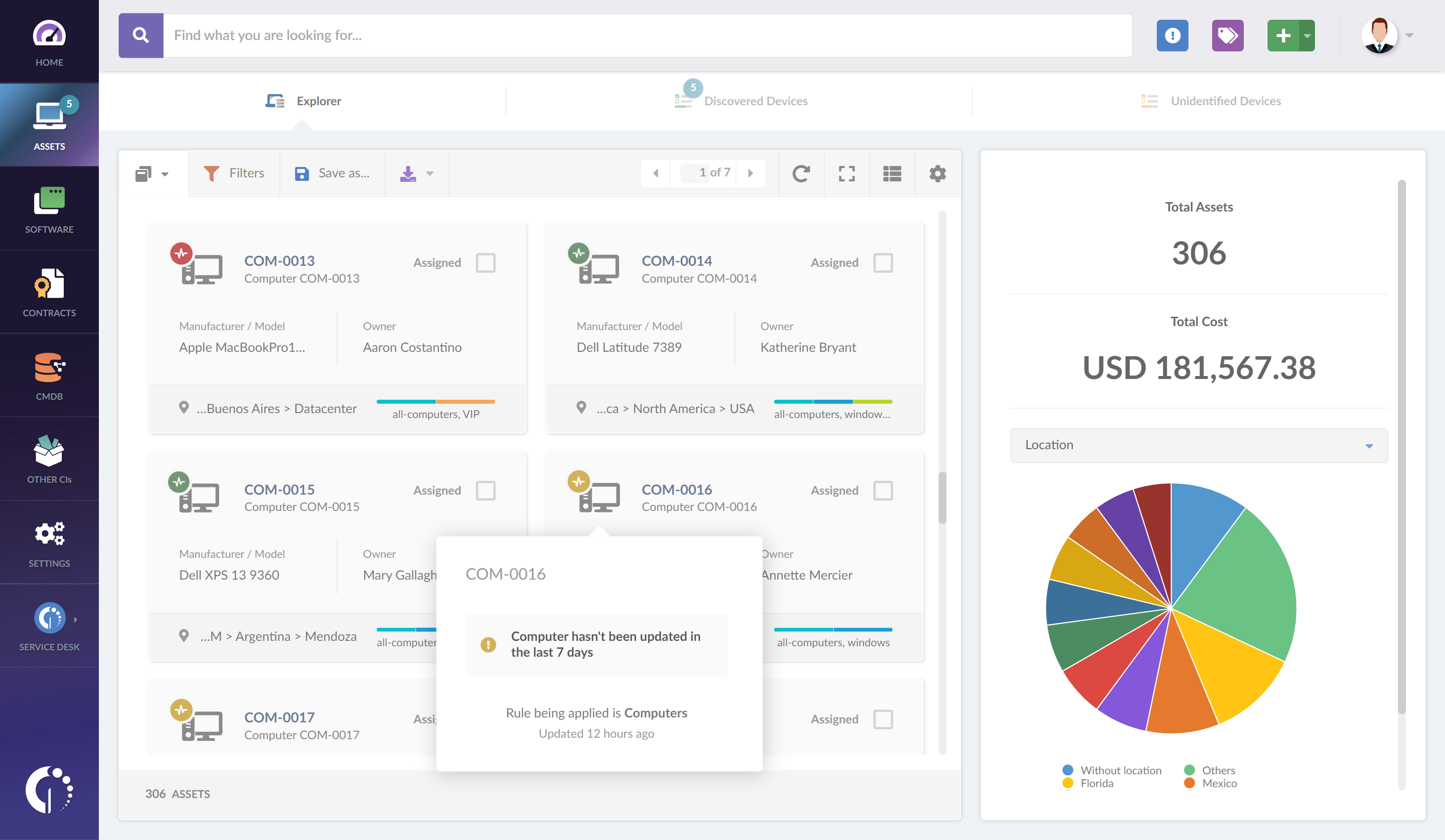 Proactive control of operational costs
InvGate Insight empowers organizations by seamlessly incorporating financial data, contracts, licenses, and crucial information into its system. This seamless integration provides a comprehensive grasp of operational costs, enabling informed and proactive financial decision-making. This approach advances budget allocation and optimizes returns on IT investments.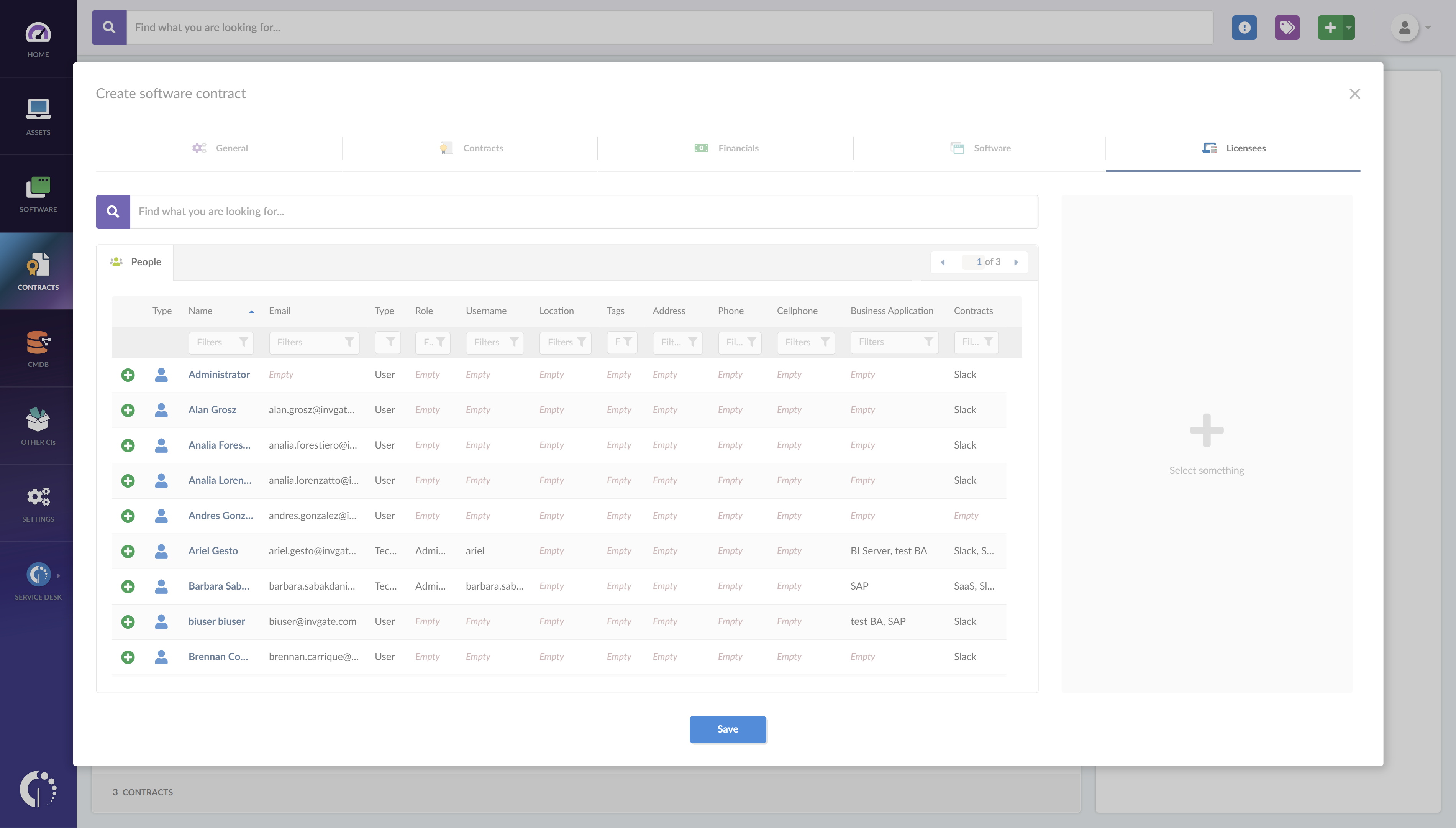 Next steps
As organizations seek to optimize their IT Asset Management strategies, comparing ServiceNow Software Asset Management vs. Snipe-IT is a crucial consideration. Delving into this evaluation necessitates a thorough examination of the distinctive features and advantages that each solution brings to the table.
As the IT landscape evolves, the choice between these two and other solutions becomes not just a matter of selection but a strategic move that shapes the trajectory of digital operations.
One such contender is InvGate Insight, a platform that redefines how organizations handle their IT assets.
Explore our live demo and discover how it can revolutionize your IT Asset Management strategies.