IT asset discovery is a critical process for any organization looking to manage its IT infrastructure effectively. With a rapid growth of dependency on technology for everyday work, and an increasing amount of remote work, keeping track of all hardware and software assets within an organization can be challenging. And this is where IT asset discovery tools come in to help you through the process.
These solutions provide clear and reliable access to everything connected to your company network. Thus, they lie at the bottom of any IT Asset Management (ITAM) strategy and are essential to reinforce the organization's IT security by preventing unauthorized assets lurking in the network.
Since asset discovery is a central part of ITAM best practices, in the following article we will explore what it is, how it works, and why it can be essential for organizations of all sizes. We will also examine how to put it into practice with InvGate Insight.
Keep reading to learn more about it!
What is IT asset discovery?
IT asset discovery is the process of automatically identifying and tracking all the hardware and software assets within an organization's IT infrastructure throughout their whole lifecycle. Its goal is to gain full visibility into an organization's IT environment – including its devices, applications, and software installed – to effectively manage and keep them safe.
It's worth noticing that you can scan your network to either add assets to the organization's IT Asset Inventory or to detect potential security issues.
What assets can be discovered?
An asset must meet certain requirements in order to be tracked: it has to be connected to the scanned network, run an operating system, and have an IP address.
With this in mind, some the of assets that can be discovered are:
Servers and storage devices.
Network switches and routers.
Desktops, laptops, and mobile devices.
Virtual machines and cloud instances.
Printers, scanners, and cameras.
IT asset discovery vs. Inventory Management
Although often used interchangeably, IT asset discovery and Inventory Management are not exactly the same.
Inventory Management is the process of keeping track of IT assets by recording their details – such as their location, model, and serial number. On the other hand, IT asset discovery has a wider scope, as it actively searches for and identifies previously unknown assets within an organization's IT environment to incorporate them into the system.
Active vs. passive asset discovery tools
There are two main types of IT asset discovery tools: active and passive. Let's start with the first. Active asset discovery tools scan an organization's network actively and periodically to identify connected devices and applications by sending packets of information to devices on the network and recording their responses.
They are well-suited for situations where real-time and detailed data is needed, like:
Performing regular network scans using protocols like DNS, ICMP, and SNMP to detect new devices and identify changes in the network topology.
Proactively monitoring software installations and device updates to ensure compliance and security, utilizing protocols like SNMP to gather detailed software inventory information.
Conducting inventory audits by actively querying devices using the mentioned protocols to accurately track hardware assets and their configurations.
On the other hand, passive asset discovery tools monitor network traffic and collect information about devices and applications without sending any packets. They do not actively scan the network or send out probing requests. Instead, they analyze network traffic and observe device behavior to gather asset information.
Passive tools offer a non-intrusive approach and are helpful in scenarios such as:
Monitoring network traffic patterns to identify unauthorized or unmanaged devices connecting to the network without generating additional traffic.
Observing software usage and application traffic to understand usage patterns and optimize license allocation without actively querying devices.
Collecting data on device uptime and user activity by analyzing network traffic to assess device performance and identify potential bottlenecks.
Since both methods are useful in diverse situations, the best approach is to combine active and passive asset discovery techniques depending on your immediate need. And that's exactly what InvGate Insight allows you to do. It has an active scanning feature to schedule network scans using various protocols, and a passive monitoring capability to leverage network traffic analysis and capture valuable asset information without generating additional network activity.
4 benefits of IT Asset Discovery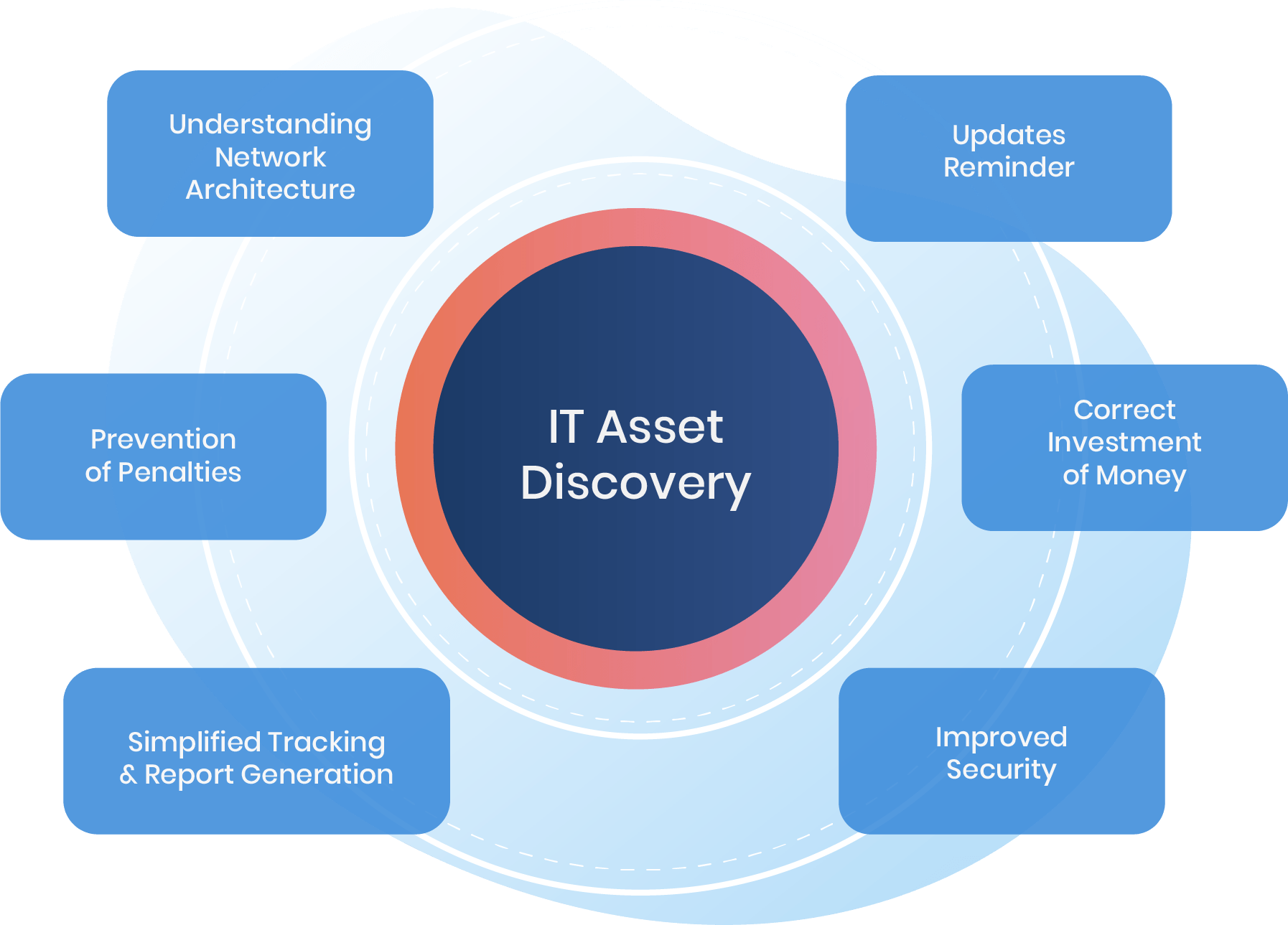 If you are planning to implement IT asset discovery as part of your ITAM practice, these are some of the benefits it'll bring you:
Improved security - IT asset discovery helps organizations identify and mitigate security risks, as you can easily spot all the unknown devices connected to your network.


Better Asset Management - By guaranteeing that all IT assets are being tracked and nothing falls through the cracks, organizations can have access to a reliable and

unified inventory of hardware and software

, which is the foundation of good ITAM practices.


Increase efficiency - Organizations can optimize their resources and reduce

downtime

, as they can monitor the status and

health of their assets

and

apply proactive ITAM

.


Cost savings - Identifying unused or underutilized devices reduces unnecessary spending.
How asset discovery works
Now that we have seen what IT asset discovery does and how it can benefit you, let's see how it's done. Shortly, this process can be accomplished through both agent and agentless methods, depending on what you're trying to accomplish and your organization's compliance needs.
In a nutshell, this is how the IT asset discovery process works:
Scanning the network - The tool scans your organization's network, looking for devices connected to it.


Collecting information - For every found device, it shows hardware data (and also software, if you're running an agent-based IT asset discovery tool).


Storing the data - If you choose to add the discovered assets to your IT inventory, you can store the data shown in step 2 into InvGate Insight's central database, where it can be easily accessed and analyzed.


Reporting - With all the data above, discovery platforms can generate reports to provide you with a complete view of your organization's IT infrastructure.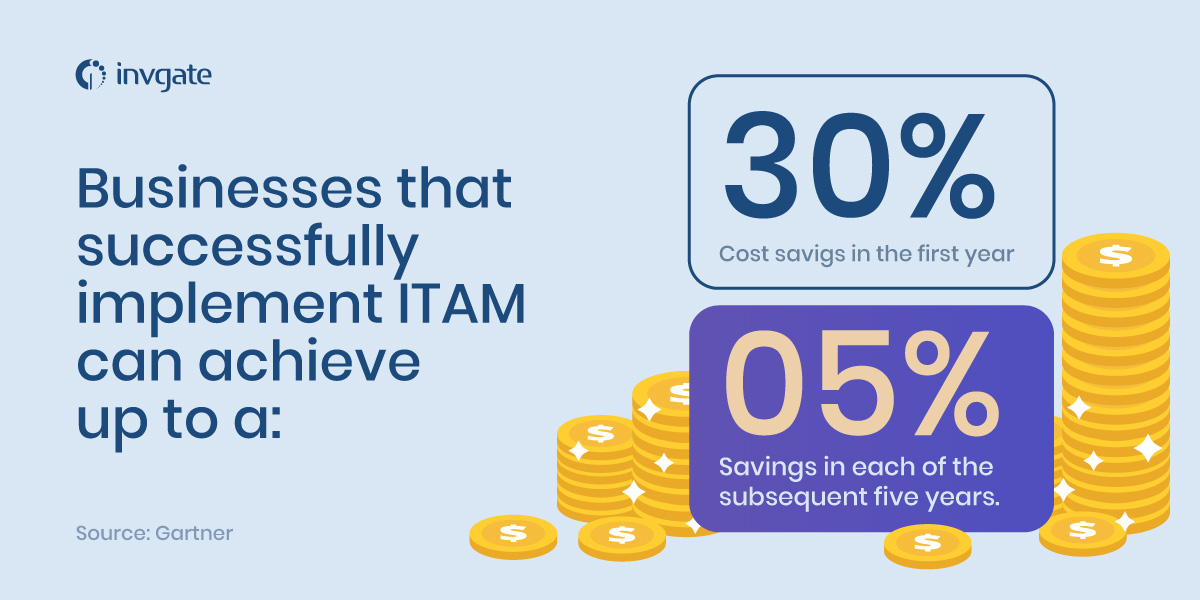 Agent-based vs. agentless IT Asset Discovery
We mentioned that you can either run an agent-based or an agentless IT asset discovery solution. Let's briefly explore the main differences:
Agent-based IT asset discovery involves installing agents on devices that collect data and report back to a central management console, providing detailed information about each asset. It has the power of pulling out detailed information, but it comes at a cost: it can be more resource-intensive as each device needs to have an agent installed and maintained.
Agentless IT asset discovery uses network scanning techniques to identify devices and collect information about them. This method is less intrusive and easier to deploy, making it ideal for larger organizations with a complex IT infrastructure. However, it may not provide as much detail about each asset as the agent-based method.
Once again, the right approach is to mix both methods depending on your immediate interest, and you'll be able to do so with InvGate Insight. You can both install its Agent on your organization's devices so that you can add both hardware and software to your inventory and monitor them from your instance, and you can configure an IP range on the network you want to scan, and agentlessly discover all the devices connected to it.
Automate IT asset discovery with InvGate Insight
InvGate Insight's Discovery Feature is the star of the show. It builds an automated inventory that doesn't require the user to be constantly on top of it. By mixing both agent-based and agentless capabilities, it can show you all the assets connected to the network and provides a detailed analysis of them.
It doesn't only find computers, but also discovers other network-connected devices where the Agent can't be installed – like printers, switches, routers, IP phones, and others. And, thanks to its Agent, it can also display information on the installed software.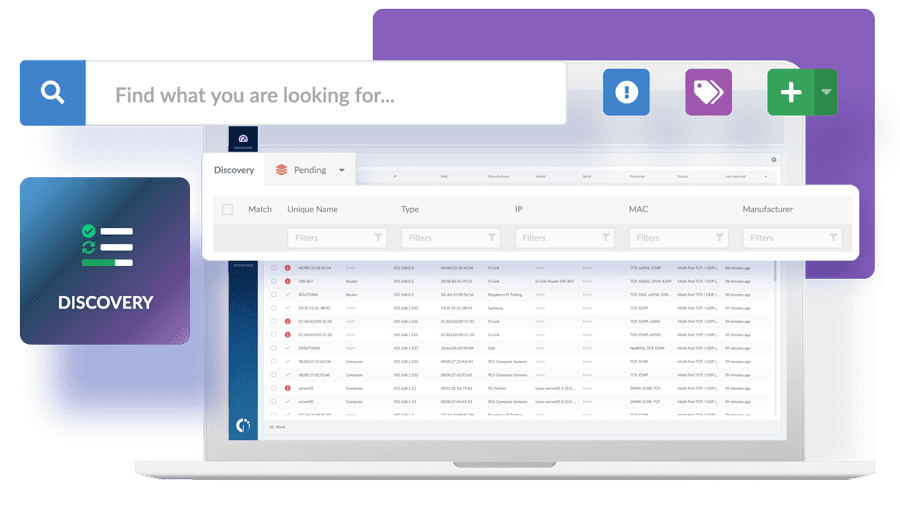 To start automating the IT device inventory process, it is necessary to contact all the IPs specified in the InvGate Discovery configuration and identify which ones are active through a series of protocols.
After configuring it, it scans the network periodically, detects new assets connected to it, and collects the following data:
Device name
Device type
IP address
Manufacturer
Model
Serial number
Ink level in printers
Once the network has been scanned, you will see all the new devices in the Discovery section. There, you can choose which ones to add to your inventory so that they start reporting to your instance, and which ones to ignore. You can also filter the assets by source (Agent, Discovery, and All) and by status (Pending, Ignored, and All).
5 crucial features of IT asset discovery tools
If you are considering the acquisition of an IT asset discovery tool, there are some capabilities and features you must search for that will make your job easier:
Network scanning capabilities - It must be able to scan an organization's network to identify all connected devices.


Software License Management - Your tool has to be able to manage software licenses by identifying and tracking all installed software to ensure that the organization is compliant with license agreements.



Customizable reporting

- You will want to generate

ITAM reports

that provide a complete view of your organization's infrastructure.



Integration with other IT Management tools

- To perform proper ITAM, your software should include or integrate with tools such as

Configuration Management Databases (CMDBs)

and a service desk (in case you were wondering,

combining ITSM and ITAM has multiple benefits

!).


Role-based access control - Administrators have to control who has access to the information collected by the software.
IT asset discovery best practices
Even though your IT asset discovery strategy will depend on the tool you choose and its capabilities, there are some general best practices to apply:
Develop a comprehensive IT Asset Management plan - Before implementing IT asset discovery, you should design an all-round ITAM strategy that outlines goals, roles, responsibilities, and processes.


Regularly conduct IT asset discovery scans - This is crucial to make sure your inventory of IT assets is always accurate and up-to-date. The key to success is to be able to thoroughly trust your information. With InvGate Insight, you can automate this process to execute periodically.


Use a combination of agent-based and agentless discovery methods - Utilizing both approaches can provide you with a more complete view of your organization's IT infrastructure, ensuring that no assets go undiscovered. InvGate Insight offers you both to have a complete inventory.


Automate asset discovery - This will save you time and improve accuracy by eliminating the need for manual tracking and data entry – and we already mentioned that InvGate Insight comes packed with automation.


Integrate IT asset discovery with other IT Management tools - Integrations are key streamline ITAM processes and improve overall IT Infrastructure Management. For instance, InvGate Insight offers a remote desktop integration that will allow you to have access to those computers in your inventory, and a native integration with

InvGate Service Desk

as well.
Key takeaways
IT asset discovery provides you with a comprehensive view of your organization's IT infrastructure, as it helps identify and manage unknown or unmanaged assets that need to be included in the inventory, or that may pose a security risk to the organization.
By using a combination of agent-based and agentless methods, you can get a complete picture of their IT assets and make informed decisions about their IT infrastructure. This way, you'll be able to track all the information from your devices with an agent, but also know which are the assets connected to your network and their main qualities and state.
InvGate Insight's Discovery feature can scan your network to find devices that you might want to include in your inventory to manage them through all their lifecycle. Ask for a 30-day free trial to see all its potential. You can later turn it into you productive instance without loosing any data!
Frequently Asked Questions
What is discovery and inventory of all IT assets?
Discovery and inventory of all IT assets is the process of identifying and cataloging all hardware and software assets connected to an organization's network.
What is the asset discovery tool used for?
The asset discovery tool is used to automate the process of identifying and cataloging IT assets within an organization's IT infrastructure.
What is the approach for asset discovery?
The approach for asset discovery can be active or passive, and agent-based or agentless, depending on the organization's specific needs.