If you are an ITAM manager or agent, you must know that keeping track of your IT assets is key to the job. However, when you work with a large number of computers, checking each one manually becomes an impossible task. But that's easily solved with automated asset tracking.
The goal here is to find a way to monitor your devices and keep them reporting. Of course, you'll need to have a hardware inventory first – and if you don't already, you can build one in just 24 hours! Once that's settled, the next step is to have all the devices automatically reporting to you. How? With InvGate Insight's Agent.
The Agent is the fastest and simplest way to build your hardware inventory and get your computers reporting to your InvGate Insight instance. Once installed on the IT assets, it will provide you with all the data you need to manage them.
Let's take a closer look at how it works.
5 reasons to use automated asset tracking
The Agent is one of InvGate Insight's key features to provide automated asset tracking, and a great ally to ITAM in general.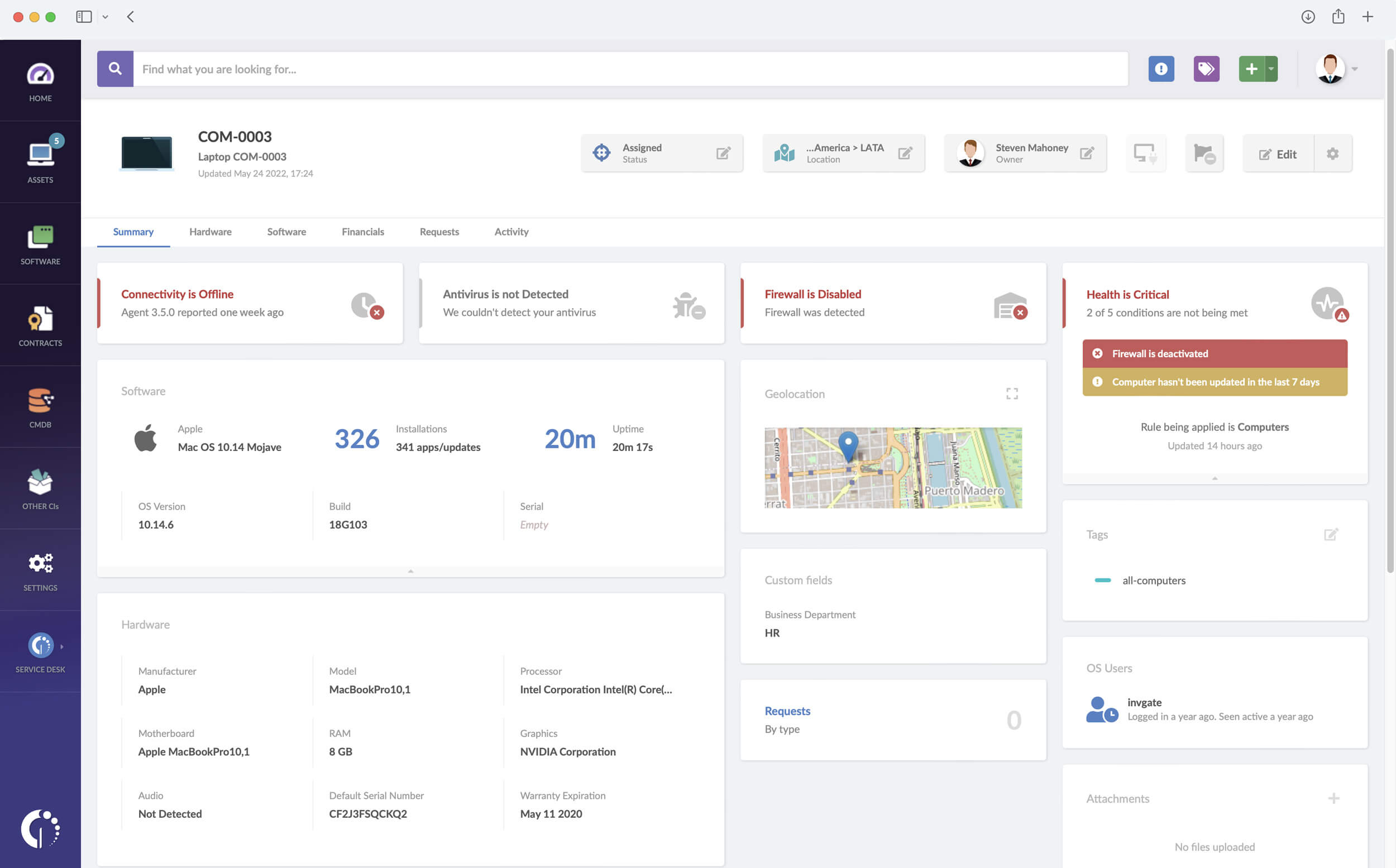 There are many advantages of having an Agent installed on your IT assets, and they can be summarized into the following five reasons:
Monitoring and reporting - The primary function of the Agent is to let you know everything that's going on with your company's devices. Any change in hardware or software will be automatically registered in the asset's profile.


Time saving - With the Agent installed on your devices, there's no need for you to manually review each computer daily since that would be automated. Thus, you have plenty of time to put your time to better use.


Updating hardware inventory - We already mentioned that the Agent is also helpful in building and keeping up to date your inventory since you can import assets directly to it just by having the agent installed.


Data accuracy - To err is human. Luckily, the Agent is a piece of software, so it will provide you with accurate information on your devices.


Alerts - Since the Agent reports in real time, you'll be able to set alerts that notify you when there's a relevant change in the devices' status.
How to install InvGate Insight's Agent on a computer
All this sounds promising, right? Then wait until we tell you how to get things going.
The only thing you need to do to have the Agent up and running is to install it on your organization's devices. You can do it remotely or from each laptop by using our Agent deployment feature.
If you want to install it manually, you'll need to go to Settings >> Network >> Agent deployment. Once you get in there, select the operating system, deployment method, choose where it's going to report to, and the type of installation (new vs. reinstalled).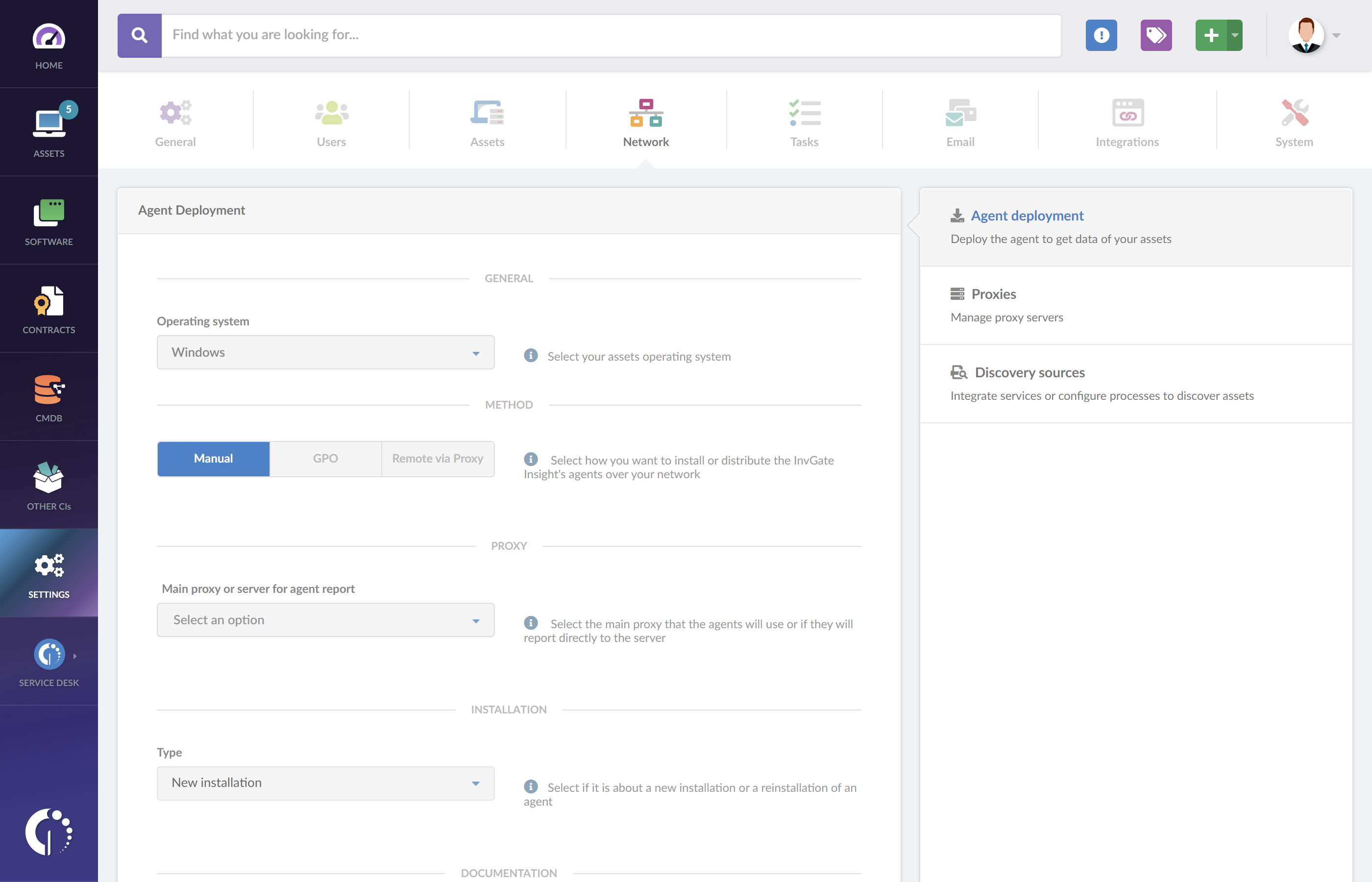 Now, bear in mind that the installation mode will depend on the OS. If you are installing the Agent on iOS, you just need to run the terminal, and copy and paste the three commands that will appear on InvGate Insight. The first one is to download the agent, the second is to extract the package, and the third is to install it.
On the other hand, to install it on a Windows machine, you have to download an MSI file, open the terminal and fetch the file you just downloaded. Once you found it, you'll need to copy the command that's shown on InvGate Insight to install it.
Lastly, you can also install it via GPO. You'll find a quick guide on the Agent deployment section of your instance.
What to do with InvGate Insight's agent
InvGate Insight's Agent is your gateway to a lot. But since we don't want you to feel overwhelmed, we listed a couple of next steps you can take to develop your ITAM strategy.
Create an inventory - If you don't have one yet, it's crucial to start by importing assets to your inventory. Once your reporting agents are all included in it, you can customize it – i.e. assigning it to a user or location, or adding custom fields to your devices' profile.


Create health rules - Health rules are asset status parameters based on criticality levels. Once configured, you can easily spot modifications in those levels through their change in status.


Create alerts - These are ideal to keep an eye on certain changes.


Run and export reports - Reports are a great feature to understand the overall status of your IT inventory, discover behavior patterns, and act upon accurate data. All you need to do is create the filters, apply them to your inventory, and that's it! You'll be able to see the snapshot, import it, and even automate it so it's executed periodically.


Track IT asset relocation - This specific type of tracking is essential for companies moving hardware from one place to another since you'll be able to monitor their location in real-time.
Bottom line
InvGate Insight's agent is one of the most useful features to automate your IT Asset Management strategy. By automating your asset tracking, you'll be able to:
Get real-time information on your devices to make informed decisions.
Use your time (and your agents' time) more efficiently, avoiding wasting time on manual tasks.
Improve the knowledge of your IT infrastructure (and use your budget wisely).
But you know we want you to see things first-hand. Thus, you can book a call with our team to see how it works, or try InvGate Insight's agent on your devices with our 30-day free trial. You can later turn that into your working instance without losing data!