When it comes to IT Asset Management (ITAM) solutions, the comparison between Flexera One vs. Snipe-IT becomes paramount in determining the perfect fit for your organization. Making the right choice can significantly impact your efficiency and long-term success.
In this blog post, we'll compare Flexera One and Snipe-IT, examining their strengths, weaknesses, and key considerations. Additionally, we'll explore an alternative ITAM software, InvGate Insight, which brings its unique features and capabilities to the table.
Join us as we navigate the landscape of ITAM software alternatives and help you make an informed decision for your business.
Most looked-at features by buyers
When prospective buyers evaluate IT Asset Management solutions, they consider several crucial features to find the best fit for their specific requirements and business needs.
Here are key factors that buyers take into account when selecting a customized ITAM solution for their organization.
Enhanced cybersecurity compliance - Buyers seek a tool that monitors assets and their security status, helping them proactively identify and address security risks.


Automated management and proactive notifications - The solution should allow the creation of automated workflows for routine tasks such as software updates, patch deployments, and system maintenance. Automating these tasks and receiving proactive notifications ensures efficient operations and timely response to critical events.



Unified IT asset inventory

management - A desirable solution should allow users to effectively monitor and manage their entire inventory of IT assets from a single platform. It should support automated

asset discovery

, capturing essential details such as hardware specifications, software versions, and ownership information.


Proactive cost management and financial optimization - The solution should incorporate financial data,

contract lifecycle management

, licenses, and other relevant information to gain a comprehensive understanding of operational costs.


Software Management optimization - This feature empowers users to track software installations, ensure proper

Software License Management

, and identify instances of over or underutilization.


Comprehensive insights into IT infrastructure - The platform should provide a complete view of IT asset status, performance, and usage, enabling users to make informed decisions and optimize their infrastructure. Additionally, the solution should include reporting and analytics features.


Service desk integration - Integration with

help desk software

facilitates seamless information flow between Asset Management and

IT Service Management

processes. This integration improves communication, streamlines workflows, and enhances overall service delivery.



CMDB

Map Builder - This functionality enables users to define and document relationships between different components, such as hardware devices, software applications, network connections, and dependencies. Visualizing these relationships helps organizations better understand the impact of changes, assess risks, and plan for effective Incident Management and

Change Management

.


Remote management with integrated tools - Integration with popular remote desktop tools allows IT teams to diagnose issues, apply patches, perform software installations, or conduct system updates remotely, eliminating the need for physical presence.


Flexible deployment options - Users prefer a platform that offers flexibility in choosing deployment models, including cloud-based, on-premise, or hybrid solutions.
What is Flexera One?
Flexera, previously known as InstallShield and rebranded in 2009, is a well-known company specializing in technology Asset Management solutions. Based in Itasca, Illinois, United States, Flexera has been a leading provider of comprehensive technology tools since it was founded in 1987. Their offerings encompass Software and Hardware Asset Management, Cloud Spend Optimization, Vulnerability Management, and Open Source Software Compliance.
Flexera One, developed by Flexera, is a robust Software as a Service (SaaS) solution that integrates IT Asset Management and Software Asset Management (SAM). It adopts a comprehensive approach by offering a unified, centralized perspective of IT assets across various environments such as on-premises, cloud, and edge.
This platform aids organizations in optimizing their IT spending, managing and securing cloud infrastructure, reducing risk, ensuring compliance, and providing valuable insights and analytics.
What users like from Flexera One
Flexera One has garnered positive customer feedback, as evidenced by reviews from reputable sources like Gartner. Let's delve into the specific advantages that have been highlighted.
Empowering critical business processes and decisions - Users have emphasized the value of Flexera One's ability to provide valuable software insights that support crucial business processes and decision-making. The software equips organizations with the tools and data to optimize their strategic planning and enhance operational efficiency.
Meeting business needs effectively - Flexera One has received widespread acclaim as an exceptional Software Asset Management tool that effectively caters to the unique requirements of businesses. Users have found the software to be responsive, ensuring a seamless experience that aligns with their specific needs.
User-friendly with extensive visibility - Customers appreciate the user-friendly nature of the platform. Its intuitive interface and streamlined navigation make it easy for users to grasp and operate. Additionally, it offers comprehensive visibility, interpretation, and coverage of software consumption, enabling users to clearly understand their software assets.
Exceptional customer support - Reviews consistently highlight Flexera One's outstanding customer support. Users express satisfaction with the prompt assistance they receive and the attentive nature of the support team. The sense of being heard and supported enhances customers' overall satisfaction with the product.
What users don't like from Flexera One
While Flexera One possesses numerous strengths and positive attributes, it is not without its share of customer concerns and criticisms. Reviews from reputable sources like Gartner have shed light on recurring issues that users have raised.
Recurring issues and time-consuming resolutions - Users have expressed frustration with the time it takes to resolve these problems, which affects their workflow efficiency. Addressing these recurring issues and optimizing the resolution process would enhance the overall user experience.
Challenges with system setup - Several customers have reported encountering difficulties during the initial setup of the system, despite receiving assistance from Flexera's support team. Even with guidance, users still faced problems, indicating a need for improvements in the setup process.
Complex configuration for licensing models - Customers have mentioned that configuring the product to represent more intricate licensing models accurately requires significant effort. The complexity involved in obtaining precise insights into licensing can present challenges and could benefit from streamlining and simplification.
Challenges with the support team and data quality - Some users have encountered difficulties when interacting with Flexera's support team. Additionally, concerns have been raised regarding the quality of the provided data.
What's Flexera One's argument over Snipe-IT?
Flexera One's argument over Snipe-IT centers around several key advantages that differentiate the two software solutions. Here's an expansion of them.
Enterprise-level functionality - Flexera One positions itself as a SAM tool that caters to the unique requirements of businesses, including large enterprises. It offers advanced features and functionalities that address the complex needs of organizations with extensive software ecosystems. In contrast, Snipe-IT, while suitable for small to mid-sized businesses, may lack the scalability and enterprise-level capabilities needed for larger organizations.


Strategic decision support - Flexera One emphasizes its ability to empower critical business processes and decisions through software insights. The software provides organizations with valuable data and tools to optimize strategic planning and enhance operational efficiency.


Extensive visibility and interpretation - Flexera One is praised for its user-friendly interface and extensive visibility into software consumption. It offers comprehensive coverage and interpretation of software assets, enabling users to gain a clear understanding of their software usage and licensing.
What is Snipe-IT?
Snipe-IT is an Asset Management system created by Grokability. It was introduced in 2013 by Alison Gianotto, who was previously the Chief Technology Officer at a prominent advertising agency in New York City. Gianotto was dissatisfied with the existing IT asset tracking solutions and decided to develop Snipe-IT to meet her specific needs.
Over the years, Snipe-IT has gained popularity and is actively maintained as a free alternative for Asset Management. Grokability, the company behind Snipe-IT, focuses on developing user-friendly software and encourages a culture of continuous learning. They prioritize transparency and security and promote the advantages of open-source software.
What users like from Snipe-IT
Snipe-IT has received acknowledgment and positive feedback from customers, as indicated by reviews from reputable platforms such as G2 and Capterra. Here are some of the noteworthy benefits that have been emphasized.
Free and open-source software - Snipe-IT is available at no cost and is open-source, making it an affordable solution suitable for small to mid-sized businesses. It provides a stable and feature-rich system.
Easy setup and user-friendly interface - The platform has a straightforward setup process, allowing users to get started quickly. Its intuitive interface ensures ease of use, even for those without technical expertise. Furthermore, it facilitates hassle-free tracking of software purchases and renewals.
Customization and flexibility - The tool grants users the ability to customize the software according to their needs. This includes adding images to items and assigning them to specific locations or individuals. It also offers a comprehensive API, enabling automation and integration with other tools.
Supportive community and assistance - Snipe-IT ensures excellent support for the paid version, while the free version benefits from active forums where users can receive assistance and share knowledge within the community.
Simplified asset tracking - The tool offers a user-friendly approach to tracking assets, encompassing software, consumables, and peripherals. It allows the inclusion of components and accessories for comprehensive Asset Management.
What users don't like from Snipe-IT
While Snipe-IT has multiple strengths and positive attributes, it is not immune to customer concerns and criticisms. Evaluations from well-regarded platforms such as G2 and Capterra have shed light on the most common issues raised by users.
Authentication and search constraints - Snipe-IT does not provide support for Single Sign-On (SSO) authentication and lacks SAML or Google connection support for user import. Additionally, the software's search functionality may have limitations.
Time and resource-intensive initial setup - The setup process, particularly when importing existing inventory, can demand a significant amount of time and resources from users.
Clumsy importing process - Importing data into Snipe-IT can be cumbersome and not very intuitive, potentially leading to user frustration.
Limited integration with ticketing tools - The software lacks smooth integration capabilities with ticketing tools, which might pose difficulties for users relying on such integrations.
Absence of desired features - Users have expressed that the tool is missing certain features they desire, including a calendar booking system or webhooks. Modifying default search fields or email configurations can also prove challenging.
Mobile views and notifications - The dedicated mobile views in Snipe-IT could benefit from improvements to enhance usability. Moreover, the email system may fail to send notifications for certain types of assets, potentially causing oversight.
What's Snipe-IT's argument over Flexera One?
Snipe-IT's argument over Flexera One revolves around several key advantages that distinguish it as a software ITAM solution. Here is where Snipe-IT stands regarding Flexera One.
Cost-effective solution - Snipe-IT stands out as a free and open-source software. This affordability makes it an attractive option for small to mid-sized businesses with limited budgets. In contrast, Flexera One is a commercial solution that may involve licensing costs, which could be prohibitive for organizations with tighter financial constraints.


Customization and flexibility - Snipe-IT offers users the ability to customize the software according to their specific needs. This includes adding images to items, assigning assets to specific locations or individuals, and leveraging a comprehensive API for automation and integration with other tools.


Supportive community - Snipe-IT's active forums provide a platform for users of the free version to seek assistance and share knowledge within the community. This collaborative environment helps users find solutions and receive guidance from peers, enhancing the overall user experience.
Considering InvGate Insight as an ITAM solution alternative
InvGate Insight is a comprehensive solution for managing IT assets that offers a wide array of features and functionalities designed to streamline processes. The key features it provides are as follows.
IT Asset and Inventory Management
InvGate Insight enhances the efficiency of IT and non-IT Asset Management by consolidating data from various sources. By providing a comprehensive view of your infrastructure, including assets, locations, and personnel, it saves time and improves overall management.
Seamless service desk integration
InvGate Insight seamlessly integrates with InvGate Service Desk, creating a unified view of IT operations. This integration allows for the linking of service tickets to relevant assets and personnel, streamlining workflows, improving communication, and enhancing issue resolution.
CMDB Map Builder
Included in InvGate Insight is a CMDB map builder tool that visually represents relationships between IT components. This tool helps identify potential impacts and mitigate risks, reducing service times, improving operational efficiency, and ensuring smoother IT operations.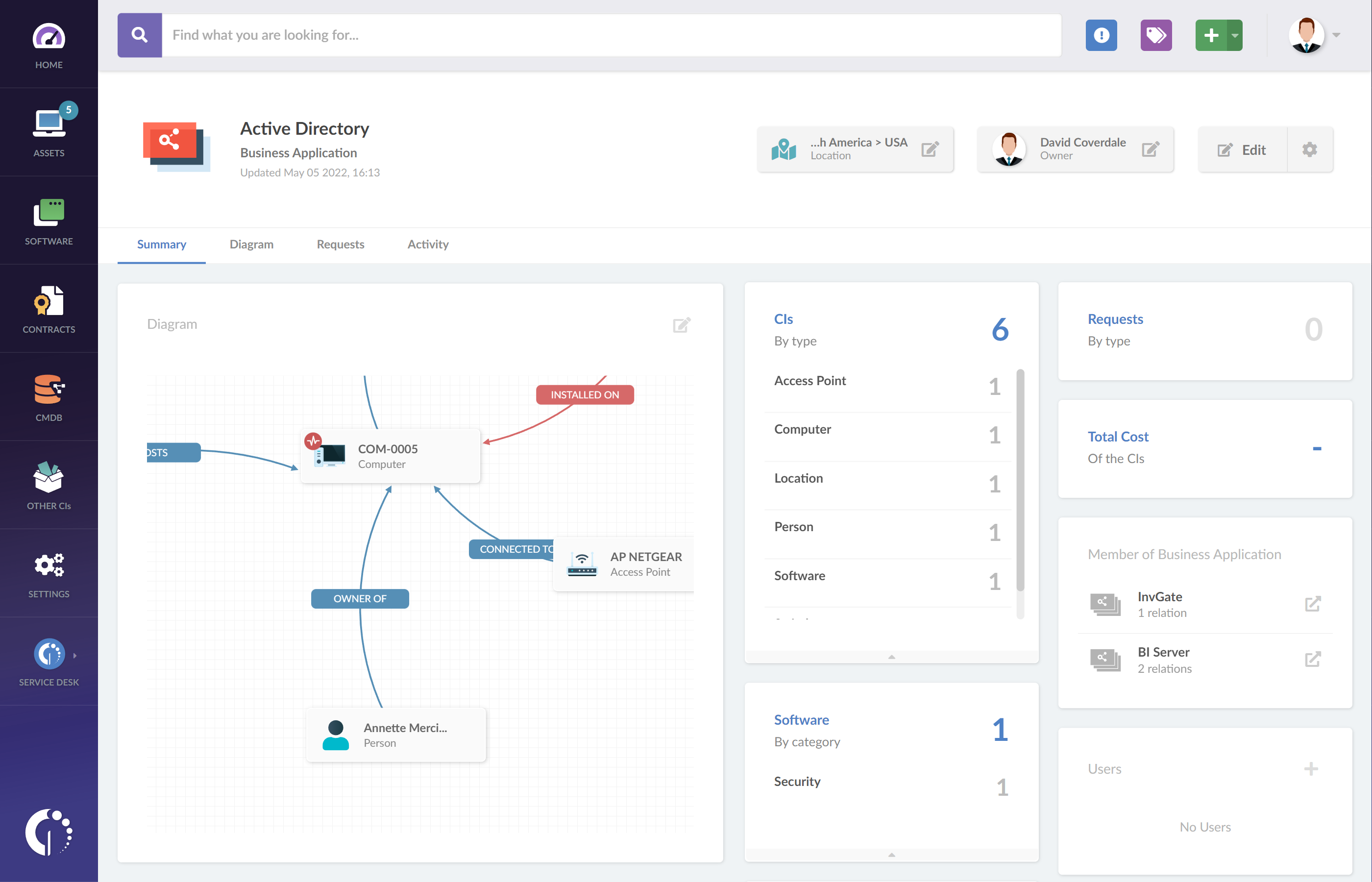 Software efficiency and cost reduction
InvGate Insight enables the identification and measurement of software usage, optimizing software management. It provides visibility into software utilization, empowering you to reallocate licenses, reduce costs, and maximize returns on IT investments.
Automation and alerts
With InvGate Insight, you can achieve efficient management through process automation and the setup of alerts. By automating tasks and configuring alerts, you can proactively manage IT operations, monitor contract expirations, and reduce manual effort.
Cybersecurity compliance
InvGate Insight's asset monitoring capabilities assist in establishing and enforcing device health rules to ensure proactive cybersecurity compliance. It rapidly identifies instances of non-compliance, enabling immediate action to adhere to cybersecurity policies and protect your IT infrastructure.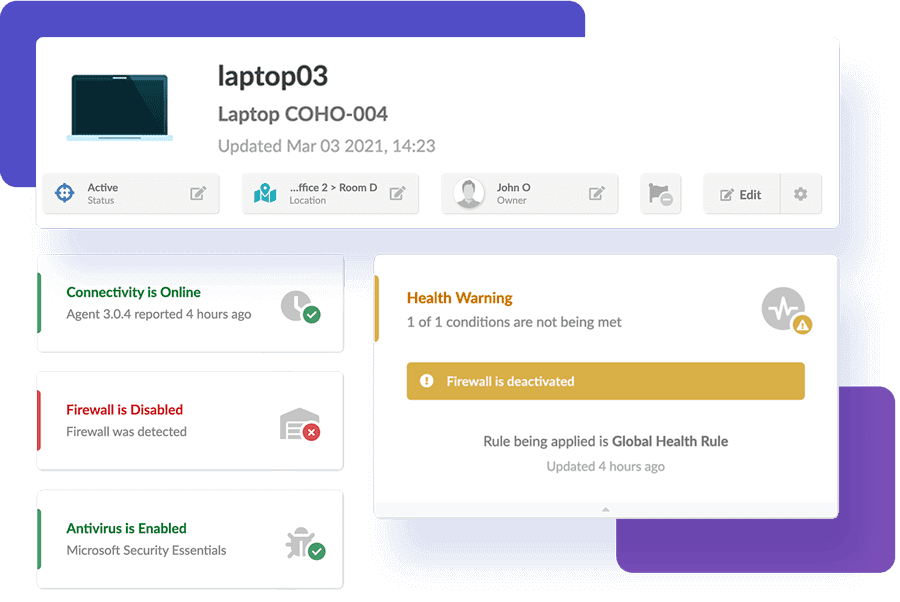 Proactive cost management
Through integration with financial data, contracts, licenses, and critical information, InvGate Insight offers a comprehensive understanding of operational costs, facilitating proactive financial decision-making.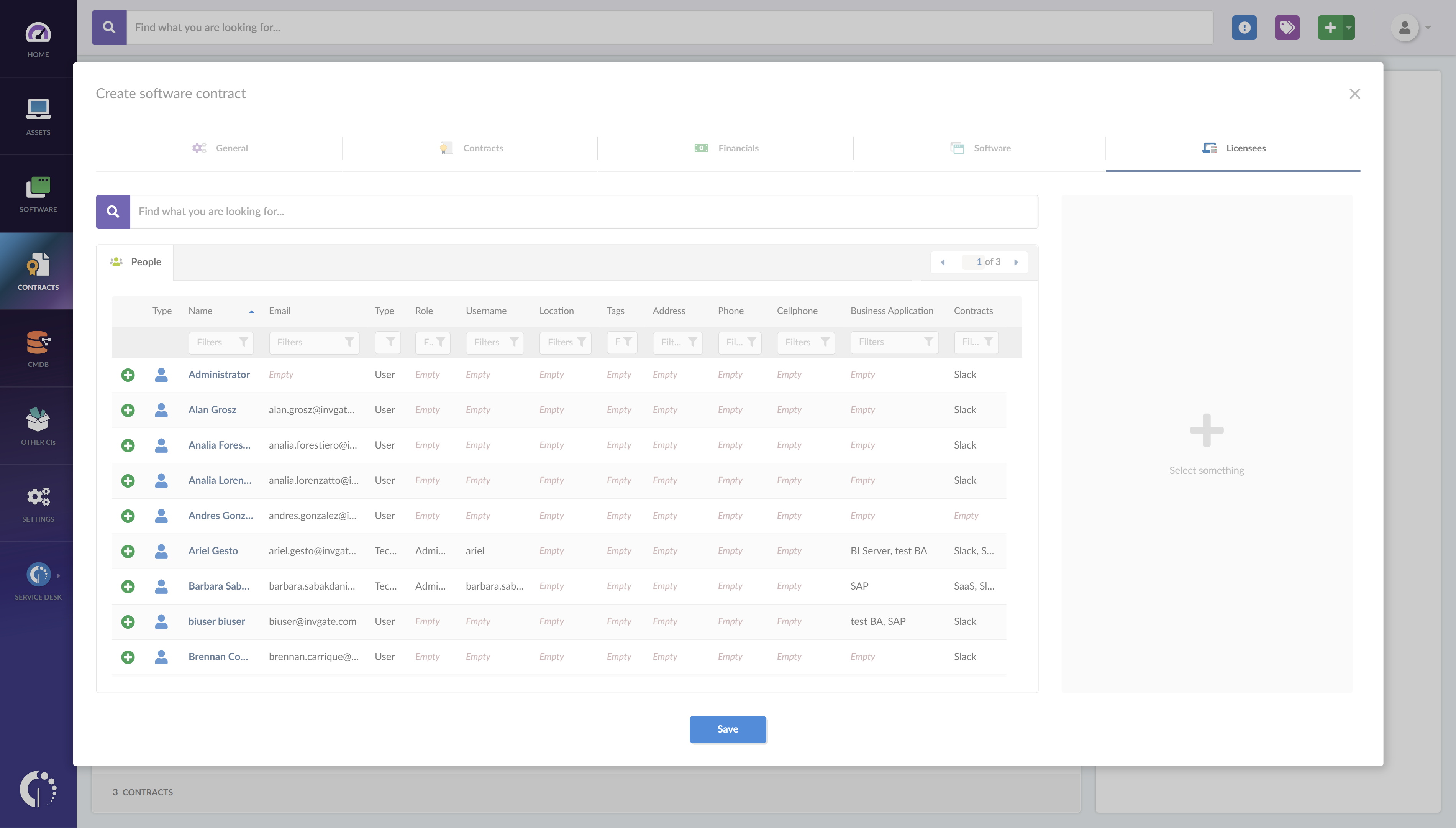 Remote management
InvGate Insight natively integrates with popular remote desktop tools, enhancing remote management capabilities. This integration provides direct access to devices for troubleshooting and maintenance, ensuring efficient resolution of IT issues.
Flexible deployment options
InvGate Insight offers flexibility in deployment options, allowing you to choose between cloud-based or on-premise solutions to meet your specific requirements and compliance standards.
Detailed insights
InvGate Insight provides detailed and actionable information about your IT assets, their status, and usage. These insights enable effective management and optimization of your IT infrastructure, ultimately improving operational efficiency.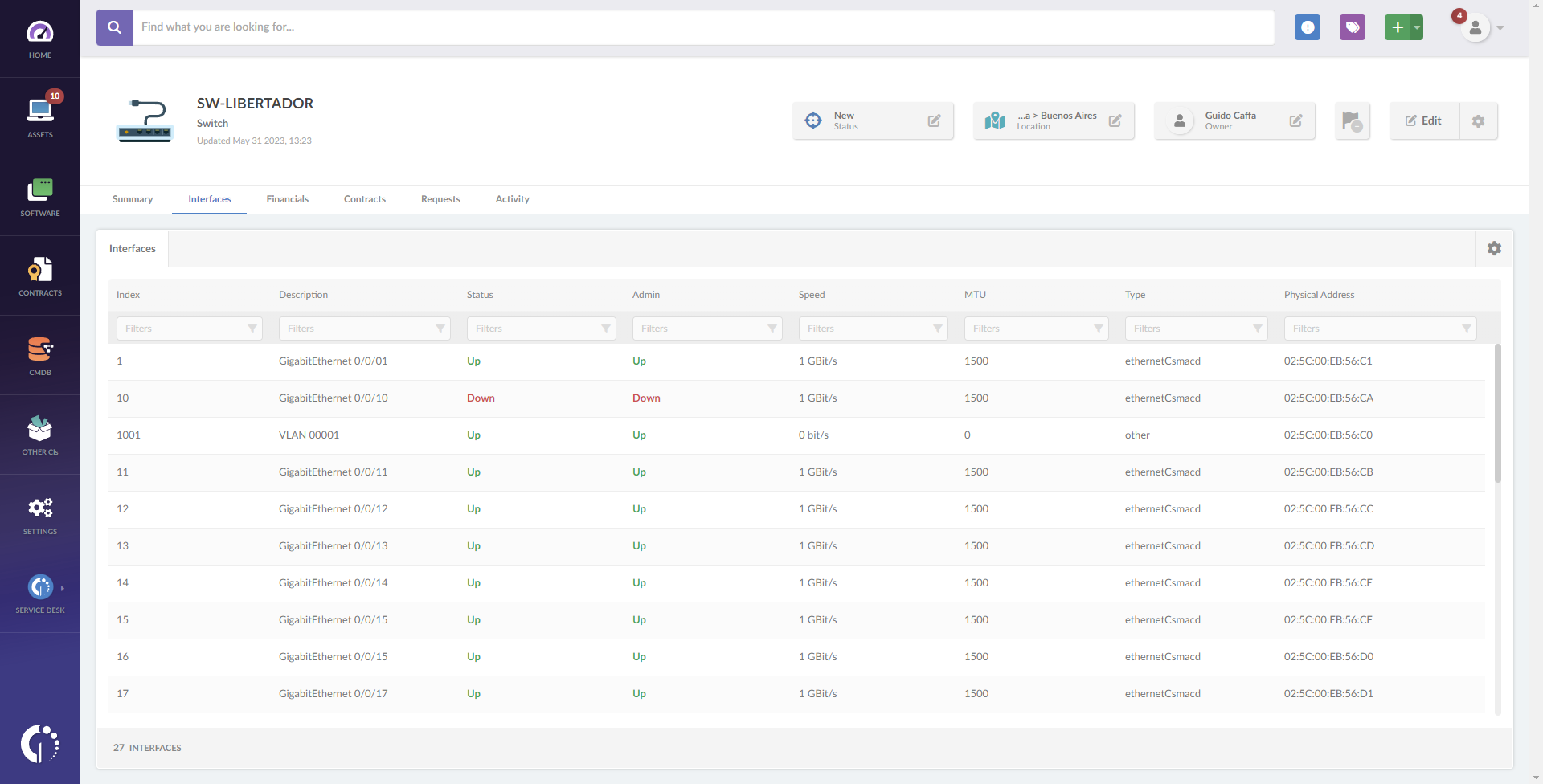 Next steps
Choosing the right IT Asset Management solution is a critical decision for optimizing IT service delivery and ensuring the future growth of your organization. It is essential to thoroughly assess and compare different options, such as Flexera One vs. Snipe-IT, to find the solution that aligns best with your specific needs.
While considering these platforms, it's also worth exploring alternative ITAM software like InvGate Insight. With its comprehensive range of features, InvGate Insight can streamline your ITAM processes and drive efficiency within your organization. Book a meeting with our experts if you have any questions!