IT Asset Management reporting is essential for agents to plan their ITAM strategy in greater detail. Reports provide valuable insights that enable you to make informed decisions and identify areas that need improvement. By leveraging them, you can thoroughly understand your organization's IT infrastructure and associated costs, enabling you to maximize IT expenses and performance.
It's common to get stuck in the daily loop without having a moment to stop and analyze possible weaknesses. So, in order to make ITAM reporting a habit, you must have specific software that can help you with this process. InvGate Insight offers a set of features, including a reporting module, that will help you get the most out of your Asset Management.
Let's dig into it.
Benefits and challenges of ITAM reporting
ITAM reporting collects, analyzes, and presents IT asset data in an organized and clear way. Its benefits are clear:
Increased visibility - A good understanding of asset performance allows you to plan ahead, identify areas of improvement, and make better-informed decisions.


Improved compliance - ITAM reporting will help you meet compliance standards, while reducing the risk of financial penalties and potential legal consequences.


Cost savings - By regularly analyzing asset performance, you can quickly identify cost-saving opportunities and optimize IT costs.


Customer satisfaction - With accurate and up-to-date reports, you can provide users with better service and support.
At the same time, there are some associated challenges you should consider:
Collecting data

- IT assets cover a wide range of categories. Collecting and consolidating data from multiple sources can be challenging. InvGate Insight's offers the possibility to create a unified and up-to-date inventory and solve this challenge easily.


Ensure the accuracy of the information

- Inaccurate or outdated information can lead to wrong decisions, so it's essential to guarantee the data you're using is up-to-date. Monitoring your IT devices with InvGate's Agent guarantees that your data is always updated.



Lack of tools

- With the right tools, it's easier to collect, organize and report on your IT assets. Avoid having your IT inventory in Excel or other tools that are not specifically designed for ITAM. They can seem convenient initially, but will end up holding you back in the long term.


Time consumption - ITAM reporting can take time to implement in organizations of all sizes, so make sure you have enough available time to do it.
Creating reports with InvGate Insight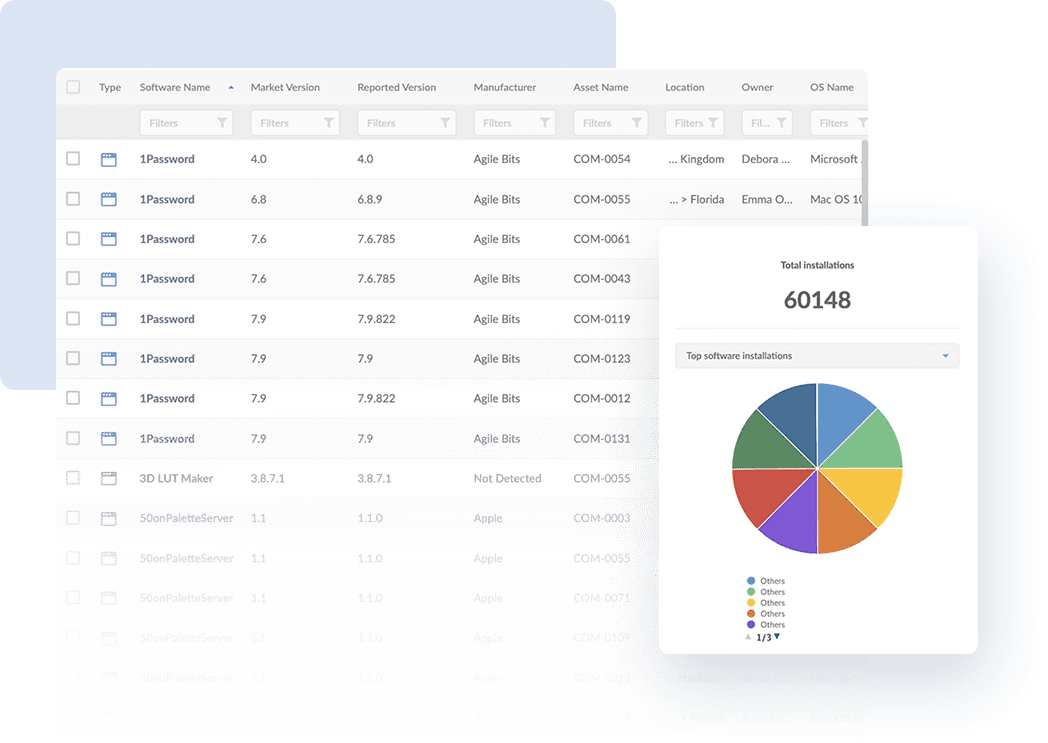 Making reports should be easy, fast, and intuitive, especially if you already have all your IT inventory located in InvGate Insight.
If that's your case, all you need to do is run a query of your assets and then export it. From the Search Bar, introduce the type of asset and filters you want to apply.
Let's say you want to see how many and which Chromebooks are assigned. Go to the Search Bar, and apply the following conditionals:
Asset > Status is Assigned
Asset > Type is Chromebook

After doing so, you'll see a list with all the assets and their details. You'll also get easy access to a dashboard where you can set other filters and a summary of the asset's total cost.
You can save this report or download it to share it with others.
10 IT Asset Management reporting use cases
Now that you know some of the basics of ITAM reporting, let's take a look at some of the most common situations where it is used. Although each organization has its own needs and requirements, and reports should be able to adapt to them, here are some of the most common reports that agents analyze to improve their ITAM strategy.
1. Amount of device types related to an issue
Issues related to a specific computer model or device category are extremely frequent. Sometimes, it can be a computer lot that tends to have a common issue. To decide what to do with it, the first step is to run a report on the number of affected devices. Then, you need to track them and act. As simple as it sounds, you'll be amazed at how often you'll use this kind of report.
2. Amount of device types for finance
Finance departments are interested in the cost of the organization's assets. They will probably know, for example, the total amount of money invested in a certain kind of CI, their entire risk, and the depreciation of its value, always related to the number of devices.
This type of report is usually run periodically and shared with an external user. So you will need to generate them in a user-friendly way for non-technical people to easily access and read.
3. Devices by location
Knowing where every device is located is extremely important. This can be used to track down a machine, plan an implementation, or know who has a certain piece of hardware. Also, IT support teams can use them to their advantage when enforcing policies across multiple locations.
4. Assets by state
Sometimes, you might need to get an overview of all assets in a specific state. So, running a report on the number and type of devices assigned, in repair, in stock, or decommissioned is highly beneficial. It will help you to:
Identify and prevent problems before they arise.
Make sure the assets are being used correctly and efficiently.
Monitor the integrity of your assets, track their performance, and detect any irregularities.
Plan ahead for future asset acquisitions or replacements.
5. Unused license count
License management requires lots of reporting. A first report related to licenses that you should run is an unused license count. You may have acquired several licenses for a proposal, and then realized that people are using another software or that the team doesn't need that amount of licenses at the same time.
6. License usage
Sometimes, you only have a limited number of licenses to assign, and you need to know if they're being used. You can run a report to see who used a certain license and how much in the last 7 and 30 days.
7. License cost
You also need to know how much money you have invested in licenses. This may include tracking expenses on recurring costs, such as software maintenance and license renewals. With this report, you'll know how much of your IT budget is dedicated to software licenses and if its value equals or exceeds what you expected. Plus, it will help you to plan more accurately for the future.
8. Versions by title/vendor
It's essential to know what version you're using to reduce security risks and perform Patch Management. Requirements, laws, and compliance are subject to possible changes. Run a report that shows which software or hardware versions (and their vendor) are related to a specific title. This type of report is also often used for software auditing processes.
9. Contracts by state
Especially for software, contracts and their state will determine the validity of a license. Therefore, an overview of every contract's status is essential. This report shows you all the details of the agreement, such as expiration date, vendor, customer, and any other information you may need.
10. Contracts coming up for renewal
Creating a report for contracts coming up for renewal is a must. It will help you to know when contracts are ending, and the license needs to be renewed or replaced. This way, you'll avoid any unpleasant surprises or unexpected costs.
ITAM reporting best practices
To ensure success, here are some best practices you need to follow when it comes to ITAM reporting:
Centralize your data - Having all your asset data in one centralized place will make it easier for you to access and analyze.


Set up automated reports - Automating your ITAM reports will save you time and effort, allowing you to focus on other tasks. With InvGate Insight, you can set up scheduled reports to run periodically.


Verify accuracy - Having correct and updated data is essential. Make sure to regularly check the accuracy of your asset information and identify any errors.



Establish benchmarks

- Set up KPIs for all your asset categories so you can easily compare the performance of each one. This will help you identify areas of improvement and take action.


Leverage notifications and alerts - Customize your notifications and alerts to ensure timely responses to potential issues. Knowing when your contracts are about to expire, for example, will improve the way you manage them.


Share reports - There will always be other parties interested in ITAM reports. With InvGate Insight, you can export and share them with whoever you need to.


Make the most out of live data - Ensure you're using live data for accurate decision-making. InvGate Insight's Discovery or Agent features will have your organization's devices reporting in real-time.
Key takeaways
A clear and simple access to reports on all your IT assets is essential for running any organization. In order to get the most out of them, make sure to centralize your data, automate reports, and verify accuracy. It's also important to set notifications and alerts, share the reports with other parties when needed, and compare different reports to make better decisions.
Don't forget to review your licenses regularly, as contracts change and licenses need to be renewed or replaced. This way, you'll avoid any surprises or unexpected costs.
By following these tips and practices, you can stay on top of your ITAM reports and make better decisions about your IT Asset Management.
Ready to get started with InvGate Insight? Ask for a 30-day free trial and take your ITAM plan to the next level!
Frequently Asked Questions
What should I report on IT Asset Management?
You should report on all the IT assets related to your organization: devices, licenses, contracts, and more. This will allow you to gain insight into which areas need improvement and identify trends, among other things.
What are the three main deliverables of IT Asset Management?
The three main deliverables of IT Asset Management are accurate inventory, compliance with regulations, and cost optimization. Accurate inventory will ensure you have all the necessary data to make informed decisions. Compliance with regulations will help avoid any legal issues. Cost optimization will allow you to save money by using your resources better.
What are the KPIs for IT Asset Management?
The key performance indicators for IT Asset Management will depend on your organization's specific needs. Some examples include total value, risk, depreciation, license usage (last 7 days or 30 days), contract renewal dates, and more. These KPIs should be set up to help you compare the performance of different asset categories.