Effective Ticket Management is built upon a clear help desk ticketing process flow. This defines the necessary guidelines and resources to carry out their job efficiently.
When a customer has a query or an issue with your products or services, more often than not, they expect a quick solution. A smooth ticketing process flow improves both the customer's and the service desk agent's experience, and at the same time helps you manage your resources effectively.
In this article, we will explore the benefits of implementing a help desk ticketing system, how to do it, and how to take it to the next level with InvGate Service Desk.
What is a help desk ticketing process flow? Why do you need it?
A help desk process flow defines all the steps involved in resolving a customer query. It must show every step from the moment a ticket is received and assigned to an agent until it is resolved and customer feedback is collected.
The process flow documents:
How tickets are assigned and prioritized.
How they are sorted into different categories.
How tickets in different categories are resolved.
You can define this service desk workflow on InvGate Service Desk and ensure a Standard Operation Procedure to provide the same service quality across the entire organization.
Besides streamlining Ticket Management, the help desk process flow has an important role in defining the metrics and standards for the service desk. By analyzing the tickets handled and the resources employed in moving forward a request, you can identify the bottlenecks in the process and take steps to improve them.
5 steps to define a clear help desk ticketing process flow
Fundamentally, a workflow consists in mapping out a clear structure and testing it to create continuous improvements. Building a help desk ticketing process flow is a challenge in itself, as it has many different components to adjust and every team has its own specific functions. Nevertheless, there are five general steps you can't avoid to define it.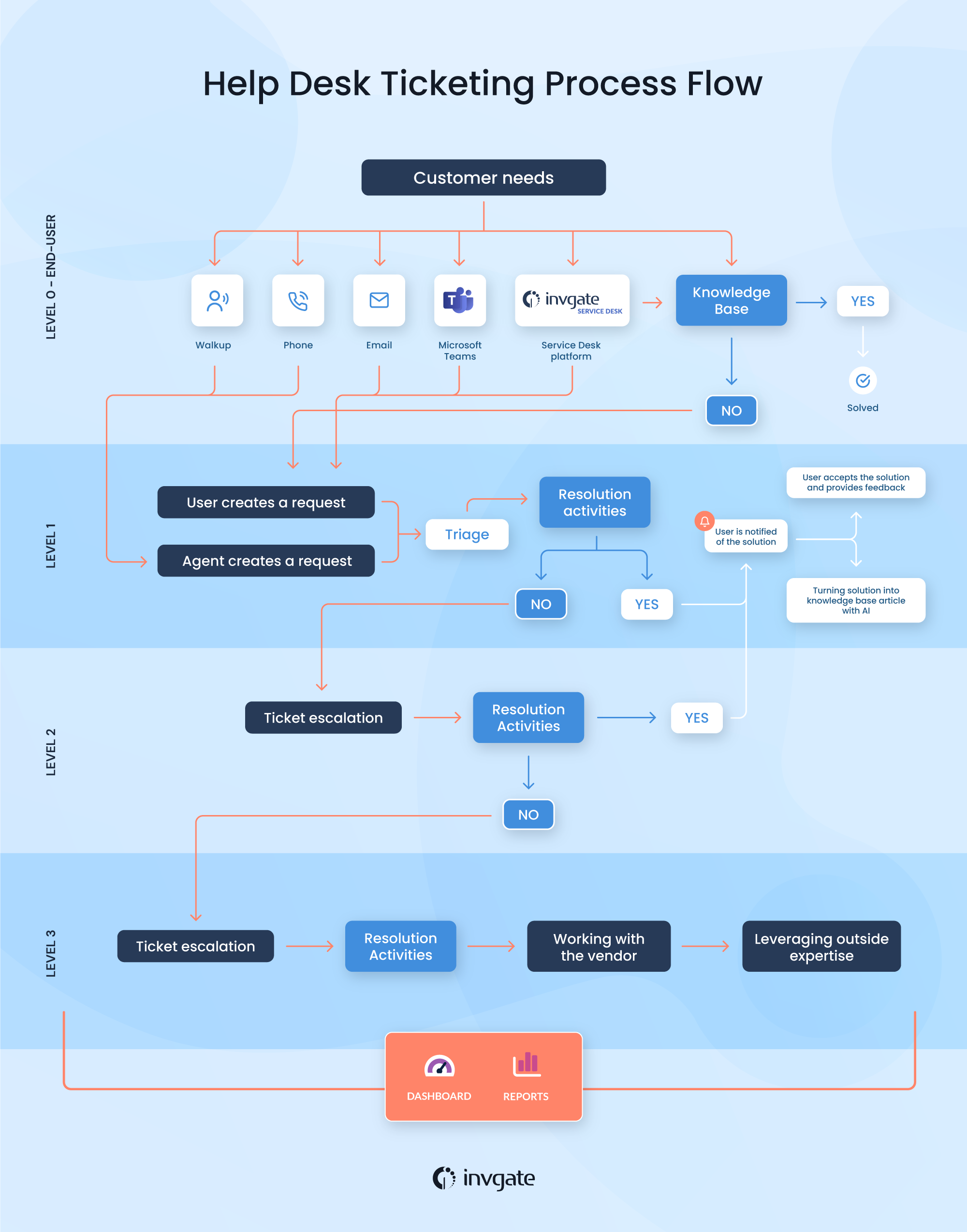 1. Understand the scope of the service desk
The first step to define the help desk ticketing process flow is understanding the expectations and the scope of the service desk.
You need to know what you want to offer, and how you will achieve it. In order to define that, make sure to analyze the following elements:
Where do requests come from? If you offer

omnichannel support

, your workflow should include (as shown in the infographic above) all the available communication channels, and the actions triggered after each touch point (which, by the way, might differ).


How many requests per day do you receive? Analyzing your

Ticket Volume

is crucial to understand how many tickets are related to each category or area you are getting, and how it evolves with time and improvements.


Which departments are involved in the resolution of issues? Define if only the IT department should be involved in the resolution process, or if you need to onboard other areas (and where the touchpoint should be).


What are your

SLAs

? Defining Service Level Agreements beforehand is very helpful to build the ticket process flow according to those expectations, so you don't create one that surpasses that right from the start (remember that you can set

multiple SLAs

with InvGate Service Desk!).
2. Create the process flow
Once you have clearly defined your help desk's specifics, the next step is to actually create the process flow. The goal here (and, of course, this will be easier if you have done the previous step right) is that the guidelines you outline serve as many queries as possible.
When creating the process, consider the following:
Clearly document all the steps - Your workflow must contemplate not only the ideal scenario where end-users self-solve their issues. It has to take into consideration all the possible escalations, as shown in the chart above. You need to cover

help desk levels 0 to 4

to guarantee speed and accurate ticket resolution.


Build a flexible workflow - The ticket process is a standardization, and as such, it must adapt to multiple scenarios. The

service catalog

categories differ from one another, and require different actions. Your workflow has to cover these possibilities to be helpful (you can start by identifying

common tickets

for this stage).


Provide guidelines regarding the SOPs - Use InvGate Service Desk's

internal knowledge base

to provide your agents with clear documentation on the steps that need to be taken in order to resolve tickets efficiently and avoid costly downtimes. Let's see this in more depth.
3. Build a knowledge base to support the process flow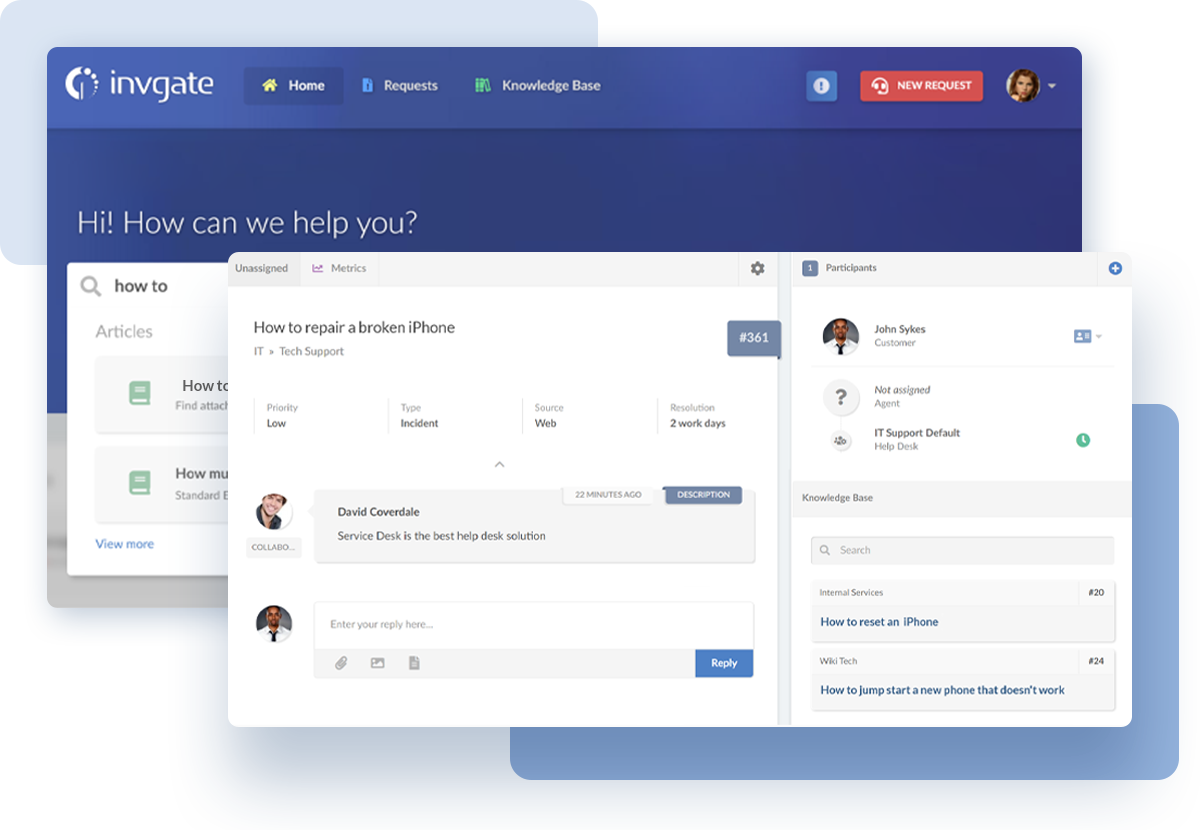 You can design the best process flow in the world, but if it isn't clear or people don't have easy access to it, it won't be useful. As we mentioned in the previous step, leveraging your service desk's knowledge base allows you to share the information your agents need to solve any ticket in line with your service quality standards.
But that's not all; you can also provide your end-users with knowledge articles to solve simple issues on their own and avoid submitting ticket. Trust us, customers and agents will be glad with the time and work this can save them.
When creating your knowledge base, remember:
With InvGate Service Desk, you can link articles to different categories in your service catalog — targeted for customers or agents respectively. This way, they can easily have access to how to proceed.


Use keywords to allow all users to easily find what they are looking for in your knowledge base. To do so, you need to understand how they call each practice, device, or issue.
4. Configure the service desk software
After the process flow is designed, it's time to configure your service desk accordingly. InvGate Service Desk can help you build it in just a few minutes.
Essentially, what you need to do is set up the ticket routing process. This will determine what help desk and which agent the tickets are assigned, and the escalation rules that will apply.
The basic steps to configure it are as follows:
Establish the ticket triage process - Configure how the tickets will be routed to the agents, how they will be prioritized, and all the other steps involved until a ticket is fully resolved. With InvGate Service Desk, you can customize this to your organization's needs by choosing the right conditions in each category (or group of categories) in your catalog.



Automate ticket assignment

- Decide your preferred rule to automatically assign tickets. You can do it based on agents' availability, workload, or let them pick the requests from a queue instead.


Automate workflows - Have pre-built processes to automate tasks that involve multiple departments to ensure that nothing is missing while solving the request.



Integrate your service desk instance with ITAM software

- You can connect InvGate Service Desk and InvGate Insight to provide your agents with information on the assets related to a ticket, and to automate actions that involve not only your help desk but your Asset Management solution as well.
5. Analyze, iterate, and optimize
But the process doesn't end here. It's practically impossible to get everything right the first time round. To reach peak efficiency, you'll also have to iterate frequently in the initial stages.
The following practices will help you analyze your process and find areas for change or improvement:
Set up and take advantage of InvGate Service Desk's

customizable dashboards

to closely monitor the service desk KPIs of your interest, spot the bottlenecks, and optimize and improve where needed. They are ideal for having a glance at your team's day-to-day work.


Run periodic reports in your instance to have a better understanding of your service desk performance over a period of time. You can automate these reports in InvGate Service Desks and share them with other stakeholders.


Compare, contrast, and analyze your data. This is the only way you will identify areas of improvement, as well as those that are solid.


Implement the changes you need to get to your goals. You can change your ticket routing, optimize your knowledge base articles, implement gamification within your help desk, or any actions that you think are necessary.


Even when you reach a solid process flow for your service desk, it's important to monitor the metrics and make sure they're not falling behind. As the organization evolves and the scope of the service desk changes, your process flow will also need to evolve.
Help desk ticketing process flow strategies and best practices
Now that you know how to do it, follow these set of best practices to properly implement your help desk ticketing process.
1. Automation is your friend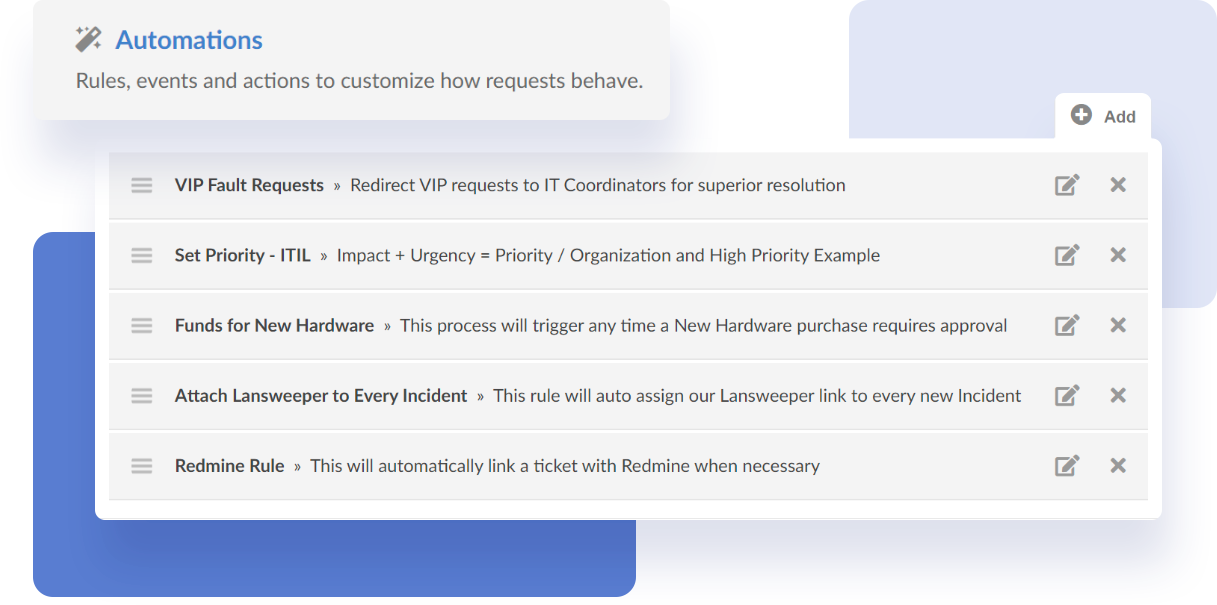 To streamline support services, automation is compulsory. It will reduce the workload for the service desk team and help you better manage your resources.
As we've seen, InvGate Service Desk provides a wide range of automation features to build the process flow. With the tool, you can automate the following:
Ticket routing - Set a route to deliver the ticket to a specific help desk or agent, depending on the scenario of the request.
Collecting feedback - After closing the tickets, you can push a simple survey to customers.
Ticket escalation - It ensures that those tickets that need to be taken by another service desk are properly escalated.
Canned responses - Create them to give a quick and standardized response in some stages of the request.
Automate other processes - Automation can help maintain the quality of the service desk and maintain the quality of the service desk. Automated alerts and alarms, for instance, help to ensure that the agents resolve tickets within stipulated time limits.
2. Incorporate gamification into your workflow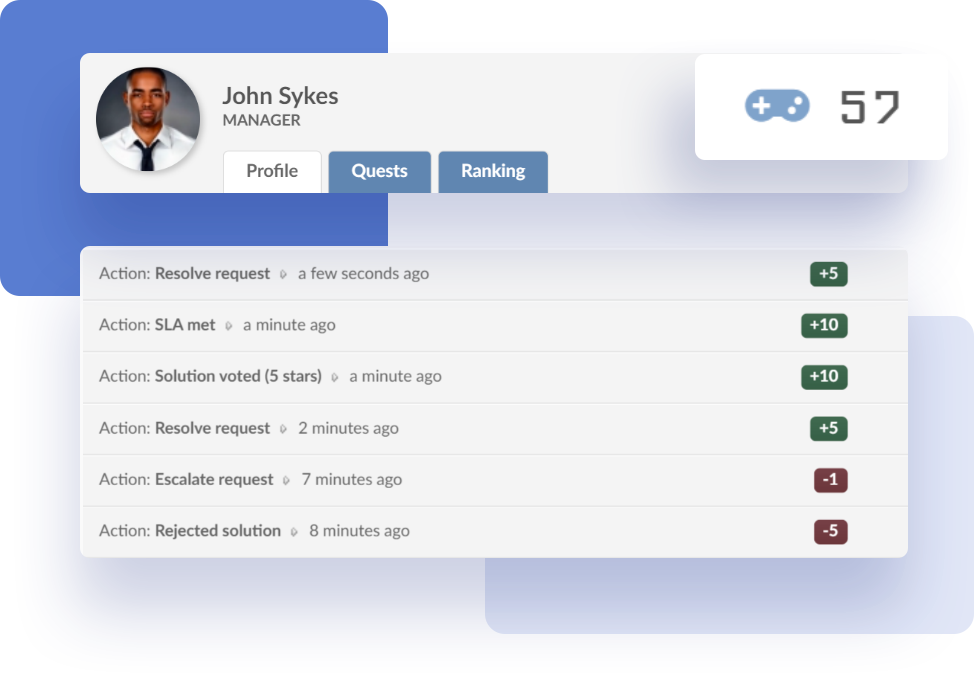 Gamification may not seem like a priority when you're initially setting up the workflow. But once you've configured a stable process flow and your team has settled into the groove, it can boost the productivity of your service desk team and improve customer experience.
In your InvGate Service Desk instance, you can set up a point system to encourage the behaviors or habits you want. Then, you can assign custom badges to the agents with the better rating.
For example, you can create an in-game currency for your team, which they can unlock for every ticket they resolve or create a leaderboard based on the number of tickets they resolve. You can also create badges on InvGate Service Desk and compensate agents that achieve certain goals.
3. Iterate and improve continuously
As we've mentioned, continuous iterations are necessary to keep your help desk ticketing process flow in an optimal state. So, make sure to include data analysis into your regular activities as a help desk manager to spot areas of improvement and, ultimately, adopt a proactive approach to IT support!
3 common pitfalls of the help desk ticketing processing
Here are some of the common pitfalls while developing a help desk ticketing process flow.
1. Setting up the process flow and never iterating it
Okay, you've probably understood it by now, but we can't emphasize enough the importance of continual improvement. This is probably the most common mistake with a ticketing process flow, mostly because it's difficult to find the time in the midst of everyday tasks.
Even if your initial setup is working accordingly and there has been no big changes in the scope of services, there will always be a gradual change in the stakeholders. And you have to keep a close eye on all of this. Your team will get better at what they're doing; your customer base may be subject to modifications, or they may become more aware of your products or services.
2. Lacking multi-channel integration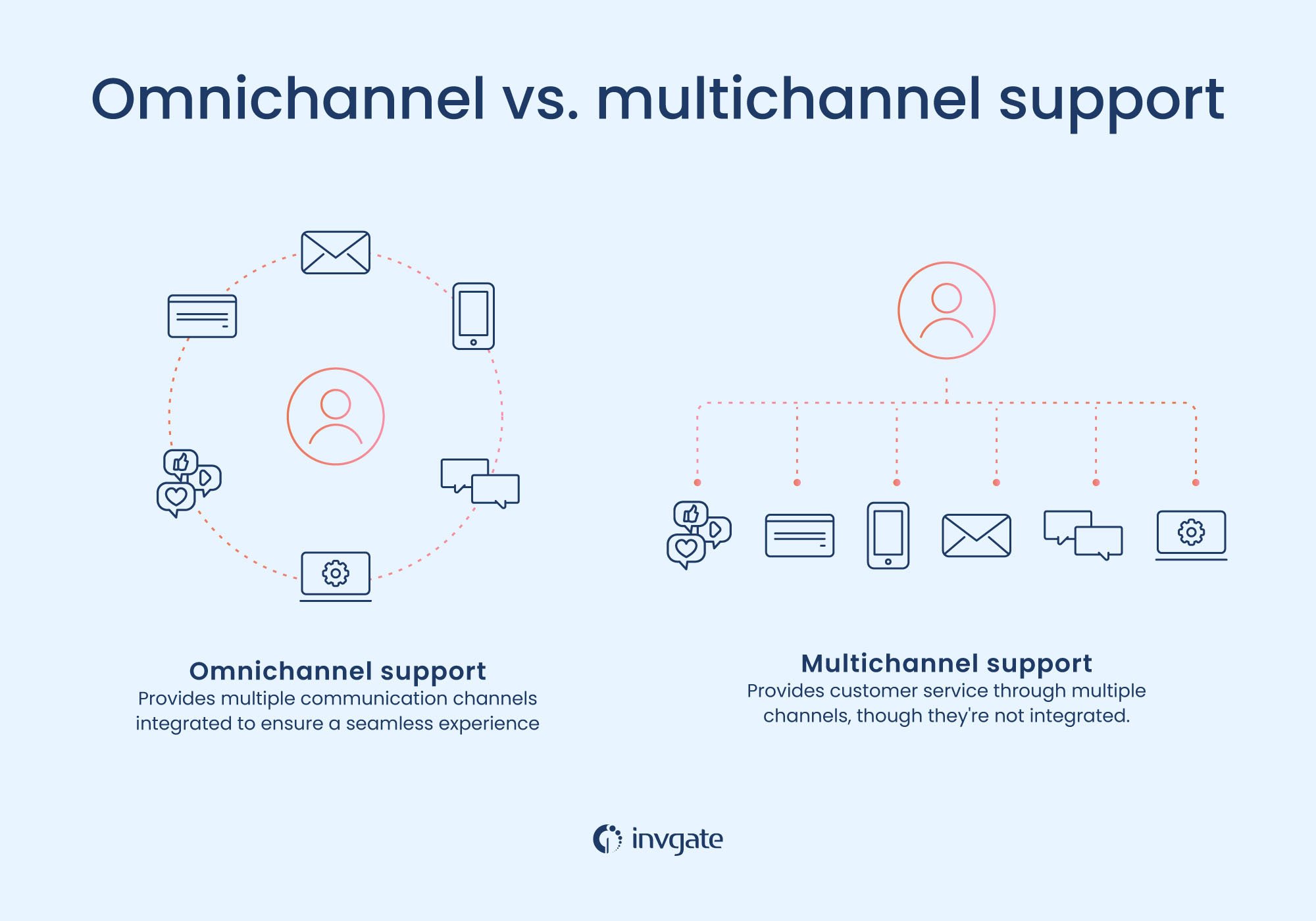 Another often issue with help desk workflows is that they fail to keep the different channels in sync with each other. It's common that a customer may contact first via email, and then follow up by calling. Instead of syncing these two communications together, separate tickets get created in both instances. Or maybe the customer contacts via chat for an issue that can't be resolved through this channel, and the agents offer to arrange a call. But during the call, the customer ends up having to explain their problem from scratch.
If your service desk offers multi-channel support, make sure your process flow keeps all channels coordinated and communicated. InvGate Service Desk's native integrations, such as Microsoft Teams, and third-party integrations, like Zappier streamline multi-channel support.
3. Not coordinating the process flow with other systems or departments
The service desk often has to collaborate with other departments in the organization to solve an issue. Again, it's all about easy and effective coordination. This could be with the product development team to plan for future product updates, or with the marketing team to keep up with the campaigns.
And it's not just departments. The help desk tool must also be integrated with other existing systems like Asset Management software, and this must be taken into account while designing the process flow.
To sum up
In conclusion, a well-defined help desk ticketing process flow ensures that customer queries and issues are resolved quickly and efficiently, preventing delays and frustrations. And this works on both ends: satisfied customers and motivated agents. A clear process flow establishes the core of an efficient help desk.
Having a structured workflow also makes it easier to measure and monitor service desk operations, defining reliable metrics and standards, and identifying bottlenecks for continuous improvement. In an ever evolving landscape, where it's sometimes difficult to keep track, this is not less important.
So, ask for InvGate Service Desk's 30-day free trial and implement your help desk ticketing process right away!
Frequently Asked Questions
What is a help desk ticketing system?
A help desk ticketing system is a software tool used by organizations to track, manage, and resolve customer support requests or issues.
How does a help desk work?
A help desk works by receiving support requests from customers or users, assigning them unique ticket numbers, and tracking and managing the tickets until the issues are resolved.
How to improve a ticketing system?
To improve a ticketing system, consider implementing automation features to streamline ticket routing and assignment, provide self-service options for users to find solutions themselves, regularly review and optimize workflows, and gather customer feedback to make necessary improvements.