If you're running an IT department, then you know how important it is to obtain customer feedback. Not only does this help ensure that you are meeting your customers' needs, but it also gives you a chance to improve your services. Without it, you are flying blind and can't make informed decisions about how to improve your product or service.
Obtaining customer feedback can be a little tricky, we know. You don't want to bombard your customers with survey requests, but you also need to get enough information to make changes and improvements.
For that reason, we have several features in InvGate Service Desk to help you gather opinions and ideas from your users without causing too much friction.
Keep reading to discover how to leverage its features in your favor, plus ideas and tips on how to obtain customer feedback!
What is customer feedback?
Customer feedback is any type of data that a customer provides about their experience with your service. This could include anything from what they liked and disliked, their experience, opinions, and preferences to suggestions for improvement. It can come in the form of surveys, interviews, focus groups, rates and comments on solved tickets, or other forms of customer research.
It's a common thought that customer feedback only applies to B2C companies. But actually, customer feedback is just as valuable for B2B companies and services within an organization – like IT Service Management. Why? Because it allows you to see what the employees need and adjust your services accordingly. And that would be our main focus to explore in this article.
Why is customer feedback important?
Its relevance lies in the power customer data gives you. By collecting user feedback, you can understand how customers are perceiving your IT department and what changes need to be implemented in the future.
In this sense, customer feedback is incredibly important as it provides insights into how users feel about your team's service, their experiences, and what they value most when engaging with them.
Having this information on your side allows you to quickly spot areas of improvement in your IT services to improve customer satisfaction.
Benefits of customer feedback
Though it might be hard at first, gathering customer feedback has many benefits, such as:
Enhancing customer experience

– It gives you a great opportunity to act on what they need, improving their experience.


Establishing priorities – This feedback can provide you with a clear path to actually get to know what the next steps in your work can be and what you should do.


Building better relationships – Customers will feel cared about and know that their opinions are taken into account.


Spotting areas of improvement – This will allow you to make changes that improve consumer satisfaction.


Measuring effectiveness – Whenever you launch new initiatives and changes, you get to know if the results meet your goals and expectations.


Knowing how your team works – Feedback on the agents' work will give accuracy to know their strengths and what they need to work on.


Minimizing employee churn – Knowing what the employees at your company need and doing something about it will increase their level of satisfaction and make them feel better in their day-to-day work.


Constant improvement – Any IT department wants to provide the best possible service. Obtaining customer feedback is the most accurate way to know how to keep improving.
The customer feedback loop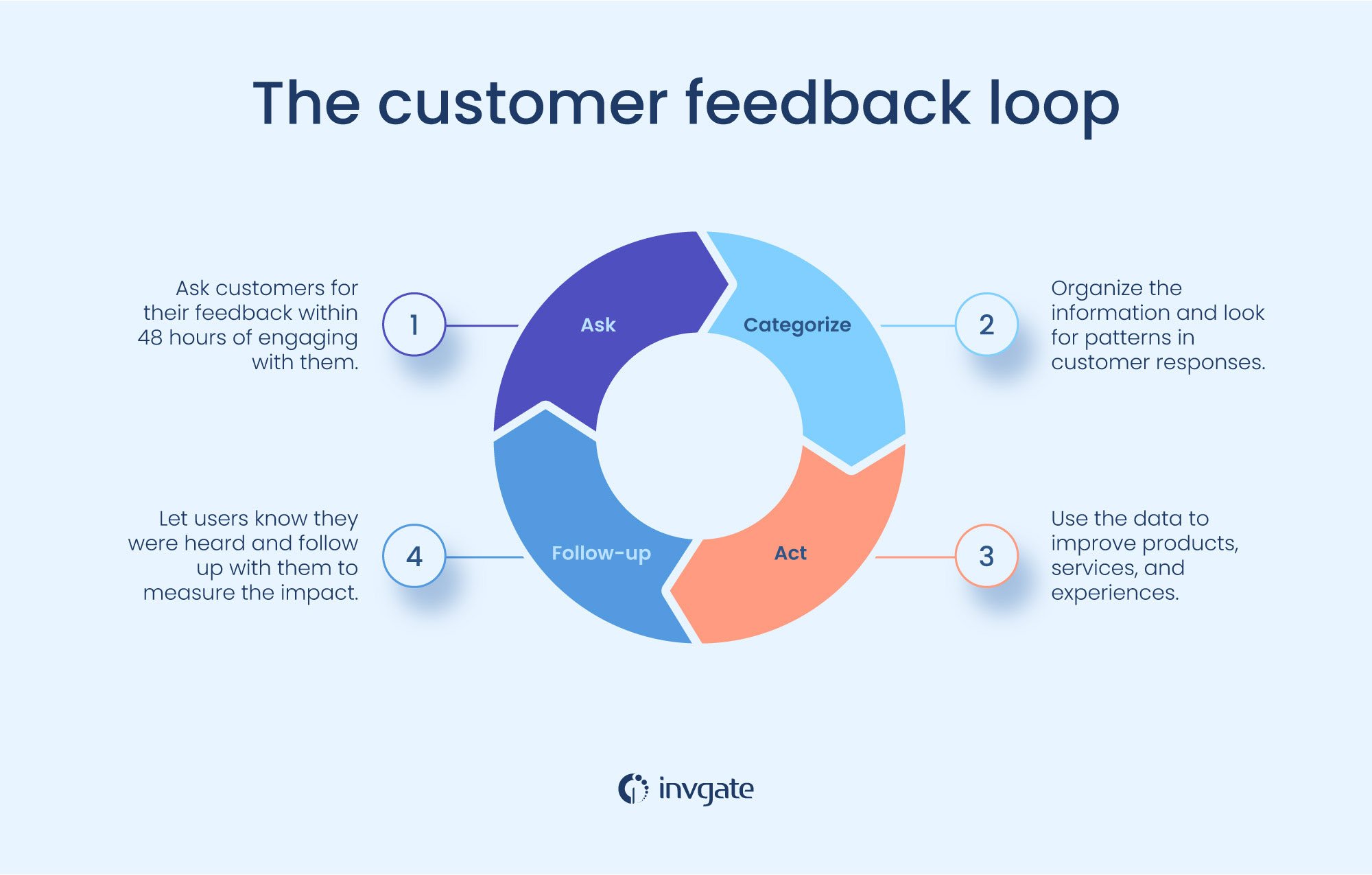 Feedback is not a static thing. You should think of it as a recurring activity to be able to continually improve upon your users' opinions and expectations.
The customer feedback loop describes the virtuous cycle your organization can implement to constantly collect, analyze, and implement feedback. In this framework, employees' comments are always affecting (in a positive way) how your IT department works and setting the tone for adjustments.
It is crucial to ensure that this cycle continues by actively engaging with customers, so they know their opinion matters and they feel comfortable with providing feedback. It is a constant cycle that contains four stages:
Ask: The first step in the customer feedback loop is to ask customers for their feedback. When a request is closed, InvGate Service Desk provides the opportunity to rate the service and leave a comment. You can also do this through surveys, polls, or interviews. This should be done as quickly as possible, preferably within 48 hours of engaging with a customer or when they have made a purchase.


Categorize: The second step is to categorize the feedback you receive by looking for patterns in customer responses. Categorizing the data will help to identify areas of improvement and what customers feel could be done better.



Act

: The third step is to act. Once you collect and analyze the users' data, it's time to make decisions about how to improve or change products, services, and experiences. It can be a great tool to apply in Change Enablement or Problem Management.


Follow-up: Finally, it is essential to inform employees that their feedback has been taken into account and that any changes have been made as a result of it. But that's not all. Make sure to follow up with them to measure the success of the changes and continue towards continual improvement. This could be in the form of an email or survey asking if their experience has improved as a result.
How can InvGate Service Desk help you apply the customer feedback loop?
Within the wide range of things that you can do with InvGate Service Desk, there are a ton of features that can help you in this process. Let's see how it can be used in every step of the customer feedback loop.
Ask

- Besides providing the chance to rate your agents and leave a comment right after a ticket is closed (the latter can be mandatory depending on the amount of stars users give to the service), you can also create a special category on the service catalog to provide your customers with a dedicated place to give their feedback. Plus, the star rating system also applies to other features, like the knowledge base articles.



Categorize

- To categorize data, you can save time by using dashboards, reports, and other metrics that the tool offers, like how many times a knowledge article was downloaded or saved. But of course, you will always need an agent to have a deeper understanding of what's going on.


Act - Workflows are really useful to automate and have a clear path of how to act. You can create custom workflows for any use case, including Change Enablement and Problem Management.


Follow-up - You can also use the dashboards and reports here, and communicate with your customers in the same requests they created.
How to obtain customer feedback? 7 customer feedback methods
Now that we know the importance of obtaining customer feedback, and the different stages of the loop, it is time to talk about how to get feedback. There are tons of different ways to do it, but you should focus your resources on a limited number.
Think about what mediums you already have, or you can get easily, who are your customers, and how they usually behave. Also, once you're in the loop, feedback is actually another great tool to decide where you'll be collecting comments from in the future. Here, we bring you some ideas to start obtaining customer feedback:
Service catalog – Create a category on the service catalog and provide a space for feedback. You can even build a help desk with agents dedicated to analyzing this type of data. The pro is that you'll have all the comments in one place, and you can use all of InvGate Service Desk's tools to manage it. This means relating it to a major incident, creating a workflow, or use it for Change Management or Problem Management.




Surveys – This is one of the most popular methods for obtaining customer feedback, as it allows customers to answer questions in a structured way and provide more detailed answers. The con is that users probably receive surveys all the time, so they might be reluctant to fill them in.


Focus groups – A focus group involves a small number of representative customers discussing their experiences with a particular service. This method can be useful for gaining an in-depth understanding of customer attitudes.


Through closed requests – When you close a request, InvGate Service Desk lets the user rate the service and give feedback. This way, you can easily identify where the issue is and follow what happened to it, no matter if it is good, bad, or whatever kind of feedback. Read all the comments you got to get a clear view.




Interviews – A one-on-one interview allows customers to provide more personalized feedback and can be useful for gaining a deeper insight into the customer experience. You will have to dedicate much more time to do it, but it can be with it in some specific cases. For instance, Megan Engels, IT Support Manager at Peoples Bank, says she still calls people to have a better understanding of what's going on, and have better tools to solve the issue.


Gamification – This method involves using games or quizzes to engage customers and gain feedback on their experiences. This is a great way to motivate your customers to do it.


Analytics – Analyze your previous tickets to find patterns of what your customers need, like, or dislike – you can use Brian Skramstad's tips to look for common behaviors! By using InvGate Service Desk's reporting tool, you can save time and have documentation that will help you in this process.
How to analyze the feedback?
Once you have obtained the customer feedback, it is time to analyze it and find out what your customers are saying. Analyzing customer feedback can be a complex process, depending on the amount of data you collected.
In order to get the most from your feedback loop, here are some tips and best practices you can apply to your process:
Collate feedback – Collating all the data will allow you to better understand the overall sentiment of a particular product or service and compare it to others. This must be your starting point at this stage.


Look for patterns – Categorizing feedback and looking for patterns in customer responses can help identify areas of improvement. This is essential for Change Management.


Identify trends – Reviewing trends over time can be helpful in understanding how customer expectations and experiences have changed. It can give you some advantages of what to do or what to expect in the future.


Set clear goals – Establishing goals for customer feedback analysis will ensure that the results are actionable and can be used to improve services and experiences.


Cross information – Some feedback might be related to the company's assets or infrastructure, so make sure to use other tools like InvGate Insight to have a complete picture of what's going on.


Track improvements – Analyzing changes over time will measure the success of any improvements or changes made in response to customer feedback.
By following these tips, you can gain valuable insights from customer feedback and use them to improve your products, services, and overall customer experience.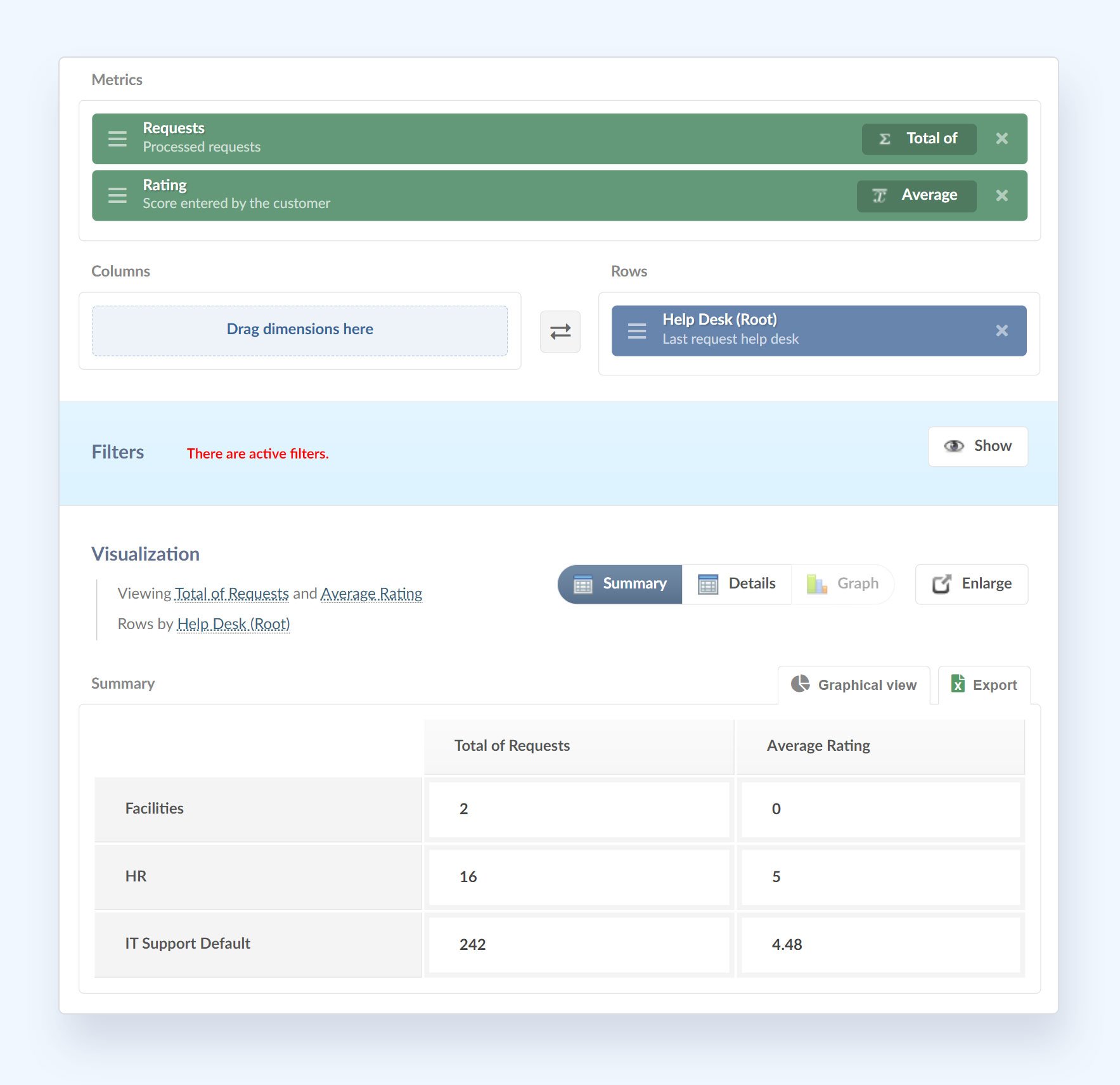 Report on average request rating in InvGate Service Desk.
Acting on customer feedback
The next step of the customer feedback loop is acting on it. This means making changes or taking action in light of users' input. Depending on the type of comments you received and the goals that you had set, this can mean different things for your service. It could involve changing processes, setting new rules, growing your team, etc.
The most important thing to remember when acting on customer feedback is that you should always be considering the customer's point of view. This means taking into account their wants and needs, as well as any issues or problems they are facing. This can help ensure that whatever changes you make will have a positive effect on the customer experience.
There are many things that you can do. It will depend on what you get from your analysis. You might need to create new categories on your service catalog, a new help desk, or even restructure the whole system.
Getting more agents to work for your team, specialized in the areas of conflict, might be helpful in many levels of this loop. For instance, you can ensure that all assets and resources are well administrated with an ITAM tool like InvGate Insight and forget about negative comments on equipment, licenses, and more. Whatever you decide to do, always make sure that you are following all the steps in the loop and don't rush on your decisions.
Finally, it is important to make sure that you measure the impact of any changes or actions taken in response to customer feedback. This will help you understand the effectiveness of your efforts and whether they have a positive effect on the customer experience. Tracking these changes over time can also give you valuable insights into how your customers are responding and what else you can do to improve their experience.
Key takeaways
Customer feedback is essential for understanding customer needs and preferences. It should be an integral part of any IT department, as it can help to improve IT Service Management and ensure that customers are satisfied with the experience they receive.
To make the most out of it, you can establish a feedback loop consisting of collecting, analyzing, acting on, and measuring the impact of customer feedback.
By following these steps, you can ensure that users' comments and ideas are taken into account and used to create a better customer experience. This will help you do a good job and maintain employees satisfied with your team's service. Overall, customer feedback is a crucial part of any IT department and should be given the necessary attention and resources.
InvGate Service Desk has a number of features that can help you in this loop. Ask for a free trial and give them a go!
Frequently Asked Questions
How to ask for customer feedback?
Asking for customer feedback can be done in a variety of ways, including online surveys, focus groups, and interviews. However, the best way to get meaningful and useful feedback is by creating a request dedicated to that on the service catalog. This will allow customers to have a specific place to give feedback, ask for improvements, and more. Additionally, you can create incentives to encourage customers to provide feedback.
How to respond to negative feedback from a customer?
When responding to negative feedback, it is important to remain professional and courteous. First, you should thank the customer for their feedback and apologize for any issues that they experienced. Then, you should try to understand what exactly went wrong from the customer's perspective.
You can make use of InvGate Service Desk's canned responses to reply quickly and politely or take advantage of ChatGPT by feeding it with a prompt that fits the issue.
Regardless of the method, always try to provide a solution or offer a way to make up for the issue. By responding promptly and in a professional manner, you can show your customers that you care about their opinions and experiences.
How customer feedback helps an organization?
Customer feedback helps an organization to better understand its customers and their needs. It can provide insight into what they are looking for in terms of service, as well as what could be done to improve the customer experience. By gathering this information, you can make changes that are tailored to the wants and needs of your customers, and ensure that your team is delivering the best experience. In turn, you'll increase satisfaction levels and reduce churn rates.