Effective Ticket Queue Management prevents tickets from piling up on your service desk and ensures that customer issues are addressed promptly. On the other side of the road, an overloaded ticket queue can lead to delayed responses, frustrated customers, and a drop in overall customer satisfaction.
If you haven't defined a clear ticketing process flow, or your customer base suddenly starts growing, you might find that your queue gets messier and more difficult to manage. It's important to address these situations before they get out of hand.
In this article, we will explore the essential elements of a Ticket Queue Management process and see how you can apply them with InvGate Service Desk.
Stay tuned to learn all about it!
The Ticket Queue Management process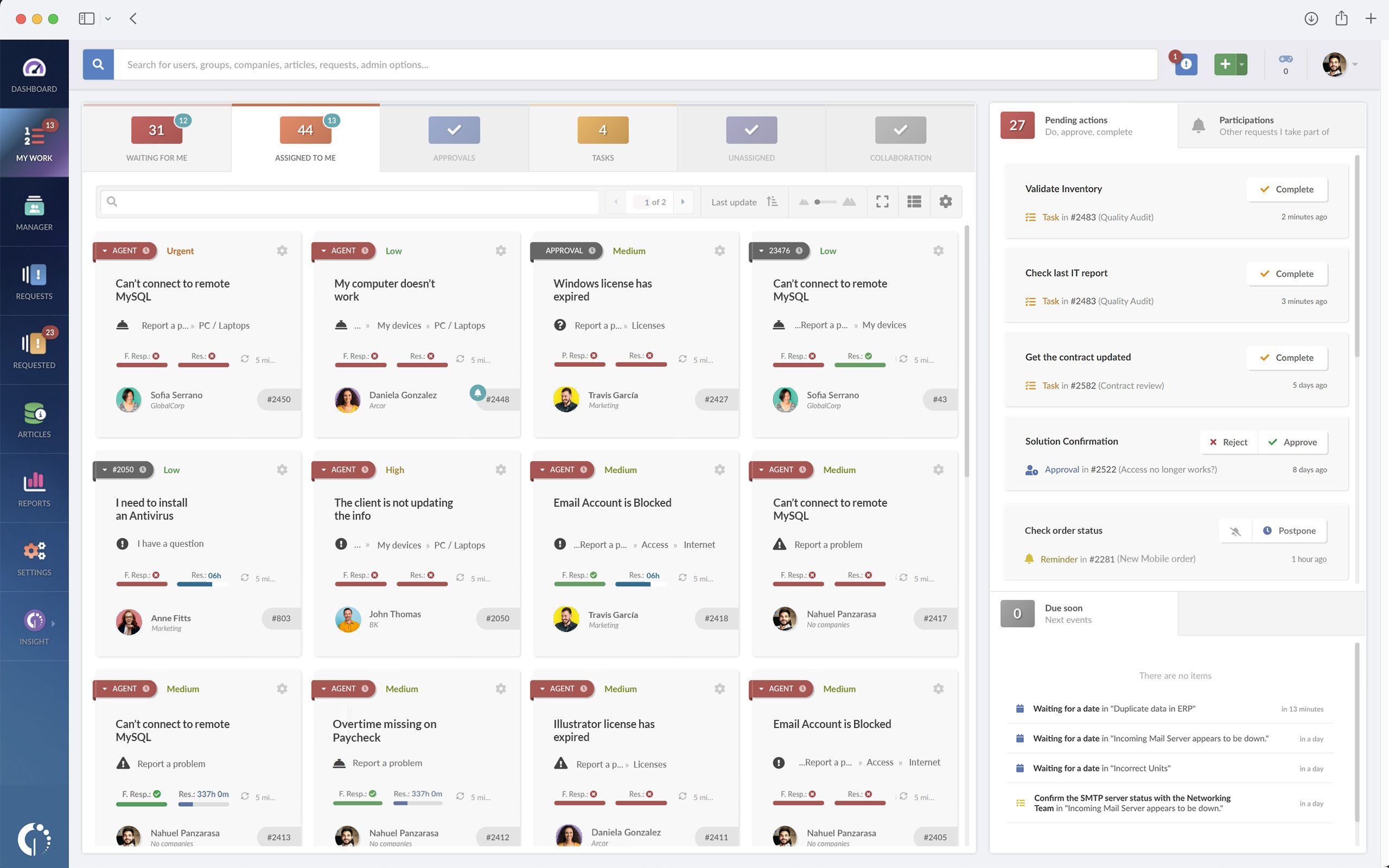 Ticket Queue Management is a process used to organize, prioritize, and efficiently handle incoming tasks, inquiries, or support requests in a systematic manner. It aims to help organizations streamline their workflow, improve customer service, and maintain accountability for addressing issues and requests.
Overall, implementing a standardized way of handling tickets is at the foundation of a solid IT Service Management (ITSM) strategy. The reason is very simple: not having to worry about the process lets you focus on the level of service you're providing.
However, in order to establish a process, you need at least these two essential elements:
Ticketing system - The first and most basic element is a tool. A ticketing system centralizes all customer requests and inquiries, ensuring that nothing falls through the cracks. It allows your support team to track, prioritize, and address tickets systematically, enabling a more organized and efficient workflow.



Ticket process flow

- But software doesn't do things by itself (unfortunately). You have to design a ticket process flow for consistency and clarity in handling various types of requests. This will be the Standard Operating Procedure (SOP) that guides your support team, outlining the steps to be taken for different types of tickets. It must include details on the initial ticket assessment, categorization, prioritization, as well as the guidelines for

routing

and

escalation

. This ensures that each ticket is handled uniformly, regardless of the agent working on it.
13 tips to improve your support ticket queue
To support efficient Ticket Queue Management, you should focus your efforts on implementing a proactive approach to IT support. This means both reducing the amount of tickets submitted and creating well ordered processes to manage and solve them.
Here, we bring you our best tips and tricks to do it, along with quick tutorials on how to apply them with InvGate Service Desk.
1. Build a knowledge base for end-users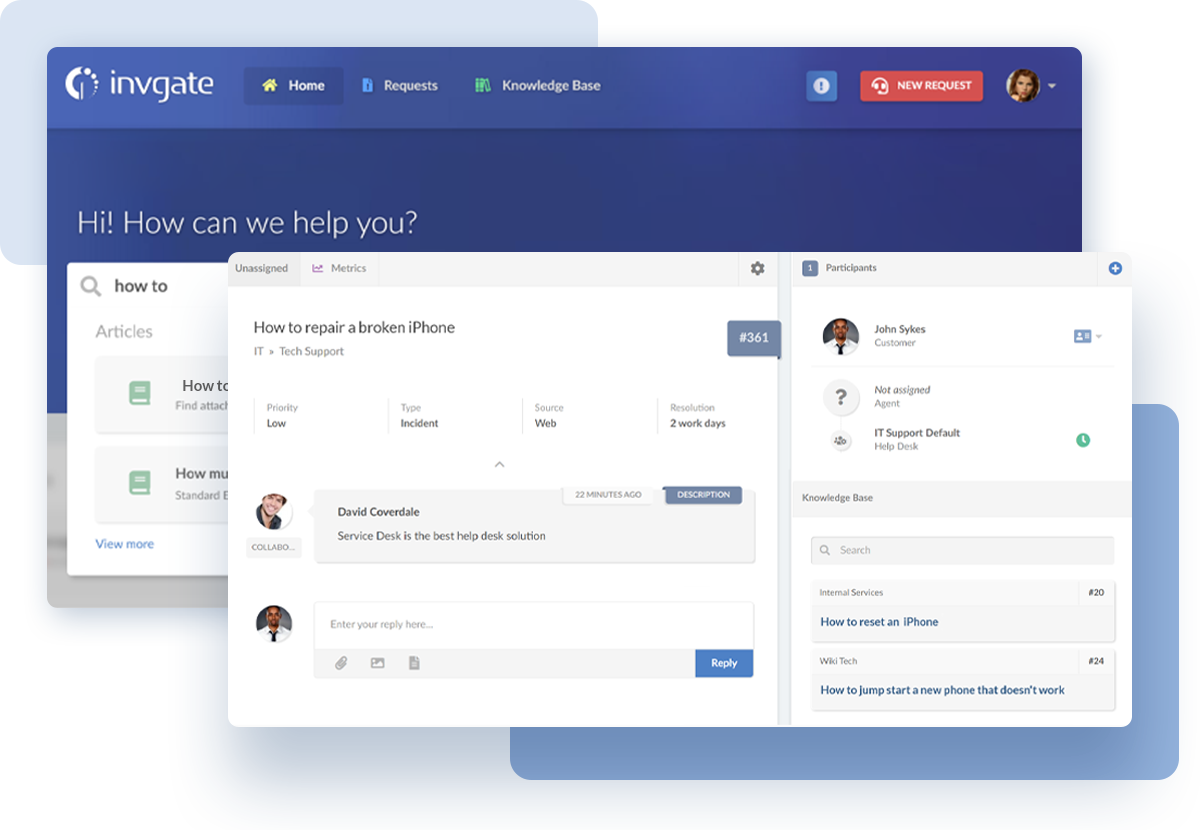 Let's start with ideas to reduce tickets. The golden standard here is providing a knowledge base so that end-users can find the answer to most common questions before submitting a ticket.
With a knowledge base, customers can solve simple and recurring issues on their own, without needing a service desk agent by their side to guide them.
When building it, you can follow these best practices, and leverage InvGate Service Desk's following features:
Link the most common requests on the main page.
Use custom icons in each request category.
Link knowledge articles to the requests.
Personalize the welcome and the search message.
2 Provide a self-service portal
If users don't find the answer to their questions in the knowledge base, you need to give them an easy way to submit tickets. Enters the self-service portal.
With it, you can provide them with enough autonomy to create and follow their requests easily. Plus, it'll be a great way to search the knowledge base!
When building it, remember that experience is the key to adoption (here are some service portal design ideas that might help you!). If it's not comfortable to access and navigate, end-users might end up contacting the IT team through informal communication channels, harming your Ticket Management efforts.
To avoid all of that, InvGate Service Desk offers an intuitive and customizable UI where you can easily build the self-service portal and link the appropriate categories. Thanks to this feature, Peoples Bank saw a 75% increase in portal incident reporting (as opposed to email) in six months, signaling a healthy user adoption.
3. Establish a well-planned ticket catalog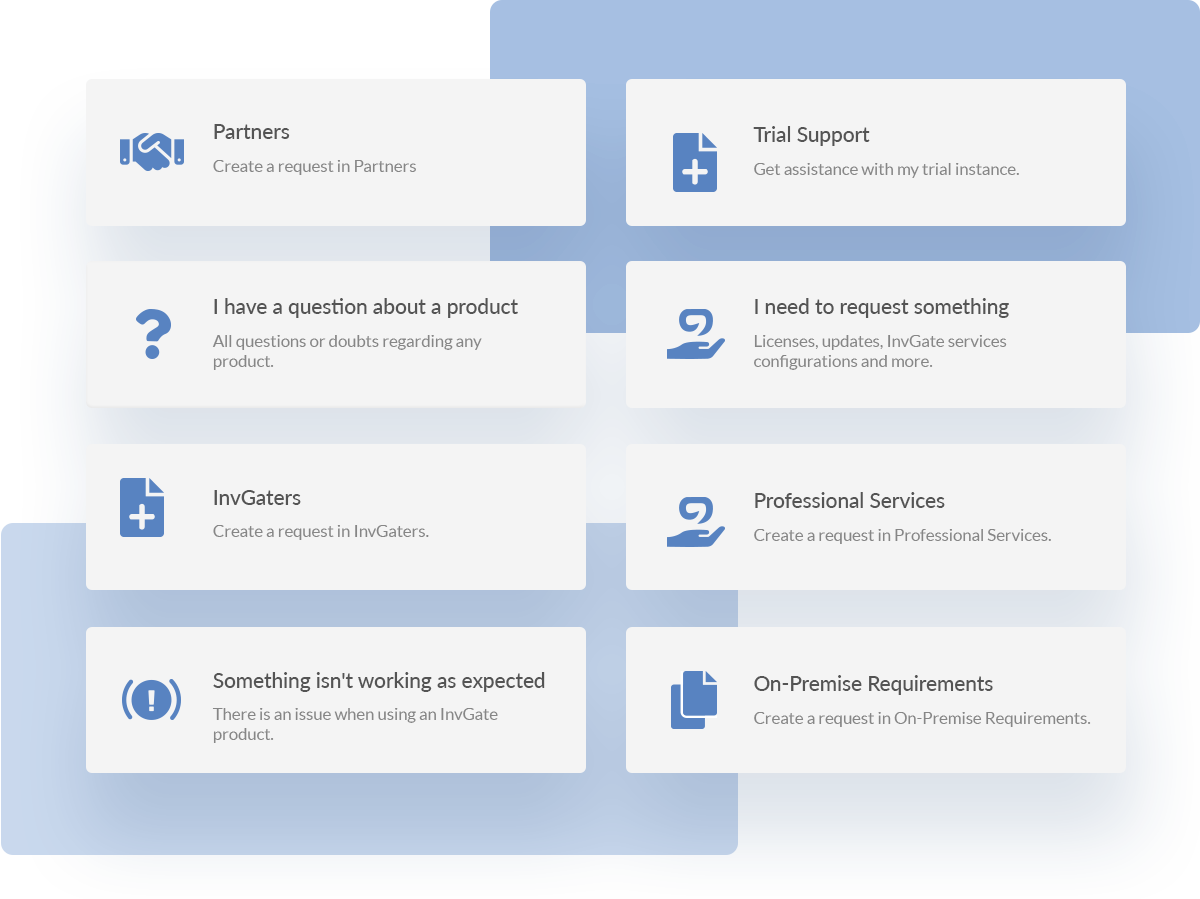 Customers won't use the self-service portal if they can't find the request categories they need. And the result will be the same as in the previous tip: they will submit their queries through email or other informal communication, slowing down the process.
So, create a thoughtful set of ticket categories and catalog items to enable skill-based routing. In addition, build each request category with custom fields that can help you route the ticket properly once it is submitted.
Pro tip: Create the categories from the customer's point of view, so they can easily find what they're looking for.
Take Harmony Public Schools as an example. They implemented InvGate Service Desk to get the most out of the ticket catalog feature and manage all their requests from one single tool. And it was a success: they went from having 55 service categories to 174, which increased in 300% the fulfilled service requests.
4. Set behavioral incentives for ticket handling
Another way to encourage the use of the self-service portal is by benefiting those who choose this option. As we said, centralizing your requests there will thoroughly improve your Ticket Queue Management.
For instance, you could give email requests a lower urgency, whereas tickets submitted through the self-service portal get a medium or high priority level. When customers see that self-service tickets receive faster responses, they are more likely to embrace this option.
On InvGate Service Desk, you can customize the urgency of the ticket depending on where it comes from, which makes it a superb tool to encourage desired behaviors from end-users!
5. Implement canned responses
Now, you did everything in your power to decrease your ticket queue. But there will still be a chunk of issues that have arrived at the service desk and that need to be handled as efficiently as possible. So, let's focus on what you can do to optimize its management.
First of all, you can enable InvGate Service Desk's canned responses so that your agents can quickly send predefined replies for frequently asked questions or processes.
This small but powerful feature is a brilliant way to save time in the ticket resolution process and set protocol responses. Thus, it's also really helpful for agents in training.
Feel free to customize it to your needs; for instance, you could use either plain text format or HTML, include images, or even links with information relevant enough to share with users – like knowledge articles!
6. Enable AI features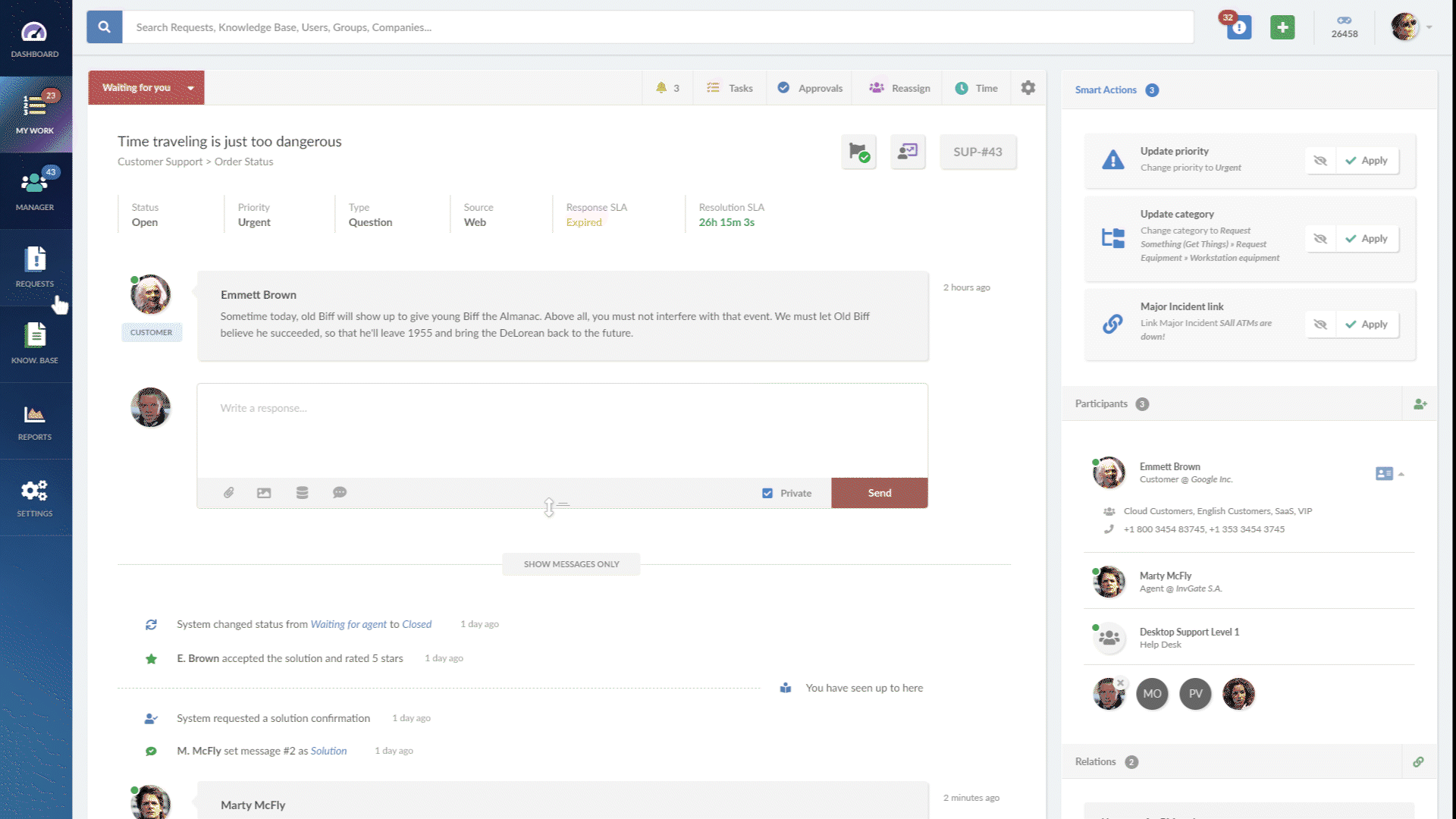 Going one step forward into the tools that can guide agents and save time, we have Artificial Intelligence (AI). Using AI in ITSM is on the rise since it not only reduces manual tasks but also cuts some steps in the ticket resolution process.
We currently have two main AI features on InvGate Service Desk:
Support Assist

provides suggested actions to agents based on the history of your instance. Whenever they are solving a ticket, the feature suggests one or more of these alternatives, if necessary: Update Priority, Update Category, and Relate Major Incident.


The

AI-powered response suggestions

, on the other hand, focuses on improving your agents' replies to tickets. The feature makes improvement suggestions of any given response, and even creates a new one if the agents need to.
7. Leverage automation
Along the same line, automation allows your team to speed up processes and standardize operations.
InvGate Service Desk's Low-Code/No-Code workflows module is ideal for complex request categories that involve multiple help desks and actions. Plus, you can also set the classic "if this, then that" automation (such as sending an email to the customer when an agent closes a ticket).
If you think implementing this is too much work, look at Arcos Dorados' case: they had a 20% decrease in the number of requests thanks to automation! So what are you waiting for? Start tracking the processes that require automation, and start building the workflows – if you need a hand, try starting with onboarding and offboarding.
8. Create an internal knowledge base
We mentioned the importance of knowledge bases for end-users at the beginning. On the other side of the counter, once the ticket has been submitted, internal articles can also be a really useful tool for agents and support them to solve issues more efficiently.
InvGate Service Desk has an internal knowledge base module, where agents can build articles, set their format, and attach documents, links, and media. As it might include sensitive information, you can assign visibility permissions to a specific group.
And to make sure agents don't miss anything, you can also assign them to specific request categories.
9. Create VIP end-users and priority tickets
This one doesn't have to do so much with reducing the queue, but rather managing it smartly. Some requests might need more urgency than others, just because of the person submitting them.
To address this particular situation – and avoid sending the CEO's request to the queue – you can identify VIP customers or high-priority end-users on InvGate Service Desk (and even automate notifications when they create a new request). By doing so, their tickets will automatically be given a higher priority and the routing will be customized.
This way, critical issues receive immediate attention, and your most important customers feel valued and well-cared for.
10. Manage the approval process
Another pro tip to manage your ticket queue is to handle approvals correctly. More often than not, agents find themselves waiting for an approval to be able to proceed with something (be it a computer or license assignment, or a paid time off). But sometimes, the person in charge of approving the request might not be around to solve it.
To avoid the delay, you can take advantage of these two features on InvGate Service Desk's:
First, you can configure the option to send email notifications to the approvers so that they can solve it with just one click (this can be applied to categories such as paid time off (PTO), new equipment requests, among others).
And second, you can

choose an Approval Manager

, so that they can take over when needed (which is particularly useful when the approver is absent or unavailable).
Before moving forward, keep in mind that this user category doesn't require an extra license in InvGate Service Desk.
11. Customize your Request Views
In the midst of managing the queue, agents need to have a clear view of their work and what they need to prioritize for the help desk to work efficiently. And this can be particularly difficult after you reach a certain ticket volume.
We realized that was an issue for our clients, and thus updated our Request Views so that each agent and admin can set, save, and share custom request views.
With this improvement, they are able to access real-time information on what's most relevant to them, increasing visibility and improving collaboration.
12. Implement a gamification strategy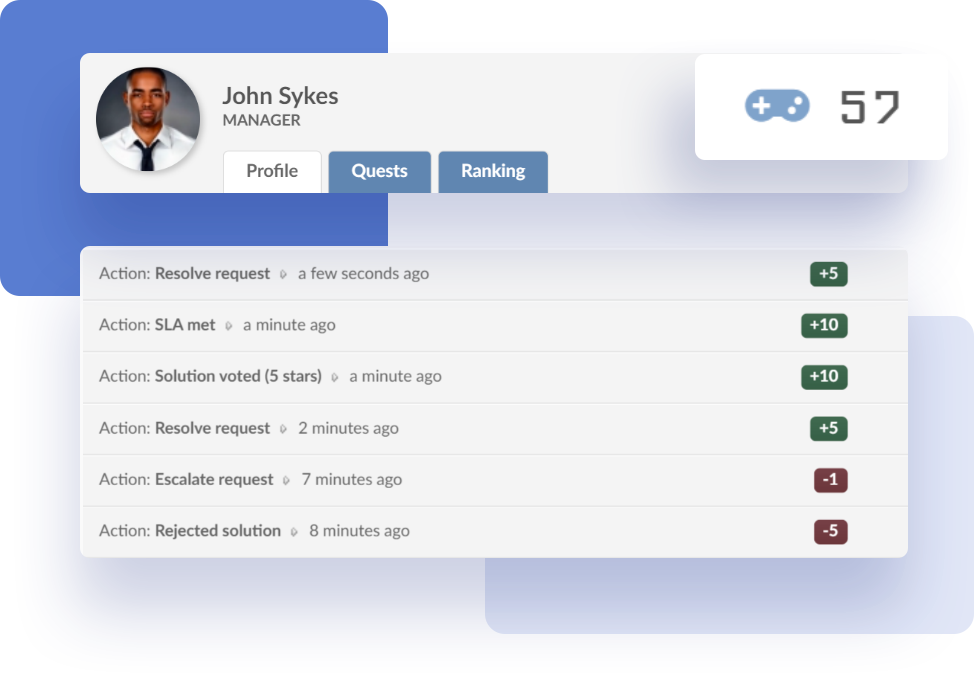 A great way to improve agent's efficiency is gamification. This can help them learn or adapt new processes, as well to encourage and enforce some desired behaviors for your IT team.
To do so, you can leverage InvGate Service Desk's gamification module to build a point system to reward (or penalize) behaviors. If you want to take it one step further, you can also give agents customized badges once they reach a certain number of points, and set a time frame for each quest so that agents can be rewarded for their performance within a period of time.
13. Continuously analyze metrics and reports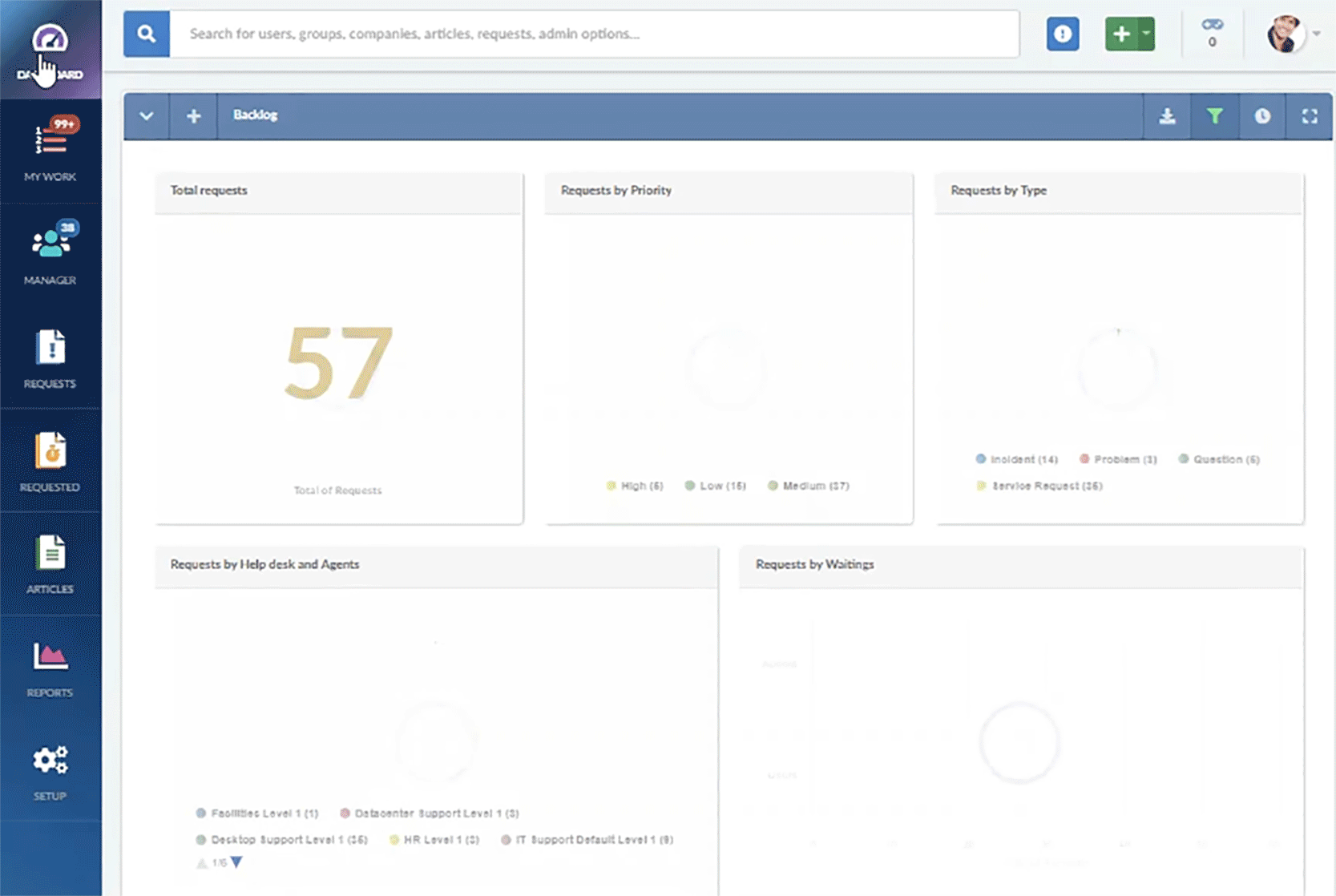 As your organization evolves, so should your Service Management. But all decisions for changes and improvements should be based on accurate data. So, it's essential to have trustworthy metrics – and be able to visualize them comfortably.
Of course, InvGate Service Desk also does this for you:
Dashboards

give you a glimpse of the state of your requests and current metrics.
Reports

can help you slice and dice data over a period of time, helping you make a deeper analysis and connect different points of how things performed at your service desk.
In addition, if you need to analyze great data volume, you can integrate InvGate Service Desk with Power BI or other data visualization tools!

"IT Support can now prioritize and track incidents, as well as show the work undertaken through reporting and analytics capabilities. These make it easy to understand ticket counts by type for any given period along with their respective resolution times. There are also way fewer IT-issue surprises and emergencies."

Christopher Hoth
Information Systems Manager and InvGate Service Desk user
Chesapeake Bay Academy
Key takeaways
Efficient Ticket Queue Management is the cornerstone of successful ITSM. The key is to avoid unnecessary tickets from being submitted to the system and to build a strong Ticket Management strategy to handle the queue.
A crowded ticked load means stressed agents and unhappy customers. Following these tips and strategies will help you transform your Service Management into a well-oiled machine, preventing backlogs, ensuring timely resolutions and a well-organized workplace.
If you want to apply these practices to your ITSM strategy with InvGate Service Desk, ask for a 30-day free trial and give it a go!