Automatic ticket assignment is one of the simplest yet crucial features of a help desk software. It allows the workflow to keep moving, and at the same time assures an equal distribution of work - turning this into a great way to contribute to your agents' mental health!
As for service desk managers, the only steps to implement this are to consider the needs of the service desk, and the capabilities of the software.
A quick glance will let you know what the help desk software can deliver, and understand which assignment rule fits your process best.
And that's why we're here! In this quick guide, you'll see:
The positive impact of the automatic ticket assignment
The three assignment rules
Visual examples to illustrate them
Before we start digging in, remember you can try InvGate Service Desk for 30 days, or if you want to explore how both agent and admin view looks and feel, there is a live demo you can access from InvGate Service Desk home page.
Automatic ticket assignment: a step towards efficiency
Assigning tickets manually is very time-consuming. It requires the service desk manager to always be attentive to incoming tickets, making it hard to fully concentrate on other, more valuable tasks.
This not only lacks efficiency but can also negatively affect the quality of customer support. A manual assignment of tickets can prevent resolving incidents and fulfilling requests on time.
But, as with every repetitive task, it can be automated! Especially in a fast-paced environment, auto-assigning tickets is a lifesaver. By applying a simple rule, new tickets are automatically assigned to an available agent as soon as they're created.
Ticket Assignment Process: Three rules to auto-assign tickets
There are three basic ticket assignment rules. Their main difference is in the logic for how to divide the workload.
Round robin ticket assignment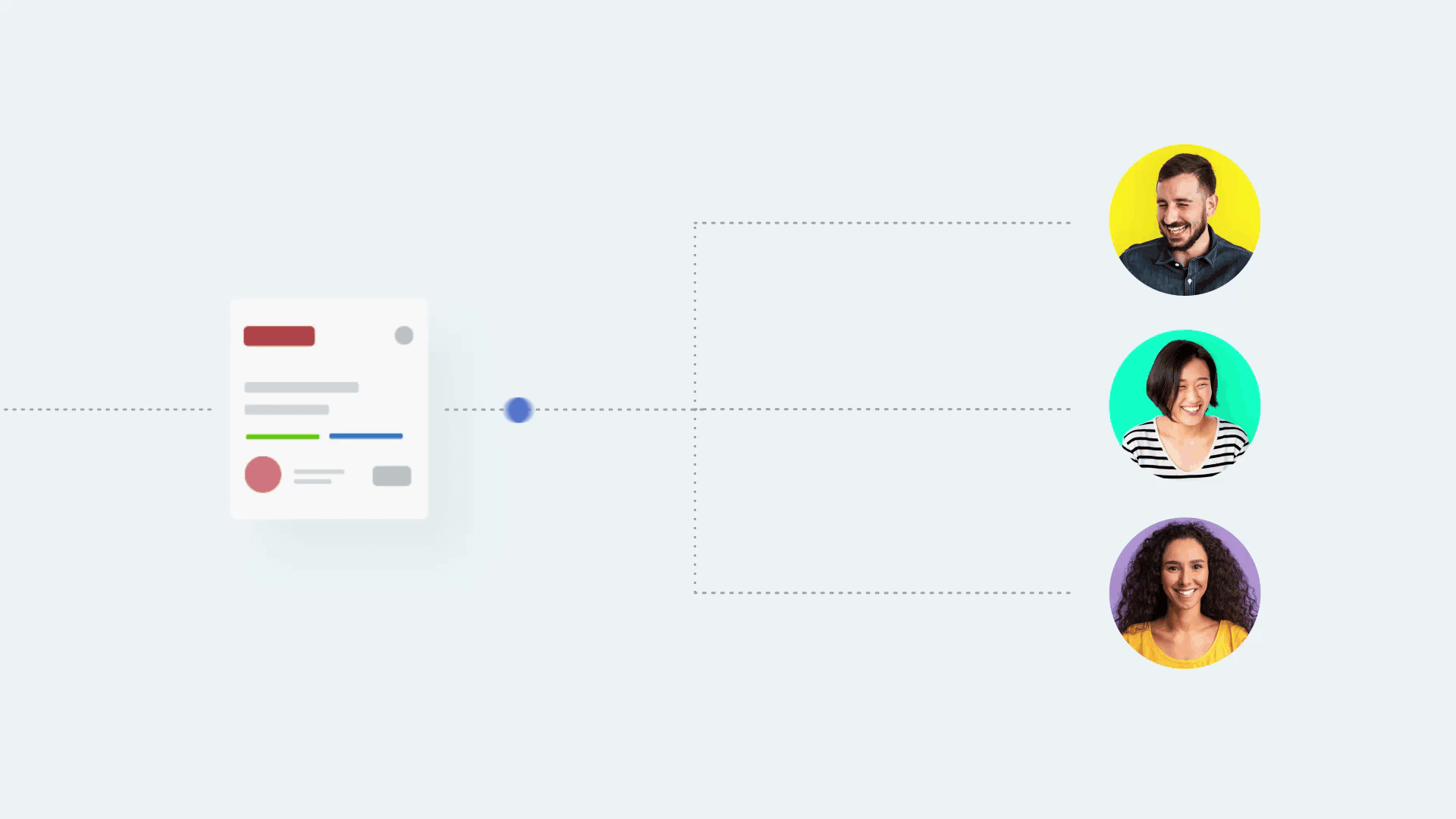 Round robin is a type of ticket assignment automation where new tickets are automatically appointed to the next available agent in a sequence.
If you choose this type of assignment rule, incoming tickets will be sequentially assigned. This ensures that all agents get an equal number of tickets over time.
Round robin comes in handy in situations like:
Your service desk has a high amount of incoming tickets – Round robin will assign them automatically, avoiding bottlenecks and improving response times.
You have a high number of agents – This method contributes to fairness since it distributes tickets equally.
Team members have a day off – Customer support can work steadily regardless of absences.
This assignment method avoids cherry-picking where agents might only pick tickets out of the queue that are easy, quick or already resolved. Not that those tickets don't need to be addressed, but it's a basic human tendency to take the easiest work first.
This is also a great assignment method when training and cross-training teams. Since no ticket, agent, or manager information or preference is taken into consideration this can be used to make sure agents get a variety of topics and requests.
Workload ticket assignment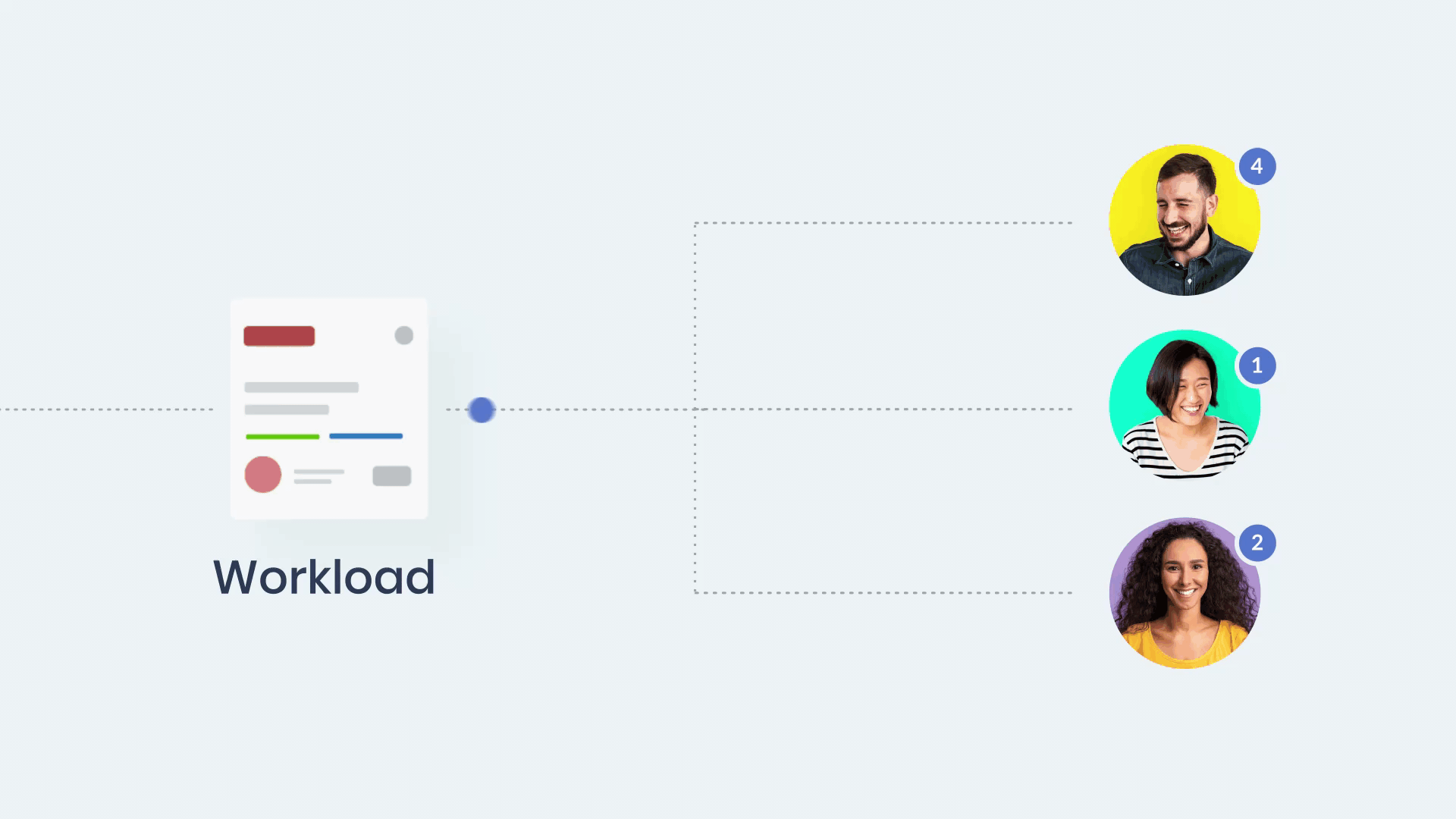 The second rule of automatic ticket assignment is based on the agents' current workload. In this case, new tickets are distributed based on the number of tickets already assigned to their colleagues. The person with the least number of open tickets will get the next one.
This assignment rule capitalizes on the performance of your service desk. Assigning tickets to the agent with the lowest number of open tickets makes the response time a priority. Also, it helps to distribute the workload evenly among all agents.
Workload assignment can be particularly useful when ticket effort varies greatly - so that if ticket effort is approaching days or weeks, agents with those long running tasks can focus on resolving them while not getting distracted or stressed out about new work.
Free ticket assignment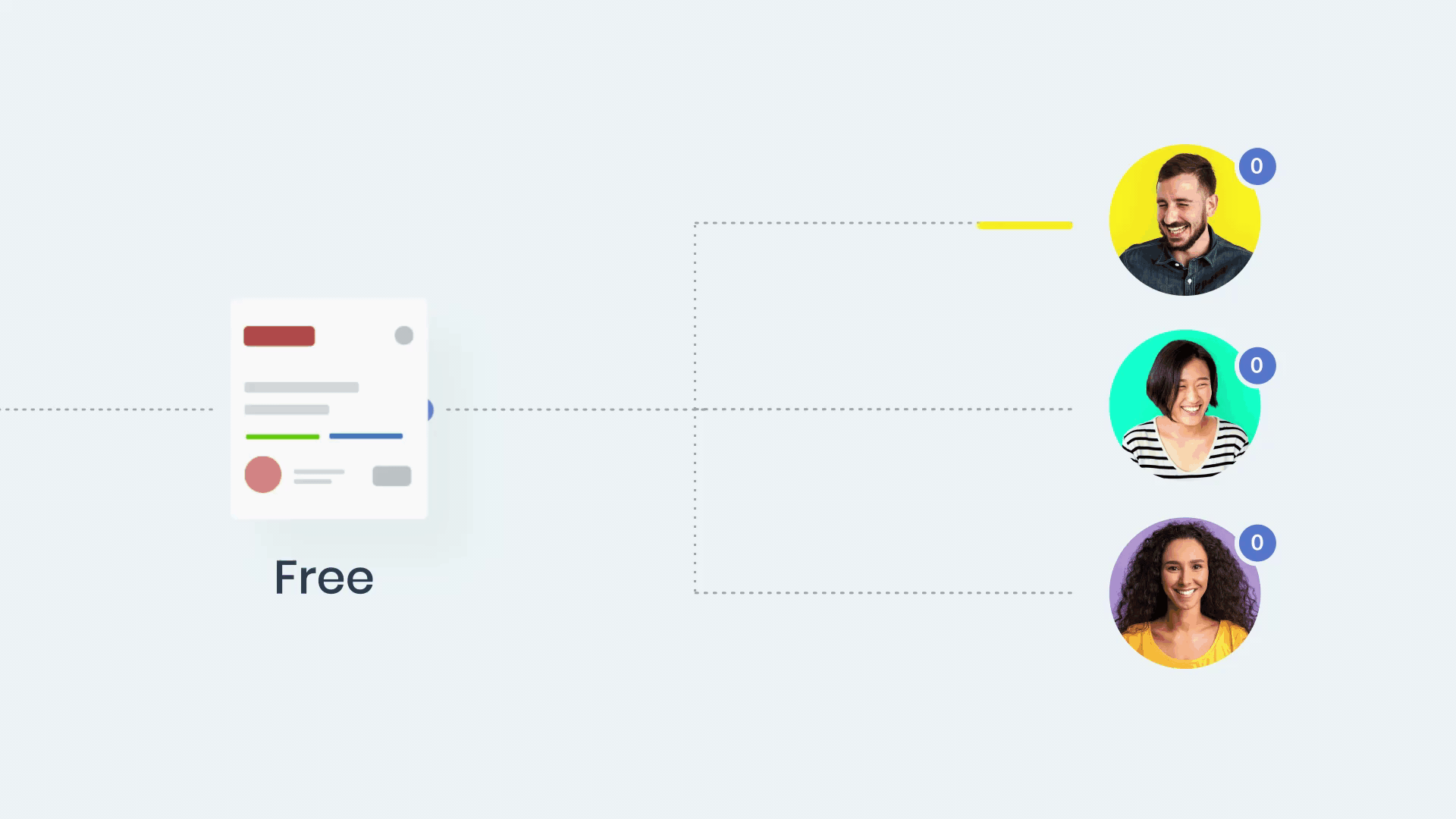 The last assignment rule inverts the roles. It's not the software that automatically divides work based on workload anymore. Here, agents pick up the tickets out of a queue. So, this flexibility allows them to choose which tickets they want to work on.
Although it might sound like it leaves room for agents to be picky, a free ticket assignment can make sense in scenarios such as:
A limited number of agents – If you had only a couple of agents divided into different working hours to provide 24/7 support, it would make sense for them to take the tickets according to their workload and response capability.
Collaborative teams – They will benefit from this assignment method particularly if they are in contact with each other often.
Mature teams – Escalation levels or teams with long tenure will benefit from this method in that the work can be assigned based upon many factors. It could be personnel availability, specialization or access levels and authorization to complete the work.
This can turn out to be a useful assignment rule to encourage your team's productivity. If this is your goal, make sure to oversee their work and apply some gamification methods to spice things up!
This can also be a good assignment style when staff is being trained, but early in their training. Perhaps they know the basics of managing tickets, but only a small set of topics they can effectively and confidently address.
It is recommended, however, that teams following this method for training assess assignment rules regularly.
Leadership considerations for assignment rules
No matter which assignment rules you are using with your teams, it's important to assess and understand the impact this has on your teams.
Assignment rules impact your agents' ability to balance work with their personal lives, and they also affect their ability to perform their best work. Adjusting assignment rules impacts agent satisfaction, as well as team dynamics and a feeling of fairness in service and support teams.
Assignment rules with InvGate Service Desk
We mentioned earlier that it's essential to have help desk software that allows you to choose the best rule that fits your team. There are other options as well, from workflow setting either the team, or the individual assignment based on the ticket type, keywords, users, or any detail in the ticket itself.
Another great option is to use our automations feature which will assess ticket values throughout their lifecycle and assign the team or agent directly. This can also be used to add team leads and managers to tickets based on priority, user's groups or any other data point.
InvGate Service Desk makes changing these settings very simple. The platform is completely flexible so that administrators can adjust this quickly in "Settings." You'll be able to choose from Round robin, Free, Manager's Decision and Workload.
After you get these set up, you'll have your assignment automation up and running in no time! And the best part is that you can test it and adjust it for each team depending on their needs.
We have seen some pretty complex needs in our client implementations, so no matter how complex your assignment logic is, our solutions will be able to provide the right features for you to achieve success.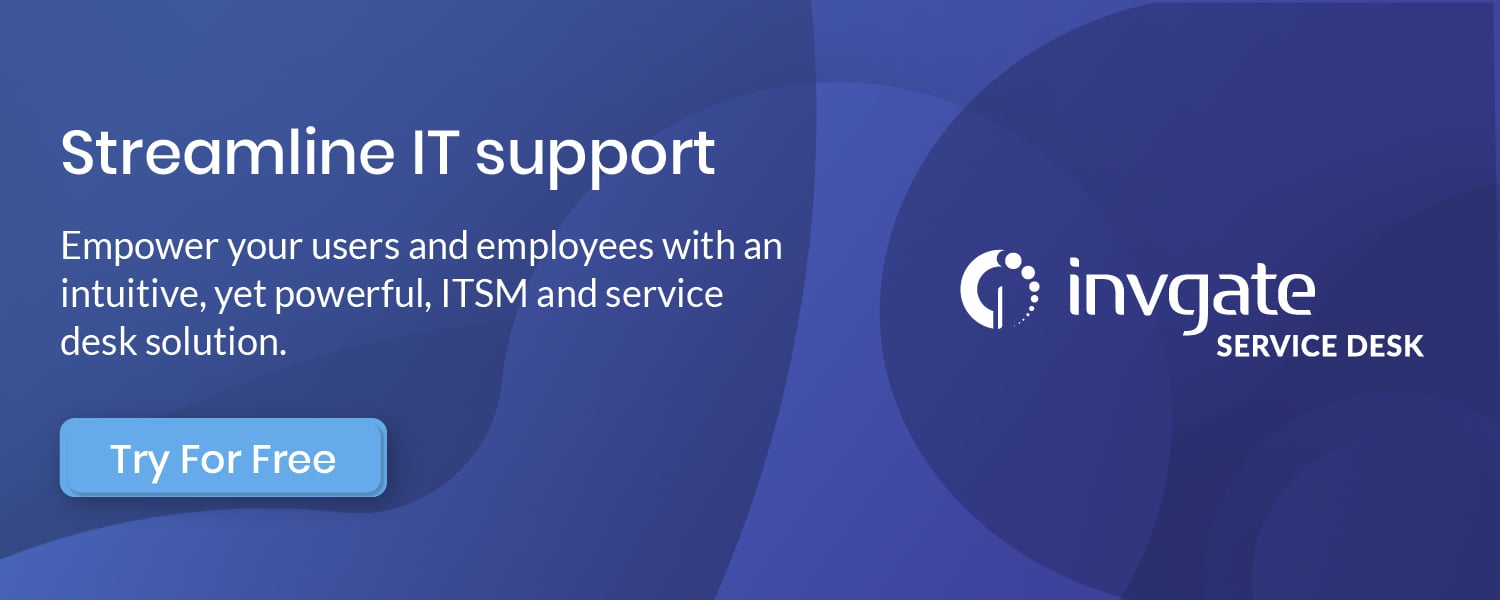 Before you go
To sum up, there are three general ways to auto-assign tickets at a help desk:
Round robin: a circular pattern that assigns tickets to the next available agent, prioritizing equality and fairness.
Workload: to distribute tickets based on the ones already assigned among agents, focusing on first-response time.
Free: agents are the ones who pick the tickets they want to work with, encouraging productivity (with the right supervision and a little help of gamification).
You can choose the one that works best for you based on:
The workload of your agents
The number of available agents
The agents' locations and working hours
Your SLAs
Any data or ticket context
Now, all that's left to do is to configure your service desk software for automatic ticket assignment, so you can concentrate on resolution, fulfillment, and your service or support project!
Don't forget you can try InvGate Service Desk at no cost for 15 days, or explore the live demo, including Agent, Manager and Admin view, from InvGate Service Desk home page.