In the complex area of IT Asset Management (ITAM), the choices you make have the power to shape your organization's efficiency and success. As you stand at the crossroads between two prominent contenders – ServiceNow Software Asset Management vs. BMC Asset Management – the need for an informed decision is paramount.
In this blog post, we'll provide you with an in-depth ITAM software comparison, delving into the vast array of features, advantages, and potential limitations these platforms offer.
Amidst this exploration, we'll introduce you to a third alternative – InvGate Insight. With its unique functionalities and capabilities, InvGate Insight emerges as an intriguing third option that could seamlessly align with your IT Asset Management needs, adding a layer of possibilities to your decision-making process.
Are you ready to embark on this enlightening exploration of IT Asset Management solutions? Let's dive in and uncover the insights that will guide your ITAM journey.
Most looked-at features by buyers
When evaluating options for overseeing IT assets, potential buyers consider a range of essential capabilities to select the most suitable solution that aligns with their specific needs and business requirements.
The following important factors are considered by purchasers when choosing a personalized IT Asset Management solution for their organization.
What is ServiceNow Software Asset Management?
ServiceNow's Software Asset Management (SAM) capabilities offer organizations the tools to effectively manage risk, reduce expenses, and automate the software lifecycle, all under a cohesive framework. By simplifying Asset Management, providing flexible features, and prioritizing security and regulatory compliance, ServiceNow empowers businesses to optimize their software assets, cut costs, and efficiently supervise their software operations.
Founded in 2004 and headquartered in Santa Clara, California, ServiceNow provides an extensive range of cloud-based solutions customized to address various corporate requirements. Their solutions encompass diverse areas such as IT Service Management, IT Operations Management, IT Business Management, Customer Service Management, Human Resources Service Delivery, Security Operations, and more.
What users like from ServiceNow Software Asset Management
ServiceNow's Software Asset Management capabilities have received widespread recognition and positive customer feedback from reputable sources such as Gartner. Users have highlighted several benefits, including:
Optimized workflow - Users express contentment with the tool's capability to automate tasks and enhance employee provisioning. This functionality bolsters the efficiency of IT processes, leading to overall improvements in operational effectiveness.
Intuitive user interface - The platform has an intuitive and user-friendly interface, enabling users to navigate effortlessly and swiftly grasp its functionalities. This design centered around user needs promotes seamless interaction and swift familiarity with the platform.
Efficient Risk Management - Users emphasize the valuable advantages of ServiceNow's risk mitigation features. These elements provide valuable insights, particularly crucial for legal and compliance purposes. This ensures that organizations can adeptly handle risks and make well-informed decisions.
Enhanced asset discovery and Inventory Management - ServiceNow's Software Asset Management simplifies identifying assets and managing inventory, resulting in improved asset tracking and compliance. This feature contributes to better organizational structure and control over assets.
What users don't like from ServiceNow Software Asset Management
While ServiceNow's SAM exhibits a range of strengths and advantageous attributes, it is not immune to customer reservations and critiques. Here are several prevalent issues raised by users in evaluations from credible sources like Gartner:
Complexity - Certain users encounter complexity when interacting with ServiceNow SAM, demanding a significant time commitment to grasp and navigate its complexities fully.
Documentation insufficiencies - Users desire enhanced documentation, particularly related to the end-user experience and comprehension of software normalization processes. Improved documentation would aid users in utilizing the platform's capabilities more effectively.
Functional limitations - Specific users indicate that the tool's functionality is restricted in certain aspects, potentially making it unsuitable for handling complex licensing software scenarios.
Cost concerns - The platform's associated costs raise concerns, particularly for medium and small-sized enterprises. This financial factor can pose difficulties in achieving complete implementation and procuring the platform, impacting the viability of its adoption for these businesses.
What's ServiceNow Software Asset Management's argument over BMC Asset Management?
Let's delve into a comprehensive analysis of the arguments put forth by ServiceNow Software Asset Management in comparison to BMC Asset Management.
Workflow optimization - The platform's automated capabilities streamline various operational aspects, elevating overall operational effectiveness.


User-friendly interface - One of ServiceNow SAM's strong points is its intuitive and user-centric interface. This design element empowers users to navigate effortlessly and swiftly grasp the platform's functionalities.


Efficient Risk Management - ServiceNow SAM offers effective risk mitigation features that provide valuable insights. These insights hold particular significance for legal and compliance purposes, enabling organizations to manage risks and make well-informed decisions adeptly.


Enhanced asset discovery and Inventory Management - This simplification leads to improved asset tracking and compliance, ultimately contributing to better organizational control over assets.
What is BMC Asset Management?
BMC Helix ITSM Asset Management is designed to effectively lower the Total Cost of Ownership linked to Configuration Items (CIs) while concurrently boosting the return on investment (ROI).
The integration of BMC Helix ITSM Asset Management with BMC Helix ITSM Change Management and BMC Service Level Management results in a cohesive framework that facilitates comprehensive Asset Management.
What users like from BMC Asset Management
User responses are affirmative across several crucial domains, as evidenced by reviews from reputable sources such as Gartner. Let's explore the aspects that users appreciate about this solution.
Comprehensive Service Management - BMC Asset Management garners praise for enhancing service quality as a robust ITSM and HR system. Its comprehensive approach covers various

ITIL

activities, including effectively managing incidents and changes. Notable features include an exceptional ticketing tool and a dedicated

Change Management

database.
User-friendly interface - The software excels in domains like Incident, Change, and

Problem Management

, simplifying day-to-day operations and promoting user-friendliness.
Effective training experience - Users underscore the significance of training, particularly as the go-live stage approaches, ensuring that users can fully harness the system's capabilities.
Effortless implementation - The process of implementing BMC Asset Management is often described as swift and straightforward, facilitating its quick integration into users' operational workflows.
Efficient process automation - Users recognize the value in the solution's ability to enable independent request submissions, reducing reliance on IT personnel and conserving resources. The software's role in informed decision-making, optimized resource allocation, and effective contract management is also acknowledged.
Value for investment - Users find that the software delivers significant value for the investment, enhanced by a well-crafted dashboard that aids in efficient monitoring. The tool's proficiency in managing support contracts, ensuring timely renewals, and optimizing usage also sets it apart.
Streamlined oversight - Users commend the software's simplified management capabilities, enabling adequate supervision of diverse asset-related facets.
Enhanced visibility - The solution's remarkable capability to provide detailed insights into existing inventory is highly valued. Its capacity to offer precise impact report analysis and efficient tracking of configuration changes and services further enhances its worth.
Mobile accessibility - The availability of mobile access empowers users to handle tasks while on the go, contributing to a favorable and adaptable user experience.
What users don't like from BMC Asset Management
While BMC Asset Management offers valuable features, there are areas where improvements could be made to enhance the user experience.
Strengthening support and communication - To further enhance the system, users suggest integrating third-party support to introduce additional avenues for improvement. Users have also highlighted communication breakdowns, underscoring the importance of maintaining consistent and effective communication channels.
Enhancing user interface - Some users have noted that the user interface could be improved. Enhancing this aspect could lead to a more intuitive and user-friendly user experience.
Improving reporting features - Recommendations have been put forth to augment the reporting capabilities, aiming to provide more insightful data that contribute to informed decision-making and enhance Asset Management strategies.
Refining chatbot and tools - Users have indicated that there is potential to enhance the chatbot's capabilities, making it more robust and functional, thereby increasing its overall usefulness.
What's BMC Asset Management's argument over ServiceNow Software Asset Management?
While both platforms have garnered recognition for their capabilities, they also present distinct advantages that cater to the diverse needs of organizations. Let's delve into the multifaceted arguments that BMC Asset Management asserts over ServiceNow Software Asset Management.
Refined user interface and experience - BMC Asset Management positions itself with an elegant user interface that meets the demands of various users. This aspect is particularly crucial in domains like Incident, Change, and Problem Management, where day-to-day operations are streamlined for enhanced user-friendliness.


Value-driven investment - The software's effectiveness in delivering tangible returns on investment and its proficiency in providing a holistic solution for asset-related concerns offer a compelling argument for organizations seeking long-term value from their Asset Management solution.


Advanced process automation and efficiency - BMC Asset Management's advanced automation capabilities are central to its appeal. The solution facilitates independent request submissions, reducing reliance on IT personnel and conserving resources.


Comprehensive Service Management approach - The software's prowess in ITIL activities, including effective Incident and Change Management, is complemented by standout features like an exceptional ticketing tool and a dedicated Change Management database. This comprehensive strategy fosters superior service quality, enhancing the overall ITSM and HR system.
Considering InvGate Insight as an ITAM solution alternative
For organizations searching for customized solutions for IT Asset Management tailored to their specific needs, InvGate Insight offers an attractive choice.
As a robust ITAM solution, InvGate Insight provides an array of features and functionalities that position it as a viable option for optimizing Asset Management processes.
Let's delve into its core characteristics.
Proactive management of operational expenses
InvGate Insight empowers organizations by seamlessly integrating financial data, contracts, licenses, and essential information into its system. This seamless integration offers a comprehensive grasp of operational costs, enabling informed and proactive financial decision-making. This approach enhances budget allocation and maximizes returns on IT investments.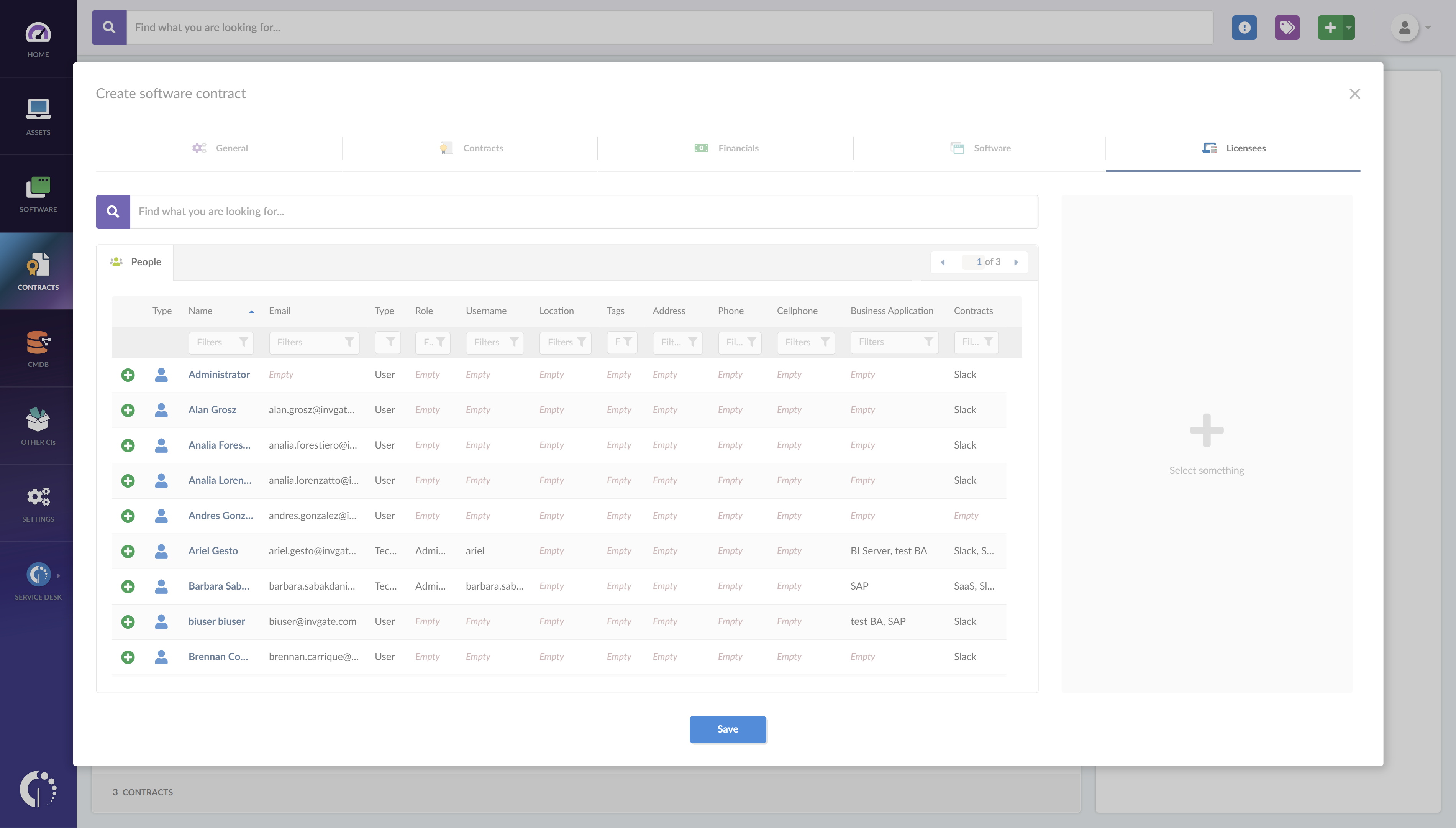 Enhanced IT Asset and Inventory Management
InvGate Insight streamlines the management of both IT and non-IT assets by seamlessly integrating data from diverse sources, including major operating systems, cloud service providers (such as AWS, Google, and Azure), and Mobile Device Management (MDM) (such as JAMF and Google Endpoint Manager). This integration simplifies the oversight of assets, locations, and personnel, ultimately saving time and offering a holistic infrastructure perspective.
A comprehensive overview of IT operations via native service desk integration
Seamlessly integrating with InvGate Service Desk, InvGate Insight establishes a native connection between tickets, devices, and personnel. This integration offers a comprehensive 360° view of IT operations, streamlining management processes. By linking service tickets with pertinent assets and individuals, workflows are streamlined, communication is enhanced, and issue resolution is improved.
In-depth understanding of IT infrastructure
Leveraging its comprehensive set of features, InvGate Insight furnishes thorough and actionable insights into IT assets, encompassing their status and utilization. This depth of understanding empowers effective infrastructure management and optimization, leading to heightened operational efficiency.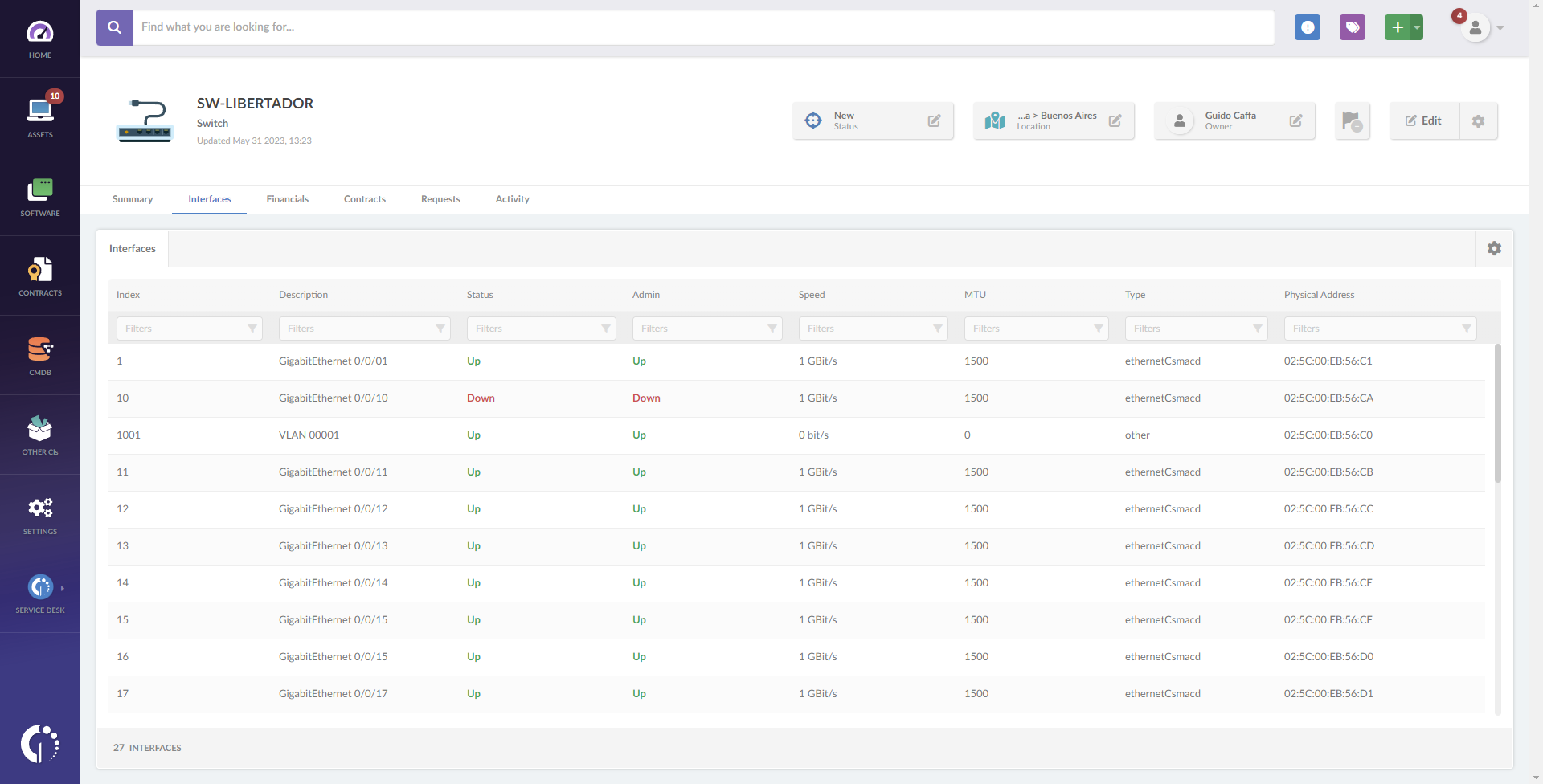 Streamlined operations through CMDB map construction
Integrated with InvGate Insight, the CMDB map construction tool delivers a comprehensive and clear overview of the IT landscape. By visually depicting relationships between components, potential impacts on operational continuity can be swiftly identified, resulting in proactive risk mitigation. This heightened visibility leads to reduced service durations, enhanced operational effectiveness, and smoother IT workflows.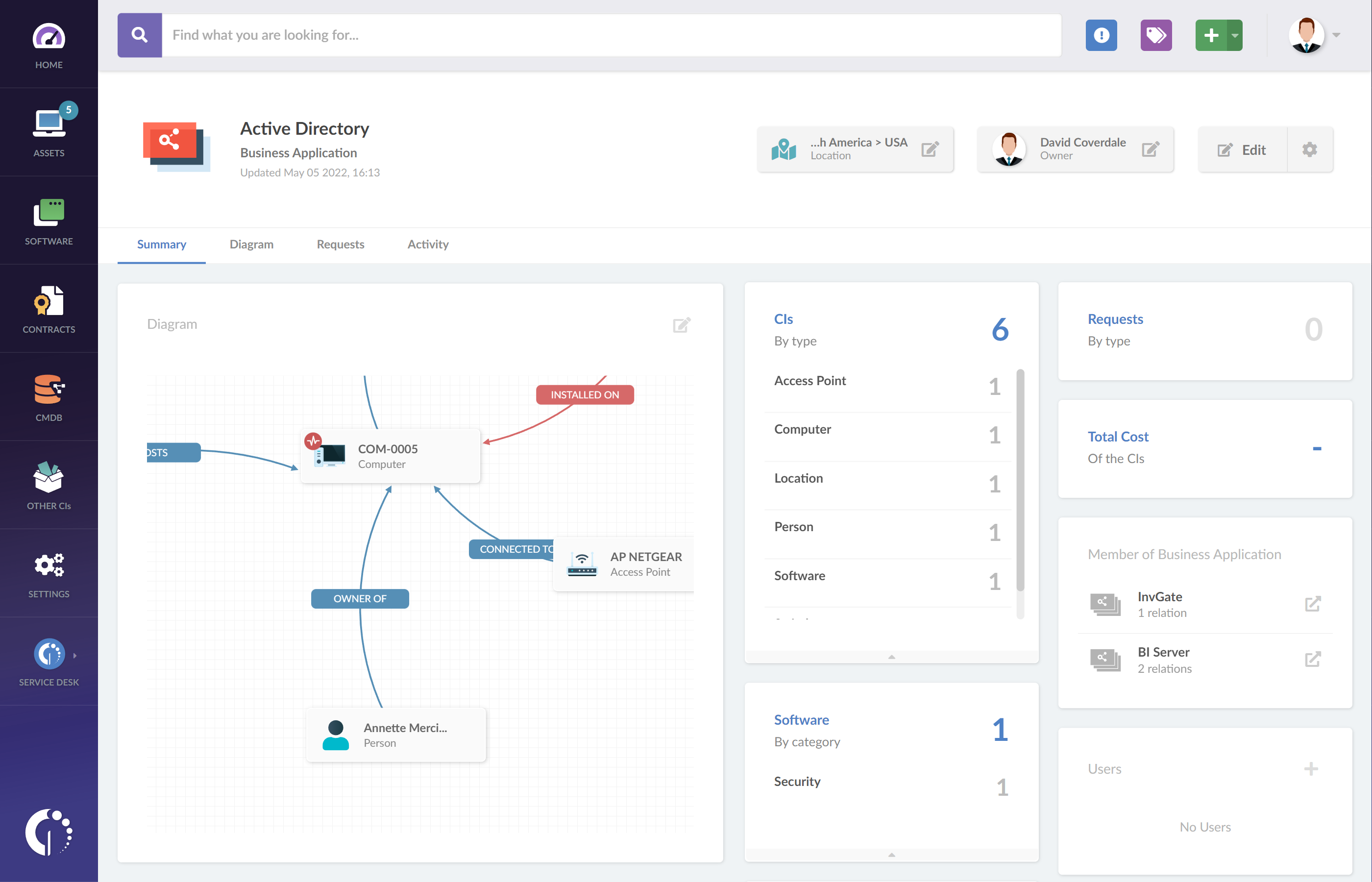 Effortless remote management through native integration
InvGate Insight features seamless integration with popular remote desktop tools such as Windows Remote Desktop, TeamViewer, AnyDesk, and VNC. This integration enhances remote management capabilities, providing direct device access for troubleshooting and maintenance. With seamless remote access, organizations can effectively tackle IT issues, perform necessary maintenance tasks, and ensure uninterrupted operations.
Reinforced cybersecurity compliance through asset monitoring
InvGate Insight bolsters cybersecurity compliance via its asset monitoring capabilities, establishing and enforcing health rules. Rapid identification of non-compliance instances facilitates prompt corrective action, ensuring adherence to cybersecurity policies and safeguarding the IT environment.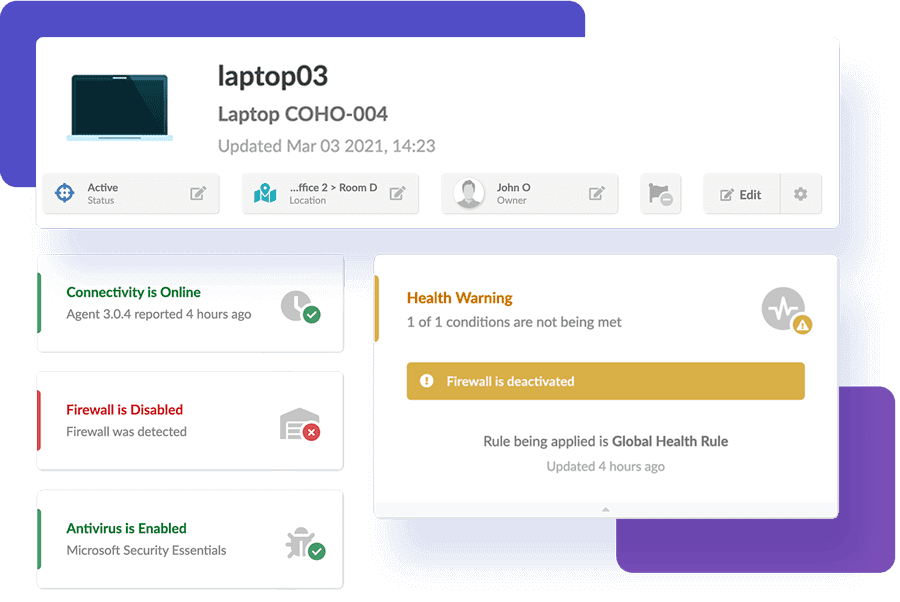 Enhanced operational efficiency through automation and alerts
InvGate Insight amplifies operational efficiency by implementing automation and alerts. This proactive approach to IT management involves configuring automated alerts to monitor contract expirations and promptly inform relevant stakeholders. This automation reduces manual workloads, minimizes the risk of oversights, and directs focus toward critical tasks, ultimately elevating overall efficiency.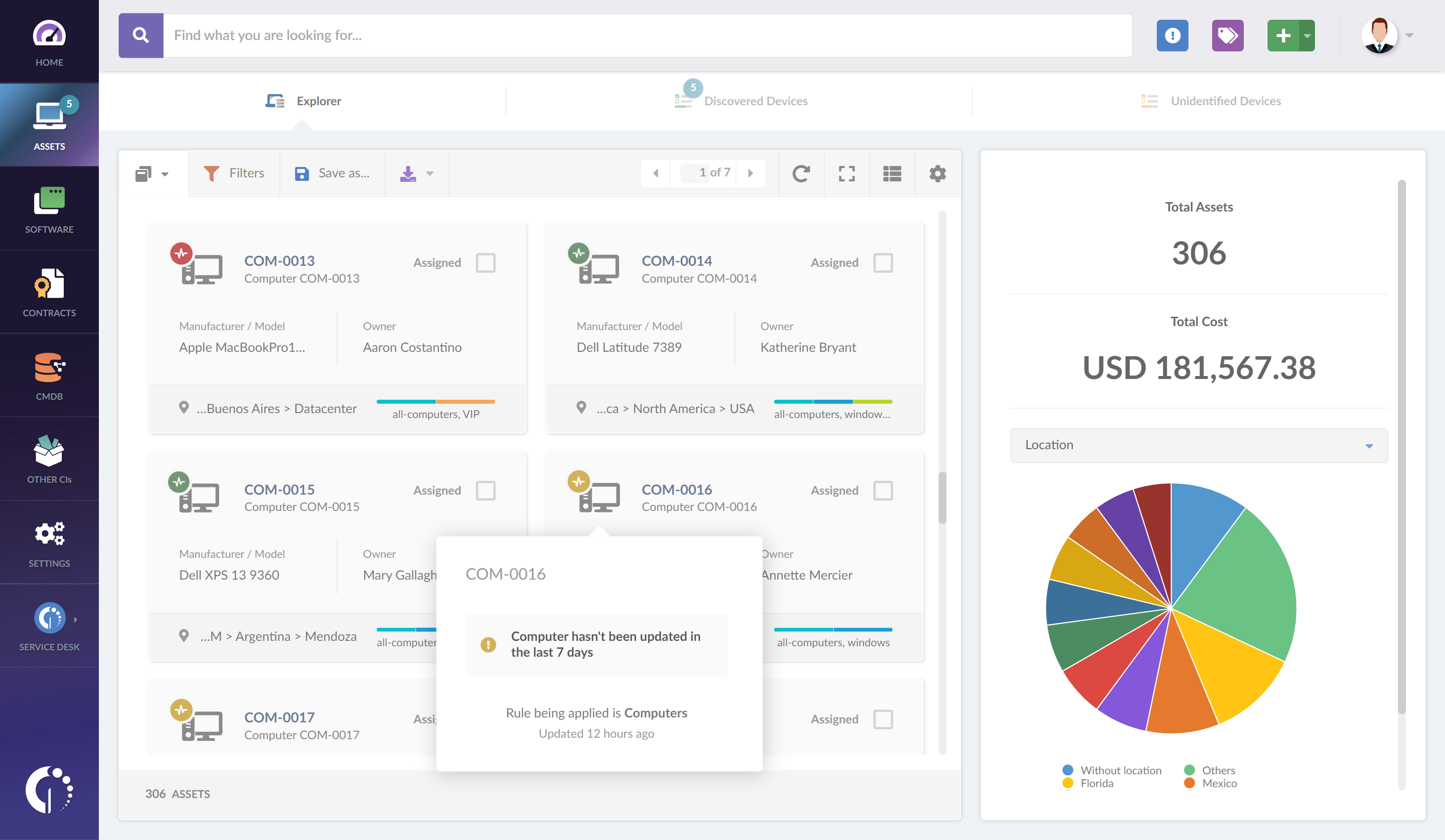 Optimized software efficiency and cost reduction
InvGate Insight equips organizations with the tools to identify and quantify the usage of paid software, facilitating effective Software Management. By gaining insight into software utilization, unused licenses can be reallocated, needless expenses minimized, and returns on IT investments maximized. This optimization of software efficiency empowers organizations to extract optimal value from their software resources.
Flexible deployment choices to suit unique requirements
Recognizing the diversity of organizational needs and industry regulations, InvGate Insight provides adaptable deployment options. This flexibility allows organizations to select between cloud-based or on-premise solutions, ensuring alignment with individual requirements and compliance standards.
Next steps
The comparison between ServiceNow Software Asset Management vs. BMC Asset Management highlights their strengths and advantages. However, as organizations embark on the journey to identify the optimal solution for their Asset Management needs, it's imperative to cast a wider net and explore alternatives that could potentially align more closely with their requirements.
InvGate Insight, for instance, emerges as a standout option with a comprehensive approach to ITAM. From proactive cost management strategies to robust cybersecurity compliance measures and an all-encompassing approach to asset optimization, this software is a holistic solution that organizations can truly leverage to their advantage.
Ready to take the next step in optimizing your ITAM strategy? Download our free ITAM implementation checklist today and unlock a comprehensive guide to mapping your journey toward streamlined and efficient Asset Management.