In pursuing a viable BMC Asset Management alternative, organizations increasingly recognize the importance of delving into IT Asset Management (ITAM) solutions that offer holistic functionality and effectively address critical challenges.
A robust contender in this landscape is InvGate Insight, a solution with a set of features carefully crafted to improve ITAM processes and increase operational efficiency.
In this blog post, we'll make an ITAM software comparison and explore both platforms in depth.
So, if you're currently in the process of exploring ITAM software alternatives, keep reading!
What is BMC Asset Management?
The main goal of BMC Helix ITSM Asset Management capabilities is to efficiently reduce the Total Cost of Ownership linked to Configuration Items (CIs) and, at the same time, enhance the return on investment.
BMC Helix ITSM Asset Management works seamlessly with BMC Helix ITSM Change Management and BMC Service Level Management to create a unified structure for thorough Asset Management.
InvGate Insight as a BMC Asset Management alternative
InvGate Insight, developed by InvGate, is a comprehensive IT Asset Management solution that empowers organizations with full authority and visibility over their IT assets. This adaptable solution offers two implementation options: cloud-based or installed on-premises. This flexibility allows organizations to effectively monitor their IT assets, whether physical, virtual, or cloud-based, regardless of their network connectivity.
InvGate Insight covers a range of features designed to cater to different facets of IT Asset Management. These include IT asset discovery, Inventory Management, and Software License Management. Notable features include:
User interface
InvGate Insight stands out by offering an excellent user experience. Its user-friendly interface and simple customization choices ensure remarkably intuitive usage, enabling users to personalize the platform according to their individual preferences effortlessly.
Furthermore, InvGate Insight's graphical interface can be modified to match the organization's branding, leading to a uniform and visually pleasing user encounter.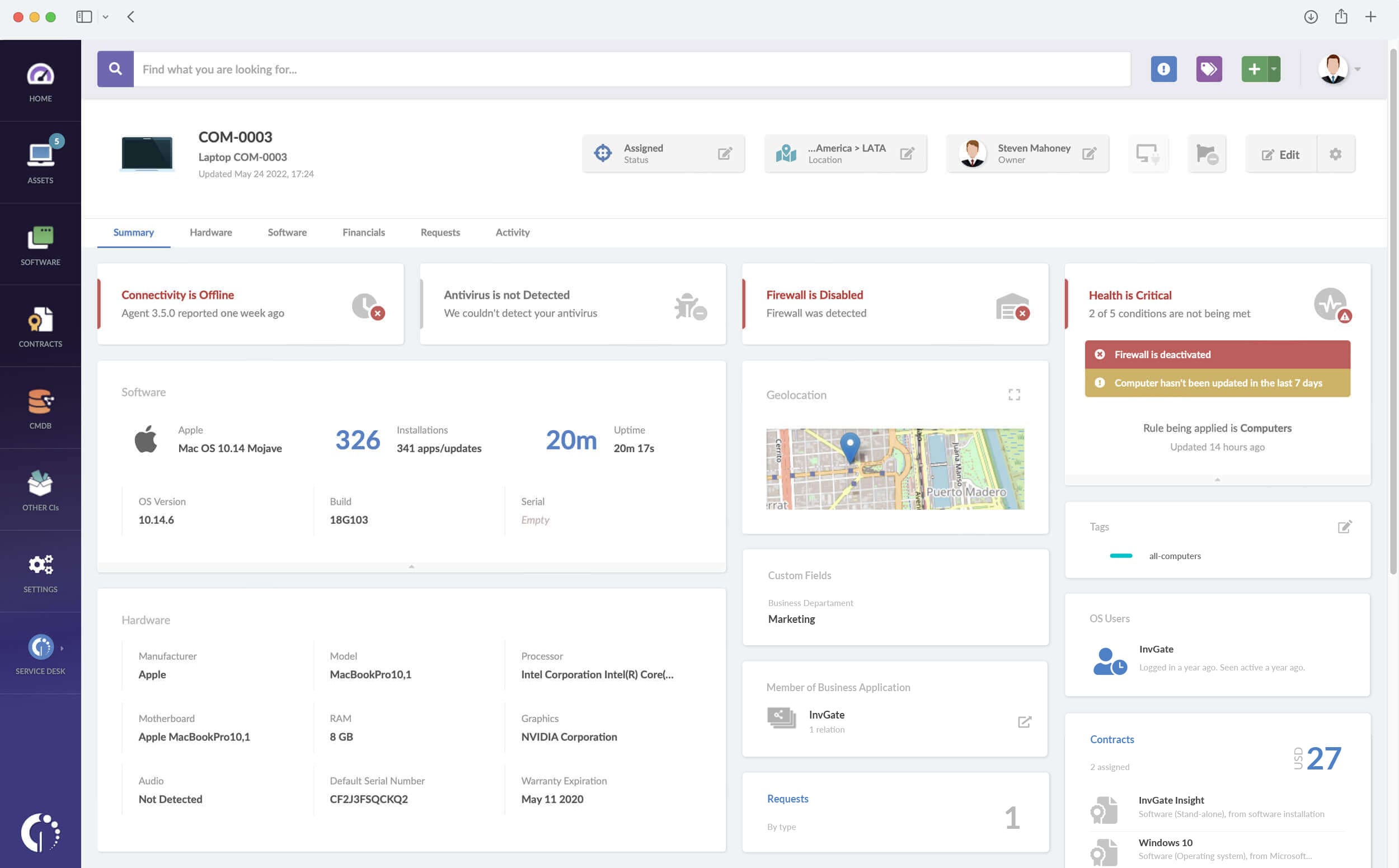 In contrast, some BMC Asset Management users express dissatisfaction with the user interface, finding it to be suboptimal. Improvements in this area could result in a more intuitive and user-friendly experience for these users.
Reporting
InvGate Insight features a strong reporting module, providing powerful insights and analysis for informed decision-making.
Conversely, BMC Asset Management users suggest recommendations to improve reporting. They're looking for more valuable insights to improve decision-making and overall Asset Management strategies.
Customer support
InvGate Insight's fast and reliable customer support has been praised for ensuring that users receive prompt help and solutions to their questions.
On the other hand, BMC Asset Management users emphasize the need for external support to provide additional avenues for improvement. These users also observe the occurrence of communication breakdowns, underscoring the need for reliable and efficient communication channels.
In conclusion
When looking for a BMC Asset Management alternative, considering key aspects like user interface, reporting capabilities, and customer support is pivotal.
InvGate Insight emerges as a compelling option, offering a host of features that facilitate efficient IT Asset Management. Take a tour of our live demo and optimize your processes with InvGate Insight!